The lovely Krista from
Saturated Canary
is taking over my blog today with this sooo cute cupcake topper tutorial! I'm seriously in love with her artwork! Without further ado, take the reins, Krista!
Hello! My name is Krista. I am a mama, artist, and blogger. You can read about my art, adventures, crafts, and love of fashion over at
Saturated Canary
. I love green tea lattes and diet cokes. (Sometimes together, but mostly not:)...I love Jesus and my babies. I married my blind date. I have a particular attraction to amazing tattoos, vintage pinup girls, colorful nail polish, and ball hats. I'd love if you stopped over, say 'hello' and check me out. (Yup. Go ahead and check me out;).
I am so excited to post a tutorial on Dana's blog today. I love visiting her niche of cyber space. It is so lovely...like scrolling through a dream in rose colored glasses. I'm always smitten with her photos!
Okay! Onwards! Here is a quick and easy tutorial using my digital stamps to make pretty cupcake toppers. Having a little girl myself, I know the need for some amazing, pretty, and girly party eats...and these are perfect for any girly shindig!
First, I color in a few of my digital stamps.
Then I added a pretty little bow to each one.
I took a photo of each colored stamp with my iPhone.
(Totally lazy. But, it works!)
I use Instagram. The 'Earlybird' affect.
Then I save them to my computer and print them out tiny, four to a sheet.
Easy. Peasy.
I cut them out with some fancy scrapbooking equipment.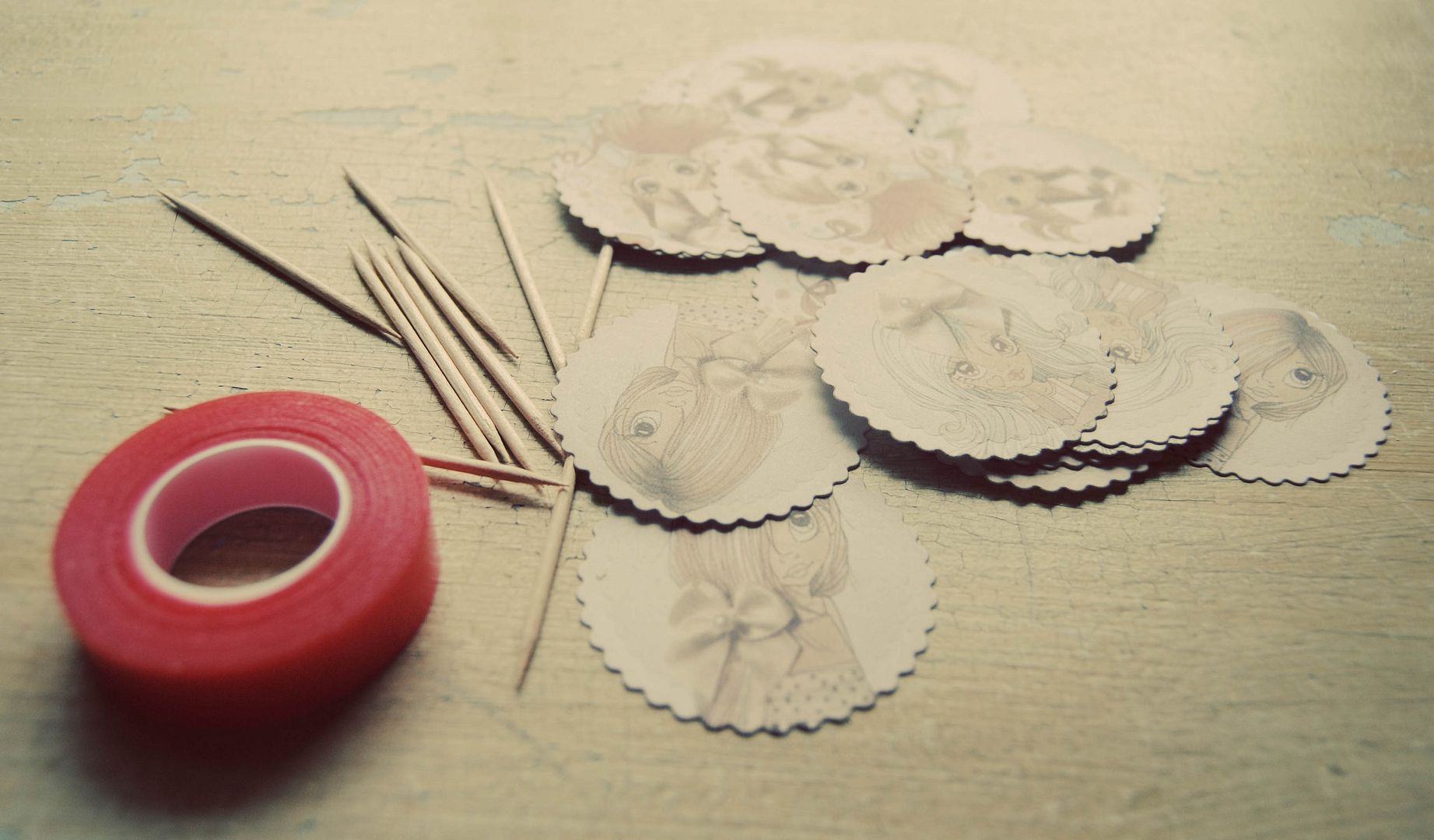 Here is all you need: two sided tape, toothpicks, and scissors.
(I forgot to add the scissors to my photo:)...
Take two matching faces and flip them over; keep the character upright.
Place a small piece of the tape at the bottom of each topper.
Put your toothpick in place.
Then place the toppers on top of each other, closing your toothpick in the middle.
TADA!
Push 'em into your cupcakes. Or muffins. (My grocery store is super low on cupcake choices...so we went with banana nut muffins and strawberry yogurt.)
My boy thought they were delicious, even with the girly toppers:).
My daughter thought they were gross (she doesn't like bananas)...but super cute:).
So, I think it still counts as two thumbs up!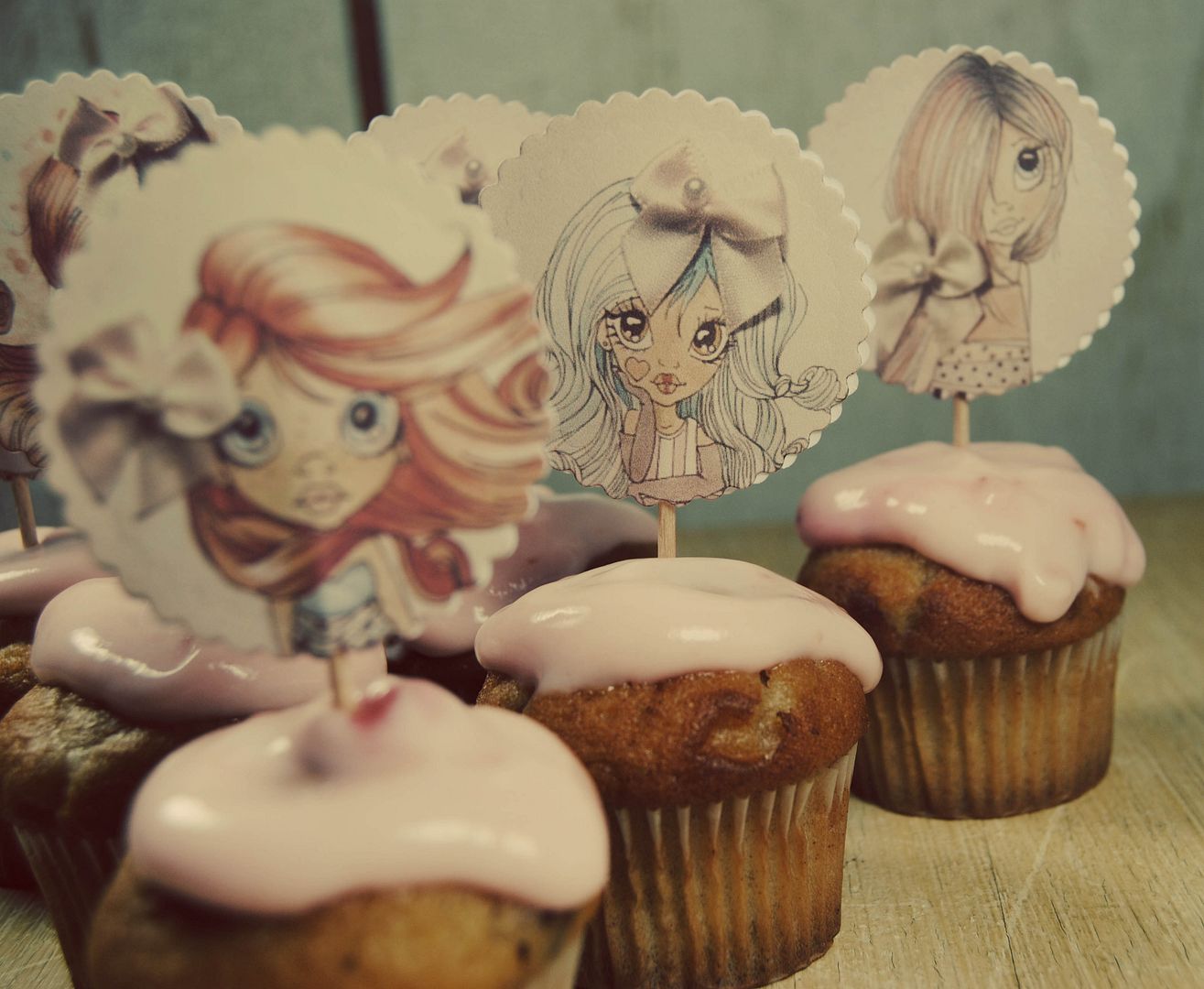 I hope you liked my cupcake toppers! They can be customized for so many different occasions. Super unique and perfect to spice up a party!
I'd love for you to stop by
my shop
and check out my artwork. It is kind of like digital coloring book pages, for those of you who aren't stampers. You can print my artwork and color it however you like:). Use it for projects, crafts, parties, and of course card making and scrapbooking! It's pretty fun. And kids like them, too!
And I'd love to offer you something as well! I'm giving away a featured ad spot on my blog for the month of June ($30) and two Smash Journals! Don't know what Smashing is? You can check out one of my pages
here
:). Please stop over, say hello, and let's be friends!
Thank you Dana...It's been a pleasure, friend! xx
Thanks Krista! That was so easy and adorable! Be sure to check out her
blog
and
shop
, friends!! You won't regret it! Enter to win below!: