If you own a blog, or you're a reader of a blog, you've all seen this icon:

This Blogger icon appears in your browser address bar beside the blog URL as well as beside a blog's name in blogroll lists… Unless you have your own fancy shmancy favicon to replace it!
Look up in your address bar right now. See my little plush deer beside my blog URL?  That wasn't magically placed there!  It's super easy to add your own favicon to your own blog in a few simple steps.  Adding a custom icon beside your blog is a great way to add a little bit of personalization to your page, and helps you stand out in a list of blogrolls.  Some of you already know how to do this, but for those that don't, I'm going to show you how!
First, you'll need a favicon of your own. You can use an existing photo you took, find a pre-existing one online, or draw your own.
Go to Favicon.cc to make the magic happen! Along the side, you will see that you can "Create New Favicon" or "Import Image".  If you want to create a new favicon, this nifty little website lets you draw out your own in pixel form. If you're not that creative, you can upload an existing icon or photo instead.
If you're using a photo, you'll want it to show a specific object on a plain background. We can't get TOO fancy with our little favicons, because they are only 16×16 pixels in size.  So just keep in mind that whatever you create or upload will be shrunken a ton.  Simple shapes like a heart, a leaf, or a letter work pretty well.
Here is what my deer plush looks like once uploaded to the favicon.cc generator: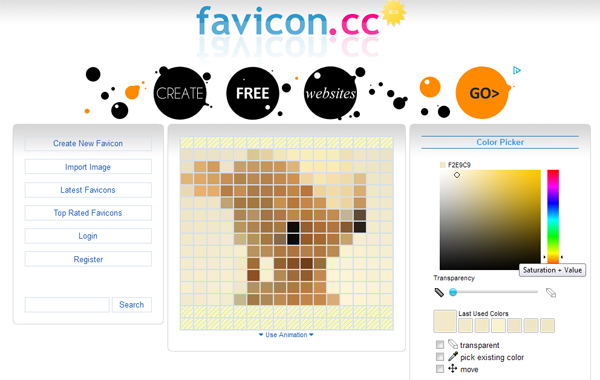 It may look funny here, but if you check out your browser's address bar after uploading, it will show you a preview of exactly what it will look like as your icon!
Then when you're happy with how it looks, all you need to do is hit the Download Favicon button below the generator and save it to your computer.  It will save as a .ico file.

To add this favicon to your Blogger blog, they made it pretty easy for you. In your Blogger admin, just go to Design then right under the line "Add and Arrange Page Elements" there is an option to change your favicon. Simply upload it and you're done! (In the new Blogger layout, just click the drop down arrow in the menu beside your blog, then choose Layout. There is a favicon edit link right on the next page!)
Happy faviconing!
P.S. Some of you are having problems saying it's not showing up. It's nothing you've done wrong, it's just because your computer has cached the old blogger icon, so it might take 24-48 hours or so to update for you… depending on when you most recently visited your blog. Try viewing it from a different browser or try clearing your internet cache to see it immediately!
p.p.s. I can't reply to some of your questions via email because you have not set up your email address in your blogger account. View THIS POST to learn how to allow replies to your email address. PLEASE DO THIS! I can't stress it enough 🙂
p.p.p.s. IF ANY BLOG OWNERS HAVE ANY SPECIFIC QUESTIONS/HELP TOPICS YOU WANT ME TO COVER, PLEASE LEAVE A COMMENT AND LET ME KNOW WHAT YOU'D LIKE TO SEE AS A FUTURE POST! 
linking up with: tatertots & jello
Last Updated on