Scratch-off cards can be used for tons of promotional ideas, and if you've ever wondered how to make your own, I'm going to show you how easy it is! I made these Secret Savings cards for a past venture and included them with my orders for a limited time.
Now, I'm going to show you how to make them! It's the easiest thing ever, all you need is this stuff:
Liquid dish soap
Silver acrylic paint (the dollar store!)
Clear packing tape
Paint brush
You will first need to make your little cards or whatever you want to contain the scratch off.  I printed my little savings cards on thick cardstock.
Then you'll need to grab your tape. Cut it to fit your scratch off area. In my case, the yellowish box that holds the secret savings code.  Apply the tape to this area only.
Now, mix up your scratch off solution!  Just get a little container and mix 1 part dish soap to 2 parts silver paint.
Paint over the tape you applied with the paint solution.  The first layer doesn't look like much, but it will soon.
You'll need to let this layer dry completely before applying another layer.  In total, my cards took 4 layers to completely hide the text underneath. This is why it's best to do a bunch at once!
That's pretty much it! When it's completely dry, you're good to go! Test one out (I promise, it's lots of fun!). The paint will scratch right off and reveal your secret!
Like this tutorial? Give it a pin! Pin It
» Need blog topic ideas? Check out 365 Blog Topic Ideas on Amazon!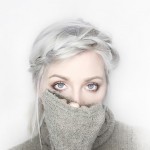 I am an online entrepreneur/artist helping other creatives kick butt in the real world. When I'm not running the Wonder Forest blog ship, you can find me teaching in my Watercolour Workshop, creating artwork for phone cases and home decor, whilst managing the daily tasks of Dana Fox Creative. Visit me at the links below if you wanna be friends and check out my Instagram stories for behind the scenes bits!