Hello friends! Welcome to your very first edition of our 14 Days of Love series!  Heather (from just.lovely.things) and I will be bringing you Valentine's day projects over the course of the next couple of weeks which will alternate on our blogs! We have an assortment of projects and ideas planned for your home, your lover, your kids and friends, and also yourself (because who says you can't spoil yourself sometimes?)  Be sure to stay tuned to her blog as well as this one for new projects!
Let's get right too it, shall we?  This first project is for your home!  I'll show you how to create this Valentine's day inspired bouquet of fabric flowers!
It's honestly soooo easy. All you require is a glue gun and these materials:
I used a wooden garden stick but you can also use a stick from outside for a rustic look!  The strip of fabric can be any length you want, depending on how "full" you want your flower. My strip in this example was about a yard long.
Start by hot gluing your strip of fabric to the stick. You'll want to make sure you have about an inch of fabric sticking above the stick.  Then wrap the fabric around the stick and add a dab of glue to secure. Be very careful when gluing because it's tricky not to burn your fingers! (trust me, I have blisters to prove it!)
Keep wrapping the fabric around the stick and gluing as you go. Instead of wrapping it tight though, pinch the bottom of the fabric a little before gluing to bunch it up. This is so that your flower's layers spread out instead of being all stuck together tightly.
Keep wrapping and bunching… ever so slightly moving down the stick.
Pinch to bunch! Then glue… keep going!
When you get to the end, fold the top corner down to create a triangle and glue in place.
Grab your green felt and cut a strip about an inch and a half in height by about 2 inches long. The size will depend on the width of your stick. Cut some zig zags into the top.
Glue the felt around the bottom of your flower to finish it off and hold everything in place!
You can then paint your sticks! I just used a green acrylic paint.
Make a bunch of them and stick them in a vase and you've got a nice new Valentine's day inspired bouquet! These make a great gift too and only take about 5-10 mins per flower!
I hope you enjoyed today's tutorial! Check back soon for Heather's Valentines day post too!
Feel free to pin! Pin It
» Need blog topic ideas? Check out 365 Blog Topic Ideas on Amazon!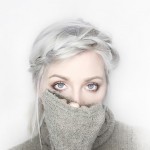 I am an online entrepreneur/artist helping other creatives kick butt in the real world. When I'm not running the Wonder Forest blog ship, you can find me teaching in my Watercolour Workshop, creating artwork for phone cases and home decor, whilst managing the daily tasks of Dana Fox Creative. Visit me at the links below if you wanna be friends and check out my Instagram stories for behind the scenes bits!