Are you enjoying the Valentine's day series so far? Yesterday Heather showed you how to create a cute and super easy valentine note card using a paint swatch, and before that, I showed you how to create a lovely fabric flower bouquet!
Today I have a project that you can even do with your kids as a craft. It's really easy and all you need is some thicker coloured paper, scissors, and glue!
Isn't it cute? Fill it up with some little heart candies and give these as valentines!
To get started, you will need to print out the template here.
After you've printed it out, trace the edges onto a piece of card stock with a pencil.
Cut out the box! Don't forget to cut the little slices into the hearts as shown on the template where the dotted lines are.
Now fold up both the top and bottom edges according to the lines on the template. Fold in the tab on the side as well.
The rest is pretty self explanatory. Fold the box together… like a box. haha.
Grab your glue stick and secure the bottom flaps together, as well as the side tab.
Then all you have to do is slide the two heart pieces together to form the top and voila!!! Simple, cute heart box!!
Feel free to pin! Pin It
What would you put in your little heart box?
» Need blog topic ideas? Check out 365 Blog Topic Ideas on Amazon!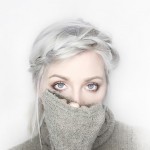 I am an online entrepreneur/artist helping other creatives kick butt in the real world. When I'm not running the Wonder Forest blog ship, you can find me teaching in my Watercolour Workshop, creating artwork for phone cases and home decor, whilst managing the daily tasks of Dana Fox Creative. Visit me at the links below if you wanna be friends and check out my Instagram stories for behind the scenes bits!