This weekend I decided to experiment with a makeup tutorial I found on Pinterest. Of course it was pinned by someone from Tumblr, so the original source was pretty much lost. All I could find (after much searching) was this Arabic site as a source. It originally called for super vibrant greens, but I toned it down a bit with a mix of vibrant and subtle tones.
This look was really fun to create, though it did take a bit longer than usual. That cat eye took a couple of tries getting it even on both eyes and I actually ended up shortening it so I didn't look so Egyptian. It's a cool look anyways with gorgeous blending! I kept on checking out my work in the mirror all day long!
For those of you interested in the whole tutorial, I pieced this together from the images I was able to find in Arabic and added my own instructions:
Feel free to pin!

shop this look:
» Need blog topic ideas? Check out 365 Blog Topic Ideas on Amazon!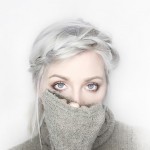 I am an online entrepreneur/artist helping other creatives kick butt in the real world. When I'm not running the Wonder Forest blog ship, you can find me teaching in my Watercolour Workshop, creating artwork for phone cases and home decor, whilst managing the daily tasks of Dana Fox Creative. Visit me at the links below if you wanna be friends and check out my Instagram stories for behind the scenes bits!