Ladies… let's talk about nail polish for a minute. I don't know about you, but I have a heck of a time applying glitter nail polish with a brush. Sometimes the brush grabs too many specks, sometimes not enough. The worst is when you apply it out of the bottle and end up with only three cute sparkles, randomly placed. I know I'm not the only one who carefully tries to move them around with the tip of the brush!  Well guess what, I solved my own problem and am pretty much a genius (ha, kidding.)
Another thing I hate the most about applying nail polish is having to brush on multiple coats to get the colour nice and opaque.. Seriously, what is UP with that!? After I learned this trick I'm going to share below, the clouds opened up and billions of butterflies, rainbows, and kittens fell from the sky!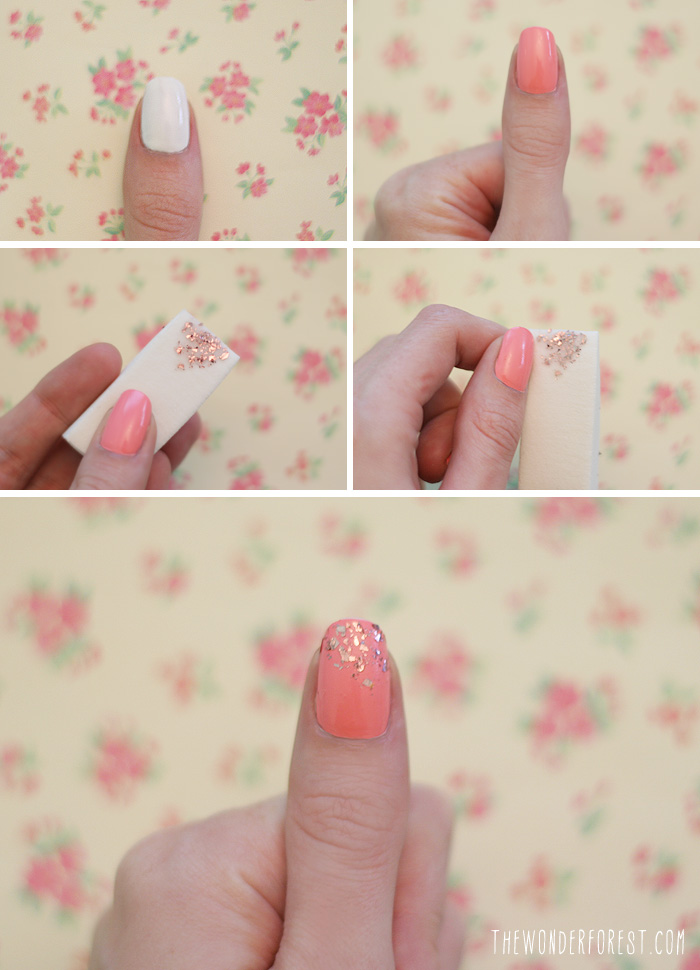 1. Paint your nails with an opaque white polish. This is the KEY to only needing to apply one coat of coloured polish! It's perfect if you have a shade that is more transparent than you'd like.  It's like magic, I tell ya!  I used Sally Hansen Hard as Nails Xtreme Wear in White On, which I find also helps my polish stay on much longer.
2. Paint on your coloured polish
3. When that's all totally dry, grab a makeup sponge and brush some of that glitter onto the end! This is the same technique as you would use for gradient/ombre nails, only I found it to be a MUCH easier way to apply glitter too. Everything stays in one place!
4. Transfer the glitter to your nails by just rolling it on top.
5. Voila! My glitter is stuck in place and I didn't have to deal with a brush!
The peach colour polish is from Forever 21… "Peach". The glitter is also from Forever 21 and is called "Crystal Pink".
What are your favourite nail trends/colours lately?
Like this? Share the love!
Last Updated on