Out with the old, in with the new! If you do a lot of digital work, a tablet is a must. Here we have a super old version of the Bamboo Fun (CTE-450) tablet on the left, and a brand new Bamboo Splash tablet on the right. Considering I purchased the Fun over six years ago, I thought it was time for a little upgrade.
The Fun tablet cost me around $120 back then, and it's so ridiculous to think back and remember that I was actually debating buying it. I wasn't sure if it would be worth it… as in… would I even use it? Six years later and it was still one of my most used computer accessories.
A tablet takes the concentration out of using a mouse for digital design. I'm sure you've tried to draw curvy lines with a mouse and had to redo your work over and over again….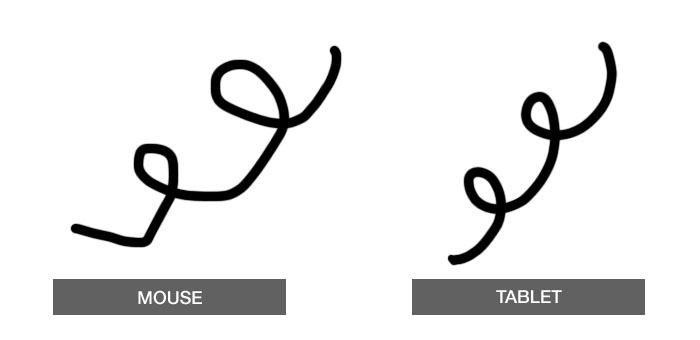 It also allows you to hand write on your images, sign your signature on documents, and paint as you would with a brush. You can also take advantage of pen pressure features, which is a huge bonus. The lighter your pen pressure, the thinner your line, and the heavier your pressure, the stronger the line.
Wacom still makes the Bamboo Fun, but it has been improved and contains more features like Multi-Touch which lets you navigate your computer using your fingertips.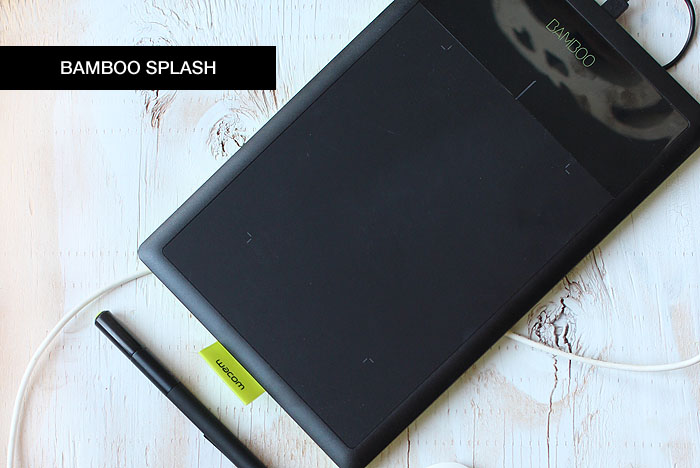 The Bamboo Splash was a Christmas gift. It's actually a cheaper model to the now-improved Fun, but so far its functions and the way it draws have been pretty comparable to my older trusty tablet. Honestly, there isn't much of a difference and I don't feel like many of the newer features of the Fun are all that necessary for someone like me. The main difference is that the surface/drawing area is larger on the Splash, and you can change the settings and position the device properly dependent on if you are right or left handed. Both tablets do what they are supposed to do: let you draw with a pen instead of a mouse.
If you're in the market for a tablet, I would definitely recommend a Wacom one and would suggest starting out with one of the lower cost versions to get your hands wet with using a pen on screen. The Wacom Intuos tablet is a basic drawing tablet that is around $70.
If you're still debating whether or not to make the small investment,
stop thinking and just do it. I promise it will be the best computer
investment you'll make.
Do you use a tablet or have you been thinking of getting one?


By the way, I've recently added some new blog templates to my design shop! AND, if you want to learn how to create fixed/floating social network icons like I have on my blog, I've finally written a post about how to do it here.
Last Updated on