by Melisa of Pie 'N The Sky
I've always thought spools were so pretty and unique. I love to decorate with them around our house and even used some at our wedding! I came across these tiny spools in the woodworking area of a local craft store. I was instantly smitten because of my love of spools, but also because they're so itty bitty; I knew I had to make something with them!
S U P P L I E S :: wood spools, embroidery thread, chain, clasp, jump rings, pliers
1) Choose which colors of your embroidery thread you're going to use. I chose 5 colors in the pink shades to create a sort of ombré effect. You can use as many colors/spools as you'd like. Once you've chosen your thread, begin to wrap it around your spool. When you have covered your spool (I did two layers) then loop the end back under where you already wrapped. In case that didn't make sense, see the photo above.
2) Run your chain through your selected spools.
3) Using your pliers, open your jump ring and connect your clasp to the chain. Connect your other jump ring to the other end of the chain. Clasp it together and wear your necklace!
Melisa is a 25 year old wife, blogger, entrepreneur and adventurer living in Texas. She loves to create and longs to bring beauty to the world. Her blog, Pie N' the Sky is dedicated to to sharing her life, creativity, and style.
» Need blog topic ideas? Check out 365 Blog Topic Ideas on Amazon!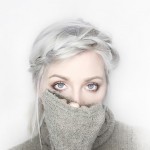 I am an online entrepreneur/artist helping other creatives kick butt in the real world. When I'm not running the Wonder Forest blog ship, you can find me teaching in my Watercolour Workshop, creating artwork for phone cases and home decor, whilst managing the daily tasks of Dana Fox Creative. Visit me at the links below if you wanna be friends and check out my Instagram stories for behind the scenes bits!