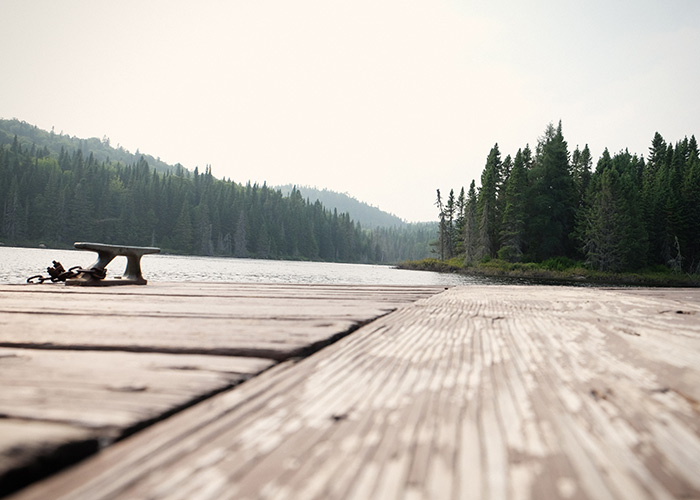 My goals for this year have been working out pretty well so far. As you already know, I spend most of my time doing design related things and managing Envye, but there's another venture in my life recently that I haven't talked about.
I've been working with my mom on a new cottage rental business. A year or two ago, she inherited my grandfather's property and held onto it with the intentions of renting it out. She fixed it up and got it looking all nice… and there it sat. She wasn't sure what she should do with it and was now starting to doubt herself and find excuses for not renting it out. "People will wreck it" was her number one fear. She had become too attached to it. She had also never done something like this before and had no idea where to start. Neither had I, but I offered to help.
I had to remind her why she kept this property to begin with, and also remind her of myself a year and a half ago. I had no idea how to make an app back then or where to start. That territory was completely new to me… just like anything is when you first start out. So what do you do about that? You fix it. She came over and we went through a bunch of other cottage rental websites to get a feel for how they do things. We made a mental list of all of the tasks we needed to get together to start. Rental agreements, booking information, photographs, and a website. After just an hour of brainstorming I could tell she was 100% more confident about this idea…. excited, even! I was able to help her see the potential in this opportunity she had. I mean, she pretty much had a property handed to her, she had lost her job a few months back, and it was time to start doing something for herself, and make a little income of course.
What surprised me the most though was the reaction from other family members. "Oh, just sell it!" they would say. They didn't think it was a good idea, and didn't understand the big picture. It got me thinking about when I started my own business. There are always those people who will stomp on your dreams. Whether they mean to or not.  They might not realize the effect their opinions can have on somebody, especially if that somebody starts questioning their original plan just because of something someone else said. It's not cool. Whenever somebody tells me about a new business idea or goal, I will support them every time. Why? Because if I had listened to people when I was younger who told me that I spent too much time on the computer, I would have never learned the skills I use daily. If someone had told me to go to college instead of trying to build a business, I would not be sitting here right now, living by my own rules and working my own hours. It's not yours or anybody's place to decide what a person should or should not do with their lives. If it's a completely unrealistic or unhealthy plan, that's another thing, but if not, at least be there to support the goals of somebody else.
The thought of helping my mom become a little entrepreneur makes me excited. Since our brainstorming session, we launched the website, joined a few cottage listing websites, and started taking reservations! I've been doing all of the online stuff for her and it's been so fun. We've already had 3 bookings.
I don't want anything from this venture besides to see my mom succeed. I want to show her what life is like when you achieve something you had no idea you could do. A bonus is that the experience from this will even prepare me for my future goals.  Last month we were both completely clueless about this industry, and if we hadn't jumped in feet first we would never get to know what could happen.