Hello lovelies! It's been quite a while since I did a hair tutorial, but since you have asked me (a bunch of times) how I do my hair now that it's shorter, I thought I might as well throw this together for you.  Really, the only thing that has changed is the size of the barrel I use. This has been my go-to style ever since I made the chop and the best part is, it's really easy and quick. I created a video tutorial so you can see exactly how I do it, as well as a photo demonstration below.

I hope that was easy enough for you to try it! I am using the Bellami curling wand set with the 3/4″ barrel attached. You can also use any curling iron, just don't use the clamp and wrap it around instead! You can use any type of pomade or wax, and any hairspray you like. I tend to favor Tresemme because it's cheap and works! Happy hairstyling!
» Need blog topic ideas? Check out 365 Blog Topic Ideas on Amazon!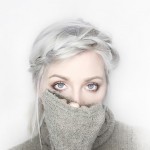 I am an online entrepreneur/artist helping other creatives kick butt in the real world. When I'm not running the Wonder Forest blog ship, you can find me teaching in my Watercolour Workshop, creating artwork for phone cases and home decor, whilst managing the daily tasks of Dana Fox Creative. Visit me at the links below if you wanna be friends and check out my Instagram stories for behind the scenes bits!