Creating a blog is an easy feat, but what happens next?  Without your love and attention, your progress could quickly start to go down hill.
The Ultimate Blogger To-Do List is a book that I compiled to help you do just that! And it's now available on Amazon!! With over a decade of experience building and revising websites, I'll hand you some tasks to complete that will help improve your blog's functionality, professionalism, and attractiveness.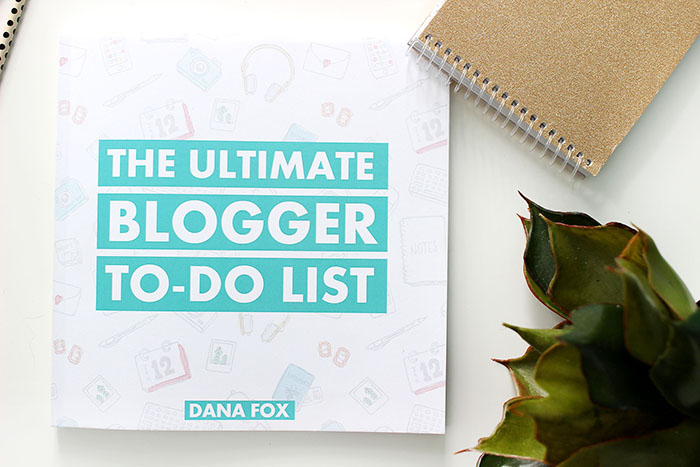 Since a lot of you enjoy my Blog Review videos so much, I wanted to put something together that applies to every single blog, since it's nearly impossible for me to offer advice to every single one of you who hopes to have your blog reviewed.
There are things you may have overlooked or neglected that need your attention. There are parts of your site just waiting to be touched and ideas that haven't been considered. Throughout this book, you will unleash the power of productivity through various maintenance and promotion tasks that you can perform again and again.  
I had opened up pre-orders in February and have been so excited to see feedback from those who got the early book bundles. Now, you can officially purchase the book over on Amazon!
Here's what some bloggers have already said:
What an amazingly helpful read. I have read probably 15 blogger help books and this one truly stands out. Dana gets straight to the point with her "one item per page" format. Super easy to to read and follow along with. My favorite part? She truly genuinely wants to help you. Not only does she give great tips to help your blog grow, but also how to stand out and be yourself. I am about a month into the blogging game and I already feel more confident in my abilities as a blogger from this book as well as Dana's first book, Blog Wonderful. Props and kudos to you, DANA!

Thanks a ton for the tips. 🙂
Zachary
zacharyleo.com
I love how The Ultimate Blogger To-Do List breaks down blog improvement tasks into manageable chunks. Plus, there's an HTML cheat sheet in the back that I'm definitely going to use to help me learn a bit about coding. This book is one big friendly reminder that there is always more to do to help your blog be all that it can be. My copy is already studded with with Post-it flags on the pages about what I should do to improve my blog right away!

Abby
Dana's book,  The Ultimate Blogger To-Do List, is a great book filled with little things you can do each day to help improve your blog and even includes little reminders about things not to forget about. Some topics include various ways to keep your blog updated, and things you can do to gain more followers and traffic for your blog. Another great part about this book is the little html cheat sheet that lists some basic html code. I really like this book because it includes many things that I probably wouldn't think about and things I would otherwise probably forget.

LovelyHeatherly.com (Click for the full review)