Oahu, home to the capital of Hawaii, Honolulu, may not be the largest of the Hawaiian islands, but it is the most populous – two thirds of Hawaii's population lives there! Boasting gorgeous beaches with insane waves, staggering cliffs and mountains, and sites such as Pearl Harbor, Oahu is a top summer destination and is packed with lots to see and enjoy. There's plenty to do, but here's a list of the top 10 to help you narrow down your itinerary!
Hike Diamond Head
Diamond Head is a volcano perched on the corner of Oahu and shaped like a diamond, very close to the center of Honolulu. There is a hike to the top that is maybe 40 minutes (an hour tops) round trip, and the views at the top of nearby Wakiki and the military bunker make the hike well worth it. So even if you don't hike, the views from the bottom of the volcano are gorgeous and worth the visit.
Sunbathe at Kailua Beach
Although I haven't been here, people everywhere highly recommend it. Kailua beach is a gorgeous beach with shimmering turquoise waters and stunning mountain views as well. Not to mention, it is much more "off the radar" than say, Wakiki beach, and most likely won't be crowded with tourists.
Swim in Manoa Falls
It only takes a fairly easy hike to get to the gorgeous Manoa Falls, but make sure to wear hiking shoes, as it can get very muddy. While there, be sure to take a dip!
Visit Pearl Harbor Memorial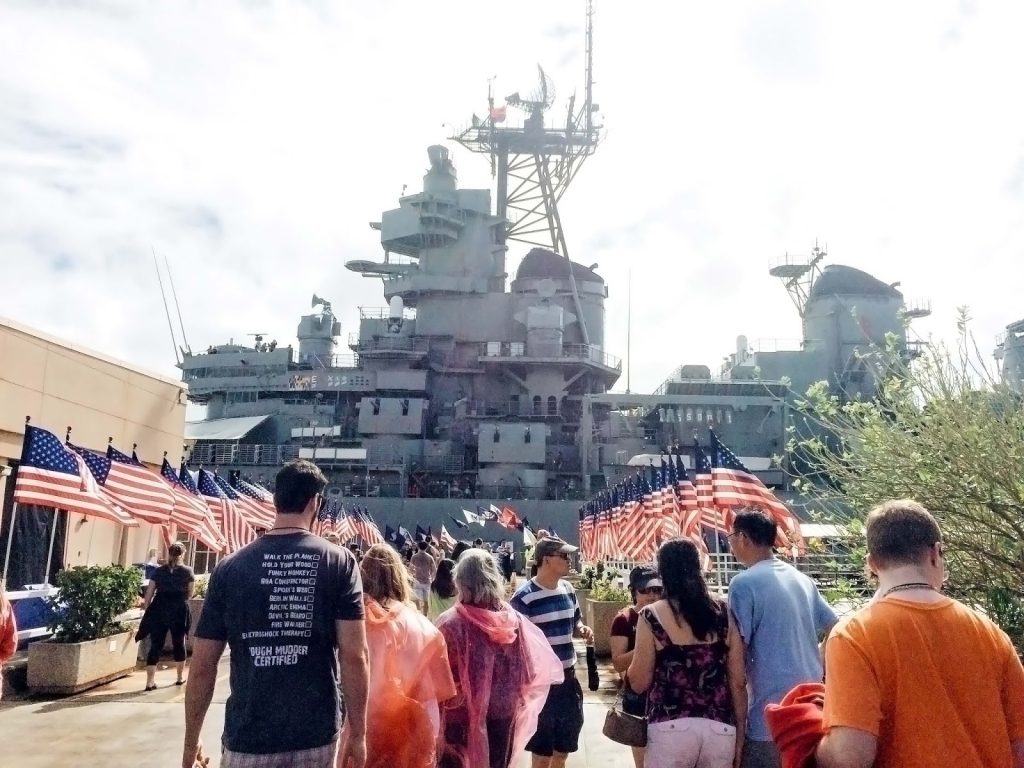 What would a guide to Oahu be without Pearl Harbor? Pearl Harbor Memorial, that is. The actual Pearl Harbor is still a military base to this day, and the ordinary civilian like yourself is not allowed in (I learned this the hard way when our GPS tried to take us to it instead of the memorial, like we wanted). As it turns out, you probably want to book your tickets beforehand, because tickets to the memorial were sold out when we got there. Instead, we bought tickets to the USS Missouri for a tour and quick WWII lesson!
Swing in Waimano Falls
The trail to get here is tough, or so I've been told. You may want to dedicate a half-day to an entire day to this hike, but man, is it worth it. There's a fantastic swimming "pool" at the end, as well as a gorgeous waterfall and a rope swing to entertain you for hours. 
Visit Byodo-In Temple
Byodo-In Temple is a nondenominational Japanese temple on the North shore. It was built in 1968 to commemorate the 100 year anniversary of Japanese immigrants of Hawaii and welcomes guests of all religions and ethnicities to either worship inside or to appreciate the quiet beauty of the temple. 
Relax at Wakiki Beach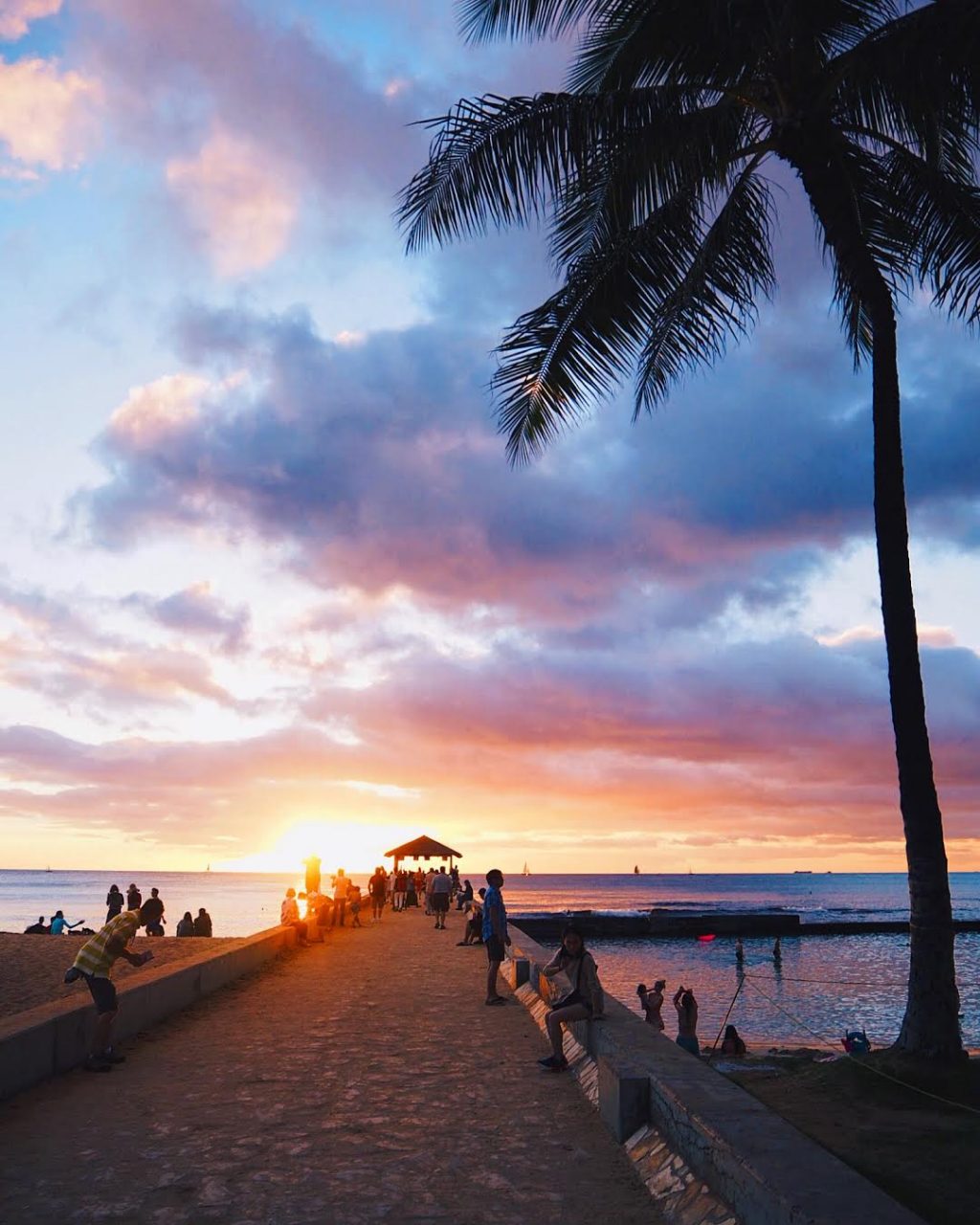 Although this is one of the more touristy spots (the beach can be jam packed during the day) a visit at sunset is a must. A nighttime stroll down the beach also isn't such a bad idea. And if you ever get bored of the beach (ha!) there is a wide variety of shops directly across the street from the beach if you want to get lunch or do a little retail therapy.
Bathe in Makapu'u Tidepools
A word of warning: It takes a rather strenuous hike to get to these tidepools, and the hike back up is even harder. Be sure to follow the white spray painted arrows down, and be VERY careful. If you do make it to the bottom, however, it is totally worth it. The water in the tidepools are crystal clear – it's like nature made its own personal bath for you. It's one of those picture perfect spots, at which every angle turns out another amazing photo. 
Hike Pali Puka
This is another tough hike (in case you didn't notice, you've really got to love hiking for Hawaii) but the views at the top are so breathtakingly gorgeous (according to Instagram anyway) that I won't hesitate to say that this hike is 100% worth it. Be sure to wear proper hiking gear and save this hike for a sunny day! 
Visit Polynesian Cultural Center
If you didn't already know, Hawaii is part of a group of islands in the Pacific called Polynesia. In an attempt to celebrate the rich culture of these islands, a theme park of sorts was created on Oahu, and it is currently the most popular tourist destination on the island (according to Trip Advisor). There is a designated "island" in the theme park for each Polynesian island/group of islands including Samoa, Fiji, Tonga, and of course, Hawaii. There are shows aplenty, lots to eat, and even a canoe ride down a canal that goes straight through the whole thing. Learning about culture has never been so fun.