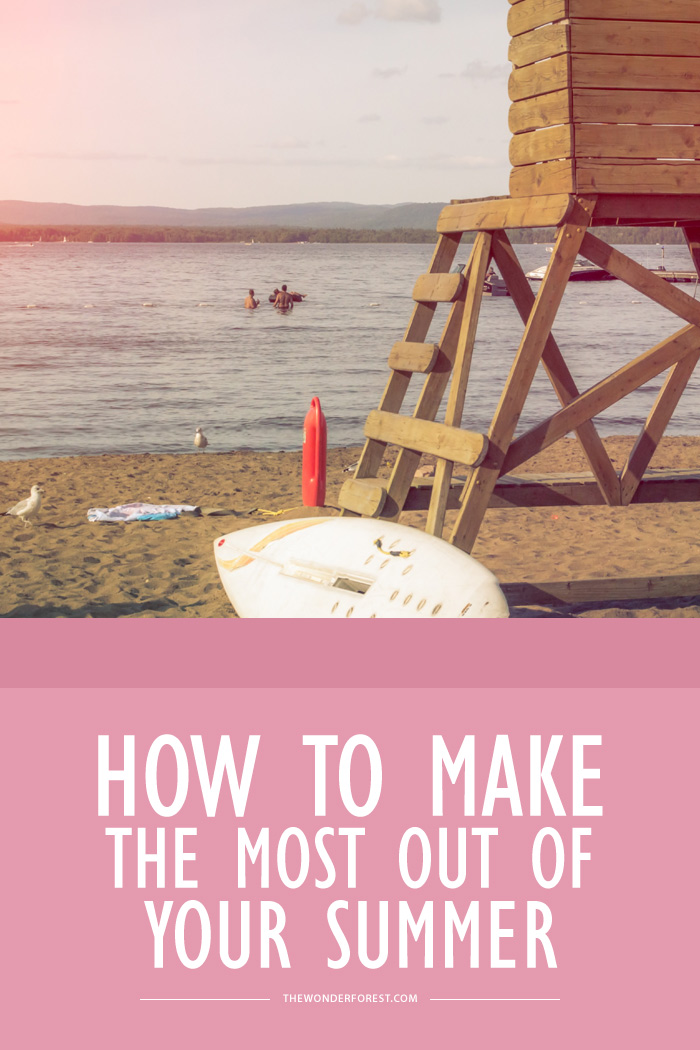 The official start of summer is right around the corner and it's time to throw out those adult responsibilities and reclaim your inner child. Make the most of the short-lived (yet, most loved) season: summer. Memories are waiting to be made, and no: you don't have to break the bank!
Your first step is creating time to do things. A few hours a week is all you need. If your answer to that is that "you just took a day off last week!" and all you did was errands…that isn't enjoying summer. You need to turn off those emails, ditch the phone, put down that to-do-list, and devote your time to ACTUAL FUN. Stop worrying about paid days off, those few hours of unpaid joy, will pay off much more than money ever will. If you are all work and no play, you may be headed for a burnout down the road. Call in sick for a much-needed mental health day, and don't stress over it. We're all human and need some time to bring ourselves back to life.
You don't have to take a trip, or even leave your house! You simply need to take a break from your daily routine, think of vacation as a frame of mind, and not a place or schedule. Here's a few quick ideas on how you can make the most out of your summer. Time to kick back, relax and enjoy!
Spend Time with Friends and Family
Let's start with the easiest way to enjoy your summer. Head to a mall, movie, park, or even plan a picnic with friends. Have a few laughs, and soak up some rays. Remember: Summer should be nice and simple.
Be Spontaneous
Planning ahead of time is great as it makes sure your plans will go through. But, planning and all that scheduling can be stressful and draining. If you are free one day/evening with no plans, call up a friend and ask if they want to check out a restaurant, or a local show. Spontaneous moments in life, always seem to trump planned events. You never know what may happen!
Be a Tourist in Your Own Town
Most of the time we find ourselves thinking of the places we live as areas only capable of grocery shopping, getting fuel for our cars, or just hitting up malls. If you treat where you live as a new-destination, you can discover something new. If you love food, and local markets, why not check out restaurants or local watering holes you haven't been too? Love art? There are many hidden galleries/studios around cities, ask around! Movies in parks? Festivals? Always check flyers/posters around your city, they offer great ideas for new events you can hit up.
Play Board Games
Great for all hours of the day, whether you stay inside on a rainy day or plan to sit in a park. Bring out the kid in you and play some classics: Monopoly, Sorry or even Operation!
Camp Your Heart Out
Round up your friends or your family, and enjoy a day of outdoor activities. Go to a park, or even just pitch a tent in your own backyard! Dance to some music, share stories, and always build a fire to roast some marshmallows. SMORES? YES PLEASE.
Movie Nights
Either gather all your blankets and pillows and make a bed in front of your television (with chips and candy of course), or rent a movie projector, find a blank wall outside and project a movie, then invite your neighbours, friends, and family over for an outdoor viewing.
Create Traditions
If you like routine, plan an annual summer BBQ. Another great tradition is to plan an annual trip to a lake, buy some cheap floaties and spend the day drifting with some summa drinky-poos.
Live the Hammock Life
Relax, breathe in some fresh air, pick up a book, float for awhile and let the day pass by until sunset.
All-in-all, doing nothing can do wonders on the soul. You don't need to travel to some exotic destination to say you had a great summer v-kay, just use your imagination, call up some friends and let the good times roll!
Last Updated on