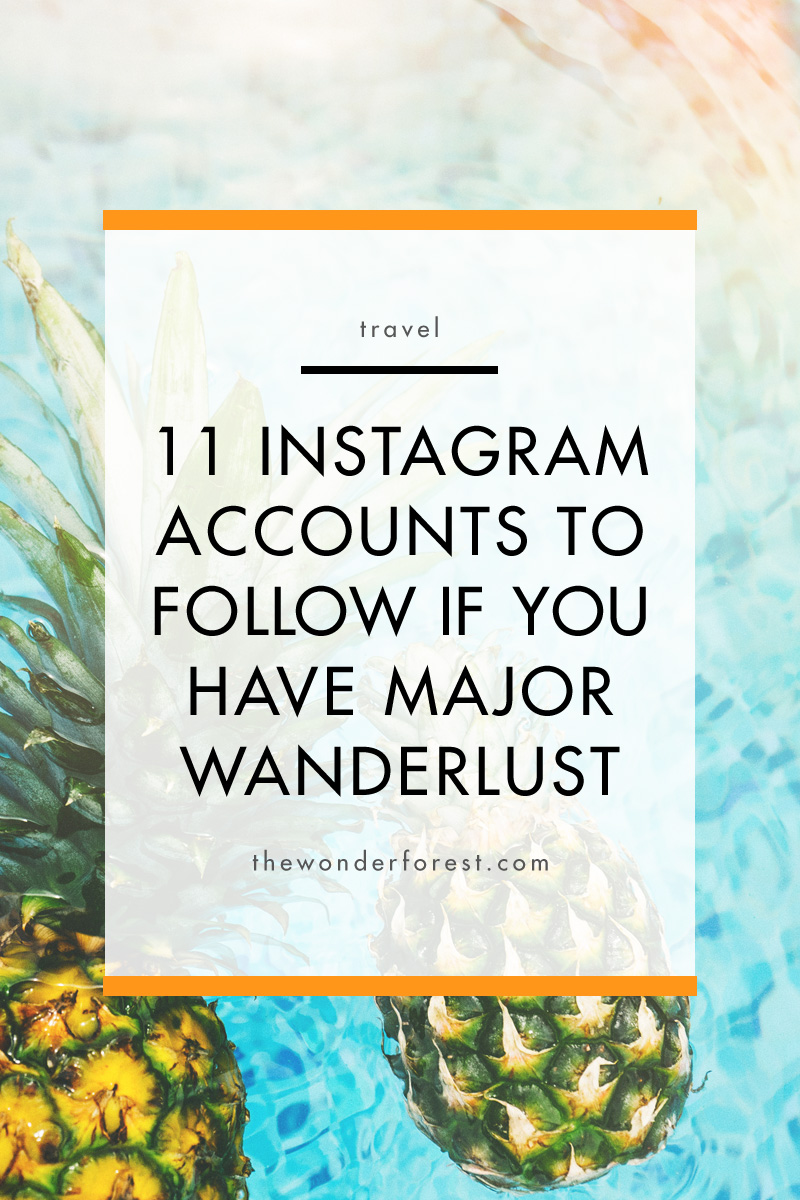 Without a doubt, Instagram has become a source for all things creative and inspirational. Over the years, it's expanded outside being just an app for friends and family to connect with each other. There's a place for everyone now – foodies, fitness junkies, artists, filmmakers, and one of my favorites- those with wanderlust.
I'm in love with scrolling through my feed to see beautiful snapshots of the Maldives, Kauai, and basically the most tropical locations that I probably will not be able to visit anytime soon. Travel Instagrammers, whether it's through their breathtaking photographs or whimsical eye for capturing the essence of exploring the world, are taking the web by storm. Here are 11 of them that you absolutely must follow!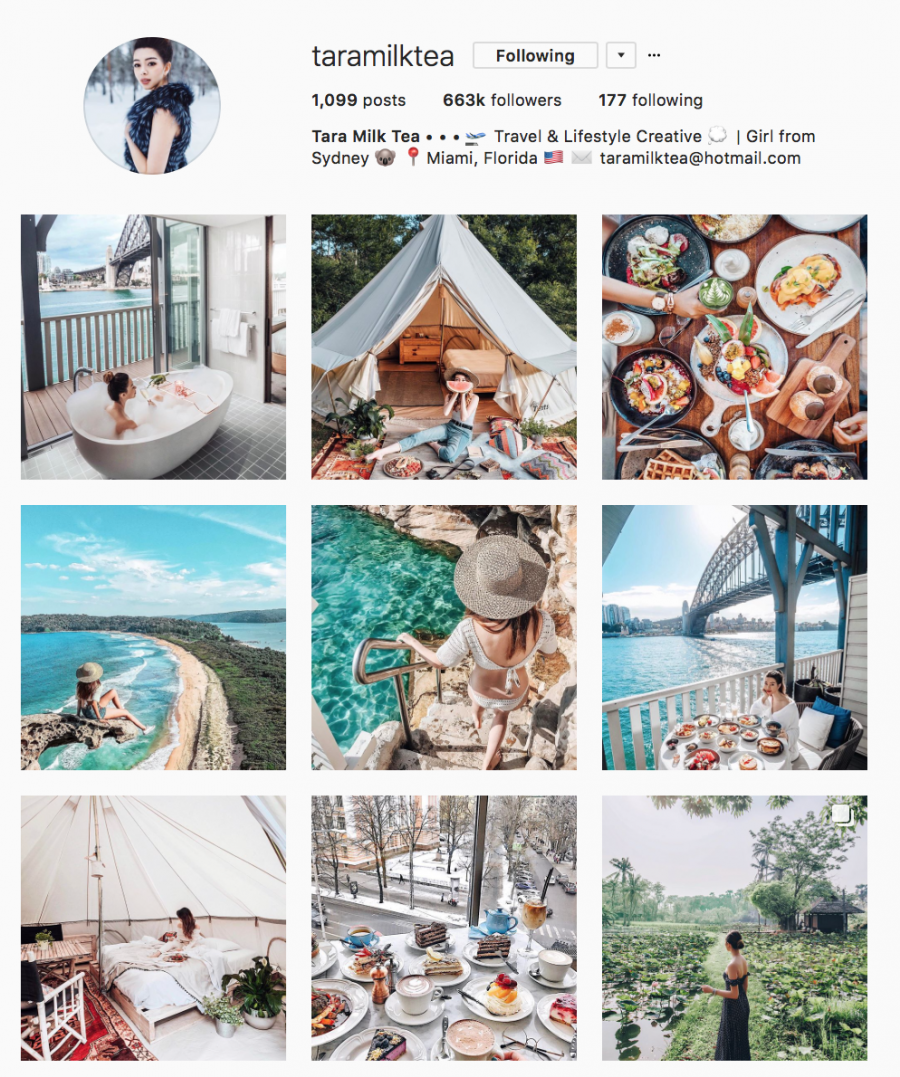 I stumbled across Tara's account a year ago, when she was still under 100k followers. Now, boasting 663k followers and growing, the Australia based blogger has become the go-to Instagrammer for all things flat-lays and travel brand campaigns. Whether it's Tokyo, Venice, or even glamping, Tara's colorful and stunning photos look like they're come out of a dream.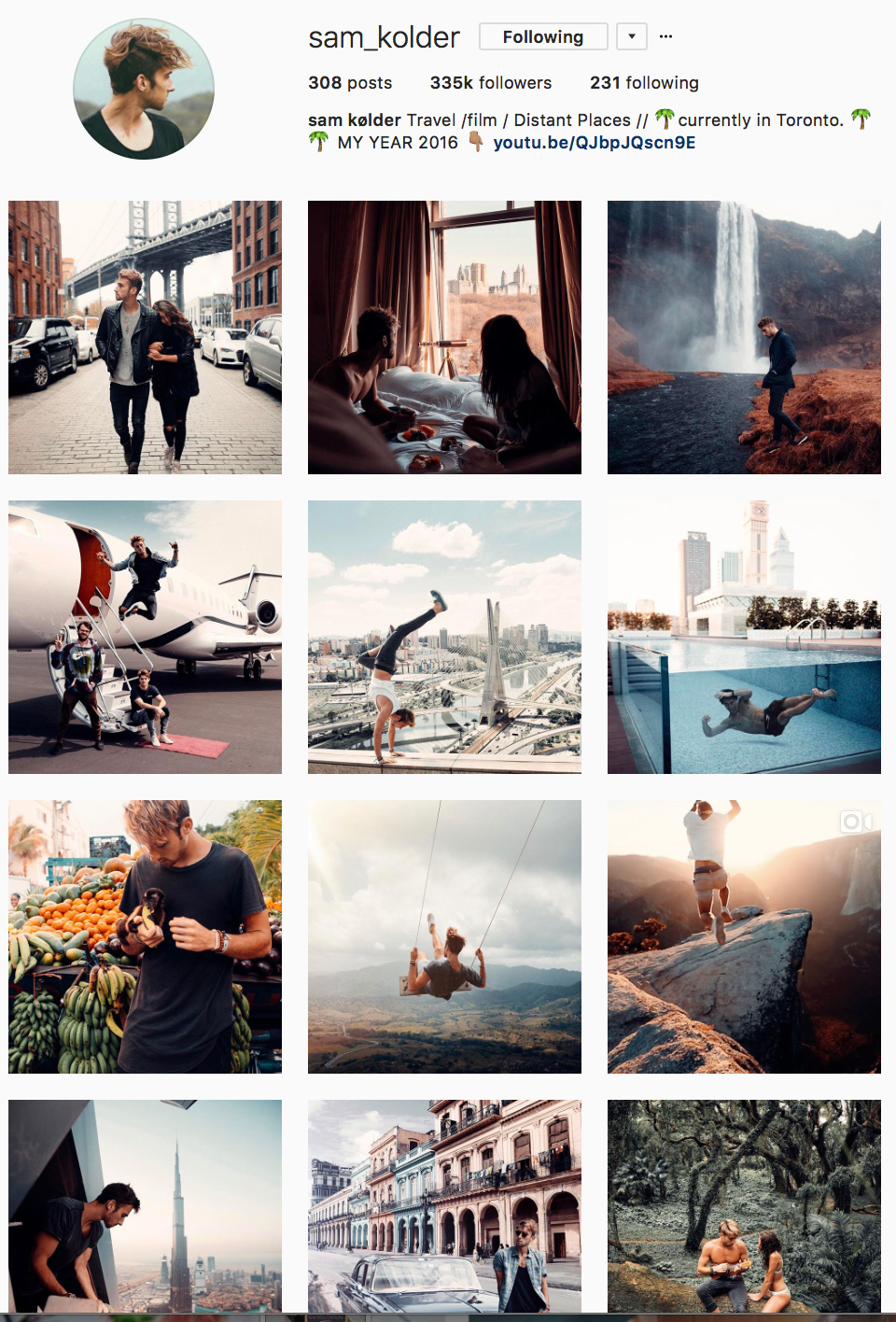 You may know this 21 year old Canada native from his famous videography skills on Youtube. Sam Kolder works for Beautiful Destinations, an award winning creative agency comprised of a group of talented filmmakers and photographers who travel the world creating content for tourism boards and travel brands. Videographers lust after Kolder's editing and cinematography skills, but his Instagram page is a gem itself. Browse through jaw-dropping shots of dangling over cliffs, running along skyscrapers, and trekking through golden deserts. Sam's daring travel escapades will certainly give you that thrill from the comforts of your bedroom.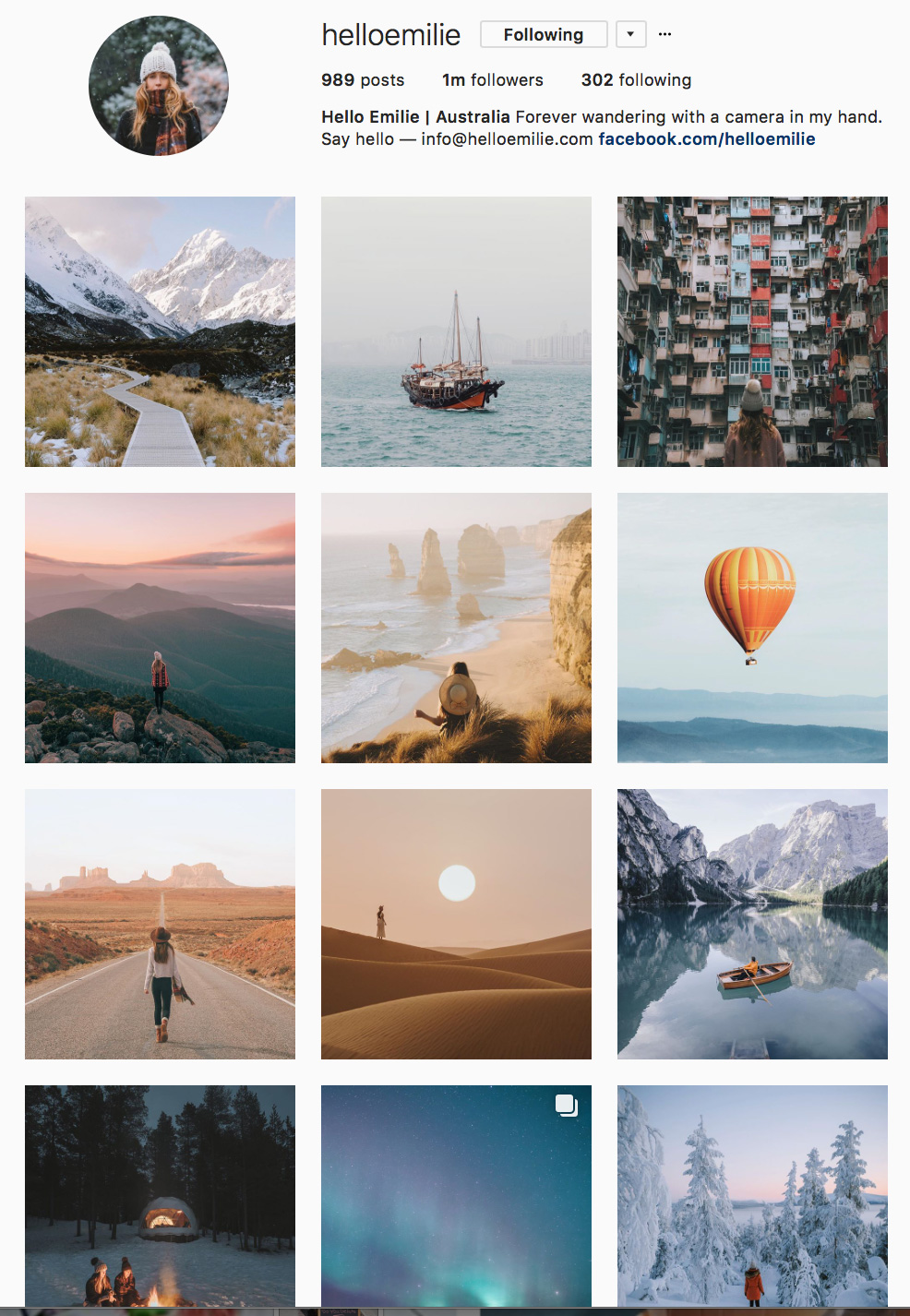 Emilie Ristevksi is the humble soul behind the whimsical and dusky photos from @helloemilie, based along the East coast of Australia. Emilie's photos focus on the details that travellers often miss, utilizing natural light and a simplistic style to capture nature in its most basic beauty. If you're a lover of all things minimalistic, Emilie's Instagram feed will deliver those doses of wanderlust, free of clutter.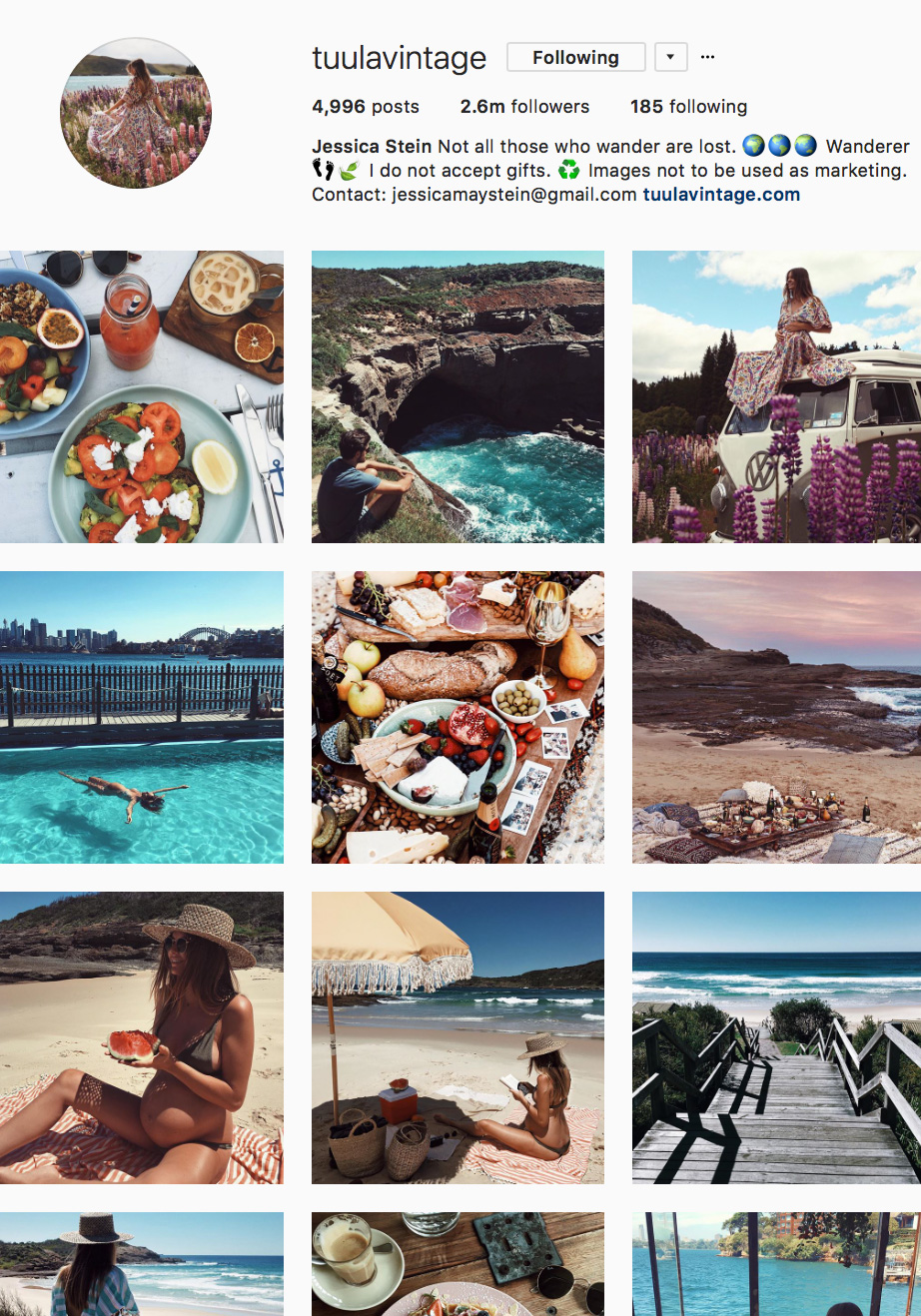 "Not all who wander are lost." This is the mantra the beautiful Jessica Stein channels through her tastefully curated, moody-toned Instagram feed. As a blogger, Jessica travels the world working with brands, promoting a very active and healthy lifestyle. Scroll through and become inspired by this soon-to-be mother. Honestly, she's slaying life. Pregnant and ROCKING it!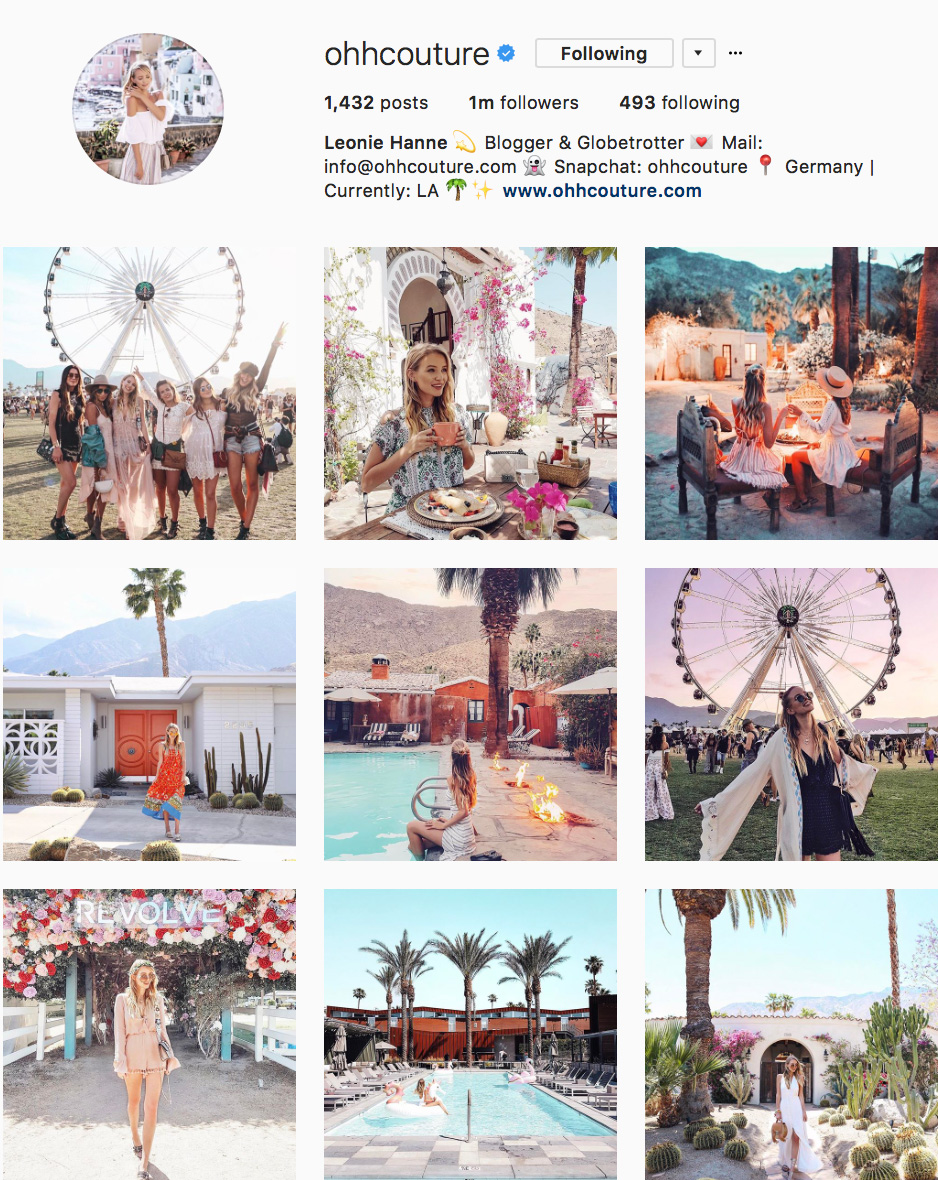 Can we just take a second and soak in the beauty that is Leonie's Instagram page? Let's actually take a moment.
Thank you. I don't think any more needs to be said about @ohhcouture's gorgeous travel photos. Chanel purse and coffee in hand, Leonie travels in style and grace, something I will forever be envious of. Prance through Dubai deserts, bathe in flower petals in Sri Lanka, and enjoy a luxurious brunch while admiring animals in their natural habitats. You won't regret giving this account a follow.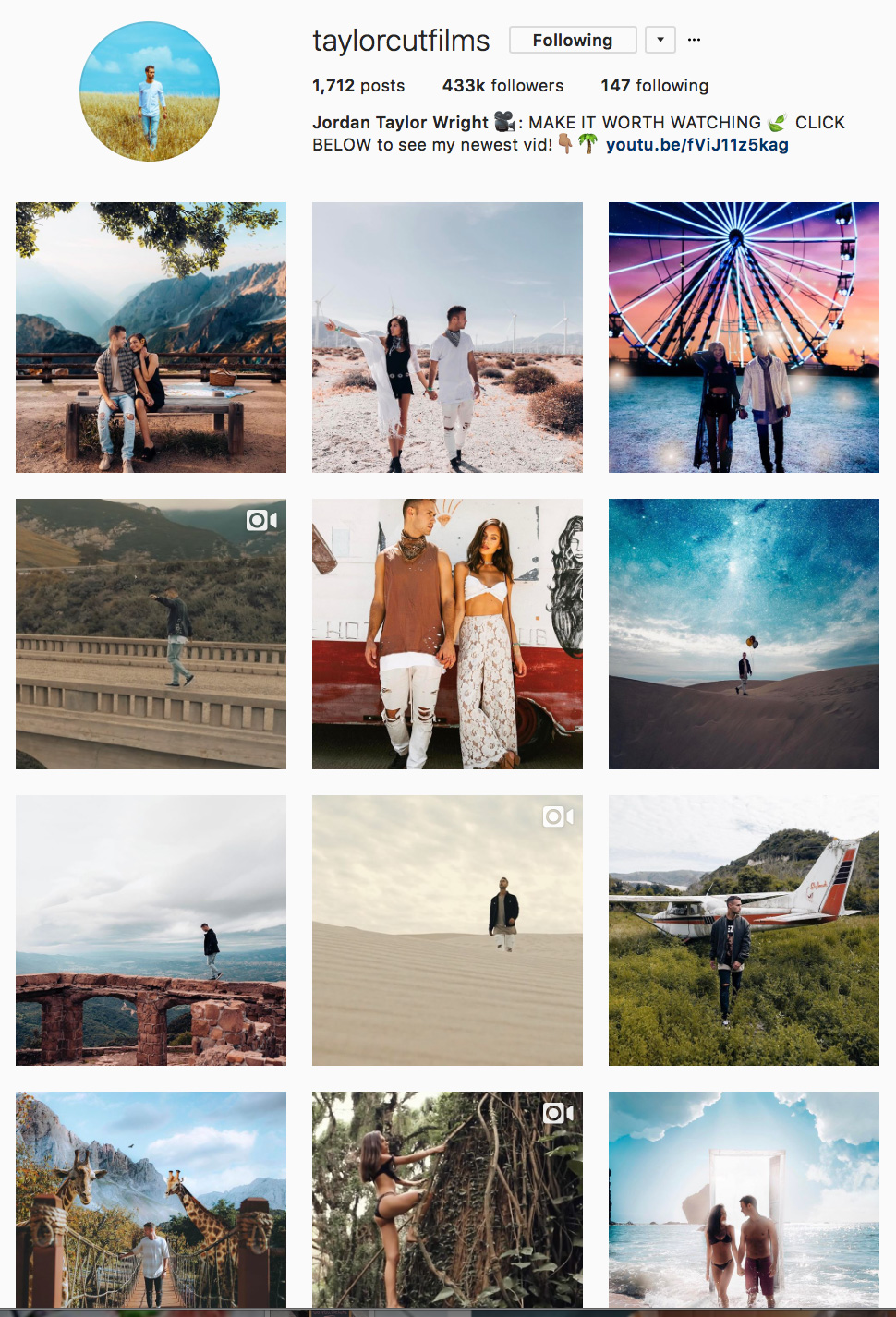 If you're a fan of Sam Kolder (previously mentioned), you'll love Taylor as well. Also famous for his cinematography on Youtube, Taylor's travel photos on Instagram are specially known for his editing skills. Far surpassing the basic color correction and exposure tweaks, Taylor transforms a basic travel photo into something deserving of being in the Lord of the Rings. Him and his stunning girlfriend Alyssa also showcase their affection for each other in the form of these artistic creations, and you won't regret seeing a romantic yet mythical photo pop up on your feed.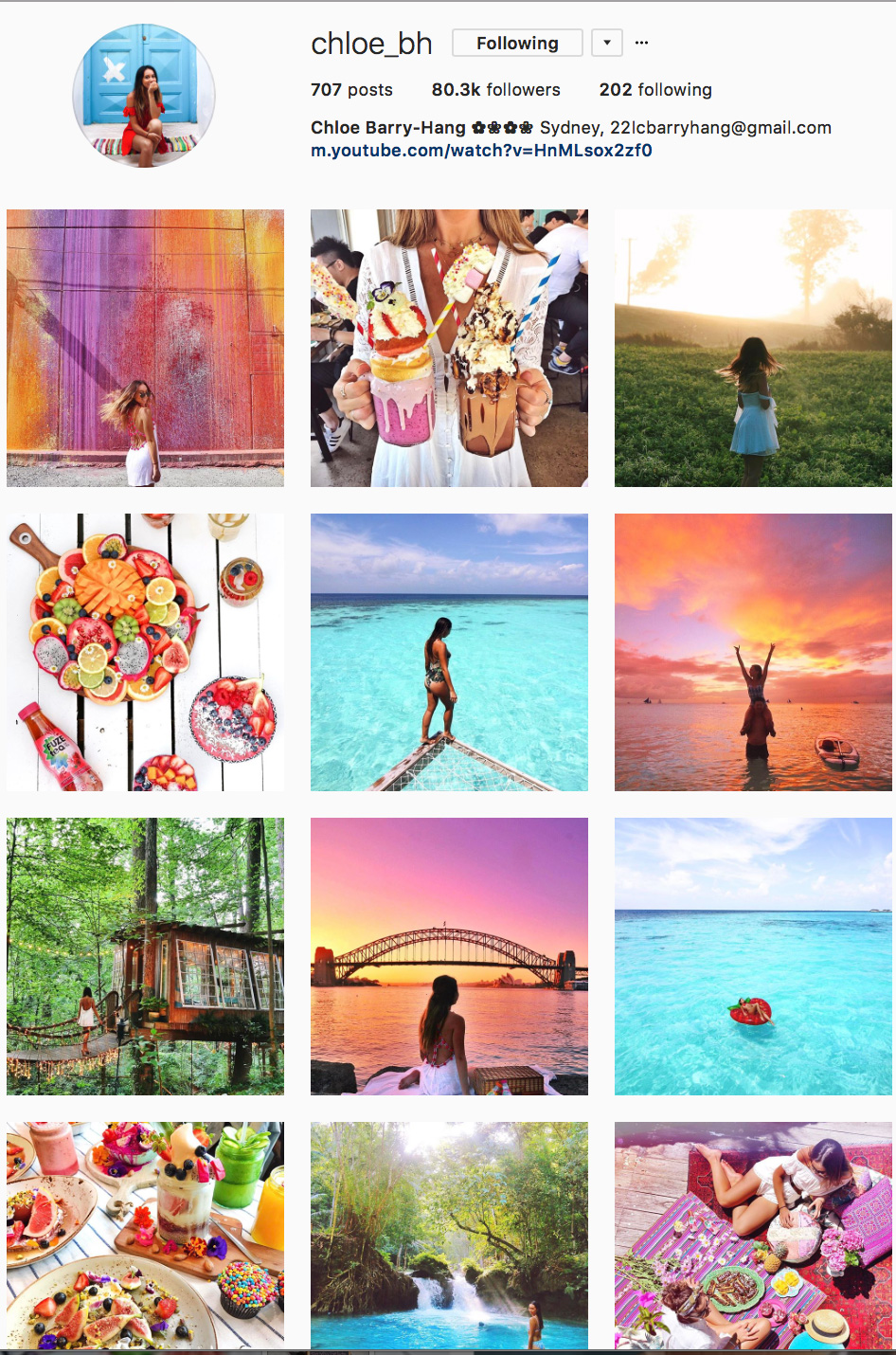 When I need bursts of color and inspiration in my life, I always go to Chloe's IG page. And I'm never disappointed. No one captures a sunset like Chloe does, nor rocks a colorful wall better than she does. Tree houses, pool floaties, waterfalls, and the craziest Sydney brunches await you. Santorini, Dubai, Philippines, and acai bowls make for my dream IG feed.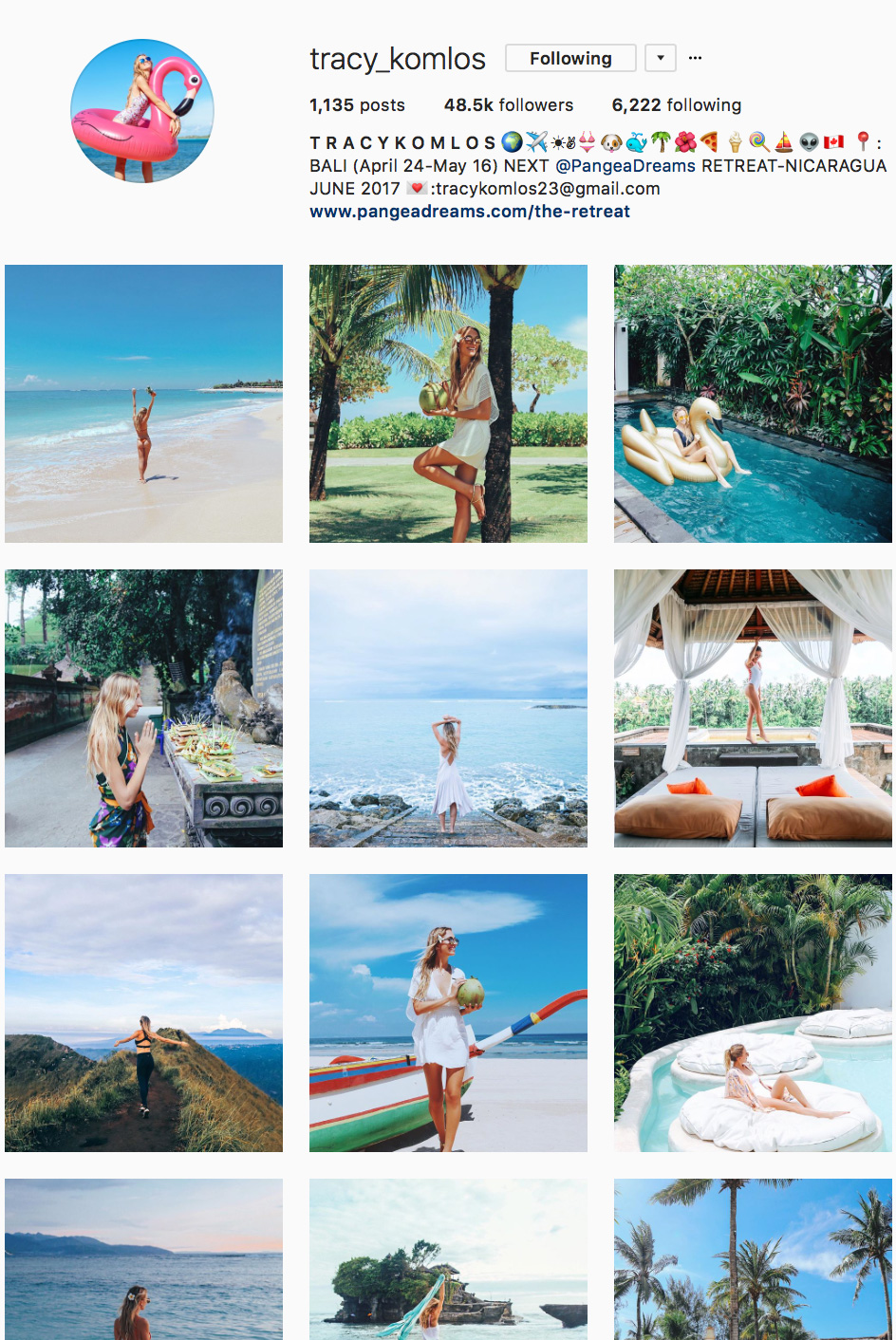 Tracy Komlos's Instagram feed is how I wish to die. On a tropical beach surrounded by unicorn pool floaties. Either that or death by overconsumption of pineapple. I think you get my point- I'm very, very, envious of these photos. "Tropical" is the word to describe Tracy's travel photos. "Floatie" comes a close second. If you're a fan of light blue tones and water, you'll be obsessed with @tracy_komlos.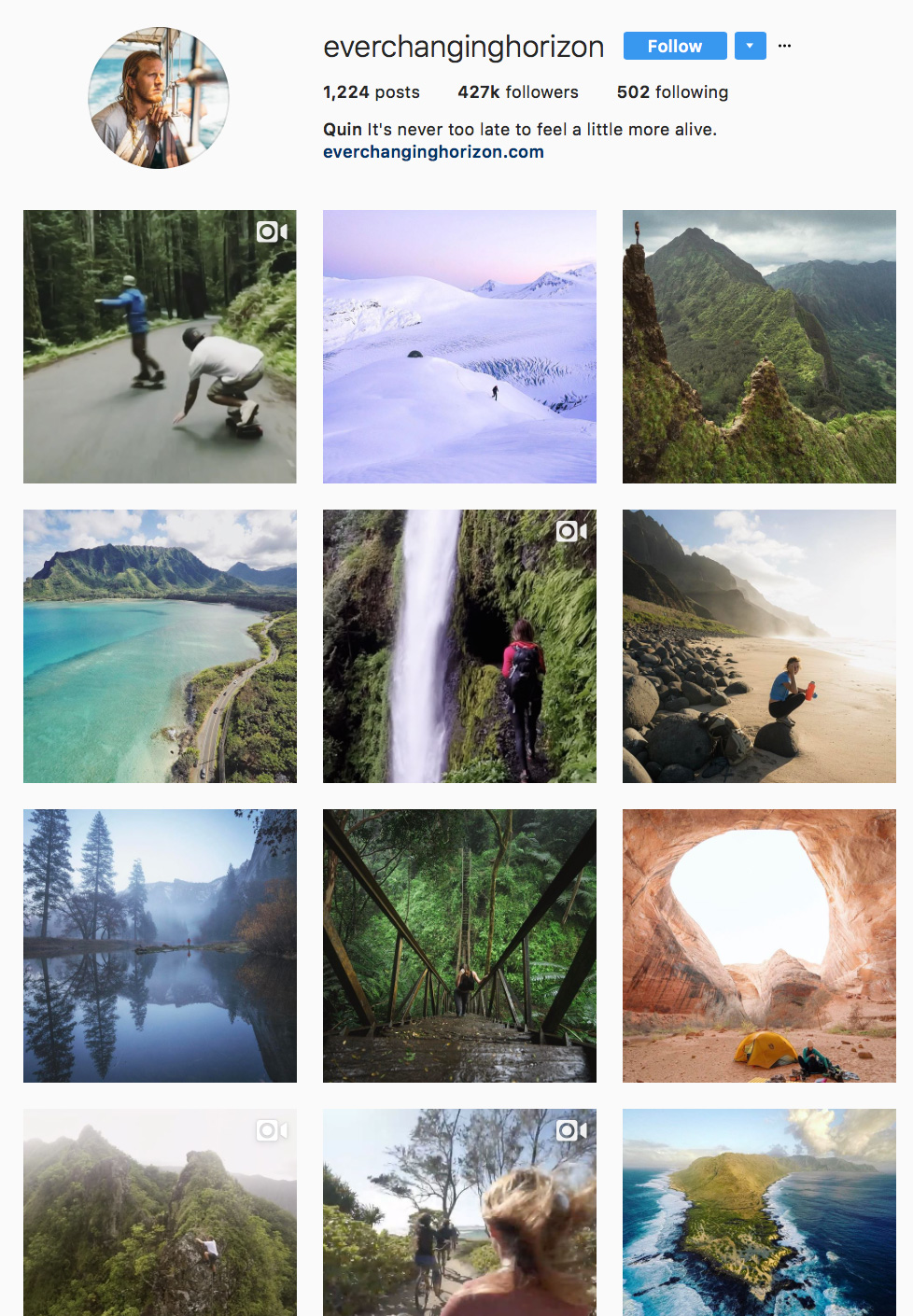 If shots of tropical resorts and purposefully posed photos aren't your thing- and you're looking for some pure travel inspiration, then Quin from @everchanginghorizon is your guy. His well composed shots of the best of what nature has to offer.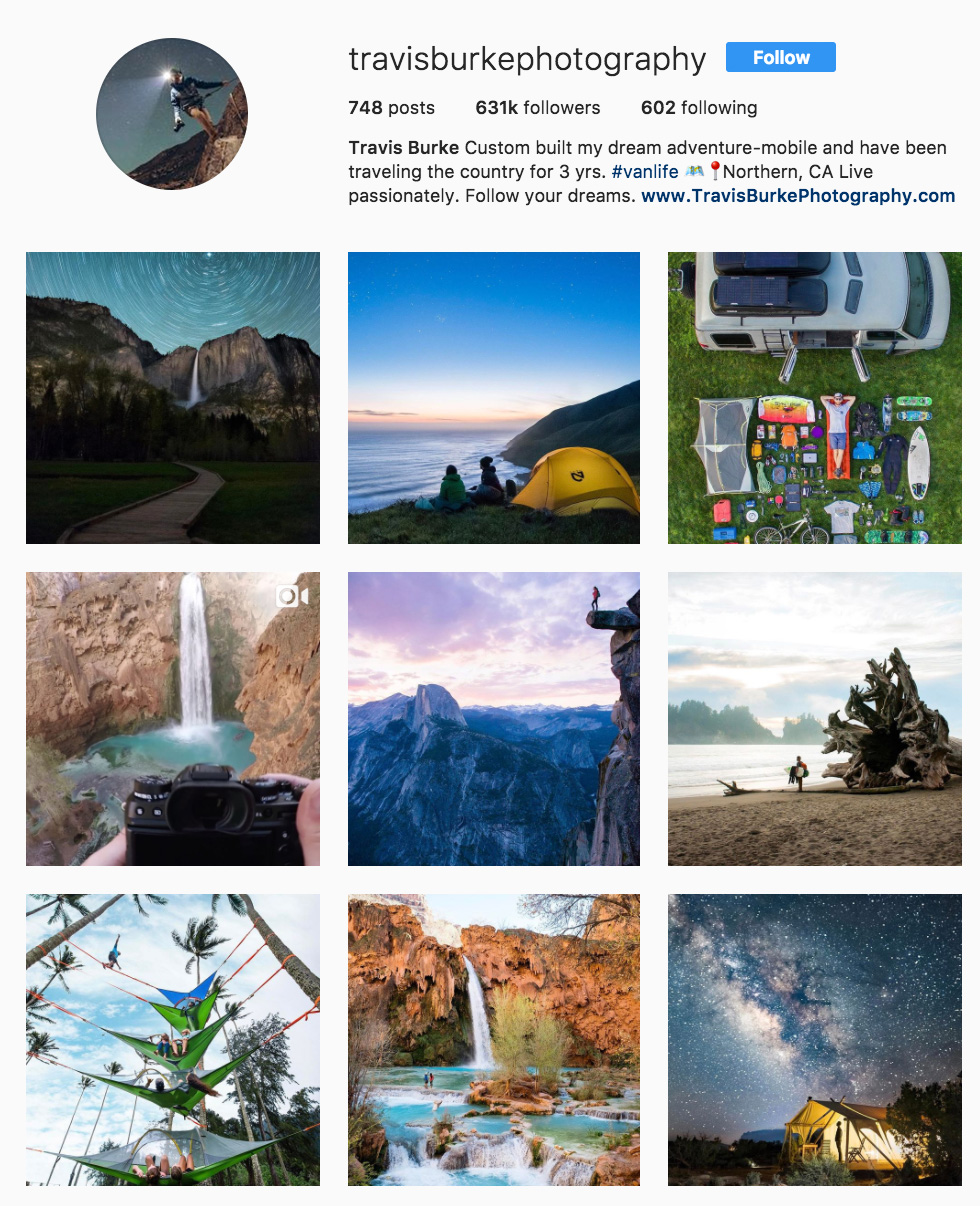 Calling all nature and camping lovers- US based travel photographer Travis Burke lives his dreams and passion by capturing the world as he sees it. Lakes, mountains, beaches, stars- you name it. I don't blame you if you purchase a ticket to Yosemite right after you scroll through a few pictures.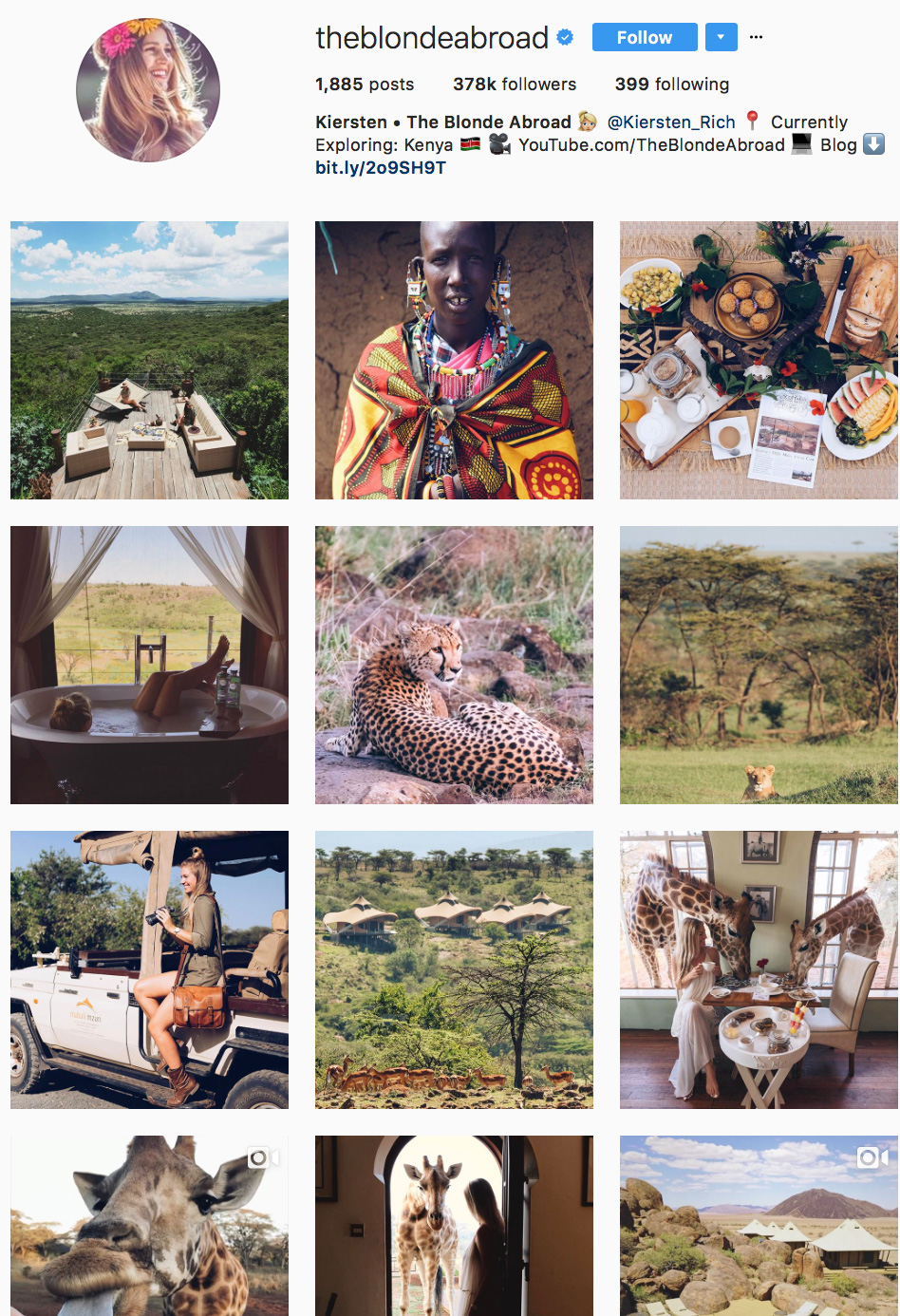 Last but not least! Kiersten from @theblondeabroad is currently exploring Kenya, capturing parts of the world outside of luxury resorts and and spontaneous helicopter rides. But that doesn't mean she isn't getting the luxury experience. Kiersten dines with giraffes, bathes with a view outlooking the Kenya grasslands, and drives alongside zebra herds. Her photos truly capture the beauty of traveling in the outdoors, and even if you don't get a chance to do the same, you can do so through her Instagram feed.