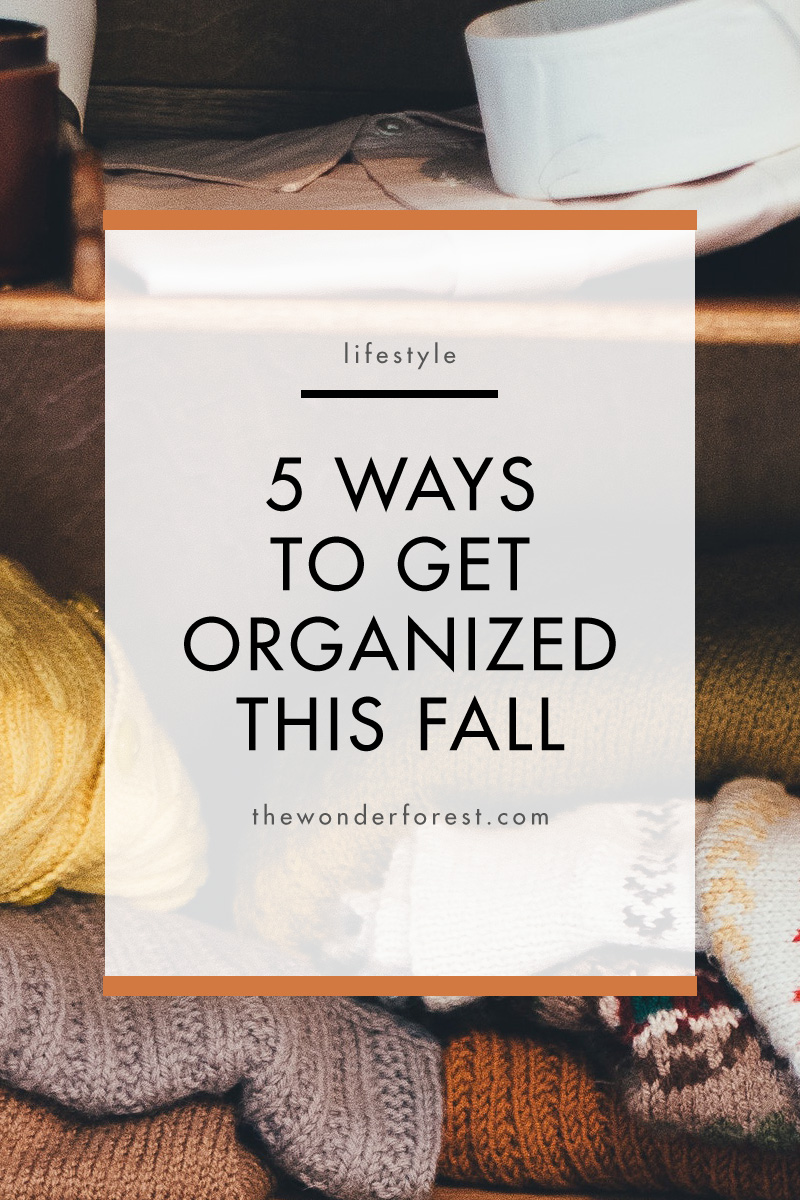 Spring cleaning is a good time to declutter your home and welcome summer, but I feel like fall is the best time to get organized. Fall feels like a fresh start, plus it gives you time to get organized before the first of the year.
Even if you're not in school anymore, that doesn't mean you can't get motivated to organize your life a little bit and give yourself a new start. So here are 5 awesome ways that you can organize your life before the new year starts!
Create or Update Your Morning Routine
I'm a firm believer in the power of a good morning routine. I know that when my mornings are bad, my whole day suffers. If you've always dreamed of waking up early in the morning and meditating, writing, getting a workout in, or something else, fall is the perfect time to make it happen. Figure out what the best time for you to wake up is, write out a list of what you want to do, and stick to it for a month to create a habit. If you want to read more about having an amazing morning, you should read the book The Miracle Morning by Hal Elrod. You won't regret it!
Purge Your Closet
Fall is also the perfect time to purge your closet and update your wardrobe. As you take out your fall or winter clothes, go through them and get rid of what doesn't fit your body or your style anymore. Make a pile of things to keep, things to donate, and things to throw away. If you're not sure about an item, then try it on and make your decision. As you put things in your closet, make a list of the items you need to buy to complete your new, updated wardrobe. Nothing says "fresh start" more than a new wardrobe!
Clean Up Your Electronic Life
It's so easy for our electronic lives to get out of control! I'm talking about the stuff on our phones, computers, and social media. You can start decluttering your electronic life by deleting any apps on your phone that you don't use anymore. Then you can look through your contacts and photos and delete what you no longer need. When you're done with your phone, you can move on to your computer. Delete any photos or files that you don't need and then organize what you have left into folders. Finally, you can sort through who you're following on social media and unfollow/unfriend anyone who brings you down or who you're just not interested in. It's also a great time to update your profile photos and bios!
Deal With Paper Clutter
Most people have a big problem with all of their paper clutter. Fall is a great time to deal with it! It's a good idea to get your paperwork in order before the new year. Tax season is also coming up, so it's time to get organized for that too. It's a good idea to get some file folders if you don't have any and file your paper into different categories. As time goes on, you can slowly focus on each folder until they're organized.
Update Your Goals and Make a To-Do List
It's almost time for a new year, and you know what that means. New goals! If you set goals at the beginning of this year, now is the perfect time to reflect on them. What goals do you have left to achieve? What goals are no longer relevant to you? Think about what you wanted to achieve and update what you need to. If you have a goal left that you really want to crush, then make a to-do list of what you need to get done between now and January to make that goal a reality.
Last Updated on