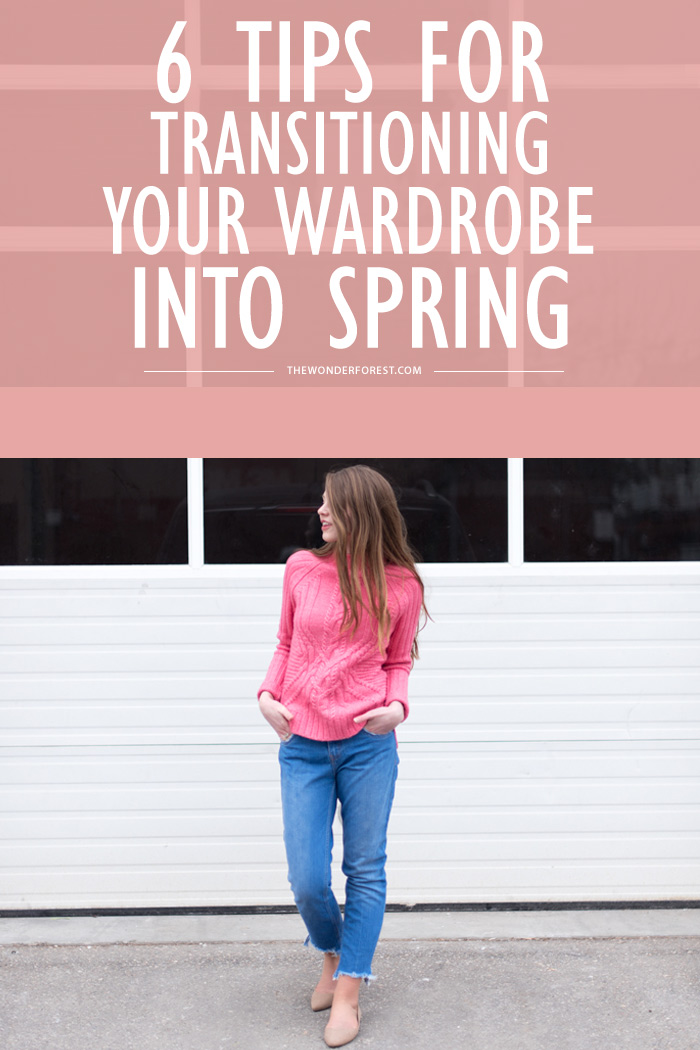 While the rest of the world seems to be blossoming into spring, us northerners always seem to be stuck in 6 more weeks of winter—no matter what Mr. Groundhog said.
This time of year provides a style stumbling block I hear all the time in my personal styling work, and one I struggle with every year. The transitional season—when we're feeling totally sick of our winter wear but mother nature hasn't quite caught up to our spring vibes—is one of the hardest to dress for. (Can I get an amen?!)
The wonderful ladies at the Wonder Forest agreed, and we thought I better pop over here and share some of my favourite tips for shedding the winter wear and adding a little spring into your step—all while still keeping warm.
Put the opaque tights away and layer over denim instead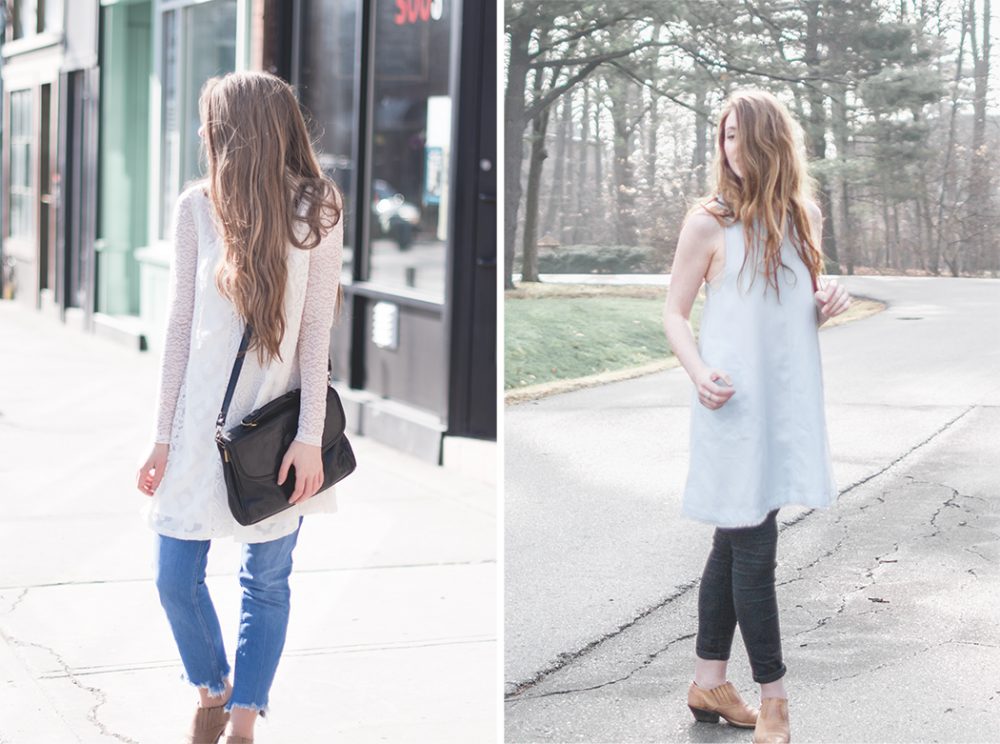 When we want to break out the spring dresses before we're ready to break out the bare legs, a common impulse is to pair them with nylons—which can make our spring dresses feel like winter dresses.
Instead, layer your dresses over denim for a fresher look.
There are so many ways to pull this off! I love the contrast of feminine dresses over ripped or boyfriend denim. A perfect way to ease into the dress-over-jeans look is with your favourite straight, swing, or drop-waist dress over a pair of light-wash skinny jean.
Bonus Tip: I've loved this tip for many springs, but this year dresses over pants is right on trend! So don't stop at your denim, if you're feeling adventurous you could layer it over your favourite skinny or wide-leg trouser.
De-winterize your coat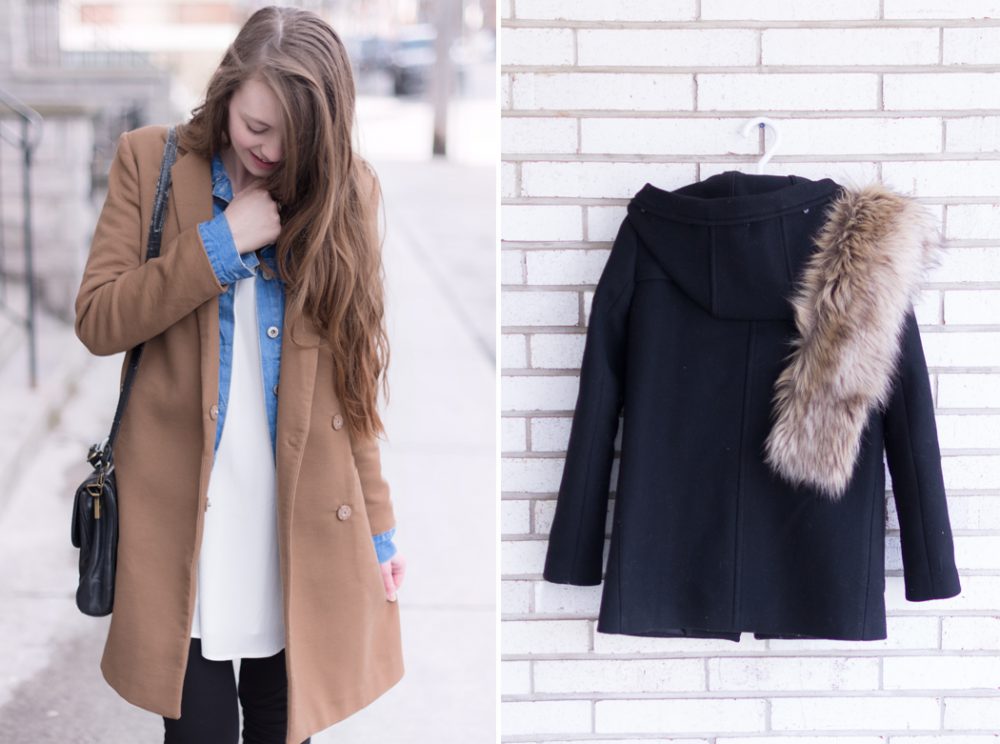 The first clothing culprit that will crush our spring fantasy is fur (whether real or faux.) If you have a relatively new fur-trimmed wool coat, chances are your fur hood or collar is removable. A few unzips or unbuttons, and you've got a spring coat.
If you don't have a warm furless wool coat, you may want to break out a spring coat…or two. You can layer a denim or leather jacket underneath a second jacket for added warmth (without resorting to the bulky winter parka.)
Layer "up"

Okay, so you're pretty sick of layering by this point in the season, but hear me out. Instead of feeling weighed down + bundled up by layers, think of each added layer as an opportunity to brighten up your outfit.
Whether it's adding a scarf that's a brighter colour than the rest of your outfit, or a boldly patterned cardigan, try to always be adding pieces that brighten up or lighten up your outfit—instead of pieces that darken it or weigh it down.
Style hack: An easy way to do this is to take your jacket colour and look for a printed scarf that has that same shade plus brighter/lighter colours mixed in. I did this in the above outfit—instead of layering a scarf that was grey and black, I went for one that was grey and white.
Swap out the beanie for a fedora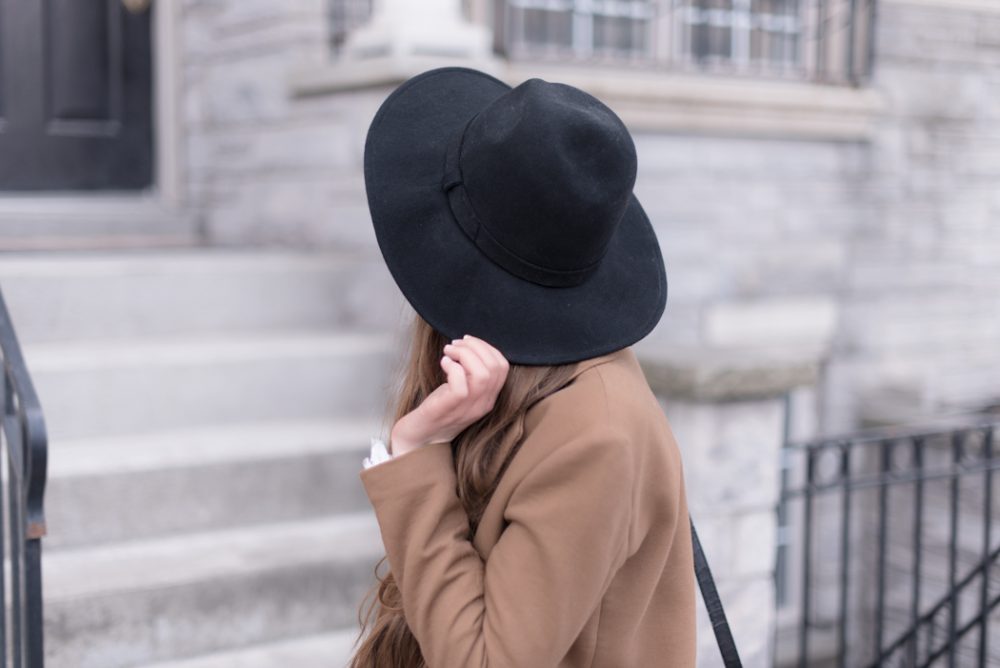 Keep your head warm + dreaming of spring with a more transitional brimmed hat.
I love wide-brim styles, and a classic fedora will always be in style.
Bare some ankle

As soon as snow melts, it's a go-ahead to break out your favourite spring flats, pumps, sneakers, and loafers. Now just add one little step: a cropped pant.
Cropped trousers, culottes, and (my personal favourite) frayed hem denim are all ankle-baring pants on their own.
But you don't need to run out and buy anything new, just grab your go-to pair of jeans!
If they are skinny jeans, fold the hem to cuff them, about two to three inches above the ankle bone.
If they are a more relaxed fit, try rolling them to just above your ankle bone.
Style hack: Keep your ankles + feet warm with a pair of skin-coloured knee-highs underneath—no one will ever know it!
Encourage spring in your closet

This is a big one, guys! The main reason transitional seasons are hard: our brain wants to keep wearing the things it's used to wearing. Yup.
How many times have you got sick of the things you wear all the time, but then looked at the rest of your closet and determined you have nothing else to wear? (Me too!) You have plenty other things to wear, your brain just doesn't want to break its habits.
The easiest way to fix this? With a little closet reorganize. It doesn't need to be like that time you tried to clean out your closet and it took all afternoon….and you got tired…and you had garbage bags of clothes on your floor for weeks…
In fact, I have a quick and painless way to do this. I put it together in a 10-minute 2-step guide to organizing your closet for spring that you can download here.
The goal with this tip is to break your brain's outfit habits by making your closet a place that feels fresh and inspiring—making it easy for you to pull out a spring outfit you are excited to wear!
And there you have it, 6 easy tips to ditch the winter wear and start dressing like it's spring—no matter what mother nature is up to! I'll be hanging around the comments to answer any more style Q's—so ask away! And don't forget to grab my two magic tricks for organizing your closet for spring!
Last Updated on