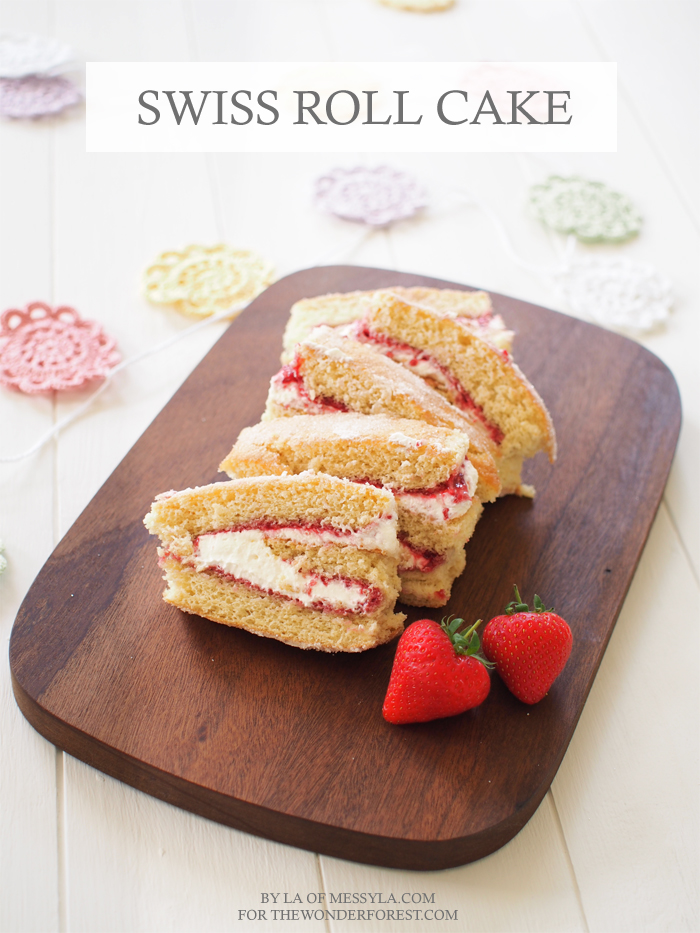 Swiss roll is a light, springy and volumptuous cake. The lightness comes from the absence of butter in the sponge.. and baking without butter means you don't feel guilty about lathering it with delicious cream and jam! A perfectly fresh dessert to enjoy all summer long. Bon Appetit!
You Will Need:

For the Roll:
125g Caster Sugar with an extra 3-5 tablespoons for dusting
2 Tablespoons Warm Water
1 Teaspoon Vanilla Extract
125g Plain Flour

For the Filling:
6 Tablespoon Raspberry Jam
225ml Double Cream, Lightly Whipped

Equipment:
Swiss Roll Tin (Roughly 25 x 38cm)
Parchment Paper
Damp Tea Towel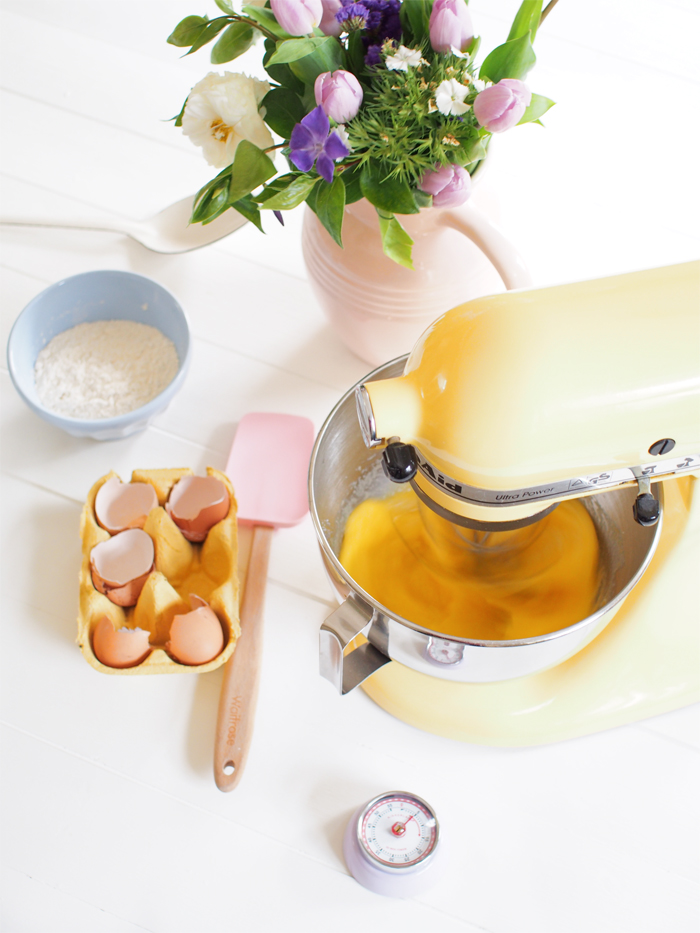 Step One:
Preheat the oven to 190 degrees C. Line the base of your swiss roll tin with re-usable baking parchment. If you are using greaseproof paper, be sure to line the sides of your tin too with butter and/our flour.
Whisk the eggs and caster sugar together in a large bowl. I use a freestanding, electric mixer for easiness – you want to whip together your eggs and sugar for 5 minutes, on the highest speed. Your mixture will triple in volume, become mouse-like and fluffy. Add in your warm water and vanilla extract.
Sift in your flour, about one third at a time. Fold into your mixture carefully. You want it to be light, so over mixing will take out some of the essential air. Be cautious!
Pour the mixture into your swiss roll tin and wiggle a little from side to side to ensure it reaches the length of the tin.
Bake for 12-15 minutes or until the cake is springy to touch and slightly golden.
Leave your swiss roll to cool on a wire rack. Take a damp tea towel and place over your swiss roll. Making sure it is in the corners of your cake. This will stop the swiss roll drying out.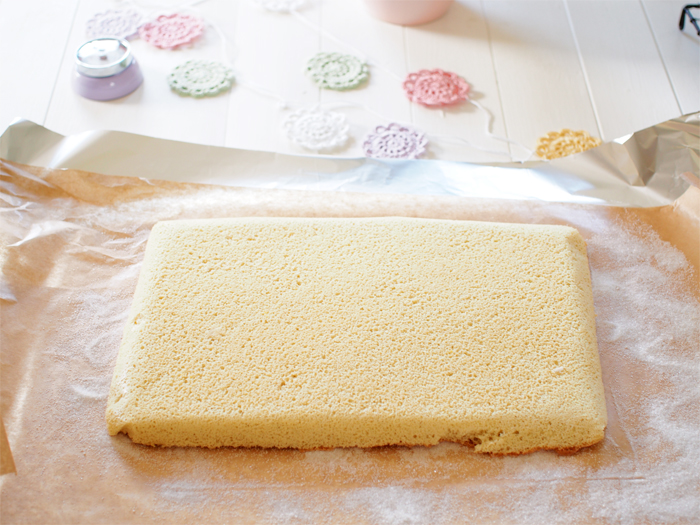 Step Two:
When cold, spread out a piece of grease proof paper on a work surface/board. Sprinkle with caster sugar, this will coat the outside of your spring roll.
Turn your swiss roll onto the sugary paper, then carefully peel back your paper lining from the bottom of the cake.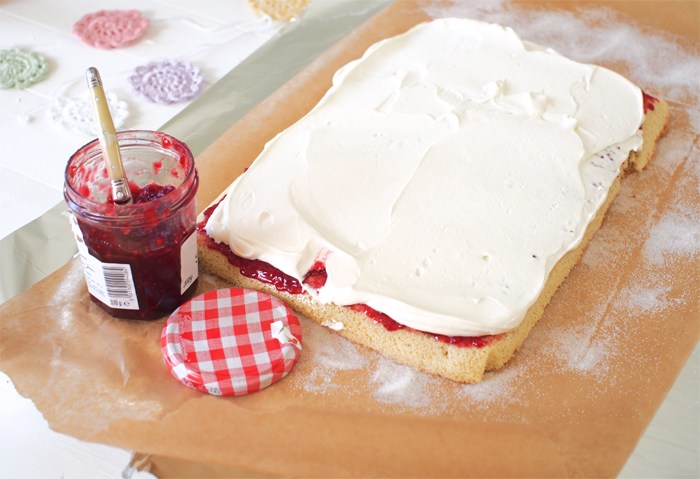 Step Three & Step Four:
Spread a thin layer of jam on your swiss roll, followed by your whipped cream. The cream should be lightly whipped, not stiff. Stiff cream will tear the sponge and disturbs the layer of jam too.
Grasp the sheet of parchment paper from beneath your cake and use it to encourage your cake to roll. Don't worry if it's not a perfect roll. It will crack and crease, but that's what gives it charm and flavour!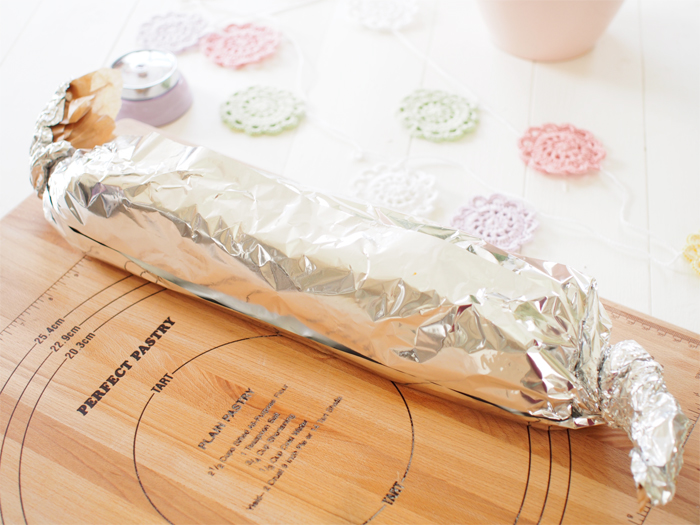 Step Five:
Keep your parchment paper around the rolled cake and add a sheet of tin foil around it. Place in the fridge for a few hours before serving.
Step Six:
Enjoy with a cuppa and even some fresh strawberries and raspberries.

DIY & RECIPES CONTRIBUTOR | posts 
La is a designer, blogger at messyla.com, stylist and photographer. She lives in a little cottage in Scotland and loves baking, drinking coffee, and cats. When she is not photographing beautiful things she can be found collecting kitchen paraphernalia and wearing stripes.
Last Updated on