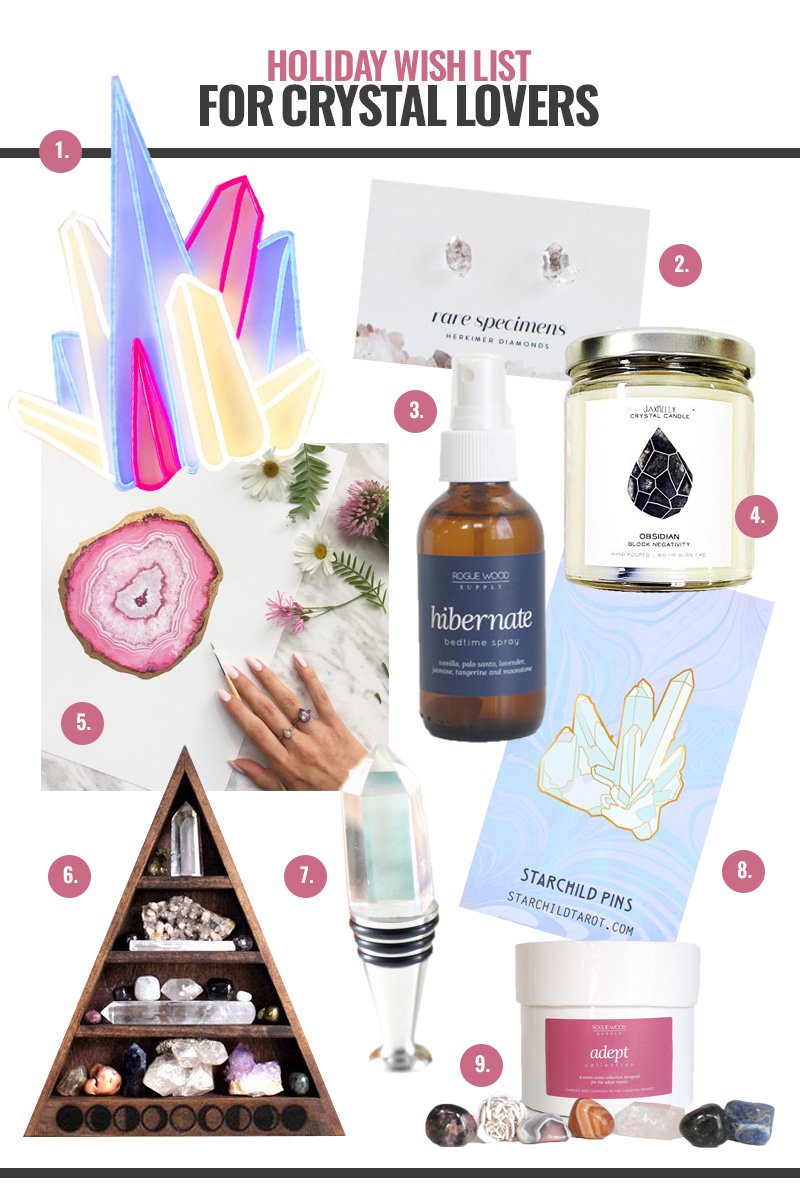 Online shopping for your presents this year is the easiest and least stressful way to tick off a couple boxes on your list. And if you have a crystal lover in your life, you can really up your ante this year by offering a crystal-themed present that will make any die-hard swoon.
Every crystal lover wishes she could cast a crystal glow through her personal space, and thanks to Electric Confetti it's now possible. This super cool LED neon light brings back fun and nostalgic décor reminiscent of bright neon lights in 80s and 90s advertising. But they don't hum like traditional neon lights, so crystal sensitive's don't need to worry about feeling bad vibes. Electric Confetti makes small batches of modern lights as most of their products are made to order, so always send a quick note before ordering something.
The only thing better than diamond earrings are raw diamond earrings. A Herkimer diamond is actually a doubly tourminated piece of quartz (a point on each side), so they're much more affordable but look just as luxurious – if not more! Every crystal lover craves wearing her fave stone on her lobes, and Rare Specimens has a great dynamic variety to choose from, like amethyst, pyrite and garnet!
Winter has us feeling extra cozy. This sweet and therapeutic bedtime spray has a moonstone crystal infusion to help you sleep soundly and promote healthy bedtime rituals. Moonstone is a super feminine stone that is strongly connected to the moon and its wisdom and insight. Under the influence of this stone and the Hibernate scent of vanilla, palo santo, tangerine and floral notes, dreams may be more vivid and powerful.
This hand poured soy wax candle has a black crystal hidden inside! Obsidian is the perfect stone for absorbing negative energy and sending out protective vibes. The obsidian emanates this energy outward as you burn your candle – and you get to keep a powerful crystal once the candle is all used up. Jax Kelly offers many fun crystal varieties that each offers a different energy so you can get really personal with your selection.
Birch Bliss creates stunning watercolour paintings of crystals like this ruby agate slice, and pairs them with gold leaf paint to reflect light and make the painting incredibly life like. Birch Bliss offers many varieties of prints and original works with the hopes that each one "reminds you of the jewels buried inside you". They come in 11×14 inches on 140 pound mixed media paper.
Every crystal lover needs somewhere to store her crystals! The amazing wooden, triangle-shaped mountable shelf by Stone and Violet is the coolest way to show off crystals. You can hang it or rest it on a table top. Plus the crystals get to live in their own little house! This poplar wood shelf is stained in black walnut and finished with beeswax and natural oils. It is handmade with torch and iron markings outlining the moon phases across the front, and offers four levels to place crystals on.
If you really want to wow dinner guests, bust out a crystal wine topper on some sparkling Moscato or homemade sparkling sangria. These crystal wine toppers are made with natural quartz and FDA approved kitchen grade stainless steel, ensuring that harmful metals will never seep into your precious vino. They double a seriously sparkly décor by standing upright on their own.
Starchild Tarot is famous for stunning, feminine tarot cards, and the shop has recently expanded – magical pins joining the list of essentials offered. A crystal pin instantly dolls up any oxblood peacoat, adding a bit of magic to a tasteful lapel. Crystal lovers will be ecstatic to wear a tasteful crystal fastened for all to see.
Every crystal lover is looking to expand her collection of stones. The Adept Collection by Rogue Wood Supply is a seven-stone collection of advanced stones ready to assist the adept mystic. Each kit comes cleansed and charged with cool moon moodlets and a list of properties that each stone carries. The collection contains rhodonite, desert rose, Botswana pink agate, red malachite, lemurian quartz, galaxite and sodalite.
Last Updated on