Summer style is totally on my mind lately. How can it not be, I am sitting here in 35 degree weather while I write this (that's about 95 for my Americans!).  To help scratch this itch, I recently discovered Fab, an awesomely trendy design-curated shop that immediately puts a smile on my face. They offer designer products at great prices, including some of my top picks for summer: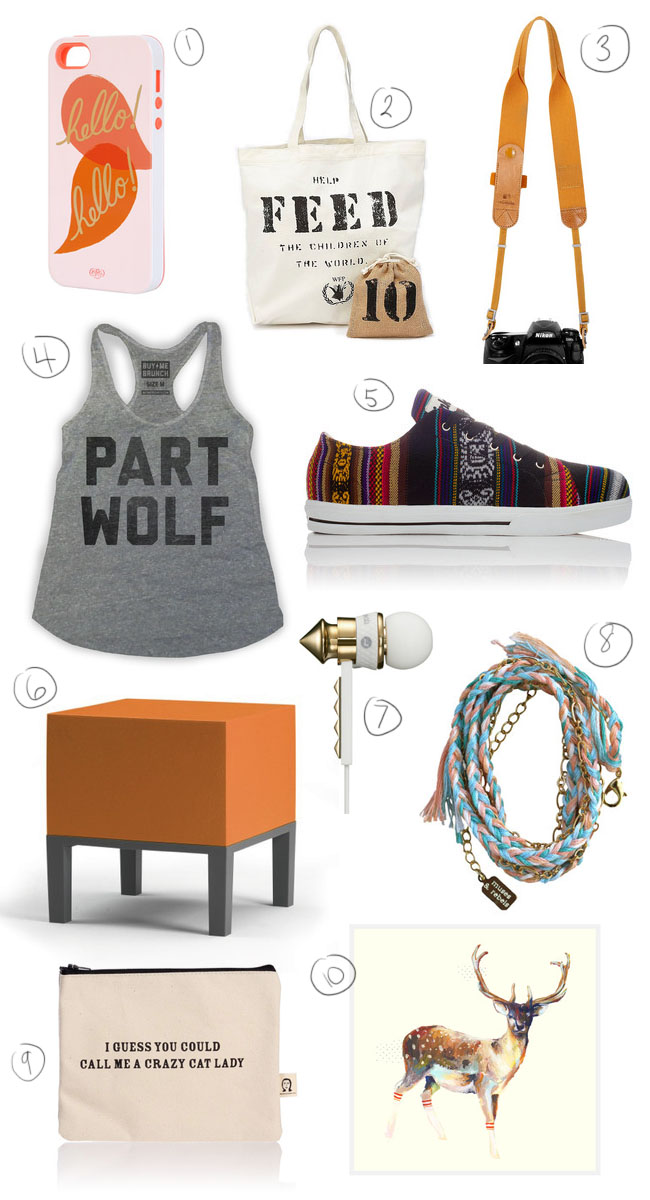 1. This Hello Conversation iPhone Case by Anna Bond made it to the top of my list! Made by the amazing Rifle Paper Co. owner, how could I resist?
2. The Feed 10 Bag is style with a purpose. Every purchase provides 10 school meals to children.
3. This Tyler Camera Strap is so stylish, modern, and well designed!
4. A "Part Wolf" Tank, because everyone has a little animal inside of them 😉
5. These Blackbird Low Top sneakers by Inkkas are made with authentic South American textiles, and let's face it, they are simply awesome.
6. Primary Pouf ottomans remind me of Pantone colour chips! Super sleek and comfy too!
7. The Heart Beats white ear buds are an accessory on their own!
8. A Braided Wrap Bracelet is a summer must-have for your laid-back style days.
9. This Pamela Barsky Crazy Cat Lady pouch had me at hello!
10. Deer Wearing Gym Socks art print. Because really… why not?
Check out what else Fab has to offer and sign up to receive the latest deals right to your inbox. You won't be disappointed… promise!
(google reader is going away. follow me on bloglovin' to stay updated!)
Last Updated on