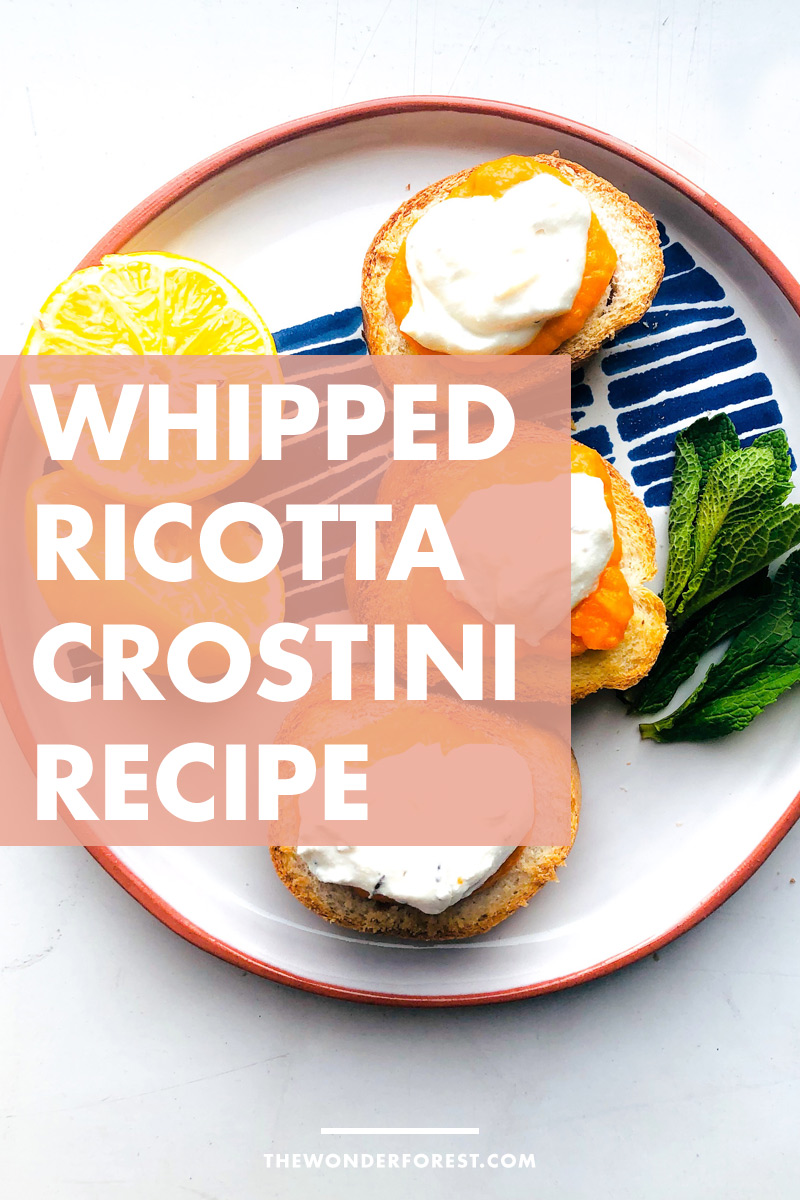 Even though it is not yet summer – I can't help but feel in a summery mood. My belief is that if you think hard enough and act as if it is summer, then the good weather should arrive shortly. I have always been in love with ricotta, though oddly enough I have never shared a recipe that includes it! I figured the perfect way to blend my sudden desire to make carrot puree into a meal would be to serve it with whipped ricotta over crostini!
Nothing reminds me more of summer than the idea of picnics, bottles of lemonade and some good old finger food. In this case, however, the finger food I am sharing with you is a bit more elevated (though there is nothing wrong with bags of chips and sandwiches!). Today's recipe – whipped ricotta crostini with carrot puree is inspired by a restaurant I went to for my birthday. I had braised beef with carrots served three ways, of which the carrot puree was one form. The carrots were creamy and sweet and balanced the savoury braised beef perfectly. I knew I had to make something that involved carrot puree! Hence I present to you creamy whipped ricotta crostini and carrot puree!
Elevated Appetizer
Despite how daunting the idea of whipped ricotta with carrot puree may sound – do not let it worry you. It is actually quite easy to make. There are not many ingredients or tools involved, and you can easily make everything in one bowl. However, because of how ingredient frugal the recipe is – it is important to use quality ingredients. I cannot stress this enough – if you must choose one item to splurge on use the highest quality ricotta you can. In Canada – the supermarkets tend to carry pretty great brands (i.e. Saputo), however if you are in London I suggest going to the nearest farmers market or cheese market to select their ricotta. Although on the pricier side, a quality ricotta will elevate the overall flavour of the appetizer. Speaking of which – this can be an appetizer and it also can easily be a light meal (served with a glass of crisp sauvignon blanc, some lemonade or some iced tea!).
Finally – a quick note on flavours. The whipped ricotta is supposed to be savoury. The focus is on the milky/salty flavour of the cheese that is complemented by flecks of thyme and garlic. The carrot puree offers that subtle sweetness to the whipped ricotta so that you have a good balance of both sweet and savoury. You can – if you're feeling fancy, drizzle some honey overtop if you prefer the dish to be a bit sweeter!
Whipped Ricotta & Carrot Puree Crostini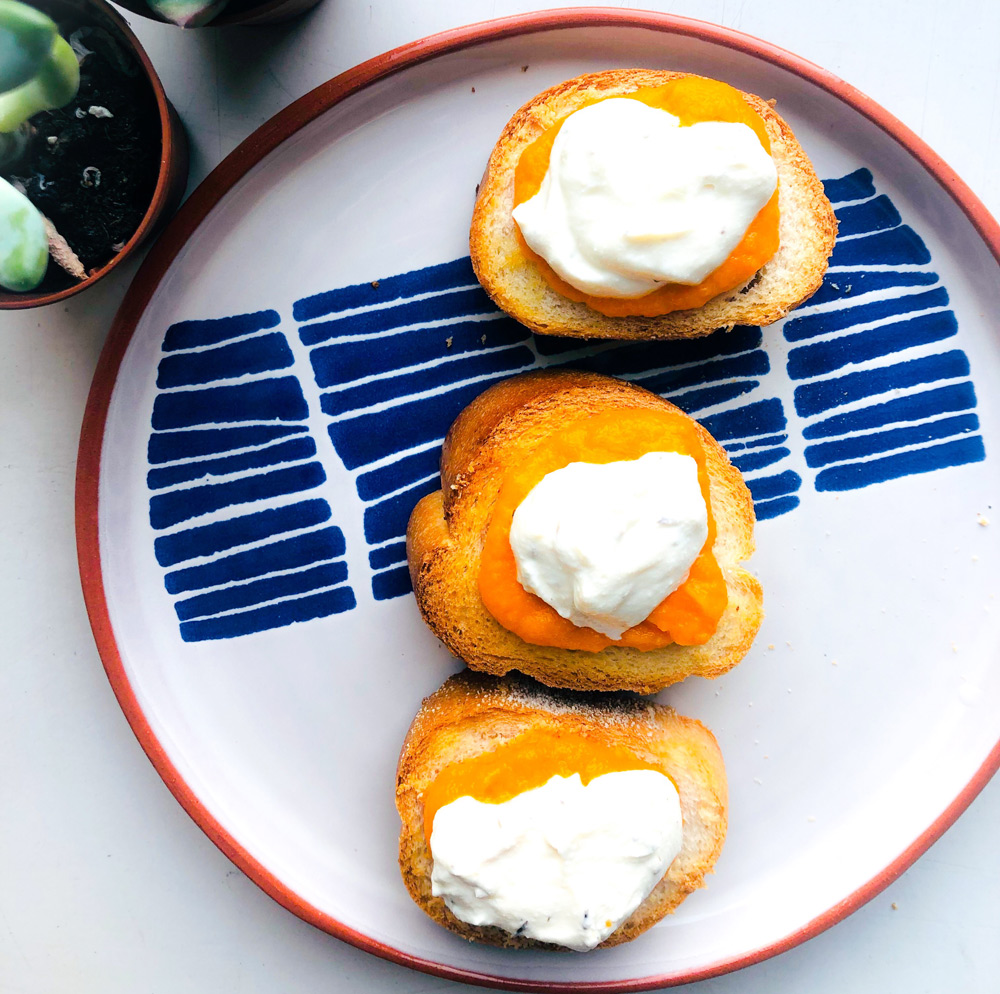 creamy. sweet. crostini.
Whipped Ricotta & Carrot Puree
Indulge a little with creamy ricotta, sweet pureed carrots over toasted crostini.
Prep Time 15 minutes
Cook Time 25 minutes
Total Time 40 minutes
Ingredients
Carrot Puree
2 large carrots *

3 tbsp butter

1 tbsp maple syrup (more depending if the carrots are not sweet enough naturally)

salt and freshly cracked pepper to taste

1 cup water (enough water to just cover the carrots)

1/2 tsp lemon juice
Whipped Ricotta
1 cup fresh ricotta (or 225 grams/small tin)

3 tbsp olive oil

2-3 cloves garlic, thinly sliced

1 tsp fresh or dried thyme

salt and pepper to taste (about 1 tsp each)

1 baguette, sliced (butter each side)
Instructions
Carrot Puree
Peel and slice carrots (width wise) into about 1-2 cm thick pieces. Place in a small pot, add the butter, salt and pepper (about 1/2 tsp each) and enough water to just barely cover the carrots. 
Covering the pot, turn on the heat to medium-high and bring to a boil. Let the carrots steam for about 5 minutes, before lowering to medium-low heat and let the carrots steam for about 20 minutes or until tender. 
Place the carrots (along with whatever little water is left) in a blender or a bowl (using a hand emulsifier), and pulse until slightly crushed. At this point add the lemon and maple syrup to taste (be careful not to add too much lemon). If your carrots are already sweet no need to add the maple syrup. 
Finish pulsing until creamy – set aside. 
Whipped Ricotta
In the same pot (yay fewer dishes to clean), add the olive, thyme and garlic. Cook on medium-low heat until the garlic begins to slightly brown. Remove off heat and let cool.

While garlic-thyme mixture is cooking – place ricotta, salt, and pepper into a bowl or stand mixer (with the whip attachment). Add the cooled down garlic-thyme mixture and begin to whip on high until the ricotta is nice and fluffy. I used a hand emulsifier for this. You can also use a hand mixer. You can also use a good ol' whisk and some elbow grease! Taste and adjust for salt.

Place buttered baguette pieces on a baking tray lined with foil. Set your oven to the broil setting on high OR at 220C/400F. Keeping an eye on the crostini – let the pieces brown on one side before flipping it over and continuing the browning process. This doesn't take long -so do not walk away from the oven and don't scroll through your phone!! 
Serve warm with the whipped ricotta and carrot puree. 
Recipe Notes
* Depending on the size of your carrots, this recipe should yield just under a cup of puree. You can easily freeze the leftovers or serve them over a braised beef or chicken. Alternatively, leftover carrots can be used in the stock of your favourite vegetable soup!
* Leftovers can be kept in the fridge for up to three days. Reheat the carrots in the microwave for about 15-20 seconds so it is slightly warm.  
*If the ricotta is a bit too thick – add a tiny splash of milk or cream to help achieve a creamy consistency!
I absolutely love how this turned out. This is the perfect sharing tapas for any occasion. With the warmer weather arriving soon (fingers crossed) this is a great dish to serve for those outdoor get togethers. If you're looking for dessert to complement this dish check out my strawberry mascarpone tart! If you want more recipes check out my blog Thousand Caminos.