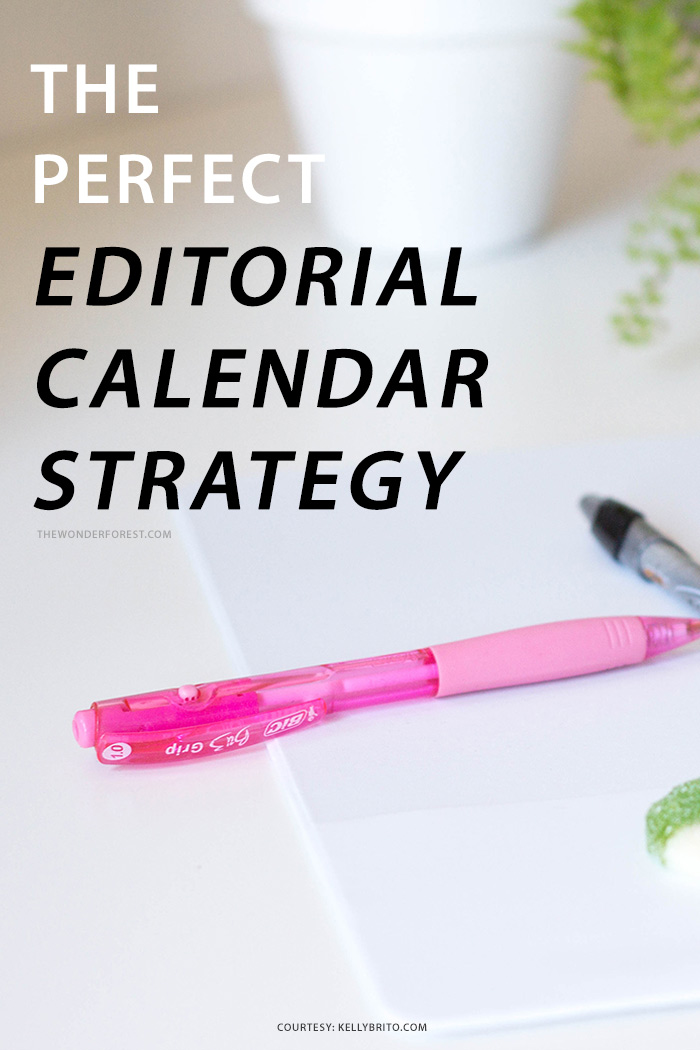 Building an editorial calendar can be as simple or as complex as you want. There are adaptations that you'll need to do for your own brand -depending if you're a business, blogger, or both. But I can easily say that this is the perfect editorial calendar strategy for most of us! Or, at least the best one I've come across to this day. I've been using it for years, and don't plan to change any time soon.
The first thing you need to do is: Download the editorial calendar I made for you and have a calendar with you.
Once you have the calendars with you, write down everything that will need to go in the calendar. For this post, I'll focus the calendar on: work, blogging, and social media.  Make sure you leave some space for yourself, because we end up forgetting about it and fill up our whole calendar too easily, like the good creative workaholics we are.
If you have a business and a blog, you can follow the order below. If you are only a blogger, you can skip to the "For Your Blog" part.
For Your Business
Write down what absolutely needs to get done in each month.
This would be your priority. Ideally, you would  have one major goal for the month. The idea is to get things completed, not overwhelm ourselves with a thousand things that must be done asap -because we end up trying to do them all and get none done.
So, choose one major goal for your month. If you think it will be an easy one, then also add a minor goal.
Write down what you need to get done each week.
Some weekly tasks are: create new products, complete a custom order, go out to buy materials, do research (including learning new techniques), ship orders, etc. Organizing and completing the weekly tasks is important because if they pile up, things can become really messy.
Break your major monthly goal into small pieces, so you can work on it a bit every week. The same for your minor goal. Here's an example:
Week 1: Go buy materials for new products
Week 2: Work on Sophie's custom order
Week 3: Create 2 new products
Week 4: Complete Sophie's order

Are these gonna be the only things you'll do during your week? Probably not. But they'll be the main ones -the really important ones, which you can't close the week without finishing.
Write down what you need to get done each day.
This part you'll write down on a paper or notebook. Save it and wait to write on the editorial calendar at the very end, when you're planning the daily tasks for business, blogging and social media.
If for your week 1 the main goal was to buy materials for new products, then select a day for that task. Now write down all the other things business-related that you need to do, like answering emails, making calls, revising your weekly calendar, working on orders, going to the post office, etc.
For Your Blog
Define monthly topics
Explore your niche and create 12 main topics, one for each month. Make sure they are very general and not specific. For example, I work with brand design and photography, so my first topic could be brand design, the second topic could be brand story, the third could be photography, and so on.
Break your topics into weekly topics
Now we get one monthly topic and break it into weeks. There are 4 full weeks in November, so if my November topic was photography, I could break it into:
Telling a story through photography
Basic product photography for creatives
Photography tips for bloggers
Exploring  photography for Instagram

If you post weekly, this is the ideal setup for you. If you post daily, break the weekly topics into as many sub-topics as you need. Each topic can be broken into "Part 1" and "Part 2" or into whole new sub-topics.
Your blog content development strategy is done! Now all that is left is to mark on your calendar the following things:
Hours you'll need to research for your post
Hours you'll need to write your post


Mark your research and post writing hours on the calendar when you're writing down your business takes and social media scheduling details.
For Your Social Media
Let's get scheduling. 
You have work to get done, blog posts to write, material to buy, emails to answer… Let's be honest, you don't have time for social media. Not as much as it's needed, anyway.
Thankfully, there are fantastic scheduling tools out there. My favorites are Buffer and Hootsuite.
What you should schedule
Simple: look at your editorial calendar! You have written the latest work you'll be doing, what new awesome things you'll be creating, the blog post you'll be publishing on a certain day, etc.
Create interesting teasers, that will make people want to click and go to your website, shop, or blog to checkout what you're talking about.
I suggest you use Google Calendar, Sunrise, or Live Calendar (my favorite) to write your daily to-do's, because you'll be able to organize it all nicely by the hour and you can set the calendar to send you daily reminders!
If you use WordPress, you can use the plugin Editorial Calendar to schedule and organize your daily posts easily.
Hope these tips and the calendar help your brand. You can put them in practice as soon as you want! And if you have any doubts, just get in touch.
Last Updated on