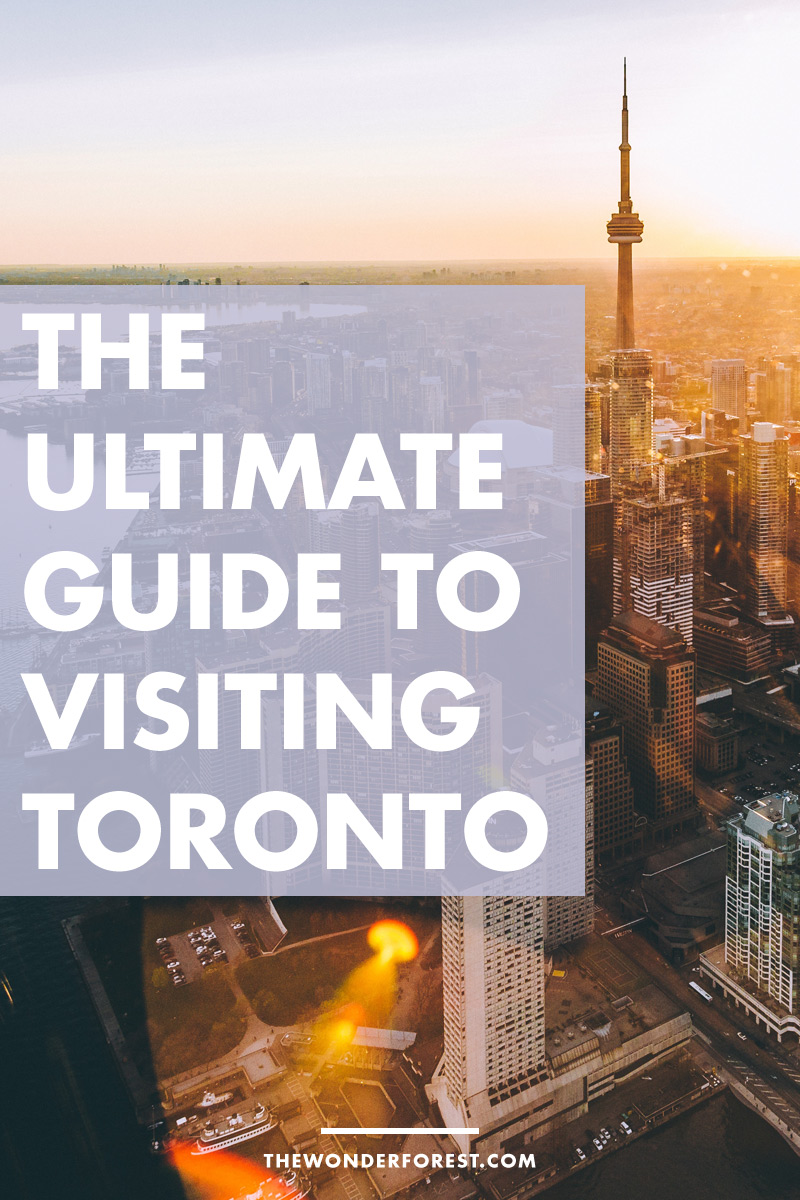 Welcome to Toronto (AKA The Six or the 6ix),one of the most multiculturally diverse cities in the world. Toronto is home to the NBA the Toronto Raptors (basketball champions!), the Toronto Maple Leafs (our hockey team) and the Toronto Blue Jays (our baseball team).  There are so many things to see and do in Toronto but if you are visiting for the first time then here are the top Toronto tourist attractions you must see.
Best Time to Visit Toronto
Anytime of the year is a good time to visit Toronto but if you are not a winter person, then I would suggest visiting in the spring, fall or summer. If you are not a fan of the humidity then the fall or spring are your best bet.
Getting to Toronto
You can fly into Toronto Pearson International Airport or Toronto Island airport, Billy Bishop airport. The Toronto Pearson International Airport is about a 30 minute drive, depending on traffic, to downtown. A taxi cab or Uber will cost anywhere from $50 – $80. The most economical way to get into the city is via UP Express, a train that will take you right to Union Station for approximately $25 round trip per person.
Where to Stay in Toronto
There are many great places to stay in Toronto depending on the area and your budget. The Bisha Hotel is in the heart of the entertainment district and has a rooftop restaurant and pool with great city views.
How to get around in Toronto
Toronto is a fairly easy city to navigate and most of it is walkable. You will not need a car if you will be staying in the city. I would recommend walking, as this is one of the best ways to get to know a city or using public transportation. If you decide to drive, be forewarned that traffic in the city can be a nightmare, not to mention trying to find parking. Toronto has a fairly reliable, clean and safe public transportation system that will get you around the city. You can hop on a streetcar, subway or bus that will get you to where you need to go at a reasonable cost.
CN Tower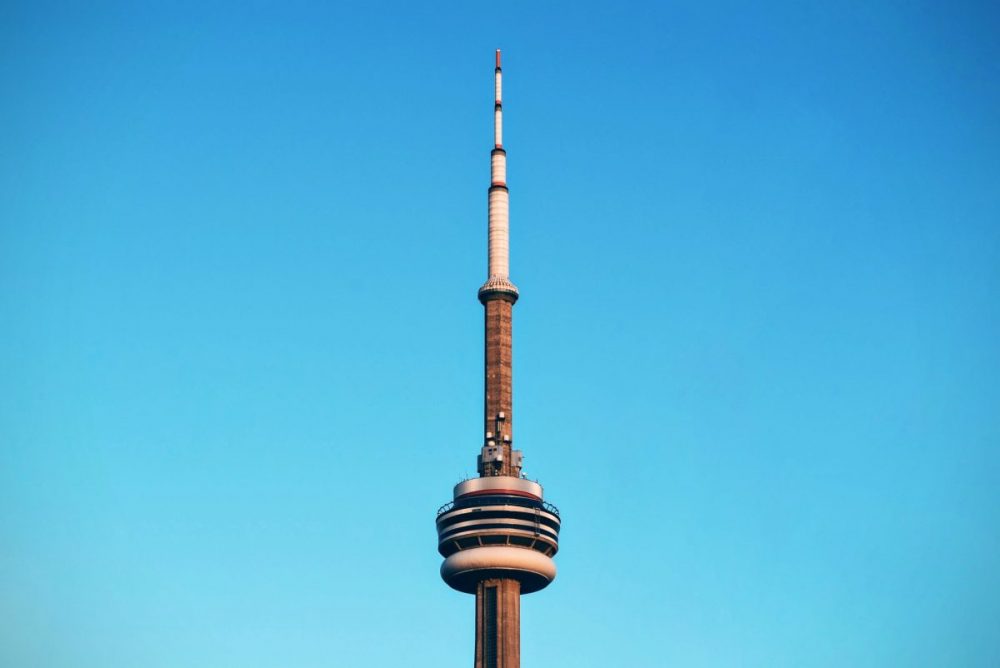 The CN Tower is a must visit as it is Toronto's iconic landmark. The CN Tower stands 1,815.3 ft high. The elevator ride alone up to the observation desk is a ride in itself but you can't get better views of the city than at the top of the tower.
Enjoy lunch or dinner at the revolving restaurant and take in the aerial views of the city. Walk on the glass floor or for the more adventurous, head on the Edge Walk where you will literally walk outside around the edge of the tower.
Location: 301 Front Street, right beside the Rogers Centre
Castle Loma
I bet you didn't think you would be visiting a castle on your visit to Toronto. This castle was built in 1911 by Sir Henry Pellatt and was used as a residence. This 64,700 square foot castle has 98 rooms to get lost in. This is a popular tourist attraction where you can tour inside of the castle as well as the grounds.
You can also enjoy dining at the castle at the Blue Blood Steamhouse or the Terrae Grill.
Location: 1 Austin Terrace – Take the Subway Line 1 to St. Claire Station and then walk West to Casa Loma
Royal Ontario Museum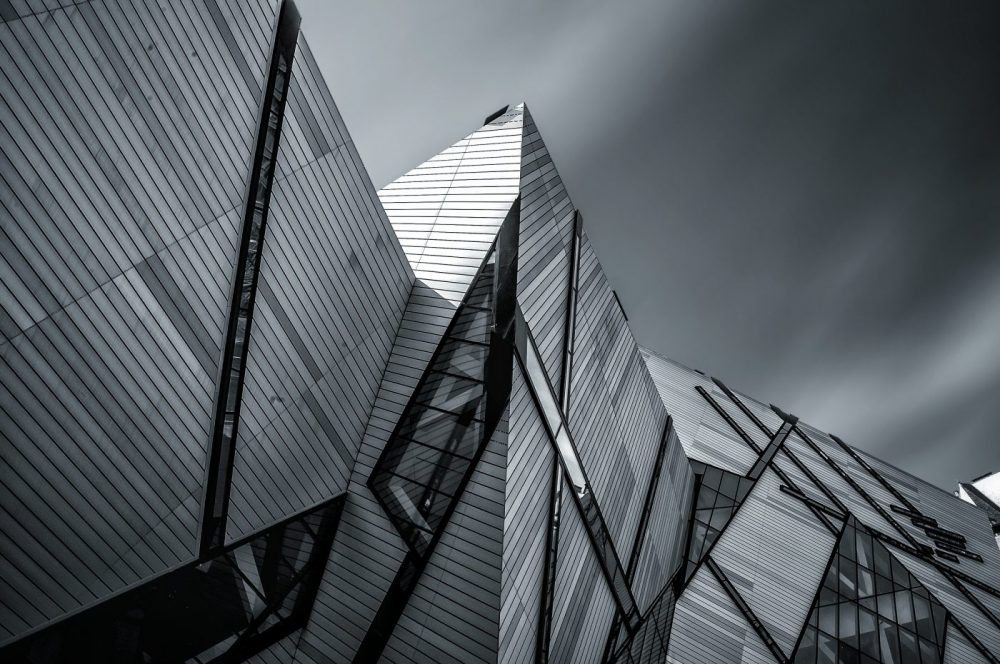 If you love visiting exploring museums then you must visit the Royal Ontario Museum (ROM). This is Canada's largest museum and largest museum in North America, attracting more than one million visitors every year.
The diamond shaped building structure that melds old and new architecture is a piece of work in itself.
Location: 100 Queens Park – at the corner of Yonge and Avenue Road. Line 1 or 2 Subway to Museum Station.
The Art Gallery of Ontario (AGO)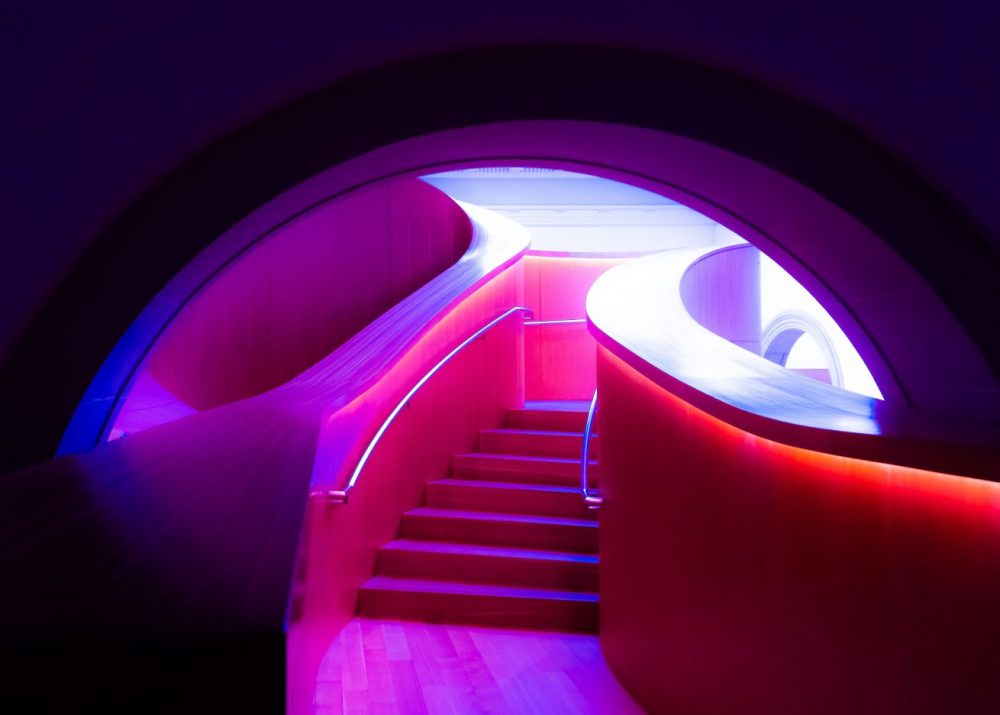 The Art Gallery of Ontario is Toronto's art museum that has close to 95,000 works from the first century to the present day.
The AGO is one of the largest galleries in North America at 45,000 square metres of space.
Location: 317 Dundas Street West – Line 1 Subway to St. Patrick Station
City Hall and Nathans Philip Square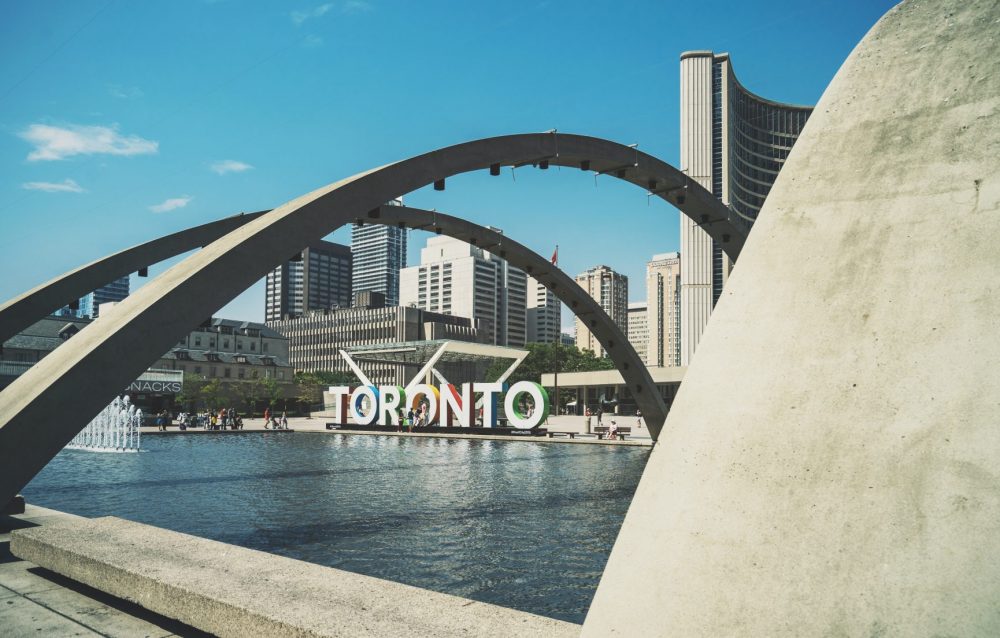 When in Toronto, you must visit one of Toronto's iconic buildings.  The City Hall Building and Nathans Philip Square is a gathering spot for locals. In the winter the fountain is transformed to a skating rink and is a popular spot for celebrations and events. It's a gathering spot for tours and meetups. It probably attracts the most visitors to Toronto due to the iconic City Hall Building. It is a popular spot for events, art displays, and celebrations.
This is where you will find the iconic Toronto sign.
Location: 100 Queen Street West – Subway Line 1 to Queen Street.
China Town
Toronto has many different ethnic areas and Chinatown is one of Toronto's busiest neighbourhoods.  On any typical day you will find locals shopping the markets and the best spot to get your fix for Chinese food.
Location: along Spadina Avenue between Queen and College
Yonge and Dundas Square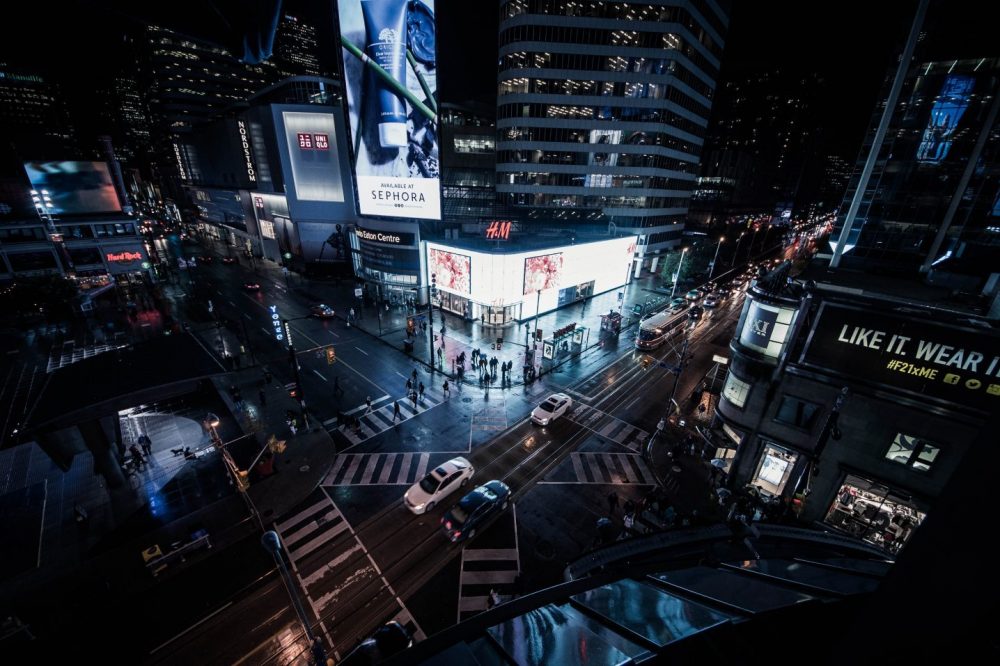 Yonge and Dundas Square is in the heart of downtown Toronto. You will feel like you have been transported to NYC's Times Square but on a smaller scale. This area is bustling with people, billboards, shopping, outdoor performances and free movies in the summertime.
Location: At the intersection of Yonge and Dundas Street. Take Subway Line 1 to Dundas Station.
High Park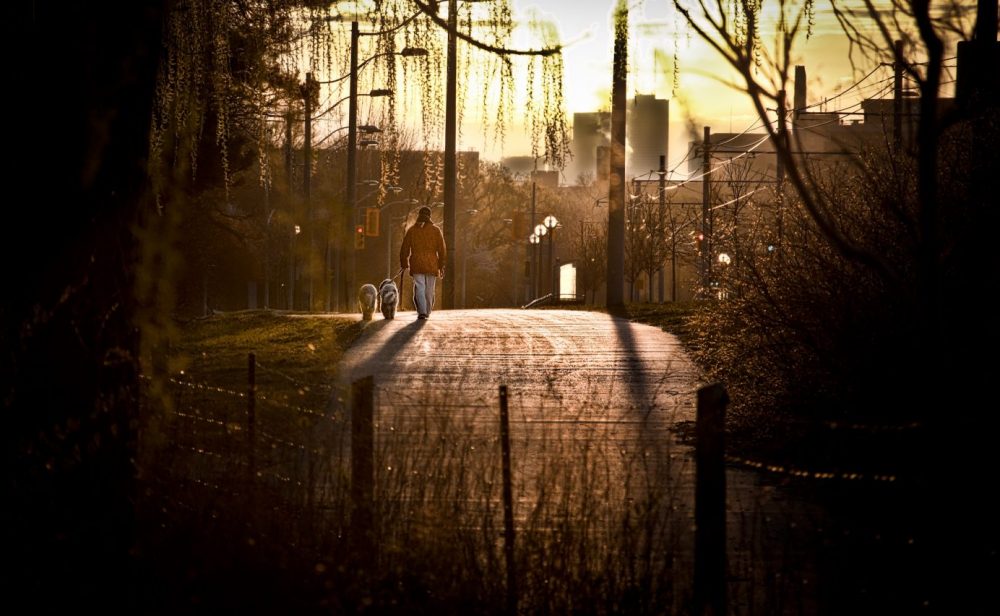 High Park is located just outside of downtown Toronto, in the West End. This is the city's largest park.  Visit the llamas, bison and other animals at the High Park Zoo. If you visit in the early spring you will witness the most beauty cherry blossoms that attracts so many visitors that they need to close down the streets.
High Park is a large park that spans from Bloor Street all the way down to the Queensway which is a short distance to Lake Ontario.
Location: Take Subway Line 2 West to Keele or High Park Station.
Toronto Islands
For a totally different view of the city, hop on the ferry to the Toronto Islands.  There are so many different activities on the island and you will find people paddle boarding, cycling and kayaking. It is also a popular place to enjoy a picnic.
There are also beaches on the island including Toronto's famous Nude Beach.
Visiting the Toronto Islands will make you feel like you are in a different city. Check their website for up to date pricing.
Location: Take the ferry from Queen's Quay.
Distillery District
The cobble stone streets of the Distillery District will transport you to Europe with heritage buildings but with a hip vibe. The Distillery District has many restaurants, cafes and small galleries and shops.
No matter when you visit, you will find outdoor street performers. If you visit in December, the Distillery District is transformed to an ever so popular Christmas Market.
Location: Located on Mill Street between Parliament and Cherry Street.
Yorkville
Yorkville is Toronto's most expensive shopping area. Bloor street is lined with high end stores such as Chanel, Gucci, Prada, just to name a few. Yorkville is a great place to stroll the streets, even if you can only afford to window shop.  There are many restaurants and cafes where you can sip on your cocktail or coffee and people watch. You may even spot a celebrity.
CF Toronto Eaton Centre
The Eaton Centre is located in the heart of Toronto by Yonge and Dundas Square.  It is Toronto's largest shopping mall that spans from Queen Street to Dundas Street with different ranges of stores like Nordstrom, Saks Fifth Avenue as well as hundreds of other stores.
Location: 220 Yonge St, Toronto
Ripley's Aquarium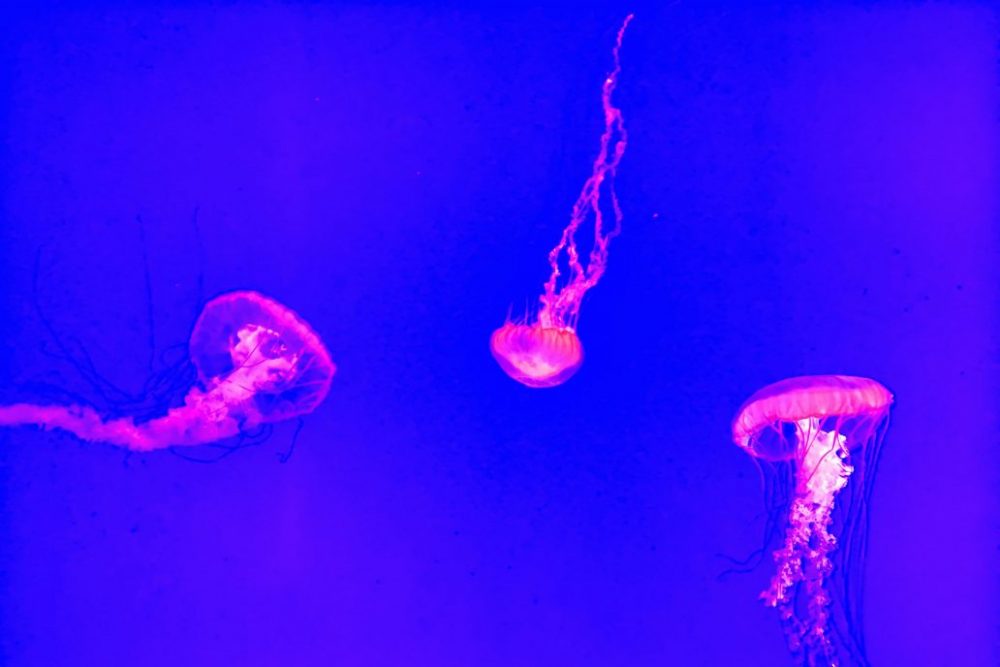 If you love marine life then you must visit the underwater creatures from around the world housed at Ripley's Aquarium. They have one of the largest underwater tunnels that have sharks and sea turtles for viewing. They also have interactive exhibits and touch tanks with stingrays, sharks and crabs.
The aquarium is open seven days a week, all year long. Entrance fees are $32 for adults, $22 for youth and $10 for children 5 and under.
Location: 288 Bremner Boulevard, Toronto
St. Lawrence Market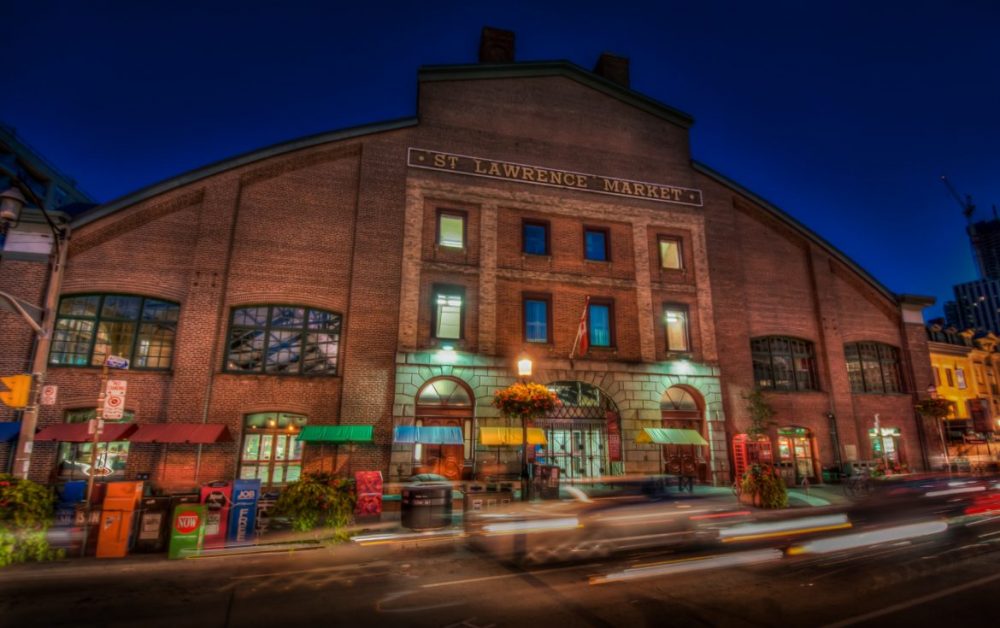 St. Lawrence Market is the ultimate foodie destination. It is located in Toronto's Old Town. I would recommend beating the crowds and getting there as soon as it opens as it tends to get extremely busy on weekends.
You will find fresh produce, artisanal goods, prepared foods, restaurants and food stands in the market. I would highly recommend trying the iconic peameal bacon sandwich from Carousel Bakery.
Location: 93 Front St E, Toronto
The Beaches
If you are in Toronto during the summer months you may want to head out to The Beaches. I would recommend taking public transportation as traffic during the summer months is intense.
Nothing is better than heading to the Beaches on a hot summer day to enjoy some ice cream, walk along the boardwalk or play some beach volleyball. There is also the Beaches Jazz Festival during the month of July.
Location: Toronto East -Take the Queen Streetcar.
This is only a taste of what Toronto has to offer and to be able to experience true Canadian hospitality during your visit Toronto.