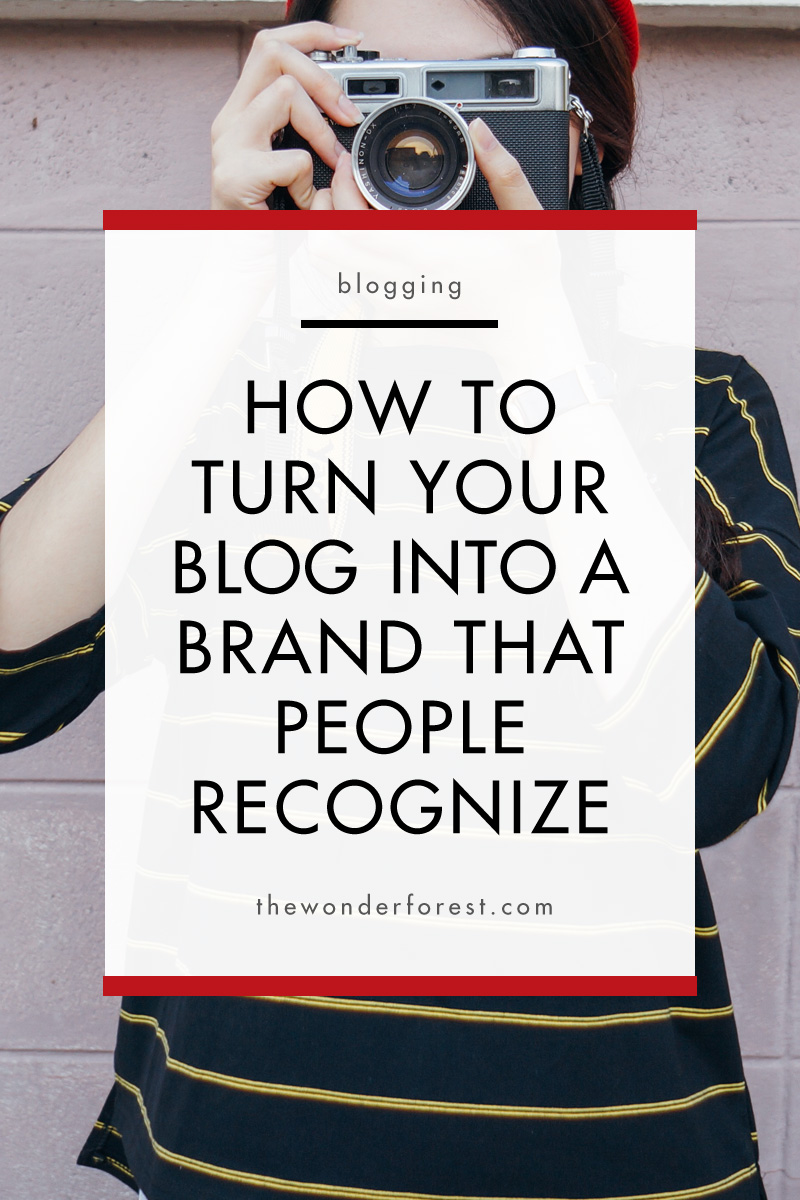 Like anything else you do as a blogger, branding your blog takes time and hard work. Your blog name has to match your personality, your personality has to match your colour scheme, your colour scheme has to match the way you edit photos and your photos have to match your content. It can be overwhelming to find what's right for you, but it's something that you should put time into if you want people to recognize your blog in an instant.  
As a blogger, you want to brand yourself in a way that so uniquely you, that there will be no mistaking your blog for someone else's. And that is no easy feat considering everything you can imagine has most likely been done already. So what do you?
Make Your Blog Name Known
A catchy name isn't something to get too hung up on. Sure it helps, but a name has little to do with whether or not your blog will be successful. You can brand any name at any time by creating valuable content. Your blog name could simply be "Britt's Blog" and if your content is high quality, people will begin to recognize your name no matter how basic or unique it is.
However it may take you some time to find your groove and discover exactly what your readers want. So, when you're first starting you should make sure your blog name is everywhere – on your personal Facebook page, as the cover photo for YouTube, your Instagram handle…everywhere. You want to drill your blog name into people's heads, which means staying consistent across social media.
I've come across some bloggers whose Instagram handles are totally different from their blog URLs and Snapchat usernames. I understand it's hard to pick a name that's available across all social media platforms, but at least make them similar so people get familiar with your blog name.
For example, my blog name is Not Another Blonde and so is my Instagram handle and Facebook page, but that name was too long for Snapchat so I had to make that username notanothrblonde (I just took out the E in another). I could have made it something like BrittanyGrace1 but that wouldn't make sense since I want to turn my blog into a brand people recognize.
Whatever your blog name is, the key is making it visible as often as possible so people will never forget it. 
See also: How to choose a blog/business name
Create a Consistent Theme
A blog "theme" goes beyond using the same filter on your photos. It encompasses how you write and speak, your blog format, your physical fashion style, and how you edit pictures.
With apps like VSCO cam, Photoshop, and Snapseed, there are tons of aesthetics to be tested. Try out different filters and see what editing combo really makes your photos pop and represents your brand. 
If your style is #vintagevibes and you consider yourself an old soul, you may want to look at VSCO filters like T1, S1, or X1.  If you're a California beach blogger you may be interested in more vibrant filters like S3 or A8. Once you determine an aesthetic, it's important to stay consistent so once again people can recognize your branding at a glance.
 You also want your writing style to stay consistent. Are you bubbly or monotone? Simple or complex? Mysterious or an open book? All of these things take time to master, but the sooner you have some direction of where you want your blog to go, the faster you can start creating a brand around it. 
See also: How to Create a Consistent Instagram Theme
Become an Expert in One Area
Today it's very difficult to build a general "lifestyle brand" because the market is so saturated. Everyone wants to encompass everything within their blogs, but I recommend becoming an expert in just ONE area first. 
Many of the lifestyle bloggers you see today didn't start off like that. Most of them started as just fashion bloggers or food bloggers or travel bloggers. Then as their brand grew, so did the topics they blogged about. When you focus on one area instead of trying to conquer it all, you become the go-to person for that ONE thing.
Take a look at @tuulavintage. She has become wildy successful from blogging about travel and that's it – no food, no fashion (though her outfits are killer), no fitness… just travel. She is now the #1 source for people seeking the most beautiful places around the world to travel to. 
Have you built a brand you're proud of? Leave your blog URL in the comments below so we can check it out!
xx Britt
Follow me – Blog Instagram YouTube Snapchat @notanothrblonde
Last Updated on