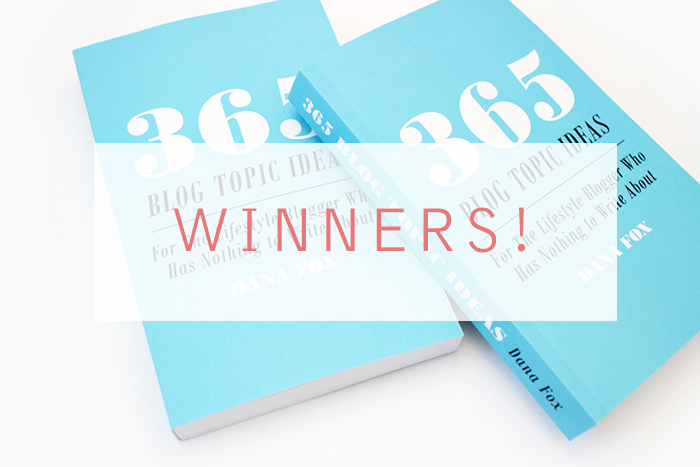 Firstly, thank you all for the birthday wishes yesterday! Secondly, thank you all for your amazing entries for the 365 Blog Topic Ideas giveaway! I had a blast going through them all and I loved seeing what you all, individually, love about blogging. I love that blogging is such a diverse thing, and all of your comments prove that!  That said, the two winners have been chosen! Here they are:

"I love pouring my heart out in a post and having someone tell me it helped them in some way. That makes all of the time and effort worth it!" – Kimberley Tobin
"I think what I love most about blogging is showing off my neck of the woods that so many people may not know about or have the chance to visit in person and how cool it is! Plus I love talking / sharing my passion for things other bloggers might not be discussing… like vinyl & craft beer!! And of course it's so awesome meeting other bloggers ;-)" – Krista
Here are some of the other amazing comments you guys left:
"I love to educate and inspire others, to help them recover something they have within' but need that inspiration and assistance to acknowledge it themselves. "Anything is possible but we already knew that." Being able to help others bring what they know into their daily lives is what I love about blogging xx" – Suze Bryan
"I love blogging because it encourages me to be creative and think a bit more about the world around me and the way I see things. It also is a way for me to be able to chat with people and also have a little space where I can escape to when I've had a stressful day of academia!" – Laura
"Blogging is my OUTLET ( share my excitement, my experiences) – my PORTAL ( my connection to the world in the swipe or click of a key) – my Time Machine ( I can scan back to previous posts and have a record to look back on) – it's ME ( in a few scans of my pages , I am personified and understood, my passion speaks through images and my wanderlust for traveling, love for cooking and commitment to fashion are catalogued and shared with all." – Gemine Bezuidenhout
"What I love about blogging: I can explore my creative through words and photos and share this with like minded people. I have "met" new idols and friends from ever corner on the earth who give me ideas and continue to inspire and motivate me in my blogging journey. It gives me something to be proud of, allows me to set achievable goals and most importantly – blogging has taught me more about myself than I would be able to learn anywhere else!" – Laura Flint
"Blogging is easy to share who you are as a person, and to connect with like minded people. People think they're alone in their thoughts and feelings, but when you blog people are able to connect with you more personally." – Cassie
"I absolutely love how blogging gives me an outlet to release all my creativity. I stopped blogging for about three years, and during those three years, I lost every ounce of creativity I once possessed. Now that I started again, I feel it all coming back to me." – Connie
"I love seeing how I am getting more confident in my writing and I love feeling really proud of something that I have written. I love connecting with new people and learning new things about people. I love having somewhere that I can express my thoughts and feelings." – Emily
"What I love most about blogging is that it has helped me come out of my anxiety filled shell and given me a new confidence that I've noticed not only online but in my everyday life as well. I went from being so scared that someone I knew would find my blog and judge me negatively about it, to someone who is confident enough to write about my own likes and dislikes, even the ones that are far away from fashion and beauty blogging circles, and to voice my opinion on matters I never knew I felt so strongly about. I have found a group of like minded people who are so much kinder and easier to talk to than I ever would have imagined." – Lana
There were just too many amazing ones to choose from! Thank you for sharing your thoughts on blogging with me and the rest of the WF community!  Be sure to check out 365 Blog Topic Ideas on Amazon!
Last Updated on