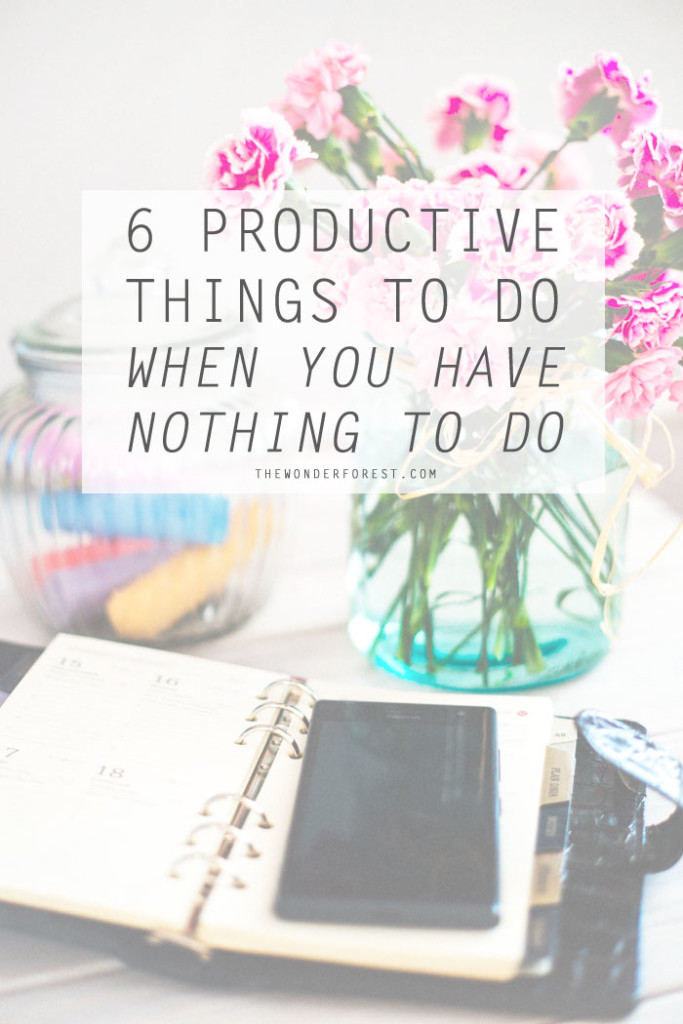 It happens. You have a day off or some spare time and can't think of a single thing to do. Sometimes I'll think to myself  "hmm, what can I do today?" and can't come up with anything. I'm one of those people who strives to be productive, so when I can't think of anything to do, I get a little bummed out thinking that I wasted a day.
Whether you're just bored and looking for something to do or if you're like me and want to stay productive, here are some things you can do with your downtime to benefit yourself:
Organize something
There is always something that needs to be organized that you've put off for too long. Now is a great time to do it! You'll be able to check that off your to-do list and won't have to worry about it looming in the distance.
Schedule your month
Grab a planner and start marking things down. If you're a blogger like me, doing this can help heaps when planning blog content. A little time is all it takes to feel like you've got your month prepared in advance (and trust me, that is a great feeling!).
Write down your weekly goals
With your notebook in hand, try to come up with a couple of realistic goals that you want to reach each week. If you can get started on that goal, even better!
See also: How to Successfully Set and Achieve Goals
Clean out your stuff
As the seasons change, so can the things you've accumulated. Now is a great time to clean out your closets and see if you have anything to donate. Get rid of things you haven't used in 6 months to a year. I promise, a little decluttering is good for the soul!
See also: 5 Ways To Make Some Extra Cash.
Take a course
Learning something new is always an awesome way to spend your day. Check out some of the classes on Skillshare to expand your knowledge about design, photography, art, business, or whatever else floats your boat. I wrote a post a little while ago about the best courses for creatives. Why not also brush up on your hand lettering skills with these 5 Courses to Learn Hand Lettering at Home.  (p.s. you can also sign up for my blogging course here!)
Prep some Instagram photos
I'm a big fan of taking handfuls of photos for Instagram all at once. It saves time posting during the week and helps you stay on top of growing your audience on there. Check out my post about re-imagining your Instagram profile for some inspiration! Oh, and feel free to follow me!
What are some things that you would add to this list?
Editor's note: this post was updated and originally published on 05/15/2015
Last Updated on