*NEW DESIGN SHOP*
I opened this new design shop to make things a little easier. Please note that I am doing all of my service sign-ups through there now. If you are interested in my services listed below, or want to purchase some pre-made blog goodies, Blogger templates, or Photoshop Actions…
{ c l i c k h e r e }
This page will be used for informational purposes only.
Welcome to my design shop! My name is Dana and I've been in this industry for over ten years and owned a successful design corporation for over 6 years. I've designed websites, promotional material, social networking profiles, and more for companies such as Myspace Inc., Hooters, Universal Music, Turner Sports, and many, many more. My client roster also includes big-time artists such as Kylie Minogue, Iggy Pop, Ricky Martin, Twisted Sister, and Lenny Kravtiz to name a few.
Why I'm different. I not only design your custom pages professionally with standard web design rules in mind, I also code it from top to bottom. Blogger and Storenvy in particular are HTML/CSS based platforms, and simply put: I am a machine when it comes to that stuff (it's all I did for 6+ years!). I not only have the Blogger experience, I have over a decade of experience with standard design practices and am not baffled by CSS/customizations. When you're putting your whole brand or image on the line with a new design, it should be put in the hands of a professional who knows their stuff in and out. You could pay someone $50 to give you a new blog design, but I do know what you'll get for that price. My rates on this website are extremely reasonable in the professional design field, and are that way because I wanted to help beautify the blogging and indie shop community.
Why branding is important. If you own a shop or a service, branding is especially important. Branding consists of designs tailored to suit your business "image" and should be consistent among all material. Flowing colours and overall feel will help tie all of your marketing material together. i.e. business cards, web design, blog design, and any other forms of media you use for advertising.
A logo design is what will set you apart from your competition and what potential customers will identify you by. A professional logo design is a small business fee that pays off HUGE if you have it created properly. Logos can easily be implemented into all of your marketing material, on both the internet and on print work.
If you use my services, you'll not only get exceptional work that you are happy with, but I can guarantee that every piece of work I do for you will be consistent and tailored for your brand.
services available for hire:
Blogger design
Blog header design
Etsy shop banner design
Big Cartel design
YouTube Design
Storenvy design
Banner ad design
Facebook Page design
Logo Design
Website and WordPress design
the breakdown:
Blogger Design . . . . . . . . . . . . . . . . . . . . . . . . . . . . . . . . . . . . . . . . . . . . . . . . . . .
If you have a Blogger blog, I'd love to give it a makeover! Complete blog design includes a custom header image, navigation links, background image design, custom profile/welcome portrait design, layout restructure, and further graphic design customization. This base package includes up to 3 initial design revisions. I work with you every step of the way, creating mockups and ensuring that you're happy with the overall look of the page before moving forward with the coding and publishing.
Total Cost: For latest prices and to purchase click here.

Blog Header Design . . . . . . . . . . . . . . . . . . . . . . . . . . . . . . . . . . . . . . . . . . . . . . . .
If you want to give your Blogger or WordPress blog a little "pick-me-up" without redoing the entire page, a header image is your next best option! The header image will match your blog's current layout width and includes up to 3 initial design revisions. As always, I work with you every step of the way until your header becomes something you are excited about!
Total Cost: For latest prices and to purchase click here

Storenvy Design . . . . . . . . . . . . . . . . . . . . . . . . . . . . . . . . . . . . . . . . . . . . . . . .
Storenvy is quickly becoming the go-to free shopping cart site for sellers. I personally love it because of its amazing customization capabilities. You can check out some samples of Storenvy designs I've done below. There are two packages I am offering right now:
Basic Storenvy Design: includes simple header design, sidebar design, and background design. up to 3 initial design revisions
Total Cost: For latest prices and to purchase click here
Advanced Storenvy Design: Includes a complete overhaul – totally customized header, background, content areas, product displays, category display, home page design, and more, as shown in examples below. up to 3 initial design revisions.
Total Cost: For latest prices and to purchase click here

Etsy Shop Banner Design . . . . . . . . . . . . . . . . . . . . . . . . . . . . . . . . . . . . . . . .
If you're looking for a new Etsy shop banner, I'm your girl! Your shop banner will be professionally designed and flow with the vibe of your products. Up to 3 initial design revisions.
Total Cost: For latest prices and to purchase click here

Banner Ad Design . . . . . . . . . . . . . . . . . . . . . . . . . . . . . . . . . . . . . . . . . . . . . . . .
If you're in need of a button ad for your blog or shop in a specific size, I can help you out! Banner ads are used for promoting your shop/blog on other blogs/websites and the look of them is important to drive new traffic right to you. Up to 3 initial design revisions.
Total Cost: For latest prices and to purchase click here

Facebook Header Design . . . . . . . . . . . . . . . . . . . . . . . . . . . . . . . . . . . . . . . . .
A timeline cover photo for your Facebook page or profile! Make your Facebook Page stand out with a custom designed cover photo. This image sits at the top of your profile like a header image and should be designed to accurately represent you! Up to 3 initial design revisions.
Total cost: For latest prices and to purchase click here

Facebook App Page Design . . . . . . . . . . . . . . . . . . . . . . . . . . . . . . . . . . . . . .
I offer this service over at my design company, but decided to offer it right here as well and give you a little discount. If you have a Facebook Page for your website or shop, you can have a custom application page designed. You can view a sample Facebook page here. Your Facebook Page can include custom features, such as links to your website/shop and other social networking profiles, a comment form for people to post comments right on the page, Etsy shop widgets and much more. Ask me about what you can do! Up to 3 initial design revisions.
Total Cost: Please contact

Website Design and WordPress Design . . . . . . . . . . . . . . . . . . . . . . .
If you are in need of a new website, or even a website re-design, I can help make it happen! Do you want a WordPress blog, or a makeover for your existing one? How about a simple static website, or a more advanced website with your own e-commerce solutions? Whatever your website needs, let's talk! Please note that WordPress blogs do not cost anywhere near the same as Blogger blogs. WordPress involves much more time and skill and will be quoted as an advanced website the same way I would do through my design company. Minimum cost for a completely custom WordPress theme is $1200.
Total Cost: Please contact. Depends on project. Provide details of what you require.

If you're interested in any of these services, please either email me with the subject line "CUSTOM DESIGN WORK" or visit my NEW DESIGN SHOP to purchase immediately! Please review my Policies at the bottom of this page first! [email protected]
work samples
Aside from my own work and everything you see on this blog, here are a few pieces of select recent work I've completed:
Recent Designs:
Blogger Design for Alycia of Crowley Party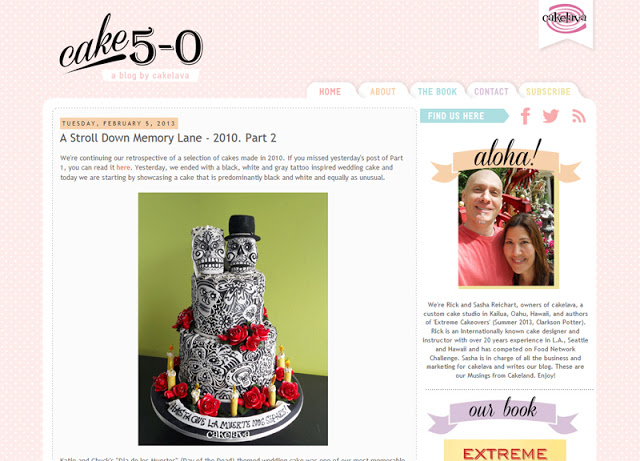 Blogger design for cakelava's Cake 5-0 blog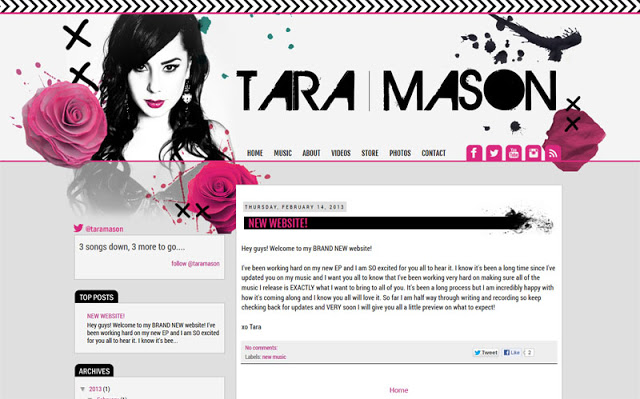 Blogger design for Tara Mason
Storenvy design for Hopscotch Crafts
Storenvy Design for Rebecca Accessories
Blogger design for Georgie of Dreams That Glitter
Blogger design for Kaitlin Leigh
Storenvy design for Jessica N Designs
Blogger Design For Laura of Laura Loves Cakes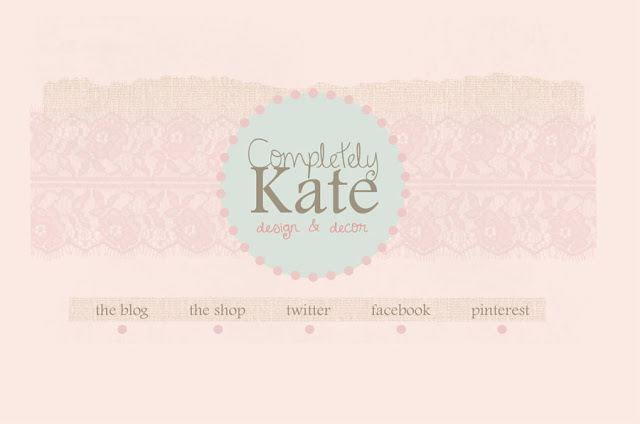 Landing page design for Kate of Completely Kate
Version 2 for Louise of Sprinkle of Glitter
Blogger design for Miskabelle Vintage
Storenvy design for Sugar Wonderland
Blogger design for Melacacia
Storenvy design for Ashley of Threads / The Shine Project
Storenvy design for Kate of Sweet and Lovely
Blogger design for Grace
Blogger design for Renee of Antiquarian Miss
Landing page design for Michelle of Little Blue Feathers (read a nice writeup about her design here!)
for Yelena of Glam Things
Advanced Storenvy design for Retro Academic
For Krista of Saturated Canary
Blogger design for Heather of Justlove.ly
Landing page design for Heather of Justlove.ly
Storenvy design v.2 for Fawn & Flora
Blogger design for Patricia of Britpop World (YouTube page also done)
Blog header for Erica of Expatria Baby
Storenvy design and Logo design for Kawaii Love
for Meredith of All The Pretty Pictures
For Nina of Belle Fete
for Rosa of Bogorosa
logo design for the cake bar
Logo design for Project Motherhood
for Aleksandra of Little Daily Miracles
Advanced Storenvy Design for Ashley of Rustic Living
for Megan of Wonderful You
for Kate of Dolly Bow Bow
For Zoe of Zoella
For Louise of Sprinkle of Glitter
logo design and blog layout for Chandeliers & Champagne


Business card design for Dani of Good Natured
for Jenni of Story of My Life
Click here to read an awesome post by Jenni about her new design!
for Mique of Thirty Handmade Days (WordPress)
for Alycia of The Curious Pug

for Jessica of Jessica N Designs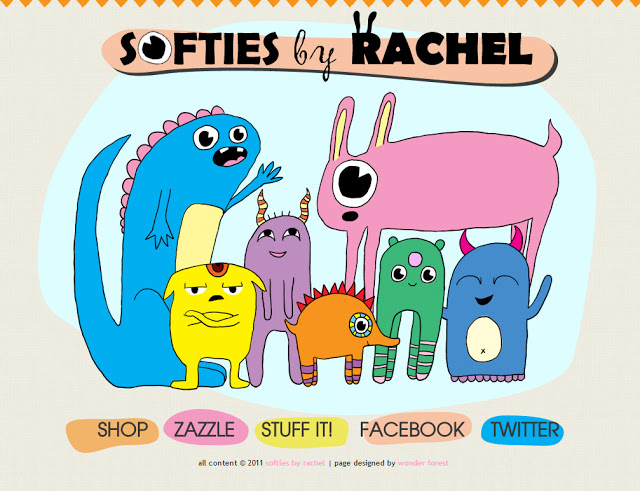 testimonials
Hi Dana, omg it so flippin nice!! I love it so much!! WOW a huge massive thank you, i'm speechless and believe you me that is a rare thing! – Anna Nuttall
* * *
Dana,
I just wanted to thank you again for my blog design! I am very pleased with it! I just wanted to send you a quick note to let you know what a wonderful experience it was working with you on this project. You were extremely easy to communicate ideas with and your level of professionalism is outstanding!
You are super duper talented and I know your creativity and awesome work will take you far in this world!
I hope to work with you again in the future! And please let me know if you ever do any training on graphic design! I would love to learn from the best! 🙂
Take Care,
Anna Neale

* * *
Oh thank you Dana! I am so pleased with the logo. You gave me exactly what I didn't even know I wanted 🙂 – (Fawn – The Cake Bar)
* * *
"Gah! I love it! It was exactly what I was picturing in my head but didn't know it. 😉 You.are.awesome." – Elysha (Lilah Strawberry)
* * *
Absolutely perfect!! Seriously so thrilled with how beautiful my blog turned out! You seriously jumped inside my head and made what I envisioned a reality and then some!! "Thank you" doesn't even do my gratitude for your help with this, justice!
* * *
"Oh my goddess Dana I LOVE it! Thank you so much! Totally blown away by it! You are one of a kind!" – Jess (My Little Rabbit)
* * *
"Dana, I was just out having a quiet lunch (alone! ha!), and about halfway through my Caesar salad I checked my email on my phone and saw yours. I went from zero to terrified in about .2 seconds, and I completely lost my appetite while waiting for your preview to load. I am SUCH a control freak and my blog is so important to me, that it's insanely difficult for me to turn it over to someone else to design! But when that preview loaded (and after I almost threw up my potato soup in sheer anxiety)… OMMMMGGGGGGGGG!!!!! I FREAKING LOVE IT!!!!!!!!!!!!!!!!!!!!!!!!!!!!!! Hahahaha… did I scare you for a second there?!! No but seriously. This is so incredibly amazing. You did exactly what I asked, except better than I imagined it. You rocked this, Dana. I knew you would. I can not even express to you how happy I am right now!!!!!!!!!!!!!!!!!!! 🙂 🙂 :)" – Jenni (Story of My Life)
* * *
"I literally squealed when I opened this email! The chicken is hilarious! I LOVE it! Thank you, thank you!"
– Dani (Good Natured)
* * *
"Dana I seriously can't thank you enough, it's only the first day of my new blog design and I'm completely smitten by it! You seriously are amazing at what you do and I'm so thankful that I met you ♥"
– Heather (Just Lovely Things)
* * *
"Thank you soooo much about everything!!!! :):):) I'm totally in love, I like it!!!!! 😀 😀 <3" – Irene (Irene's Closet)
* * *
"Wow!! I love it so much!! Thanks Dana, you are really talented."
– Rachel (Softies by Rachel)
design policies
By accepting these policies electronically or in writing, and/or by hiring my services, you (Client) agree to be bound by the following terms and conditions. You also agree that your electronic acceptance of these terms shall have the same force and effect as if you had agreed to these terms in writing.
Failure to comply with the terms may result in termination of design. By agreeing to these terms, you are allowing me to place a copyright/"designed by" logo or banner on your completed blog, website, WordPress or shop design, including, but not limited to Big Cartel, and Storenvy. This copyright link must not be removed as per the terms of this agreement and special pricing I am offering on this site. All design work remains copyright of myself and Wonder Forest unless otherwise stated.
Before any design work begins, payment must be received. Completing payment ensures that I can set aside the appropriate time needed for your design and covers all costs. Once payment is made, your project will be added to my queue. All payments will be invoiced through Paypal in Canadian dollars.
Any additions or changes requested outside of the scope of the original sale will be billed at my standard hourly rate. I am not obligated to complete Client requests or changes outside of the scope of original work or the original invoice quote.
There will be NO REFUNDS of any kind for websites, blog designs, banners, and all other services listed above that have already begun or completed the designing process. All hours of designing work put into each project have to be accounted for. Unlike a product, I am providing a service which is my sole source of income and the time and effort cannot be refunded. If Client has received an initial or completed design, I am in no way obligated to refund complete payment. By accepting these Terms of Service, you are agreeing that no chargebacks will be placed or refunds be demanded. Failure to meet these terms could result in legal action. Refunds will only be given if a project has not yet entered the design queue.
I reserve the right to change prices at any time including hourly design fees.
Timelines are not guaranteed though I strive to meet them. Please always respond in a timely manner to emails once the designing process has begun. Clients that take extended amounts of time replying between emails may be pushed back in the queue. If I have not heard back from Client via email in over one (1) month, project will be considered complete regardless of progress.
Client hereby gives permission for me to use samples or links to Client's custom designed work for marketing and advertising purposes, including but not limited to use in my online client portfolio.
You understand that any changes to third party software including but not limited to Blogger, Big Cartel, Etsy, and Storenvy are not the responsibility of myself and that I have no control over changes made to their coding structure. YOU UNDERSTAND THAT ANY FUTURE DOWNTIME OR SUDDEN CHANGE TO THE WAY YOUR PAGES ARE DISPLAYED IS NOT A FAULT OF MYSELF, BUT A RESULT OF THIRD PARTY UPGRADES TO THESE SERVICES. I WILL NOT BE HELD RESPONSIBLE FOR THESE CHANGES NOR BE LIABLE TO REPAIR THE AFOREMENTIONED CHANGES. YOU AGREE THAT ANY EDITS OR CHANGES INITIATED AFTER YOUR COMPLETED PROFILE HAS BEEN PUBLISHED TO THESE THIRD PARTY SITES MAY RESULT IN ADDITIONAL COSTS AND/OR FEES. YOU ARE AWARE THAT NO REFUNDS WILL BE GIVEN WHATSOEVER IF THESE CHANGES OCCUR.
PLEASE ALWAYS BACKUP YOUR BLOG OR WEBSITE BEFORE MAKING CHANGES TO THE DESIGN OR CODING. BROKEN PAGES AS A RESULT OF INEXPERIENCED ATTEMPTS AT DESIGN/CODING UPDATES ARE NOT MY RESPONSIBILITY TO FIX AND ARE NOT INCLUDED IN YOUR DESIGN PACKAGE.
You agree to defend, indemnify and hold harmless myself and my business from and against all claims and expenses, including attorney's fees that may arise or result from any Content you submit, post, transmit or make available through the design Service, from any product sold by Client, its agents or employees or assigns, from any Service provided or performed or agreed to be performed by myself or from your violation of the Terms or your violation of any rights of another.
The Terms of Service agreement shall be governed by the laws of the Province of Ontario.