Yesterday I showed you a really easy way to get a gold "dipped" pumpkin, and today I am taking it up a notch with a checkered diamond pattern!
I just used the same spray paint and some white address labels to get this look. I think it complements the other gold pumpkin perfectly.
To start I just grabbed a sheet of blank white sticky address labels and cut them into squares. Then I started laying them out on my white pumpkin like this…
It took a bit of trimming on the stickers near the top to get them to match up properly since they are being applied to a round surface, but I managed to get the corners all lined up nicely and ready for painting!
Once the stickers were in place, I taped up the stem because I wanted it "au natural" and free from gold. Then I just got busy with the spray paint and sprayed the whole thing. When dry, all you need to do is remove the stickers!
I hope you liked this pumpkin makeover! Stay tuned for more freshly designed pumpkins and if you missed yesterday's, check it out here.
Remember, tag your pumpkin photos with #5daysofpumpkins on Instagram so I can have a look! I love seeing what you do with your pumpkins too!
» Need blog topic ideas? Check out 365 Blog Topic Ideas on Amazon!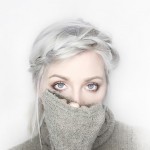 I am an online entrepreneur/artist helping other creatives kick butt in the real world. When I'm not running the Wonder Forest blog ship, you can find me teaching in my Watercolour Workshop, creating artwork for phone cases and home decor, whilst managing the daily tasks of Dana Fox Creative. Visit me at the links below if you wanna be friends and check out my Instagram stories for behind the scenes bits!