I stopped by the grocery store this weekend to grab a standard pumpkin, then saw these cute little white ones and knew I needed some as well. I told the cashier that I'd be taking five of them. Why five? I have no idea, it just came out of my mouth, so I left with a cart full of pumpkins.
Then I had this idea to get crafty with them and create a different "designed" pumpkin out of each one of them to share with you guys, and also to spice up my decor a little for fall.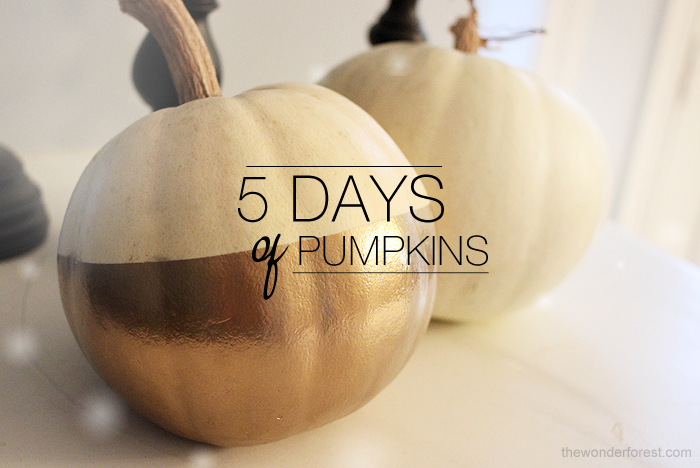 This one is probably the easiest I had in mind. It's a gold "dipped" pumpkin. It was actually supposed to be a double-dipped effect but I'll explain why that didn't happen down below.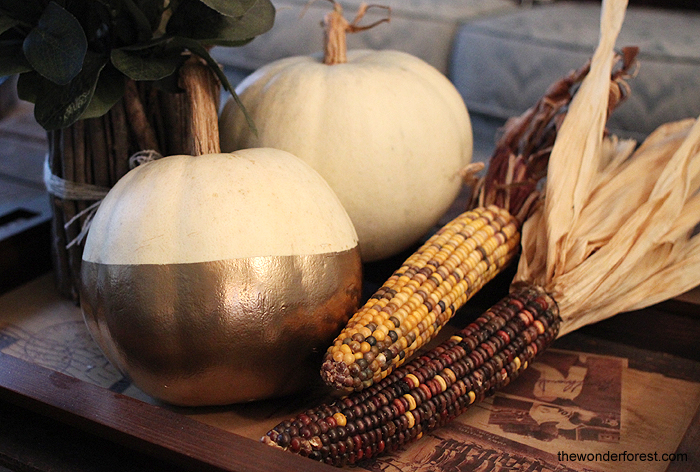 This technique is just done with spray paint and painter's tape. I picked up a super shiny metallic gold as well as a bronze one to create my first pumpkin.
Start by washing your pumpkins. Then place the tape around the circumference being sure to press it down firmly. Try to keep it as straight as your pumpkin will allow.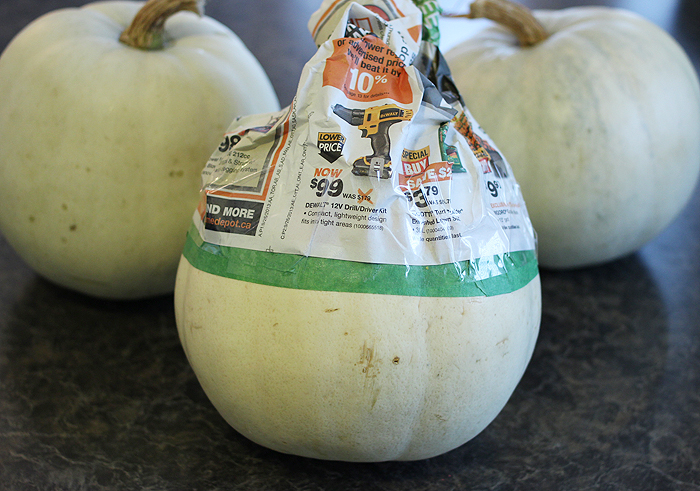 Then to make sure no paint gets on the top white portion, tape some newspaper around the painter's tape.
Get busy with your spray paint and spray the entire area. Since the top is untouched it's easy to rotate it and get the bottom. Originally, I was going to create a gold stripe around the center with bronze at the bottom, however my bronze spray paint decided to be possessed and exploded all over the place, non-stop spraying bronze paint everywhere.
It would not stop no matter what I did so I had to let it completely empty out into an old flower pot. My garage is a bronze metallic mess right now. So this is the final result I came out with!
If you want to try a stripe, just wait until the gold is completely dry and re-tape about an inch down from your gold line. Do the same steps as above and then paint the bottom a different shade/colour.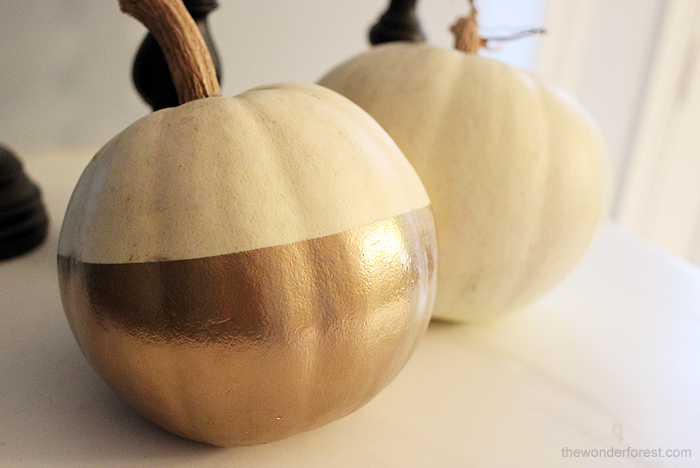 Voila! A sassy little pumpkin! Stay tuned for more pumpkin projects… I have a bunch of cool ideas saved up that will take your traditional pumpkin decorating to new heights!
I've love to see some of your pumpkins too! If you're on Instagram (and not private) tag #5daysofpumpkins to share your own ideas or your results of this design! Feel free to follow me too @wonderforest.
Last Updated on