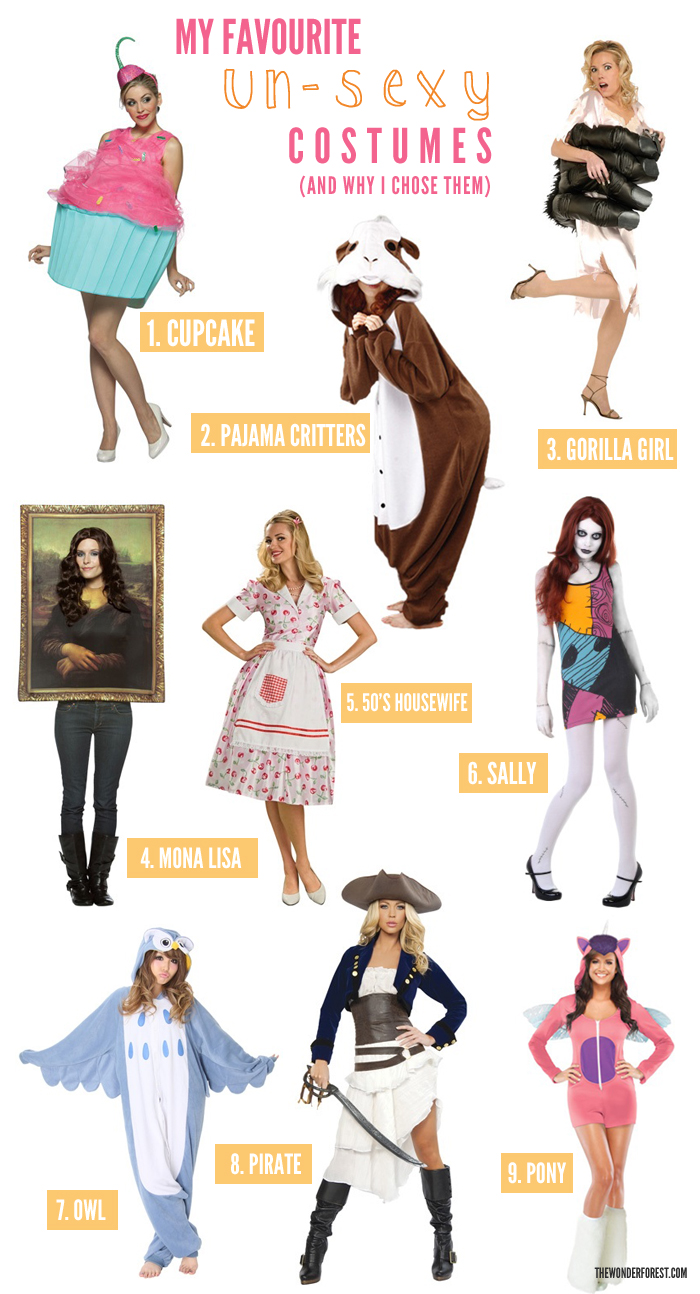 If you're trying to come up with a Halloween costume this year, it can be a bit tough to find ones that aren't "sexy", or in other words… made for women with model bodies who live in warm climates. Let's face it, not all of us can walk around like this and feel comfortable, so I pulled some of my favourite Halloween costumes that are unique and un-sexified… and I'll tell you why I chose them:
1. Women's Cupcake Costume
This costume is adorable and the cupcake covers up your entire torso, so no need to have killer abs to pull this one off! You could even pair it with coloured thick-knit tights in cooler weather. Get it here.
2. Pajama Critters (Guinea Pig) Costume
I said pajama critters in general because there are so many cute ones to choose from. These are totally something you could wear comfortably and still look like you put effort into dressing up for a party or gathering. Get it here.
3. King Kong Gorilla In The Midst Costume
I love this idea for a costume because once again, your stomach area is totally covered up by the gorilla hand and it really isn't revealing at all. The dress is a nice length and you could throw on a slip underneath it for extra warmth and coverage. All you need is a cute hairdo and you're good to go! Get it here.
4. Mona Lisa Portrait Costume
Here is another that virtually takes no effort and would get people talking for sure. You don't even need to change out of your jeans and shirt. Just pop this baby on your head and you're done! Get it here.
5. 50's Housewife Vintage Costume
A totally sweet 50's inspired dress looks great on any body type.  The sleeves are a bit longer, and the length of the dress hits below your knee. You're totally covered up but totally cute at the same time! Get it here.
6. Sally from Nightmare Before Christmas Costume
All this costume is, is a tunic tank, which makes it really easy to style however you want. It might look a bit "sexy" in terms of fit, you can really make it your own. Try drawing the stitches on some opaque white tights! Get it here.
7. Owl Pajama Costume
Ok, yes, another pajama costume. I just had to show it though because I think it's pretty awesome. Another full body costume that is super easy to wear and works for any body. Seriously I want one just so I can wear it around my house, haha. Get it here.
8. Deluxe Colonial Pirate Women's Costume
You're probably wondering why I picked this one, because at first look, yes, this is a sexy costume. However, it has some features that I thought might make it more comfortable to wear for somebody who still wants to look sexy but not feel awkward. First of all, the skirt part is longer, and matched with boots you only see a bit of leg. Second, the jacket is long sleeved. Third, that waist belt almost acts as a corset which would help tighten everything up in the mid section. So yes, while it is sexy, it's more of a sophisticated sexy. Get it here.
9. Women's Pink Pony Costume
Another one where you are probably thinking, "Geez, Dana, that is a SEXY costume!" Once again though, if you look at the details it's less sexified than most. It's actually a romper, not a little mini dress, which makes it sooo much easier to wear and not have to worry about it riding up all night long. It's also got long sleeves for coverage and warmth. You could also throw on some leggings or tights to cover your legs if you wanted to. I just think it's adorable and could work for many women… it's also on sale right now and is super cheap. Get it here.
So there you have some of my favourite non-sexy sexy Halloween costumes. Remember, you can still look sexy and feel comfortable while not showing everything off! Sometimes a bit of humor is the way to go if you're concerned about your costume choices too!
What will you be going as for Halloween this year?
Last Updated on