Fall is here – and that means pumpkins, vibrant fall colours, crisp air, and relaxing at home in your favourite sweater. While enjoying all the fall things, you might be thinking about how to bring a little more cozy into your home. With these tips we hope you'll be inspired to create a beautiful fall mantel design!
The most photo-worthy fall mantel designs can be broken down into an easy template, so if you don't consider yourself much of a designer, you can still take this template and give it your own spin to make a fall display of your own.
If you don't have a fireplace, don't feel left out–these ideas work on a long shelf or faux mantel as well. You'll want to relax next to the fire all day long, so grab your favourite seasonal beverage and start scrolling!
1- Choose A Color Scheme
There is so much beautiful fall decor available in stores, it can be daunting. To start, choose a colour scheme. This will help you focus your design and make it cohesive, without bringing in too many scattered elements.
Whether a tried-and-true classic or a new twist on an old favourite, knowing the colours you want to use will help narrow down a starting point.
Subtle Neutral Fall Mantel
A simple and elegant colour combo like eucalyptus green, soft orange, and white is the perfect way to bring elements of fall without being overwhelming. The combo is crisp, classy, and fits well with year-round decor.
Chalkboards and other rustic pieces that aren't necessarily fall-specific, but still give off seasonal vibes, are a great way to fill up your display without spending a fortune.
Vibrant Mantel Decor
Don't you wish you could bottle up all the fall colours? Highlight the deep reds, oranges, and golds of peak autumn colours in your mantel decor by adding in faux fall leaves and stems, along with other natural items like acorns, pinecones, and grapevine wreaths.
Pink Mantel for Fall
Think outside the box when it comes to your colour scheme – pink, white, and gold work well with fall colours. Other unexpected colour choices, like blue or turquoise, also pop when coupled with fall colours.
Classic B&W Fall Mantel Decor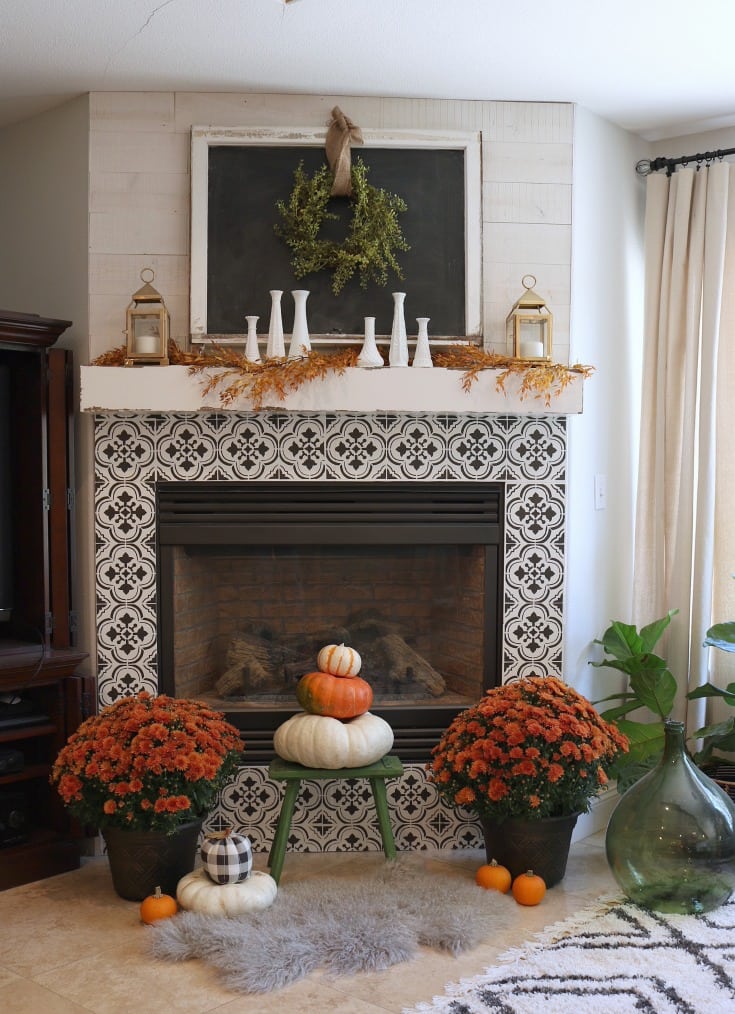 Instead of going all out orange, try adding in touches of orange to a mostly black and white background. The result is striking, warm, and bonus – it's easy to blend with your year-round decor.
2 – Build Around a Centerpiece
Once you've determined a colour scheme, choose a focal point around which to build your design. This can be a wood sign, a Fall centerpiece, a wall hanging or wreath, an antique mirror, collection of baskets, or candles. Or keep it simple with pumpkins as the star of the show!
A Favorite Fall Quote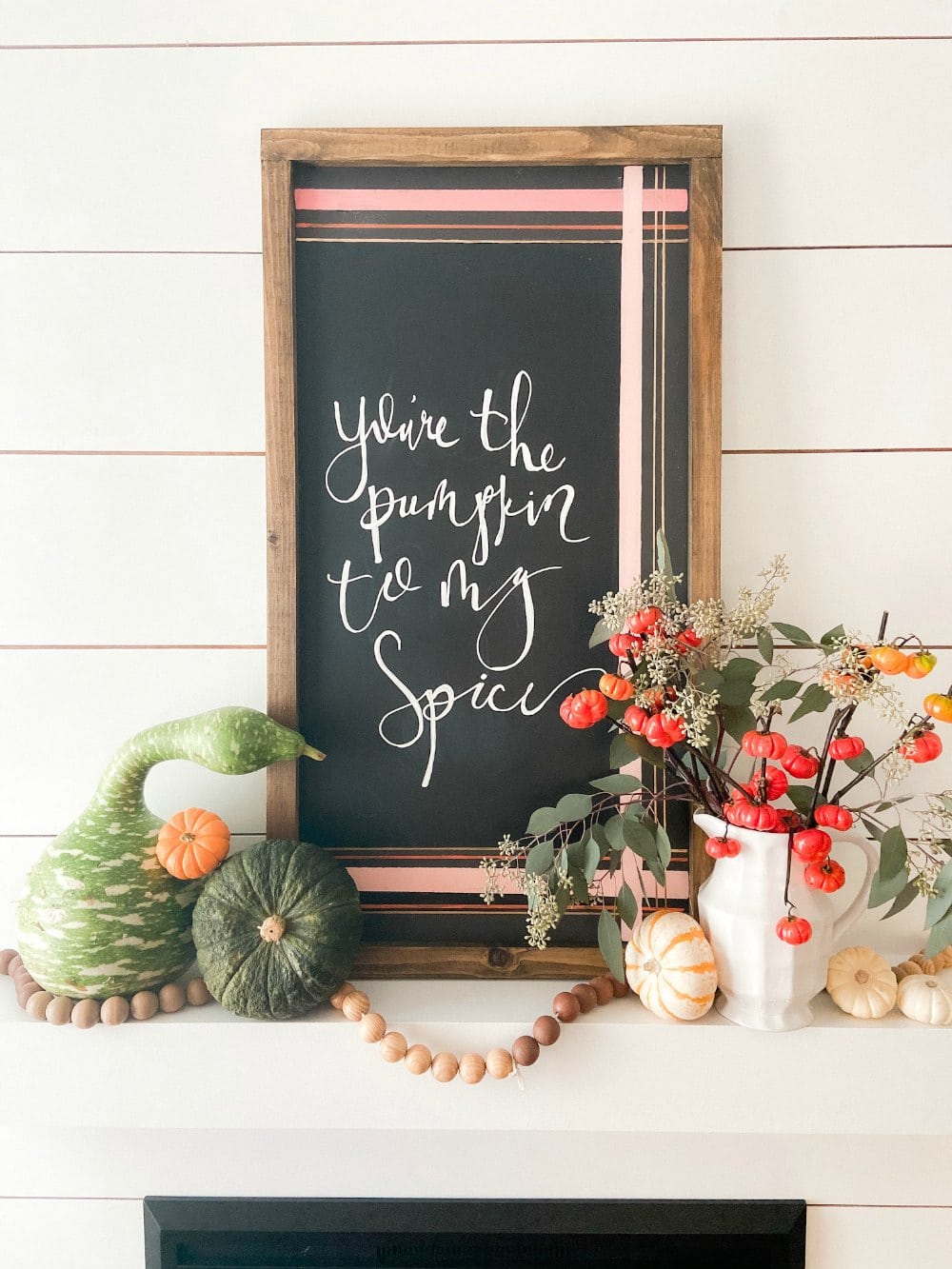 Get in the fall mood by making a DIY wood chalkboard sign with a clever fall saying, or search Etsy for a sign with a fall quote that inspires you. This popular quote from Anne of Green Gables is everywhere this season.
Wall Hanging or Wreath Mantel Decor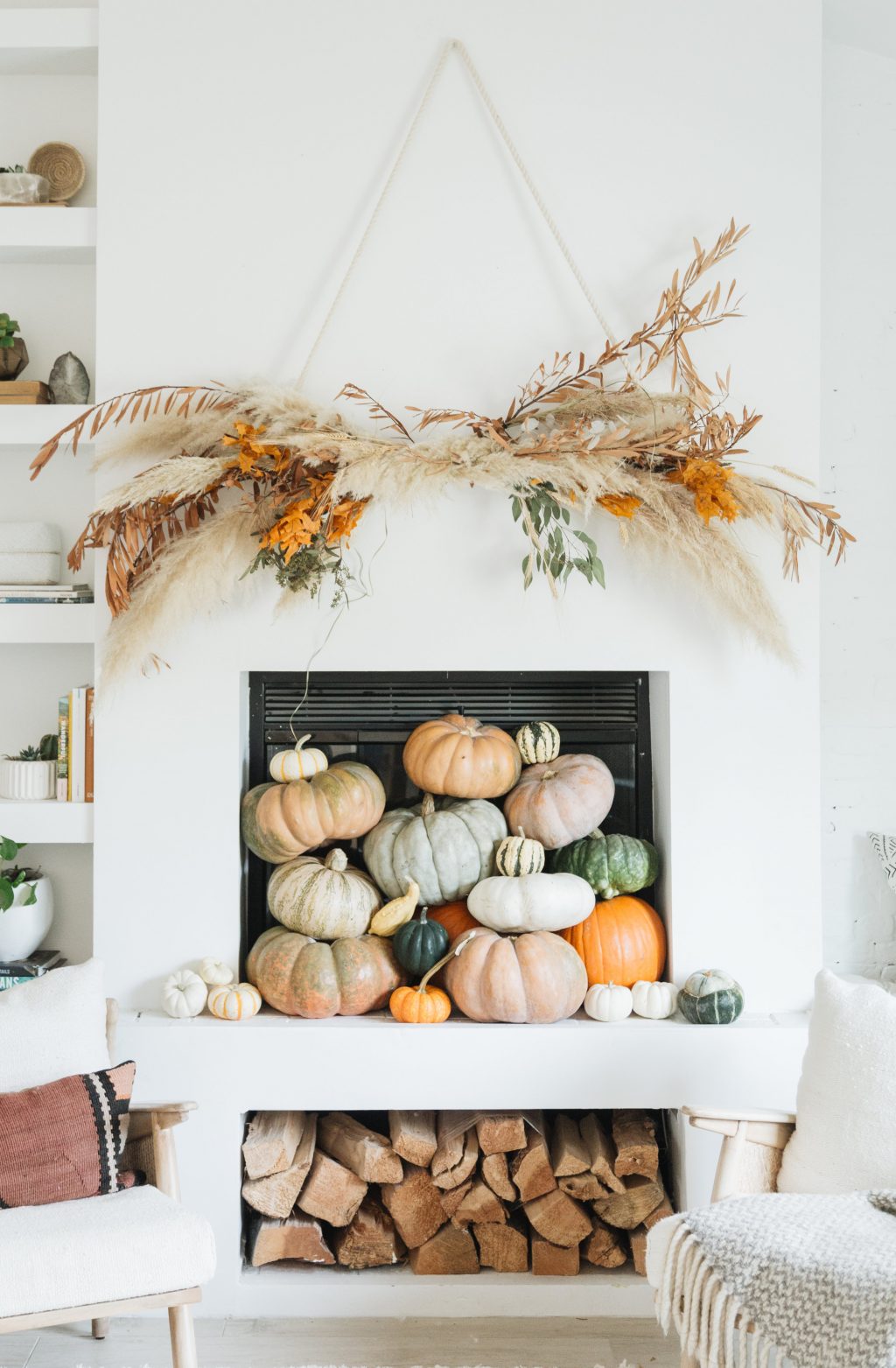 Instead of a wood sign, go a different direction and craft a wall hanging or wreath to function as a focal point for your mantel. This is a great way to bring in different textures
3 – Add Layers to Your Fall Mantel
Creating layers when designing your Fall mantel can help create dimension and depth. Try using items of different sizes and shapes while showcasing the largest items at the back of your mantel. This helps to add interest and ensures that those smaller items don't get lost!
A Fall Pumpkin Garland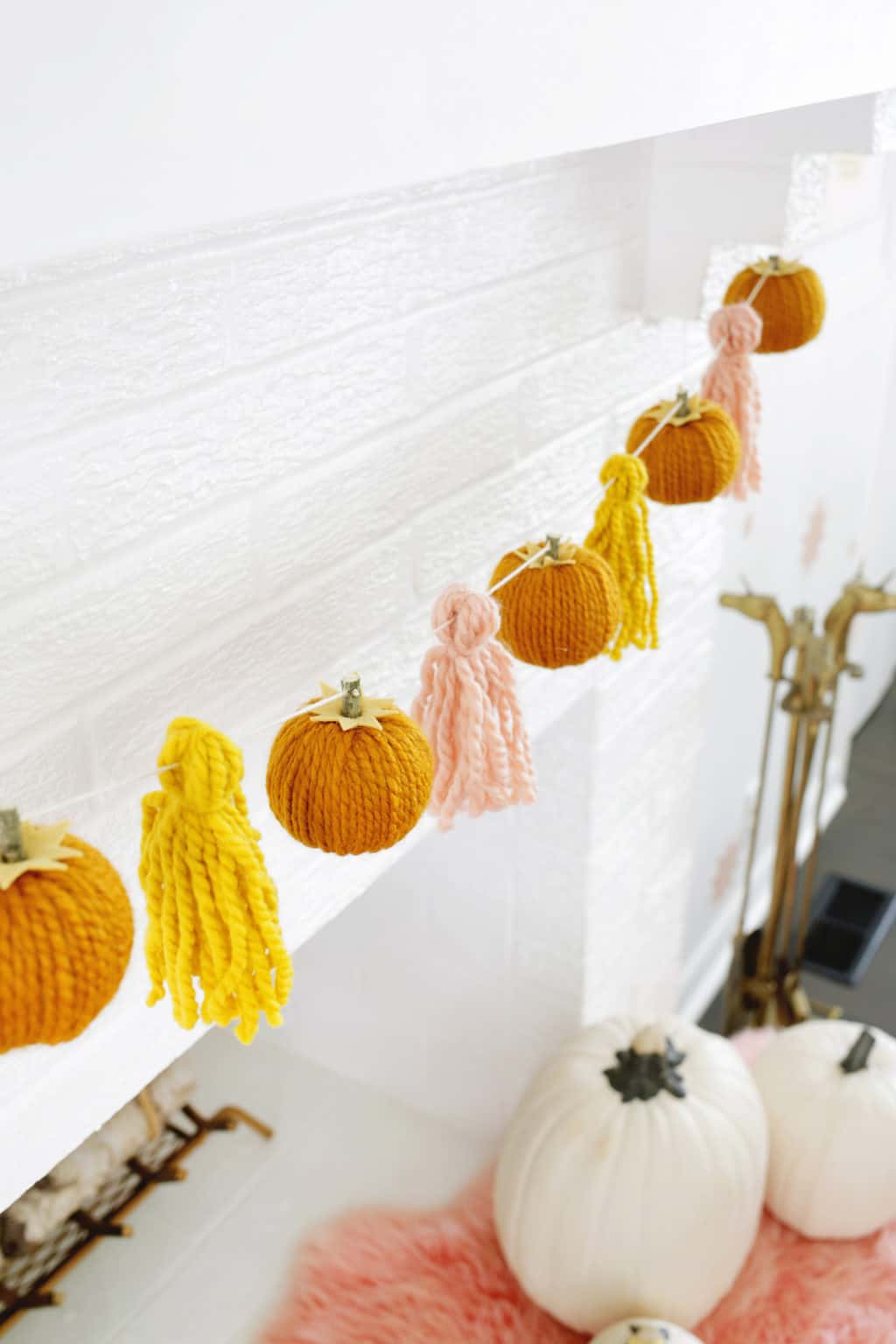 To bring another layer of cozy to your fireplace, try DIYing a playful fall garland to hang from the mantel shelf. You could also use a homey fabric like a plaid blanket scarf to drape across the mantel for added texture!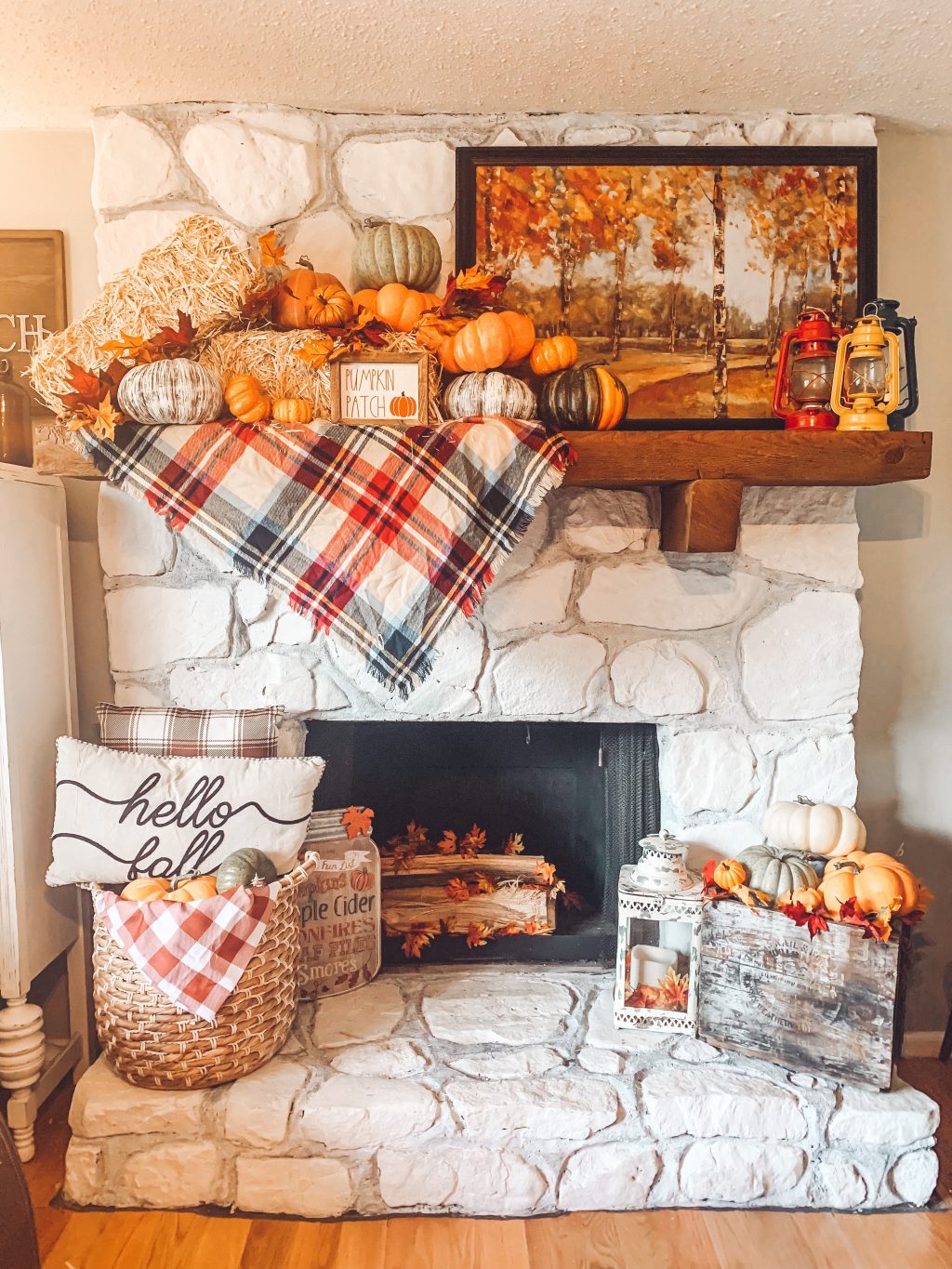 Bring Leaves Indoors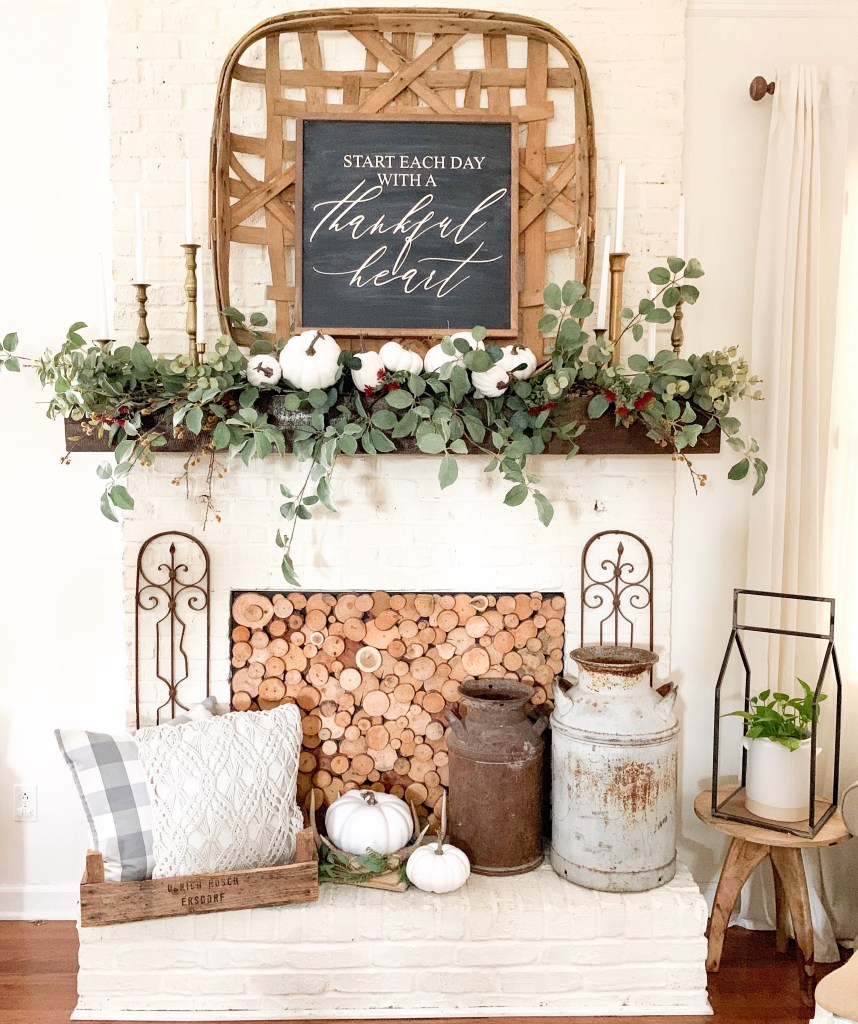 Whether foraged, faux, or crafted, what better way to make your home feel like fall than to add fall leaves to your mantel? Utilize the beauty of the season. A pro tip is to layer several garlands together to create fullness. Add other plants like pampas grass in a ceramic vase to add texture and dimension.
4 – Add Pumpkins!
Okay, this goes without saying! Add pumpkins on the mantel shelf, inside the fireplace if it isn't in use, or on the floor next to your mantel display.
Don't feel stuck with your typical pumpkins–I've spotted everything from terra cotta pumpkins to velvet pumpkins this year! When shopping, be sure to have vision–you can always paint discount craft pumpkins to match your color scheme!
If you're not big on pumpkins, even just a few pumpkins is enough—a decorator's trick is to choose white pumpkins (or another colour that blends with your decor) to provide a seasonal feel.
5 – Add the Finishing Touches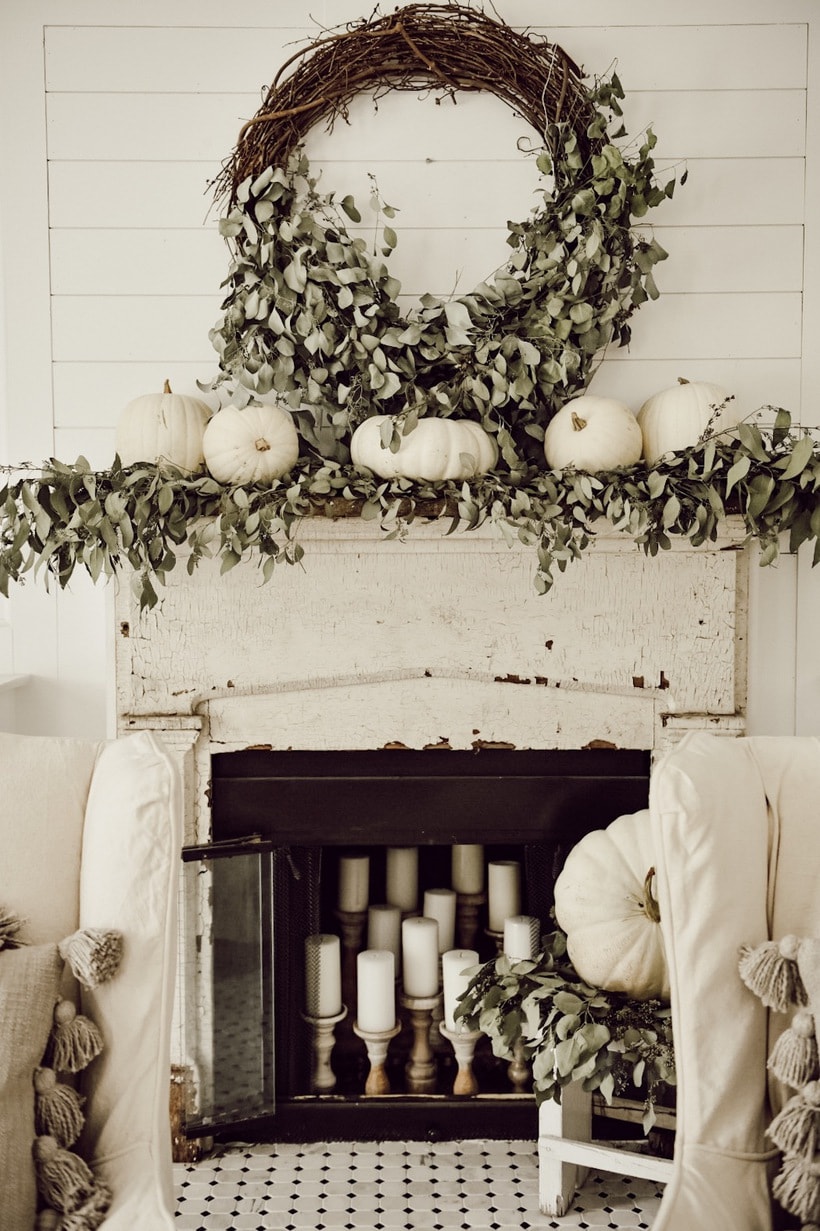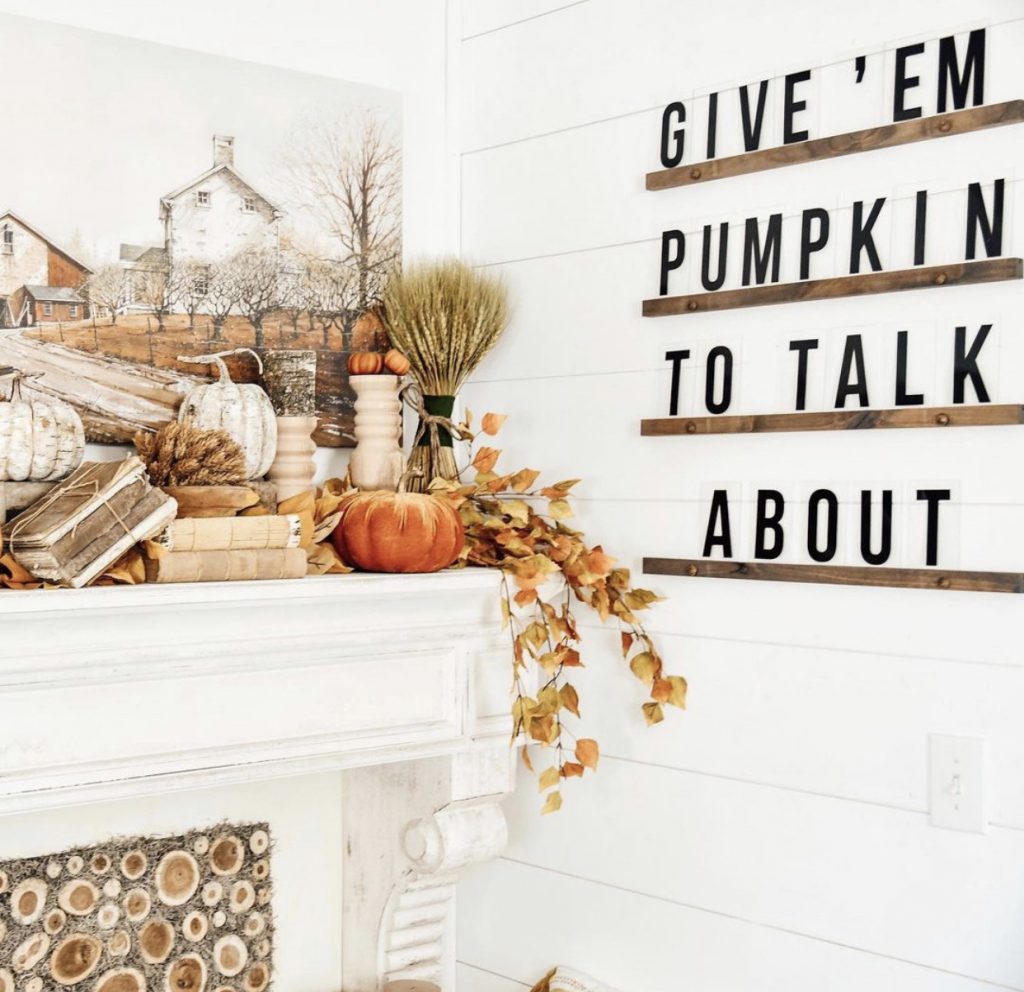 Shop your home, local antique stores, or thrift stores for the finishing touches. Bring in candles to add a warm cozy feel (bonus points if they're pumpkin spice scented!)
Old books, lanterns, vintage amber bottles, mini hay bales, or pampas grass are other great ways to add different textures and an autumn feel to your mantel.
Finally, pull up a few plaid or chunky knit blankets in baskets next to the fireplace, add a fall bucket list sign (always a must!) and you're good to go.
PIN THIS: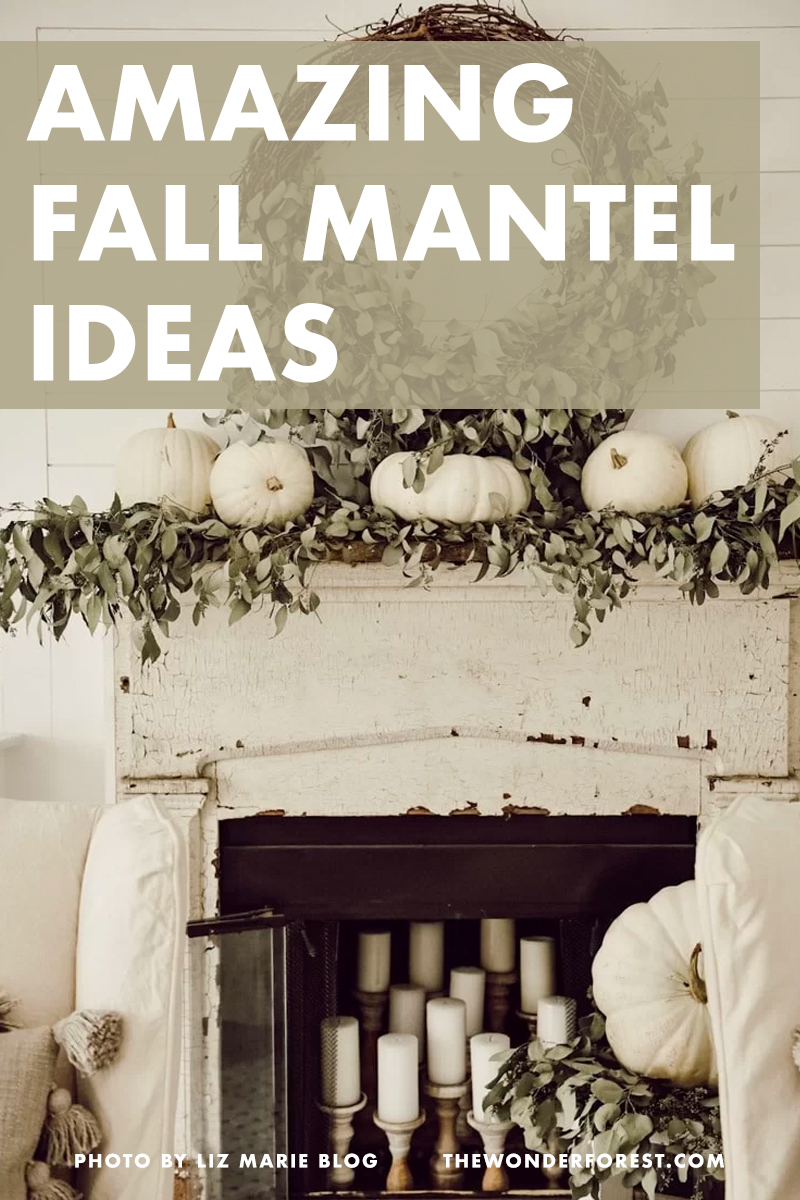 Last Updated on