This year, create a gorgeous, welcoming Autumnal display on your front entryway.  I've handpicked some of my absolute favourite Fall front door decor ideas for a little inspiration.
1 – A cheeky ledge of pumpkins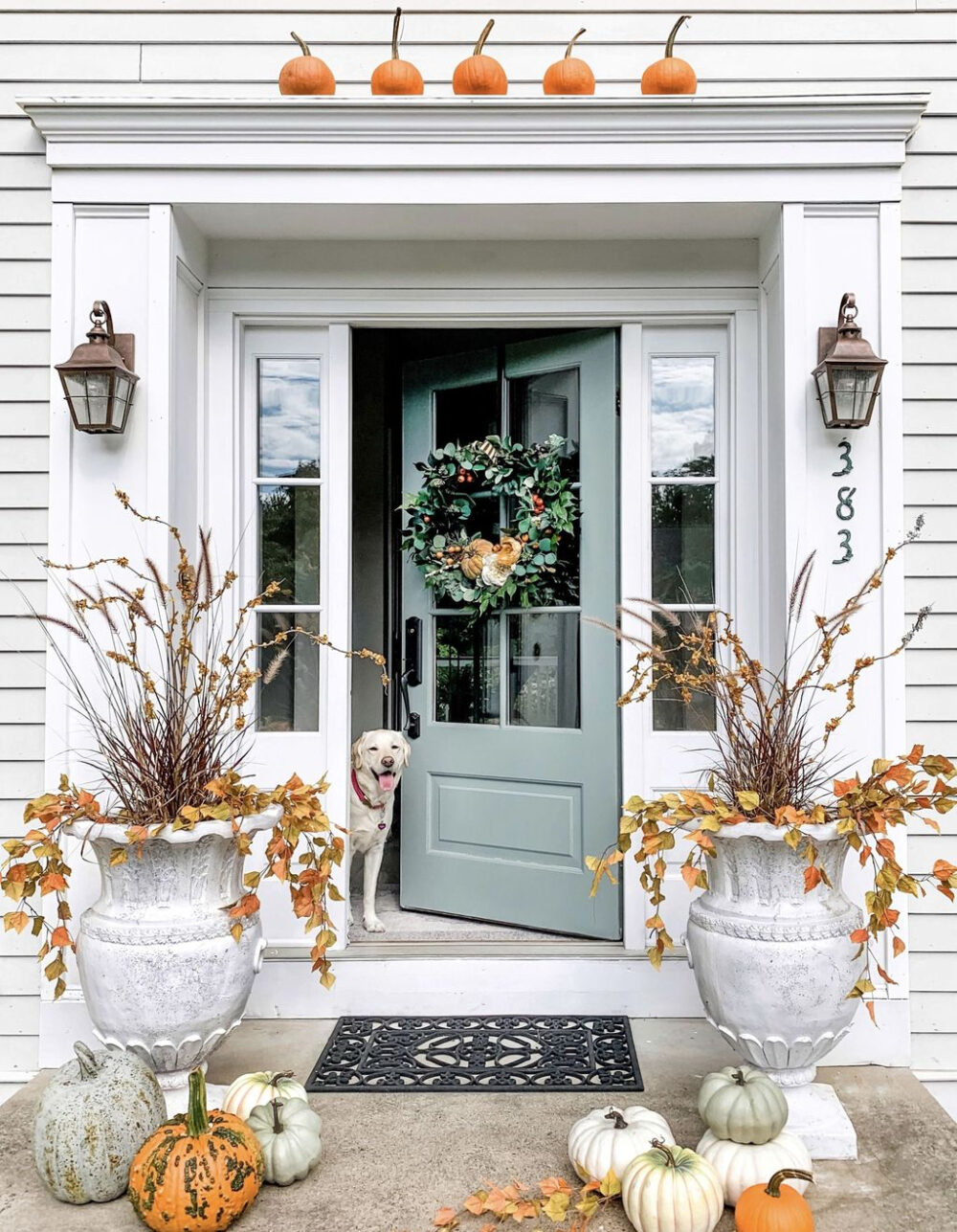 Depending on the structure of your front door, you may be able to pull this off! Place a sweet little row of pumpkins above your doorway for an extra little splash of Fall decorating.
Some large urns with crunchy plants and a few multi-toned larger pumpkins out front pull this look together.
2 – A little bit of colour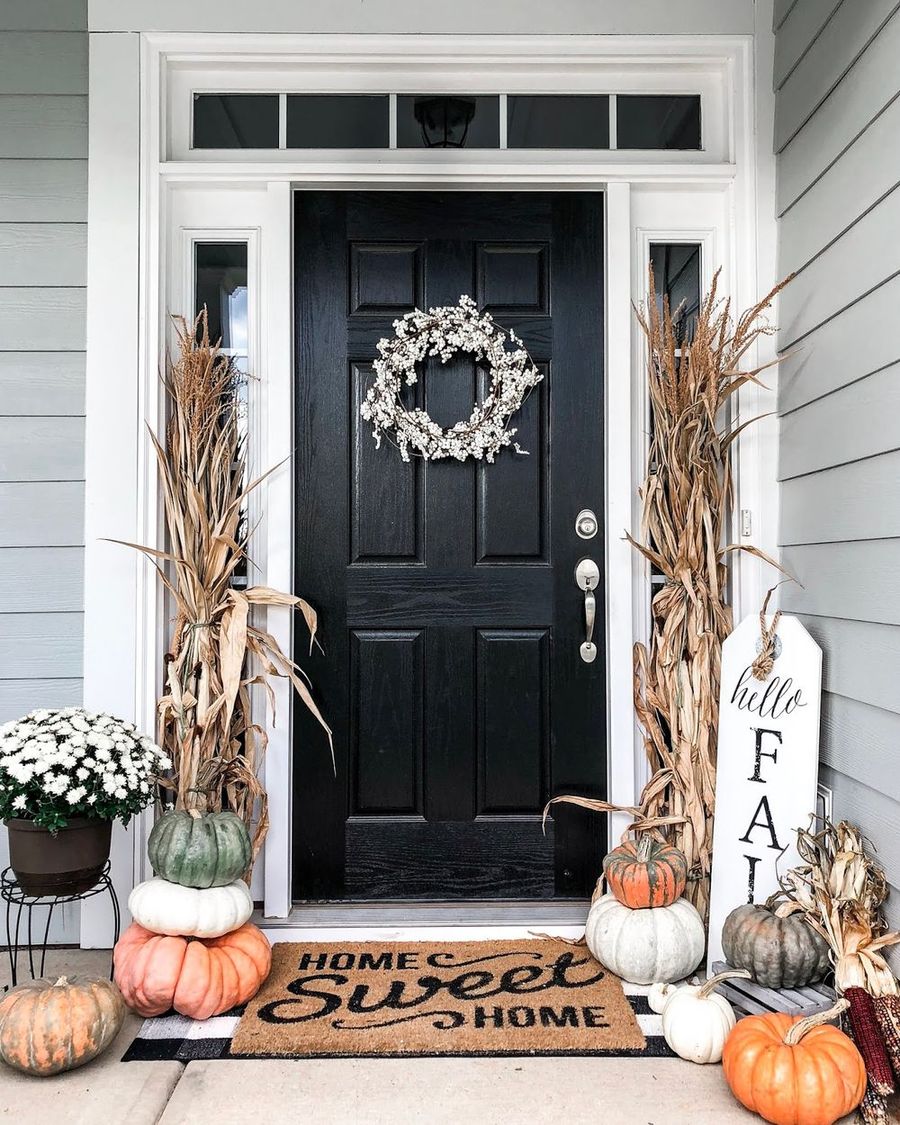 Orange tones of pumpkins can help add a pop of colour to any black/white decor. With neutral tones from the corn stocks and the welcome mat, this front porch gives off a modern yet homey feel.
3 – Flowers, buckets, and lots of white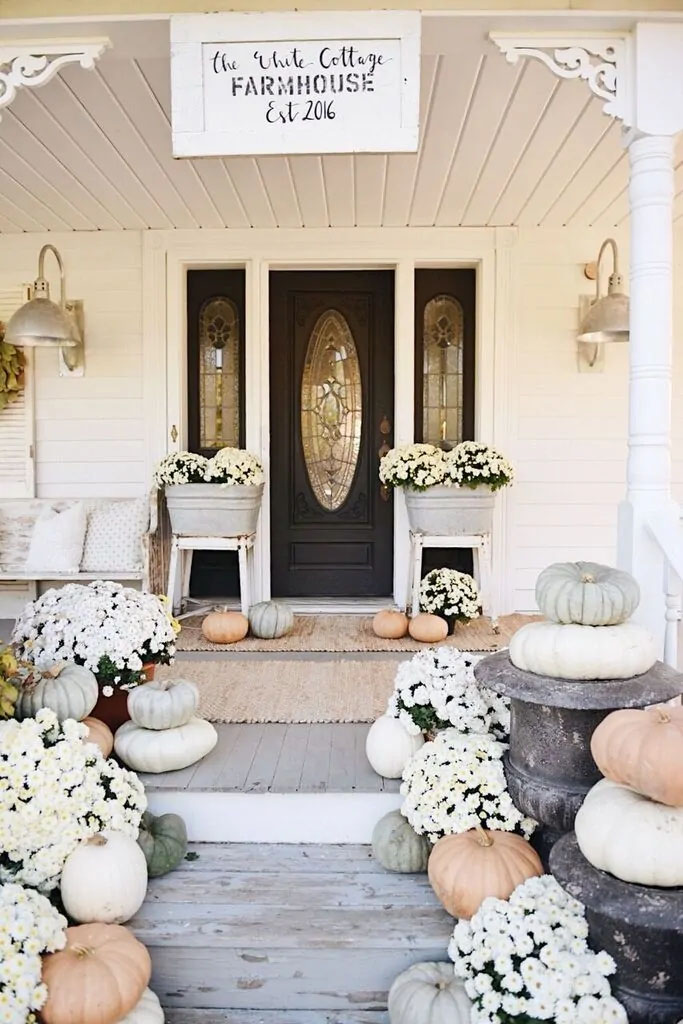 White on white with a little muted orange thrown in for contrast is what this front porch is all about. A couple of metal buckets on stools help to display white mums perfectly.
4 – Rainbow pumpkin pathway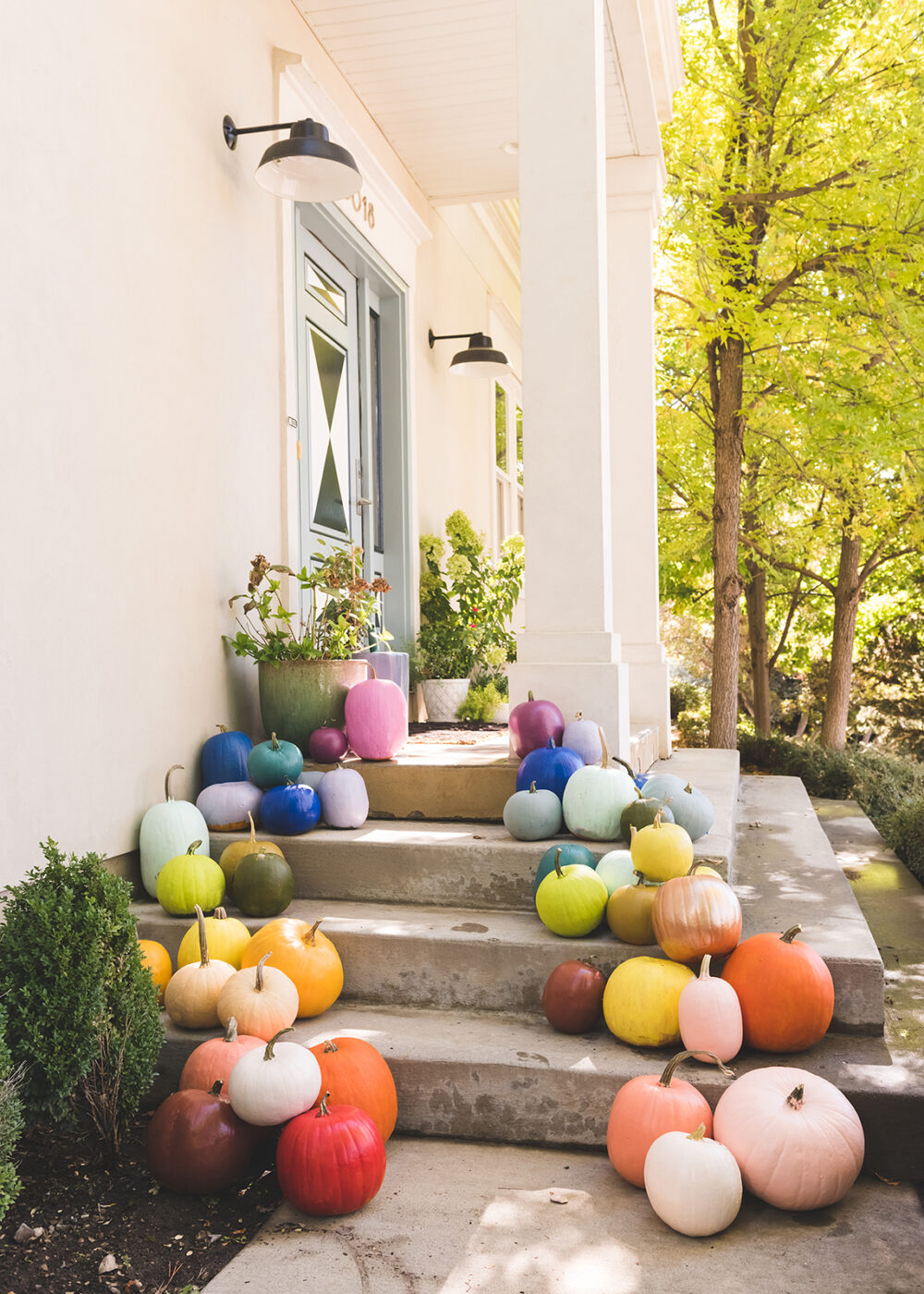 Grab your paint and get fancy! This colourful pathway of pumpkins will brighten up any entryway and make your guests surely smile.
5 – A plethora of textures
Different textures and elements add such a unique look to this Autumn front porch. The pumpkins, gourds, green plants, flowers, metal buckets, and long grasses all mesh together so well.
6 – Keeping it simple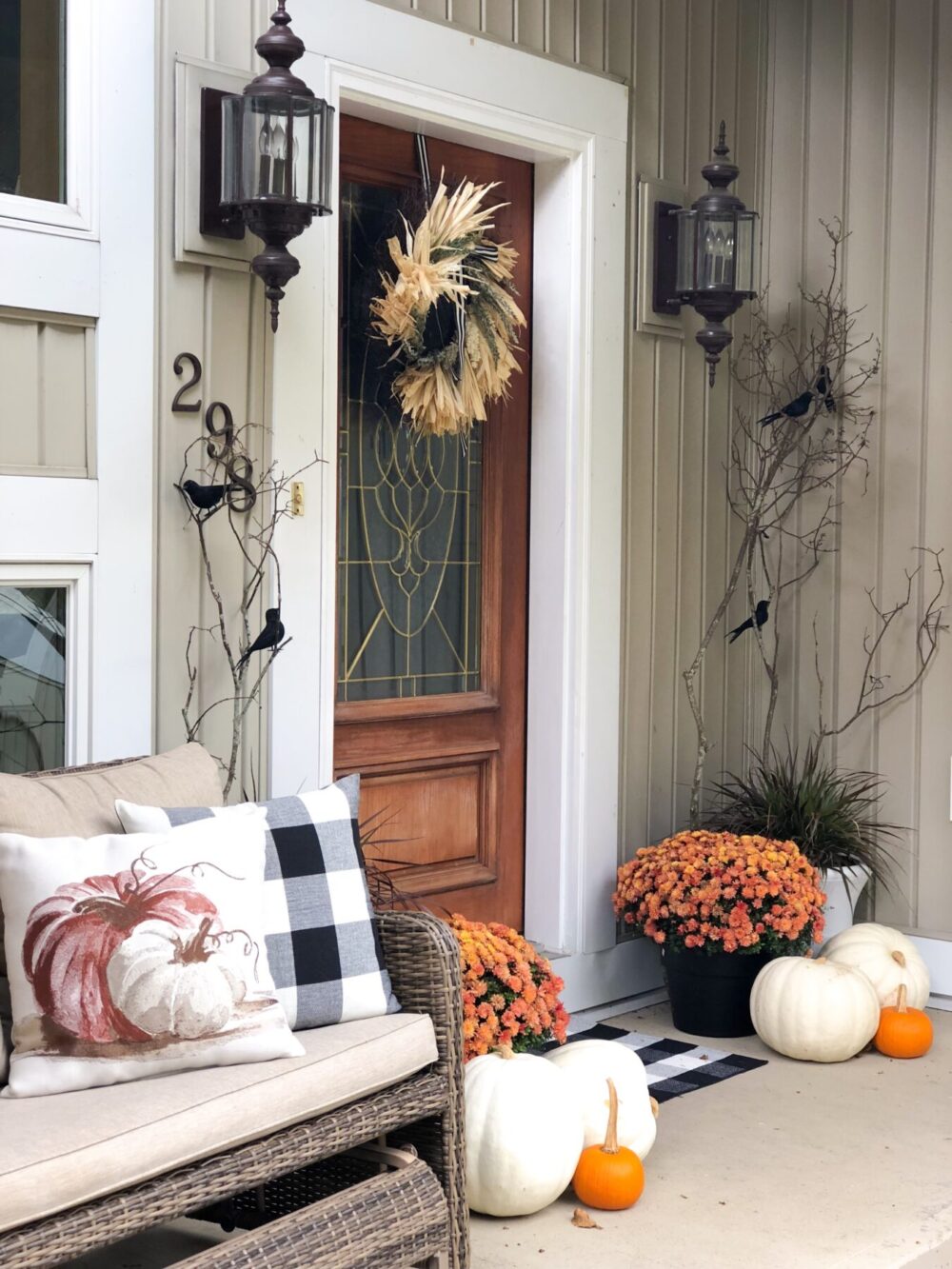 Classic Fall plaid patterns, white pumpkins, flowers, and a few branches finish off this space for the season. This look can easily be copied with just a quick stop to the local market!
7 – Corn stalks and lights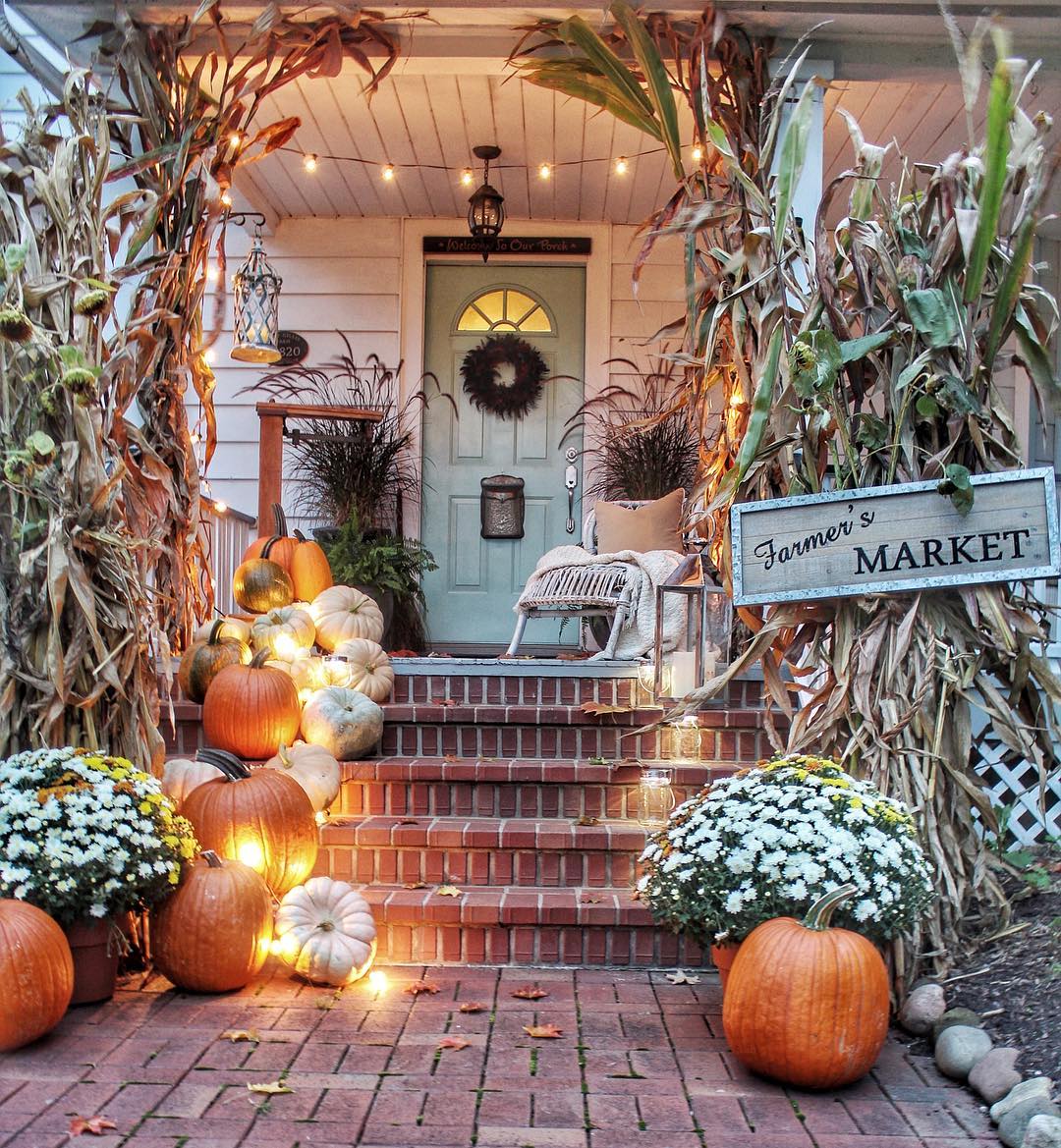 There is something magical about this front Fall entrance. The overgrown look of the corn stalks mixed with the twinkle lights almost make it seem as if you're walking through a forest pathway. Love it!
8 – Keep it neutral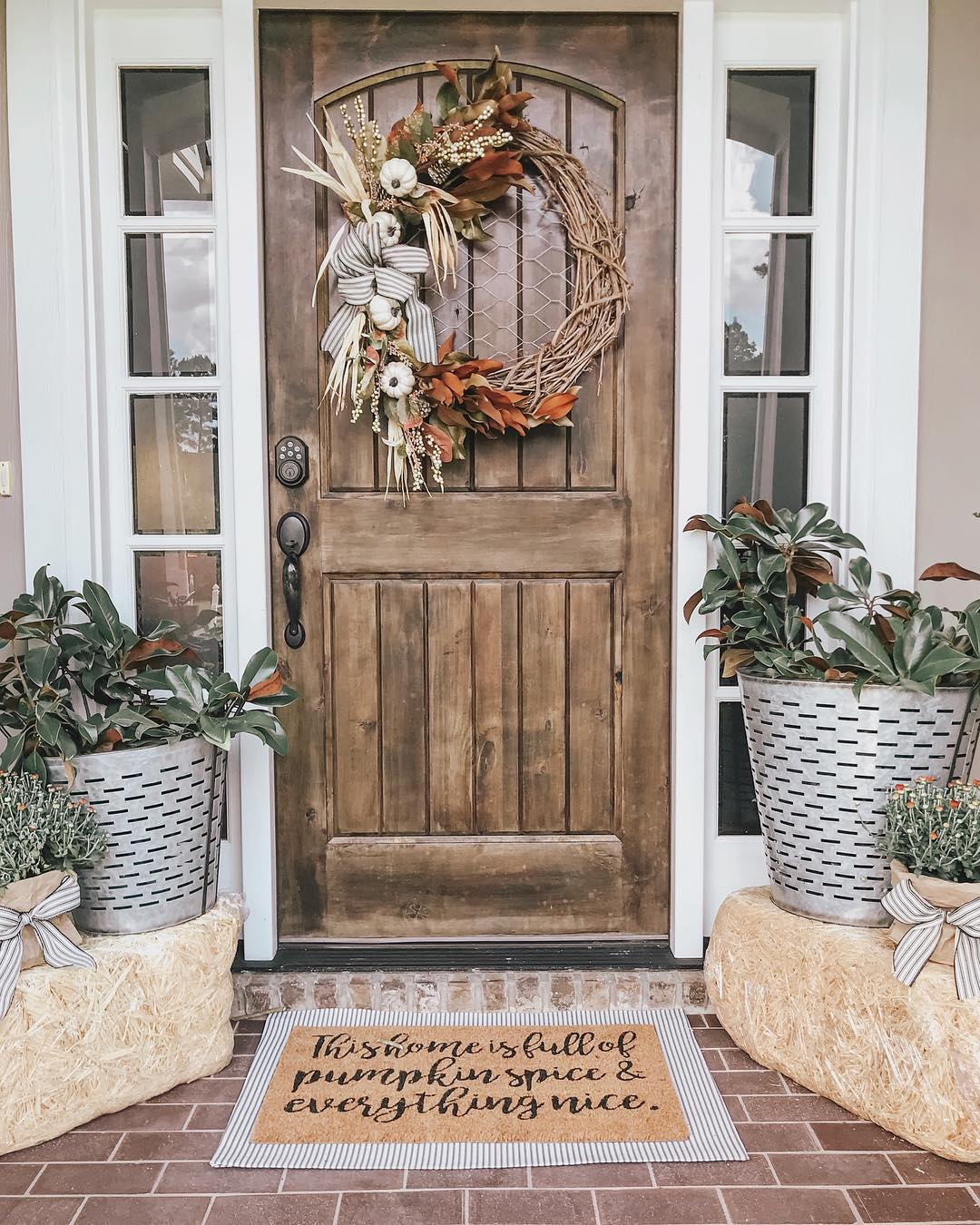 These tin buckets are perfect sitting on top of hay bales and filled with dark greenery instead of your typical red/orange/yellow flowers.
The neutral feel of this whole space ties into the door so well for a rustic Autumn vibe. Top if off with a fun layered welcome mat and you're all set.
9 – Gorgeous greenery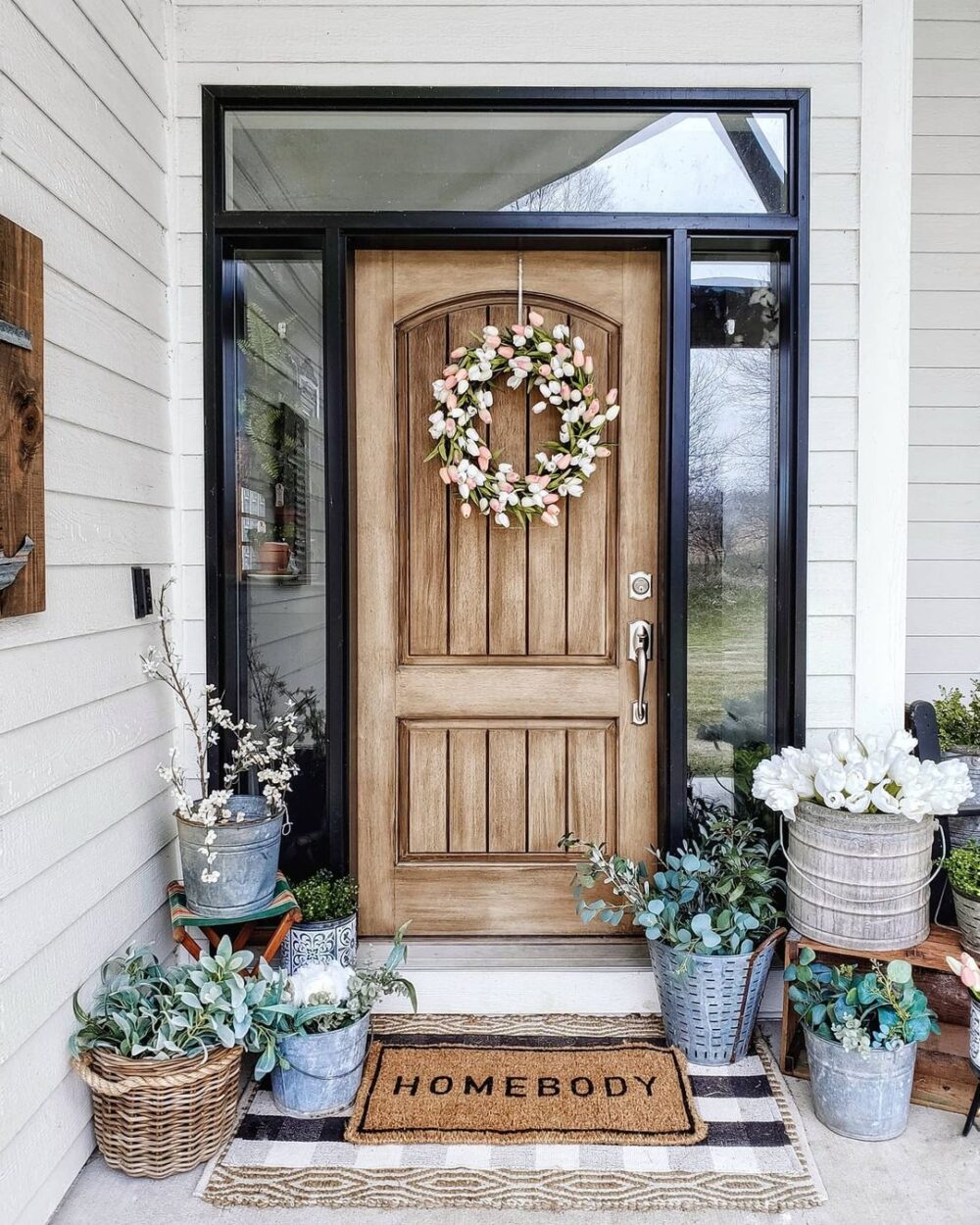 I love a Fall porch that doesn't feel so typical. The baskets and buckets of plants are done in green tones, and the pops of white and pink make it feel a little more feminine and less country.
10 – Compliment your door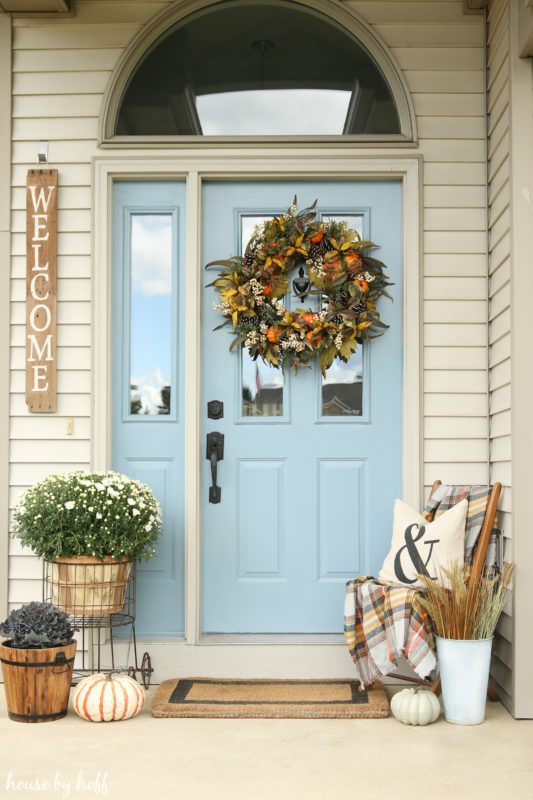 This simple Autumn door decor is done so well!  The blue door is complimented with neutral tones and a small pop of orange — blue's very own complimentary colour in case you didn't know.
It doesn't take much but a statement wreath and a few small items to pull this look together.
11 – Minimal and trendy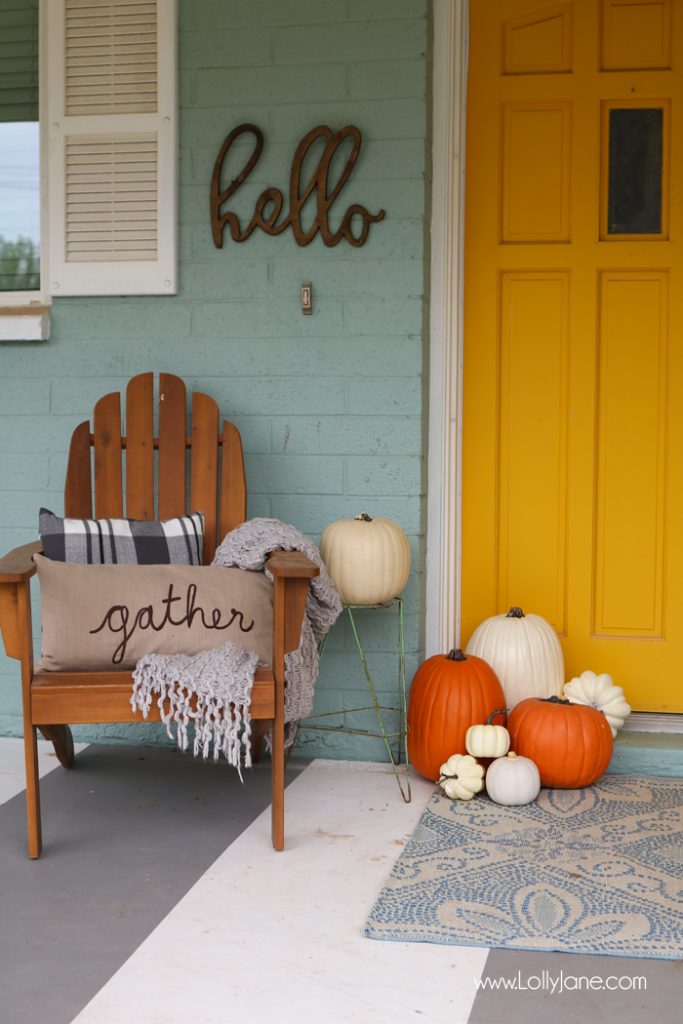 If you have a small porch, this might be for you! Dress it up with a simple chair, some pumpkins, and some cute styling!
12 – Pink door and tiled steps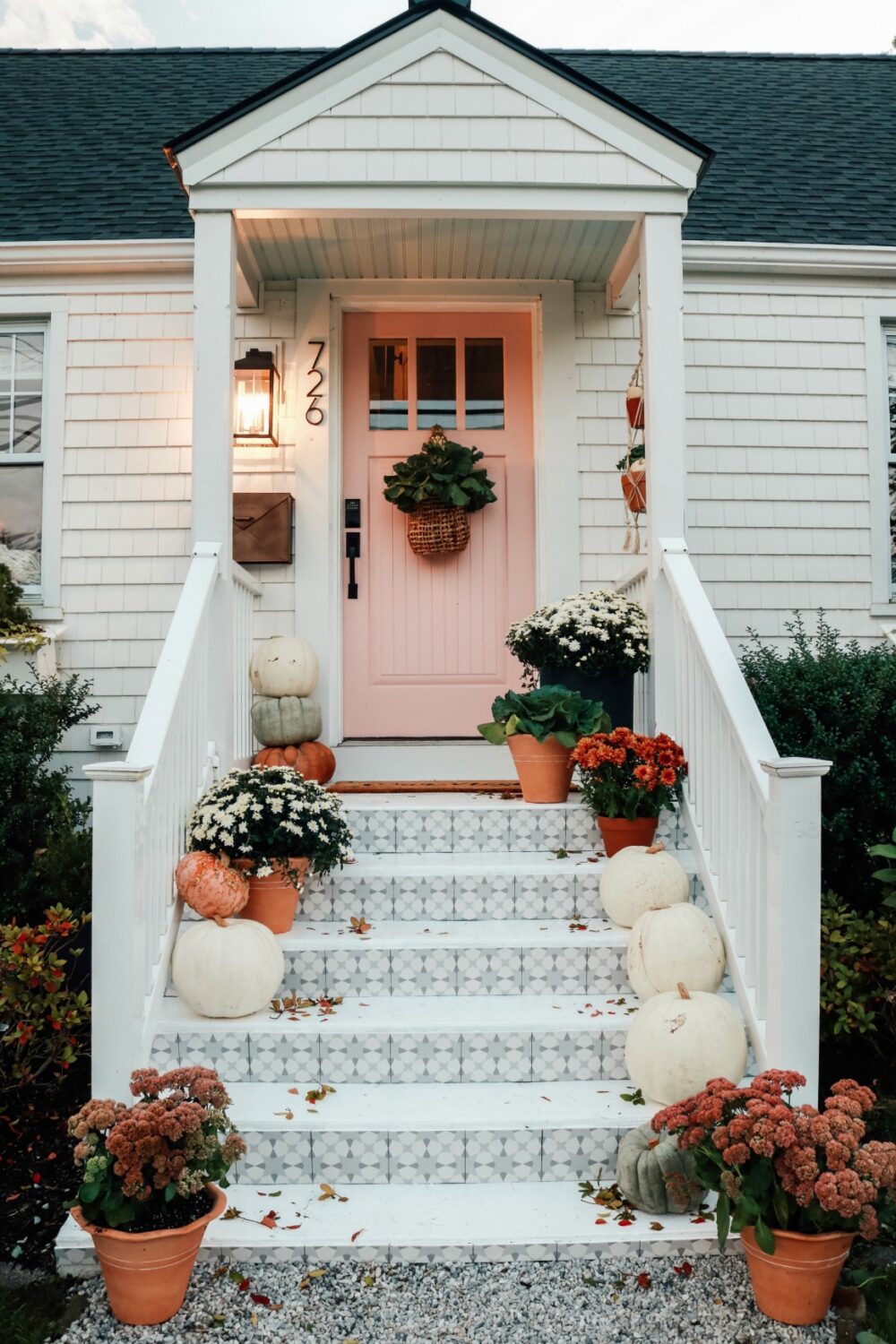 There is so much that I love about this entryway. First, the steps are tiled which adds such a fun element. The door doesn't display a standard wreath but instead a hanging plant which is so unique!
The stacked pumpkins, staggered white stair pumpkins, and asymmetrical placement of the flowers just work so well together.
13 – Try green instead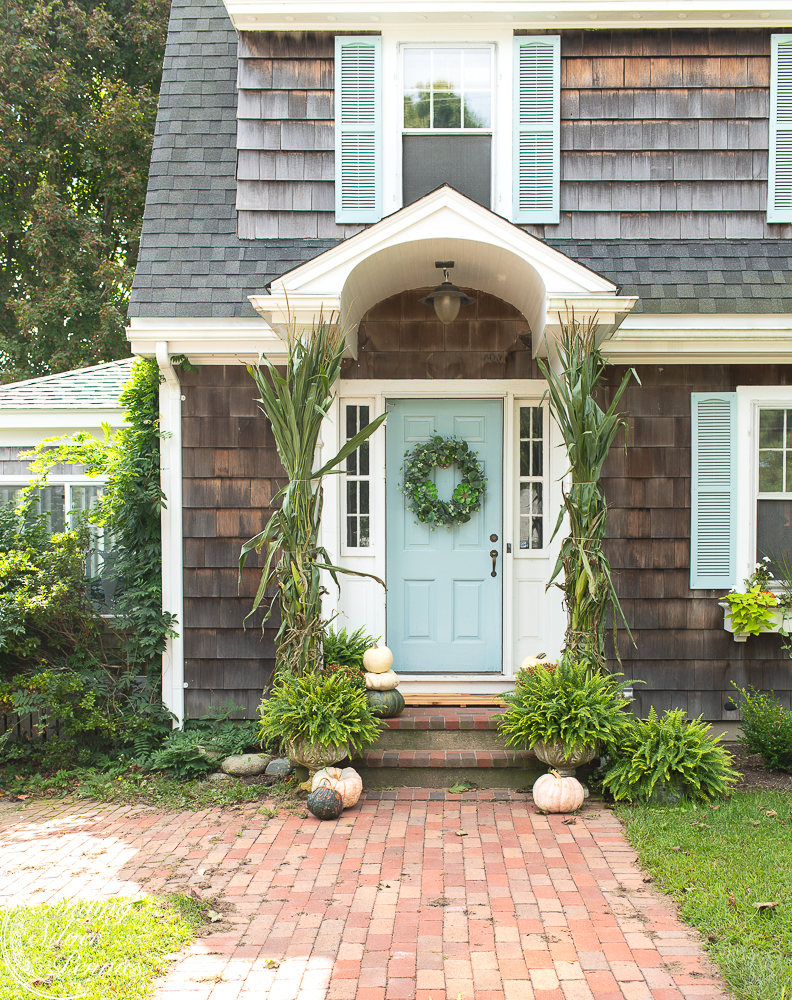 Skip the Autumn shades and go for green! These corn stocks haven't dried which compliment the pots of ferns so nicely.
Dark green and white pumpkins match the green wreath and still manage to make this entrance look "Fall" without the classic decorating rules.
14 – Like a fairy tale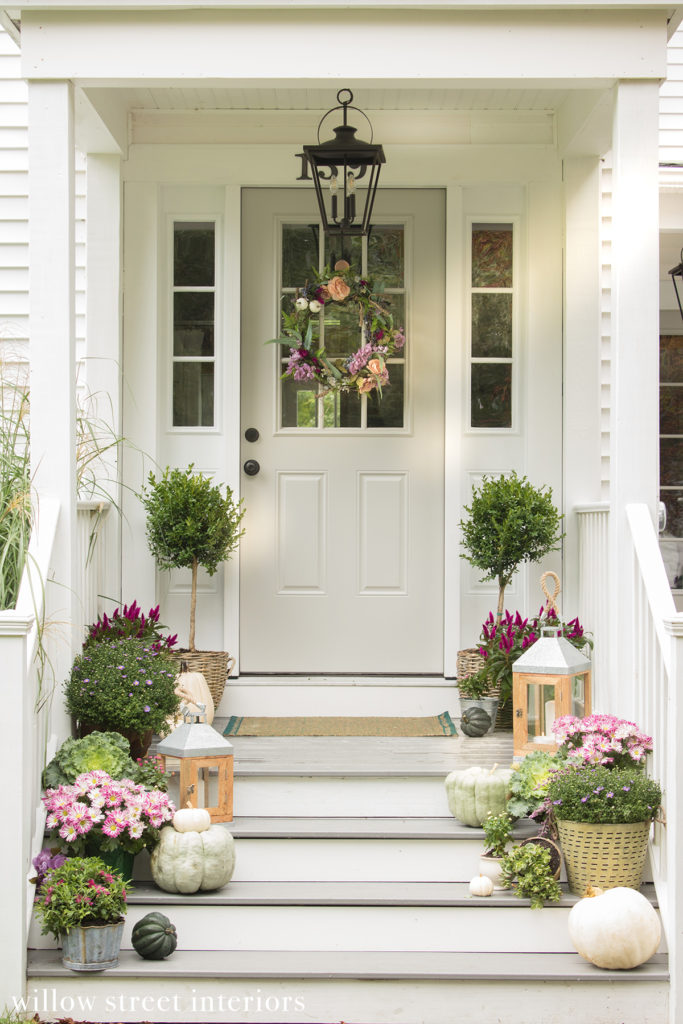 Soft palettes also work for Fall decor!  Try pink instead of red, peach instead of orange, and incorporate lots of white and green to really make your guests feel like they're walking through a fairy tale garden… at least for a few steps.
15 – Cozy seating areas
A porch just isn't a porch without a comfy, cozy place to sit. It can even be an outdoor extension of your autumn living room decor.
Add a plaid throw for an instant pop of Fall, and throw a few small pumpkins on the seat as well.  Dressing up the ground areas with lanterns, baskets, and flowers give any porch a market feel.
16 – Large and in charge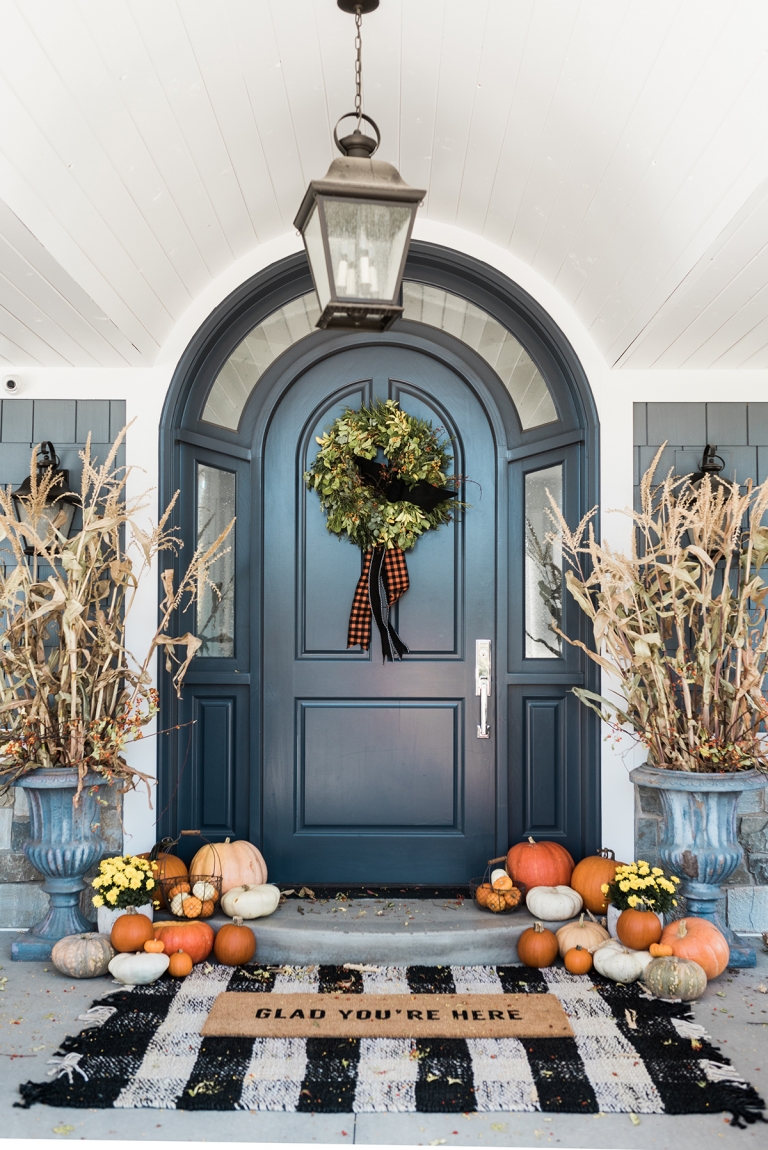 These giant urns filled with dried stocks frame this dark, bold door so well. The wreath has a nice pop of plaid — a staple this season! — and matches the black and white rug out front.  Gorgeous!
17 – Flowers and berries
When in doubt – just fill it with flowers! A few baskets full of mums always do the trick. And these berry-filled wreaths can easily transition into the holiday season.
18 – Signage for the Season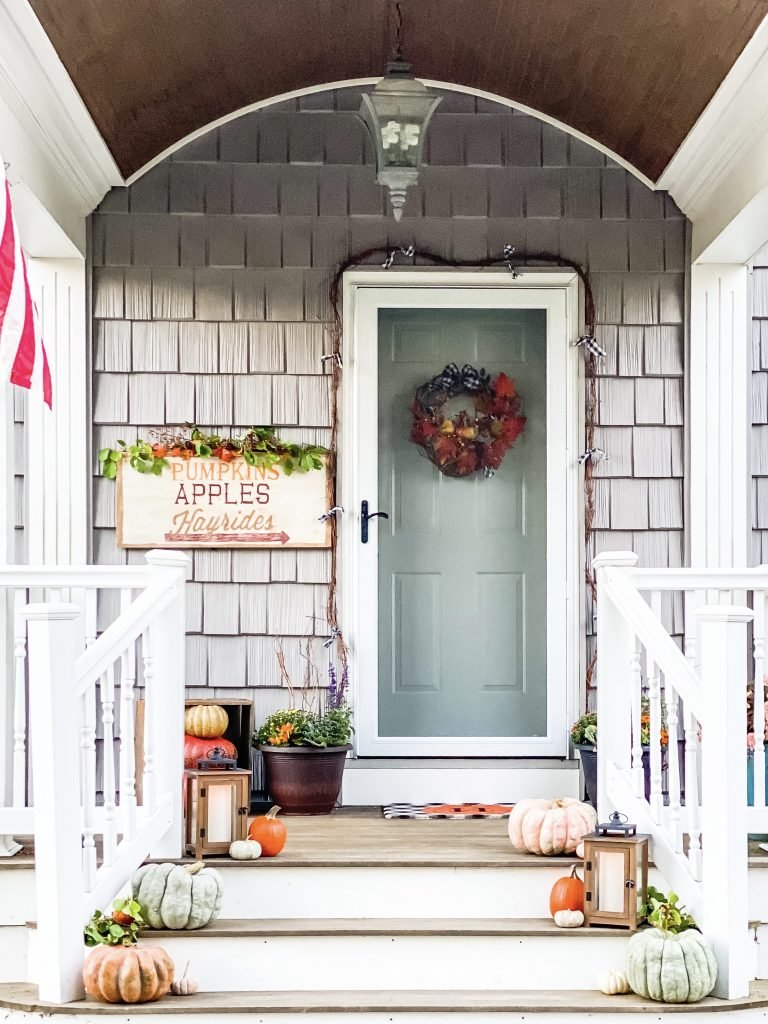 A cute sign like this one really screams "hey, it's Fall!" Matching a few pumpkins with the colour of the door is also a nice touch.
19 – A little more modern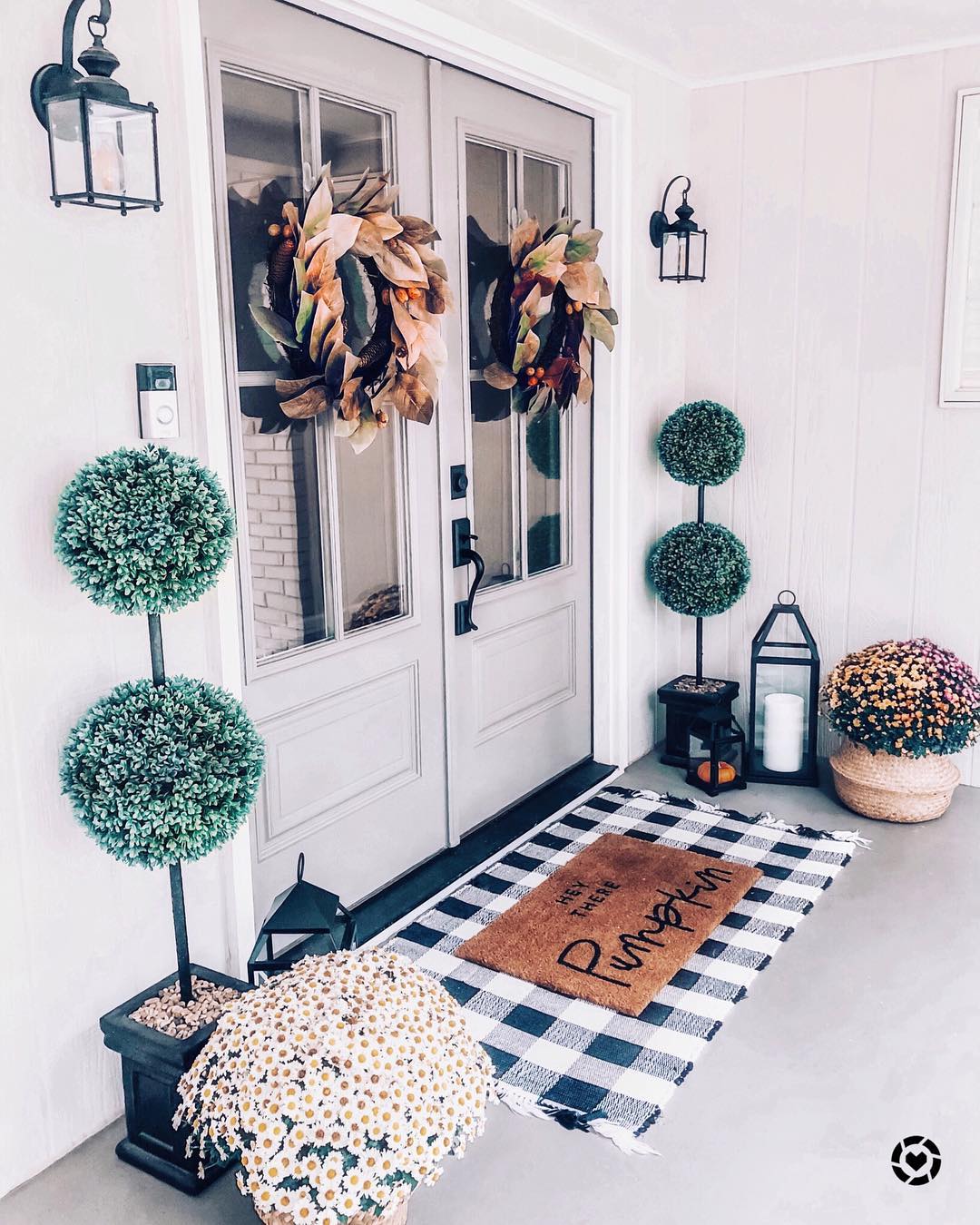 Layered mats are still a thing… and they work so well this season!  This porch has a more modern touch with its perfectly shaped plants and iron inspired lanterns. The wreaths use large leaves which move it away from rustic and into the realm of chic.
20 – Let's get colourful
Last but not least, this super vibrant door caught my attention right away. Again, blue works SO well with pumpkins because they are complimentary colours. The felt wreath pulls in all of the bright colours and a matching mat finishes it off.
Now that I've inspired you with some amazing Fall front door decor, which look is your favourite?
Last Updated on