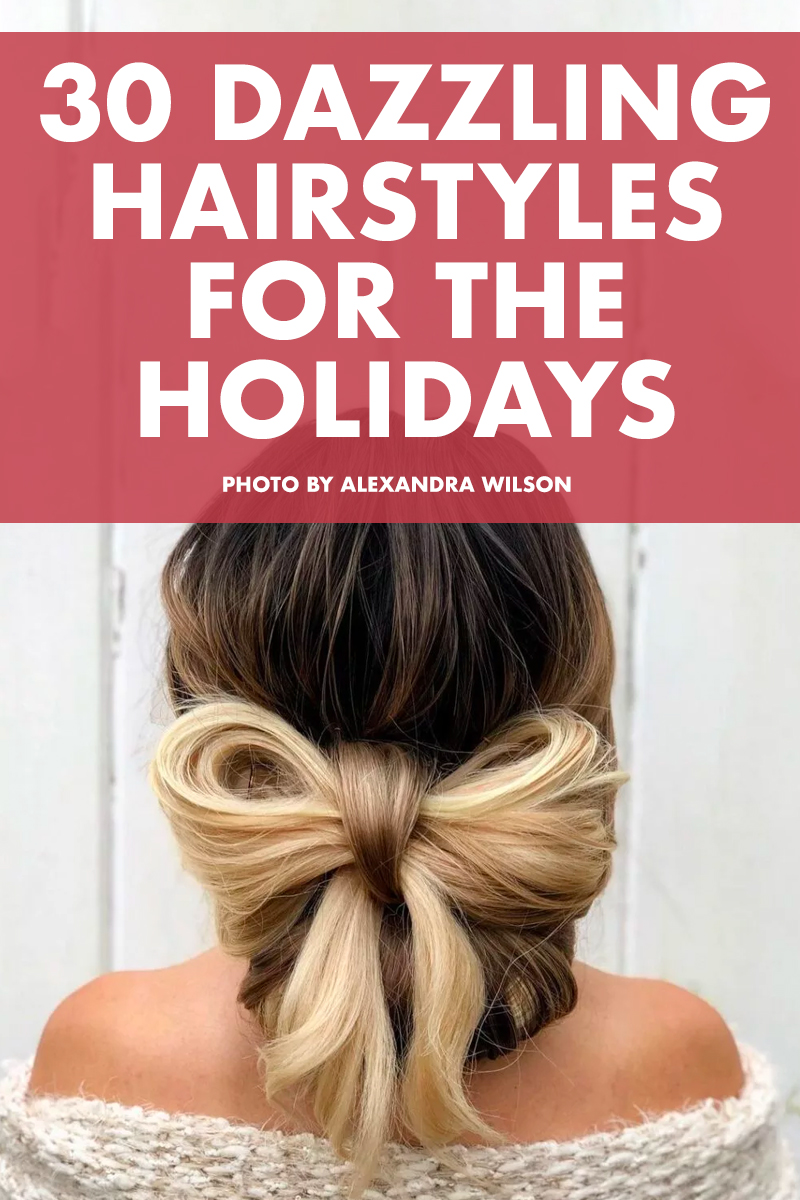 Whether you're cuddling up at home by the fireplace, skating under twinkling lights or enjoying a home-cooked meal with family, these dazzling holiday hairstyles will inspire your next look this season.
Get your next hair inspo from this collection of 30 hairstyles – from casual looks for nights in to some of the most fabulously festive styles we've come across.
For cuddling up at home
1. Half-up Scrunchie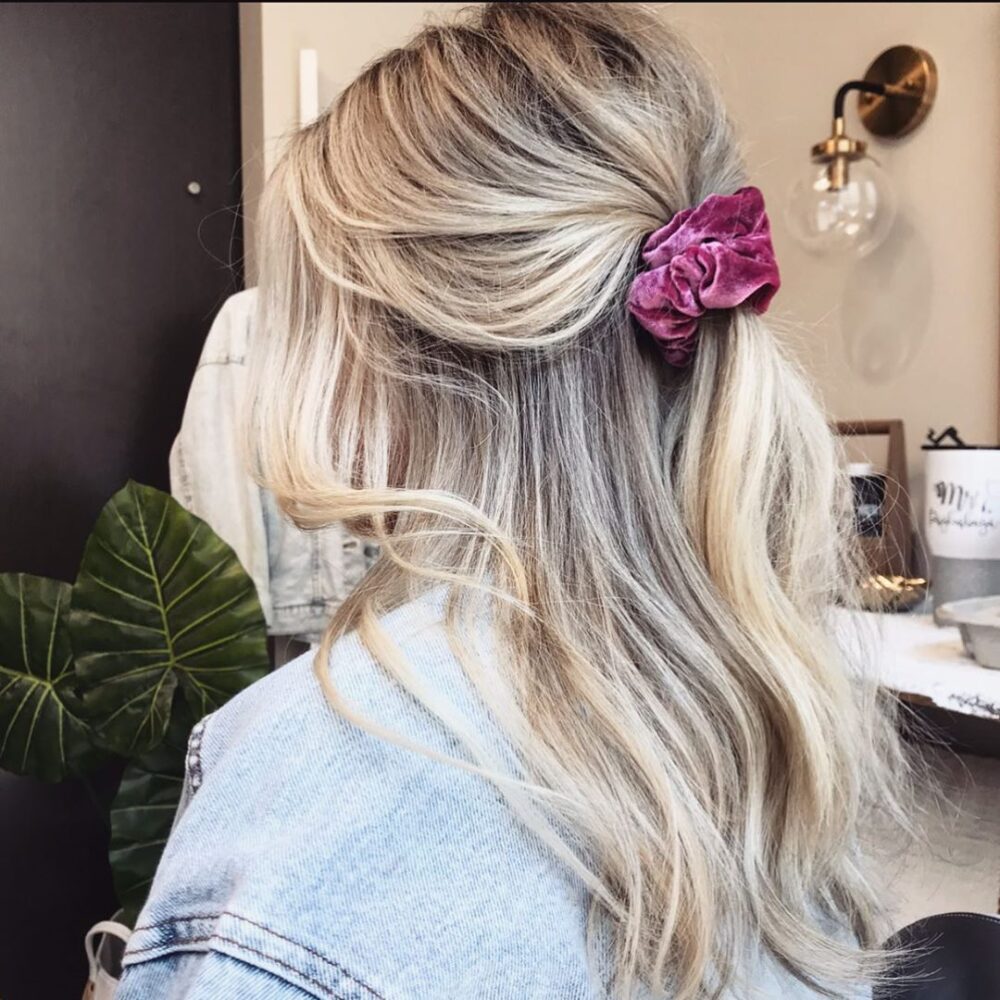 Aren't velvet scrunchies just perfect for the season? Go for this casual look by creating a bit of texture in your hair before pulling it up for a half-up look, complete with a pretty scrunchie.
2. Low Buns with Winter Hat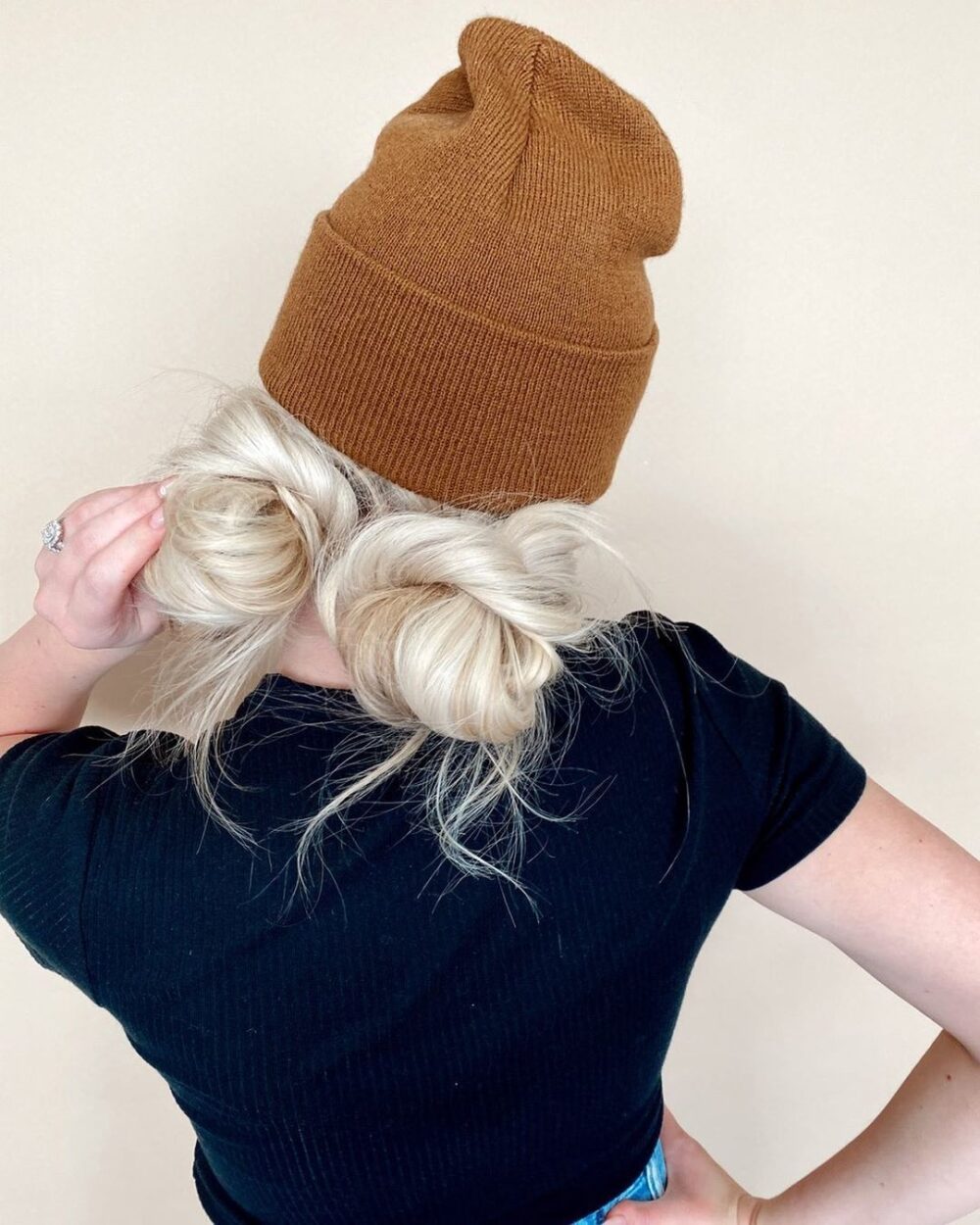 Do you dream of a Christmas Eve spent ice-skating and tobogganing? Look cute while you're doing it with these adorable twisted buns which work perfectly if it's cold enough to need a toque.
3. Silky Headband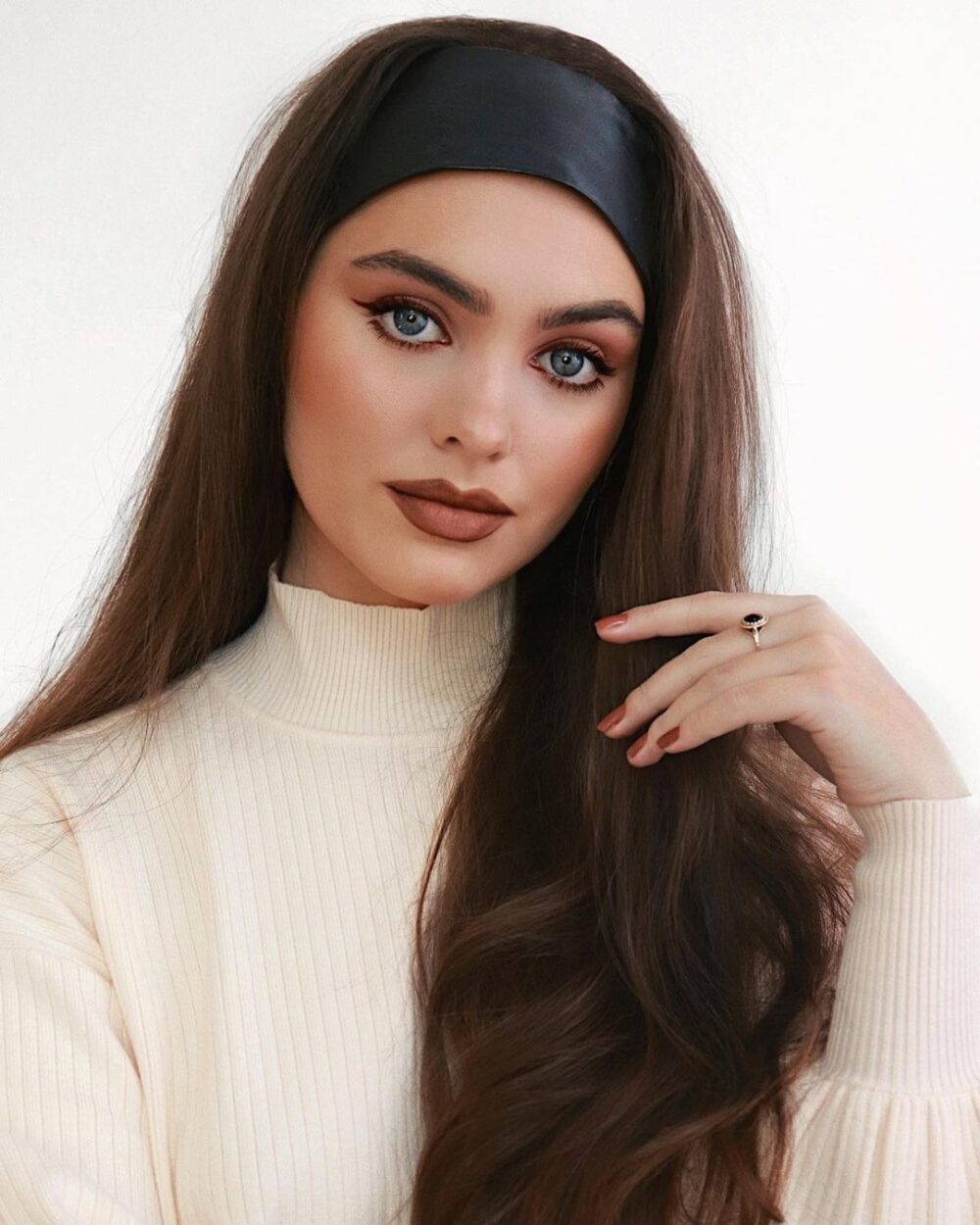 This effortless and stylish look is completed with straight/blow-dried hair and a thick, silky headband. Plus, it keeps your hair out of your face if you're baking or preparing food for guests.
4. Loose Braided Pigtails
Here's another look you can wear if you're spending some time outside and need to be warm. Recreate this fun style by braiding the hair in two low pigtails and then pulling the strands apart for a looser style.
5. Side Pony With Oversized Scrunchie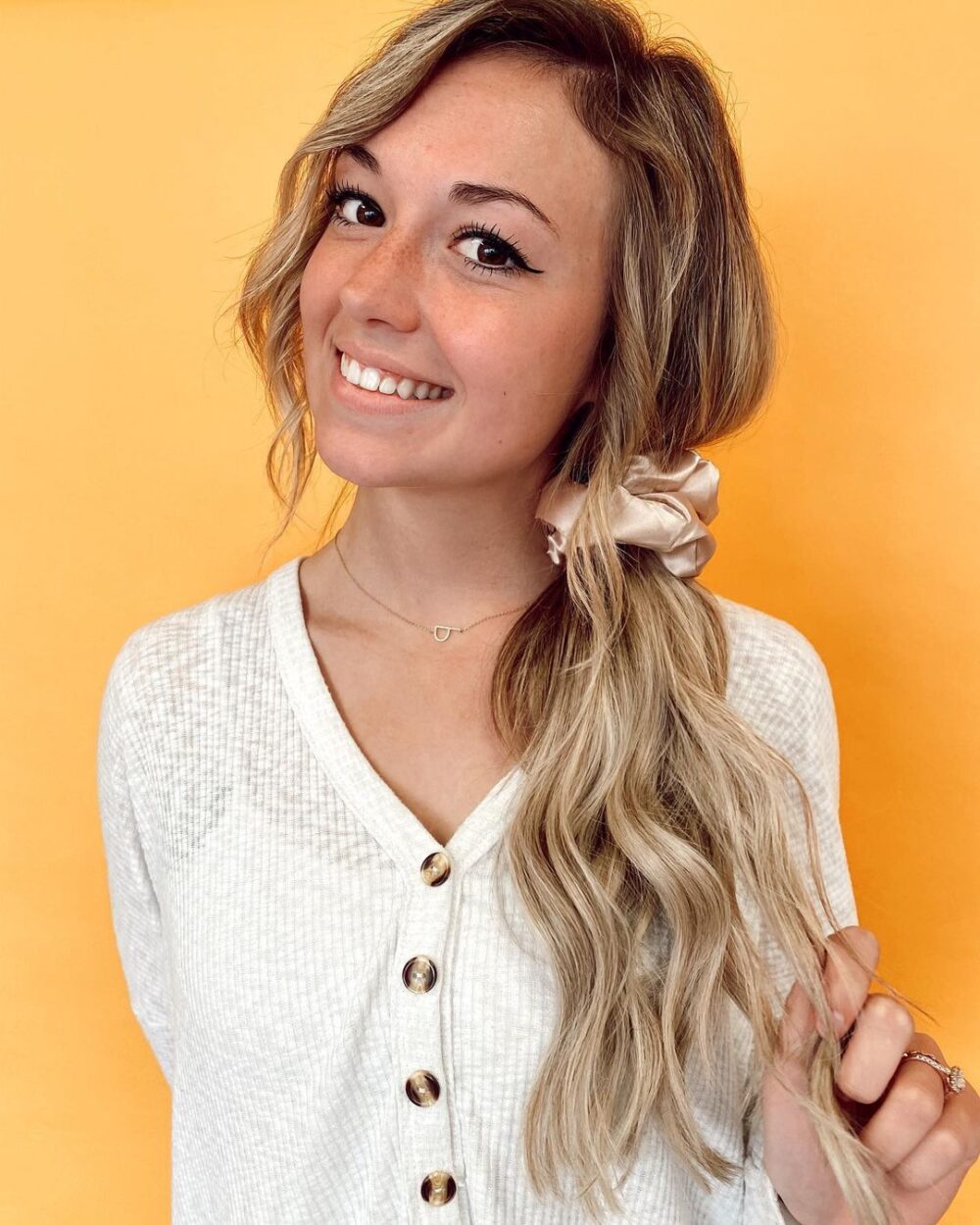 Oversized scrunchies are all the rage this year…the bigger, the better! Show off your scrunchie with this easy, side swept ponytail that is enhanced with a wavy texture.
6. Effortless Top Knot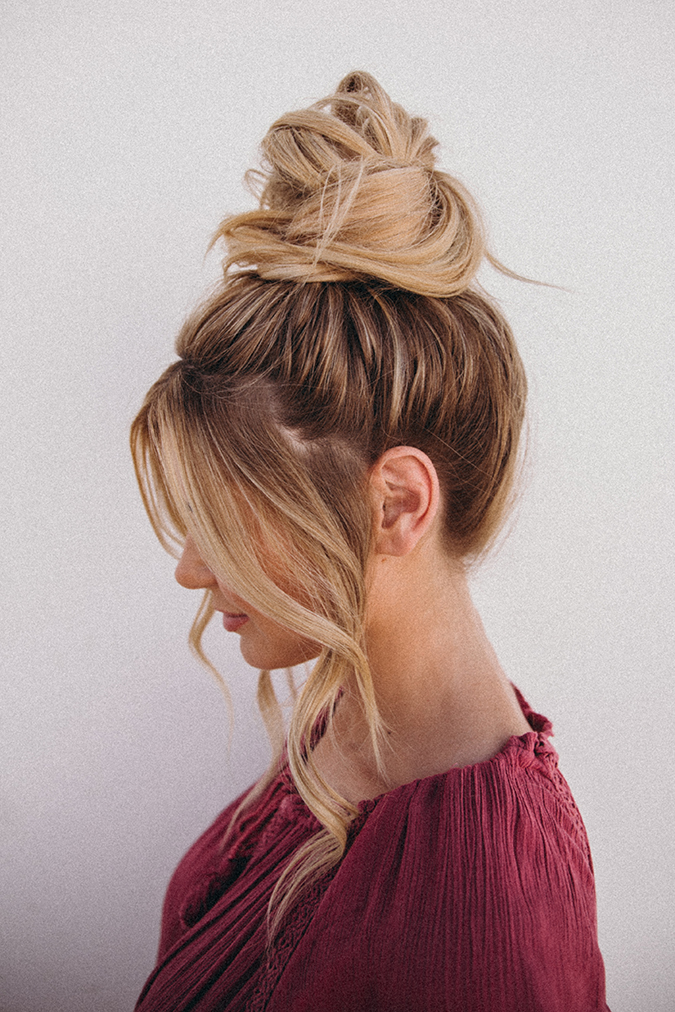 Hanging out with your loved ones by the Christmas tree? This effortless top knot looks great when paired with a cozy sweater and slippers – think elevated cozy chic!
7. Hot Roller Curls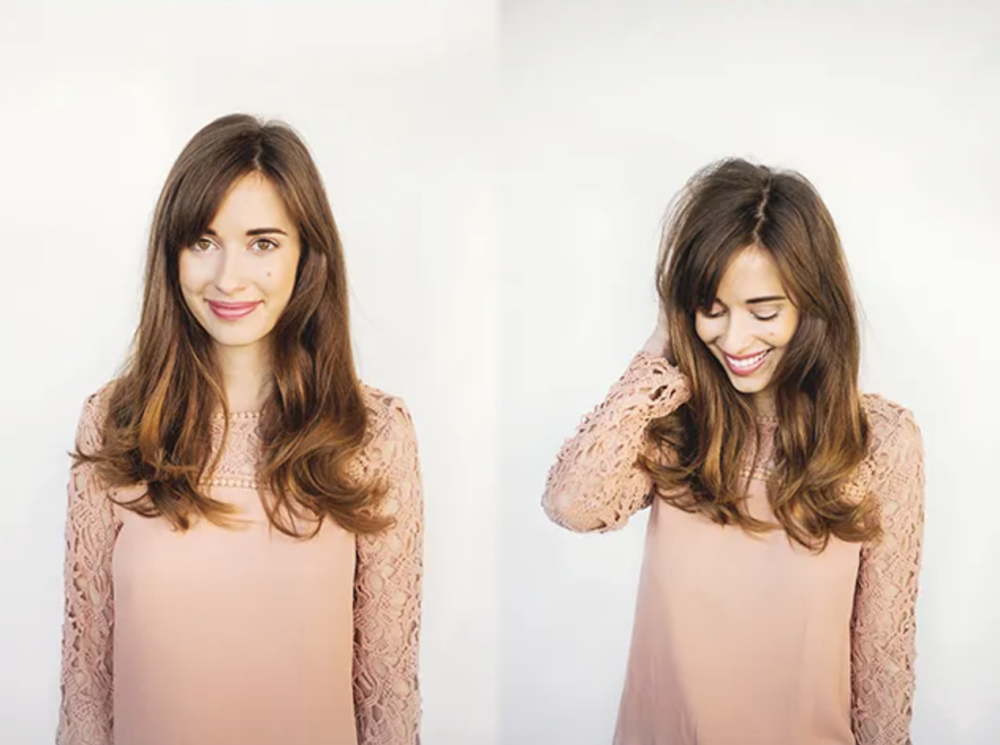 Think hot rollers are for a certain age group only? Think again! Hot rollers are trending more and more on social platforms like TikTok, and create a super beautiful curl and wave that feels retro and simple. Get the tutorial for this look here.
8. Simple Half-up Do With Bobby Pin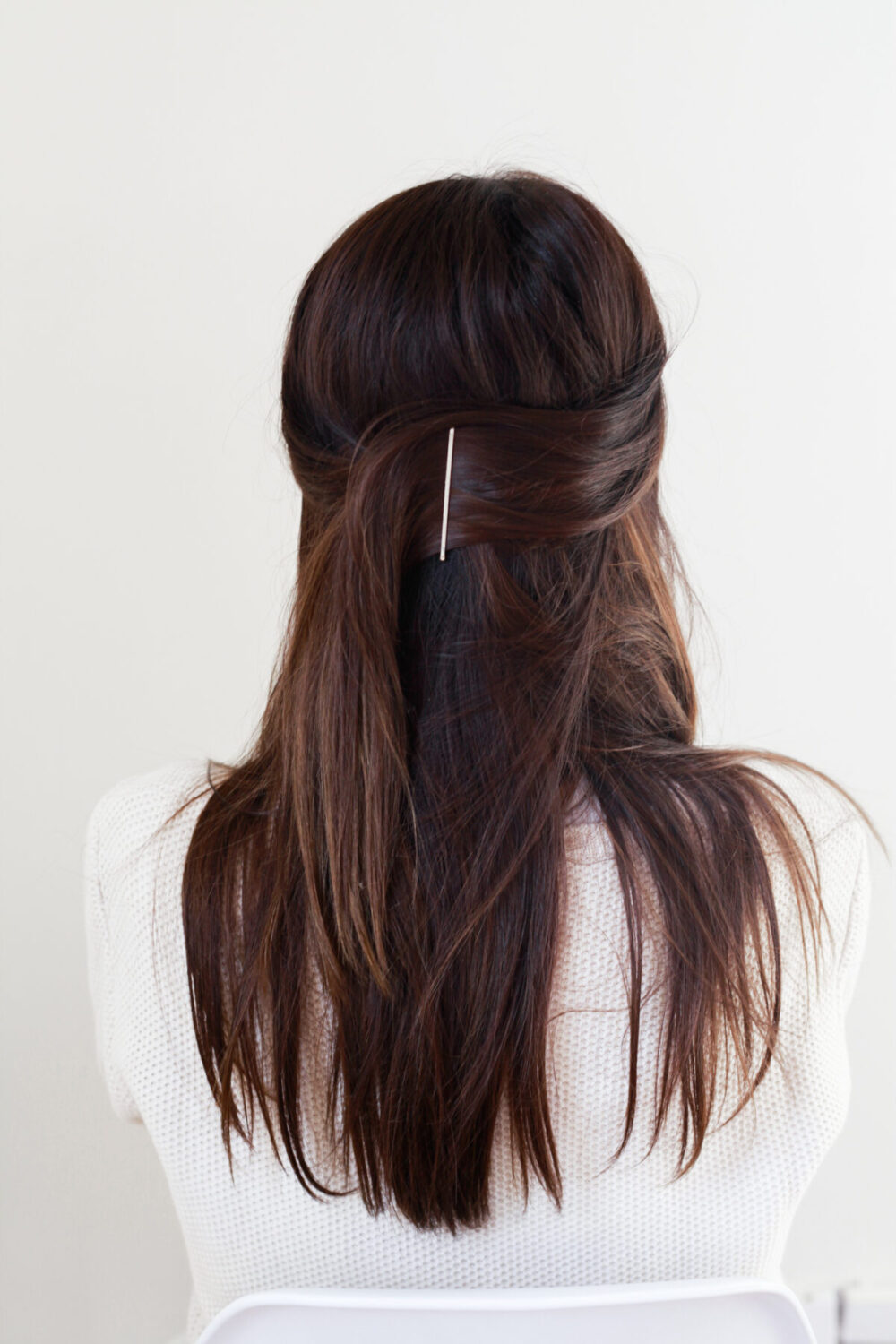 Keep it sleek and simple this Christmas with this low-key look that features a silver bobby pin. Follow this easy tutorial to find out how to achieve this pretty look in only minutes.
9. Top Knot with Scrunchie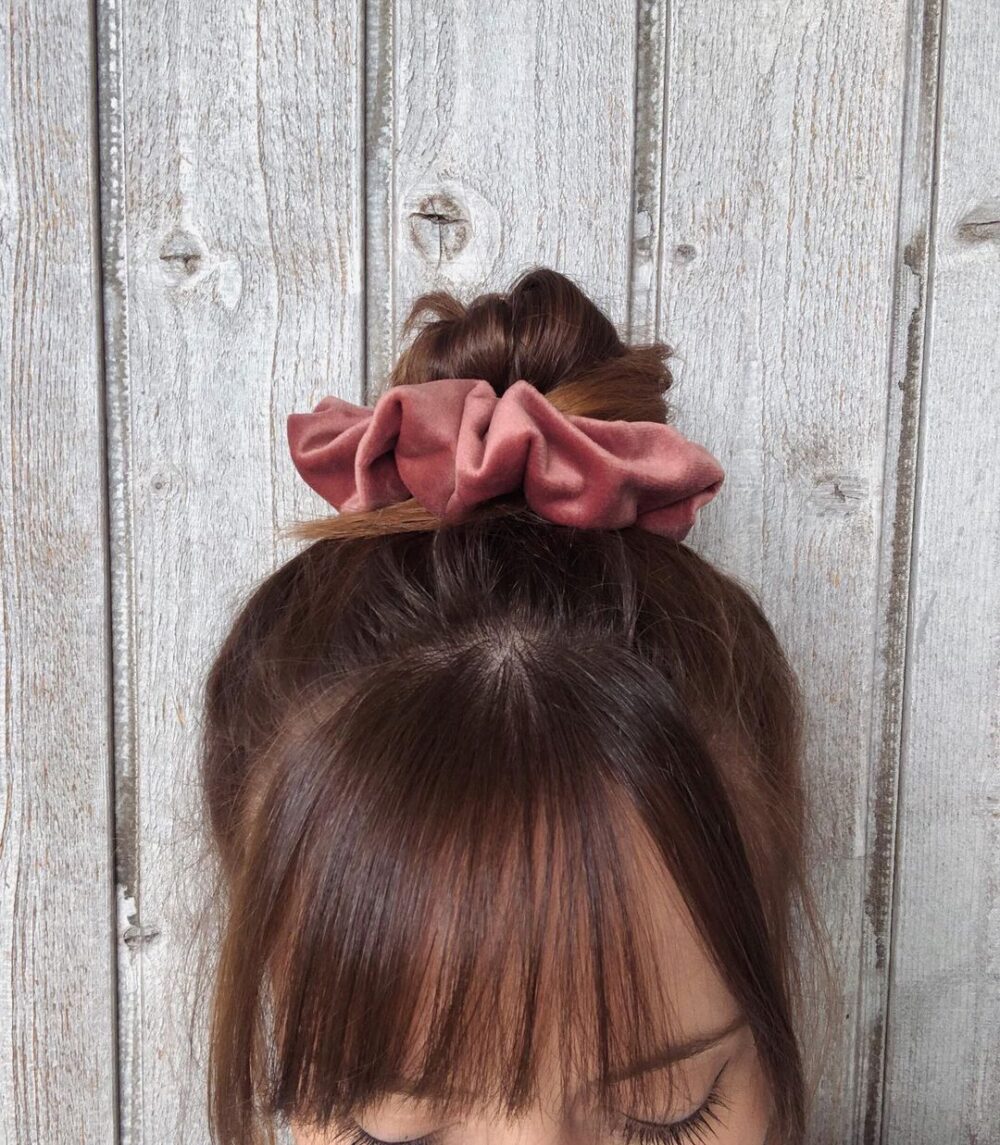 Here's another adorable look to try with your scrunchie collection! The look combines a simple top knot with a sweet velvet scrunchie. Bonus points if you have bangs to really recreate the style.
10. Shaggy Chic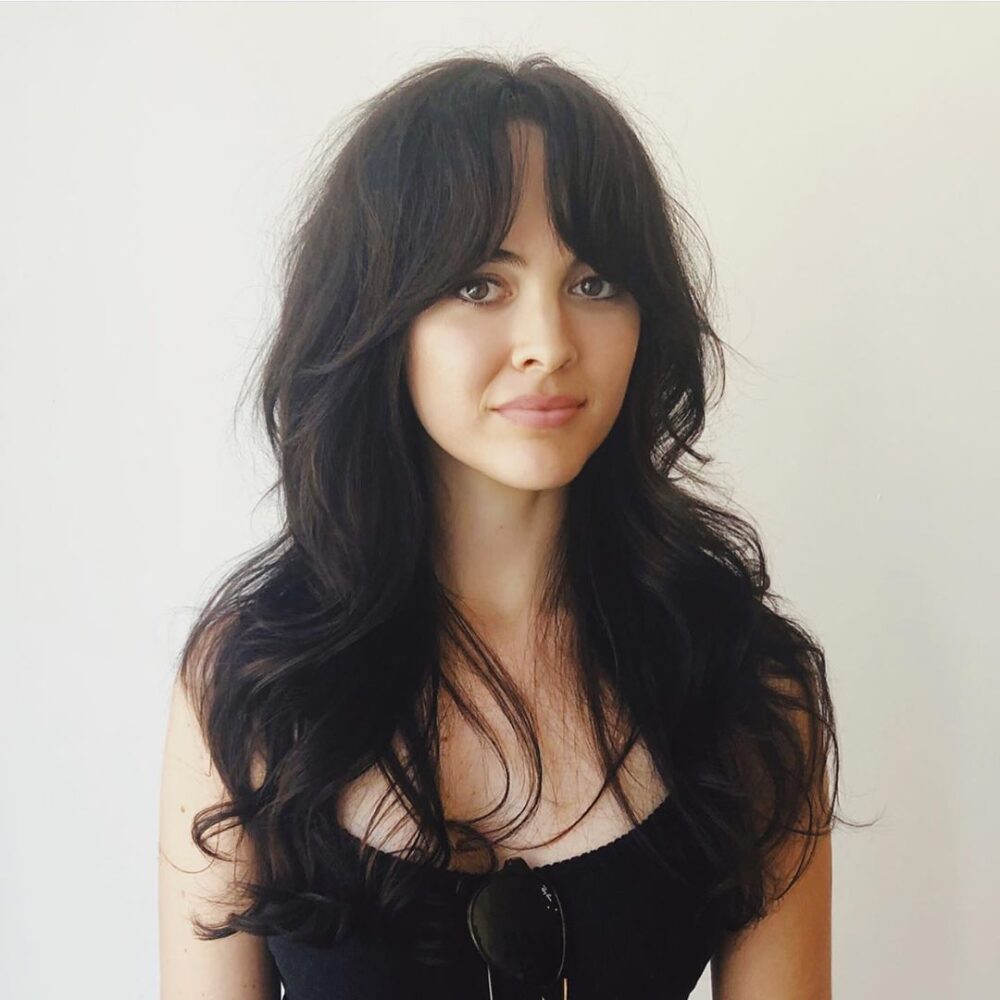 The shag was the hairstyle to get this year – and we have a feeling this trend will continue right through to 2021. Sometimes, a fresh cut and volumnous blowout is all you need to feel put together.
For at a holiday celebration
11. Glam Waves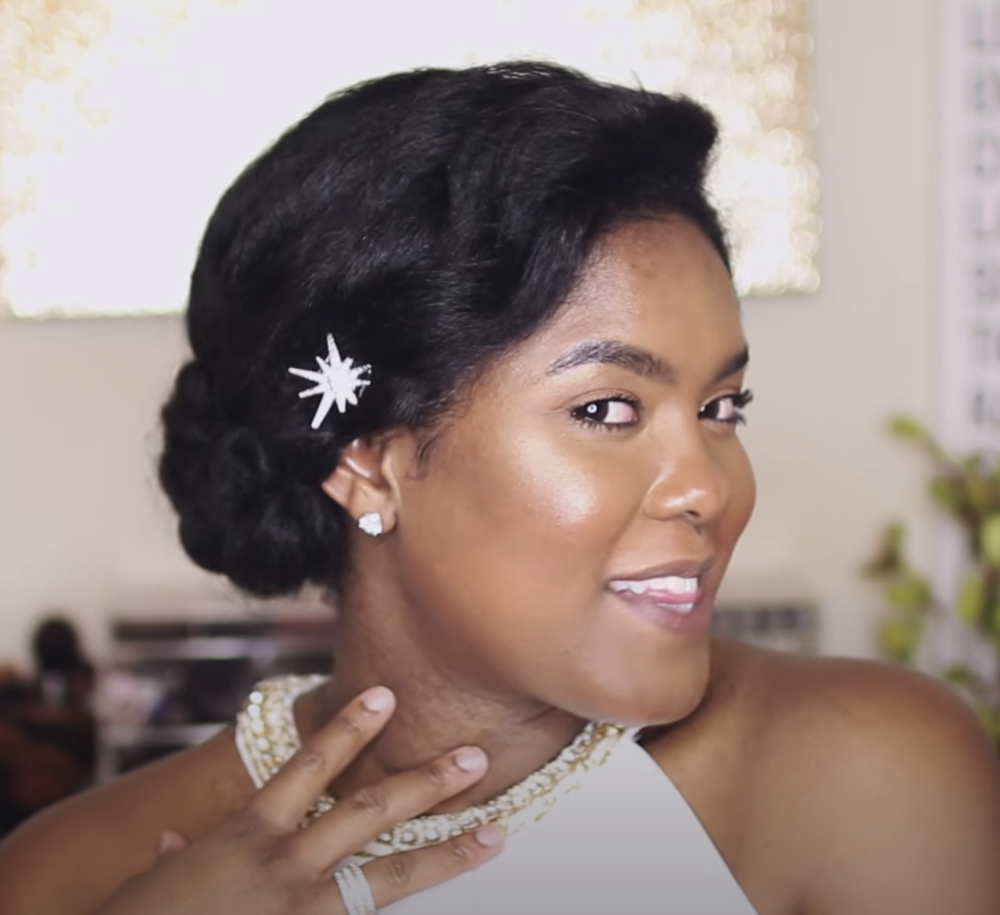 This 1930s inspired look brings all the glam you need to your next holiday soiree – especially when paired with a vintage looking cocktail dress. We love the addition of a sparkly hair piece! Get the tutorial for this glam wave look on natural hair here.
12. Ornate Gold Headband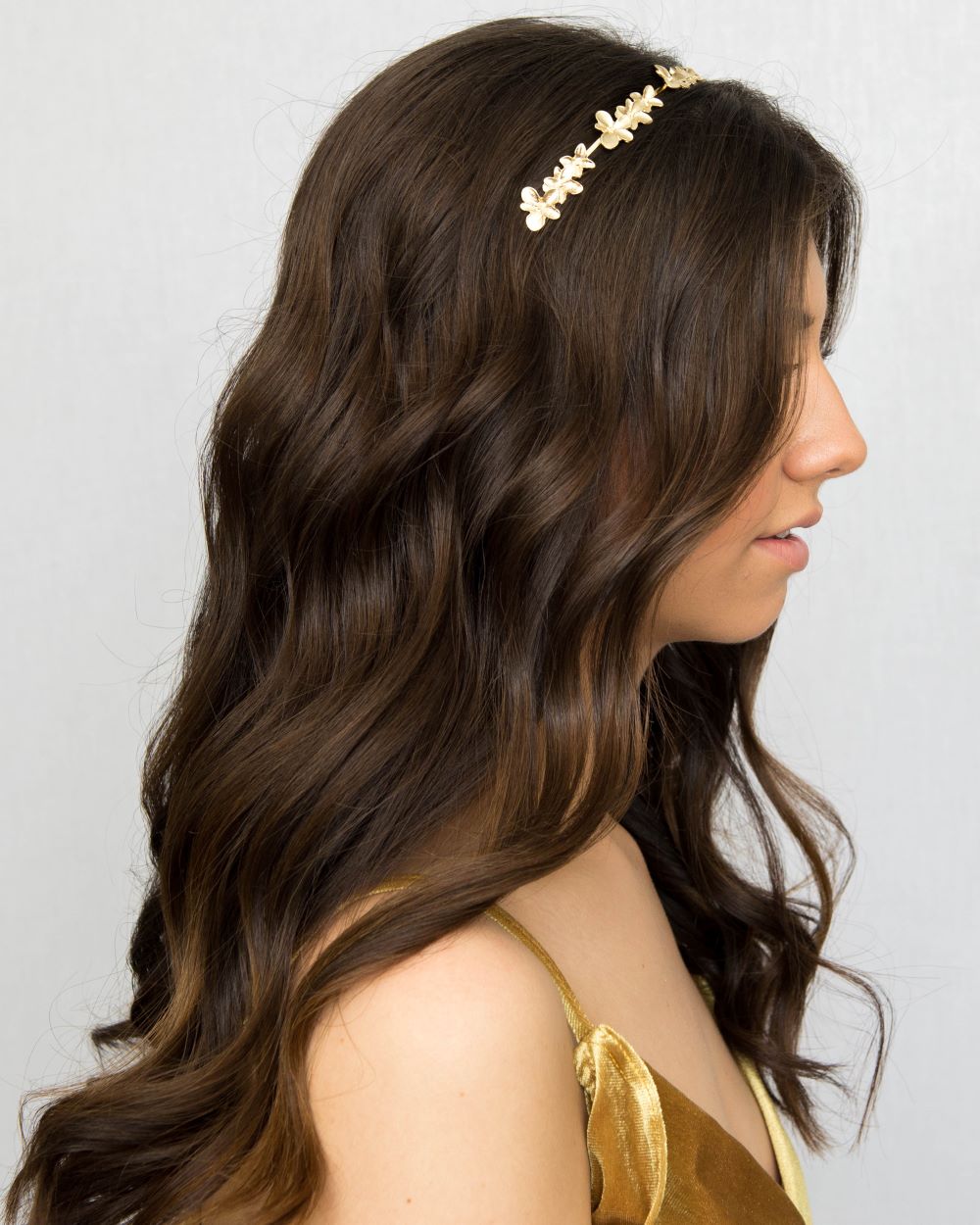 All that glitters is gold this holiday season. This pretty curled look with a floral motif, ornate headband is giving all the festive feels. Get the how-to on the Lulu's blog.
13. Christmas Pine Updo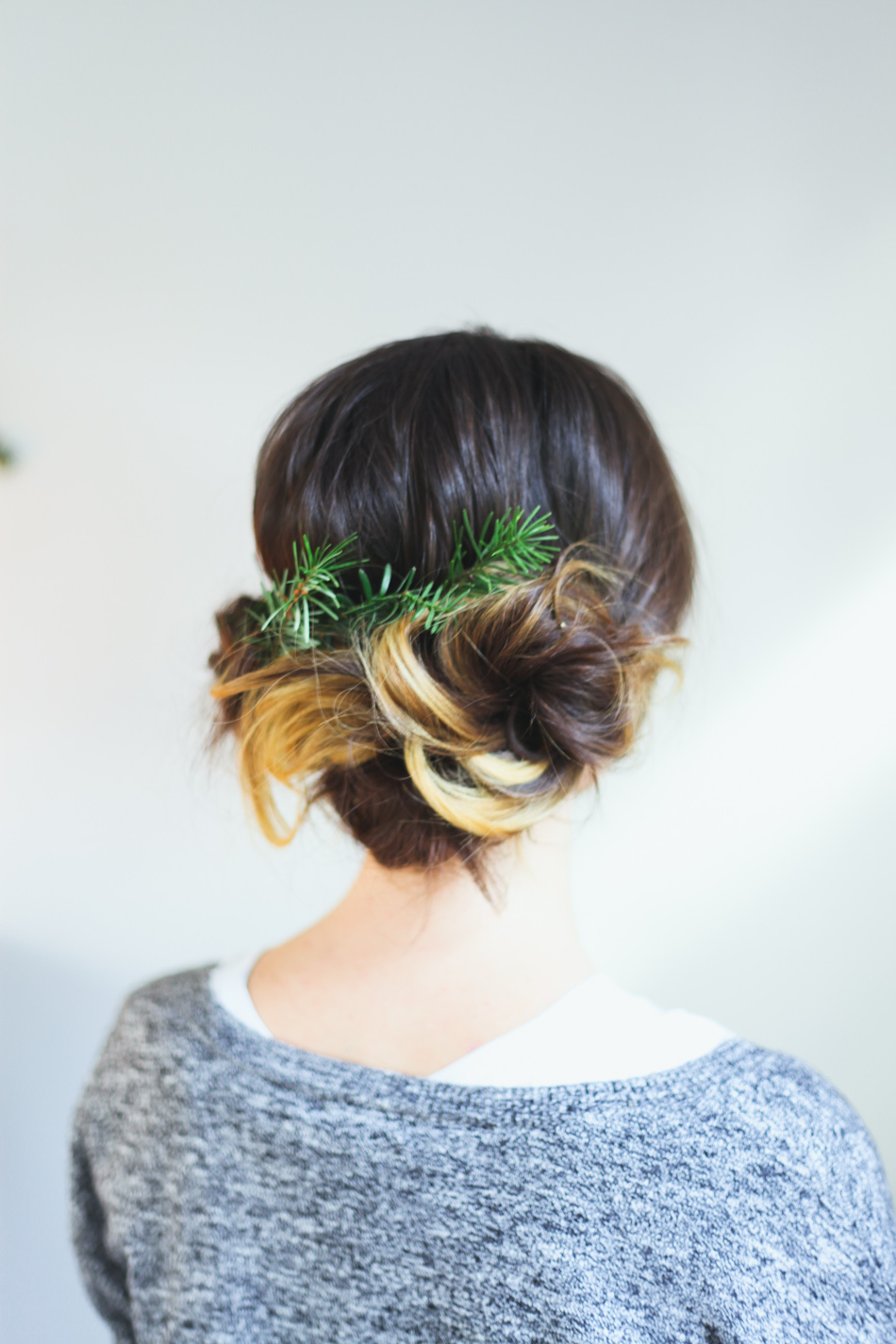 Impress and delight with this totally festive updo, featuring pine needles and beautiful twists. There are actually two different variations to follow along with for this look!
14. Elegant Twisted Ponytail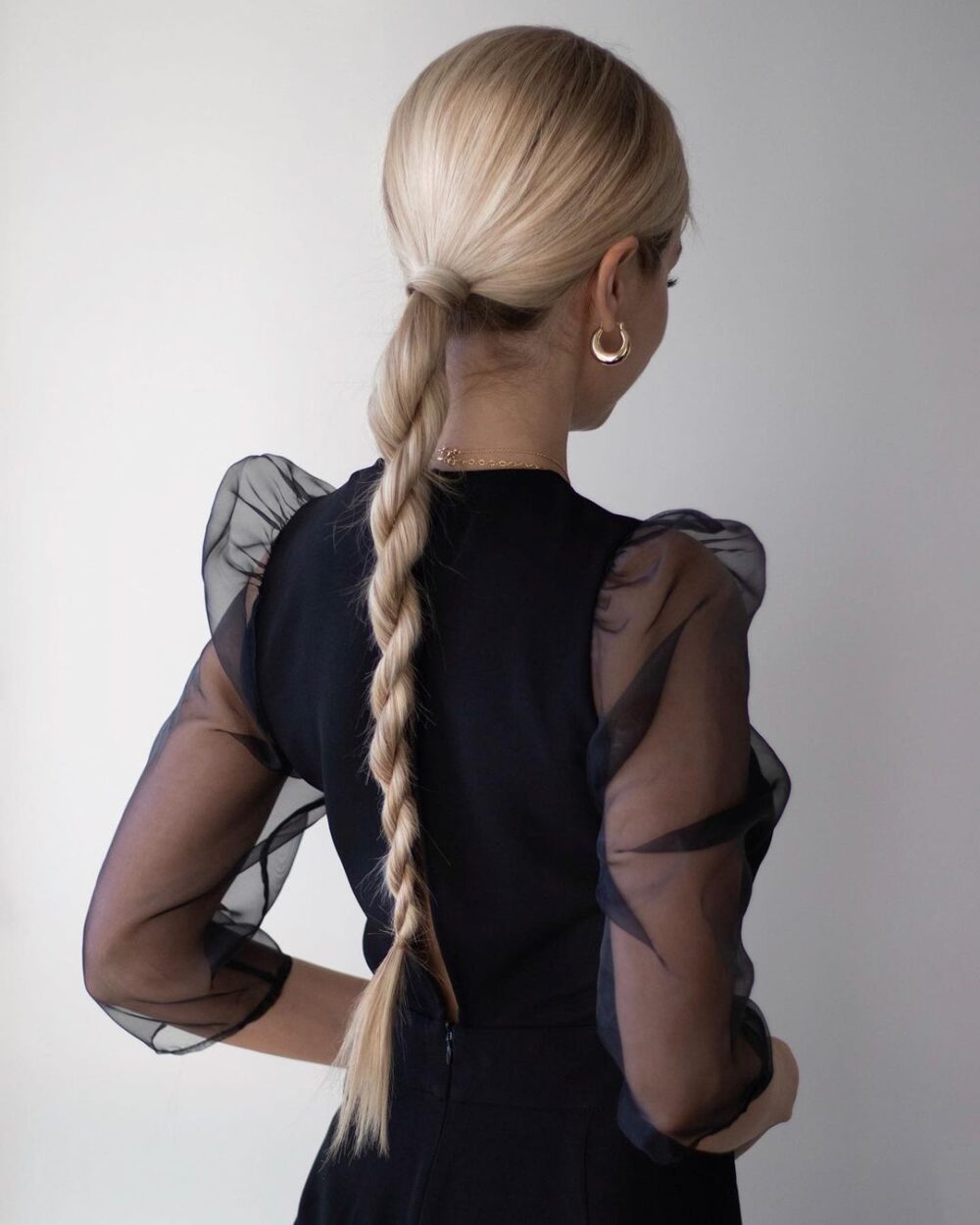 Does it get any more elegant than this? This slick, twisted ponytail is completed by hiding the elastic with a strip of hair – an old trick that always results in a polished look.
15. Starry Waves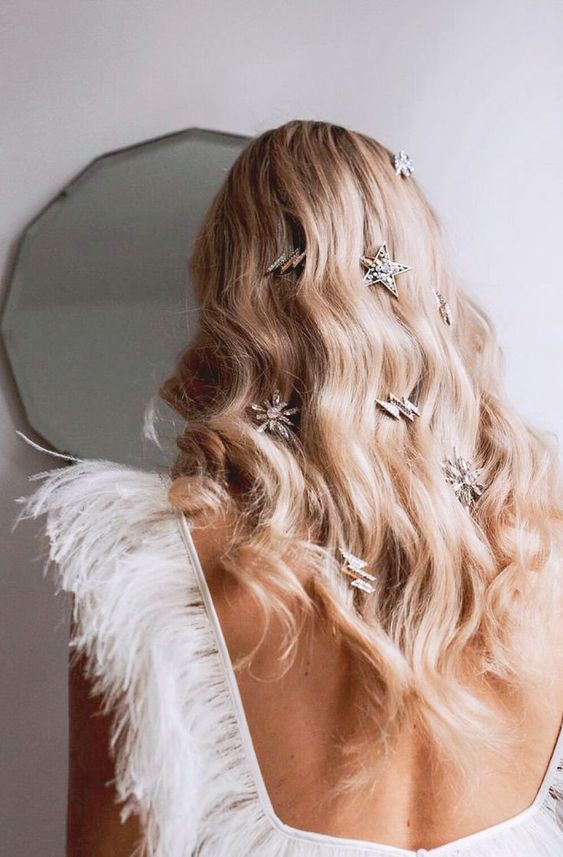 Take your glamorous waves to the next level by carefully placing sparkly barrettes throughout your 'do. Be sure to pick lightweight barrettes for comfort throughout your evening.
16. Pinup Curls Tutorial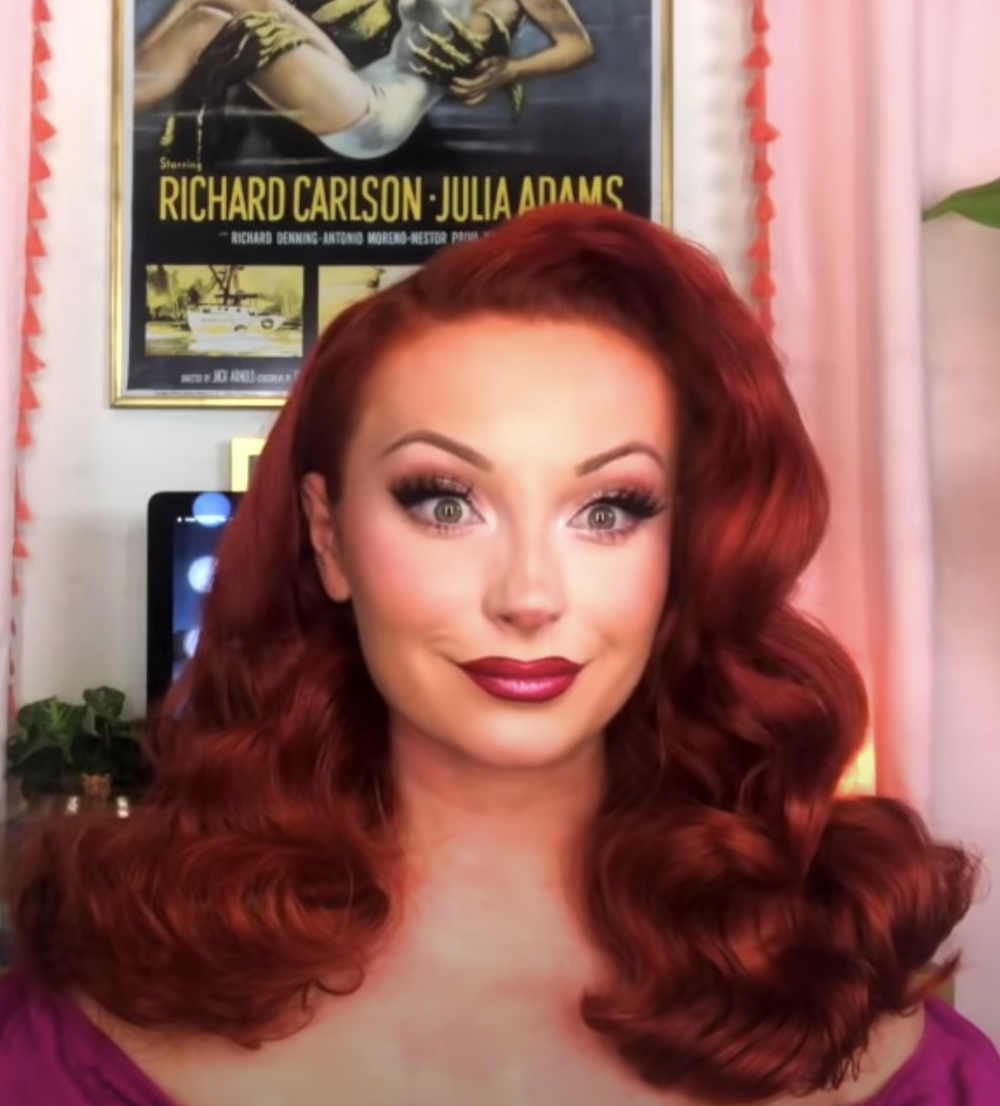 Are you aiming for a retro-aesthetic holiday? Go full volume and get all the pinup vibes with this fun vintage hair tutorial by PinUp Palmer.
17. High Ponytail with Bow
What's simpler than a high ponytail? Go casual yet super cute by curling your hair and pulling it back into a high ponytail. Complete the look with a tied bow of your choice – an adorable motif around the holidays.
18. Low Hair Bow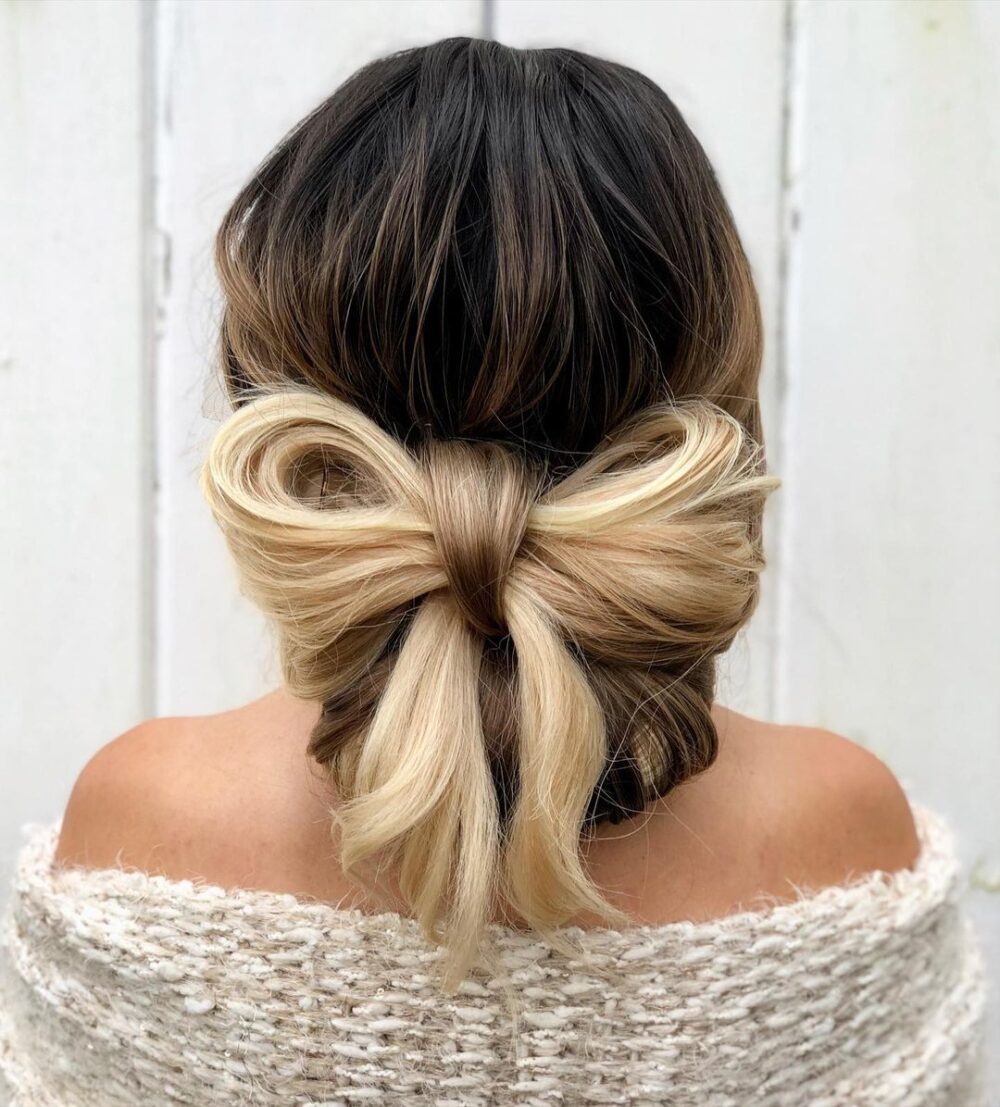 Wrap it up and tie it with a bow! This beautifully executed hair bow is absolutely perfect for the Christmas season – we especially like it paired with this off-the-shoulder sweater.
19. Chignon Updo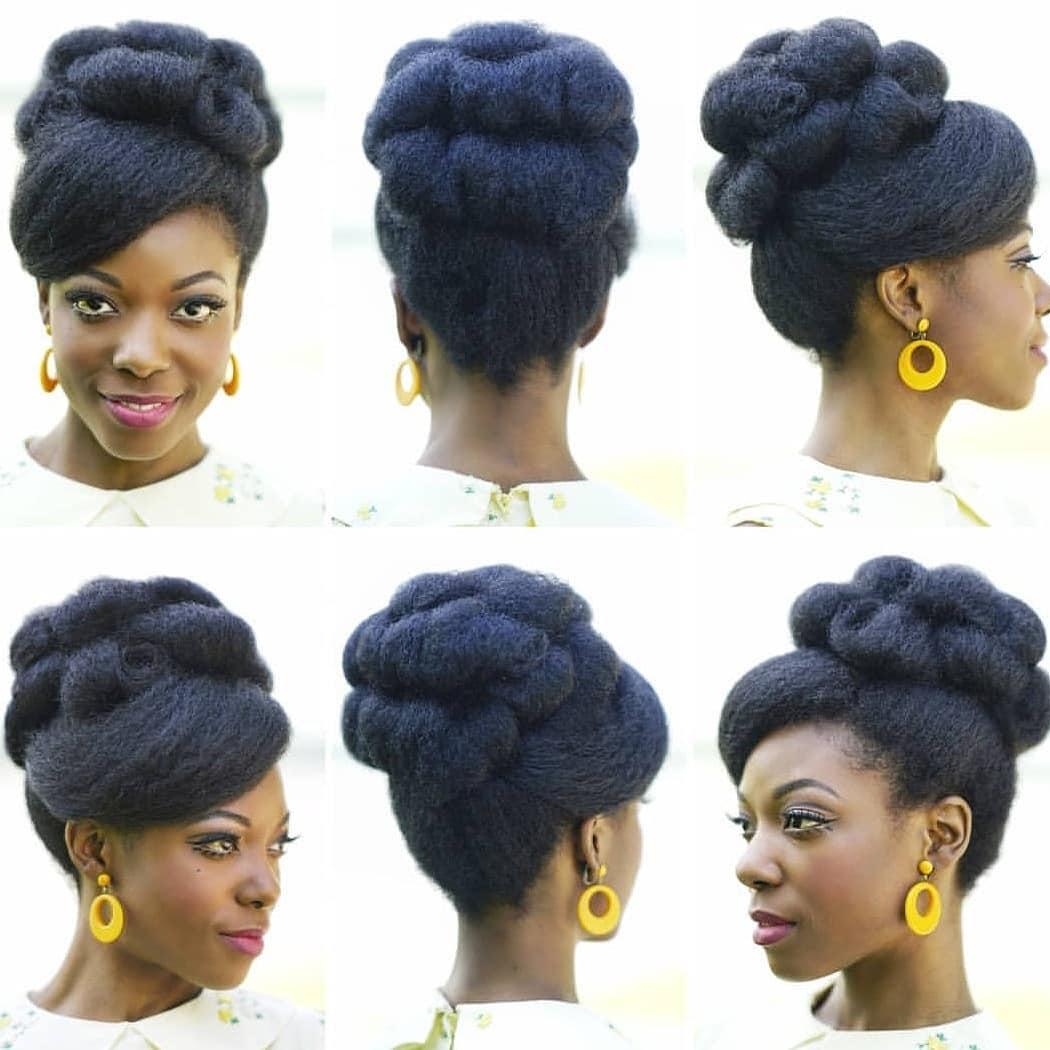 Here's another retro look to covet this holiday season. The hairstylist took inspiration from Brigitte Bardot's chignon hairstyle to creative this beautiful updo that shows off your statement earrings.
20. Braid and Bow Combination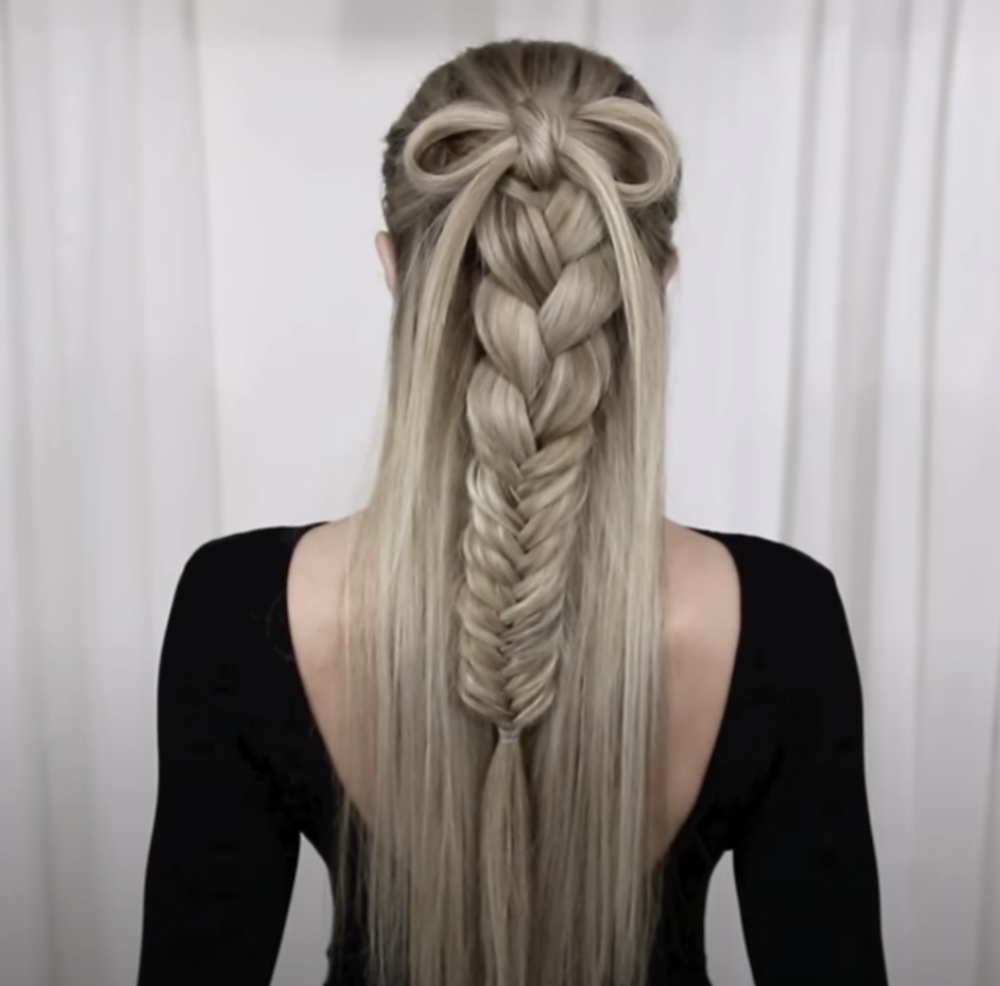 This challenging style combines the best of both worlds: a bow and a braid, for a highly precise and stunning hairstyle. Get the tutorial here.
21. Timeless Low Bun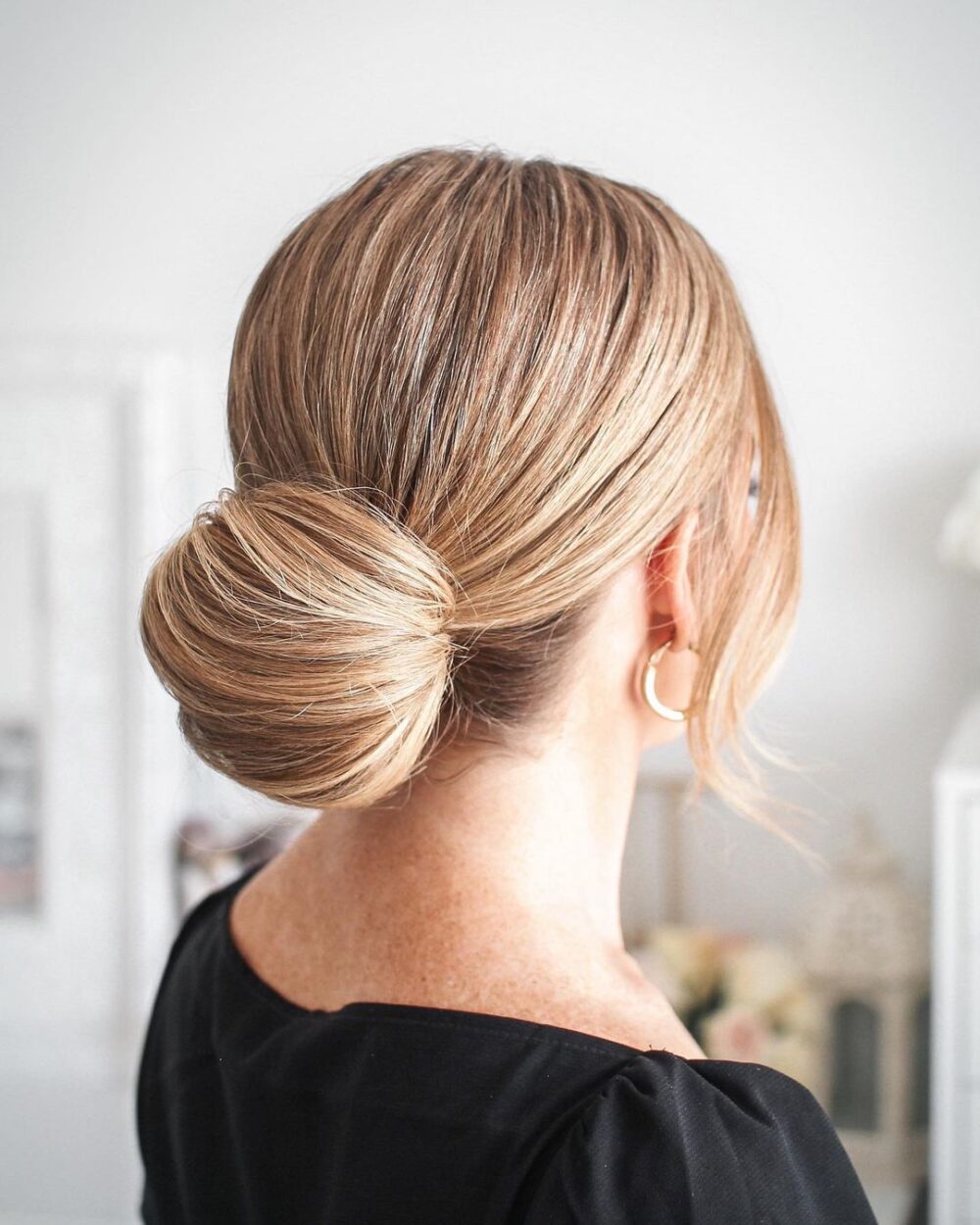 When it doubt, go with a low bun. Not only is this look timeless, it's also fairly easy to achieve depending on your hair length. Follow along with Missy Sue's tutorial here.
23. Glam Bouffant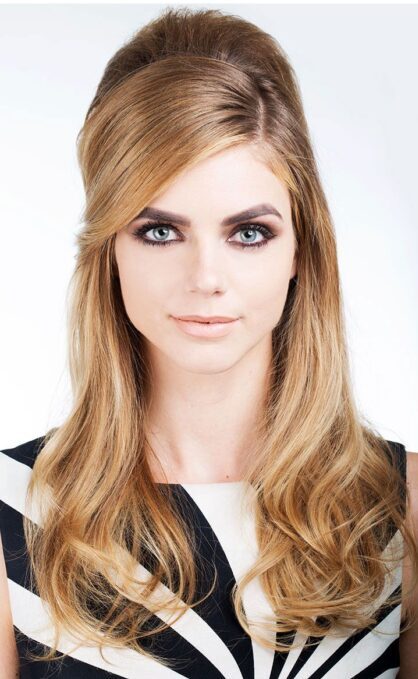 Can you tell we're all about retro hairstyles this Christmas? This glamorous bouffant style might even have you digging around for your "bump it" from 2012.
24. Bubble Ponytail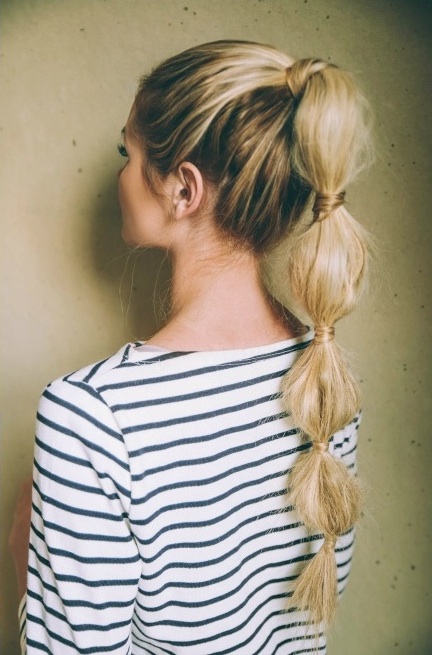 For a stylish look that Princess Jasmine herself would approve of – spice up your regular high ponytail by sectioning off/tying your hair to create a bubbled effect.
For making a statement
25. Candy Cane Braid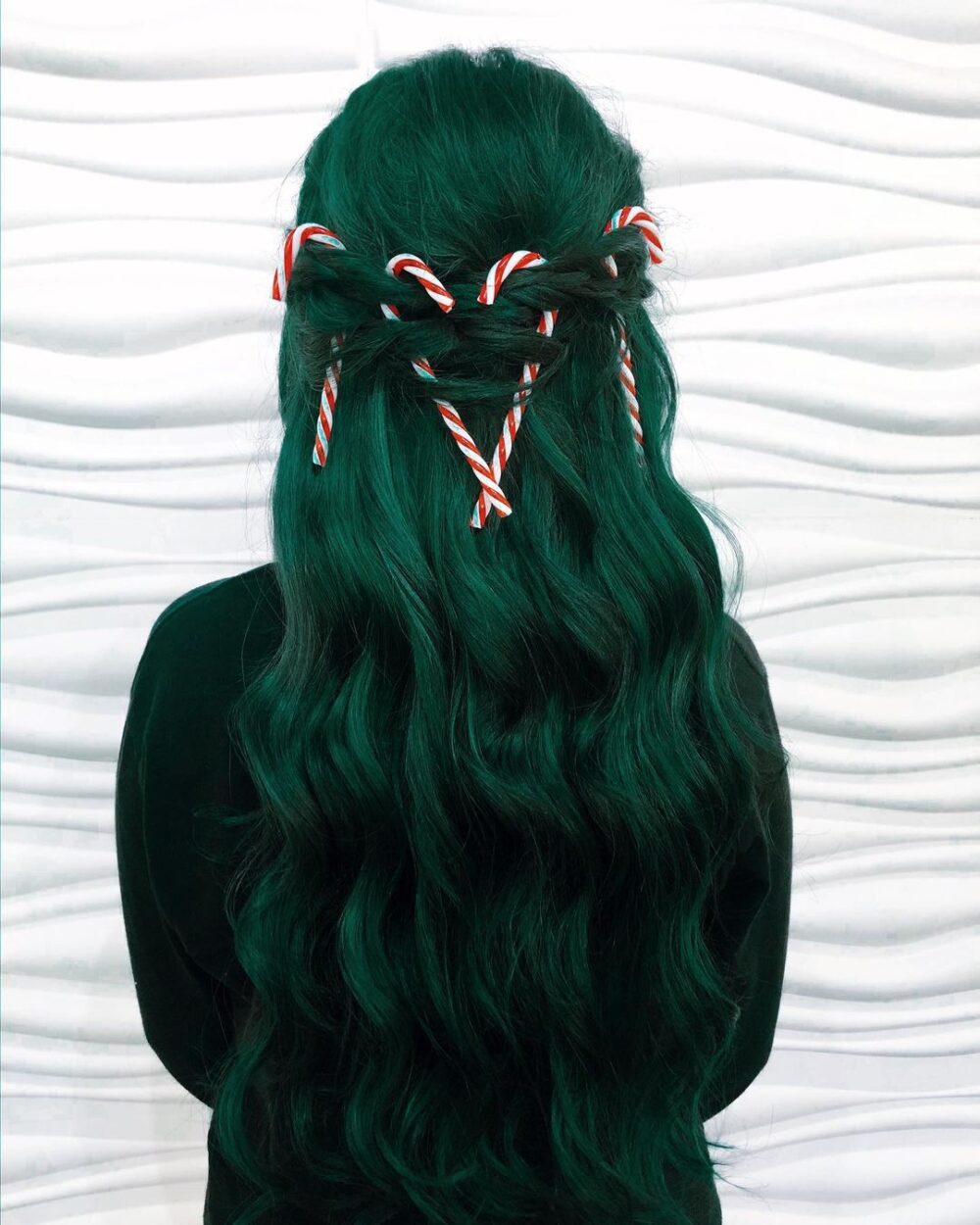 What – you've never worn candy canes in your hair before? Step 1: be bold and go emerald green for the holidays. Step 2: braid and insert candy canes. An instant hit!
26. Candy Cane Stripes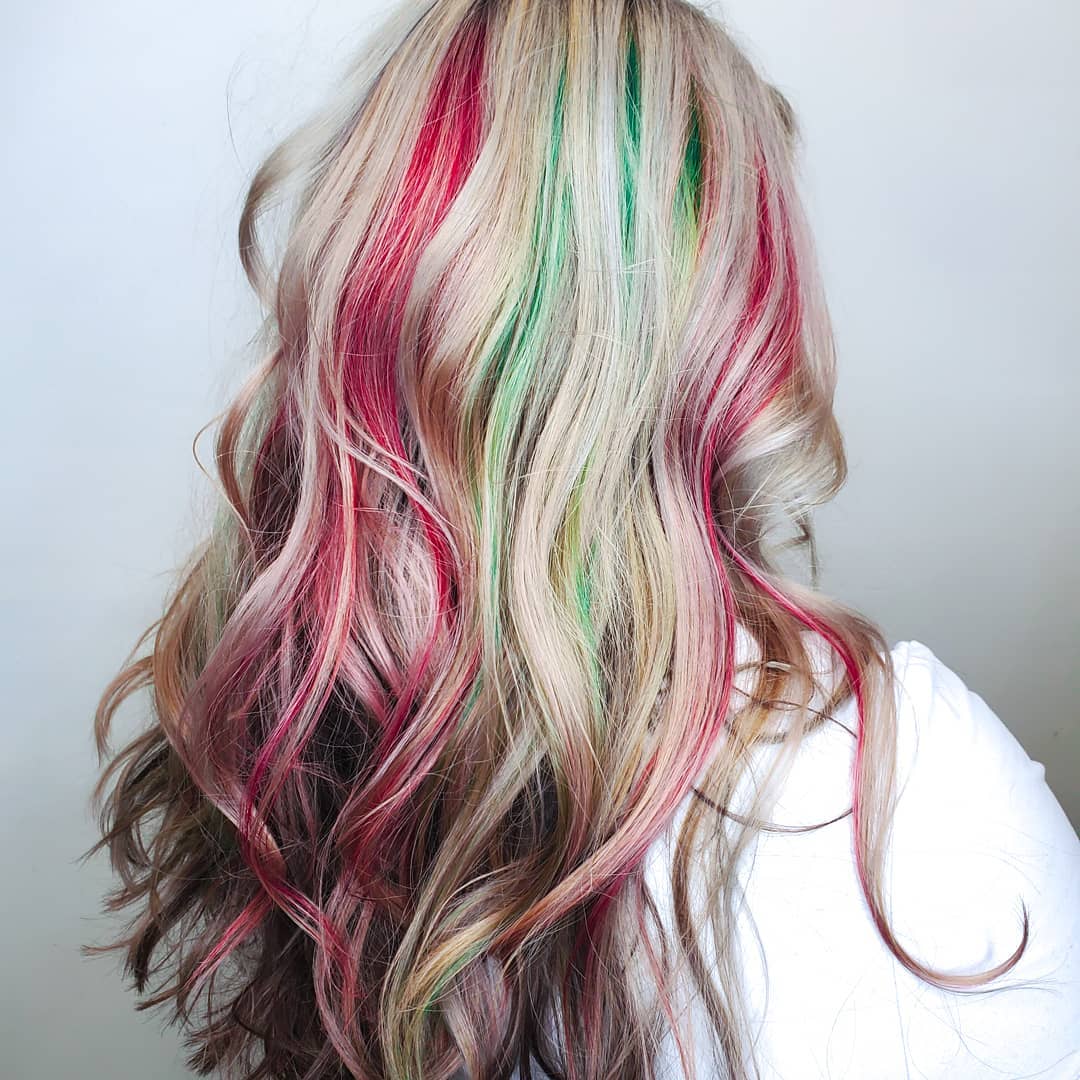 If you're not ready to commit to a full head of green just yet, compromise with these cute red and green highlights. A perfect and subtle (okay, maybe not so subtle) way to show you're all about the holiday spirit.
27. Silver Sparkles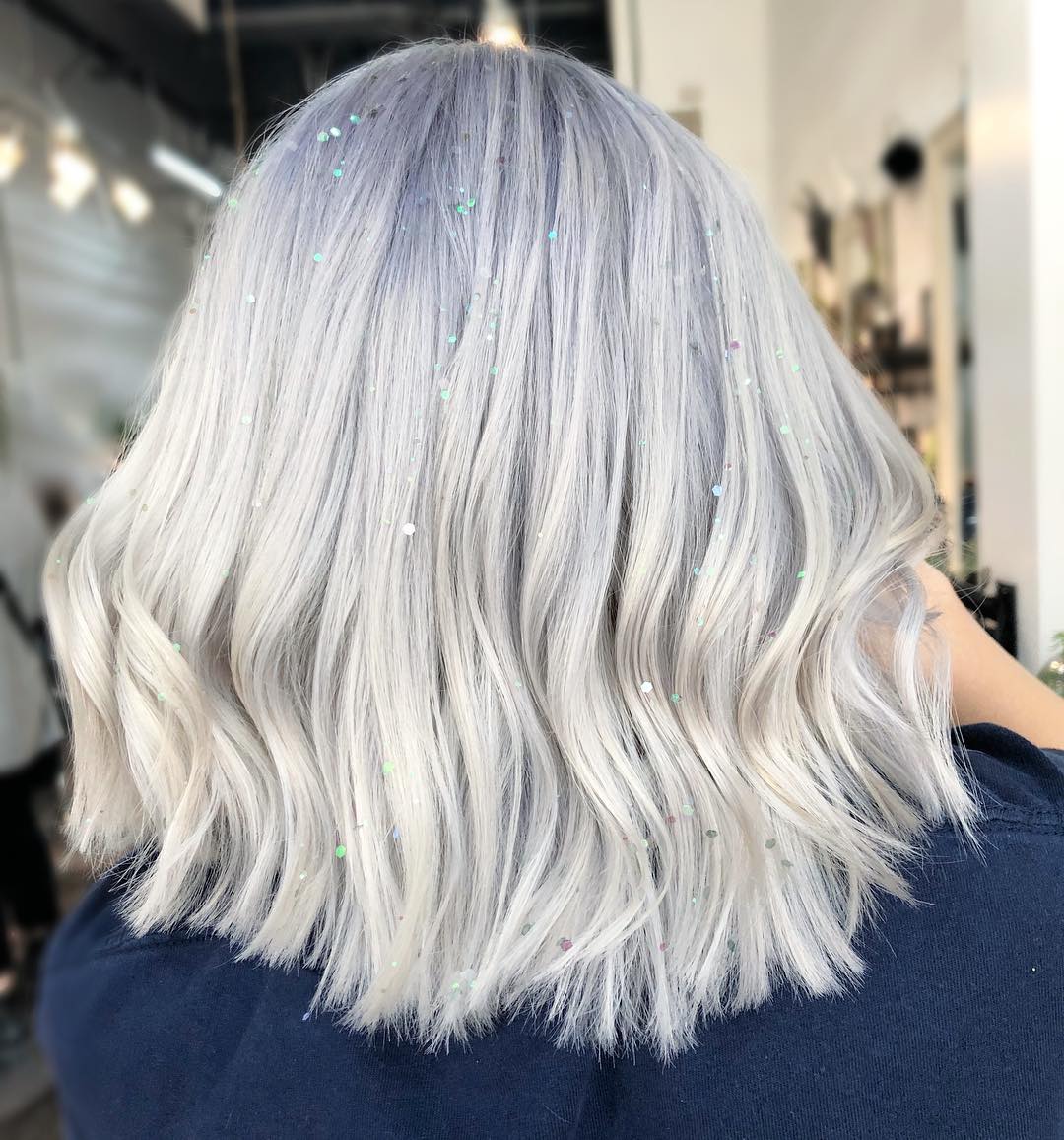 Show up and stand out with a little bit of glitz! These sparkles look absolutely mesmerizing when added to silver hair. The trick is to choose sparkles/confetti that is large enough so that it doesn't just look like sparkly dandruff!
28. Ribbon Headband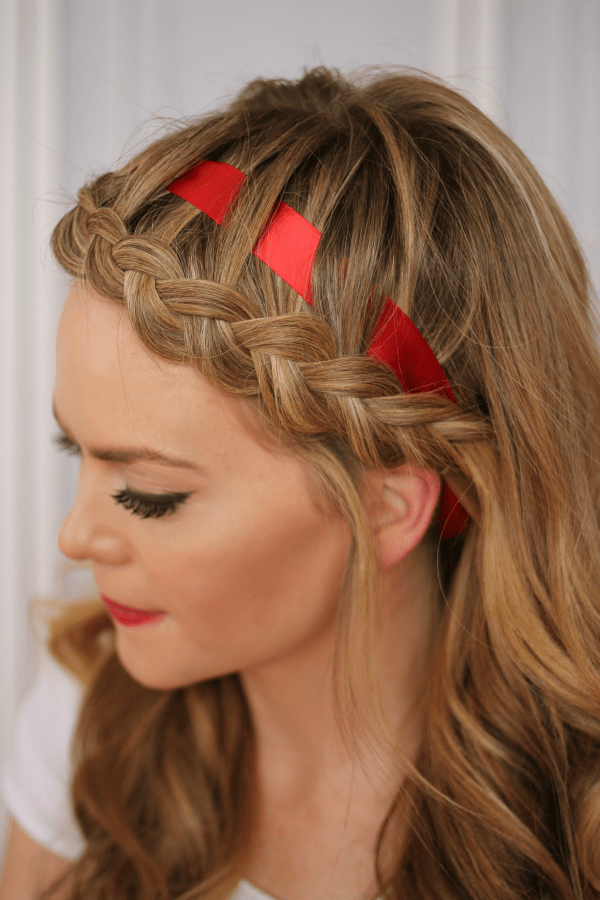 Here's a simple but genius idea for making any braided look instantly festive – add a red or green ribbon! We love how this style (get the tutorial here) uses a ribbon to create a headband.
29. Braided Hair Wreath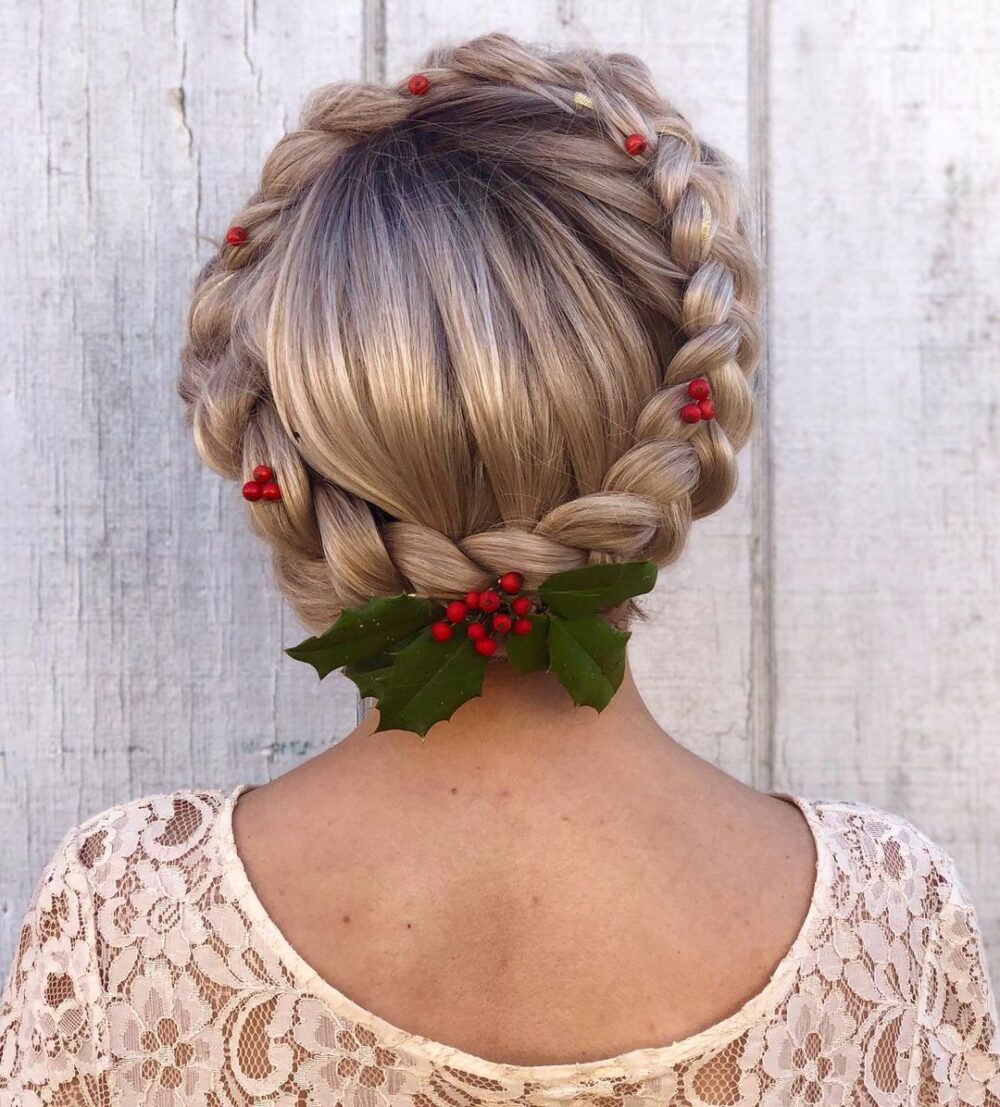 Sip mulled wine and wrap gifts as you sport this gorgeous, wreath-inspired hair style that oozes tradition and festive vibes.
30. Christmas Tree Hair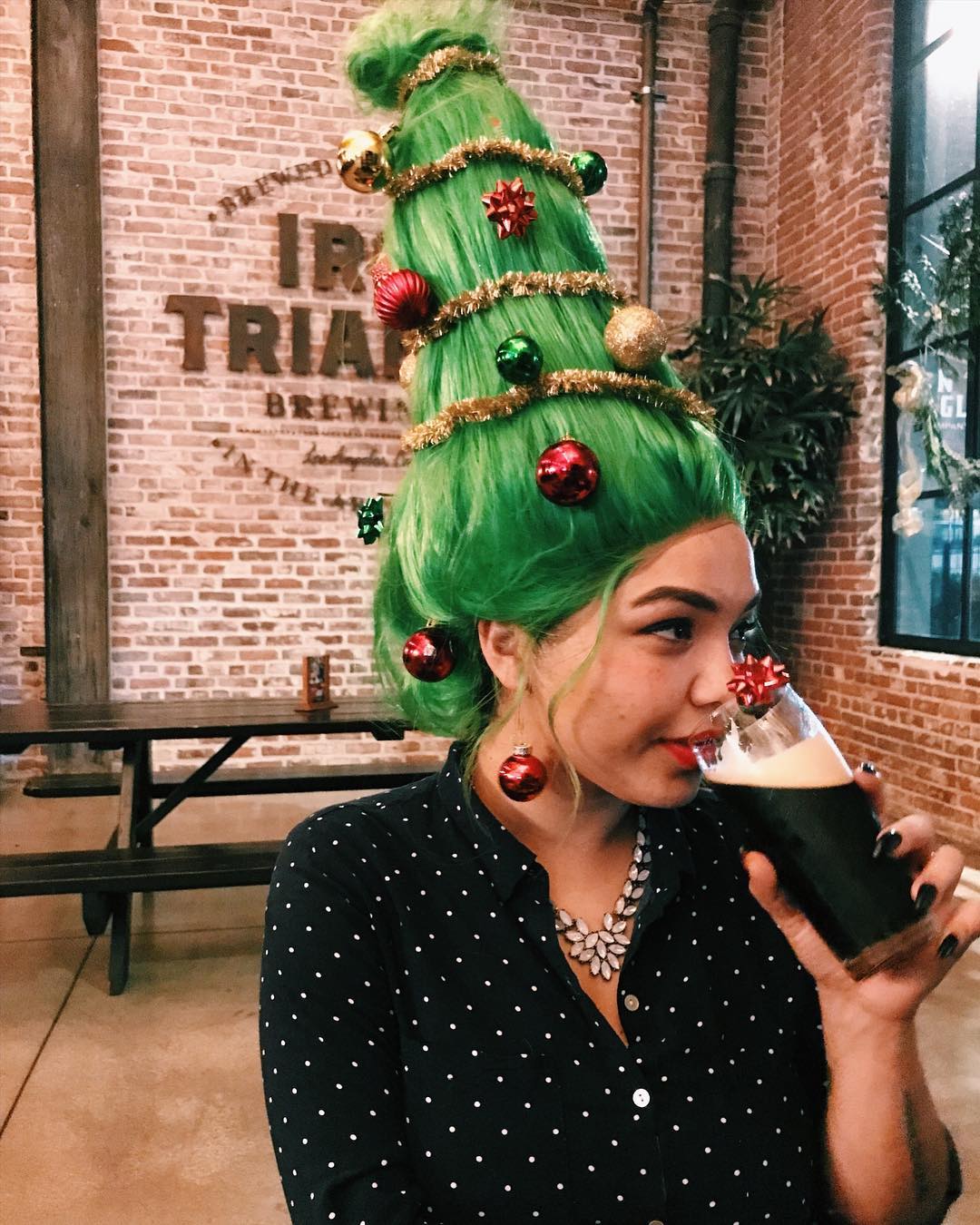 We couldn't put together a list on holiday hairstyles without including this iconic Christmas tree hairdo. The height of this magnificent hairstyle is achieved by using a plastic bottle – who would have thought?
PIN IT FOR LATER
Last Updated on