If you haven't yet started a TikTok account for your small business, today is the day! Not only is TikTok the fasted growing social media platform and app, but it also now has over 700 million active users. If that isn't enough to make you curious enough to create an account, then carry on reading.
TikTok is growing in popularity with content creators, brands and small businesses that are looking to grow their audience quickly and easily, increase their brand engagement, and reach millions of people online! It's a fun, creative platform where you can show your audience exactly why they should be making a purchase from your creative small business.
Why is TikTok Good For Your Small Business?
TikTok's popularity is rising daily, and it certainly shows no sign of slowing down. A new social media platform can be daunting, but the freedom of this particular creative app and the amazing algorithm means that any user can become successful, quite literally, overnight.
From tutorials to dances to behind the scenes, there are so many possibilities and niches for your business or personal brand to take part in on TikTok – there really is space for creatives and content makers of all kinds.
Where to Start
Revisit your business's brand guidelines to provide a framework for the style of content you will create, TikTok is no different to any other platform in the fact you should reinforce your branding and create content that meets your business's strategic goals. Next, set performance metrics to measure your campaign success – using TikTok's analytics is key for this part.
Make sure you create a business or creator account. Similar to Instagram, this will allow you to add the new shop feature but also allow you to see the metrics you'll need to analyze to know which videos have done well and show you where to go next. Do be aware that as a business, you will only have access to a limited music library and may not be able to use trending sounds.
You should also spend some time on the platform prior to creating any content. Get to know the style of successful Tiktoks and you'll be better prepared when it comes to making your own videos. You'll also better understand the many trends and memes that are popular on the platform.
First, download the app then choose a method to sign up. I would recommend using your business email address as then all your emails will be going to the right place.
Initially, TikTok may seem a little confusing; but don't worry — here is a complete guide for your soon-to-be favourite social media app!
Home Section
In the home section there are two feeds which you can navigate between from the top of the page. First, is your following. As you may have guessed this is where all the content which the people you follow have posted.
Next to the 'following' section is 'for you'. This page will consist of all the TikTok videos that come through the algorithm, based on your behaviour and interests shown on the app. This feed will be full of all the latest trends, music and similar content to what you've liked previously.
Discover
The discover page mainly shows TikTok videos that have been marked as trending. You can also use this page to search for new accounts, popular hashtags and trending songs! If you meet someone and want to connect on the app, this is the place to go to scan QR codes.
Inbox
This is where you can see all your notifications; people who have liked your videos or followed you. Then top right you'll find your messages from friends and where you can share your videos with others.
Me/Profile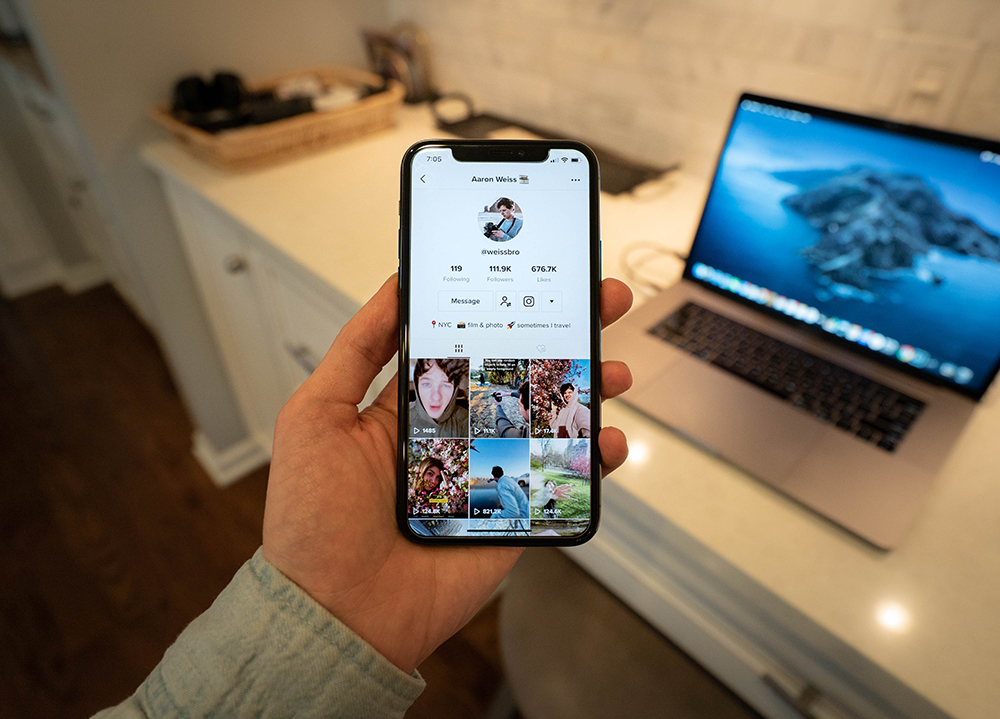 Click on 'me' on the bottom right hand side of the screen to see your public profile, uploaded videos and liked videos. Until you change your settings, everyone can see what you like, who you follow and who follows you. If you want your page to be more private then head to the three dots in the top right-hand corner and select 'privacy'.
Create Video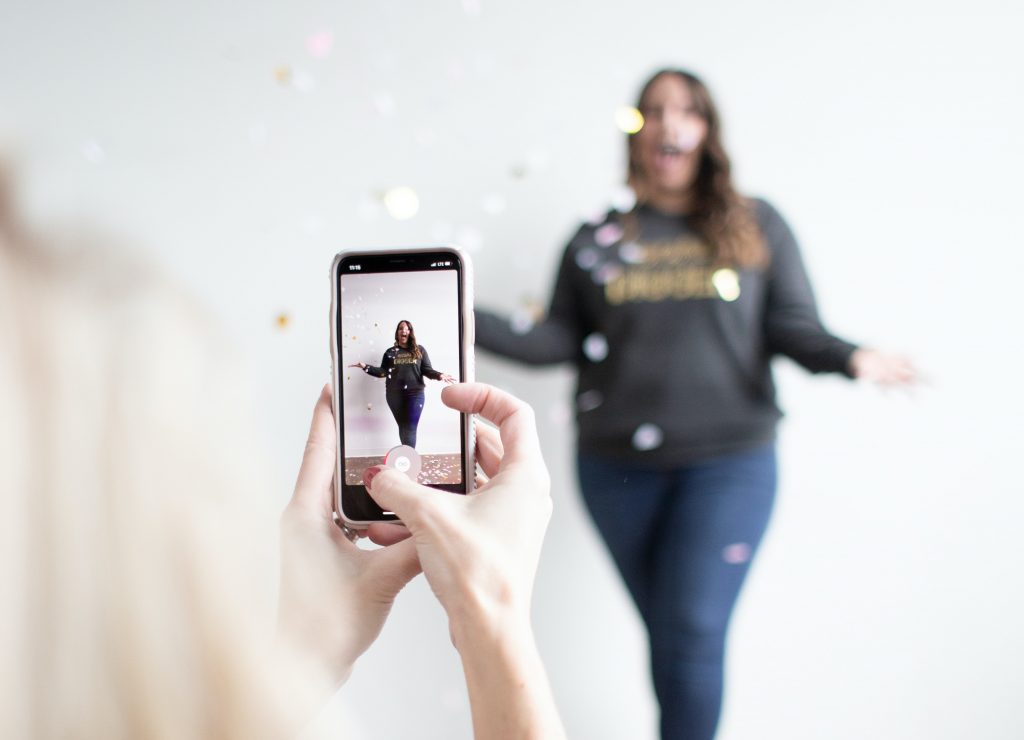 To create a video, find the little plus button in the bottom centre of your screen. This is where you can film videos in app or even upload videos you've previously taken. You can do this using the 'upload' button that comes up to the right of the big red record button.
How to Make Your First Tiktok Video Step by Step
Click the plus bottom on the bottom centre of your screen.
Choose between filming as you go or uploading individual clips from your phone's camera roll. For businesses, it's more likely you'll take videos as you work and upload them later.
If filming your video straight from the app, you can select between filming 60 second or 15 second clips (note: some users already have access to a 3 minute option that was recently released).
When ready, tap and hold the record button to record your video. If you release it, it will continuing filming. Tap it again to stop. You can choose to record one continuous video or several short clips which will link together in your TikTok.
If choosing to upload videos from your phone, simply select the clips and choose to either auto-sync them to music, or arrange them manually. By arranging them manually, you can choose the exact length of clips and put them in the order you prefer. You can also speed up or slow down individual clips.
Before moving onto the next step, be sure that your clips are ordered correctly and at the correct length. Once you begin to add text, going backwards will delete any progress made.
After double-checking your work and clicking next, you can now add text, stickers and effects to different parts of your video. You can also adjust the music and original video volume, apply a filter or add a voiceover (which you will need to record live).
From the post screen, add your description and hashtags. Keep your description short and focus more on the hashtags, which will help your video be discovered. Be sure to select an eye-catching cover from your video clips. You can either leave the clip as is, or add a title text onto it.
Select 'drafts' to save your TikTok video to your account for you to come back to, or simply press post to share it. Leave "Allow Duet" and "Allow Stitch" on if you want other users to repost or react to your video.
Now we've covered the basics, let's get into finding your niche and identifying your own brand!
Finding your niche on TikTok
Use your expertise on other platforms to capture TikTok content that aligns with or compliments your other online presences. Not only will this save you time in figuring out your strengths, but it's likely that your audience will follow you over to TikTok from other platforms.
Tailoring your content to trends can be a difficult task, but you'd be surprised how much your brand does fit in with a bit of creative thinking!
Follow influencers in your field, they will more than likely be jumping on relevant trends.
Trends can just be linked by the music attached so make sure to use trending sounds on all of your videos. Note that if you choose a business account, you will not have access to the full library. Consider being a Creator instead!
Look for trending challenges and think of ways for your business to take part.
Check on the discover page daily, TikTok trends are ever changing so make sure you keep up to date. The more content you consume, the more content that will influence you.
TikTok Video Brainstorming Bootcamp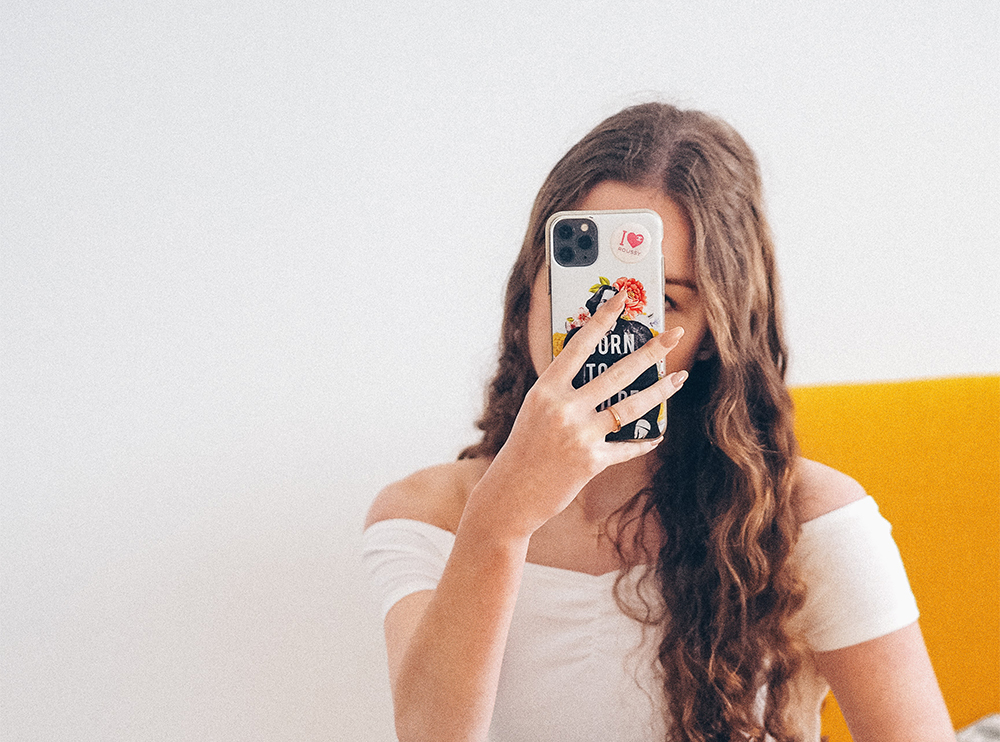 Here are 10 ideas to help you get started on thinking of ideas for your business TikTok:
DIY/How-to. Show some behind-the-scenes tutorials that teach your viewers something new. Example: How to mix paint colours using old makeup.
2. ASMR. Grab your best mic and get up close and personal to make relaxing ASMR content.
3. List it. Show off 5 of your most popular products/services/etc.
4. Day in the life. Narrate a day in the life of your business.
5. Offer business tips for other business owners on TikTok.
6. Package your product. As many businesses gain popularity on TikTok, they often package fan orders by asking for customers to post their the order number.
7. Tell your story. How did you become an entrepreneur?
8. Tackle misconceptions. What are some business-owning myths that you've encountered and squashed?
9. Create content based on comments/questions. Respond to questions using a new video.
10. Show off new or custom work and talk about what went into the piece/project.
Here are some amazing, and inspiring, examples with their personal tips to success:
TikTok Tips for Success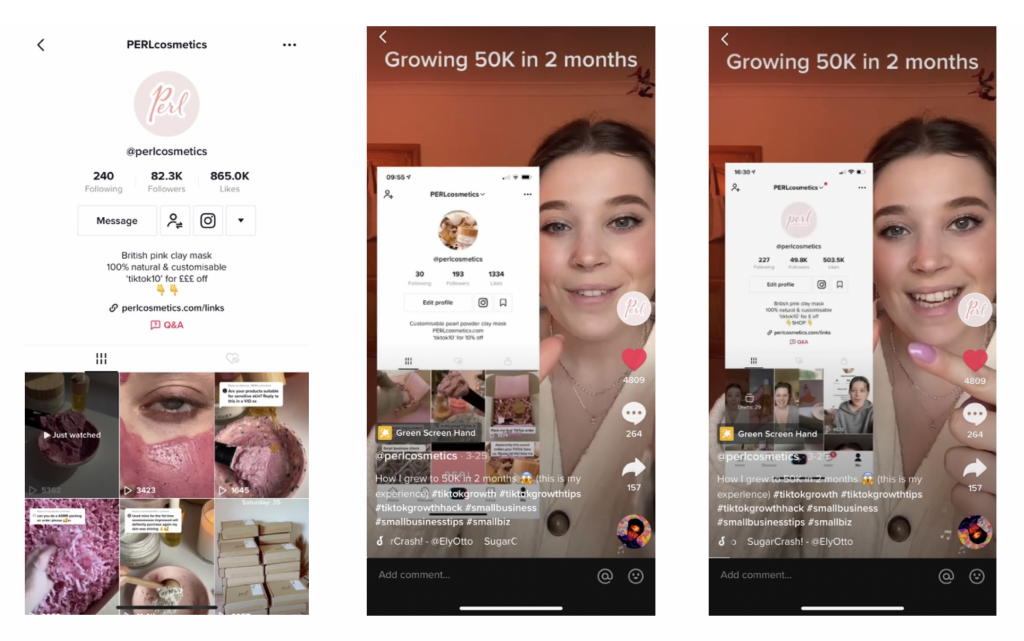 Isobel from Perl Cosmetics is an amazing example of a creative small business who has grown a successful following in TikTok. Isobel began to post on TikTok in June 2020 and since has grown her platform to over 80k followers, which in turn has led to hundreds of sales purely from the platform itself. The power of TikTok, right?
The question we all have is: how did she do it?
Here is what she shared with us on her TikTok success:
Consider posting multiple times a day
Research and post when you believe or know that your audience is active.
Look at what posts perform well, and recreate them in different ways.
Reply to comments regularly.
Jump on trends but only when they make sense for your business.
Create videos ahead of time and save them as drafts for later posts.
Be authentic and show both good and bad days in your business.
Isobel mentioned that it only takes one viewer to place an order, and Isobel is absolutely right. I've followed Isobel on her Perl Cosmetics page and her Girls in Business page since the beginning and I have absolutely loved coming along Isobel's journey on TikTok. I can't wait to see where she may go next!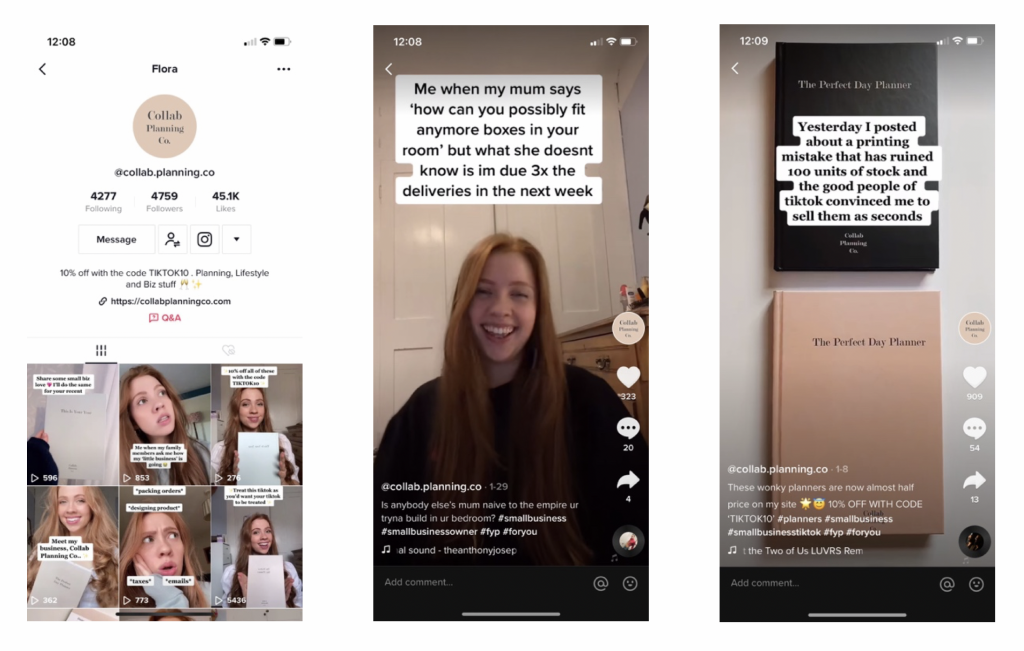 Collab Planning Co. is another small business which I admire and their TikTok account make their business feel super relatable! Not only are their products amazing, but Flora from Collab Planning Co. shows every side of her small business life, which I think is why everyone loves her account.
I have had the pleasure to speak to Flora to find out exactly how she is creating a successful TikTok platform for her small business:
• If you're brand new to TikTok use your first 10 videos to your advantage. These will generally perform well in the algorithm even though you have no followers – it's a great time to establish the niche you want to be in my using.
• Follow small businesses and become part of the community! Their comments, trends and sounds will help you get established and they're super supportive.

• Be a business account – this will mean you can have your shop link in your bio, it will limit access to some sounds but generally only big commercial songs. Once you reach 1000 followers you can choose to become a creator meaning you can reach all sounds and have a link in your bio.

• Stay consistent! This is the most important in my opinion, try and post every day at least once. Your videos may only get a couple of 100 views but then one day you'll randomly have one that hits 10k-50k or MORE. This makes it all worth it as the views trickle out to other videos on your page.
• Batch film TikTok's – this changed my life! Write a huge list and then set aside a day or half day to film them all, include outfit changes and sage sounds when you're browsing to use again later.
After hearing from Flora and Isobel – will you be making a TikTok account for your small business?
PIN THIS: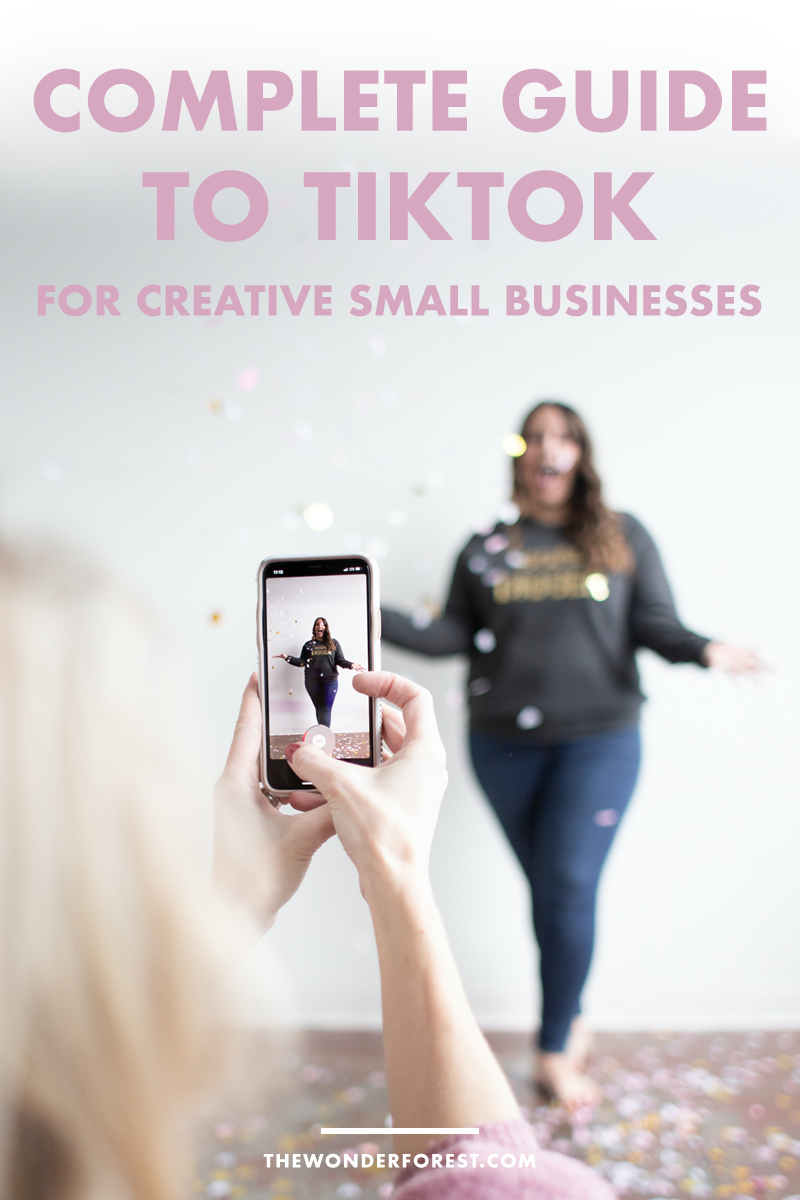 Last Updated on