For all of us who have transitioned to work from home this year, this post is for you! Many of us do not have space for a full-fledged home office but the good news is that a small closet space can be transformed into a home office.
This "cloffice" trend has been taking over the internet and we are all for it. No more papers on the kitchen island or laptop on the sofa! Here are some creative tips and tricks to create your own office space inside a closet!
Start a small Cloffice
Starting with a small closet or cupboard space, you can easily hide away work when you're at home. The perk of this closet is having the ability to hide it away by closing the doors.
A shelf across with draws functions as a table and having this space close to a window brings in the natural light when you're working. With almost everyone owning a laptop these days, its easy to use a small space to designate it as an office.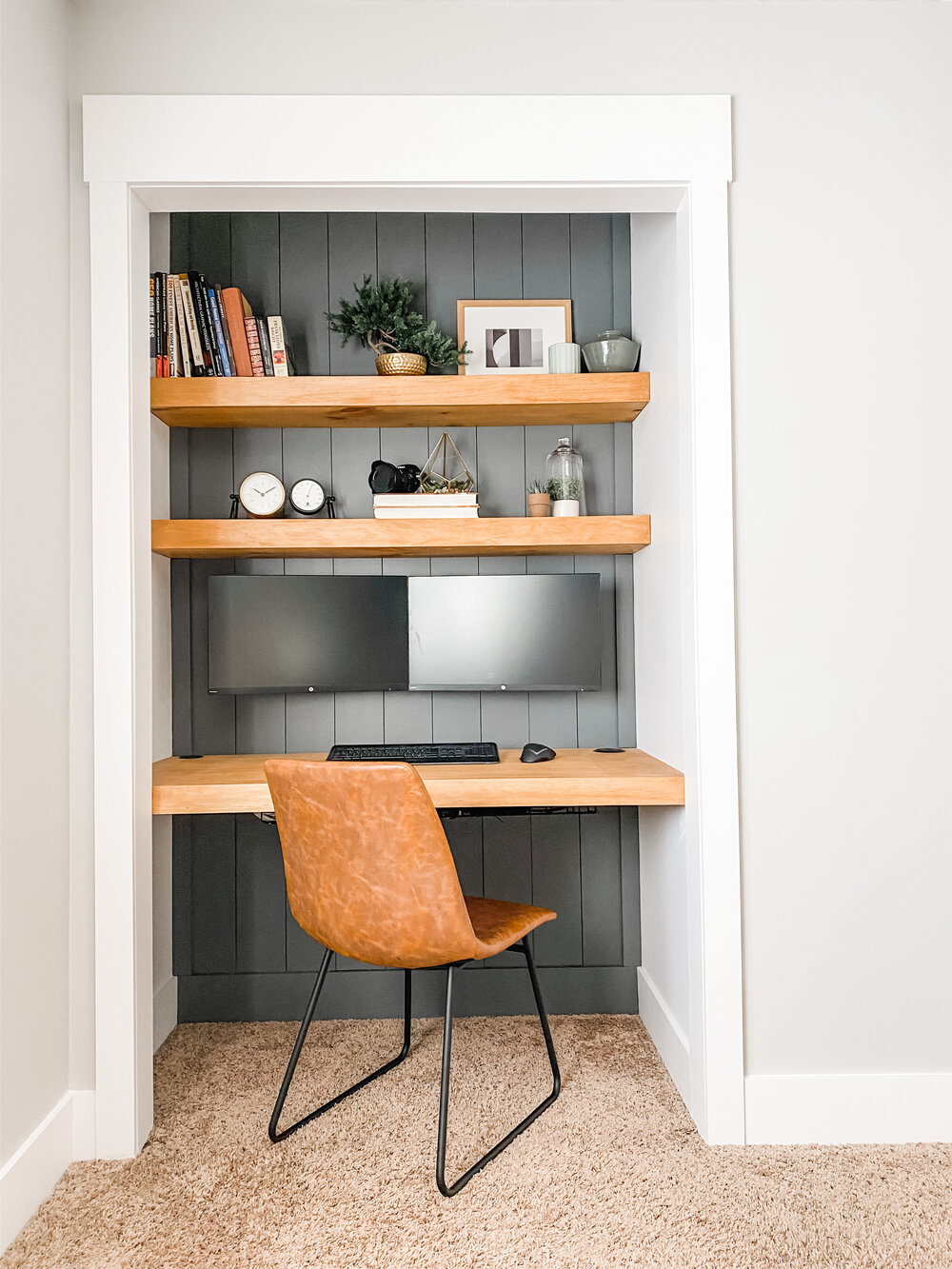 Built in shelving and accents
Keeping with the small closet idea, using different materials can add interest and build your office design into the rest of the home space. This closet features a panel back in green to highlight the wood tones of the floating shelves.
You can easily get a customizable desktop at Home Depot and they will cut it to fit the size of your office. Keeping everything simple is the key here!
Find your cloffice personality
Another way to give your space interest is to use wallpaper. For a temporary effect, you can use 'peel and stick' wallpaper. Try geometric designs, pastel colours, or a nature inspired theme to bring the outdoors inside. For this design the doors are removed so you can see the beautiful wallpaper designs!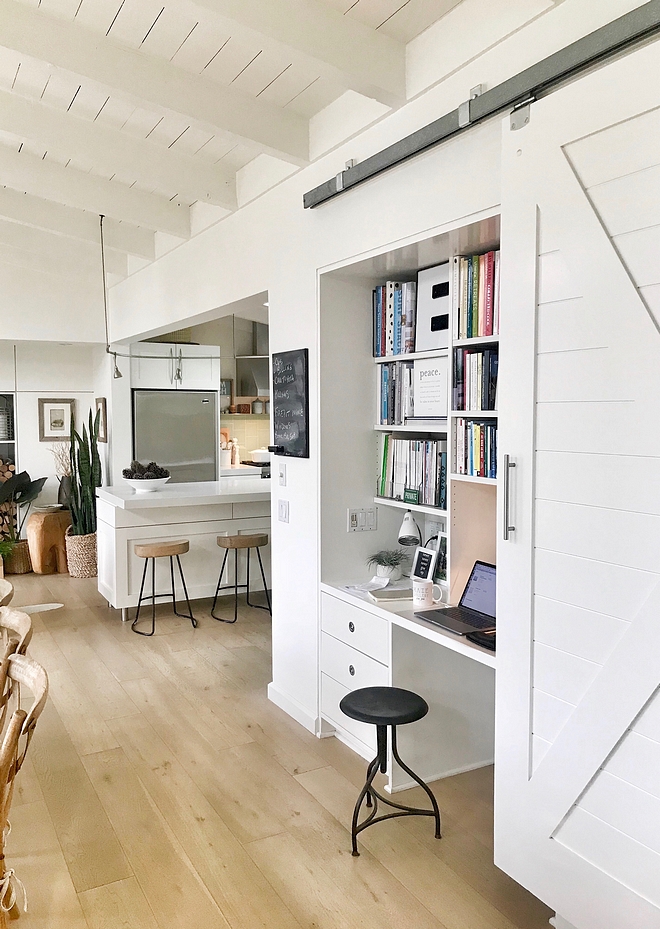 Barn door partitions
Barn doors continue to be popular and are used in rooms to add interest and functionality in separating spaces. Using a barn door for your office can be really useful in separating the space between work and home. The key here is to get a chair that fits perfectly under the table so that the doors can close.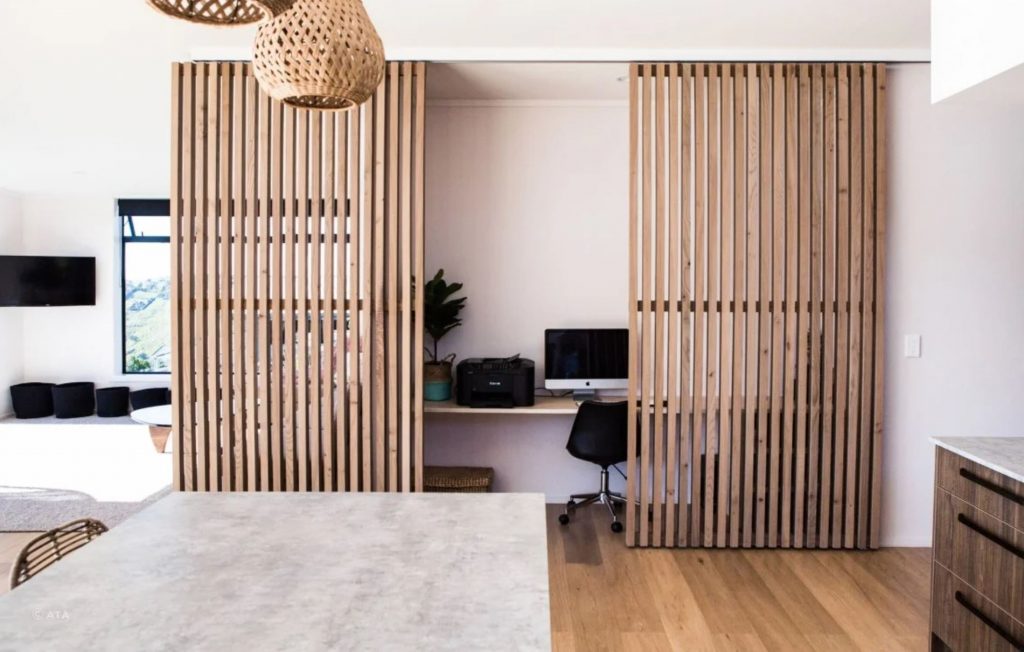 Try a door with interest
Keeping with the door theme, this beautiful wooden sliding screen separates office from kitchen in this open floor design – which can be a challenging space to work with if you're trying to create a work space that doesn't interfere with non-work hours.
Open or closed?
Another popular interior design element is the use of light-coloured wood. This is seen here in the table and folding door. Using this type of door that slides onto one side is useful to keep the space outside the closet open.
The key to this clean look is to have lots of storage space. The drawers allow for stationery and document storage to keep the desk looking clean!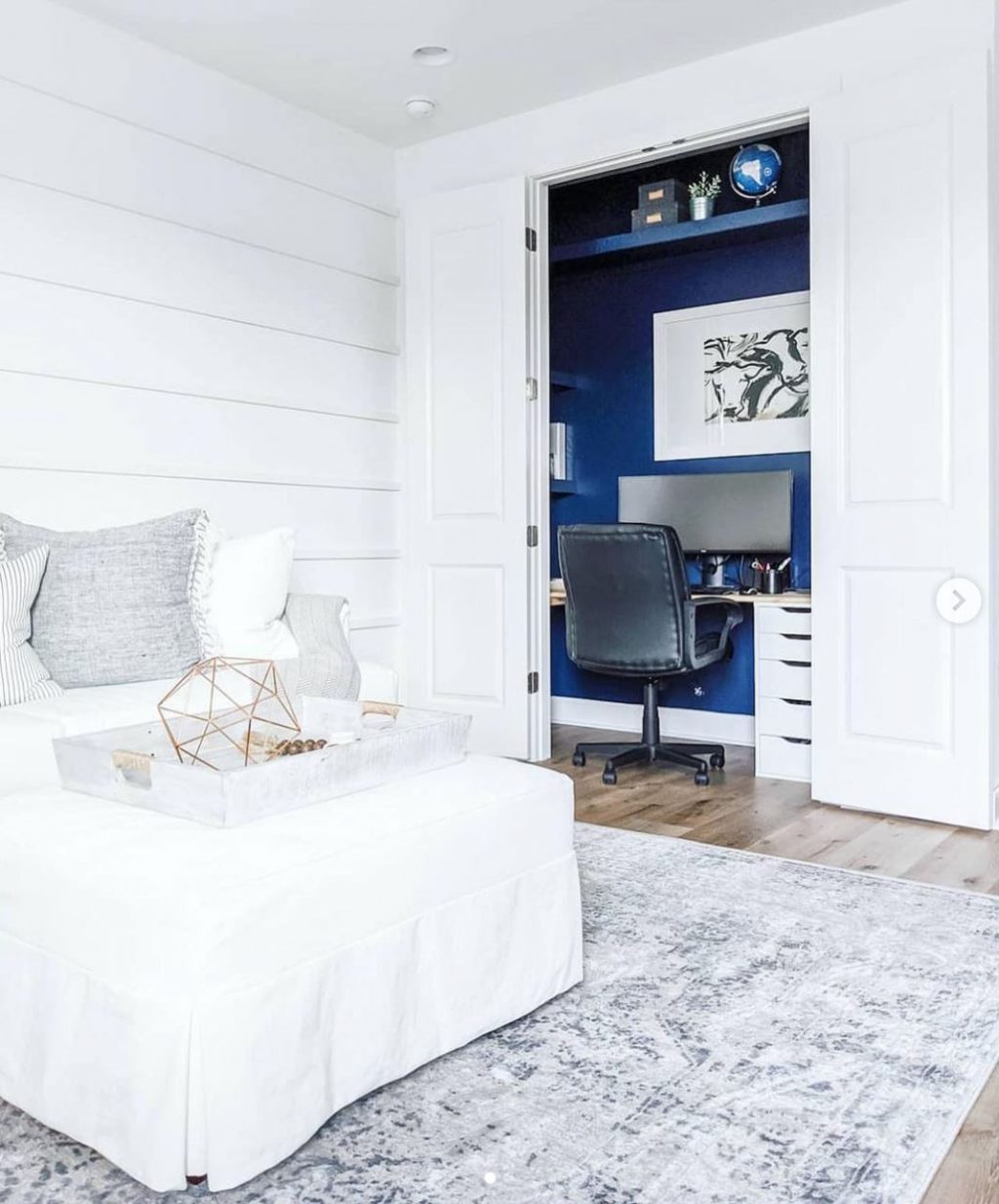 A pop of colour
The final design idea is to have a dark closet to highlight and separate the space. A bold pop of colour helps to set it apart and also look bigger. A regular closet can open and become a productive working space!
Need a little more inspiration to turn your closet into a cloffice? Check out some more of these amazing closet office ideas: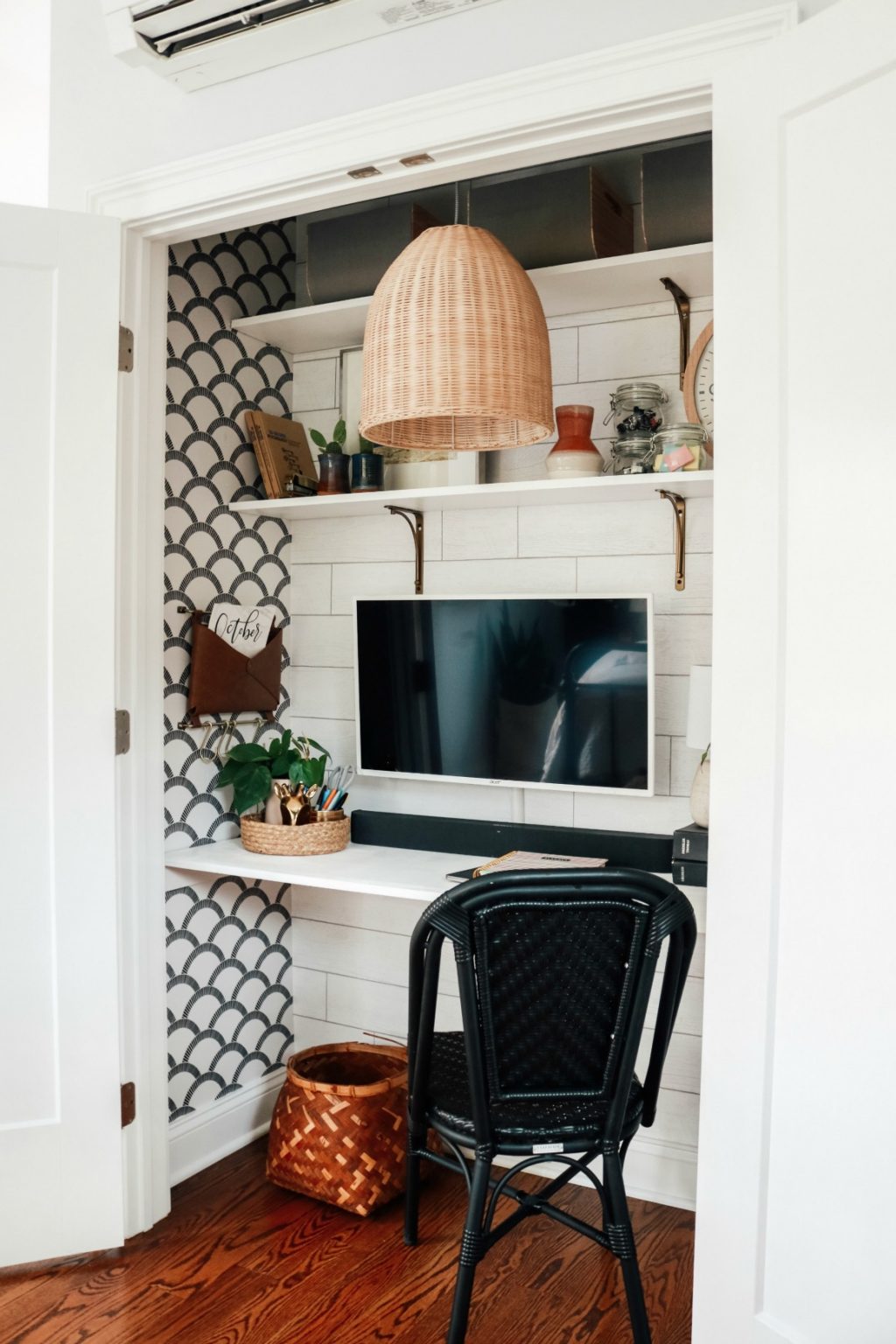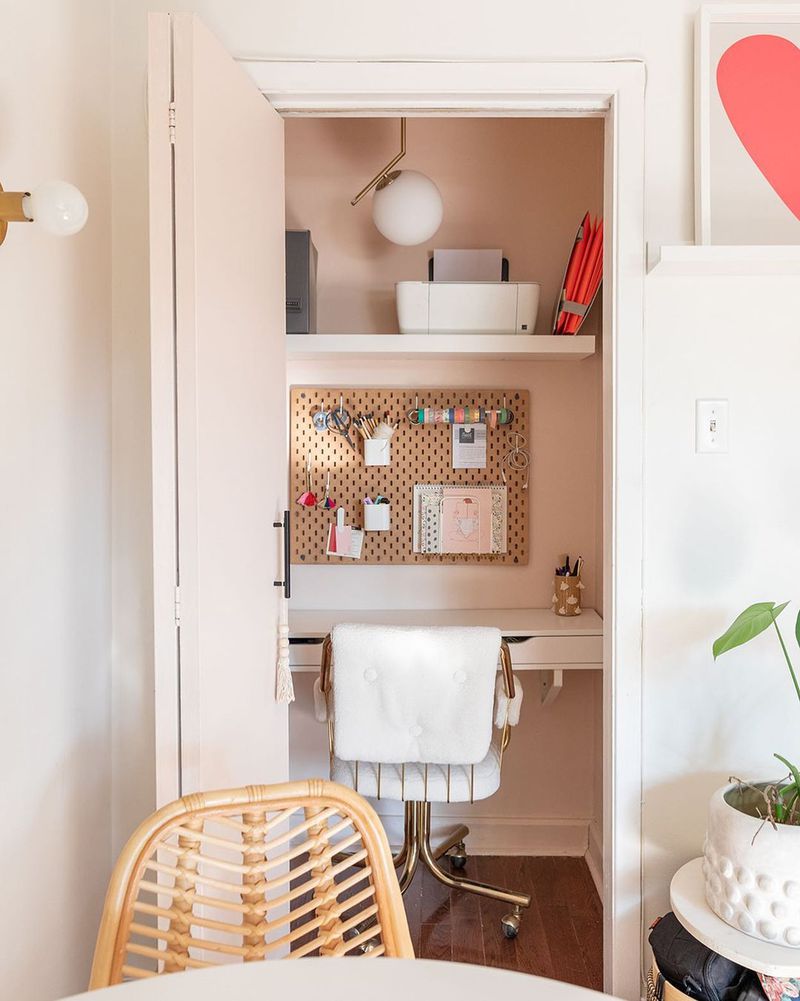 Pin this:
Last Updated on