Not to be mistaken for farmhouse or shabby chic, cottagecore is a trending aesthetic that evokes the simplistic, feminine and rustic feeling of the English or French countryside.
Cottagecore motifs and themes include florals, botanical prints, greenery, fresh baking or jam, checkered picnic prints, straw hats and pastels. To get you started on this trend, here are 15 cozy and cute rooms featuring elements of cottagecore design.
Simple and Dainty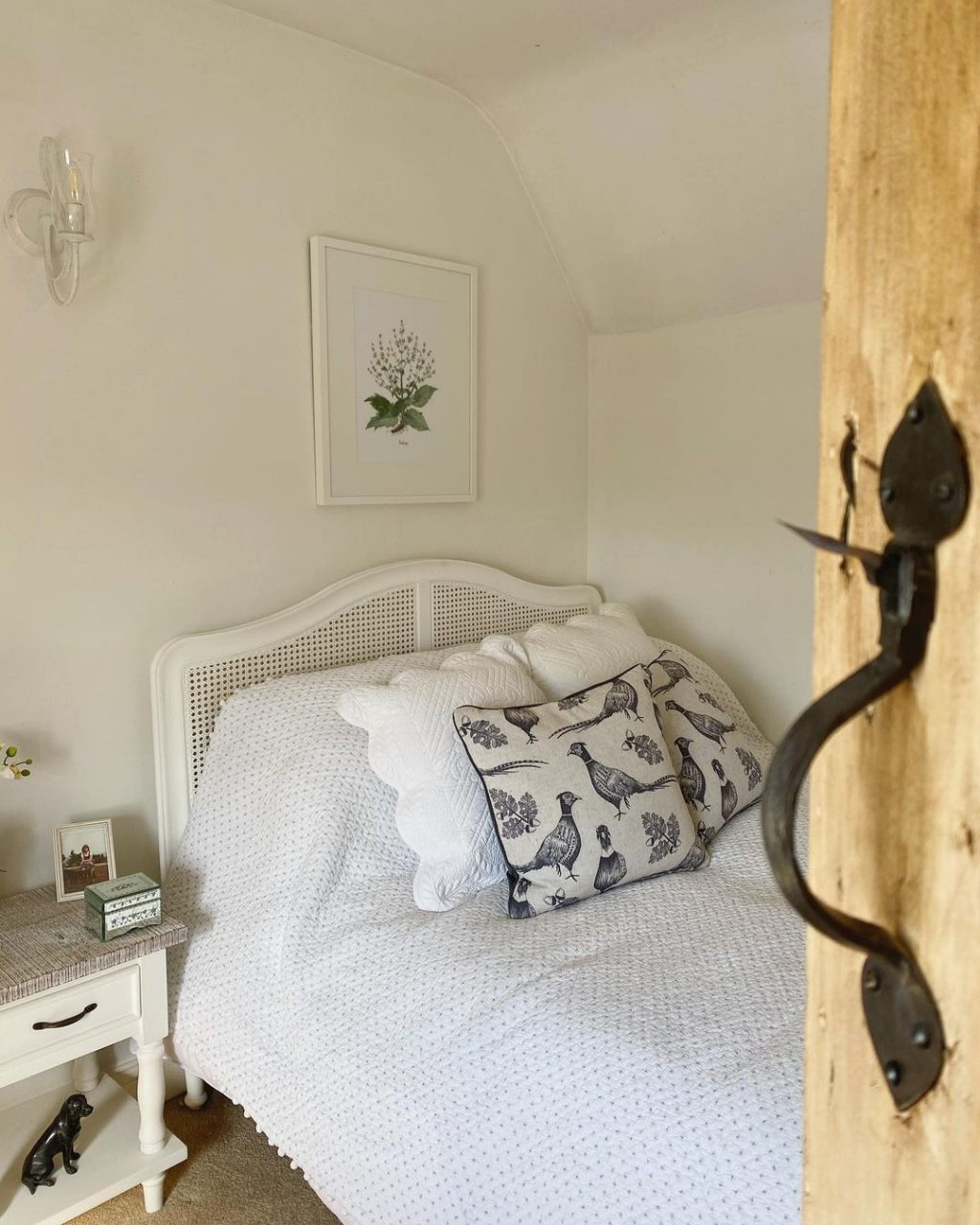 Cottage core can be both maximalist or minimalist depending on your preference. This bedroom is an example of a more minimalist cottagecore room design – with aspects like the wall lamp, the cane webbing headboard, the print and the pillow selection all contributing to a cottagecore vibe.
Vintage Pieces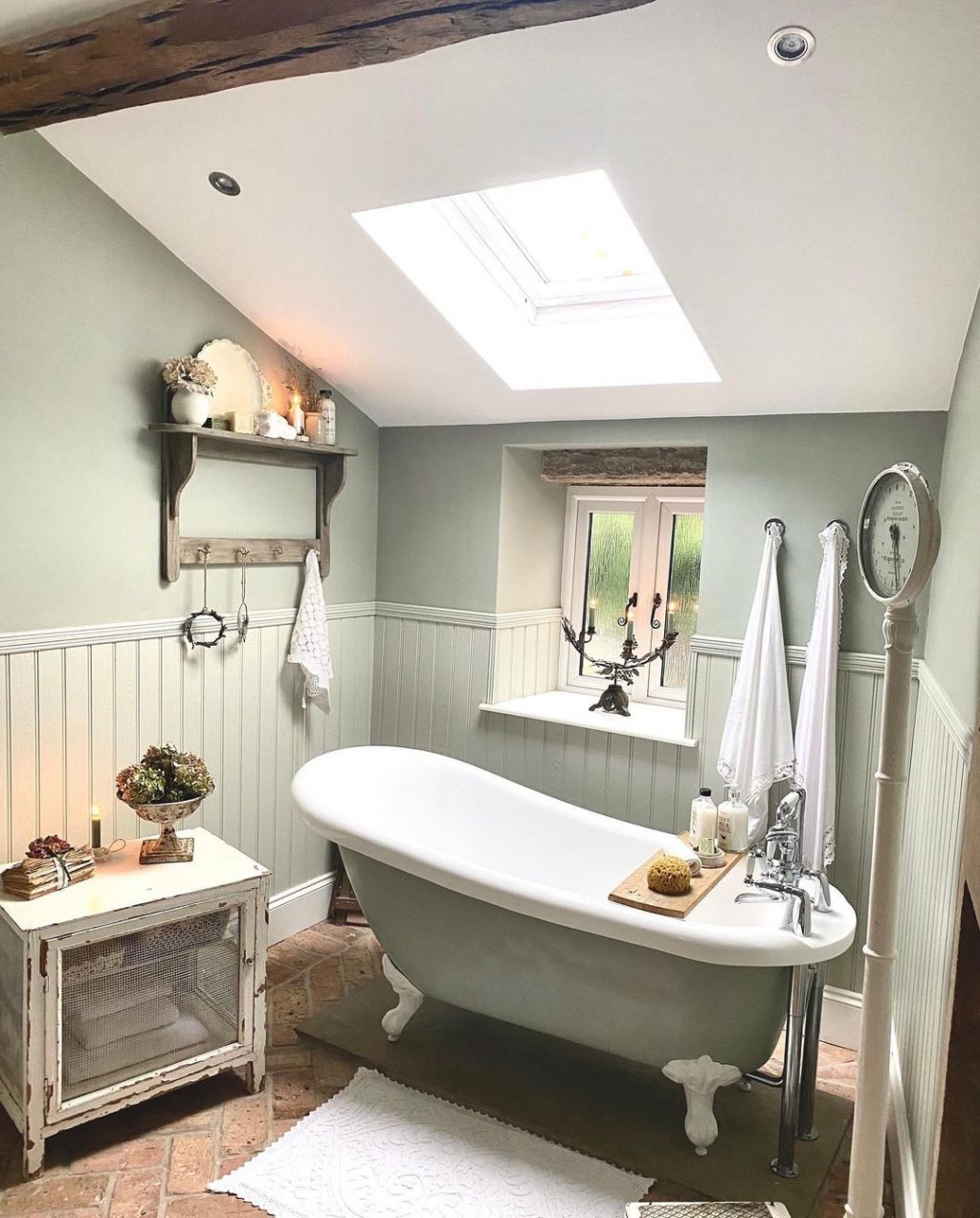 There's no doubt about it: claw foot tubs are totally cottagecore. This bathroom also pulls off the look by including a light pastel paint, white linens and other vintage pieces like the scale and cabinet.
Cottagecore Kitchen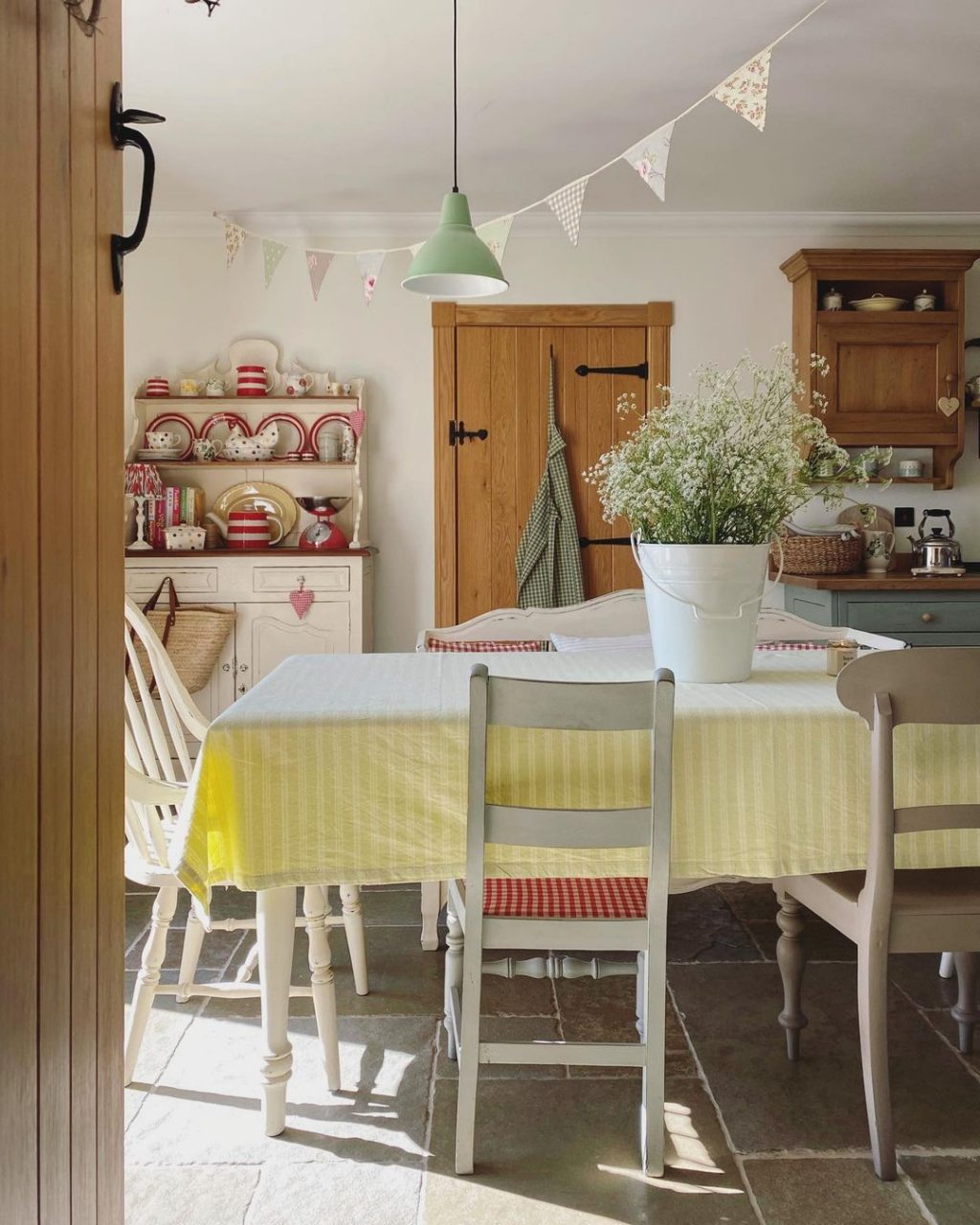 Here's an example of a busier cottagecore style – combining several prints (checkers and stripes) with mis-matched chairs and cute whimsical touches. One great thing about cottagecore is that it doesn't need to be precise or perfectly matched – you can collect and add eclectic pieces as you go!
Floral Forever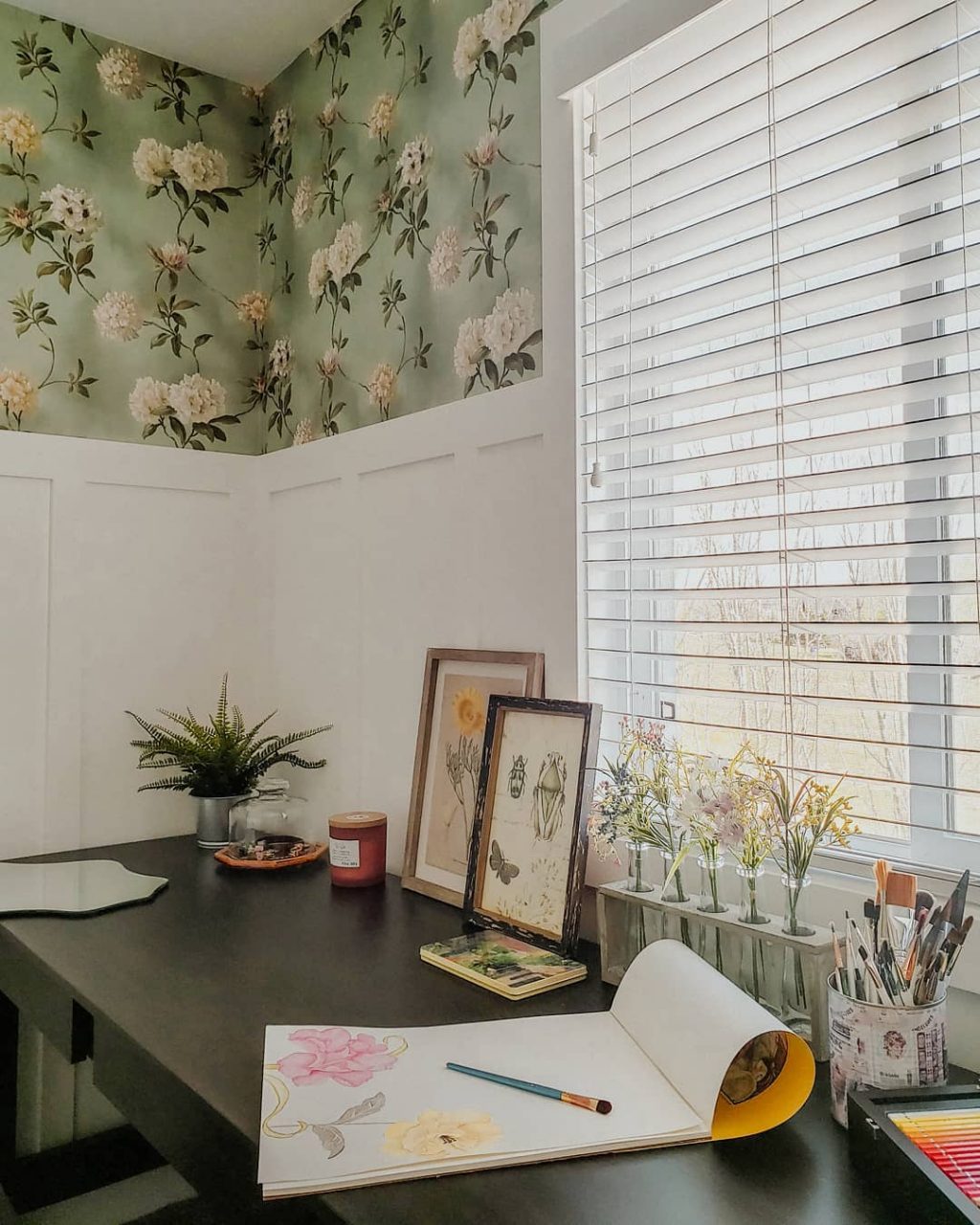 A cottagecore lifestyle includes collecting/pressing wildflowers, watercolour painting and just generally living a cozy, peaceful life. An art or craft room/area is the perfectly addition to a cottagecore home as it lends space for all your activities. Don't forget a floral wallpaper!
Sugary Sweet Kitchen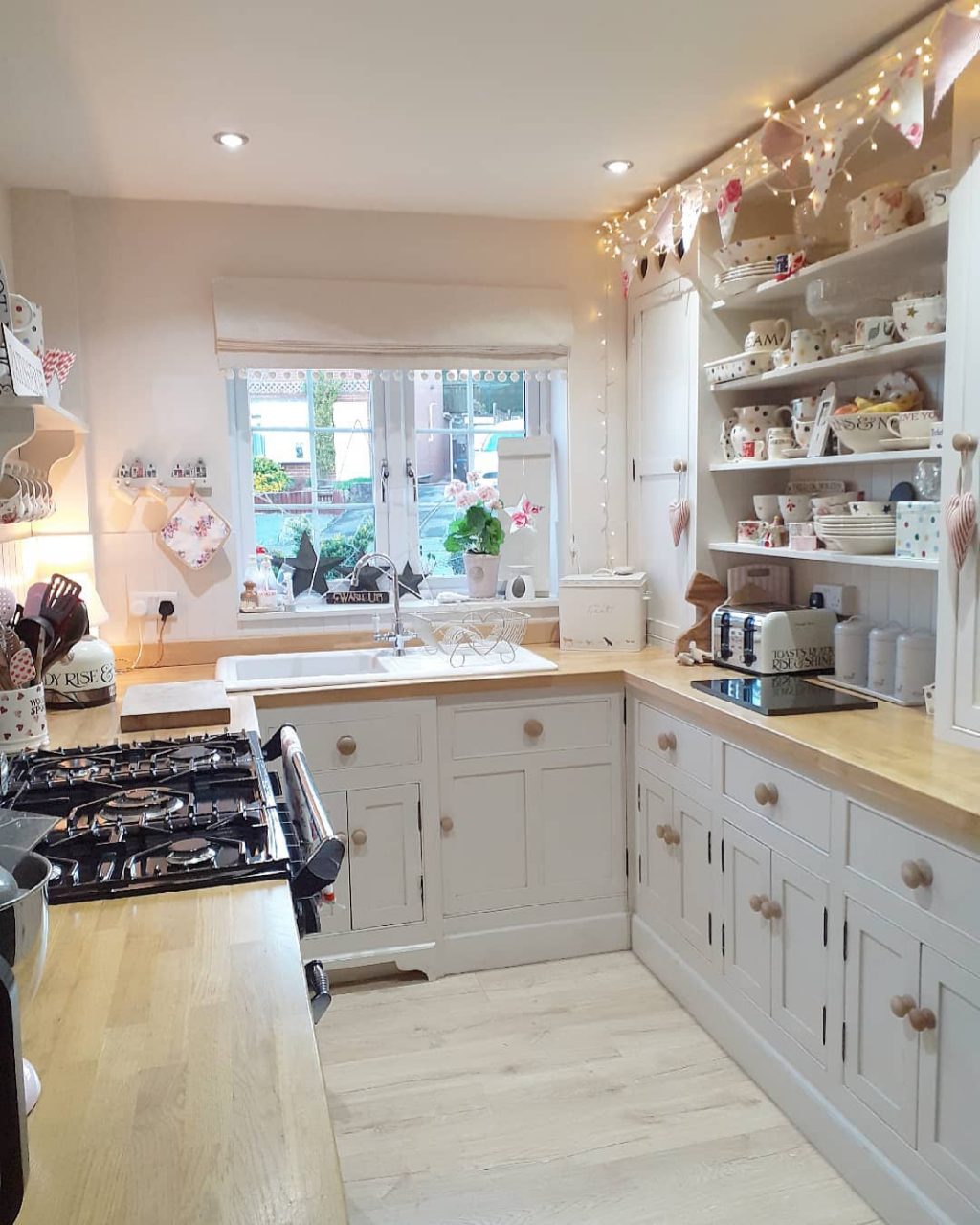 There are several different subcategories of cottagecore, and this kitchen is a great example of the feminine, fairy-inspired subset of cottagecore that uses pink and heart motifs for a sweet style.
Pretty Cottagecore Bedroom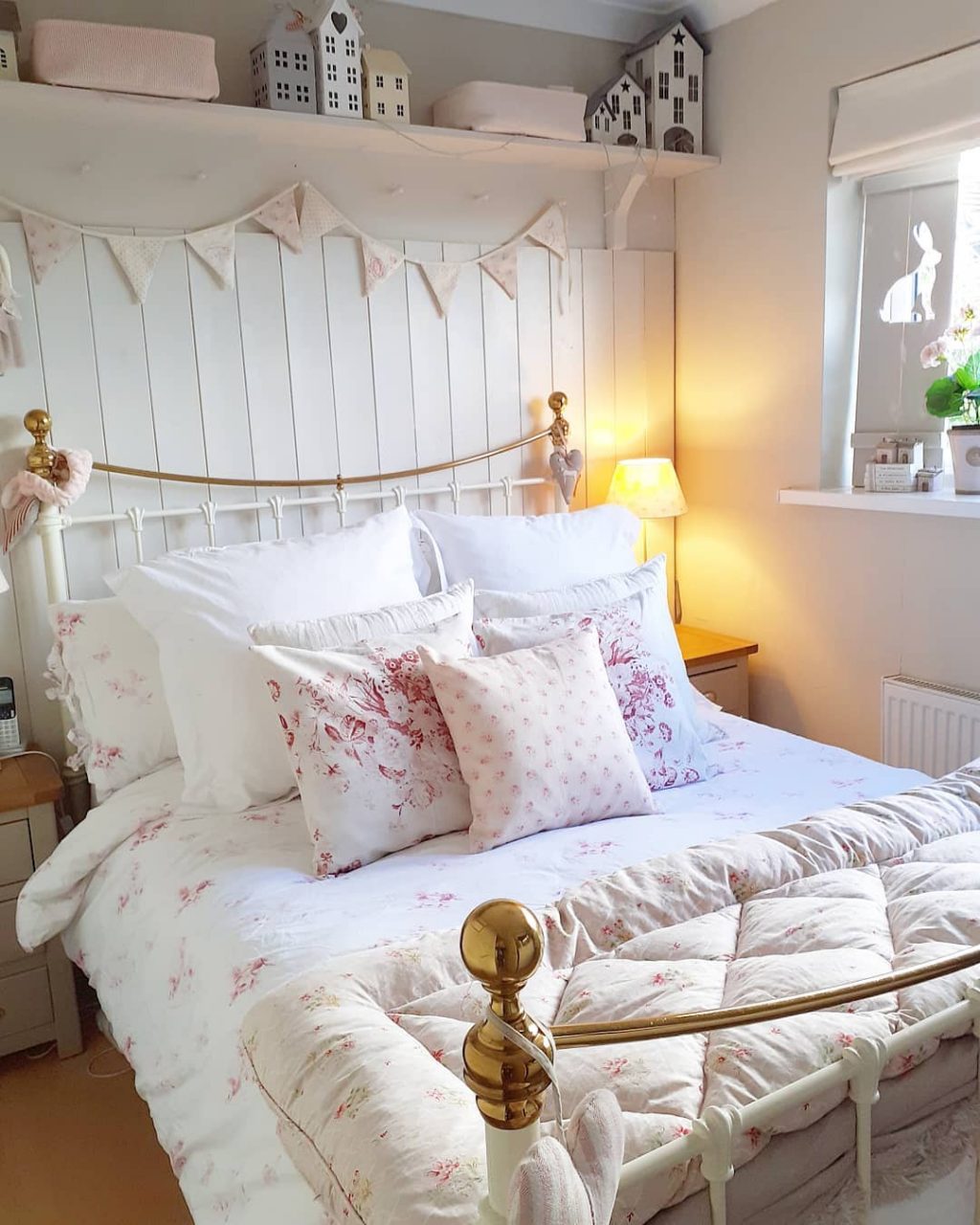 Another room in the Bobbin Cottage shows this style further, with a subtle use of mixed florals and girly details.
Cottagecore Bathroom Design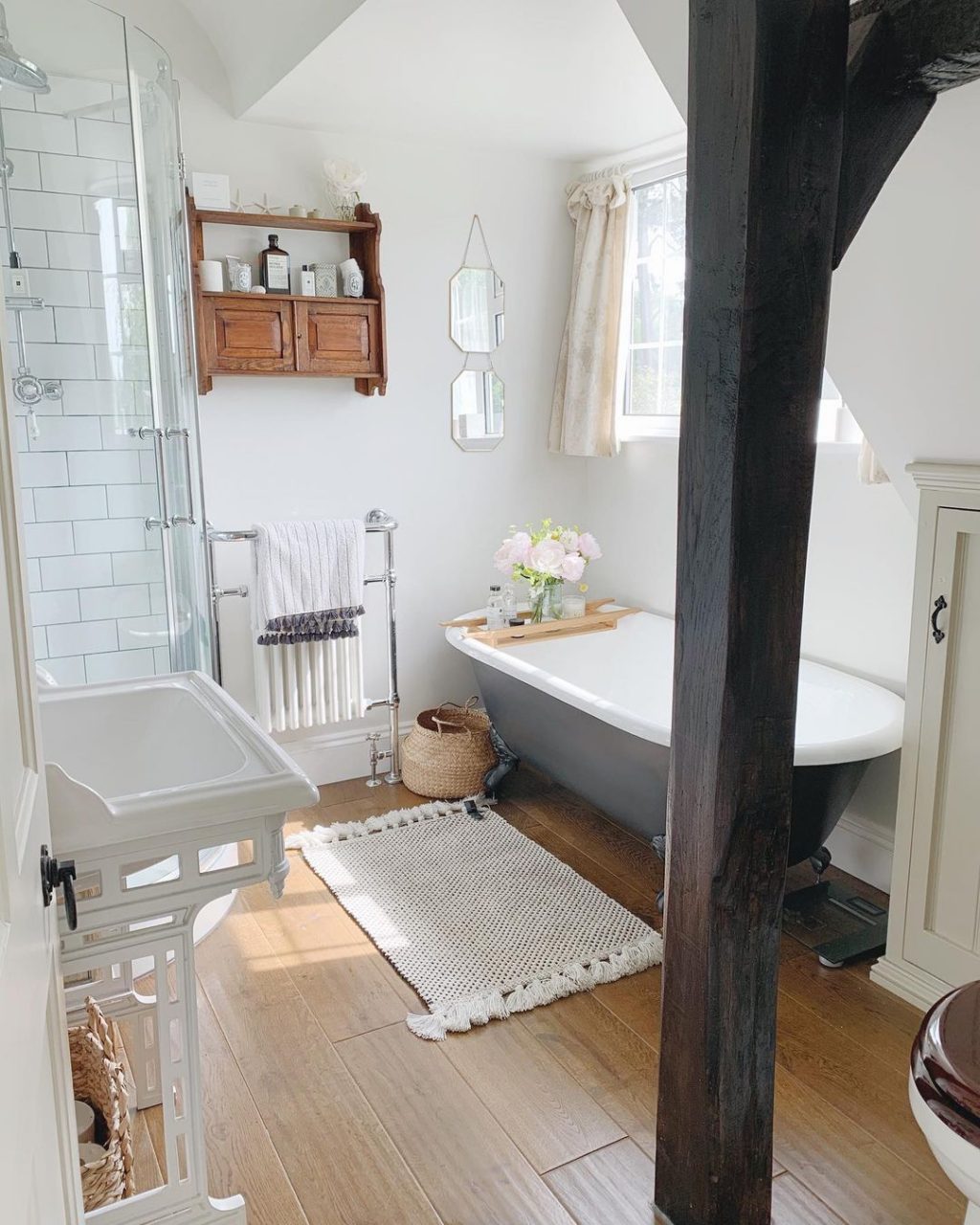 For a more simplistic, rustic cottagecore bathroom design – be sure to include woods, natural woven materials and plenty of white. Then, add feminine touches like fresh, pink florals and beautiful mirrors.
Rustic Feminine Kitchen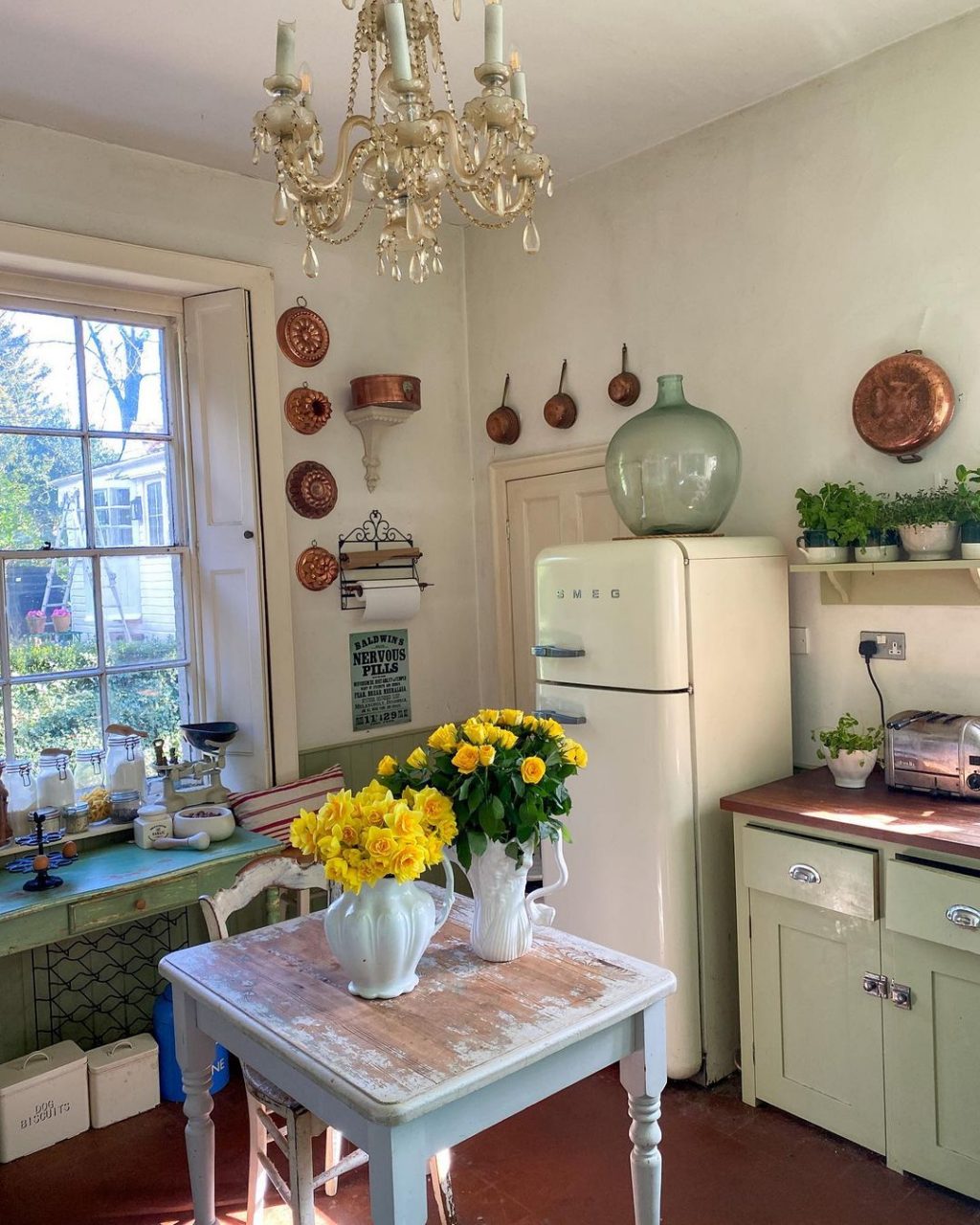 If you're wondering which appliances go best with the cottagecore style – SMEG is definitely an ideal option for their vintage aesthetic. Generally, a cottagecore kitchen shouldn't feel too tidy – feel free to hang your pots and pans on the wall, and always keep some flowers, fruit or fresh baking on the table.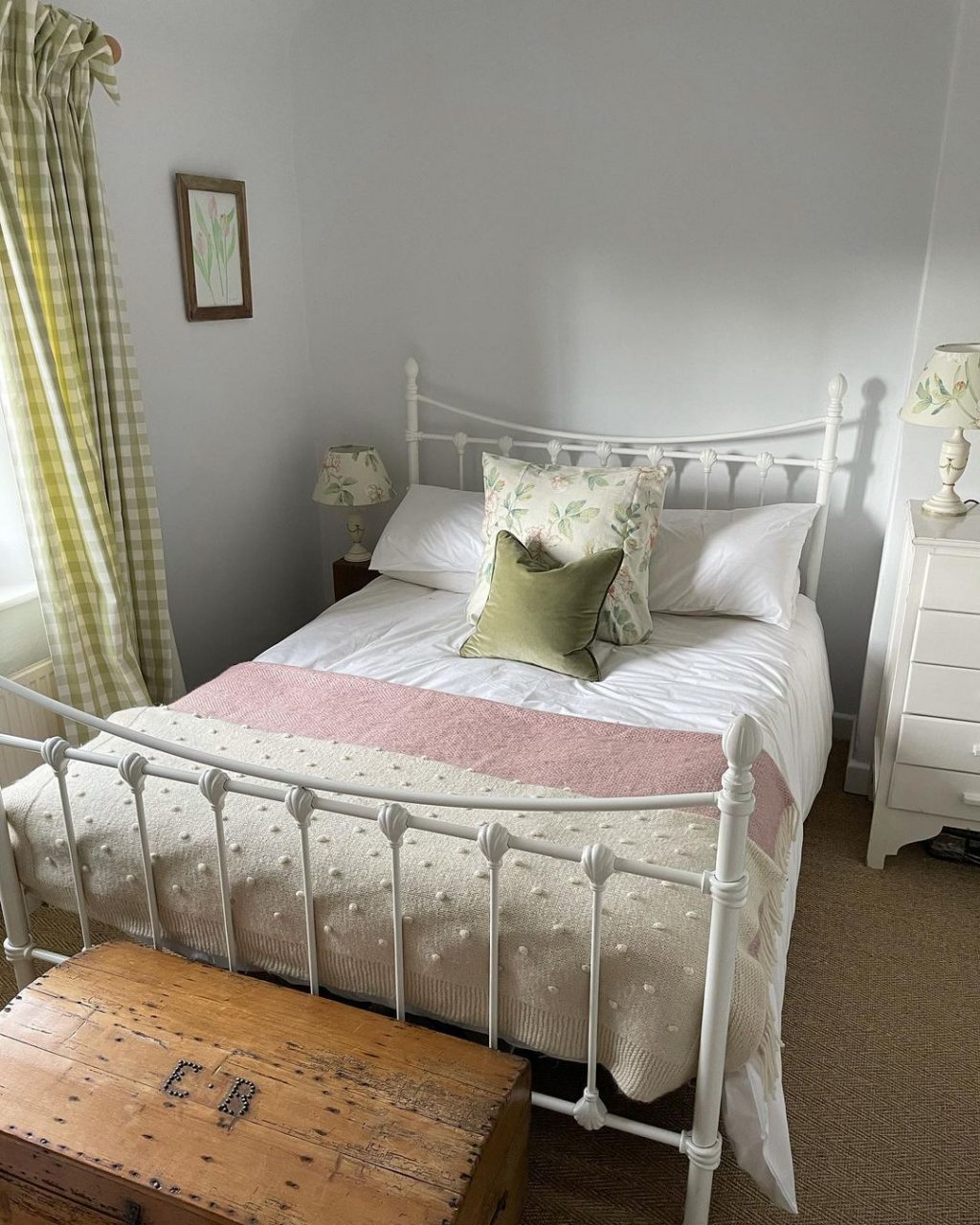 This bedroom has several components of the cottagecore style – the rustic chest, the feminine white bed frame, the floral pillows/lamp, the botanical print and the light green checkered curtains.
Cute Cottagecore Clutter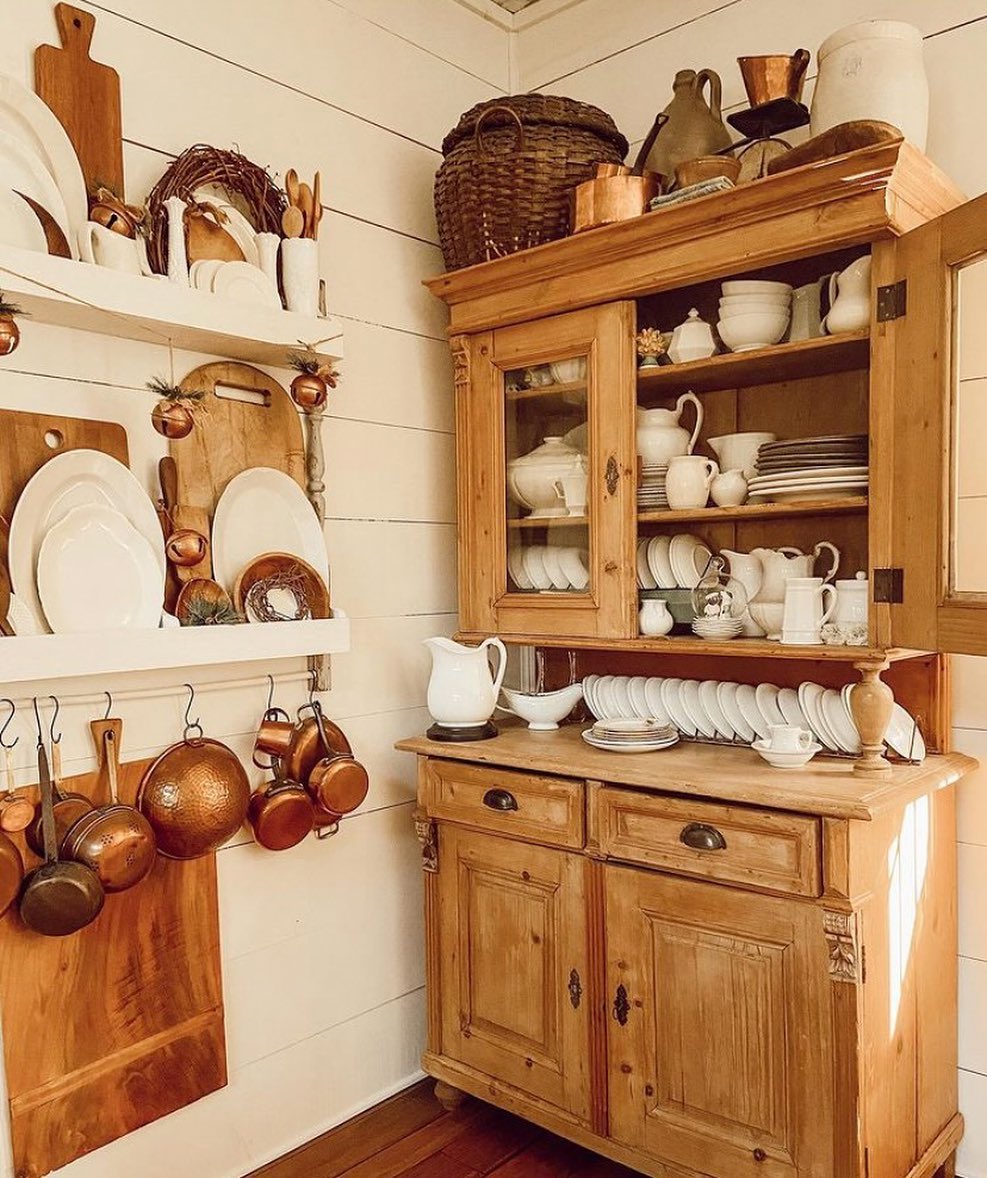 Again, don't be afraid of a little bit of clutter in your cottagecore home. Cottagecore style allows for many things to be on display – including your pots, pans and dish ware. This charming corner proves this idea!
Cottagecore Balcony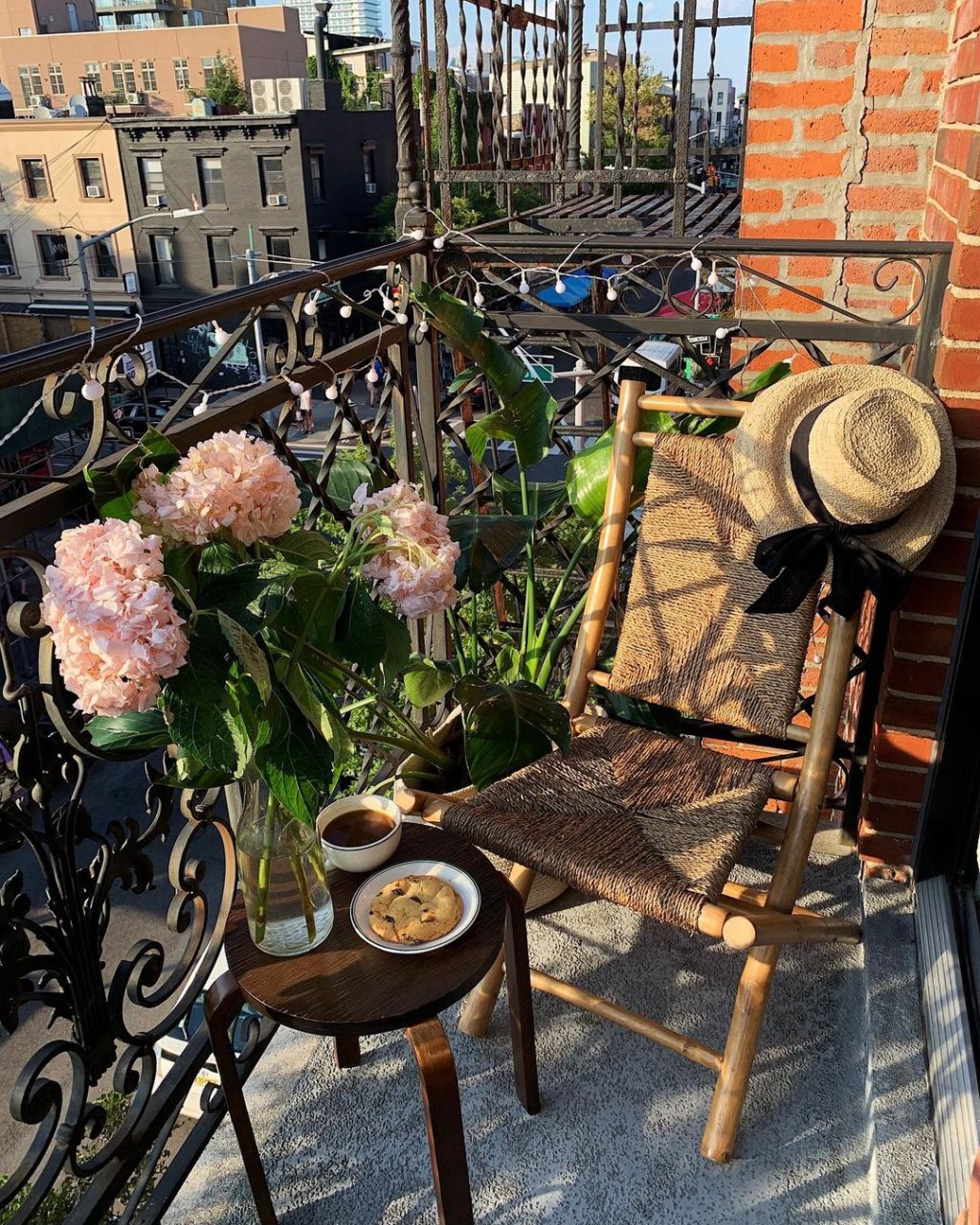 It's simple enough to make your garden or backyard look cottagecore – but what if you live in the city? Take some simple elements to create a cottagecore design for your balcony. All you need is a chair made of natural materials, a fresh bouquet and a straw hat.
Cozy Cottagecore Bedroom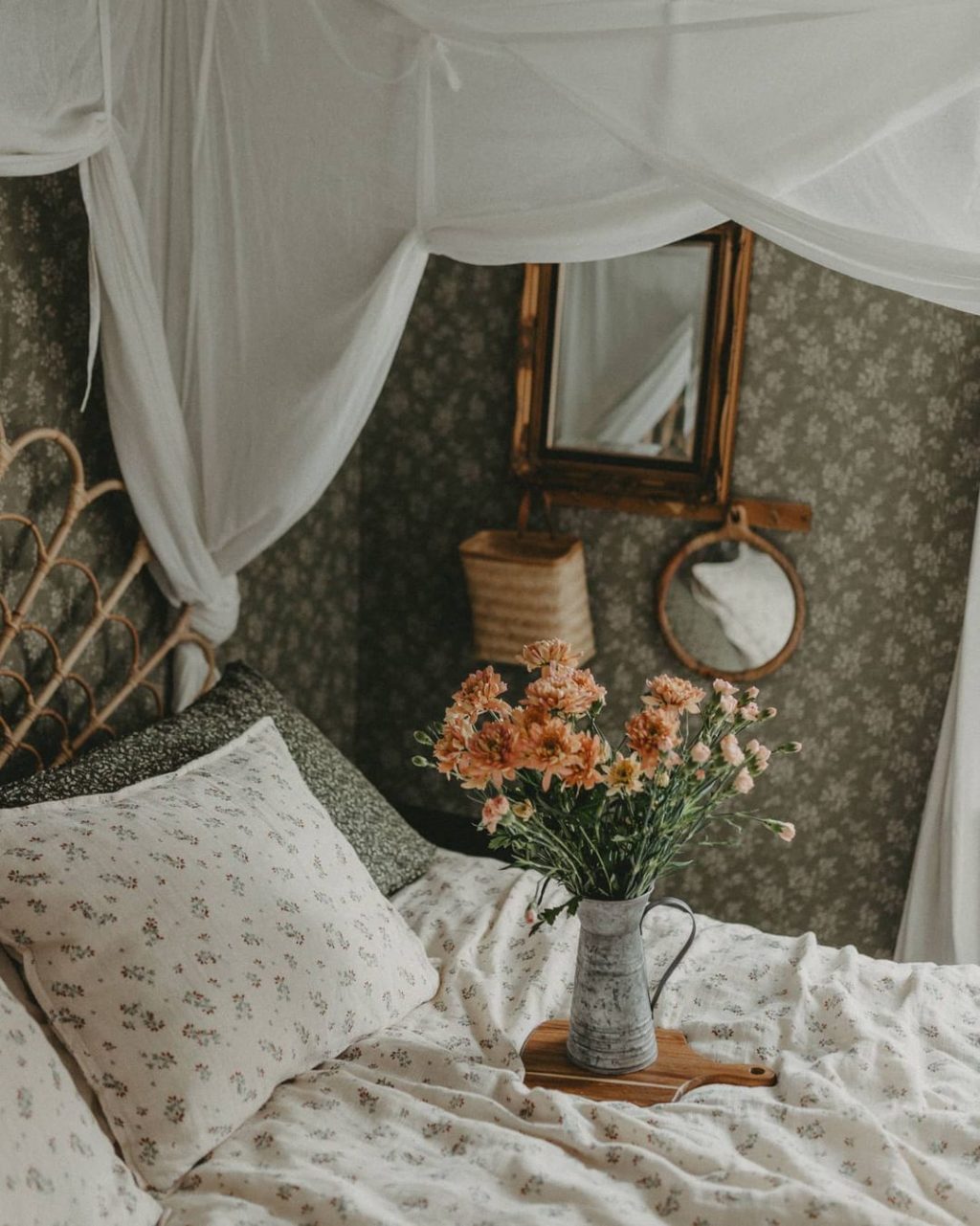 You want your bedroom to feel like a guest room in a quaint bed and breakfast. Try incorporating a wicker headboard, floral duvet/pillow covers, antique mirrors and you're well on your way to a cottagecore aesthetic.
Simple Vintage Cottagecore Living Room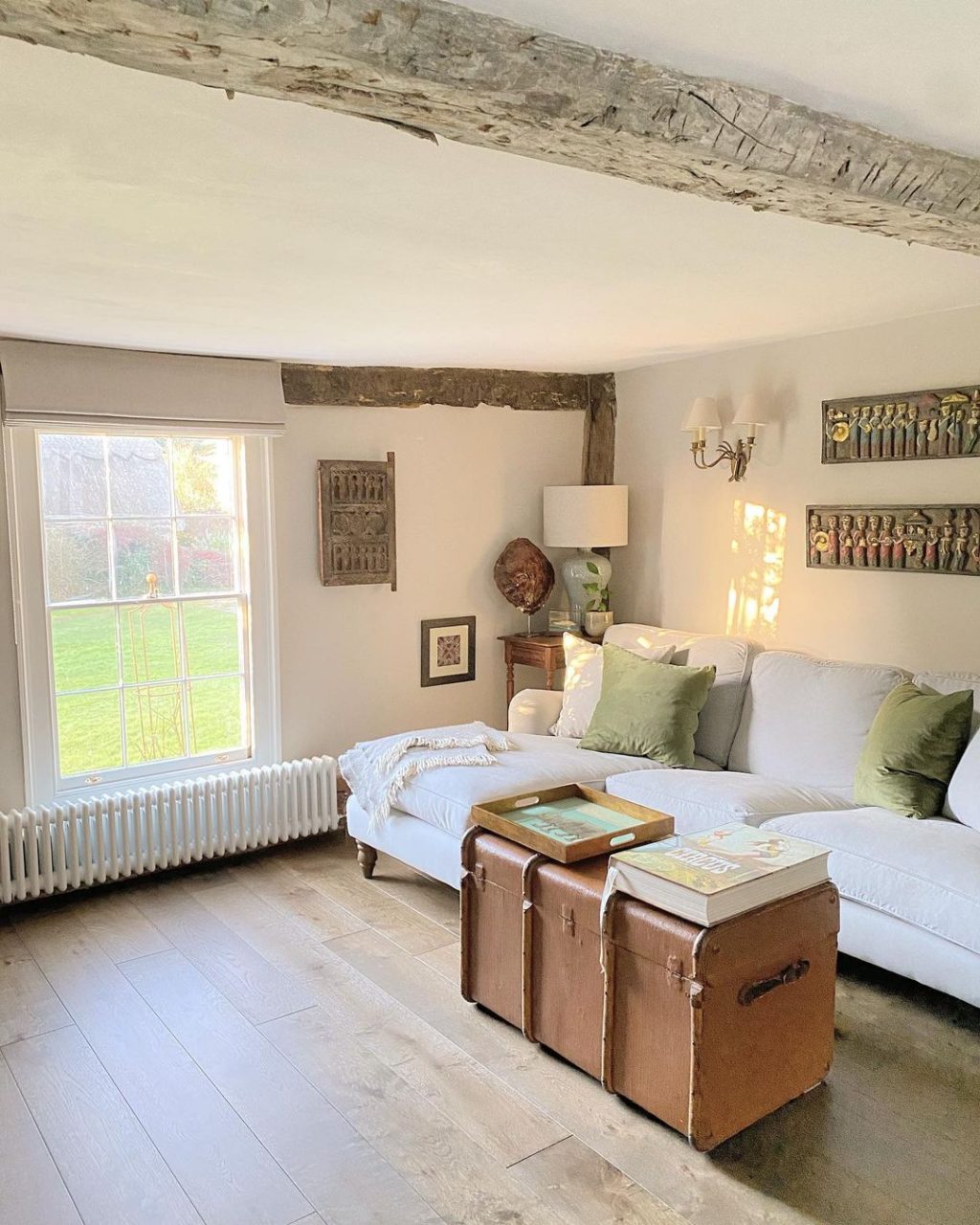 Trunks also make for fantastic cottagecore coffee tables – so be sure to keep an eye out next time you're at the vintage store. White couches are also a good choice and pair well with sage green pillows.
Vintage Vanities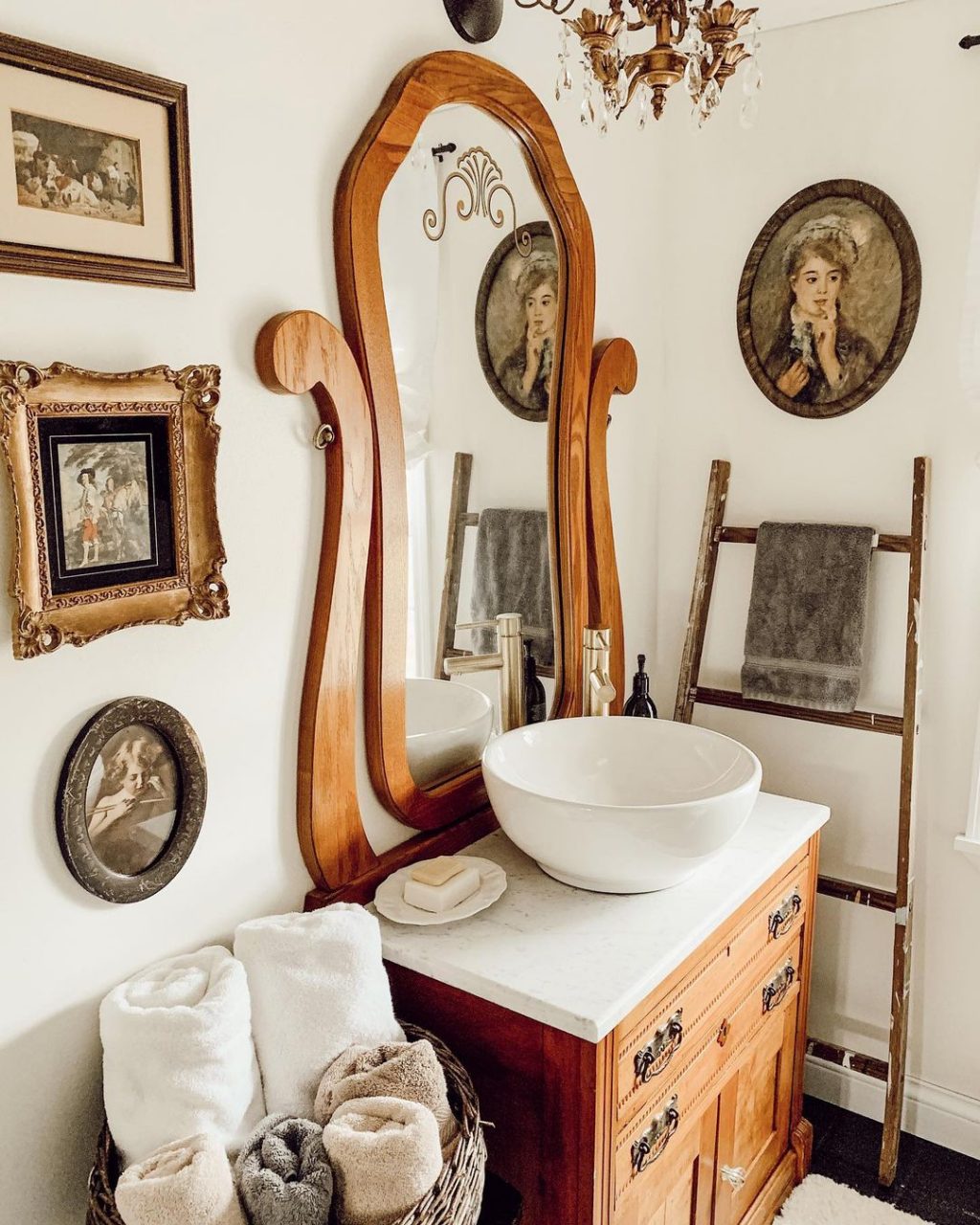 Make your bathroom feel delightfully cottagecore by using a vintage vanity. I also love how this bathroom uses a number of old photos and frames.
Cottagecore Front Entrance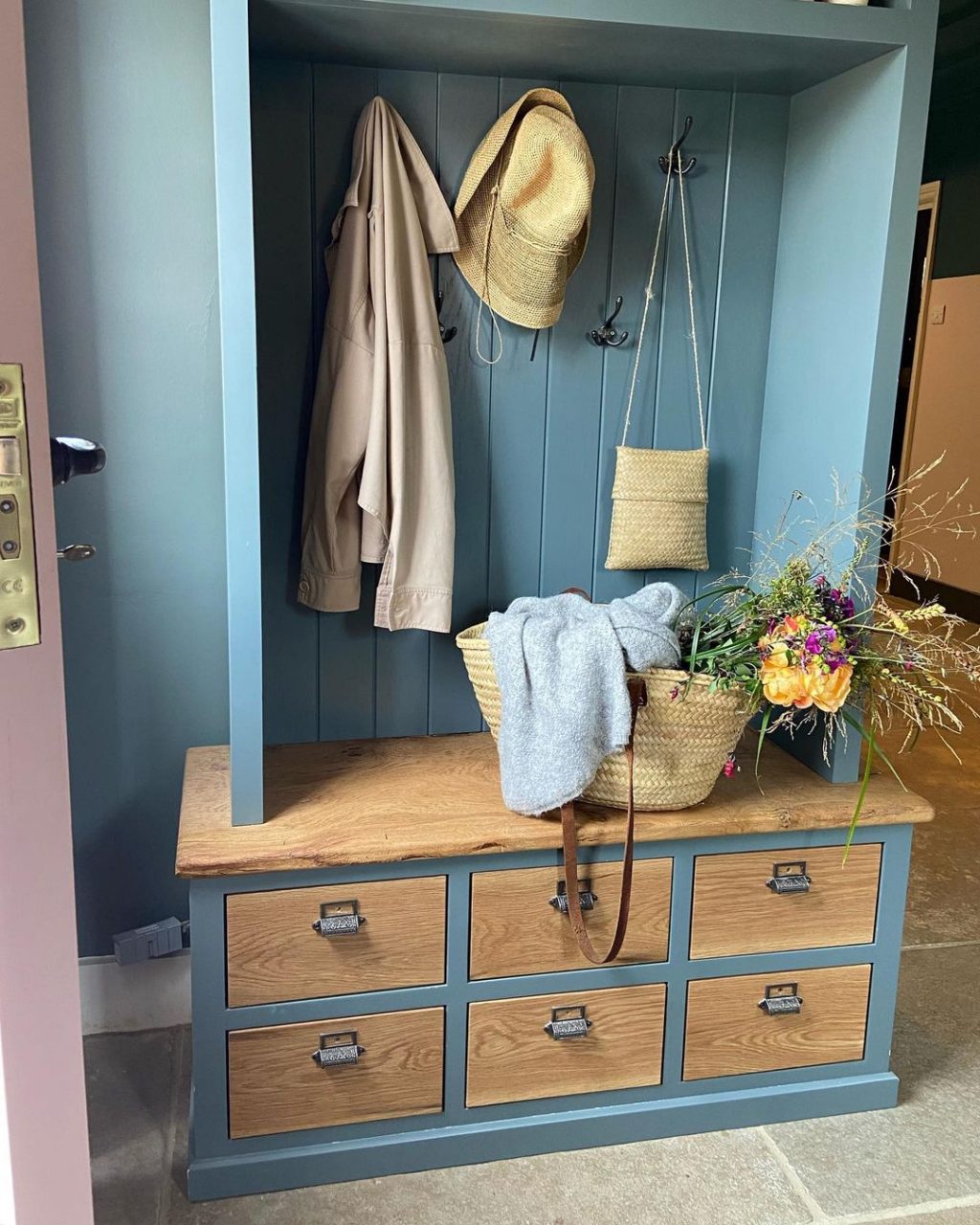 And what about the front entrance you ask? This entryway includes several aspects we've already discussed – wood, light blue, and of course a wicker basket full of flowers.
There are plenty of ways to start redecorating your home to the cottagecore style. Visit the thrift store and look for vintage prints, dressers, bed frames, perfume bottles, mirrors and frames – just to name a few ideas!
PIN THIS: