A quick and easy way to spruce up your bedroom or give it some much needed updating is by changing up your bed's headboard. But before you run out to a furniture store – know there are so many ways to create beautiful headboards yourself!
A statement headboard can create drama in a room or make it appear larger than it actually is. You don't need to be a carpenter to create your own headboard in a style that suits your space.
If you're up for a DIY bedroom project, here are 15 awesome headboard ideas for your bedroom makeover.
Triangle Wooden Headboard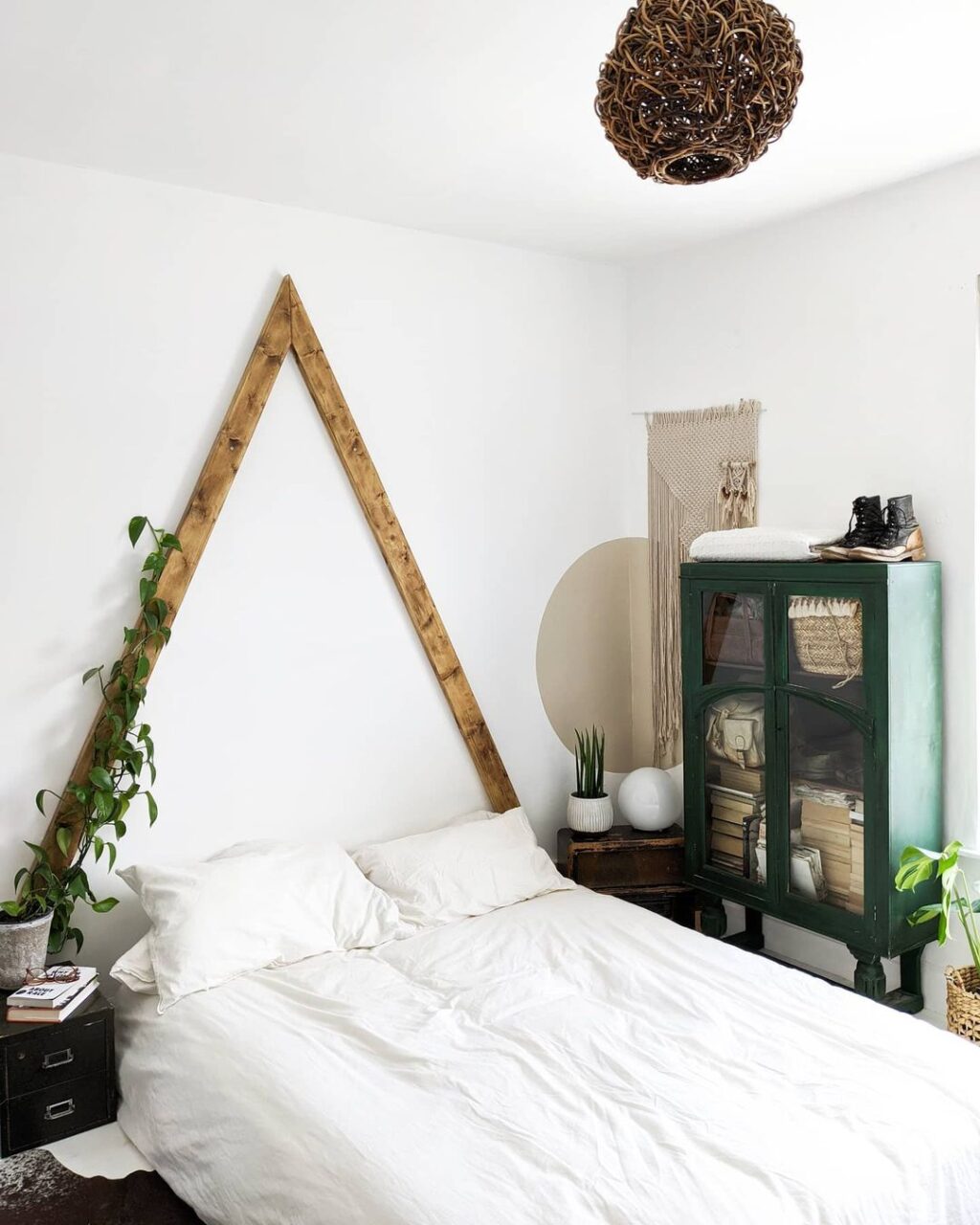 See what we mean by simple? This unique headboard requires only a few pieces of work but definitely makes a statement. We also like the vine that has been growing up the edges!
Woven Headboard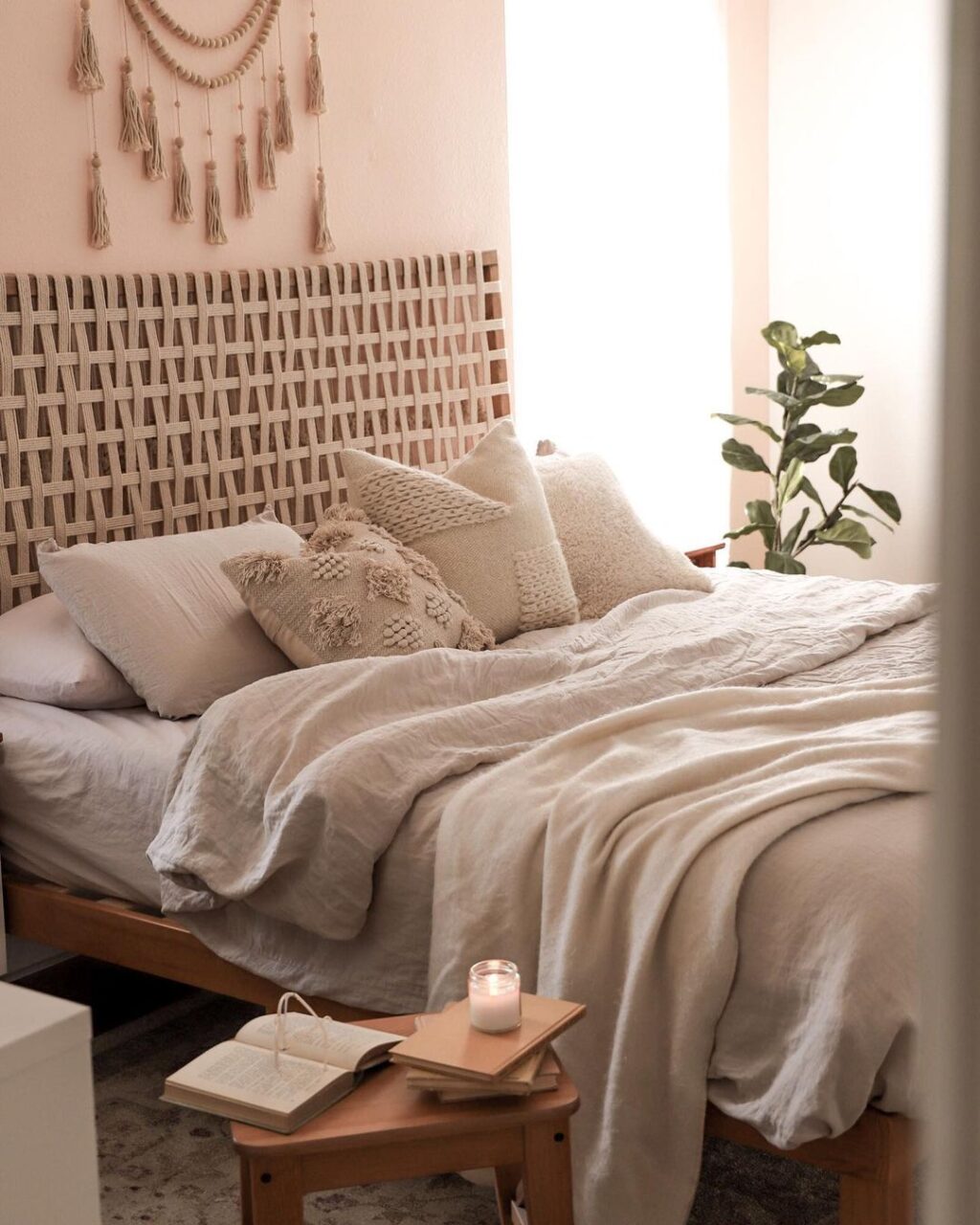 This hand-woven DIY headboard creates just the right amount of interest in this all-neutral bedroom. A headboard like this would require patience but the results are so worth it!
DIY Light-Up Headboard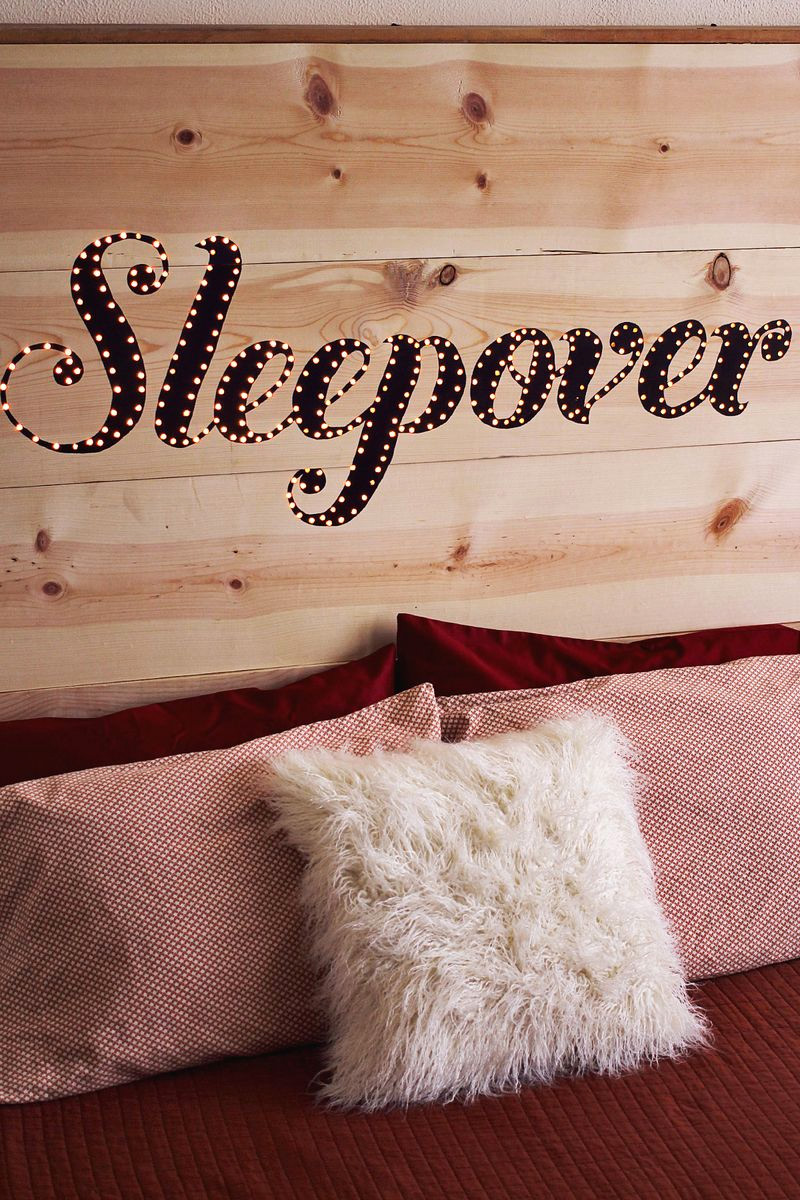 This feminine design incorporates wood and light elements for a fun headboard design. Choose any word you like and follow the DIY for step-by-step instructions on how to make your own custom light-up headboard.
Hanging Rug Headboard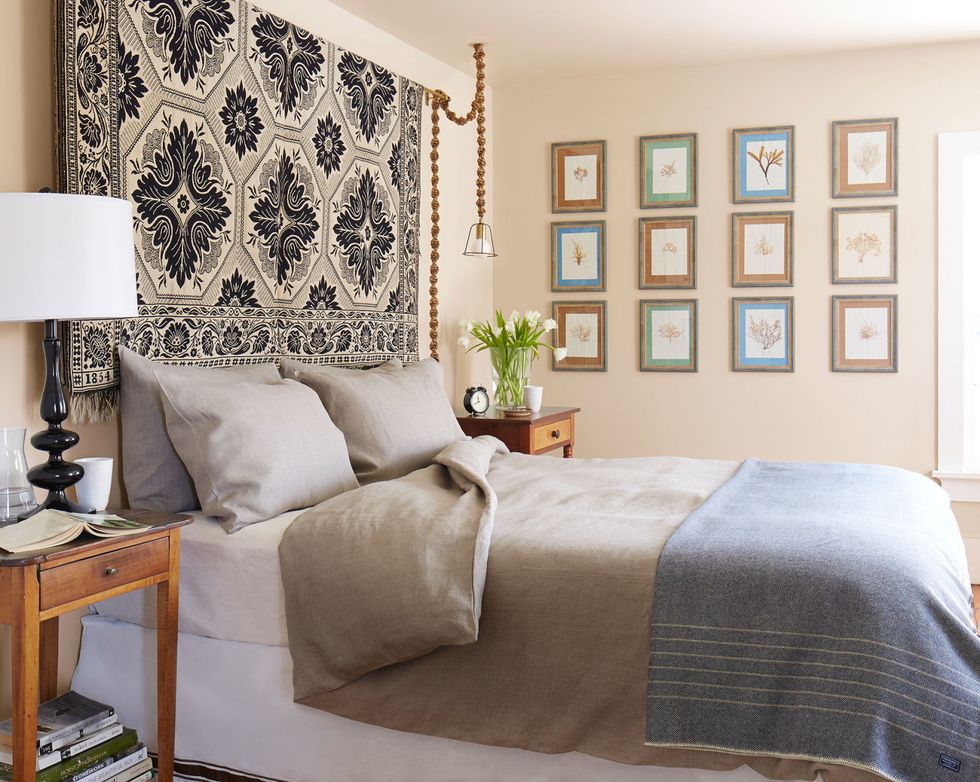 Try something unconventional and pick out an intricately designed rug to drape above your bed. Hanging it on a rod will keep it looking neat and taut, compared to the more relaxed look a wall tapestry normally has.
Angled Slat Headboard
Take an angled twist on a classic slate headboard with this easy DIY by Vintage Revivals. The headboard materials cost only $70 and with one hour of work time, that's a project with a high return on investment!
Moroccan Style Headboard Idea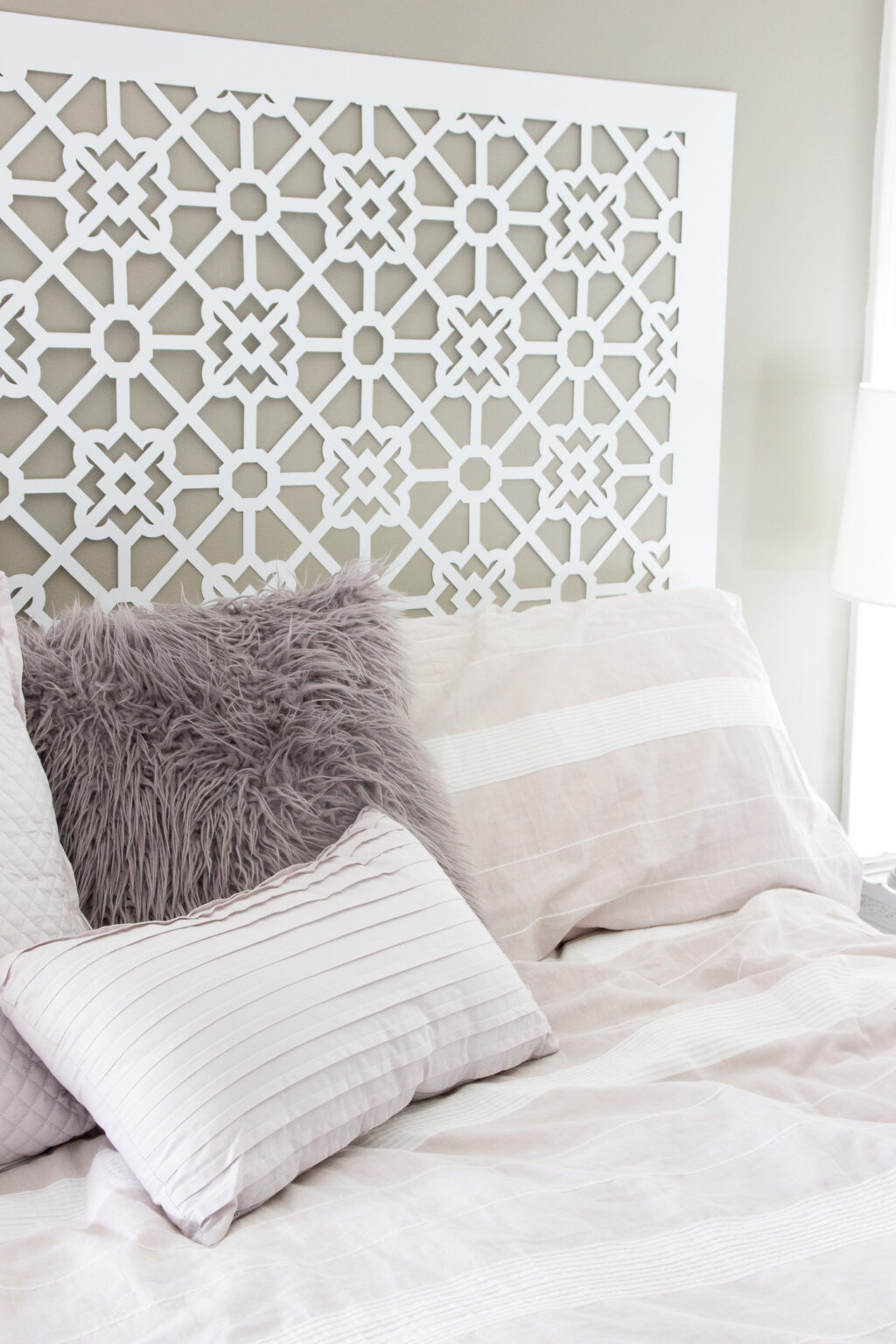 Not all unique headboards are born of DIYs – some are found in the least expected places! This headboard (created from a decorative laser cut panel) is a reminder that there are many objects that can be repurposed into a headboard.
Floor to Ceiling Wood Slat Headboard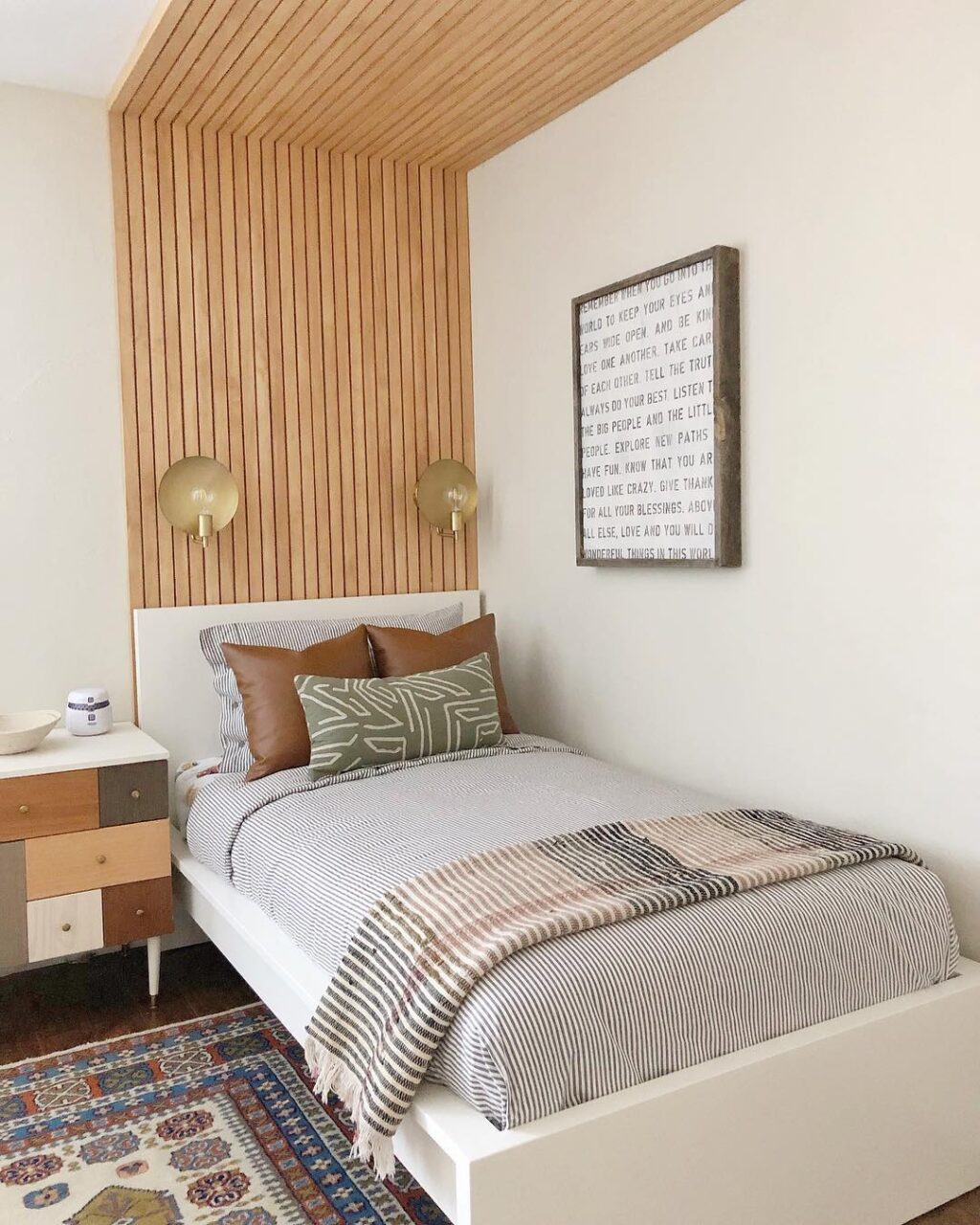 With floor-to-ceiling slates, this headboard adds an architectural element to the bedroom while also creating the appearance of higher ceilings. We also love the simplicity of the headboard lights that are attached.
A Headboard Made of Books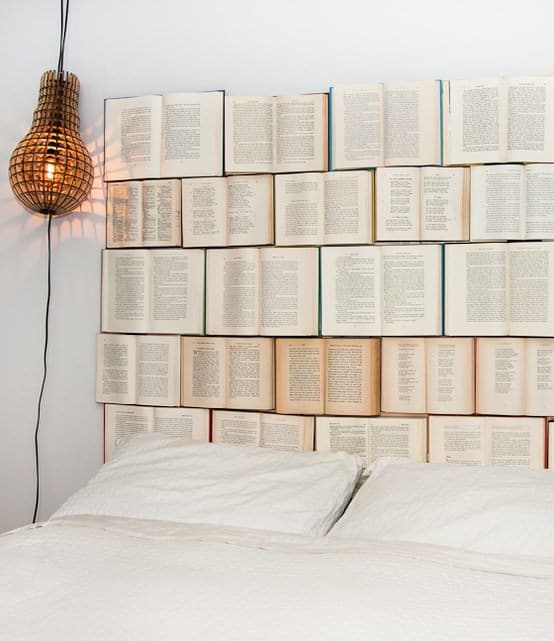 For the bookworm, this headboard uses old books and simple plywood to create a one-of-a-kind piece for your bedroom. It will also remind you to put away your phone and instead pick up a novel before bedtime.
Long DIY Tufted Headboard
Put a twist on a traditional velvet headboard and create your own using simple materials like fabric, wood, scissors, foam and a staple gun. We really love how much of a statement this piece is – much larger than anything you'd find for a reasonable price in a shop!
Hanging Pillow DIY Headboard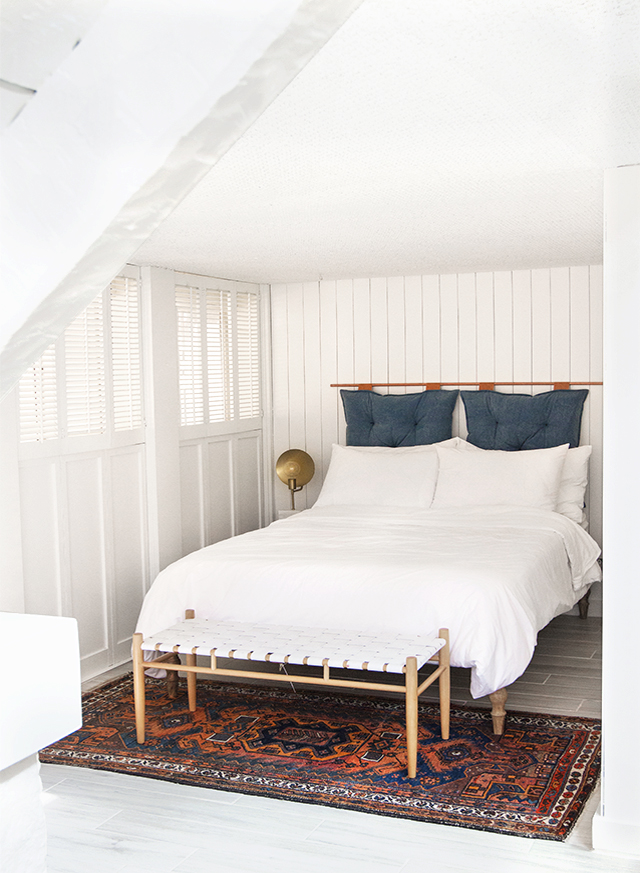 When it comes to bedrooms, the more textiles, the better. This headboard made with hanging pillows adds even more comfort and warmth to this bedroom.
DIY Rug Headboard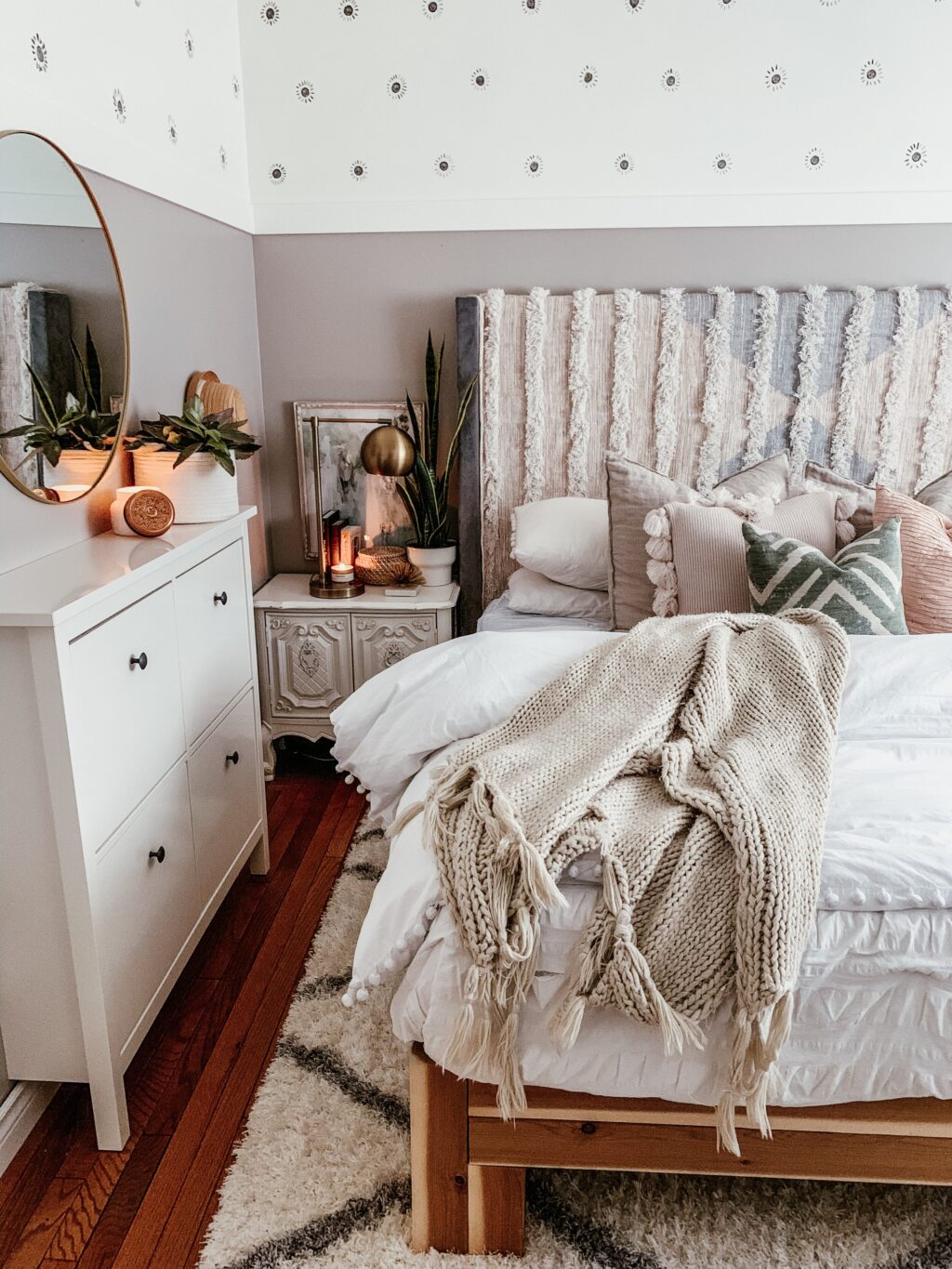 Can't find a headboard with quite the right texture? Pick a rug, any rug, and create your own totally unique headboard.
Mesh or Cane Headboard Do-it-yourself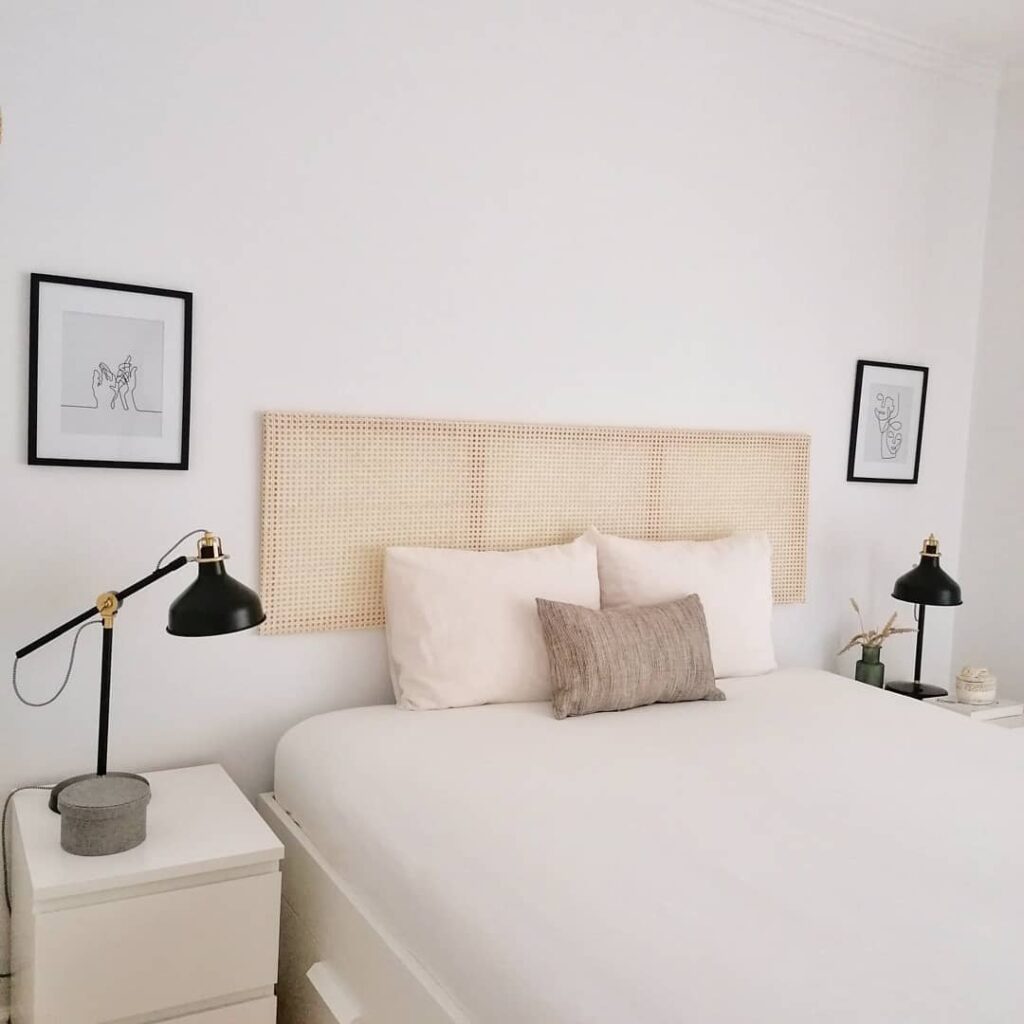 This inventive headboard DIY uses a mesh-like fabric on a wood frame. It's a simple project but one that certainly adds to the detailed yet minimalistic style of the bedroom.
Eclectic Headboard Made with Tiles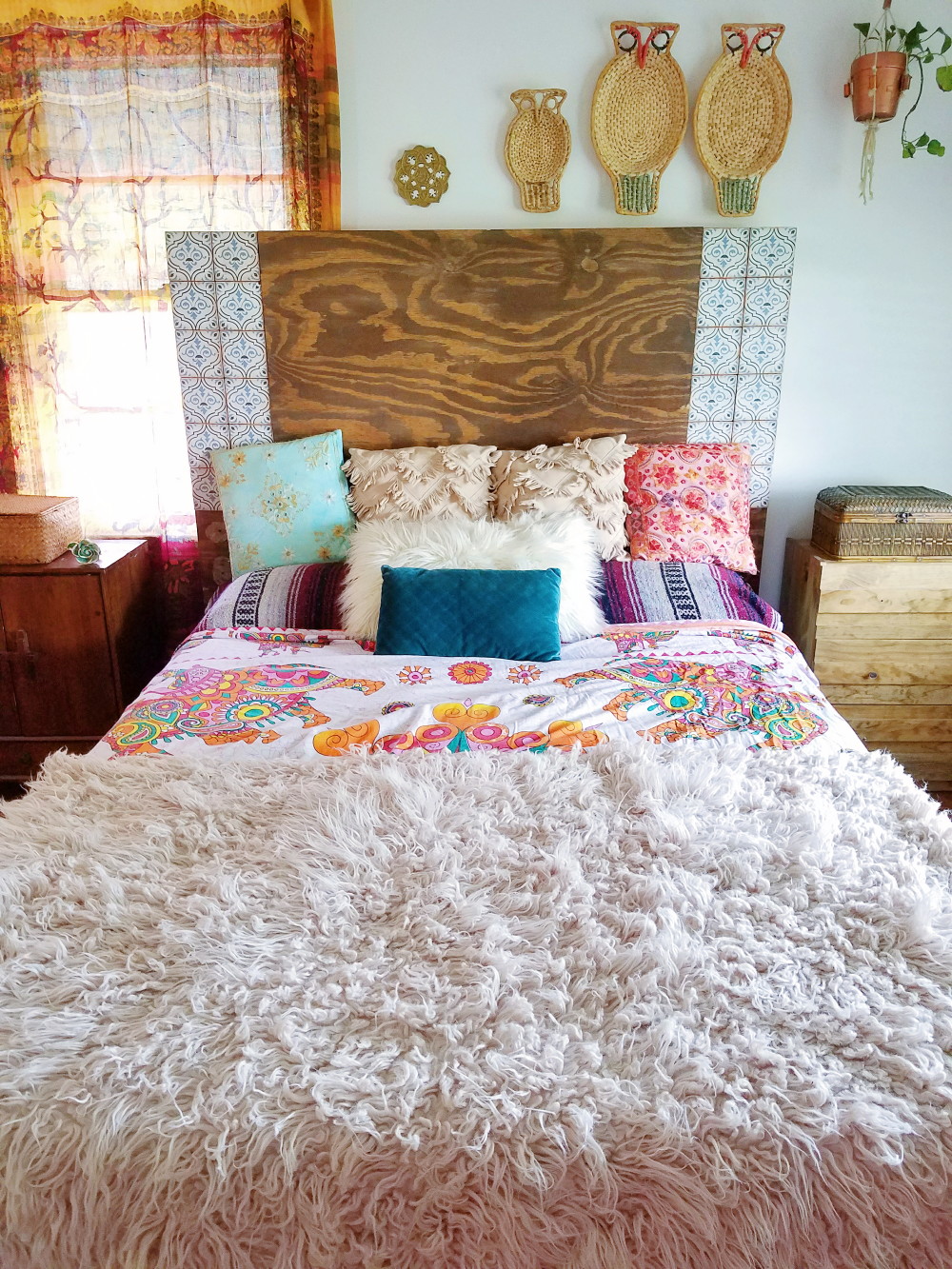 If you love the tiles of Spain and Portugal then you will love this DIY tiled headboard. There is something very eclectic and fun about mixing colours and patterns!
DIY Faux Flower Headboard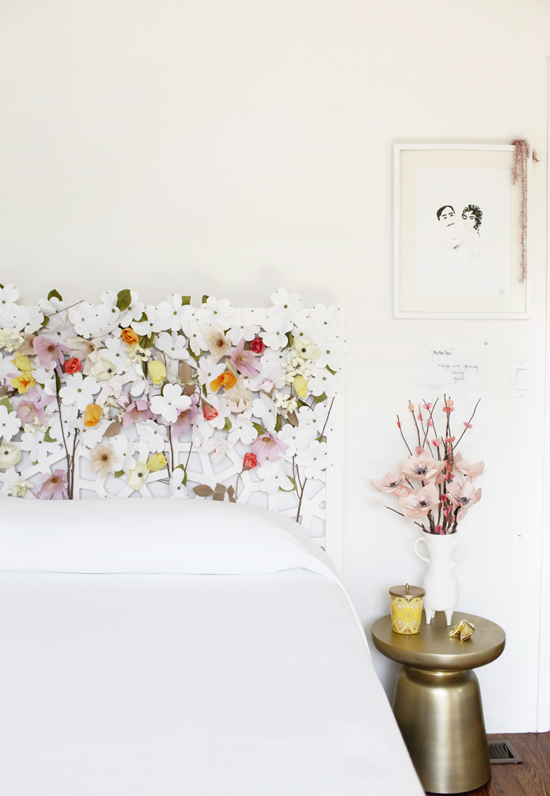 This sweet and creative headboard is for the true floral lover. If your headboard already has spaces in it (like many listed above), this is also a temporary design option for spring or summer for when you need a little something more.
Woven Wool Headboard DIY Project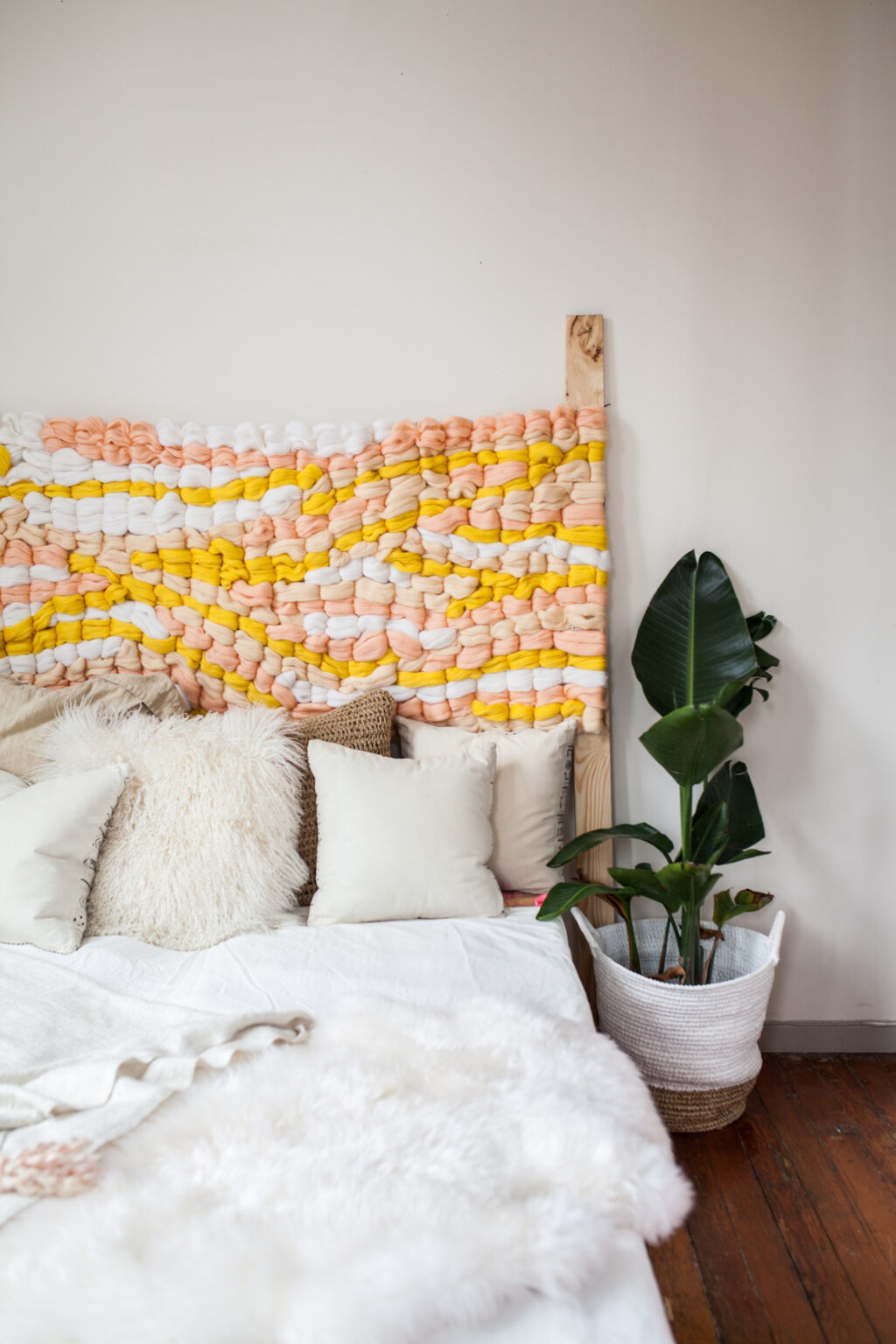 It's soft, it's colourful, and it's a super fun project when giving your bedroom a little makeover! The DIY is fairly simple for beginners and can be customized with your colours of choice.
PIN THIS: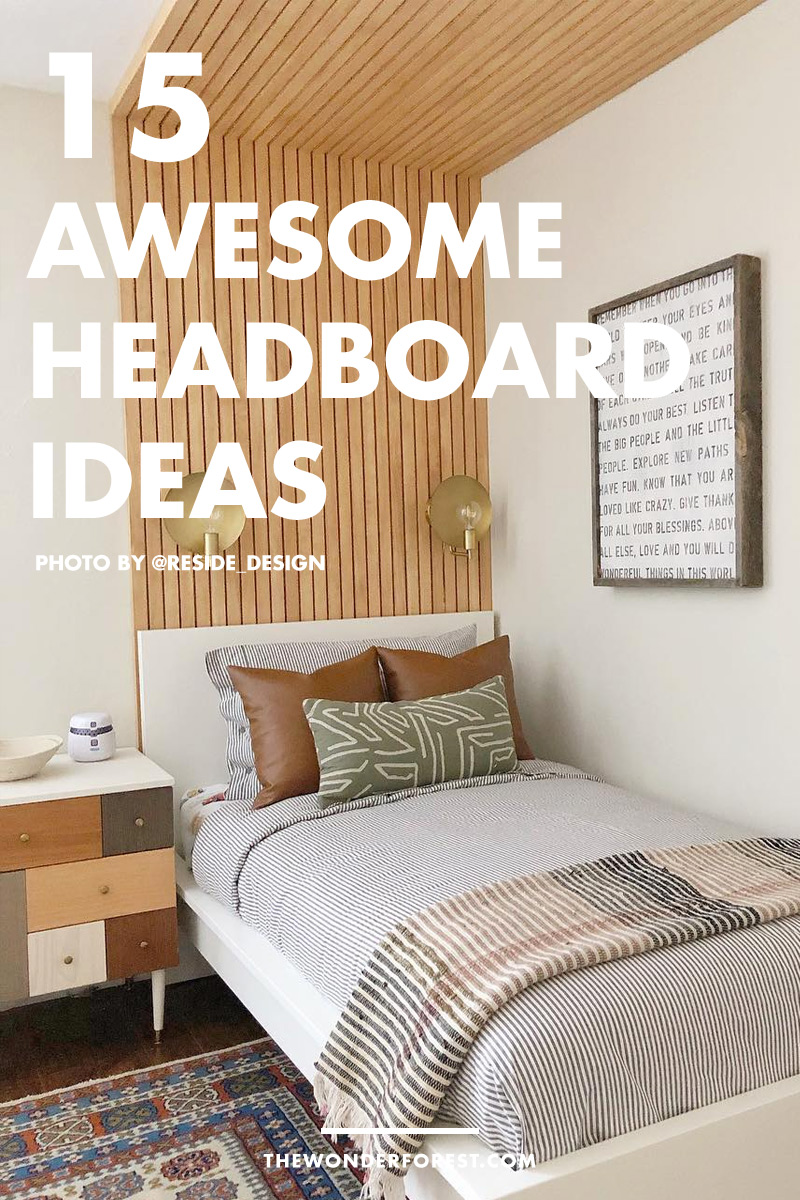 Last Updated on