Mirrors are both practical and stylish — providing a place for you to check your outfit before you get out the door, while also bouncing light throughout the room creating the illusion of a larger space. Arched floor mirrors are a huge trend this year, and luckily there are options for every interior style and budget.
Gold Arched Floor Mirrors
One of the most trendy and classic looks for an arched floor mirror features a simple gold trim. These mirrors are unassuming yet sophisticated and blend in well with many of the current home decor trends.
1 – Hubba Arched Leaning Mirror | $135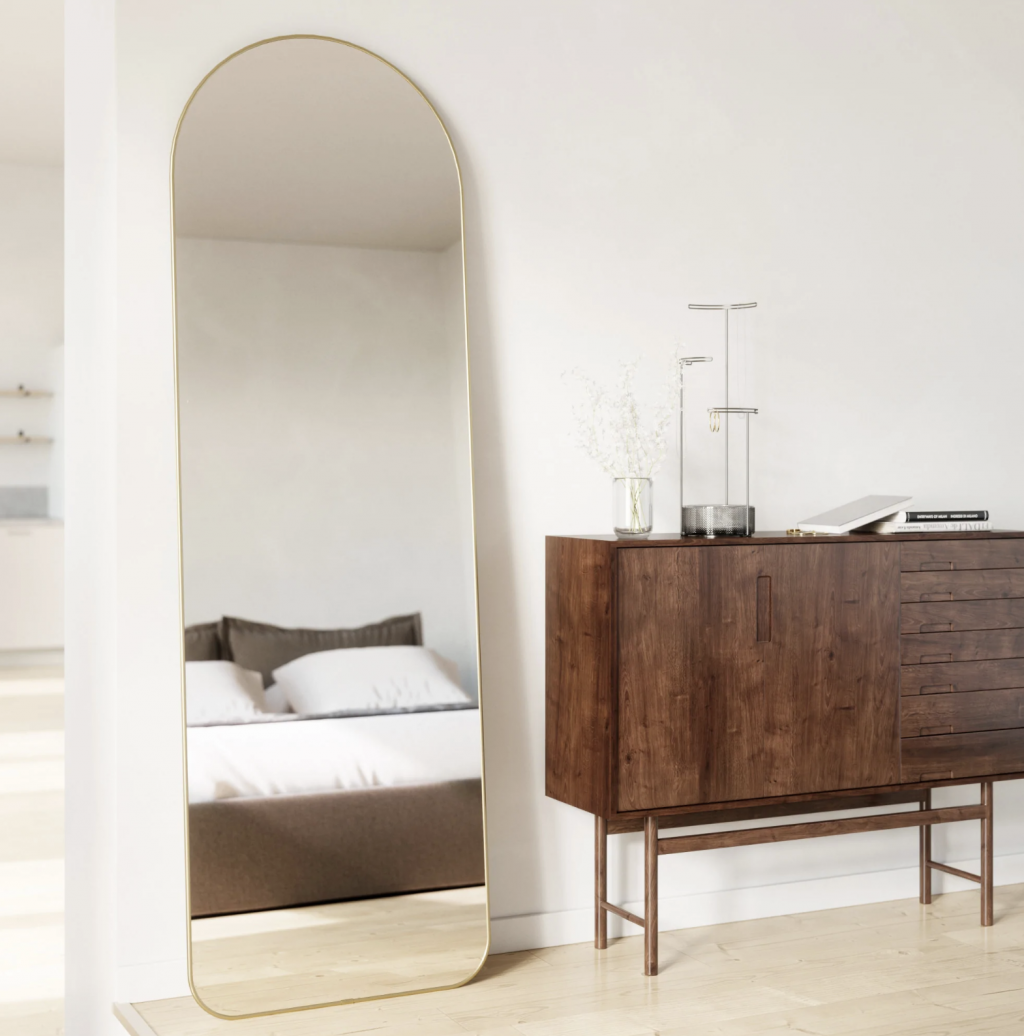 Created by minimalistic brand Umbra, this floor length mirror is an easy addition your room. It can be installed just leaning against the wall or mounted, depending on the look you're going for. Plus, it's a steal at only $135 (on sale now)!
2 – Greta Sleek Arched-Top Wall Mirror | $303.99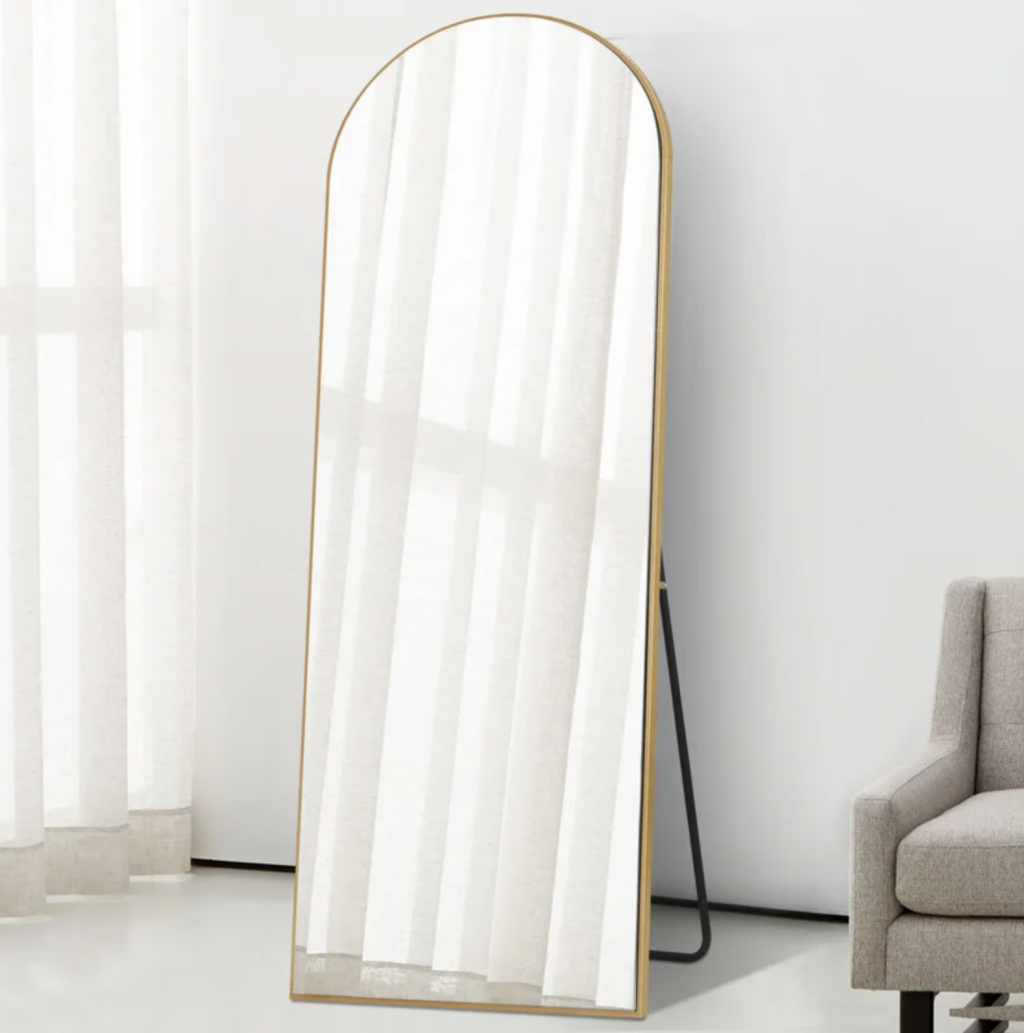 Very similar in design to the Hubba, this mid-range arched floor mirror has sharper corners on its lower edges and also features a stand which means it doesn't necessarily have to be leaned against the wall to remain upright.
3 – Aosta Brass Arch Cutout Floor Mirror | $799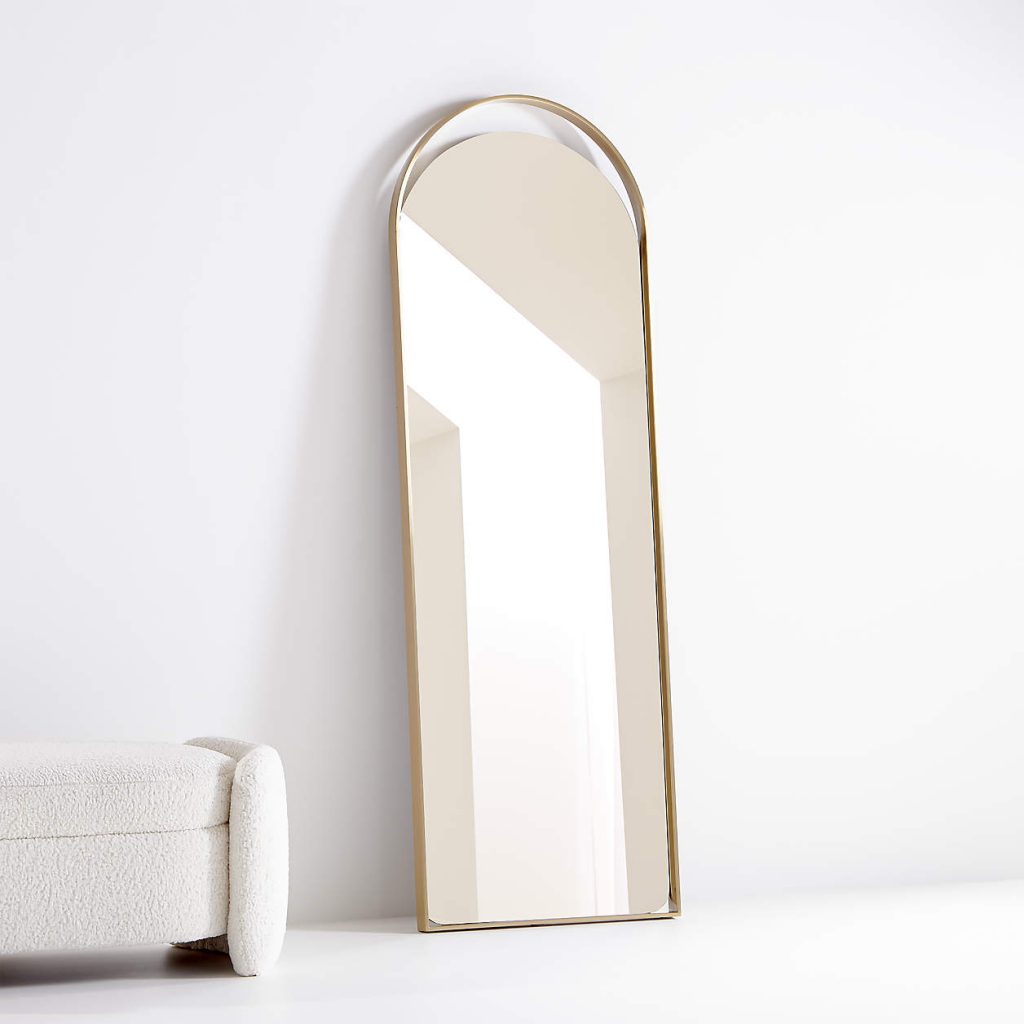 Coming in at the more expensive range for mirrors is this beautiful arched floor mirror by Crate and Barrel. The added cost will buy you a unique detail at the top of the mirror – a cutout that adds visual interest.
Boho Arched Floor Mirrors
Next up for arched floor mirrors, we have a collection which aligns with a boho sense of style – whether you're home is filled with rattan or wicker, these beautiful mirrors will fit right in.
1 – Arcola Arched Bamboo Mirror | $243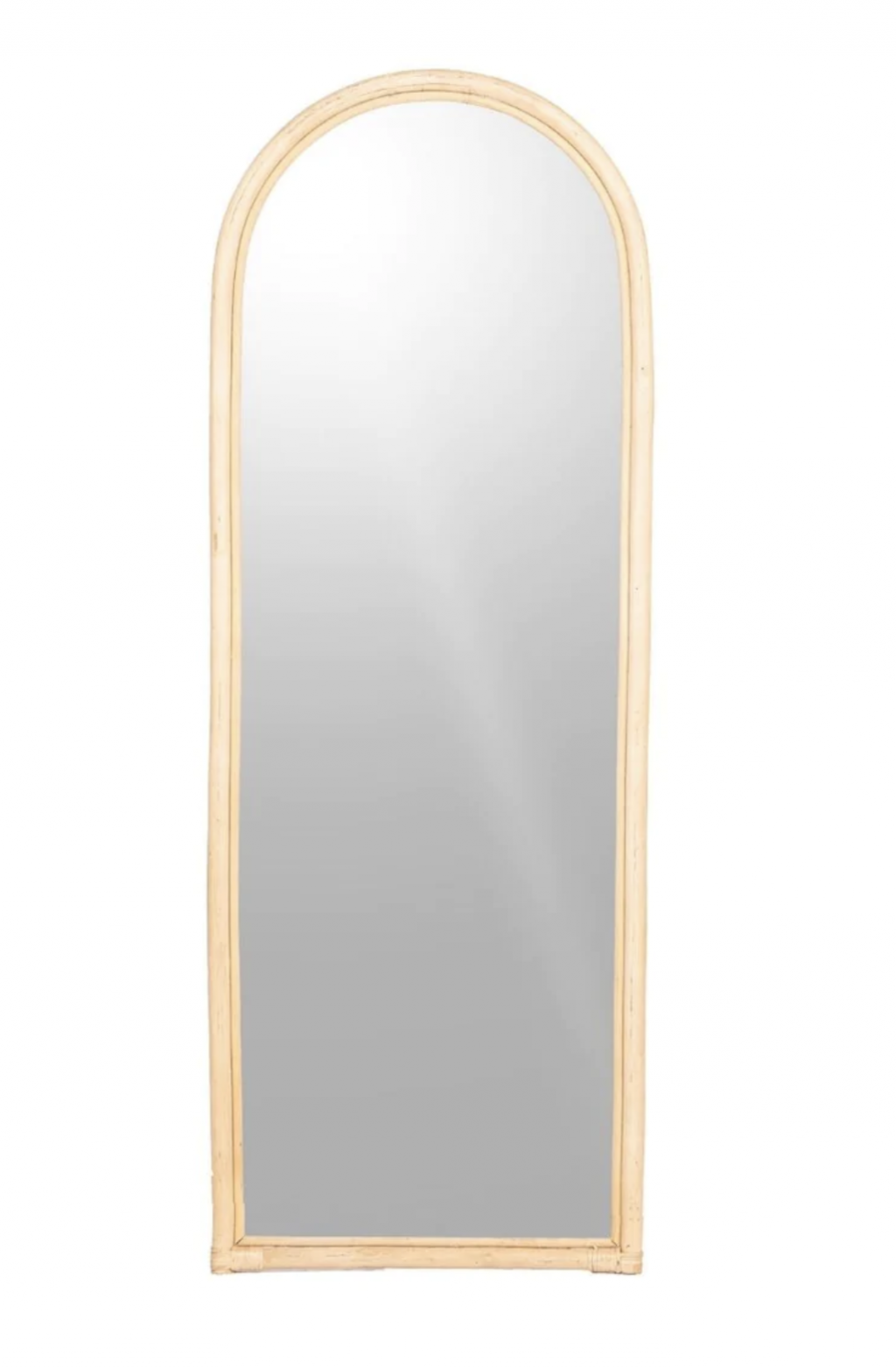 One natural material that can bring a little boho element into your home is bamboo. This budget-friendly arched floor mirror is ideal for your white space that already features touches of natural fibres.
2 – Skye Mirror | $798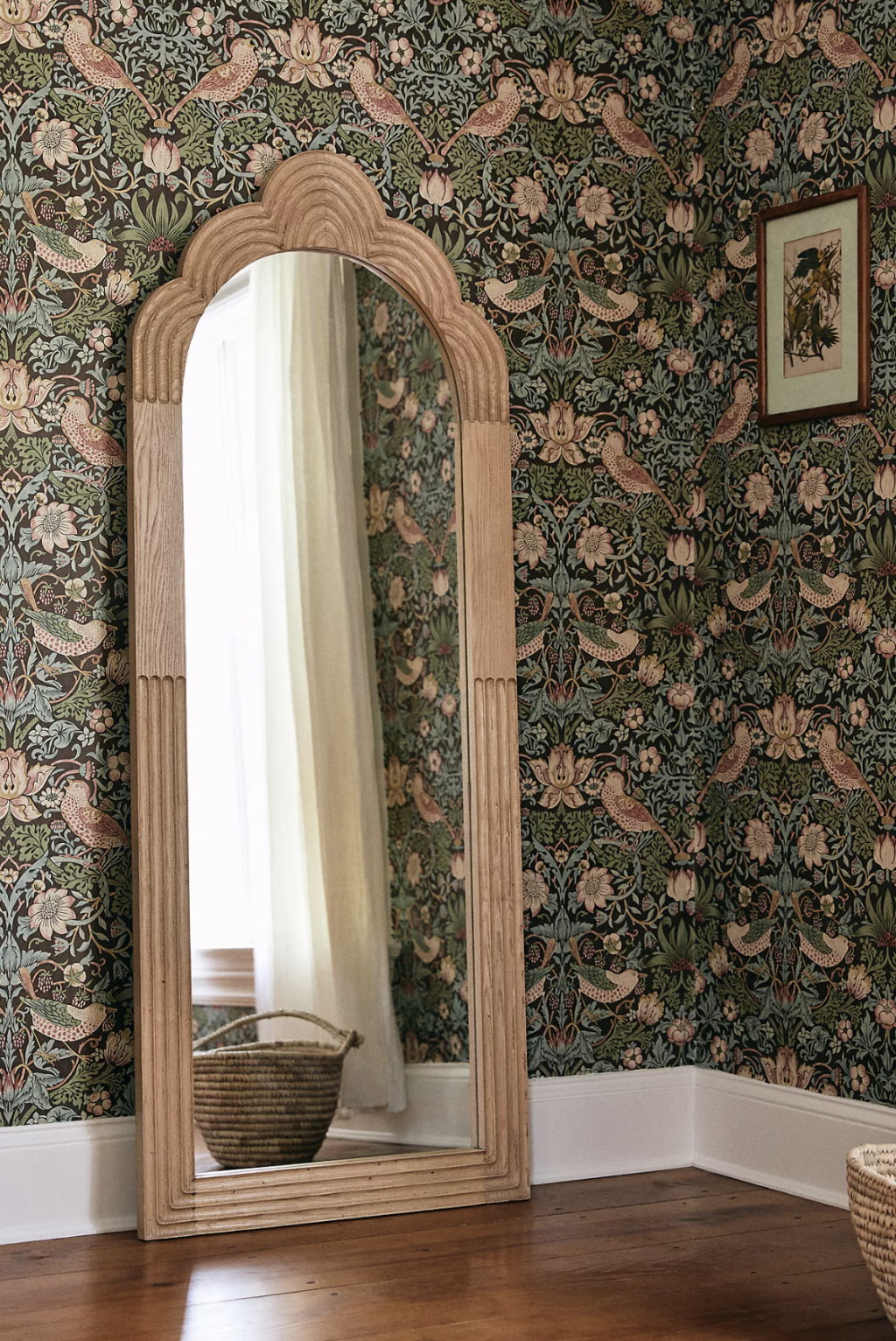 Has there ever been a more gorgeous standing mirror than the Skye Mirror from Anthropologie? Made in an intricate boho style with handcrafted oak and hardwood. We're in love!
3 – Lombok Arched Mirror Webbing Ratan| $1337.89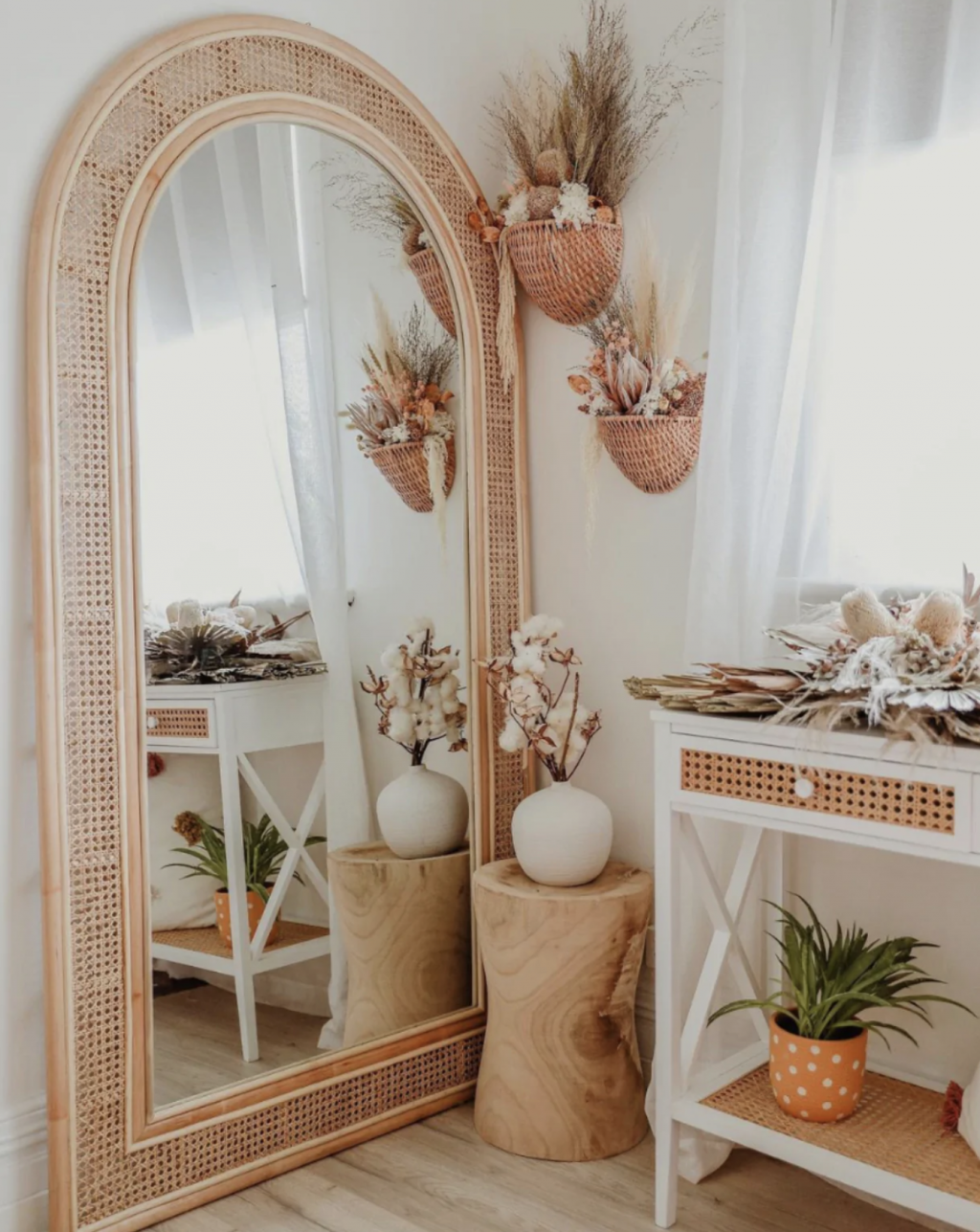 Meet the ultimate boho mirror! This striking piece is sold from Casa Chic, a website that caters directly to a bohemian lifestyle and design. This will match all your webbed furniture perfectly.
Embellished Arched Floor Mirrors
More into maximalism? Make the luxurious and regal room of your dreams with these detailed and embellished arched floor mirrors that add unique ornate flair.
1 – Eliza Large Arch Free Standing Mirror | $425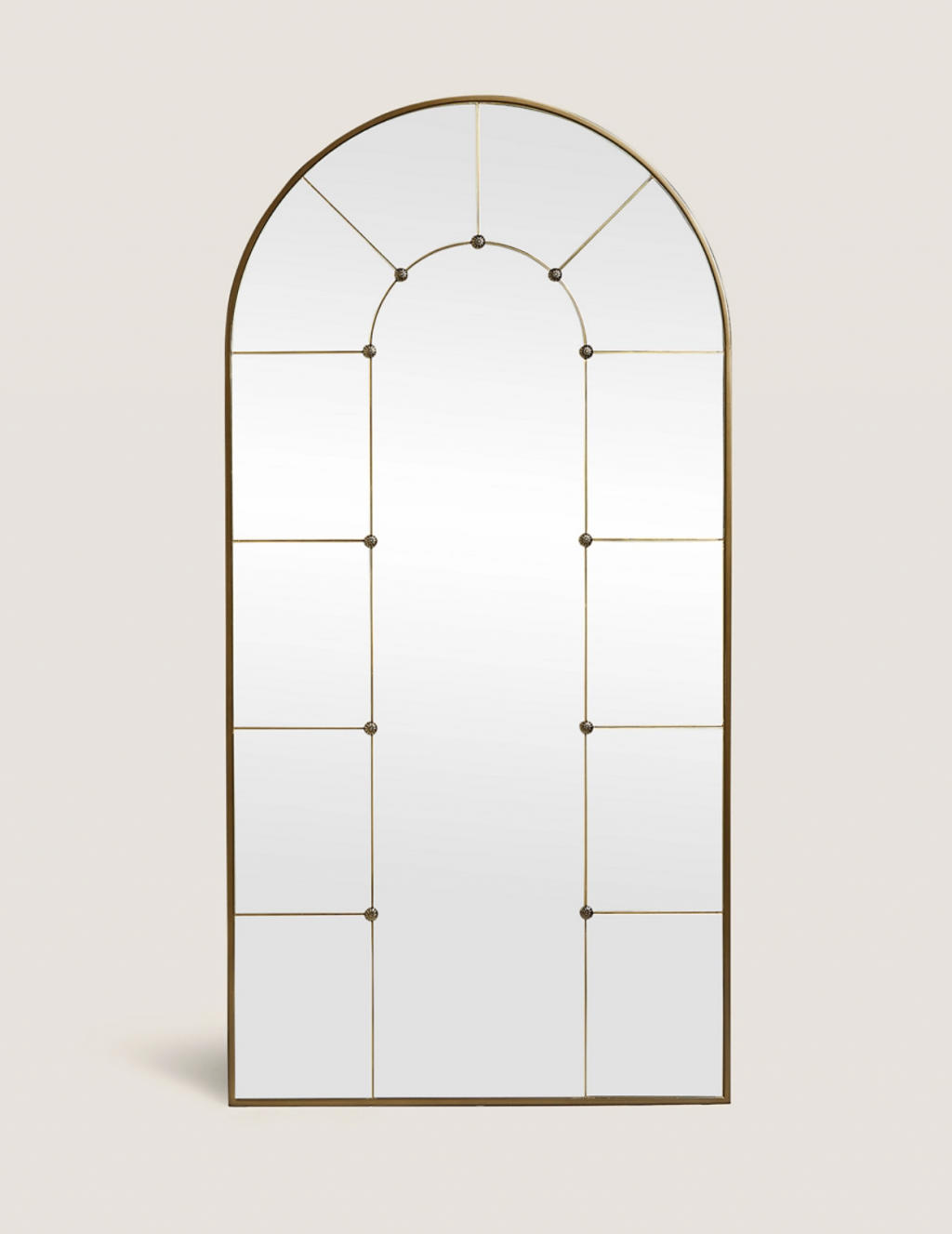 This free-standing mirror is more of a decor piece than a check-out-your-outfit piece, given its 4 foot height and its pretty geometric framed panels. We're getting art deco vibes!
2 – Adelaide Floor Mirror | $598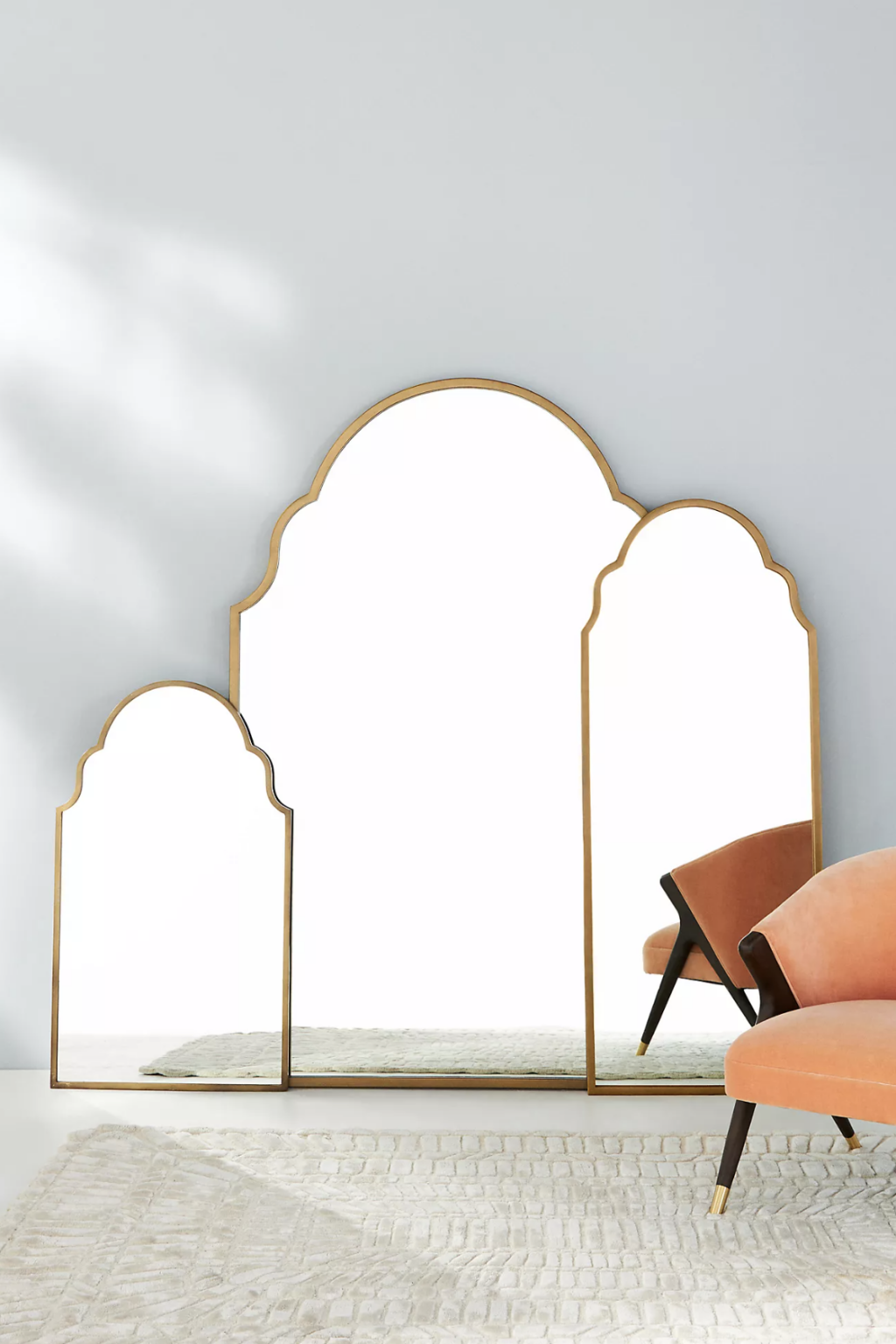 This timeless floor mirror design has just enough detail to feel fancy, with its elegant curved top and gold trim. There are several sizes available, but the floor length option comes in as our mid-range option at $598.
3 – William Antique French Vintage Mirror | $1264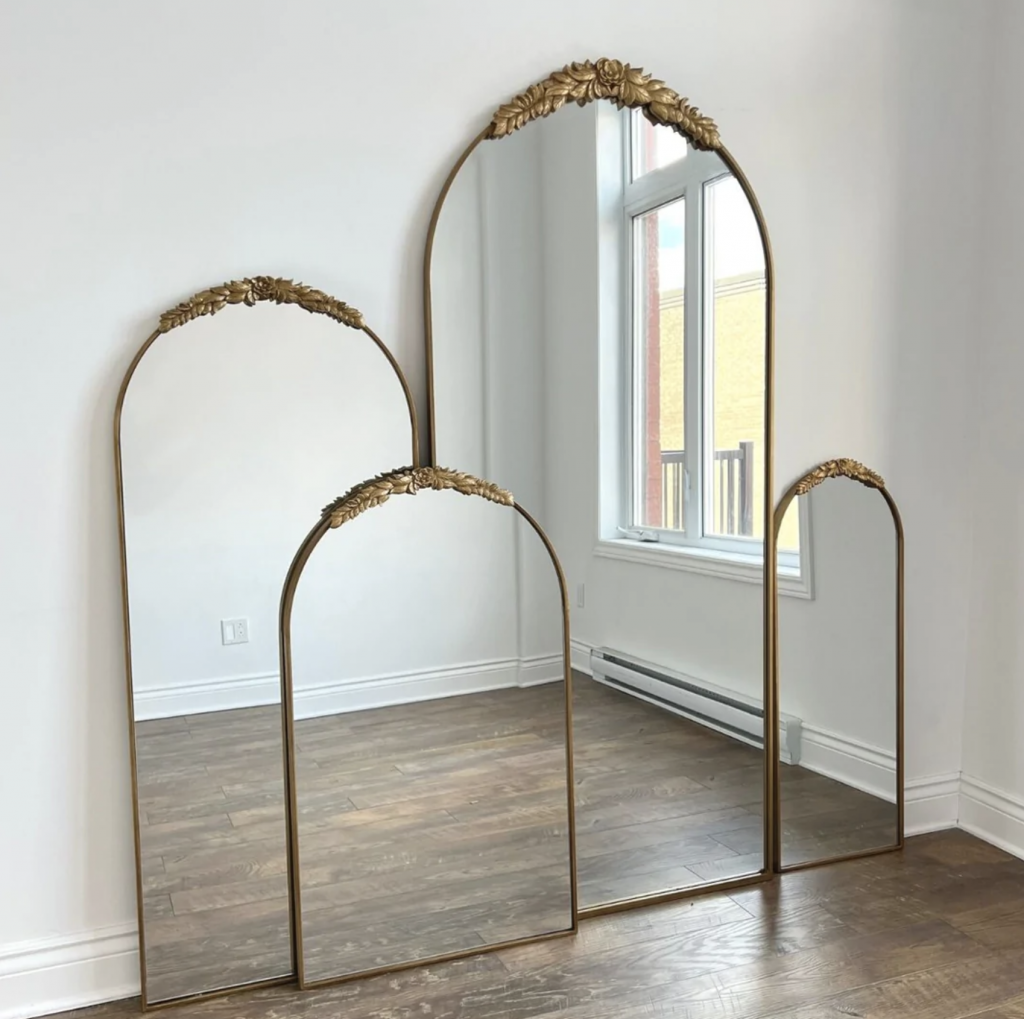 While there are several sizes of this mesmerizing french vintage floor mirror up for grabs, it will cost you $1264 to grab the 72″ floor length version, making it the most expensive for this category.
Wide Arched Floor Mirrors
If your goal is to add depth and the illusion of space to a smaller room, go for a wide arched floor mirror. While this option takes up more space, it will actually make your room look bigger by reflecting a ton of light.
1 – Gold Large Arch Mirror | 629.99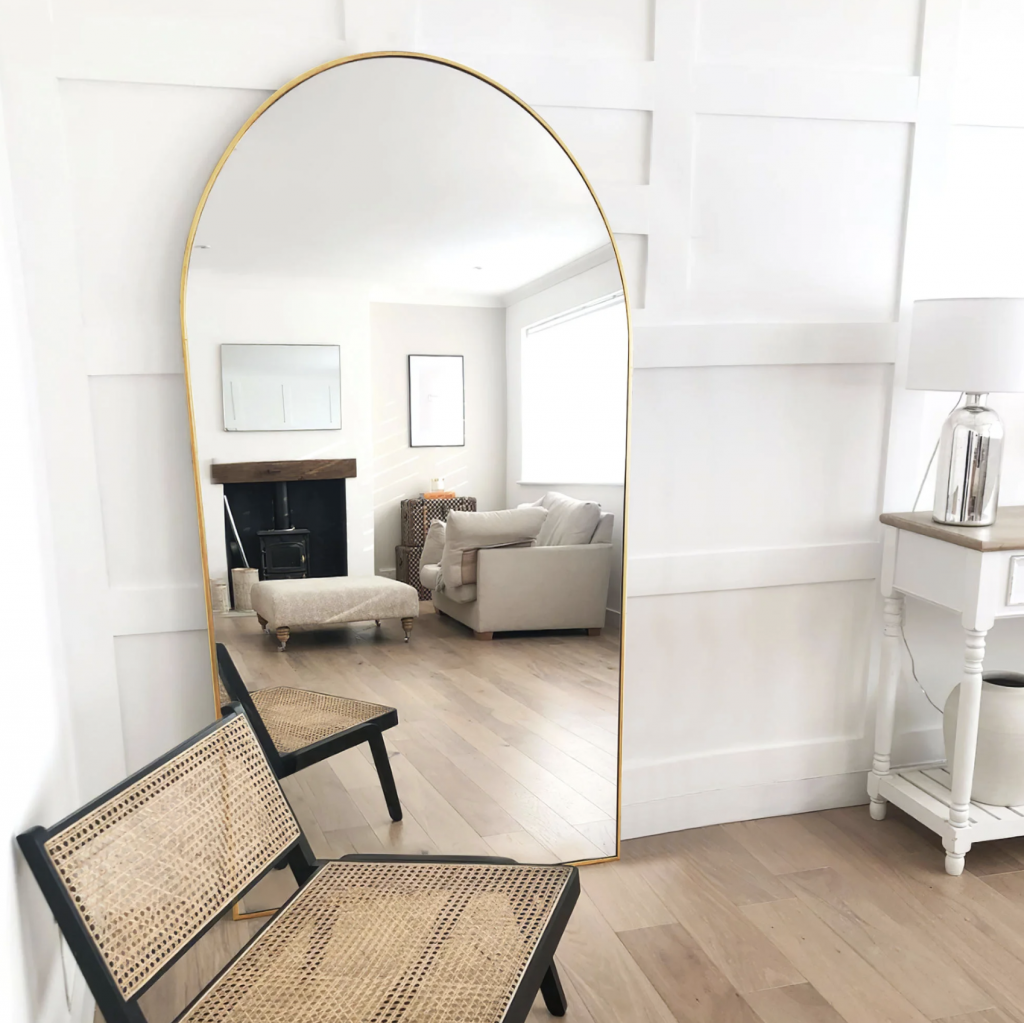 Wayfair is an excellent online store to look for mirrors on, simply because they carry a variety of brands, inventory and price ranges. Naturally with wider mirrors you will be paying more than a standard size, but it's worth it for the gorgeous design!
2 – Gloss Floor Mirror | $899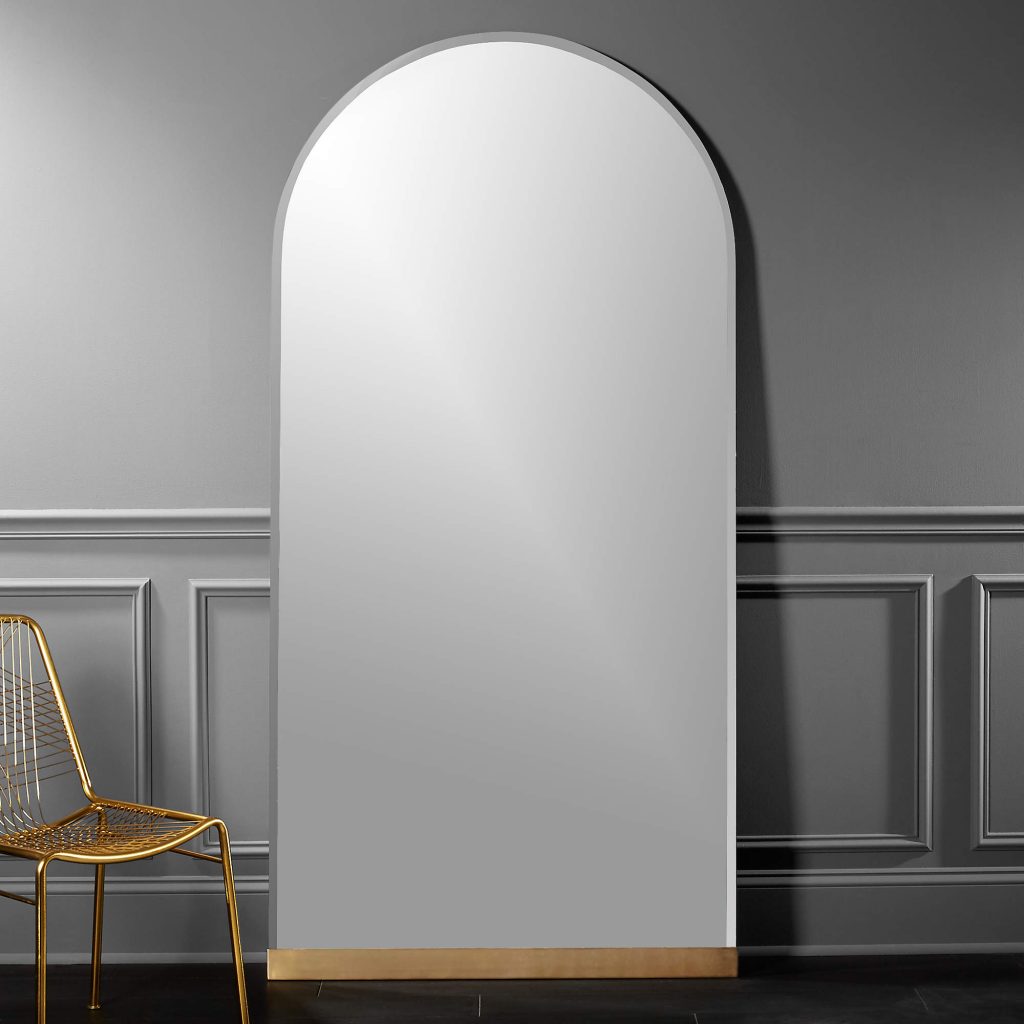 Now here's an arched floor mirror that makes a statement! It's modern, sleek design is slightly different than the others on this list and that makes it more than worth the $899 price tag. Be sure to bookmark this one as CB2 often has some pretty good sales.
3 – Streamline Wide Arch Oversized Floor Mirror | $1154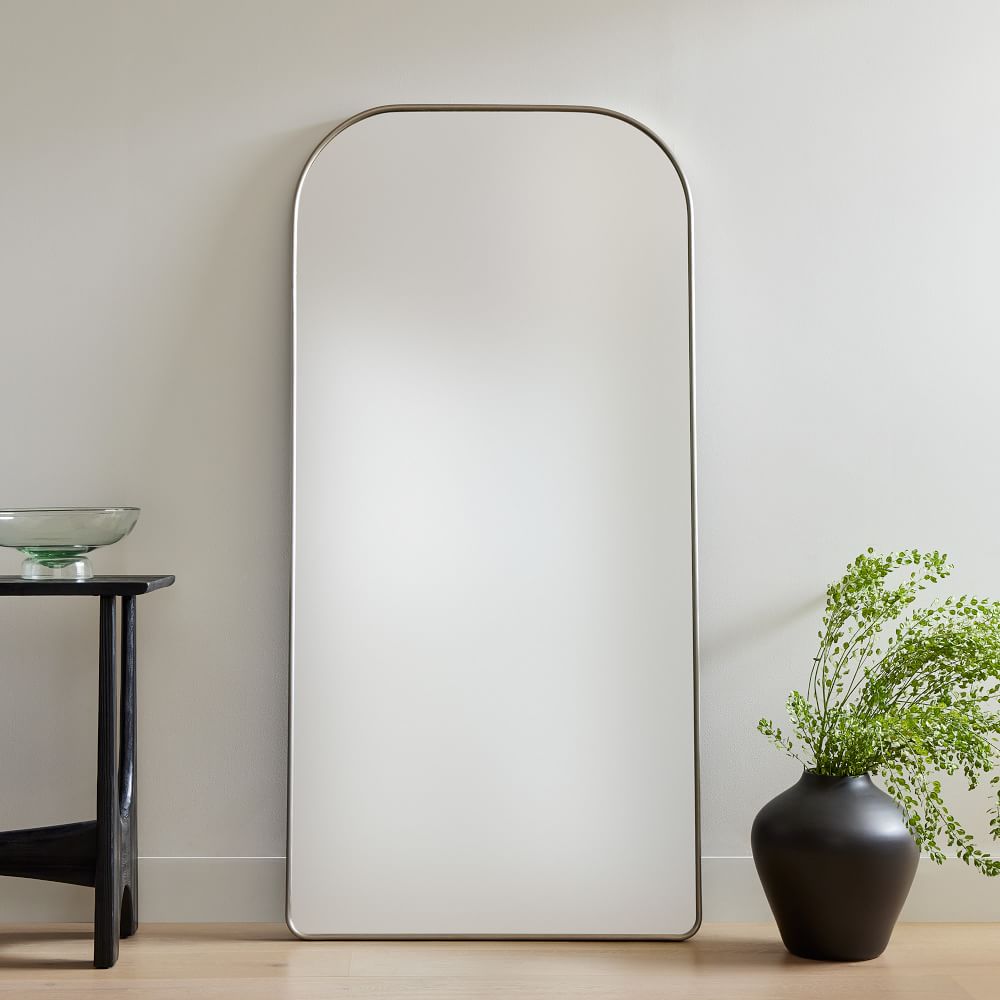 Our most expensive option, this mirror from West Elm is both elegant and bold. But with a thin frame, it can really blend into any living space effortlessly.
Wood Framed Arched Floor Mirror
If you like to bring natural elements into your interior design or favour Scandinavian sensibilities, consider an arched floor mirror with a wooden frame.
1 – Arch Wood Leaning Mirror | $299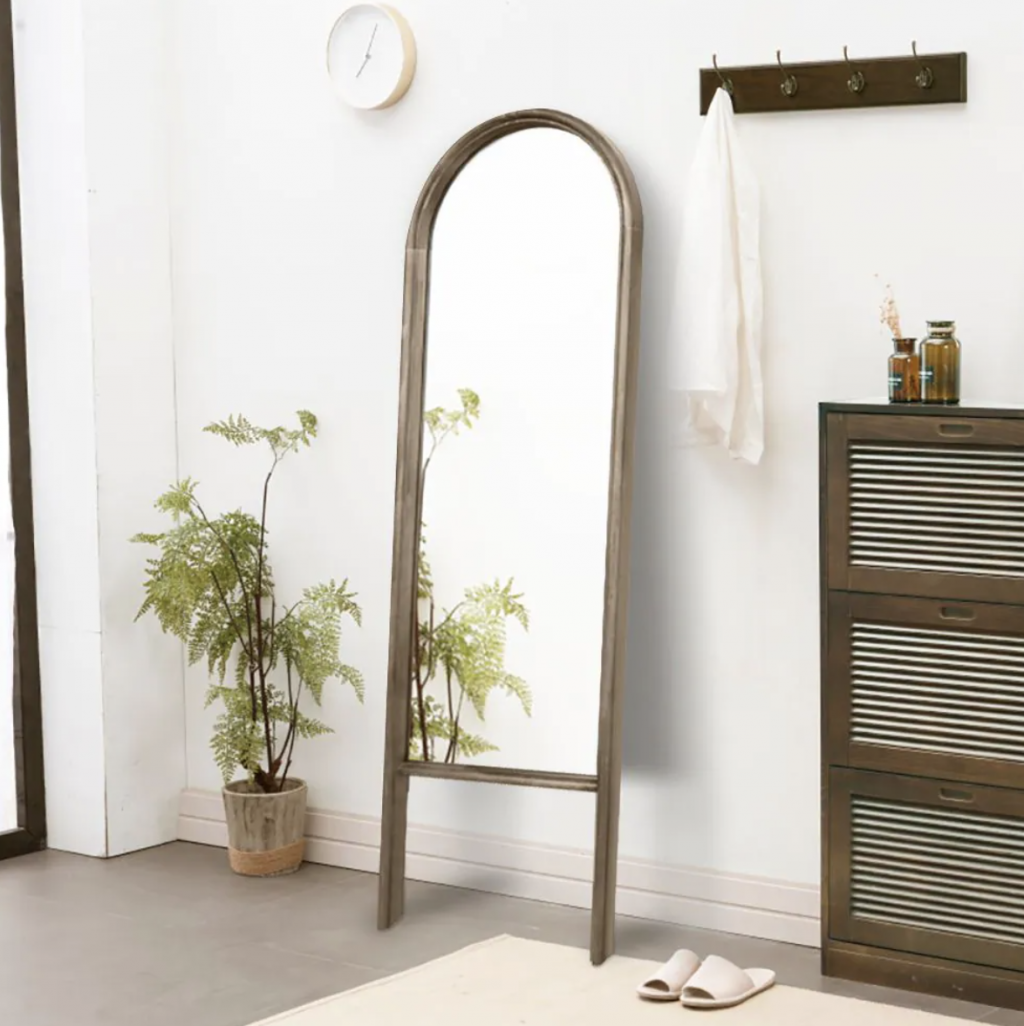 Here's a great wooden arched floor mirror option for those on a budget! Featuring a pinewood frame, the raised legs adds dimension and openness to the space. Great for entry ways!
2 – Natia Oak Arch Floor Mirror – $899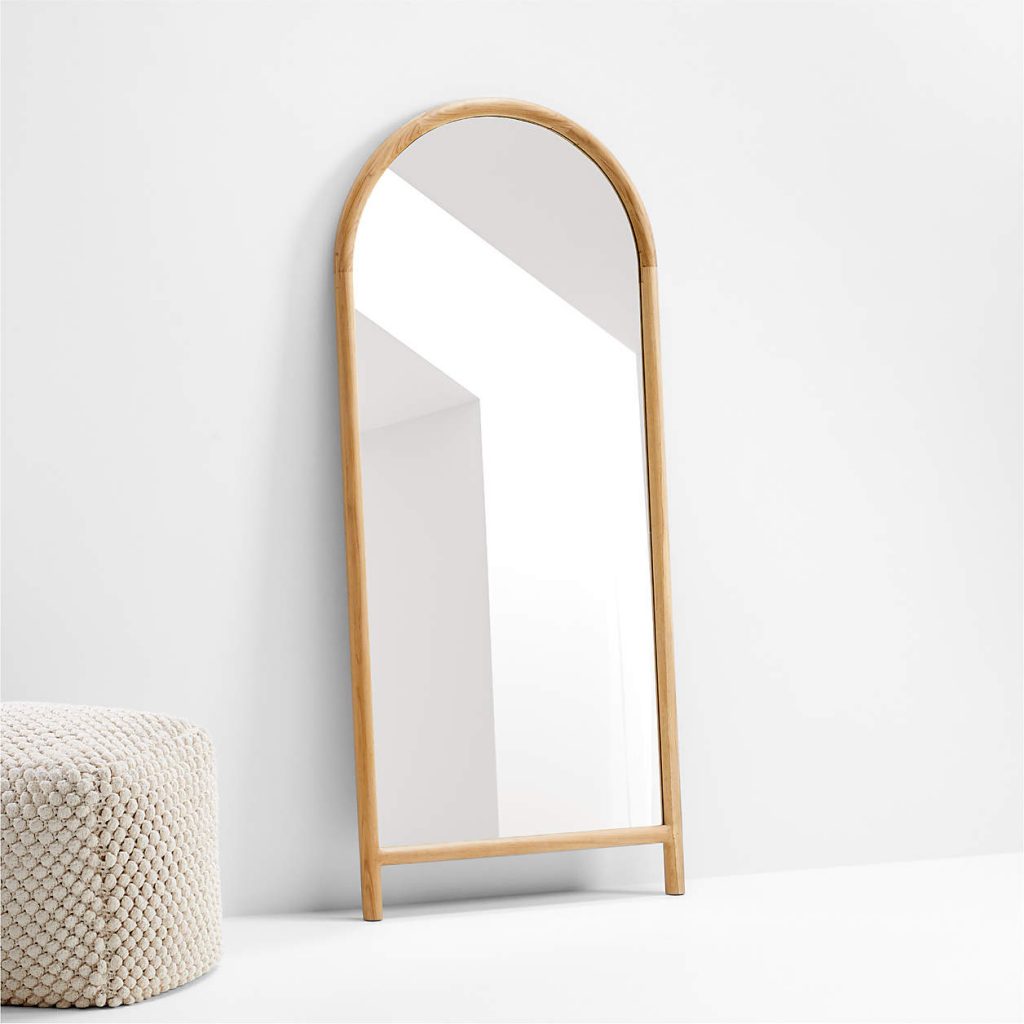 One step up from our last option but with a very similar look is this stunning arched mirror from Crate & Barrel. Made with an oak frame, it's the elegant curves of the wood which make the price justifiable.
3 – Milena Floor Mirror | $1649.99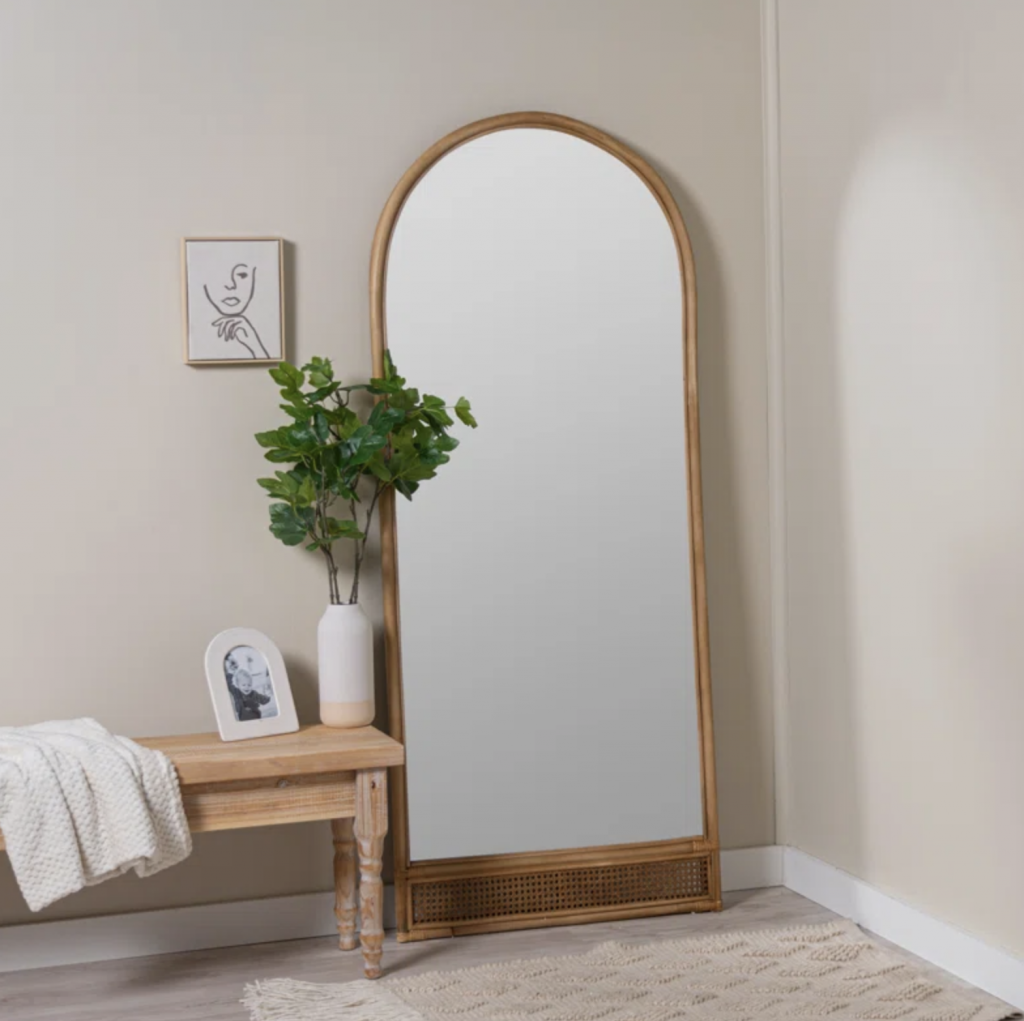 At a more premium price, this rattan wood framed mirror features a large profile and detailed design to add that special touch to your home. It also crosses over slightly with our boho category, if that's the style you're going for!
PIN THIS: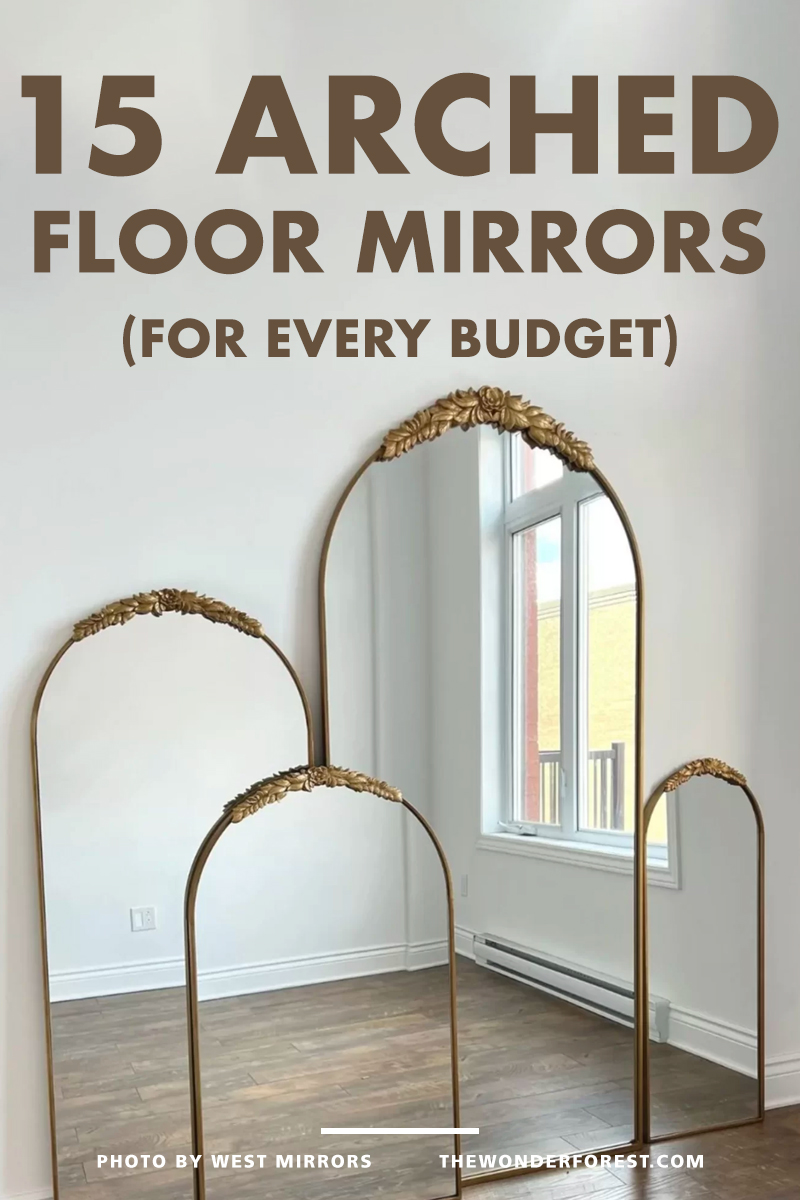 Last Updated on