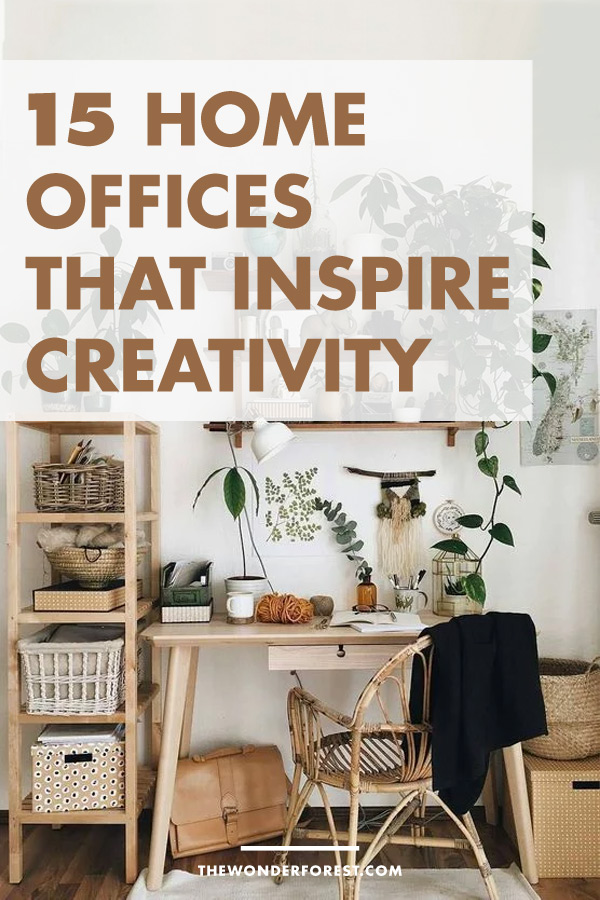 Now that many of us have been working at home, and will continue to do so, why not make your work space functional and inspirational as it can be?
Finding the right place in your home to designate as your home office is important and so is keeping it organized to help you focus.
Here are some beautiful offices to inspire your home office and boost your productivity and creativity!
Adjustable Office Table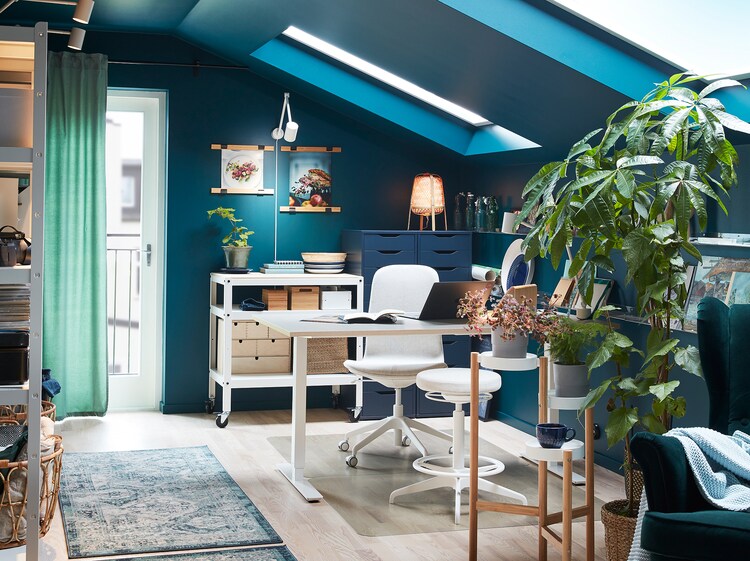 This space with its deep blue walls feels so calming and organized. Although the corner is small, there is a lot of space for storage and a large table for working. The adjustable table is great for keeping you from staying in one position for too long! It can also have many functions and switch from being just an office space.
Minimal Space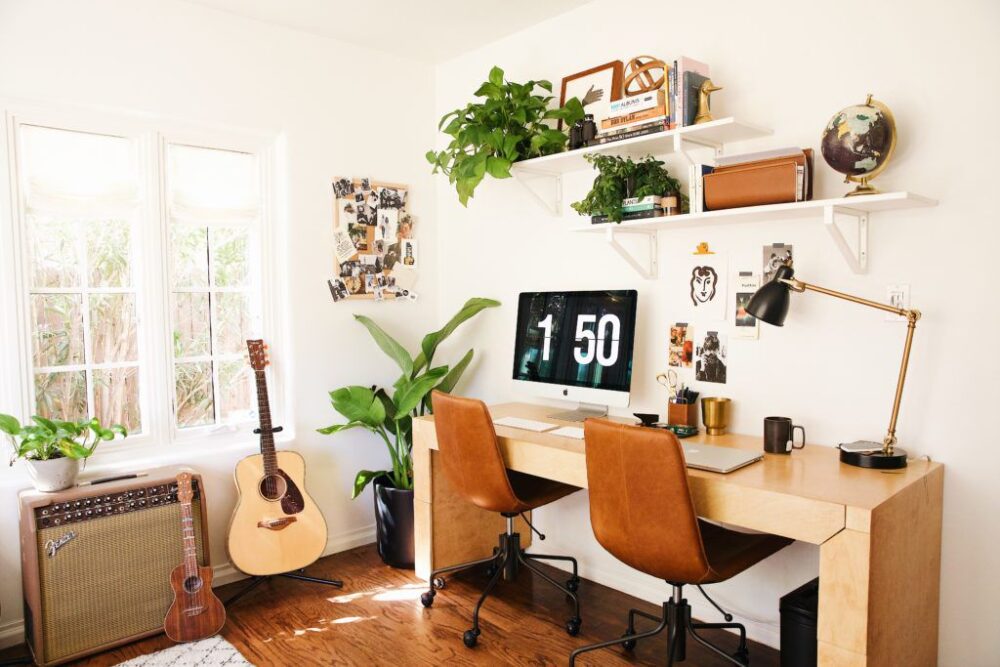 The warm, camel-brown tones of this room really brightens up the mood and gives a boho vibe! A long desk functions well for two people who both work from home – or for those who need multiple screens!
Back Wall Office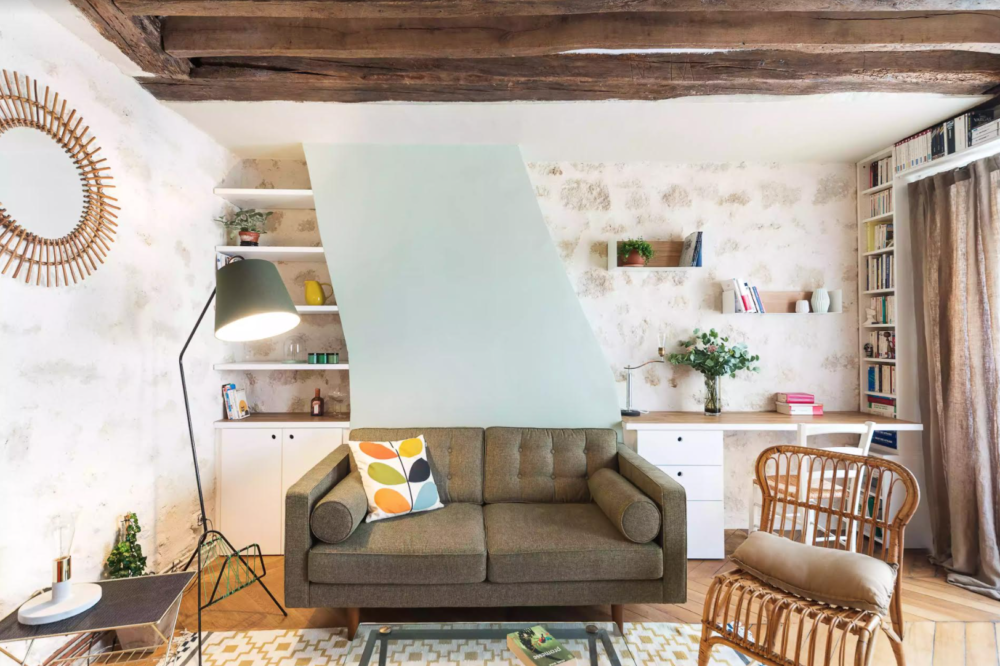 A great space to carve out an office is the back of your living room! This space is relatively unused in the daytime and setting up a wall as your office won't crowd out the room at night. Having an office in your main living space means keeping things tidy at all times.
Table Cabinet Office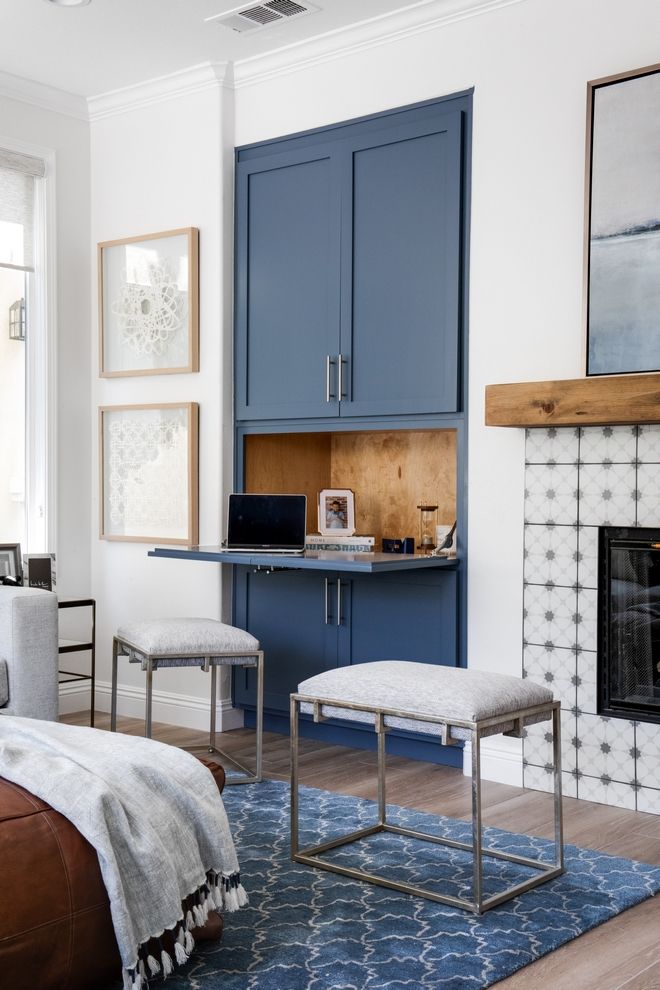 Another clever idea to transform a cabinet into a quick use desk! This is a great idea for small spaces and can easily be hidden when you're finished work for the day – out of sight, out of mind.
Desk by the Window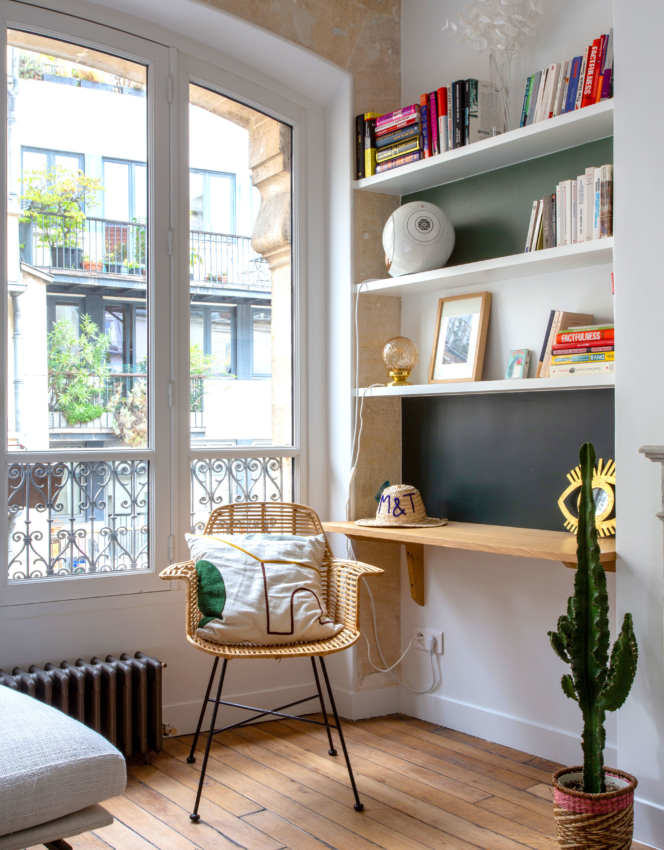 Anywhere by the window is a great way to have an office space because natural light lends well to creative thinking. It also allows you to look out the window when your eyes need a screen break!
White and Wood Office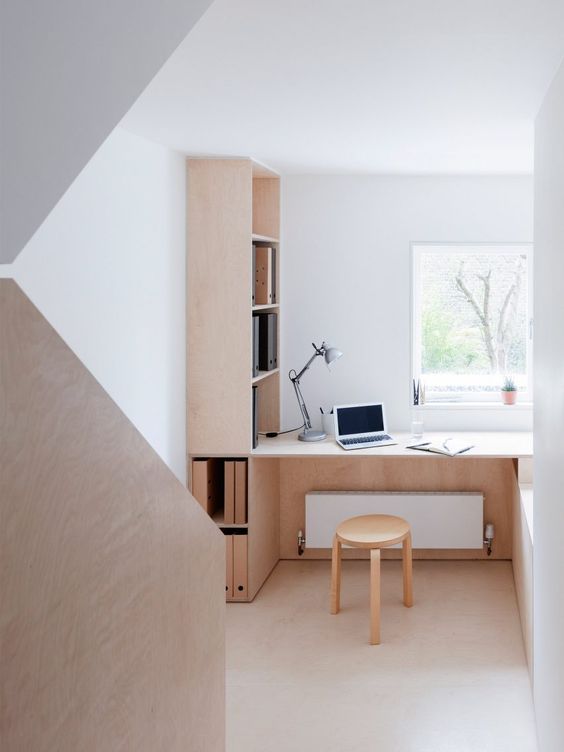 This office is so clean and simple – you might even look forward to getting some peace and quiet here. The light-colored wood keeps the room bright and clean, making it easy to focus on the task at hand.
Pastel Walls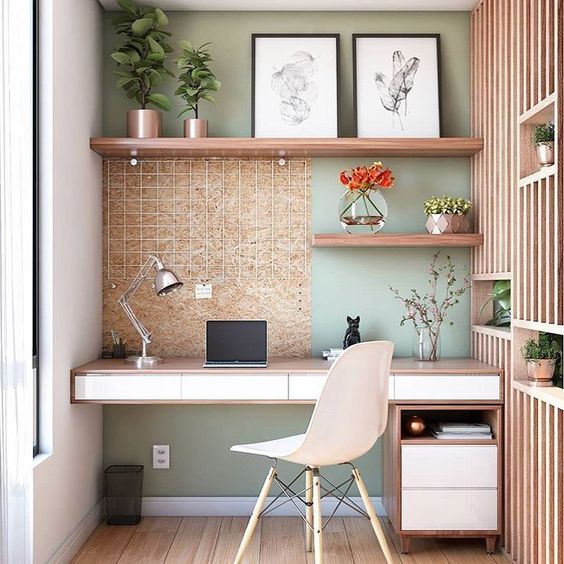 Mixing wood and pastels makes this little space playful but also calming. The wooden screen also adds nice interest while creating more privacy for the home working space.
Retro Vibes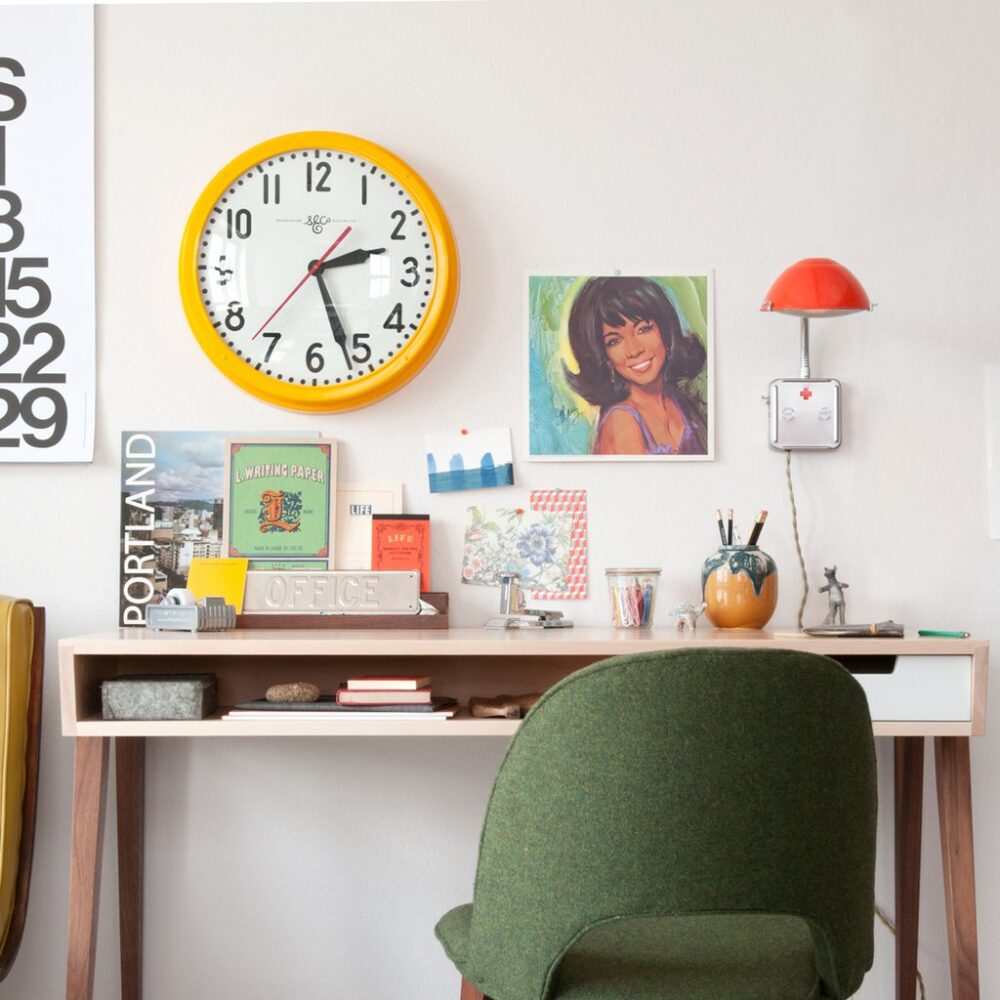 It's your home office – don't be afraid to show a little personality in your space! This office has a fun, colourful and retro feel and we love how all the item tie together without feeling too cluttered.
L-Shaped Desk
If you have a small corner in your home, an L-shaped desk could make use of the area with a great working space. Decorate with plants and shelves to distinguish the space and separate it from its surroundings.
Floating Desk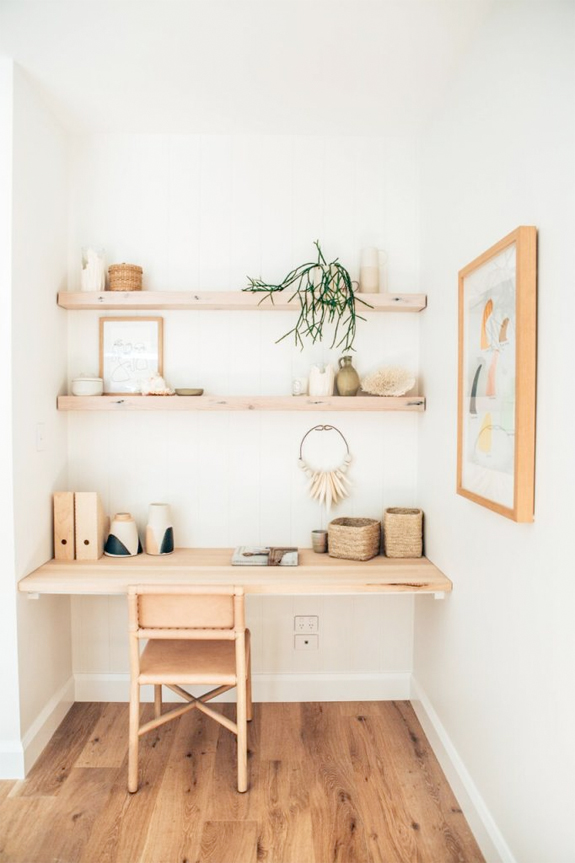 This set of floating shelves also doubles as a work space. Decorating in the same wooden tone makes the space feel uncluttered and clean. When you're done working, the space really doesn't look like an office!
Between Stairs
This office is beautifully bright, underneath a large window letting in natural light. It also overlooks the ground level and carves out a functional space between the stairs which otherwise would be empty.
Office With a Skylight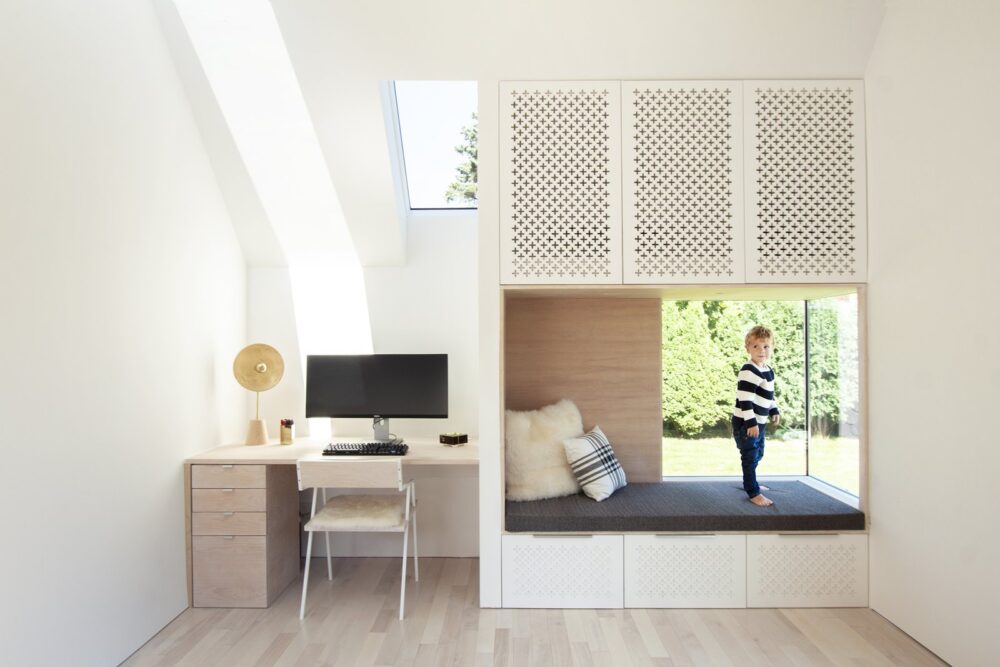 A perfect spot for the office is under a skylight! And bonus, this one has a sitting nook beside it.
Closet Office
Now, this is a great idea for separating your space. This closet office inspiration works especially well if you have an open concept space and you want to keep work hidden when you're not working!
Cork Board Inspired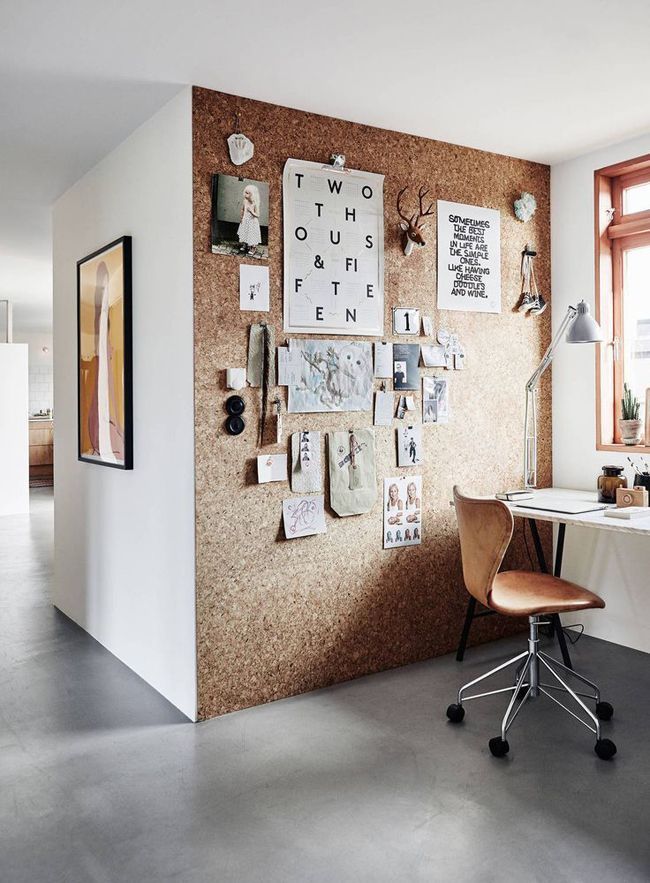 Make your mood board and to-do list the main feature of your office. Go as far as to use the entire wall for this space, and watch as your creativity grows in this innovative space.
Plants Everywhere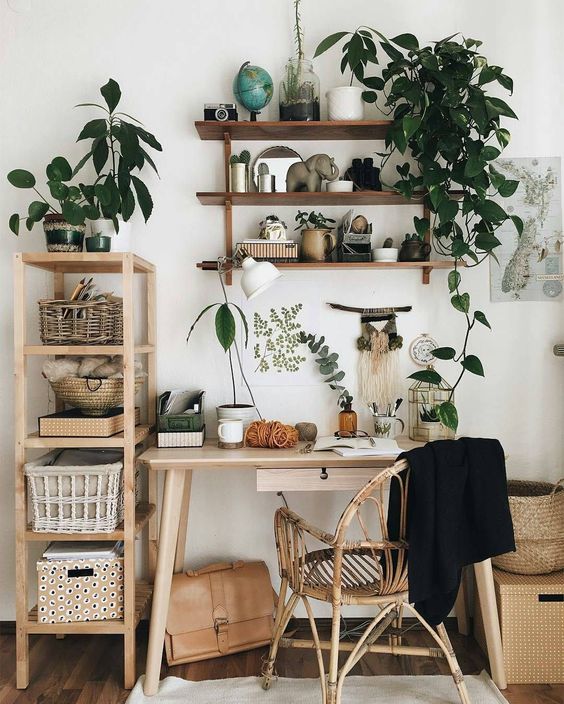 Make yourself feel at ease while working from home by surrounding yourself with plant life. Many plants purify the air and set a tone that will encourage your creativity all day long.
PIN IT FOR LATER!
Last Updated on