In the current state of the world today, many of us must start accepting that our work from home situation may last longer than originally anticipated.
While being forced into the situation isn't ideal, there are perks to not commuting each and every day.
And now that working from home has been tested, we may actually choose to work from home from time to time once this is over.
Indeed, it might be time to start thinking about creating a more permanent working space in your home.
Here are 10 creative and cute home office ideas to incorporate into your work space.
1 – Hanging Plants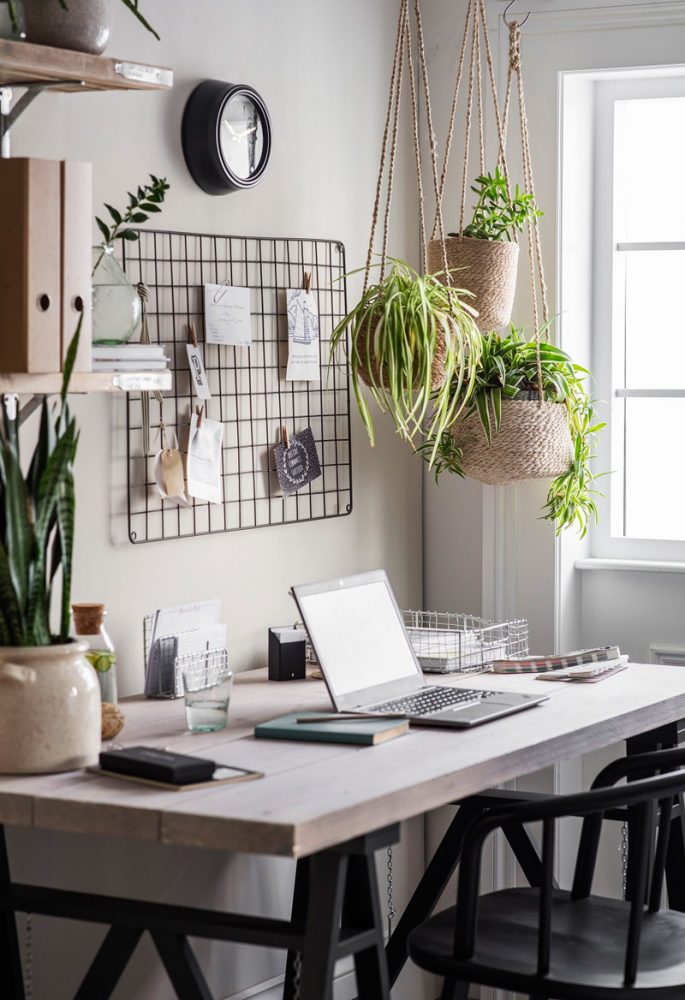 While social distancing continues, it's important to have a different sort of life around the home.
Many greenhouses are offering delivery and curbside pickup, which means it's simple enough to incorporate some greenery into your office.
I particularly like the idea of hanging some plants above the desk area.
2 – Creative Station
Not all work from home jobs involve typing on a computer.
For those in a creative field, this desk set up is an absolute dream.
Consider reorganizing your space with shallow drawers for your paint and a nifty brush holder.
3 – Clear Desk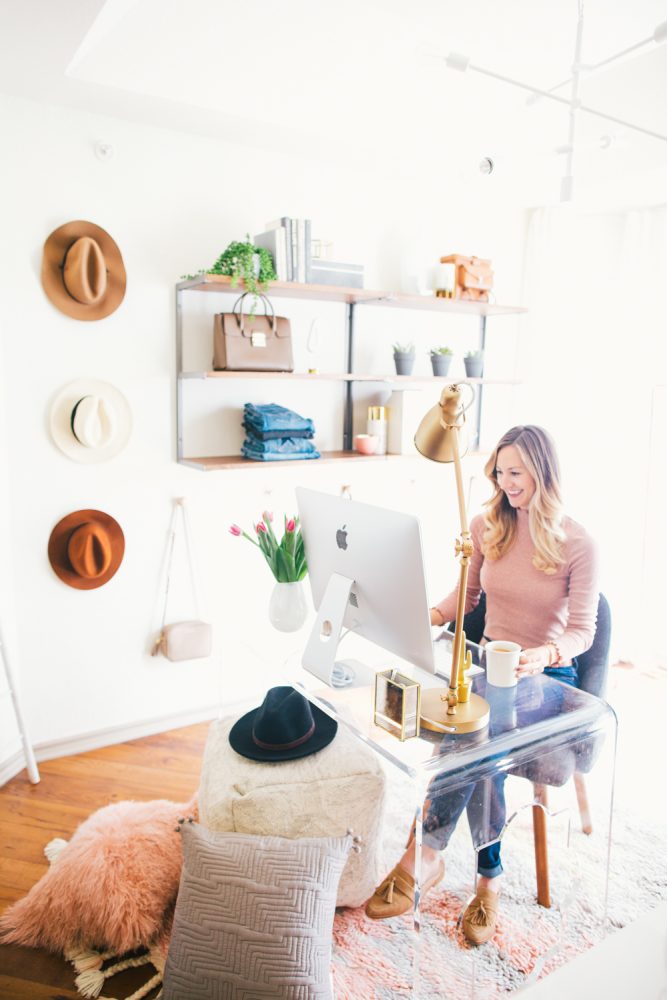 Again, don't be afraid to pull some of your industry's flair into your space. You may have left a chic office behind, so make your home office equally as appealing.
We love this clear desk in Livvy Land's home office!
4 – DIY Hanging Organizer
In case you didn't already find this out: organization is BIG when it comes to home offices.
You don't want work cluttering up your home, so it's important to keep your office aligned with your home's aesthetic and neatness.
I love the look and functionality of this DIY hanging organizer by The Lovely Drawer. Plus, it gives you a project to do while staying home.
5 – Add a Rug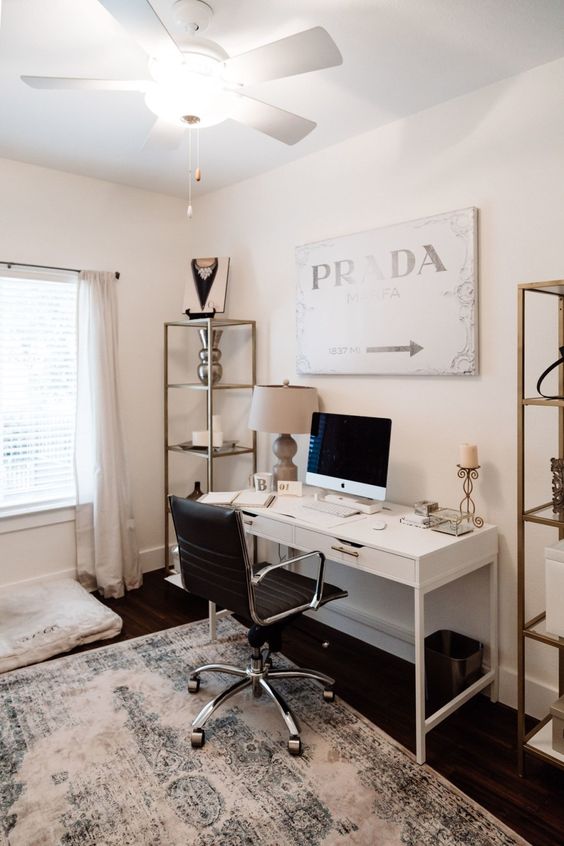 This might seem like a simple one… but try adding a rug!
Not only will a rug add some warmth to your office space, it will also save your floors from the scratches caused by a rolling desk chair.
You'd be surprised at how adding or changing up your rug can warm up your space or transform it completely.
I recommend you consider a low-pile rug to ensure smooth movement of your chair's wheels.
6 – Closet Office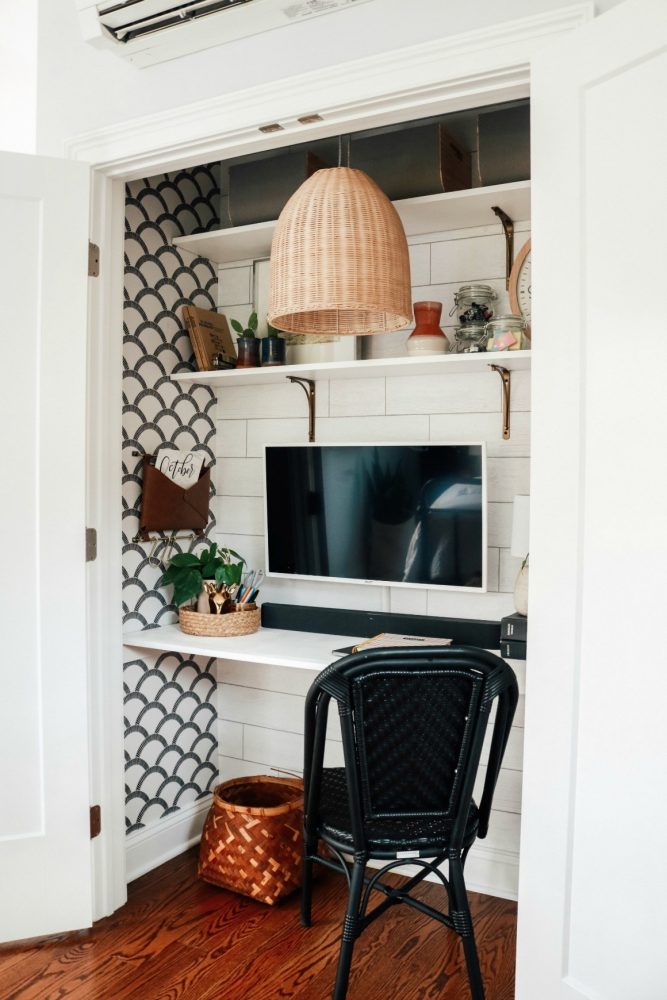 Low on space or living in a small condo? I love the idea of transitioning a closet into a work space.
Not only can you hide it during the non-workdays (it is getting harder and harder to turn off work while at home), but it can also be super stylish like in this design by Nesting with Grace.
Bonus: if you're a messy-desk-worker, nobody will be able to know when you shut the doors!
7 – Floral Wallpaper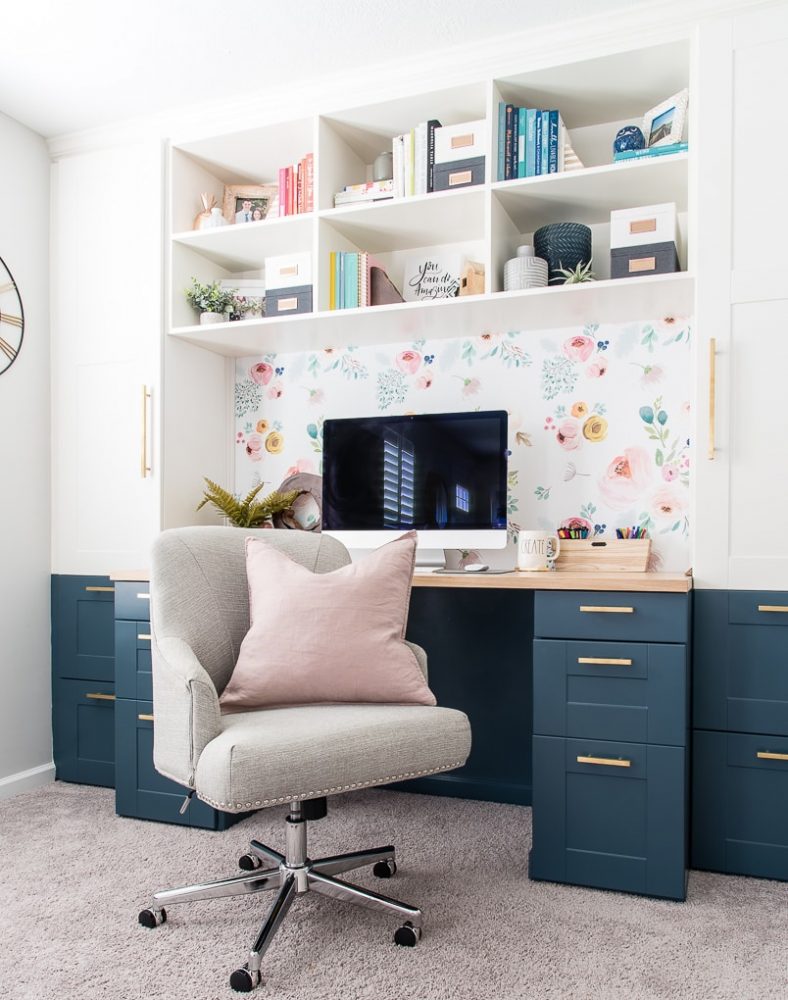 A simple way to make your home office space feel more personalized? Add some wallpaper.
I would be perfectly happy to work from this feminine work space by Keys to Inspiration.
8- Kraft Paper Roll
If your job involves creative brainstorming, you'll love this idea to install a kraft paper roll in your office space.
You might be used to brainstorming with a whiteboard, but this option is much more visually appealing and works better with different mediums.
9 – Simple Cord Organization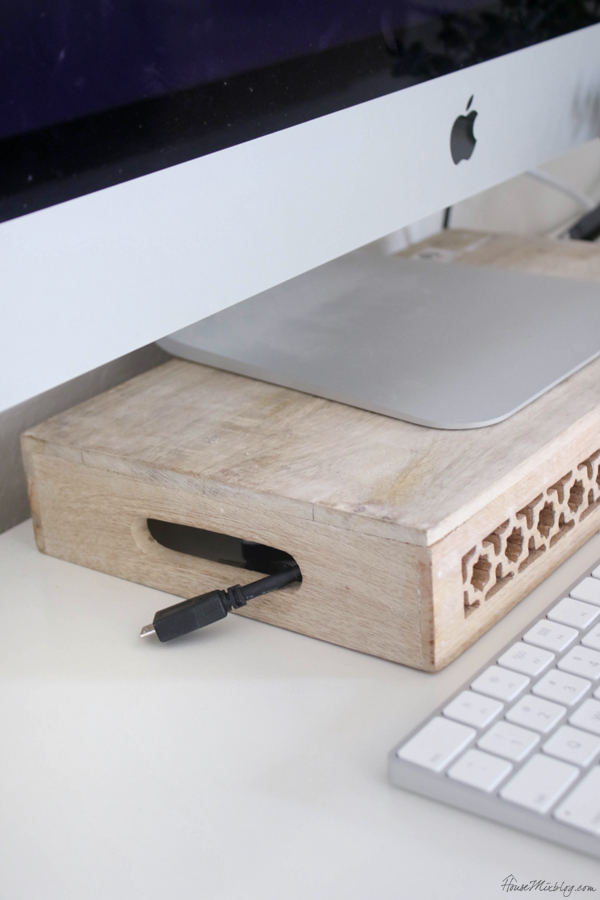 Home offices aren't always the most ergonomic – but you can avoid some neck strain by ensuring your monitor sits at the proper height.
I love this idea by House Mix that uses a simple tray to lift the monitor while also hiding excess cords.
10 – Peg Board
Whether or not your work involves crafting or making items, a pegboard works amazing in a home office and allows you to further customize your space.
You can hang and suspend a variety of things without putting an excess amount of holes in your wall, too!
Now that you've got some excellent home office ideas, we've got a few tips for working from home and doing it stress free!
PIN IT!
Last Updated on