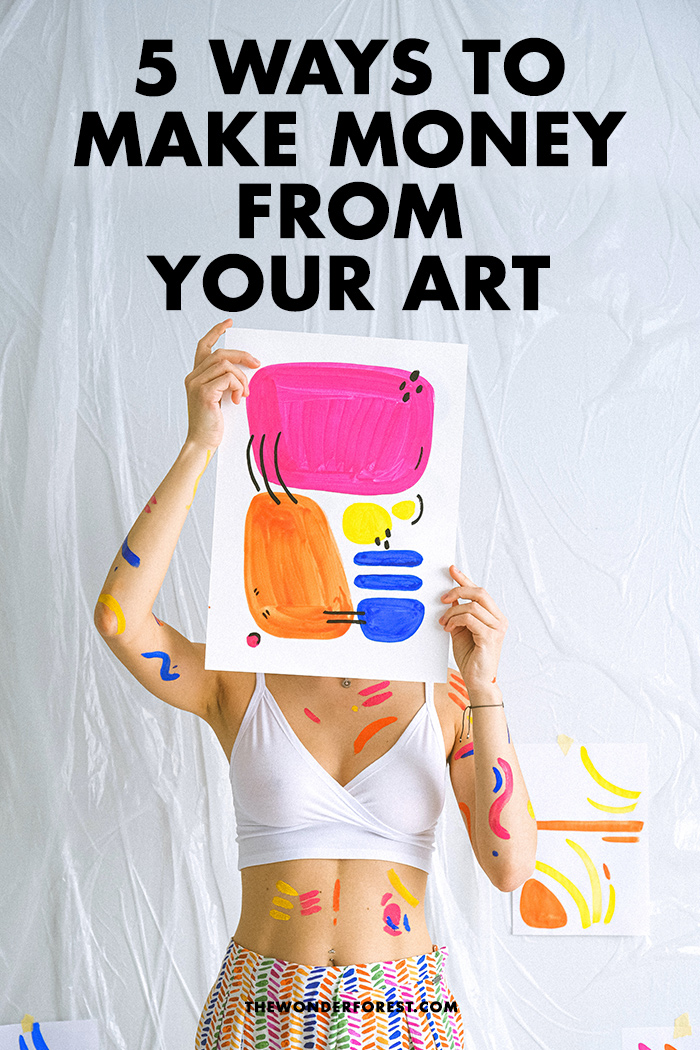 Growing up as a creative person and sketching my way through various art schools and programs, there was always this misconception that I heard along my journey: "You can't make money as an artist!"
With traditional arts like painting, drawing, etc., a lot of younger artists are under the impression that you need to catch a big break to actually make some sort of career with your talents.
Fortunately, in the age of digital art and technology, that's no longer the case and I believe that any artist can make a name for themselves with a little hard work and know-how.
While displaying your original work in art galleries might not be an option for everyone, there are many alternate options that are totally doable for any modern day artist.
Here are some ways that you can make money as an artist and prove the naysayers wrong:
Print on Demand Sites
Print on demand services, or "POD" sites, are websites that allow you to upload your original artwork and have it printed/manufactured on various products.
The great thing about these type of services is that you don't have to even touch the product or worry about shipping it out to customers.
The POD site does all of that for you while giving you a cut of the sale price, minus merchandise and printing fees.
This option is one of my personal favourites and one that I use often with my own products because it adds to my own passive income portfolio. Sites you can look into include RedBubble, Zazzle, Society6, Printful, or Spoonflower.
When looking into POD sites, make sure to check out their commission structure before diving in.
You want to make sure that you are getting a fair price for your work, after all. You'll also want to note that simply listing your products on these sites won't always mean automatic sales. You will still have to use a little elbow grease and promote your shops!
Art Licensing for Products
Art licensing is an area that many artists don't even consider, but is one that can really boost your career as an artist.
If you walk into a big name retail store, just have a look at all of their home products or accessories to start.
Bowls, paper plates, curtains, seasonal items, greeting cards… the list goes on!  Most of the time, any artwork or pattern work on those products was created by an artist somewhere in the world.
The use of that artwork is licensed to the company using it, and the artist is paid royalties for the use.
The artist doesn't have to do any promoting or marketing of their own and can work "behind the scenes", creating artwork and licensing it for use on products.
While this sounds like a killer deal, it also takes a lot of work and time to get into the licensing biz. However, if you've decided that this is the route you want to go and are willing to put in the effort, it can be really rewarding!
Through art licensing, my designs have been featured on home decor items and more in stores like Bloomingdales, Urban Outfitters, Pottery Barn, and more!
Imagine walking into a Target and seeing your artwork on a collection of their newest products.
If you want to read more about art licensing, there are many resources online to help you get started as well as art licensing agents that can help to get you some work!
Licensing for Advertising and Publishing
Much like art licensing for products, you can also branch into the advertising and publishing areas. In particular, I'm talking about creating artwork for advertising agencies, magazines, or books.
Depending on the type of artwork, an artist can either be paid in royalties or a flat fee. For example, in the past I had created a few watercolour illustrations for Coastal Living Magazine.
They needed some simple graphics of various fruit for an upcoming article about smoothies in a single issue, and I was paid a flat fee for the project.
I got lucky because the magazine had actually reached out to me about this project after seeing my work around the web, but you can totally pitch your work to various publishing outlets yourself.
To do that, you'll need some examples of your work and a cohesive style.  You should know your demographic and know what your prospect wants.
Research the company and put together an email introducing yourself and expressing interest in contributing your artwork to their projects. Send some relevant examples. If you want to learn more about what publishers are looking for, check out this interview.
Create Your Own Products
If you've got the time and determination, creating your own products for resale might be a good option for you!
It can also help to get your name out there and get noticed.  Invest in high quality printing supplies and papers if you want to sell print reproductions of your work from your home. You can also look into getting your work professionally printed elsewhere.
Prints aren't your thing? A ton of artists these days make a good living creating t-shirts and stickers!
Set up your own third party shop on sites like Etsy, or create your own standalone shop using Woocommerce or Shopify. The benefit to a site like Etsy is that your products will be included in their huge marketplace of searchable products.
Start thinking of your art as a business. As with any new business or website, you won't go from zero to hero overnight.
You need to put in the energy and promote your own stuff while building up a following on social media. Yes, this can take some time, but there are many successful artists who make a living doing this!
Teach Your Skills
Sometimes being an artist isn't just about creating your own artwork, but can also be an avenue to use your skills to teach others.
Teaching live art workshops is one option, and creating digital content is another. Try experimenting with YouTube video tutorials (like my watercolour videos) and monetizing your channel.
Maybe try teaching a course over on Skillshare (affiliate link), one of my favourite sites for learning new skills and tricks of the trade. They have tons of art related courses, why not teach your own!?
If videos scare you, try to create a paid eBook or an online written course dedicated entirely to teaching a particular type of art or a guide for beginners.
The possibilities here are endless, you just need to map out your best talents and find the best way to deliver that content to others who are looking to get started in the same area.
With so many options nowadays, it's really important for artists to focus on the online aspects of selling. The internet is your oyster!
Here are some starting points:
Work on building your art "brand" and think of it as a business rather than just a hobby or something you do for personal enjoyment.
Get your name out there on various social media platforms and make it easy for others to find you and either hire you or buy your work.
Explore other online courses in the same niche and see what you can do differently.
Look into POD (print on demand) sites and decide if there are any products that might work well for your brand and artwork
Research the world of art licensing… it's a vast one but exciting!!!
Think about creating a guide that you can sell to teach others your skills
I hope that these suggestions got your creativity flowing and opened you up to some new ideas!
Over to you: have you been successful with selling your artwork? What have you done differently or what do you plan to do in the future?
Pin this:
Last Updated on