Bullet journaling has become increasingly popular over the past few years. During its increased popularity, bullet journaling has evolved from something simple to something beautiful and artistic.
Just in case you never heard of bullet journaling, it's an analog system used to "track the past, organize the present, and plan for the future"…as the inventor Ryder Carroll puts it. Here are some reasons why you should start journaling and how to begin.
Bullet journaling combines a planner and a journal into one. Unlike regular planners however, a bullet journal can be made to fit your needs. It can be as minimal or as artistic as you please!
If you are new to the bullet journal world or a more experienced user, there are times where you may need a little inspiration for layouts such as weekly spreads. Luckily, I gathered 15 amazing weekly spreads that you can pull inspiration from.
Delicate stickers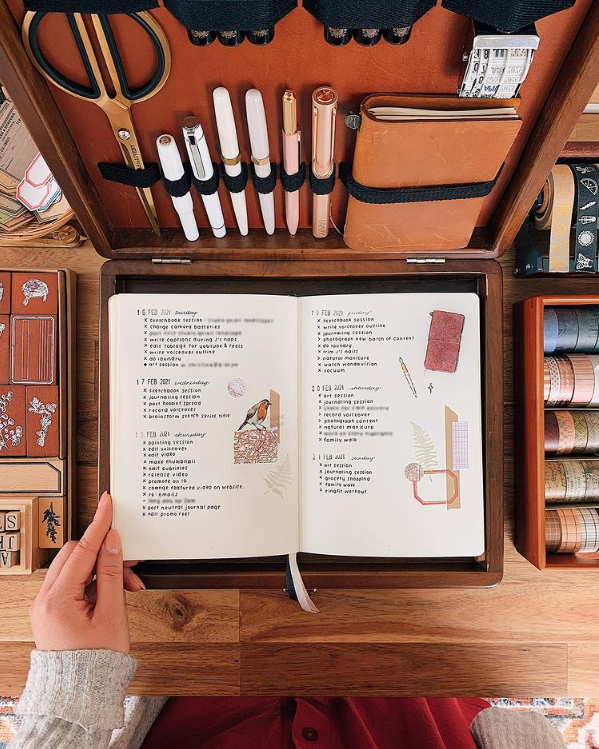 This simple weekly is made up of daily task lists. It's quick to create because it doesn't require much planning. The added stickers and washi tapes makes the weekly more interesting by adding bits of color throughout the page.
Sections and structure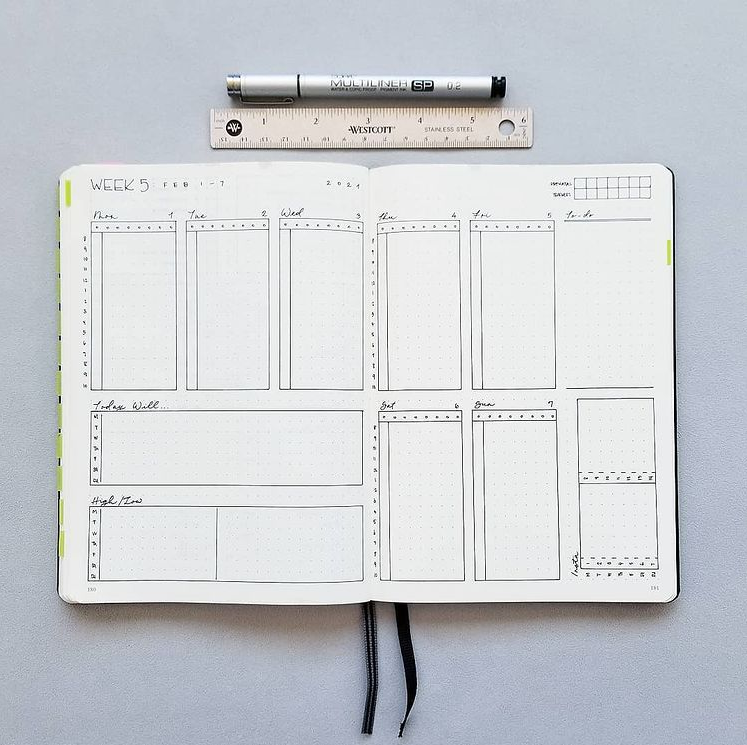 If you prefer more structure, this weekly layout has sections and trackers to help you plan for a week. It's very straightforward design without many distractions. .
This weekly spread has a compact weekly on one page with a running task list. To make the spread more interesting, @pacificnotation added a creative vellum page divider to the spread.
Doodles and more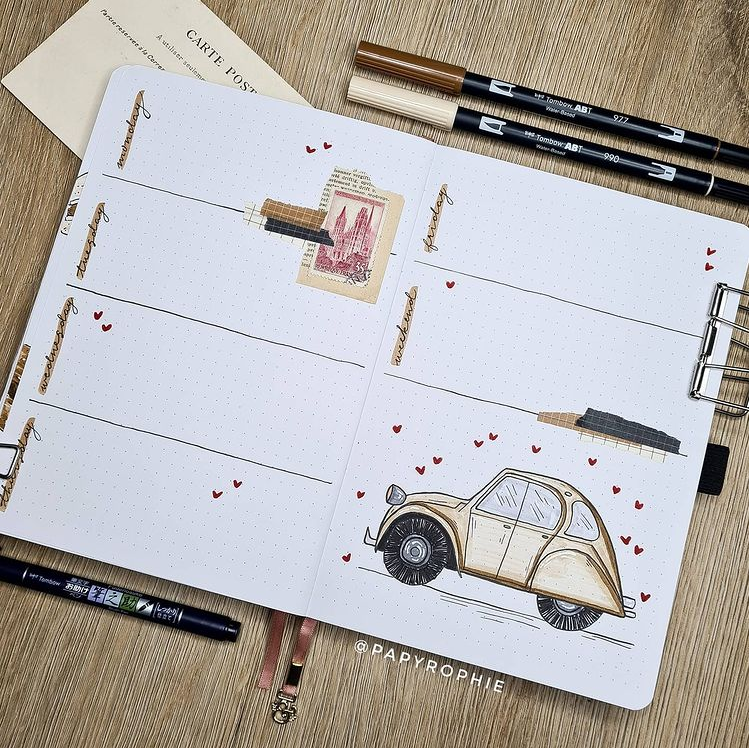 More of a creative planner? The layout of the weekly is simple to set up and gives enough space to add your own drawings to create a theme for the month!
Citrus bullet journal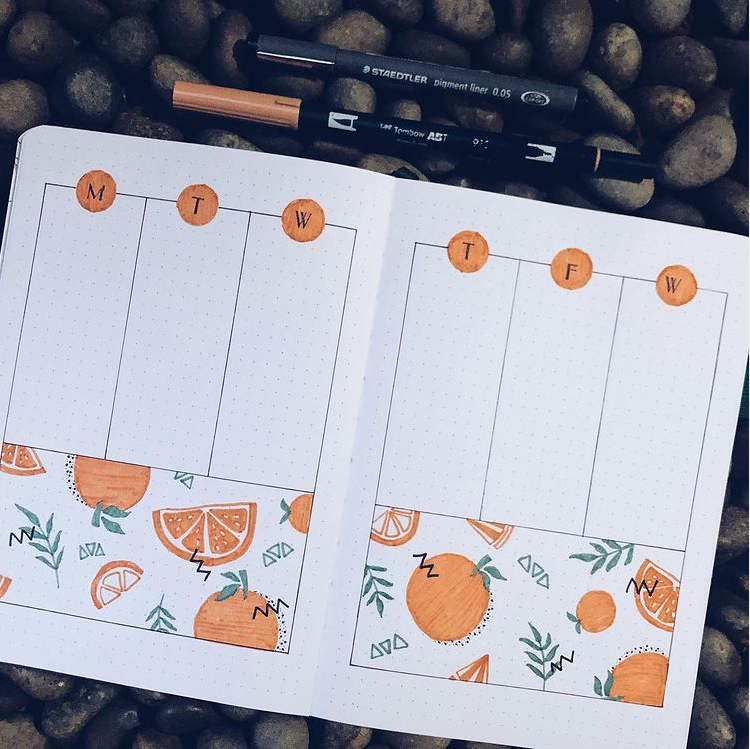 This layout is one of my favorites! It's a very simple vertical theme which is a good way to visualize what you have to do during the week. The doodles of fruit are very simple to draw and give the spread a pop of color!
Neutral planner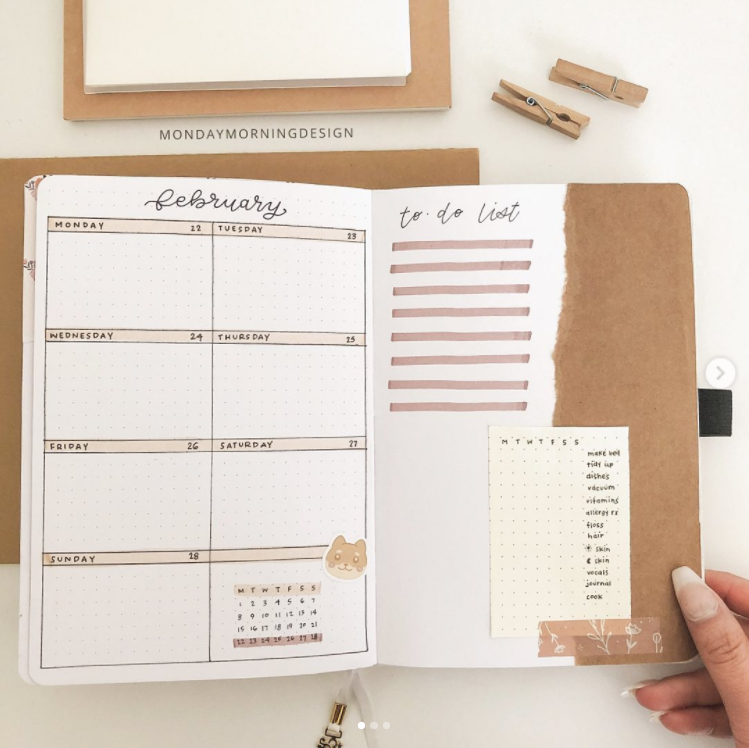 If you like to see your tasks and habits for the week, this layout is great! It keeps the daily tasks on one page and a running task list on the opposite page. Adding pieces like craft paper or scrap paper to the page easily gives the layout a bit of interest.
Compact weekly planner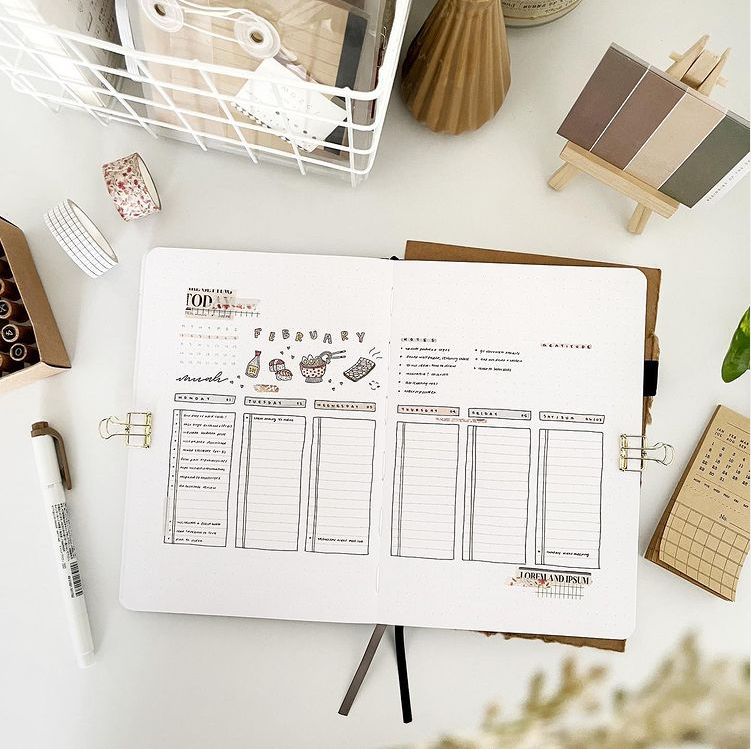 This weekly has a great combination of doodles and washi tape decorations. Little added details make viewing your weekly tasks just a little bit more enjoyable.
Splash of colour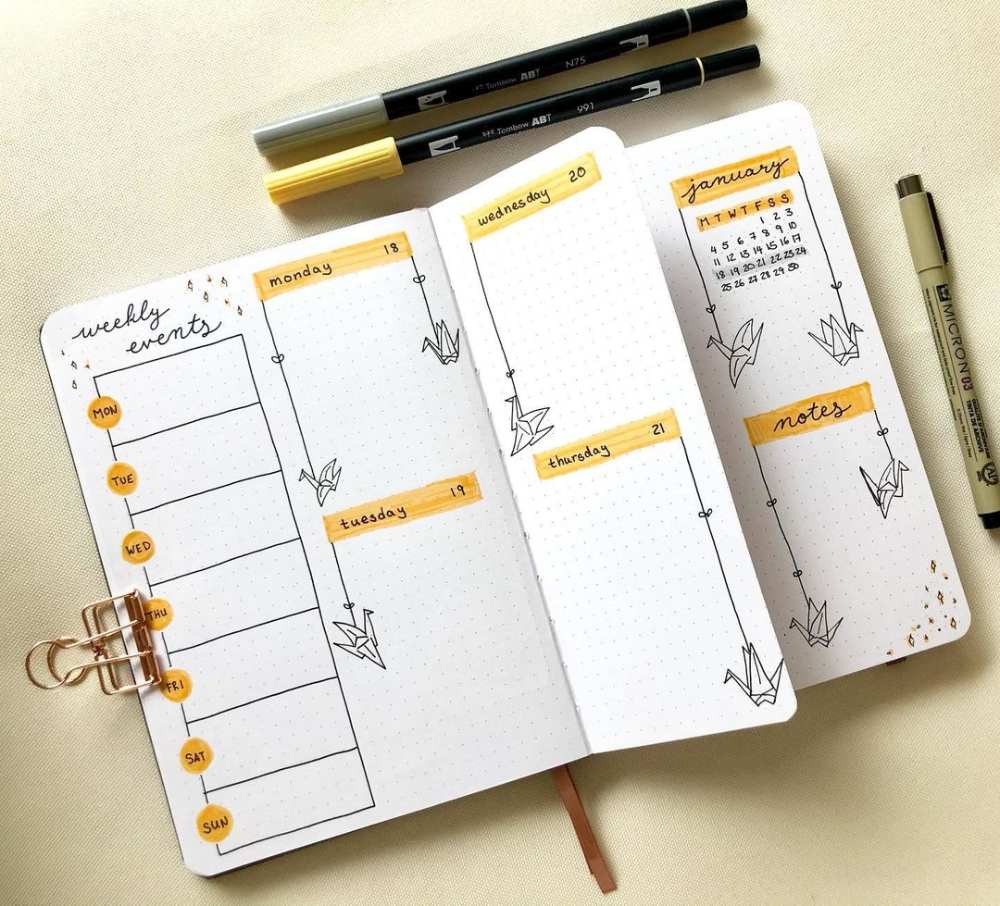 This weekly spread has a very unique detail known as a dutch door. A dutch door is made by cutting out part of the page to give you more room for your weekly spread without having to rewrite information like recurring weekly events, It saves time from rewriting them each week.
Floral borders
If you love colorful and creative themes, here is a great weekly spread for inspiration. It's a simple layout to create, and the use of the different shades of blue bring together the weekly spreads quite nicely!
Intricate designs
This weekly spread has a less structured layout compared to the other layouts I have included on this list. The days of the week are staggered, giving the weekly a more relaxed feel. The staggered layout also gives you more freedom to add doodle and quotes in those spaces.
Staggered days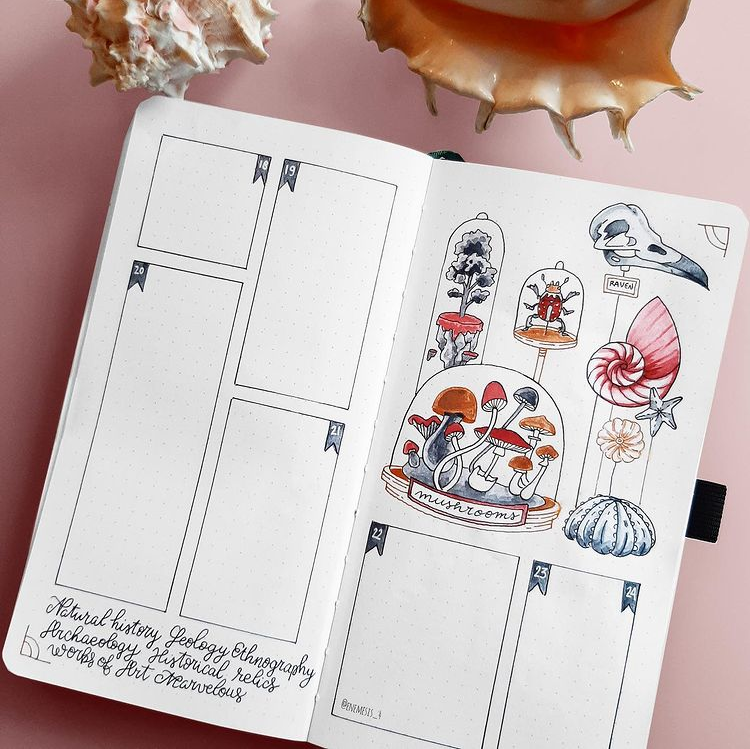 Here is a fun layout that uses different sizes for each day giving the layout an interesting design. This layout also allows you to be artistic in the space that it creates!
Whimsical journal spread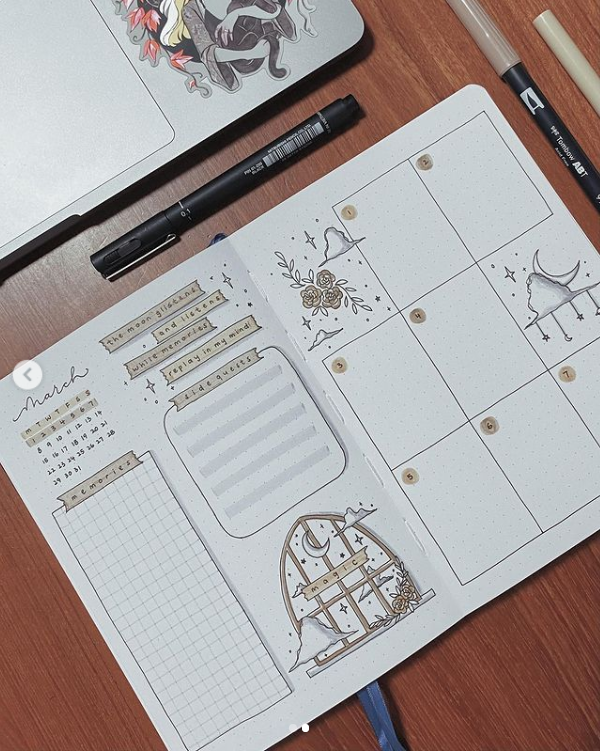 This layout has beautiful doodles with soft neutral colors incorporated in the weekly spread. The soft, aesthetic doodles gives the weekly spread a creative feel without being a distraction to the tasks that need to be done.
Rapid log system spread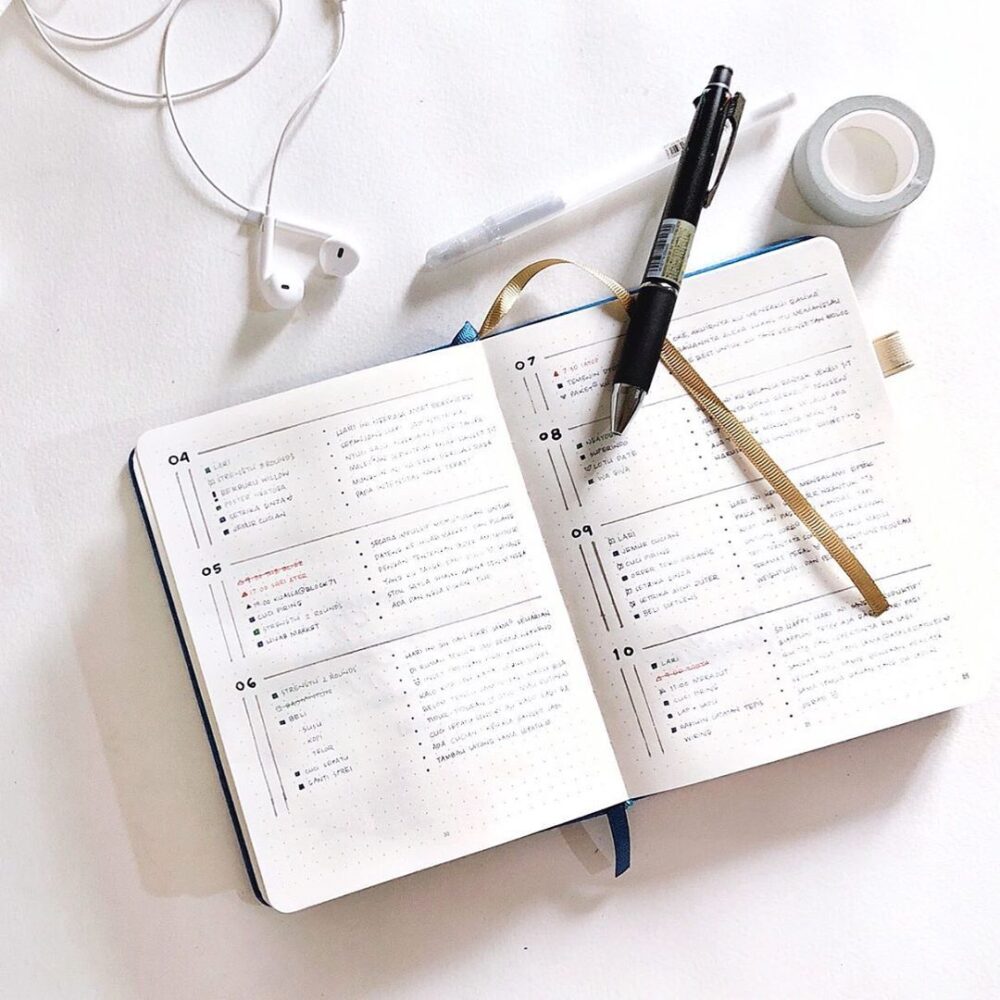 If you are familiar with the bullet journal method, this weekly spread actually uses the rapid log system. This layout has minimal art and chooses to focus on the tasks of a given day.
Dutch door journal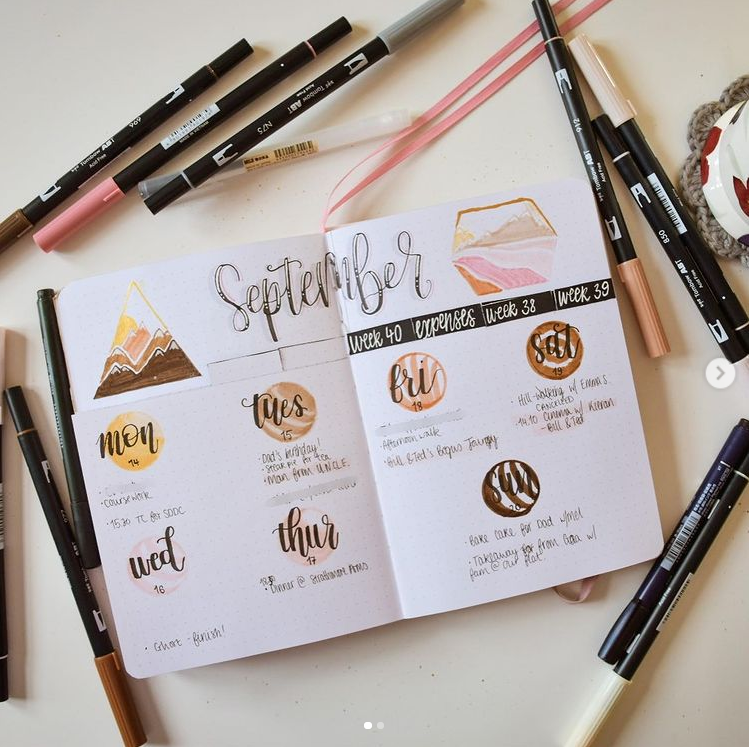 Remember the dutch door system I mentioned earlier? This dutch door system uses tabs to label each week for the whole month. What's great is that you can create each week with any type of layout while keeping the main theme throughout the month.
Tropical bullet journal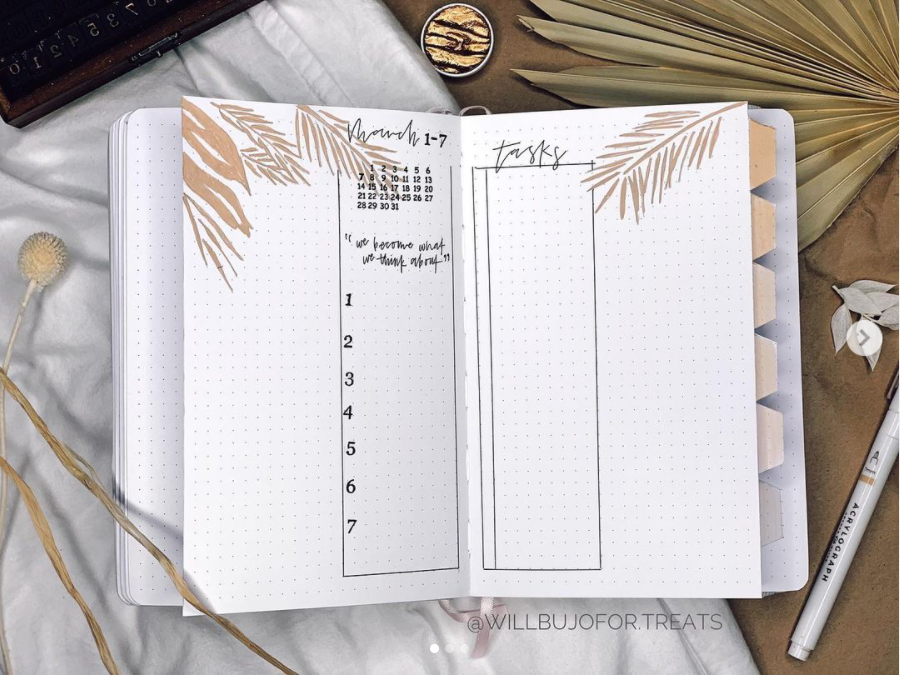 The weekly layout is compact but gives plenty of room on each page to add notes, scraps, receipts, doodles, etc.
Any of these weekly layouts caught your eye? The beauty of bullet journaling is that there is no set layout. A bullet journal has to work for the needs of the individual. You may like one layout but it may not work for you, which is absolutely okay! You may even combine them. Have fun with it and happy journaling!
PIN THIS:
Last Updated on