Bohemian style is almost synonymous with coziness – it means lots and lots of layers, textures, and hygge elements. As cooler weather approaches, use these design ideas to bring boho inspiration to your main living space, so you can be ready to curl up on the couch with a good book when the time comes.
Cozy Country Boho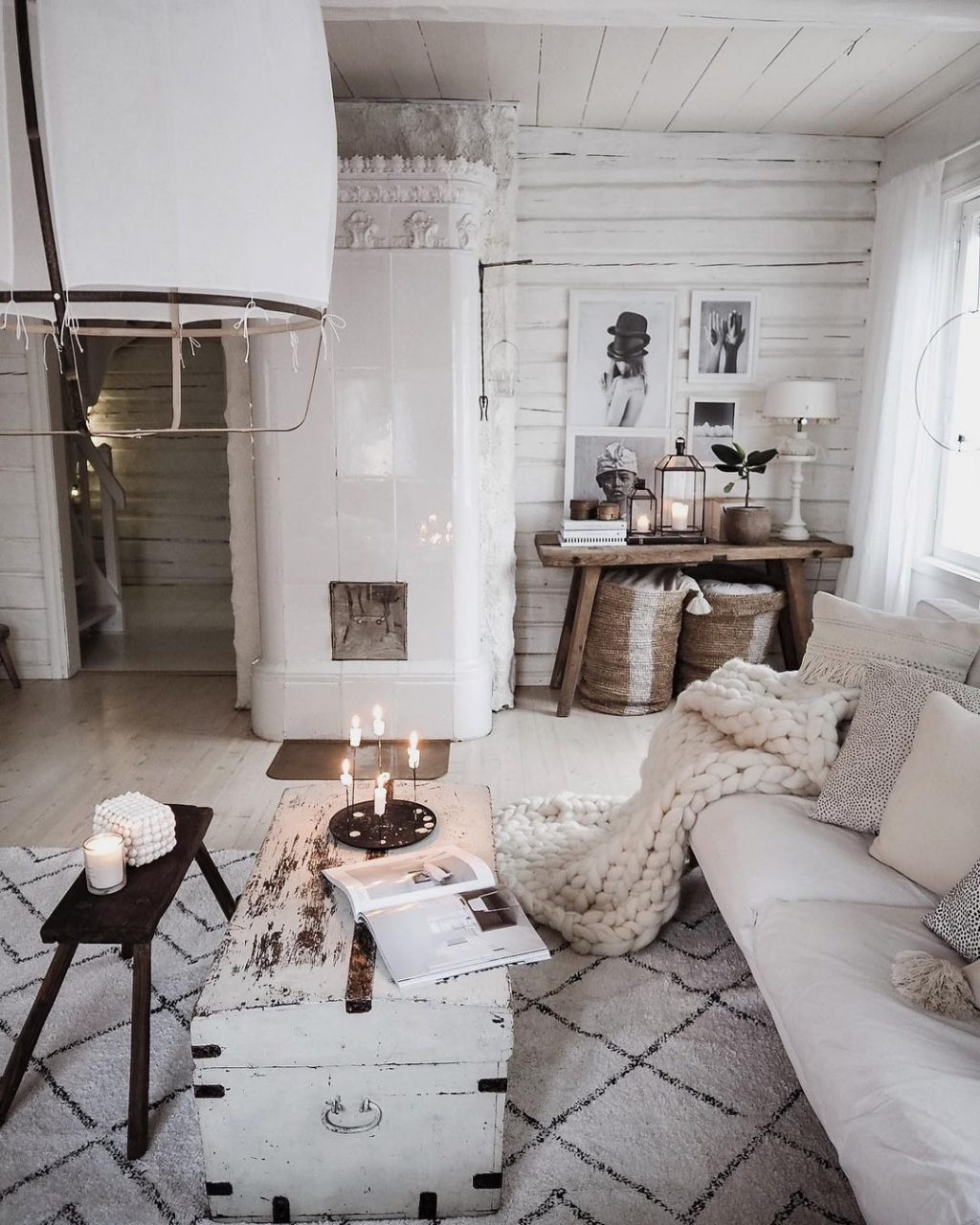 A chunky knit blanket and shag rug add boho elements to a rustic farmhouse background in this enviable living space. We're also feeling the extra hygge warmth from the candles.
Touches of Pink
Floor cushions. Textured pillows. A chaise sofa. A hanging chair (with flowers!) We love the touches of rosey hues in this white, clean, and modern boho space.
Soft Colours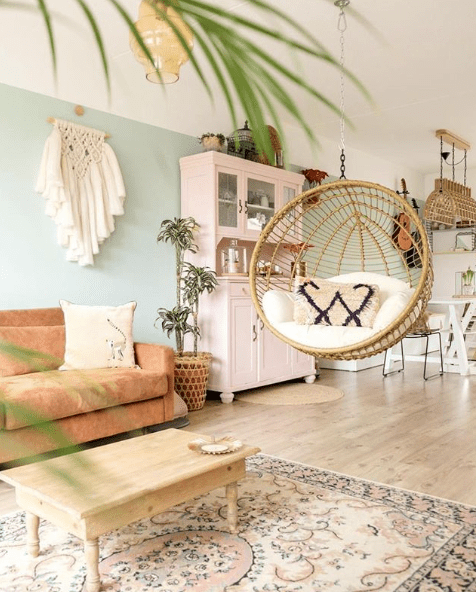 While much of modern boho design focuses on neutrals, traditional boho brings in lots of muted colour. This space draws together hints of pink and ice blue with a vintage rug, warm hued couch, and a beautiful roving wall hanging…but it's okay if you never looked past the hanging chair.
Green Velvet Couch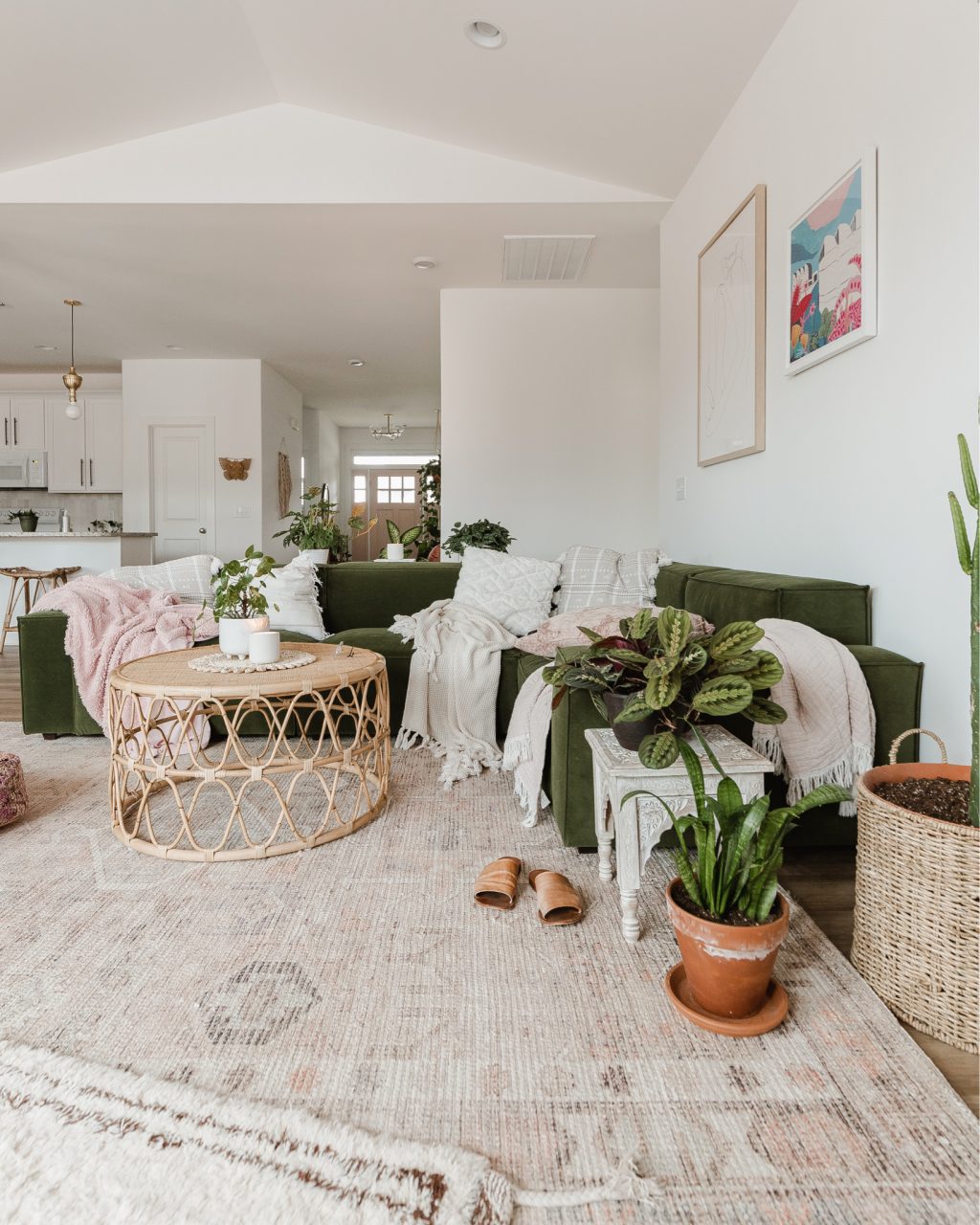 Velvet couches have made themselves right at home in modern boho design. We can't get enough of this eye-catching sofa, brought to life by touches of pink, must-have thick blankets and pillows, and a beautiful tribal patterned rug.
Neutral Haven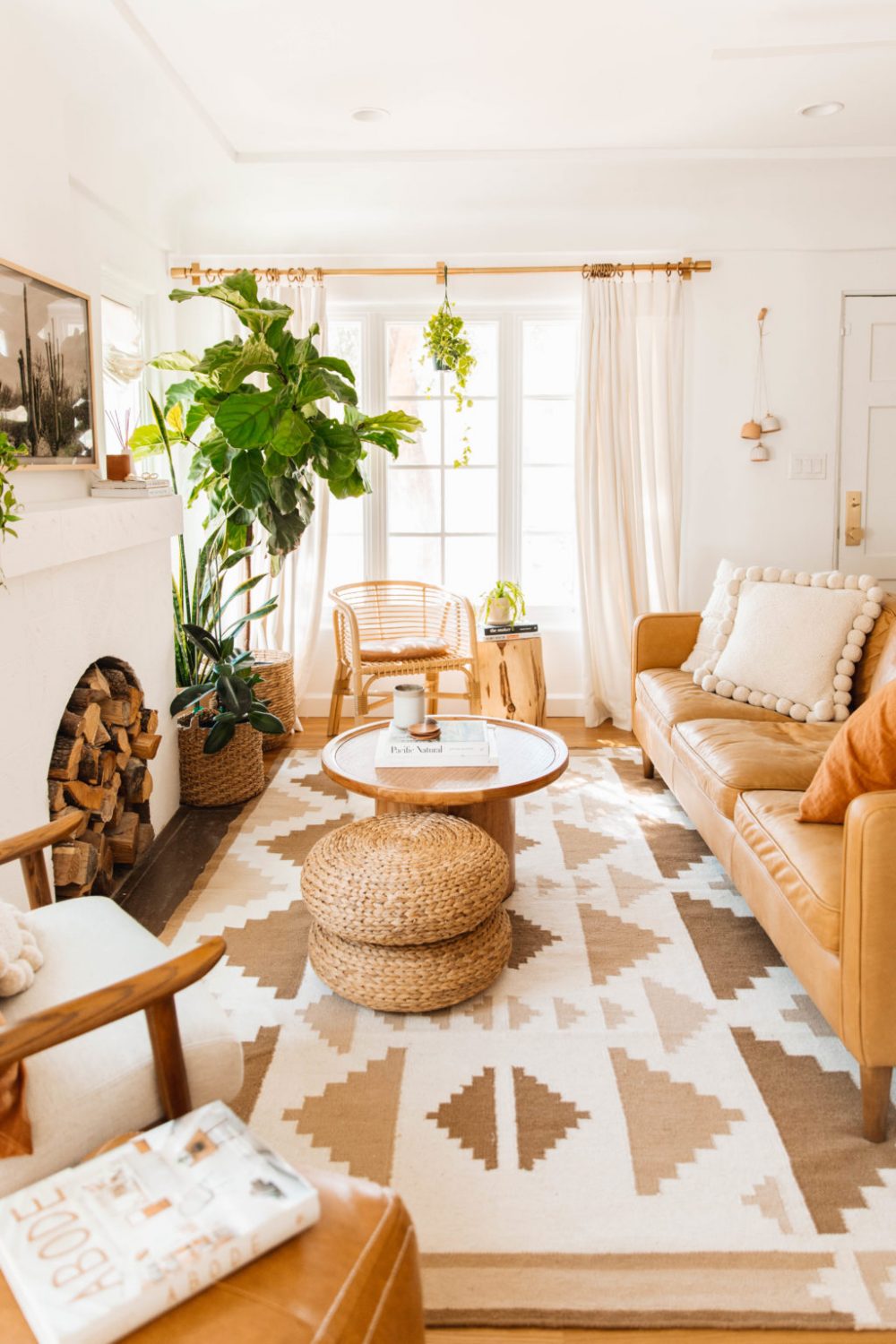 This living space has perfected the art of modern boho without being overwhelming. A Southwest-inspired rug, cactus artwork, leather couch, just enough plant life, and a calming colour scheme. Hanging out in this living room, we'll have our mind in the warm weather all winter long.
Cozy Boho Cottage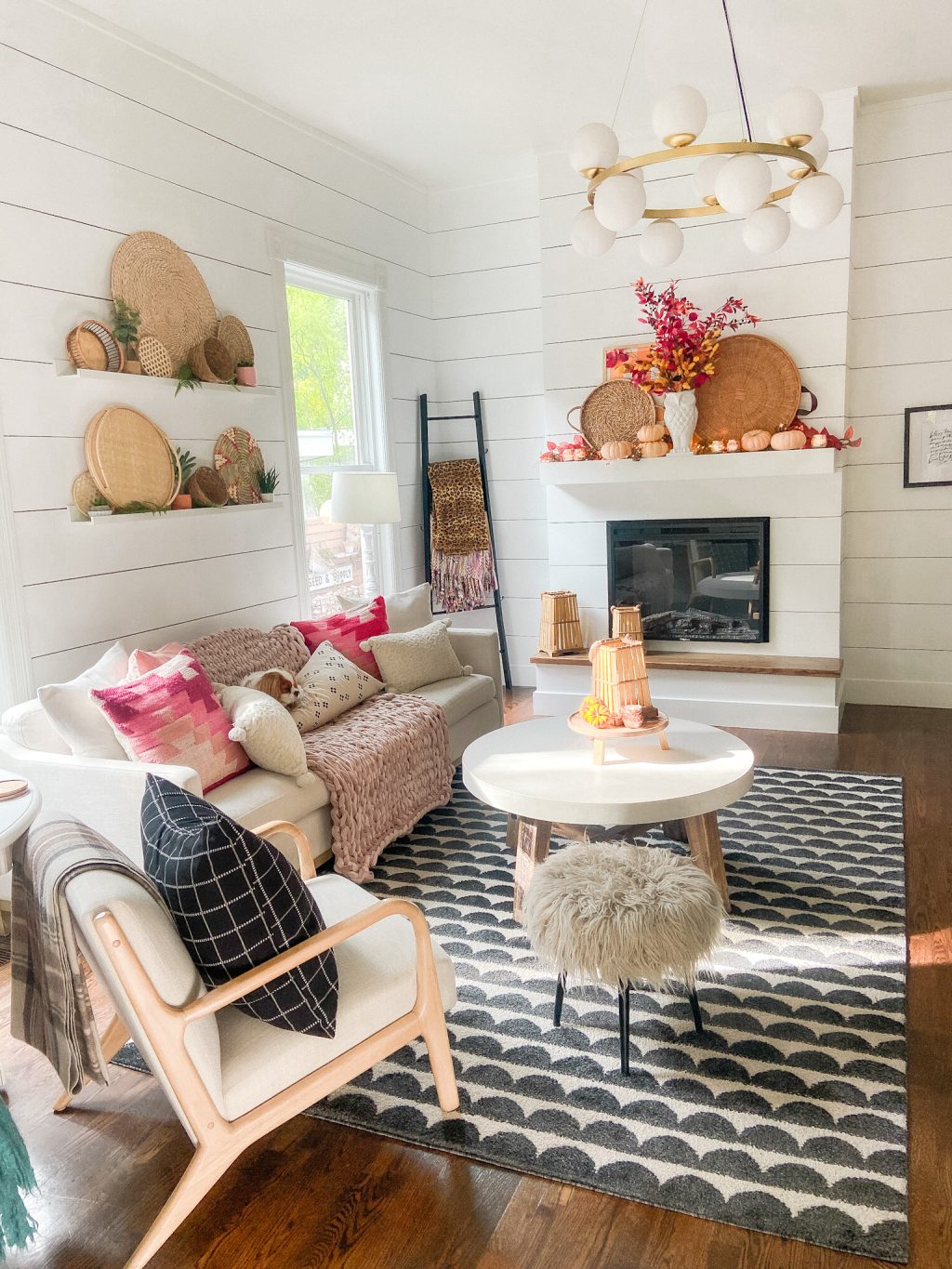 This warm and inviting living room draws from boho and cottage elements. Check out the unique take on a basket wall–well worth the effort of DIYing a pair of floating shelves. Warmth is added to the space by the use of warm and inviting colours, but the cherry on top is the pink chunky knit blanket.
Relaxed & Colourful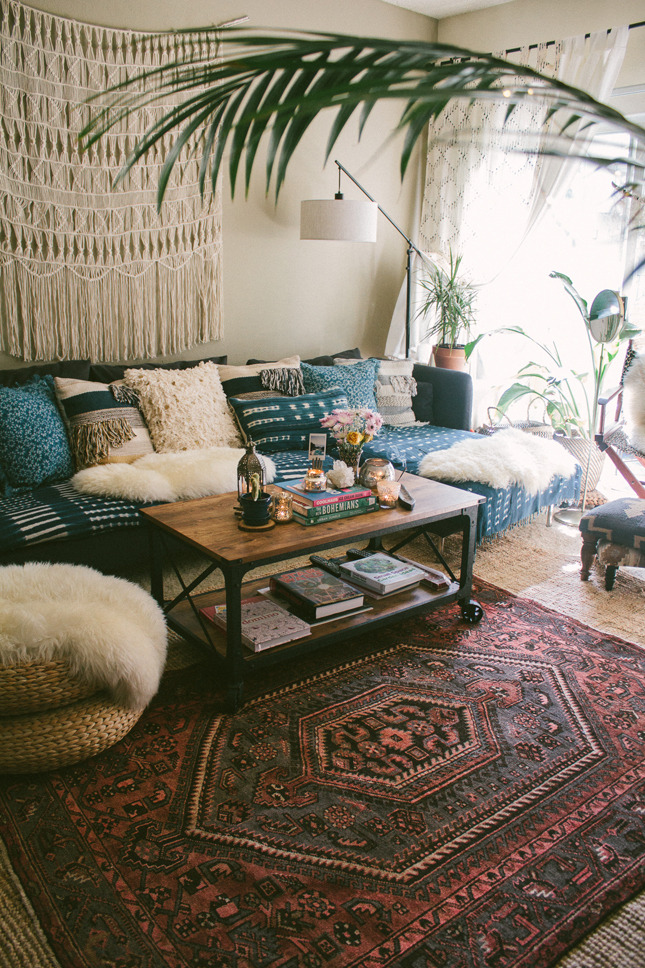 A classic space like this returns to the roots of boho design–easy, breezy, and relaxing. Soft lighting and rich tones evoke a sense of relaxation, and the chaise sofa overflowing with pillows suggests the idea of curling up on the couch and staying a while.
Statement Piece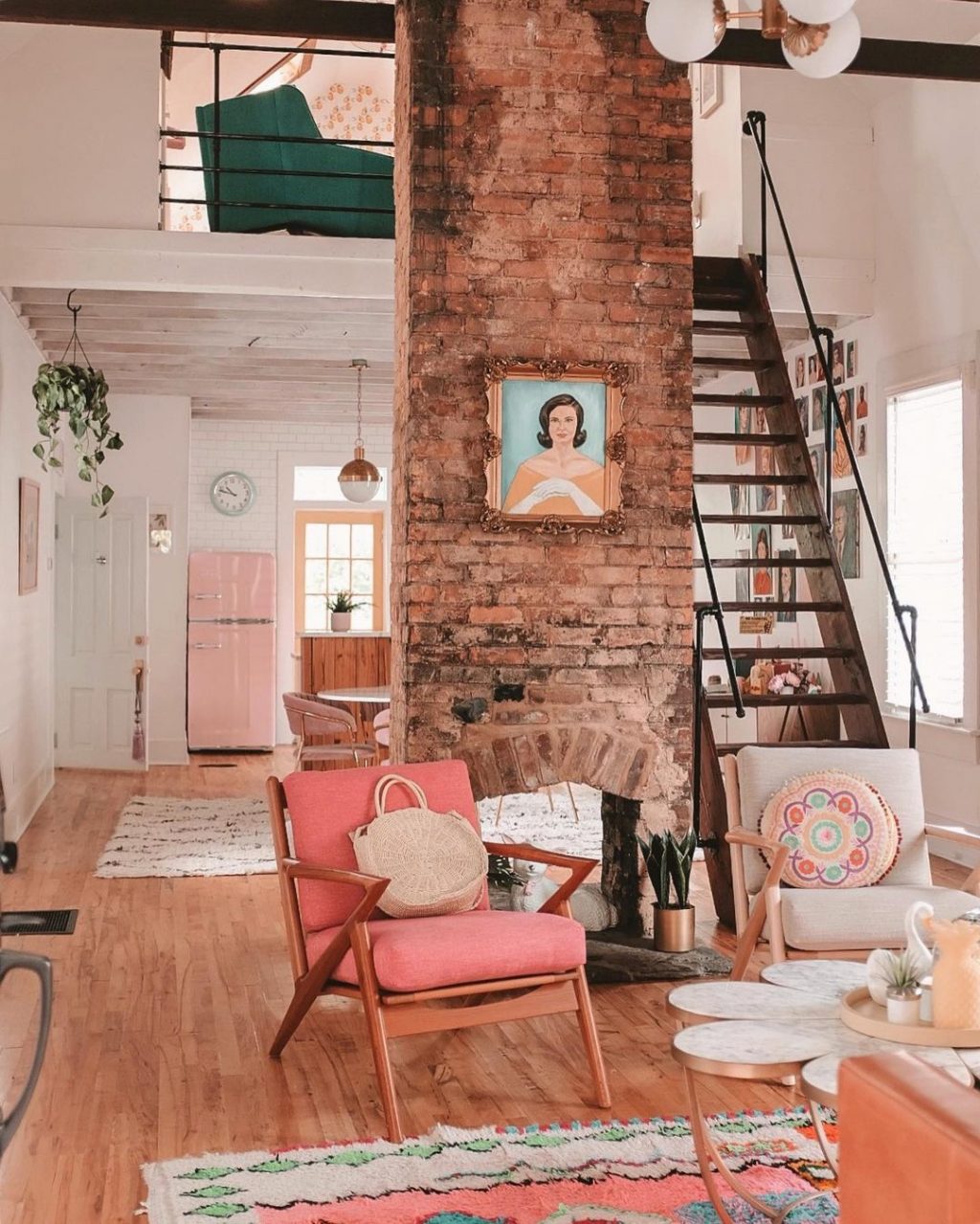 An antique brick double-sided fireplace makes a huge statement in this open concept vacation rental. Each well-curated piece is a statement in itself, however–a flower petal table, a unique tribal shag rug, and colorful pillows and textiles highlight the stunning architecture.
Eclectic Boho Farmhouse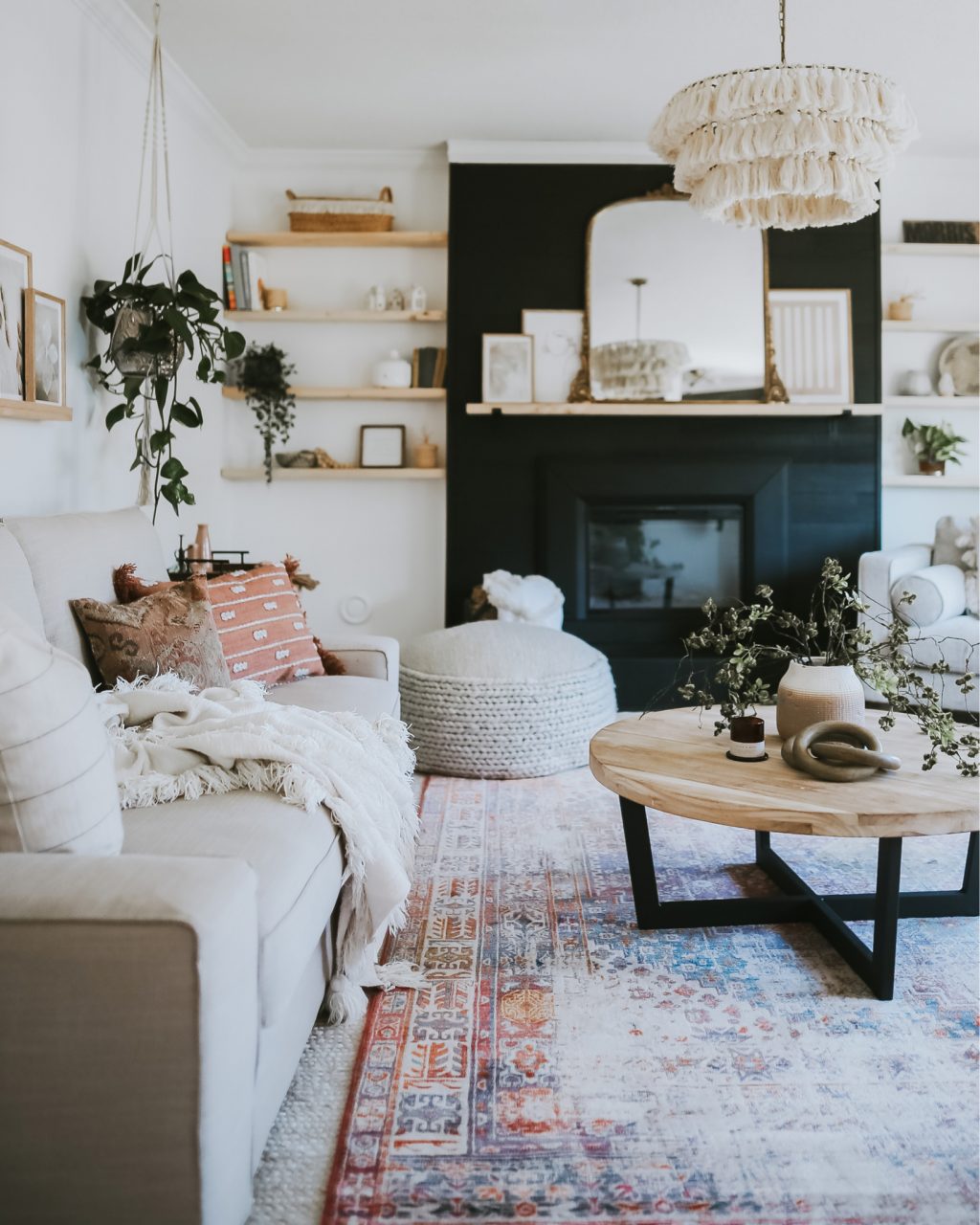 This living room has undergone so many looks and transformations, it's hard to pick just one. But if we had to, we'd pick its boho farmhouse look. Not just because of the vintage-inspired rug (okay, it's a little bit because of the rug).
Statement Tile Fireplace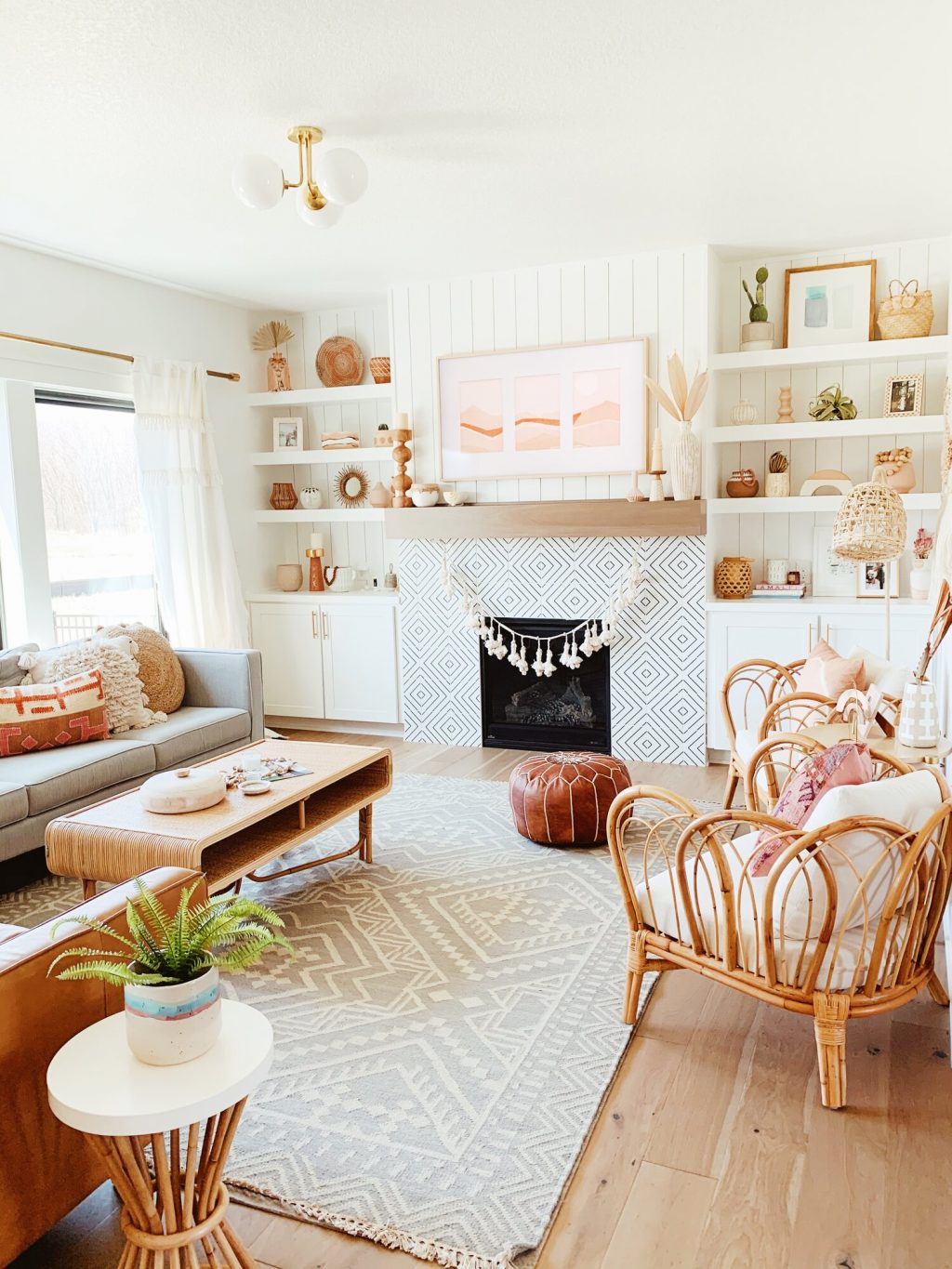 Every piece in this living room is unique and curated to create a bright and uplifting space. The tile fireplace is a bit unexpected, mixing things up and adding to the room's cheerful feel.
Antique & Boho Mix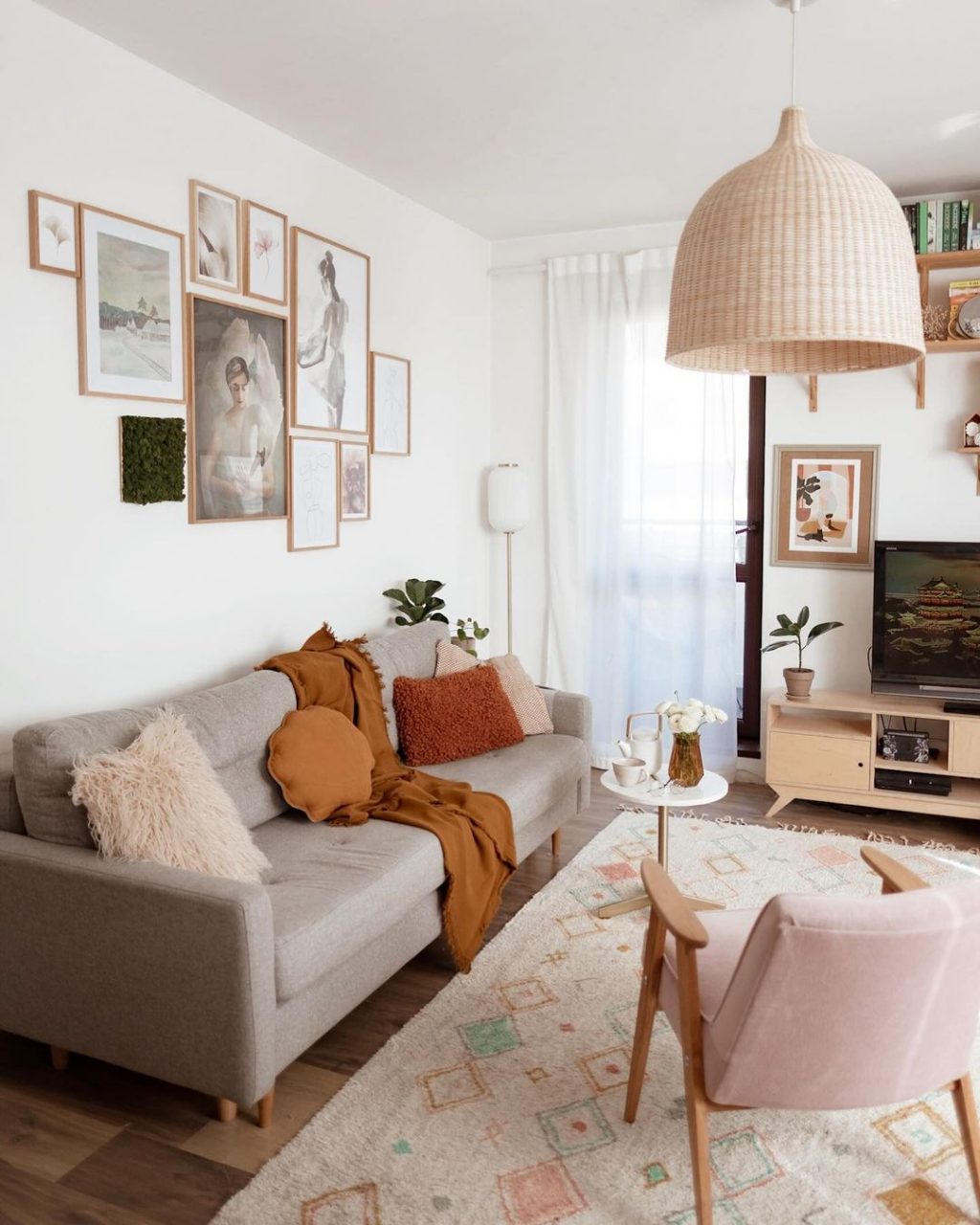 Boho style is eclectic, so it's a great starting palette to mix with other styles. Take this mid-century boho living area with antique artwork–not your typical boho space. We love the finishing touch added by the pink velvet chair.
Feminine Boho
This space takes a more minimalist approach and combines a sleek, modern sofa with a hanging chair and southwest-inspired rug and floor cushion. The mixing of colors, patterns, and styles shows how boho elements can take any design scheme to a whole new level.
Modern Boho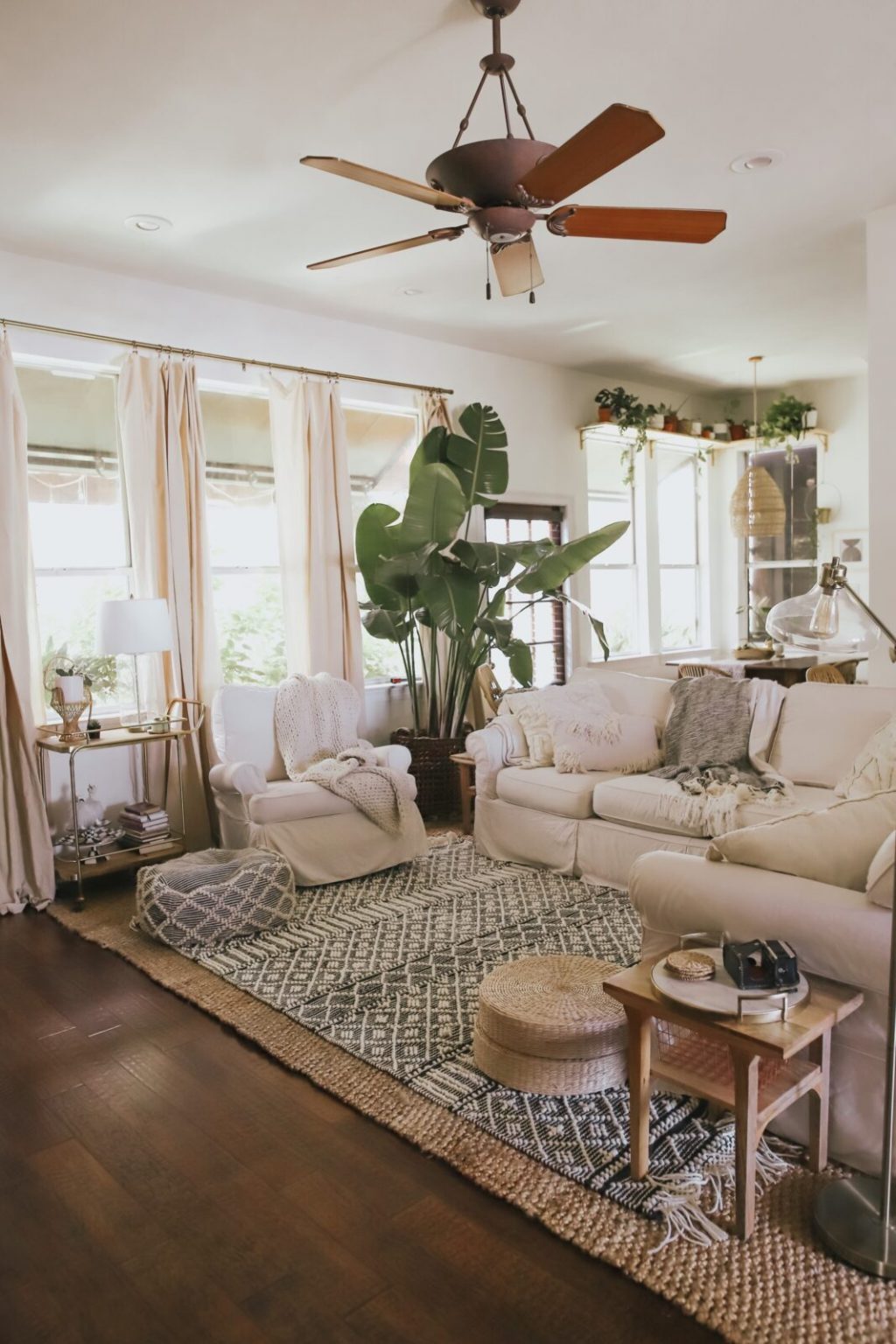 This open concept room does a great job of bringing boho style to a modern space. Layered rugs, cozy textured blankets, a plant shelf, lots of textiles, and even a rattan pendant lamp–it checks all the boxes for the perfect cozy boho space.
Colourful & Modern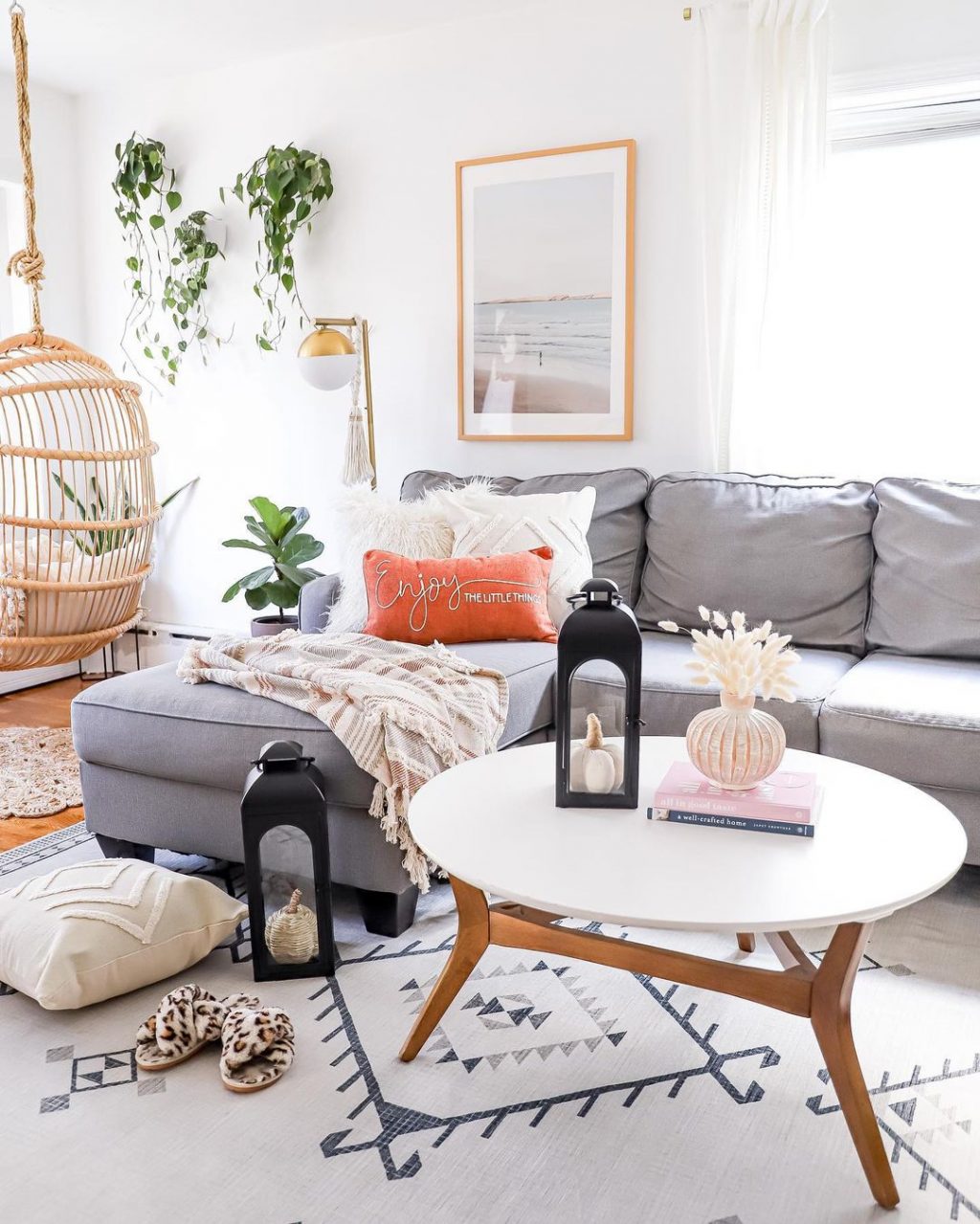 This space gives off a playful, youthful vibe and makes great use of some eye-catching boho elements – like wall-mounted plant hangers, a hanging chair, and a Southwest-inspired rug. All these pillows and a textured blanket give us the idea of staying up late reading a good book on the couch.
Glowing Lights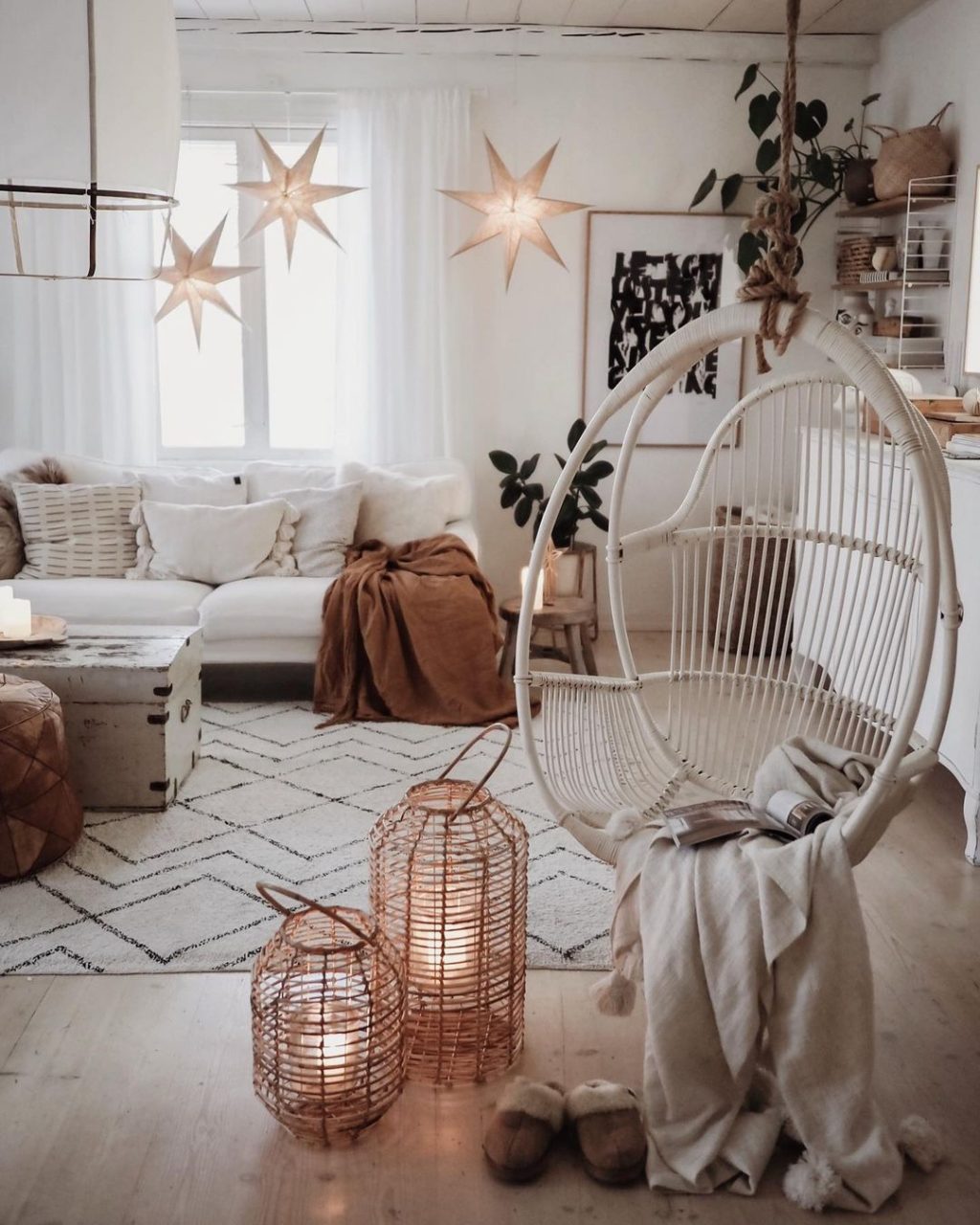 It doesn't get much cozier than this scene. All we can think about is setting up a Christmas tree and enjoying it through the long winter. We love the rich brown blanket on a background of mostly neutrals. Where can we find some glowing star lanterns?
PIN THIS:
Last Updated on