Is there any space quite as cozy as a farmhouse living room? Farmhouse living rooms should always be filled with the smell of freshly baked bread, and family time should be abundant — peaceful…yet lived in.
What is Farmhouse decor?
Farmhouse decor is a style of decorating that includes lots of rustic charm, whitewashed elements and neutral walls. With this style, you'll want to try to avoid bright colours and keep things more muted and earthy. Adding textures like worn and weathered natural elements complements the look. Think about incorporating lots of wood and paint older furniture pieces to match the neutral vibe.
Transform your home with these 15 gorgeous farmhouse living room ideas!
White Everything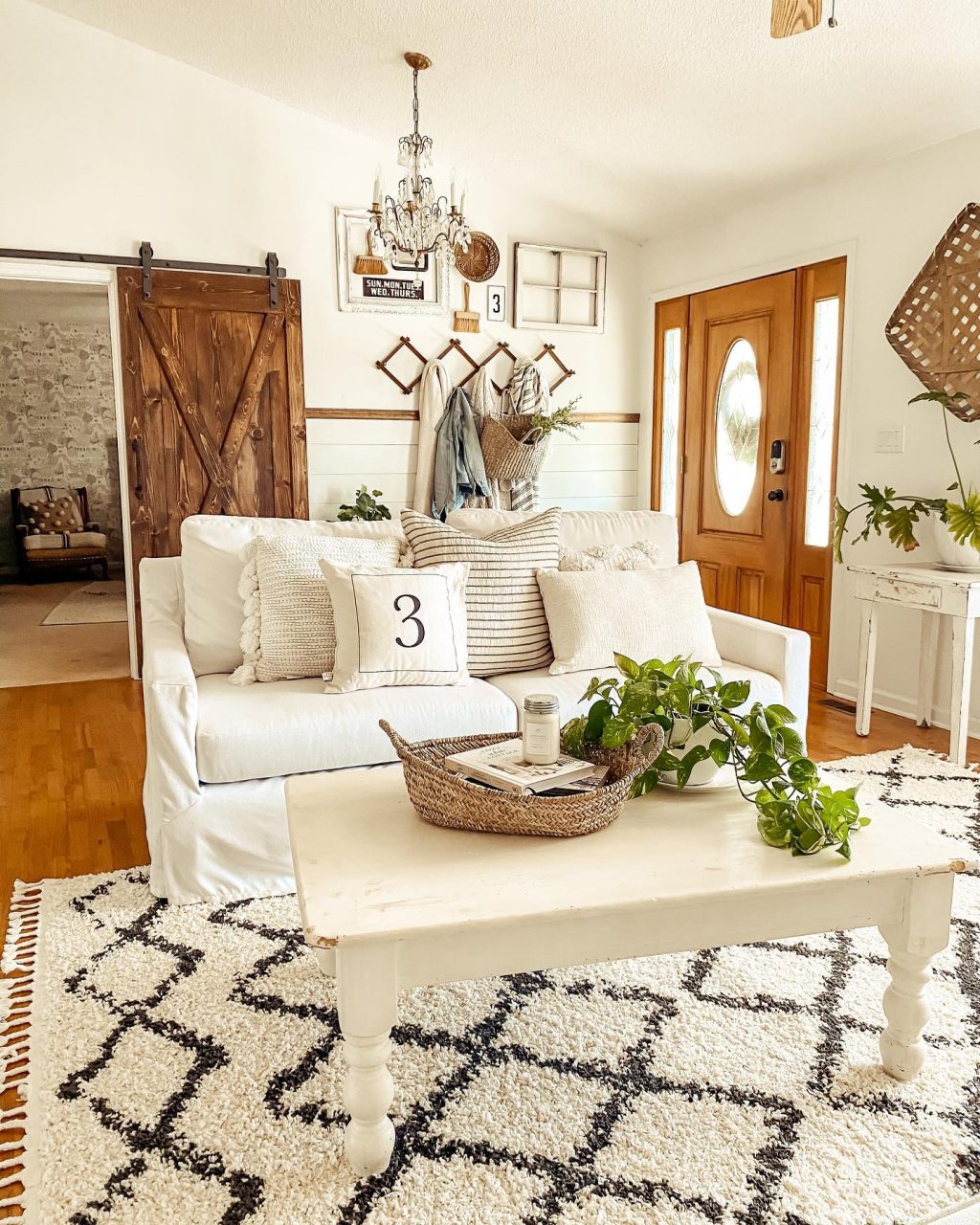 One easy way to get that farmhouse living vibe is to keep to neutral materials, in particular white fabrics. Layer as many blankets and rugs as you like — it all adds to the coziness. You can also use traditional elements on your furniture pieces such as couch and chair skirts.
Reading Nook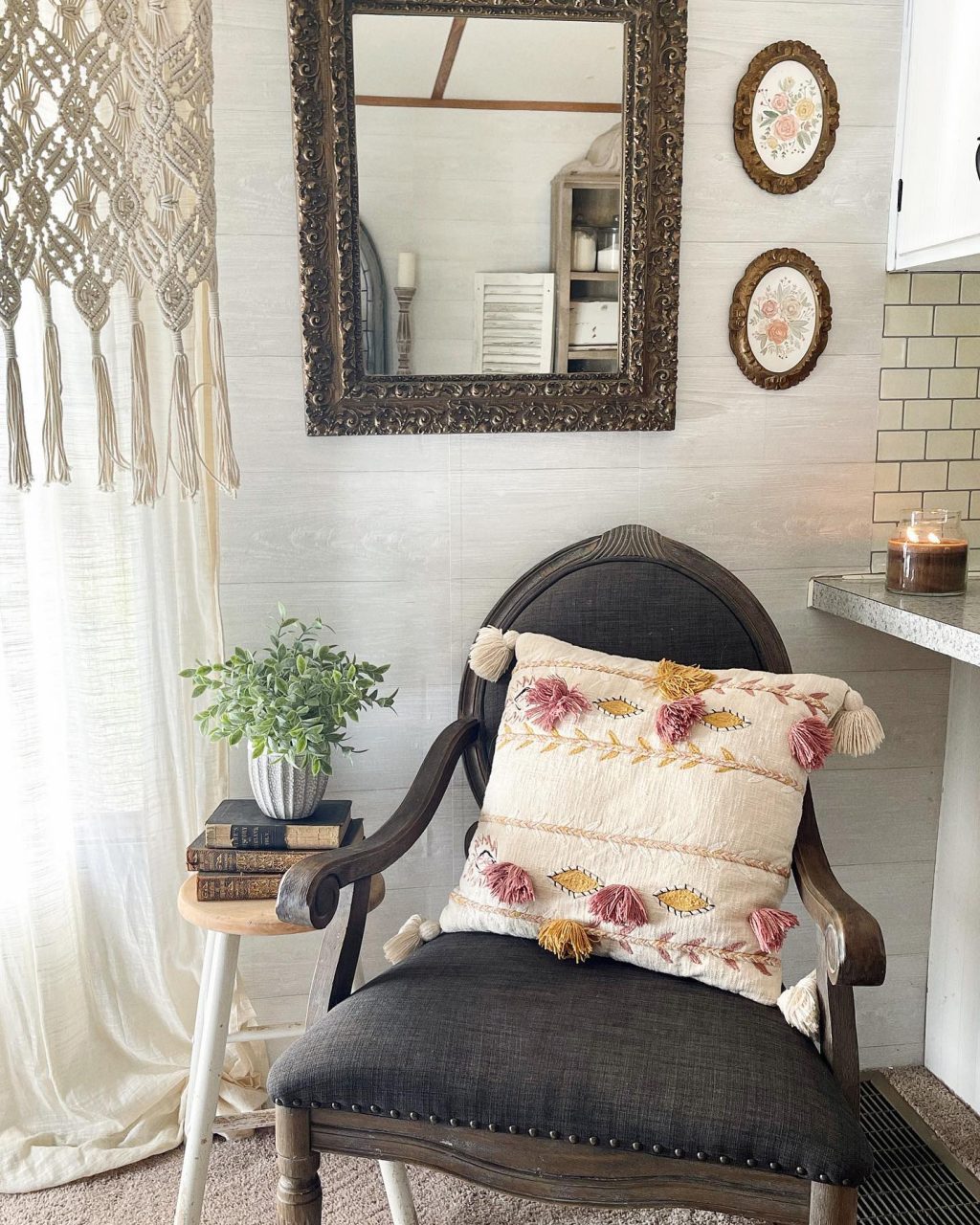 Adding a vintage accent chair in the corner of your living room creates a cozy space to read or just pass some time. It all creates the quaint, old-fashioned feel that farmhouse is all about.
Farmhouse Art
Art if of course a necessity in any living space, but if you're going for that farmhouse aesthetic consider actually having farm-themed art throughout the space. Think barns, farm animals, churches and field imagery. Try to find art that is muted and suits your colour palette.
Farmhouse Mantel Decorations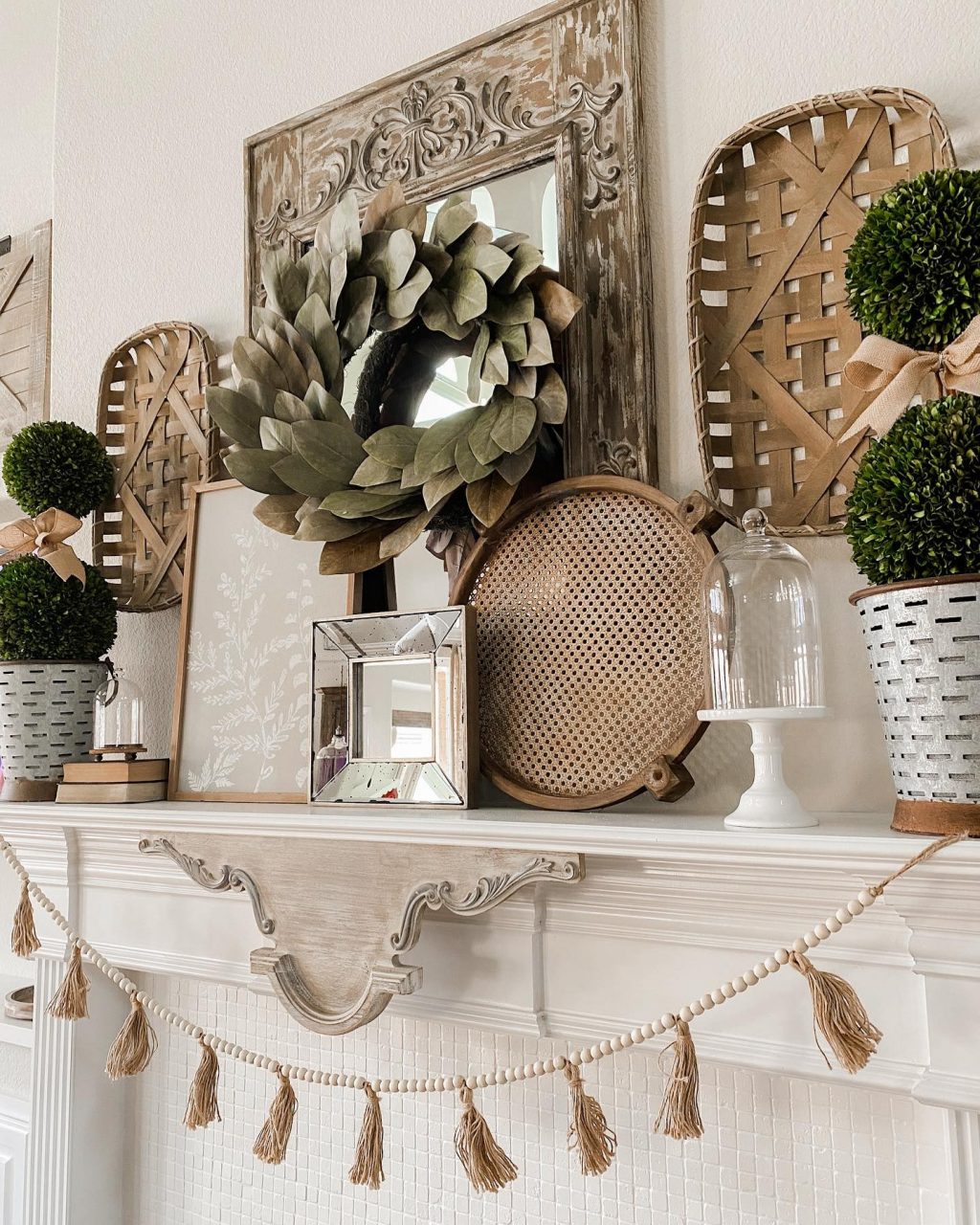 With fireplaces being a staple in farmhouse living rooms, use the space as an opportunity to decorate with farmhouse nicknacks. This could include greenery, garland, mirrors and anything else that matches your farmhouse theme.
Gold Accents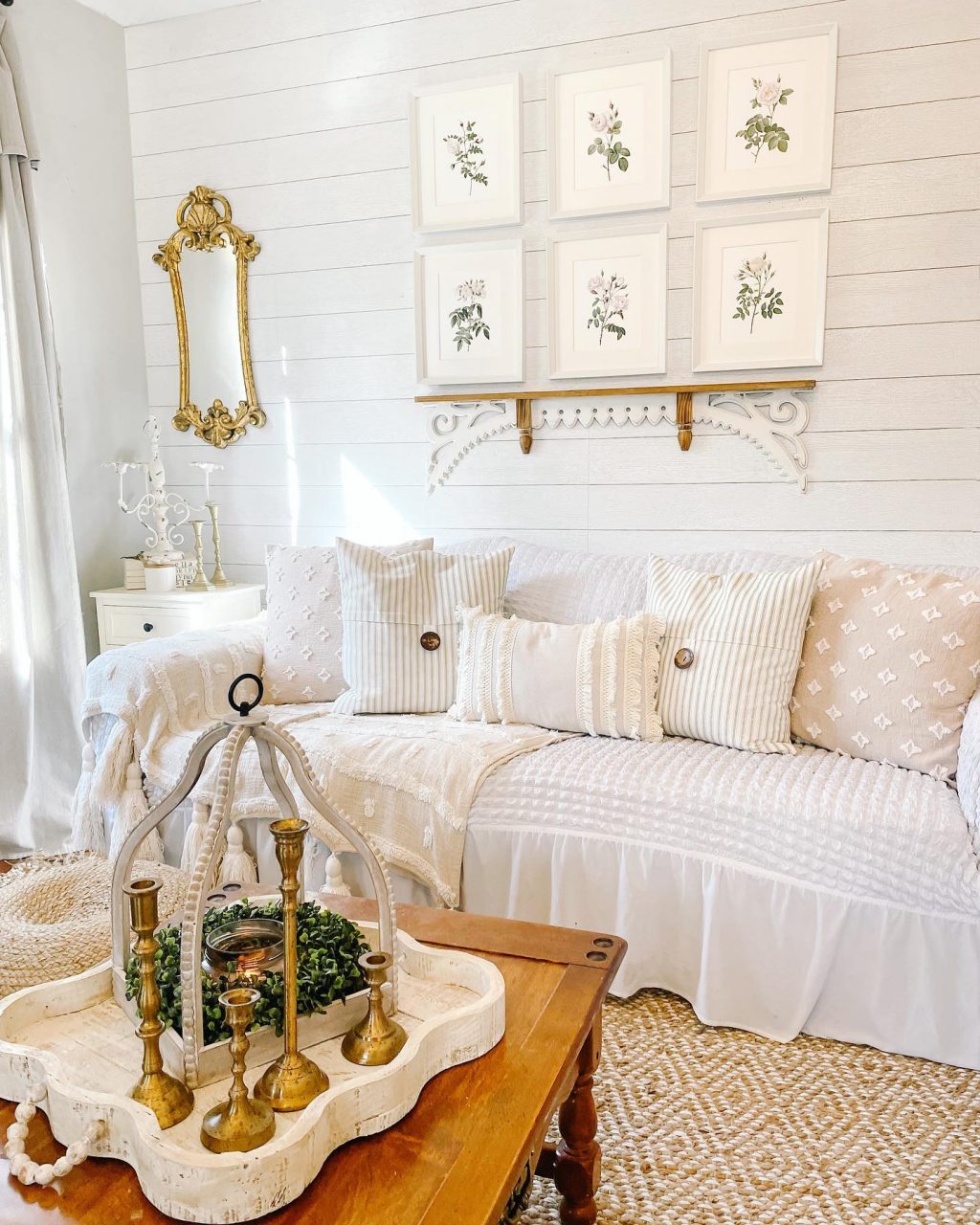 When choosing metallic accents for your farmhouse living room, gold is the way to go. Bonus points if you can find items with a tarnished, vintage gold finish! Bronze and copper are also good options.
Large Leaning Mirror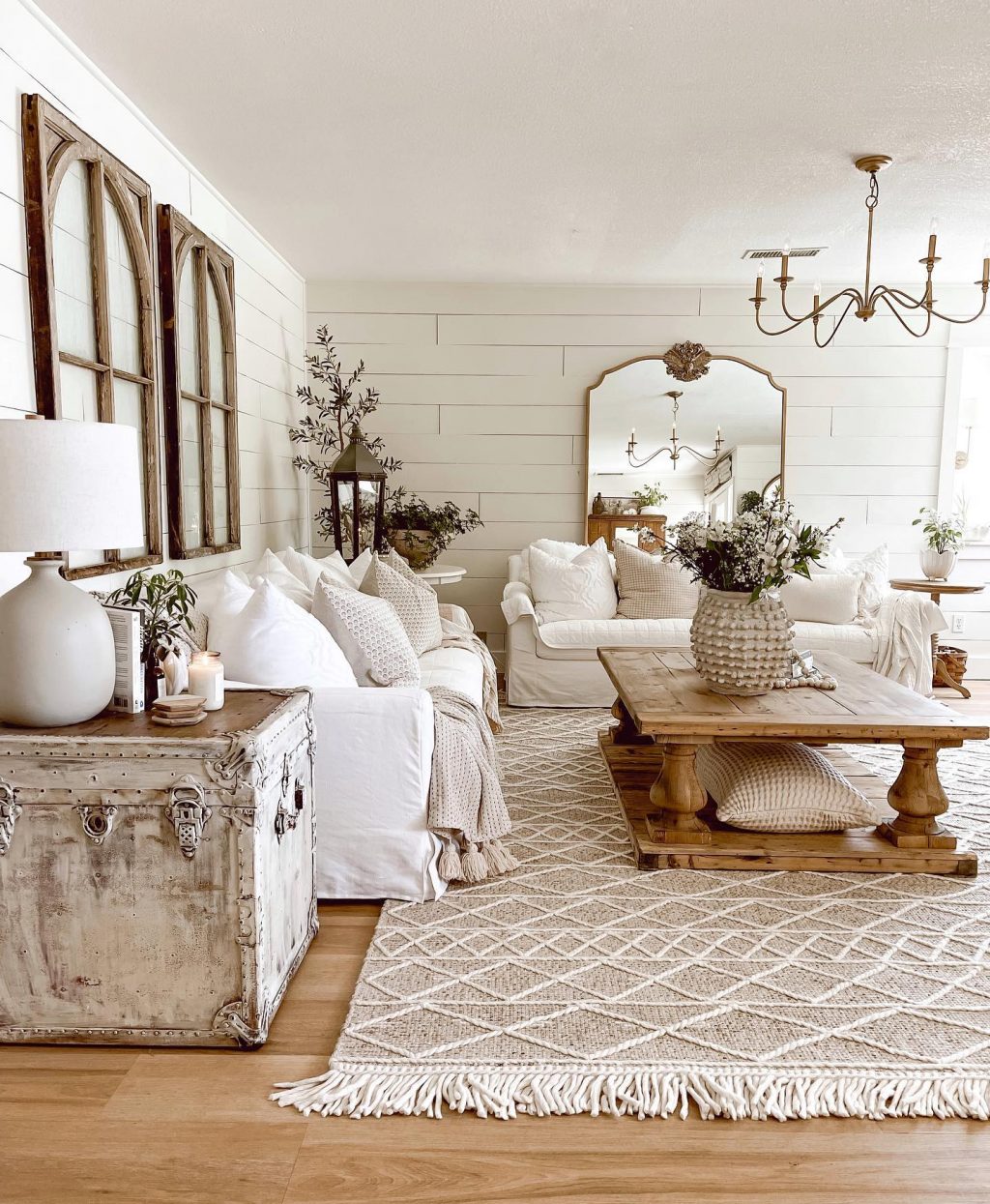 We all know that adding a large mirror to any space makes it look bigger and more open. For farmhouse living rooms in particular, a large leaning mirror not only brightens the space but also adds to the antique vibe.
Large Furniture Pieces
When it comes to farmhouse design, having a slightly overcrowded, 'cluttered' space only adds to the charm. Don't be afraid to choose large, chunkier items for your living room like this armoire.
Baskets and Blanket Ladders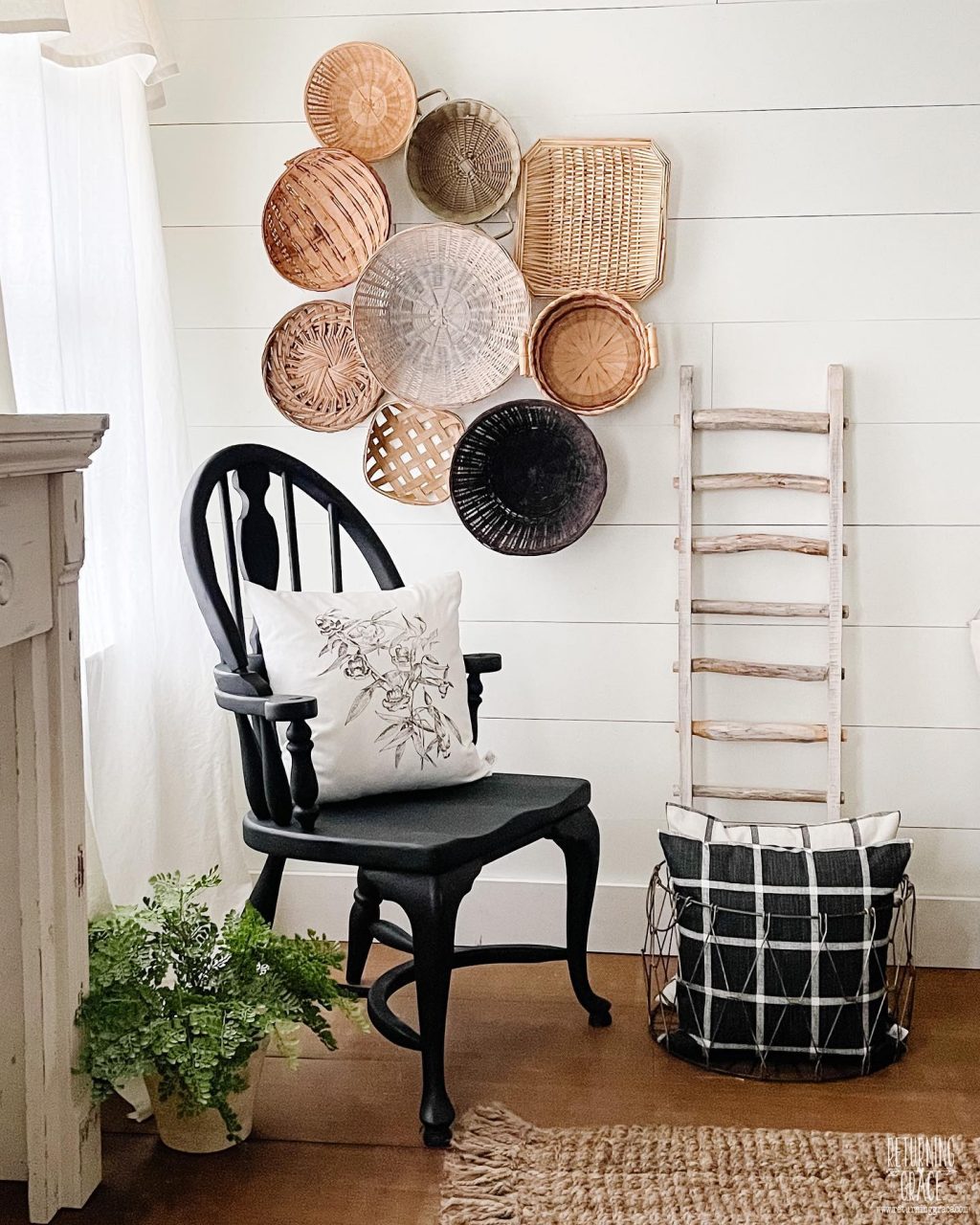 When decorating your farmhouse living room, textiles are a huge consideration. Be sure to have plenty of baskets around for storing and displaying throw pillows and blankets. Blanket ladders are another popular option for bringing texture and warmth to the room.
Fresh Flowers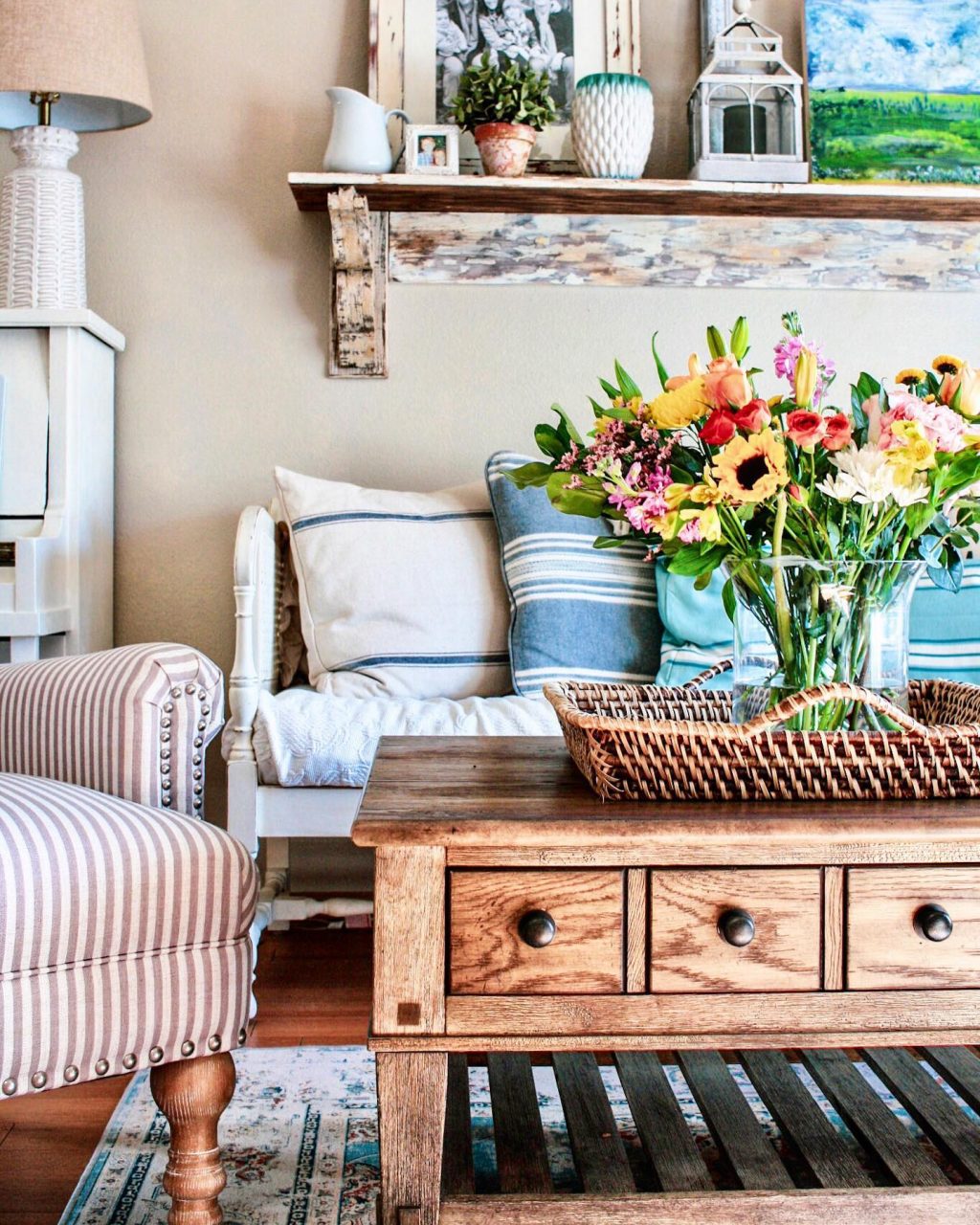 Bring life into your living room by regularly displaying fresh flower bouquets. Don't worry about getting anything too fussy or designed – fresh cut flowers from the garden work best for farmhouse living rooms!
Console Table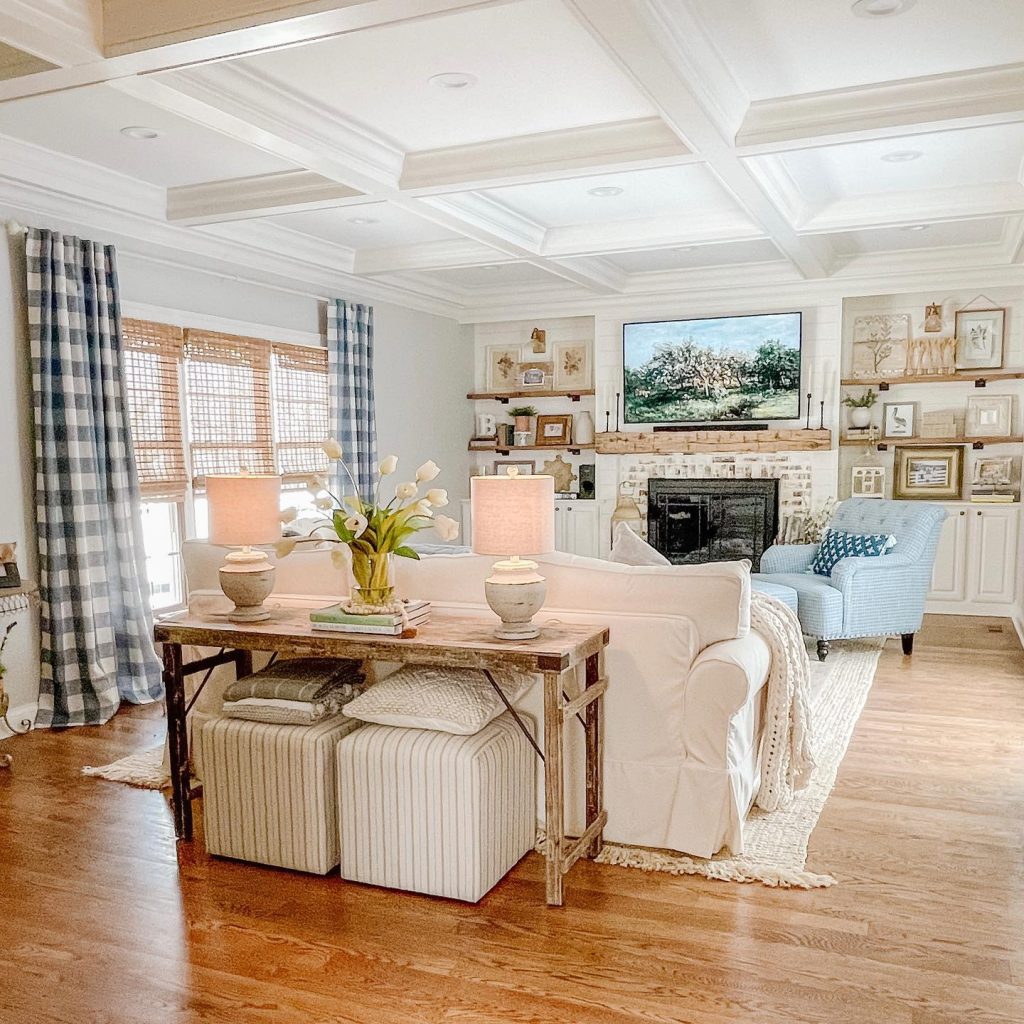 Since making a room look full and lively is the name of the game in farmhouse decor, consider adding a console table behind your couch. This provides an opportunity for displaying more lamps, flowers, books and textiles.
Candles Everywhere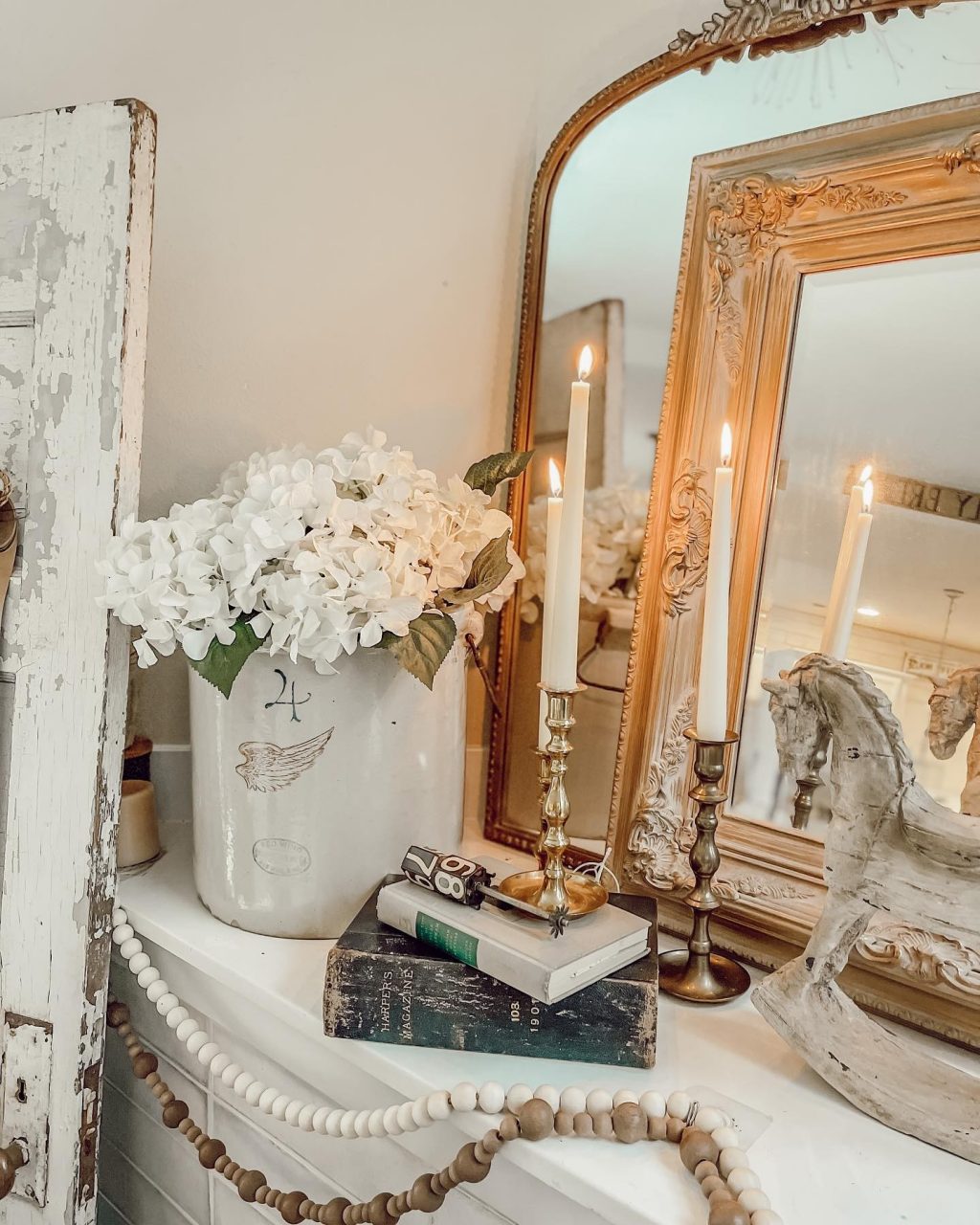 One thing you'll notice again and again while looking at farmhouse decor is the inclusion of candles wherever possible. We particularly like these tall, gold candlesticks displayed on the mantle.
Chandeliers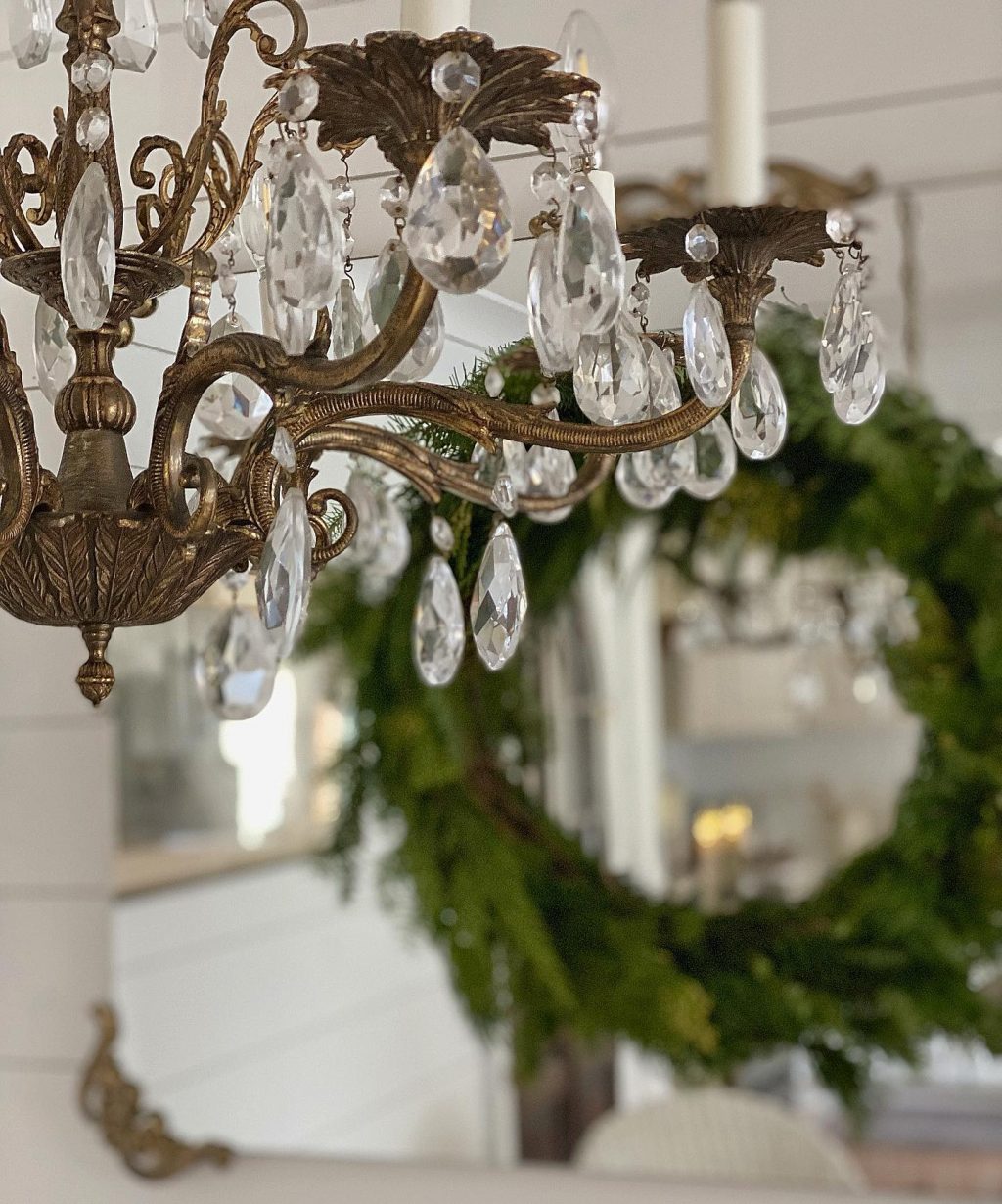 Another way to make your space instantly feel a bit more farmhouse is to make sure your light fixture is some kind of chandelier. Choose something with a rustic vibe (stay away from industrial) or something with crystals for best results.
China Cabinet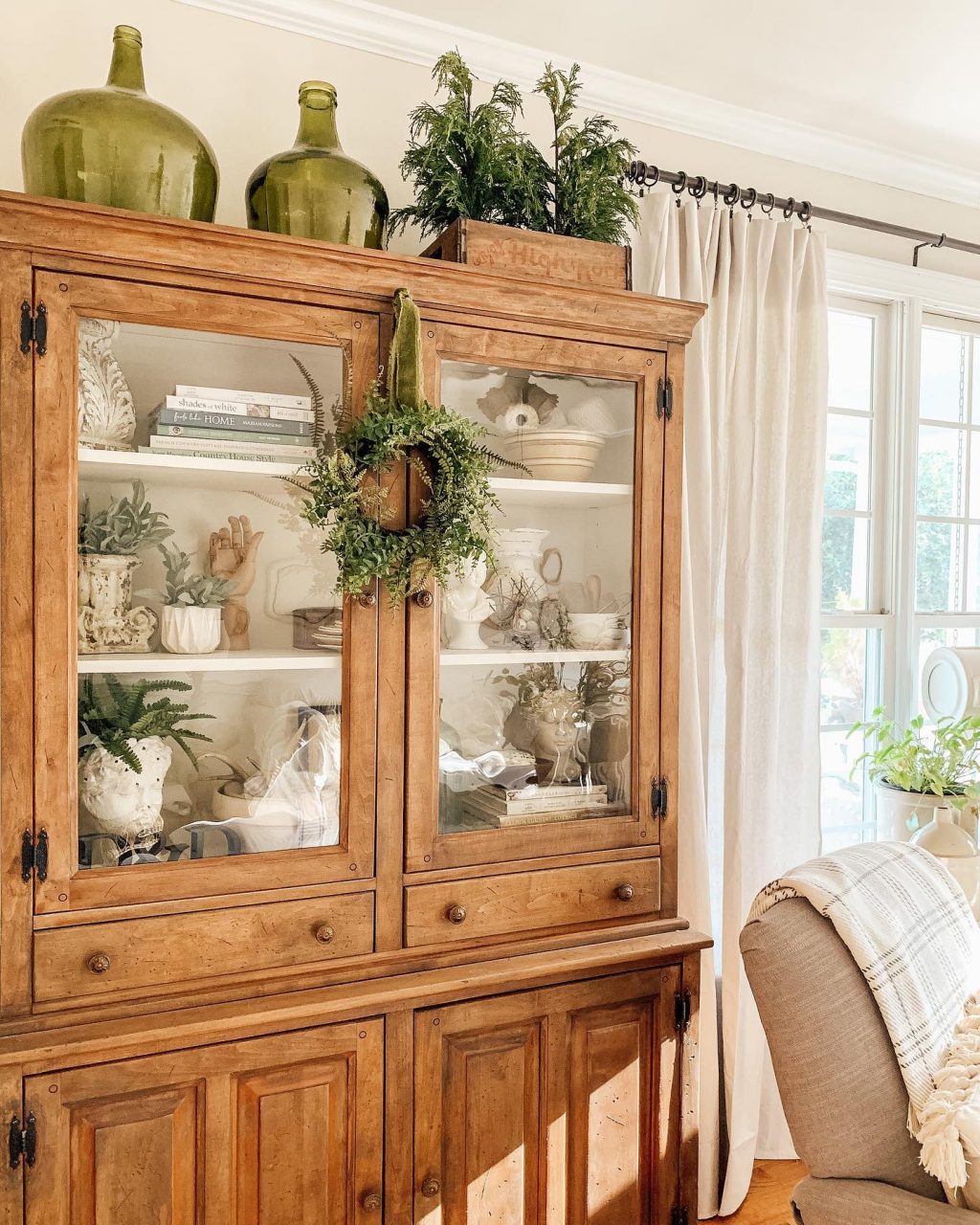 The more chances to display your nicknacks, the better. Add a wooden china cabinet to your farmhouse living room and fill it with porcelain jugs, books, antique finds and more.
Mix Patterns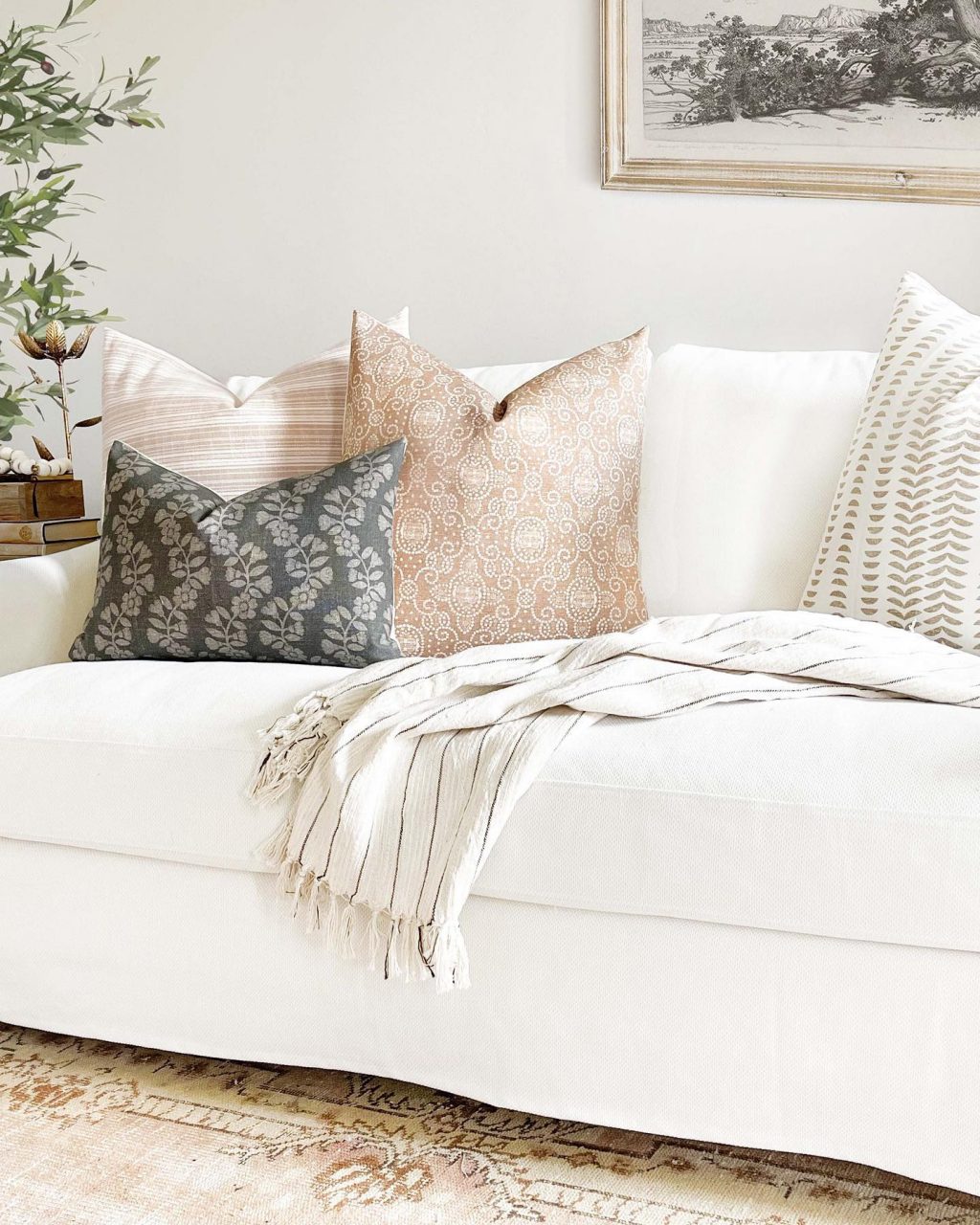 When it comes to textile, don't be afraid to mix patterns wherever possible. If there was any rule to keep in mind, it would be try to keep your patterns fairly tradition (florals, stripes, damask) as well as in muted or neutral colours.
Antiques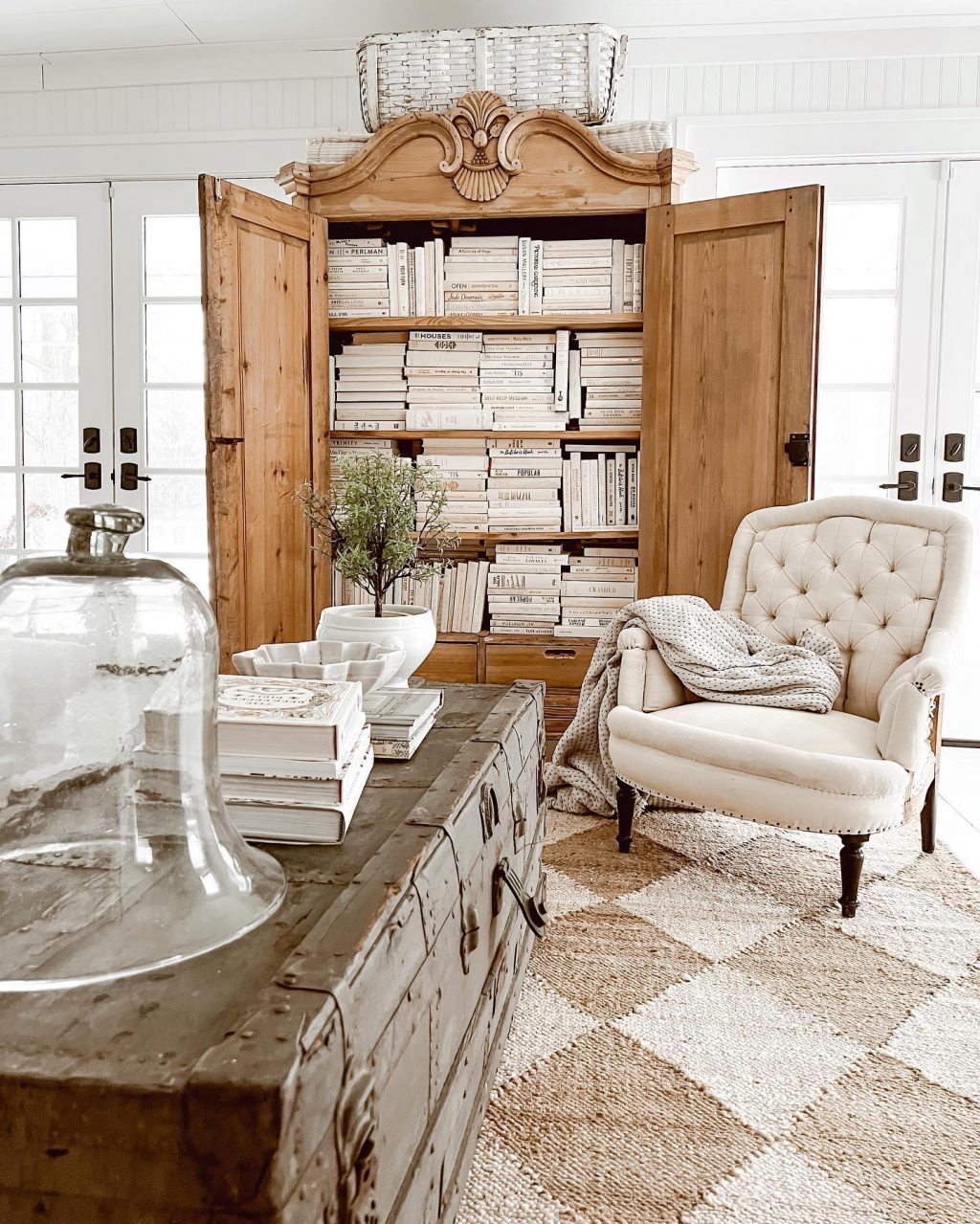 While farmhouse chic has come in and out of popularity in mainstream design; one thing that will keep your design looking authentic and timeless (rather than mass-produced) is to include as many antique pieces as possible. Many farmhouse style living rooms feature old chests as coffee tables, which is a beautiful feature piece!
PIN THIS: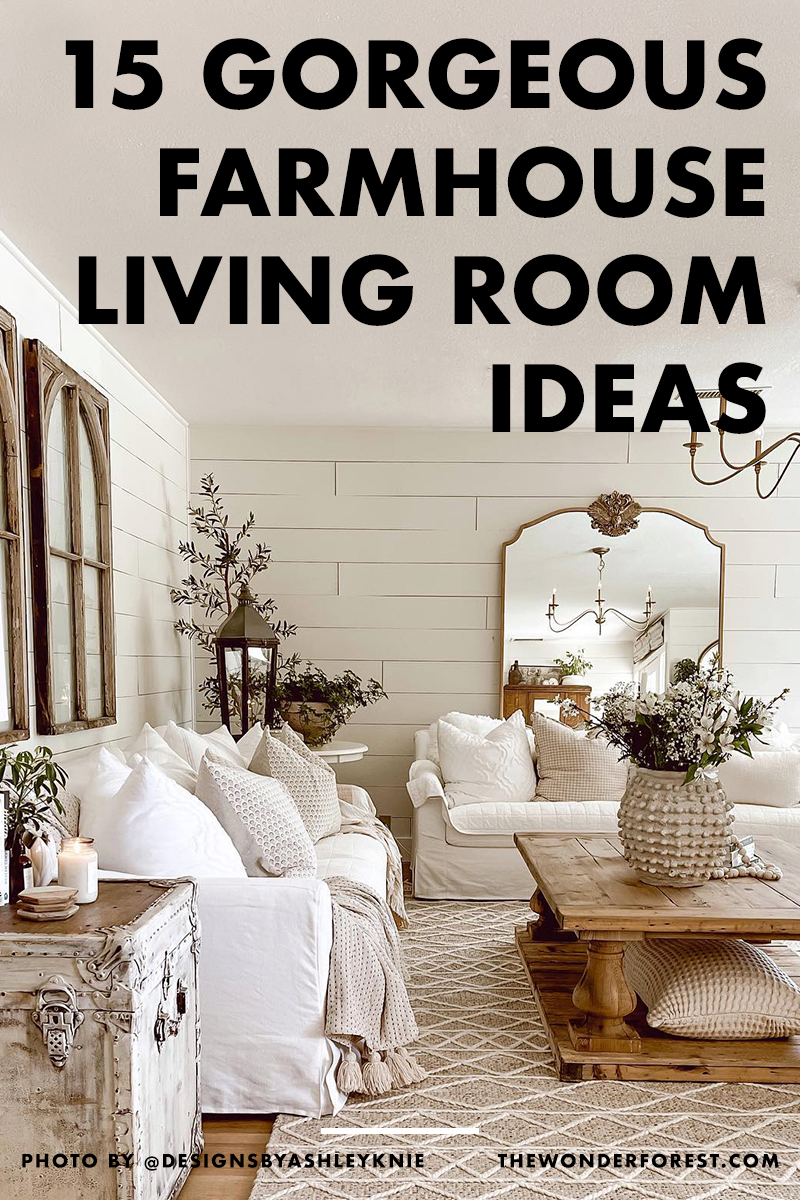 Last Updated on