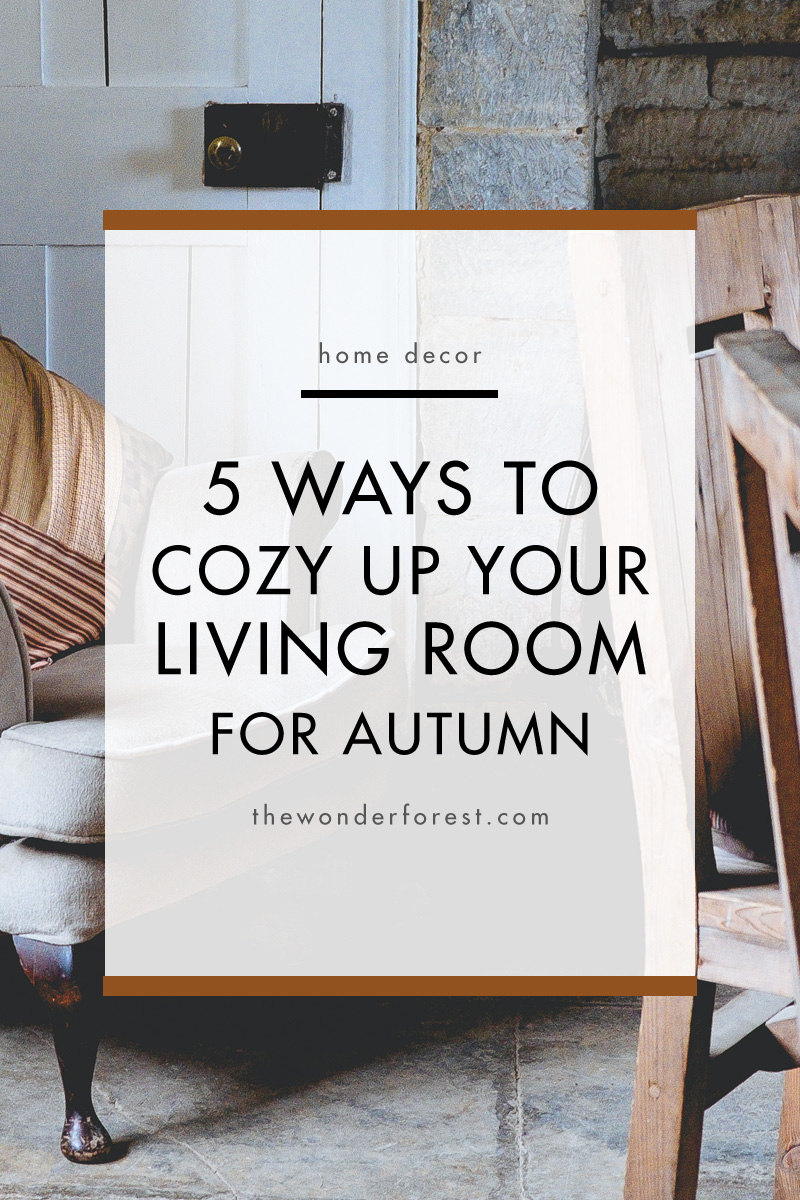 I don't know about you – but I tend to become a little reclusive when autumn hits. My withdrawal may be due to the drop in temperatures, or the fact that summer is over and so are the busy weekends that come along with it. Or, it could just be how cozy fall is. Everywhere you look, leaves are falling slowly to the ground and scarves and sweaters come out to play. So if you're planning a Friday night in, here's how to make your living room feel extra cozy this fall… 
Poufs, Blankets and Pillows
If your couch is bare, give yourself a slap on the wrist. I joke – but really, nothing is sadder than a lonely couch without a pillow or blanket to cuddle up to. Autumn calls for pillows in shades of orange, maroon, browns and greys and blankets made of cashmere. 
Grey Felt Pouf from Nordic House 
When it comes to choosing a pouf or ottoman – round shapes tend to feel cozier than squares, and fabrics with a texture add dimension and warmth. And since fall is all about being comfortable – knit textures can really help achieve that autumnal feel.
Boho Loco and Desert Linen Floor Pillows by Wonder Forest
I'm slightly obsessed with floor pillows – simply for the fact that they look so darn cozy and are perfect when you have a few too many guests and there's not enough chairs. The two I've chosen above will go great in a room already filled with autumn decor and orange blankets – adding unique patterns that don't make your living room look too overdone with one theme.
Chunky Blanket by Little Dandelion for Kara Rosenlund, Fall Home tour by Craftberry Bush
Throw blankets are one of the many joys of life – and I'm already on the hunt for a new one to call my own this fall. When it comes to blankets – it's all personal preference. Some people love heavy, chunky knits while others prefer light, soft cashmere throws. Me? I love all blankets. While I often shop for blankets at typical home decor shops like HomeSense, I also recommend heading to Fabricland (or your local fabric shop) and Chapters/Indigo, where you can usually find some pretty good hidden gems.
Diffusers and Candles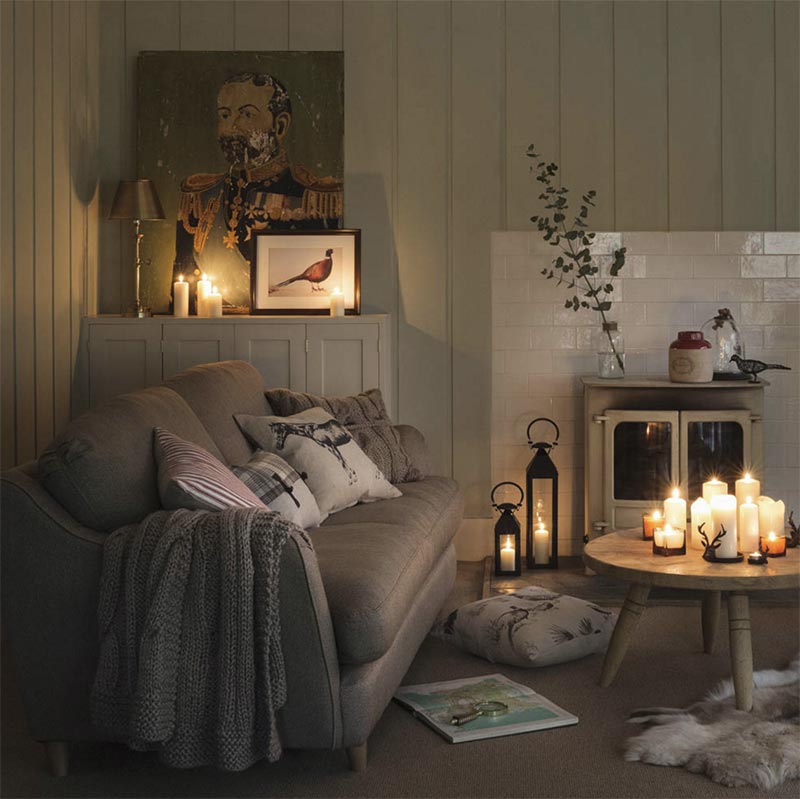 Photo from House of Fraser
Mmm, the sweet scents of fall. While I'm not privy to buying pumpkin-scented candles, nothing is cozier to me than lighting some candles. But if you don't like lighting candles for safety reasons, diffusers are the next best thing. Right now, I'm using eucalyptus candles and essential oils and it's absolutely heavenly and relaxing. Lavender is another great option for winding down at the end of a long day.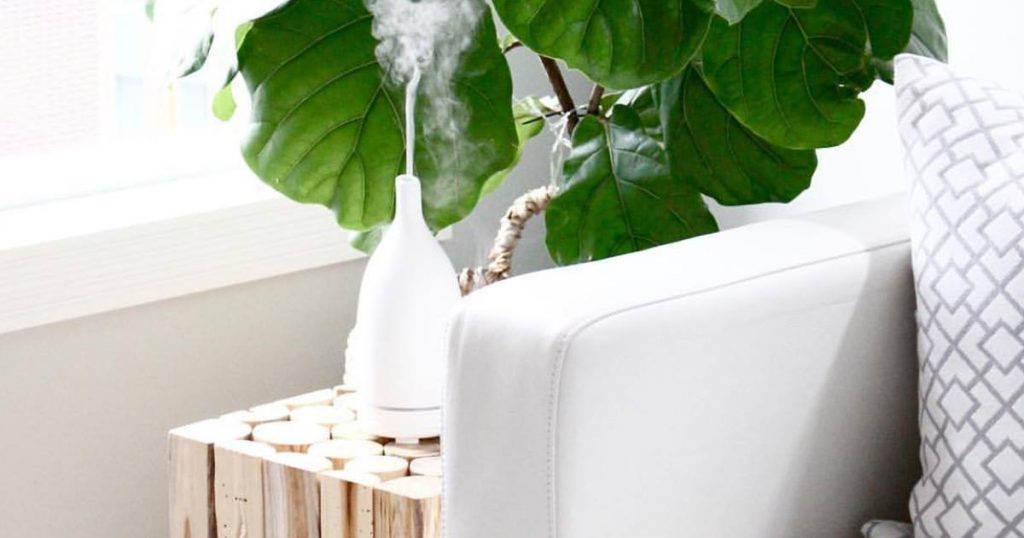 Photo from Saje
I frequently shop at Saje and Escents for my essential oils. I also got my diffuser/nebulizer from Escents, but Amazon also has a great selection. For candles – I've always had great luck at HomeSense, Marshalls and Winners as they often carry the last bits of stock on unique brands. 
Seasonal Decor
As cheesy as seasonal decor may sometimes be, it just wouldn't be autumn with a few pumpkins hanging around. If you want something a bit more glitzy, try this DIY leaf garland. If subtle is more your thing, this succulent planter DIY is quite cute and simple. 
Photos by Liz Marie Blog
If orange is simply not part of your decorating scheme, you can still incorporate pumpkins by painting them to match your living room's theme. 
A Warm or Chilled Beverage
Whenever I'm ready to spend a weekend night in by my lonesome, I may sure to have all the necessities: Netflix, a soft blanket, and a tray for my drink and snacks. Jasmine tea seems to pair very nicely with a cozy night in, as does wine.
Photo from We Love Home Blog and Keep
I love the look of serving trays, and having everything out makes it possible to literally veg out without having to get up multiple times to pour more tea or grab a snack.
Soothing Lighting and Sound
Now that you're settled in to enjoy the night, there are just a few more touches that will bring you from chill to completely relaxed. Soft, glowing lighting is essential for relaxation.
Photo from Urban Outfitters
Hanging string lights is an instant way to make your living room just a little bit more magical and relaxing. They provide just enough light to relax in front of the television – but if you want to read a book, you might also want to turn on a lamp.
If you've had enough Netflix for one day, I highly recommend putting on some high quality headphones and listening to ASMR or 3D sound videos. If you haven't tested out if you react to the tingly sensations of ASMR yet, a relaxing evening is the perfect time to do so. And if all else fails, listening to the sound of rain is a surefire way to completely let yourself go. Enjoy! 
Last Updated on