Chunky knits are more than just stylish statement pieces, they make for a simple and quick projects that you can easily create yourself! We've searched far and wide to bring you the best (free) DIY chunky knitting tutorials and projects.
So grab some super chunky yarn, a cup of tea, some big knitting needles (or your arms) and let's get knitting!
Super Chunky Arm Knitted Blanket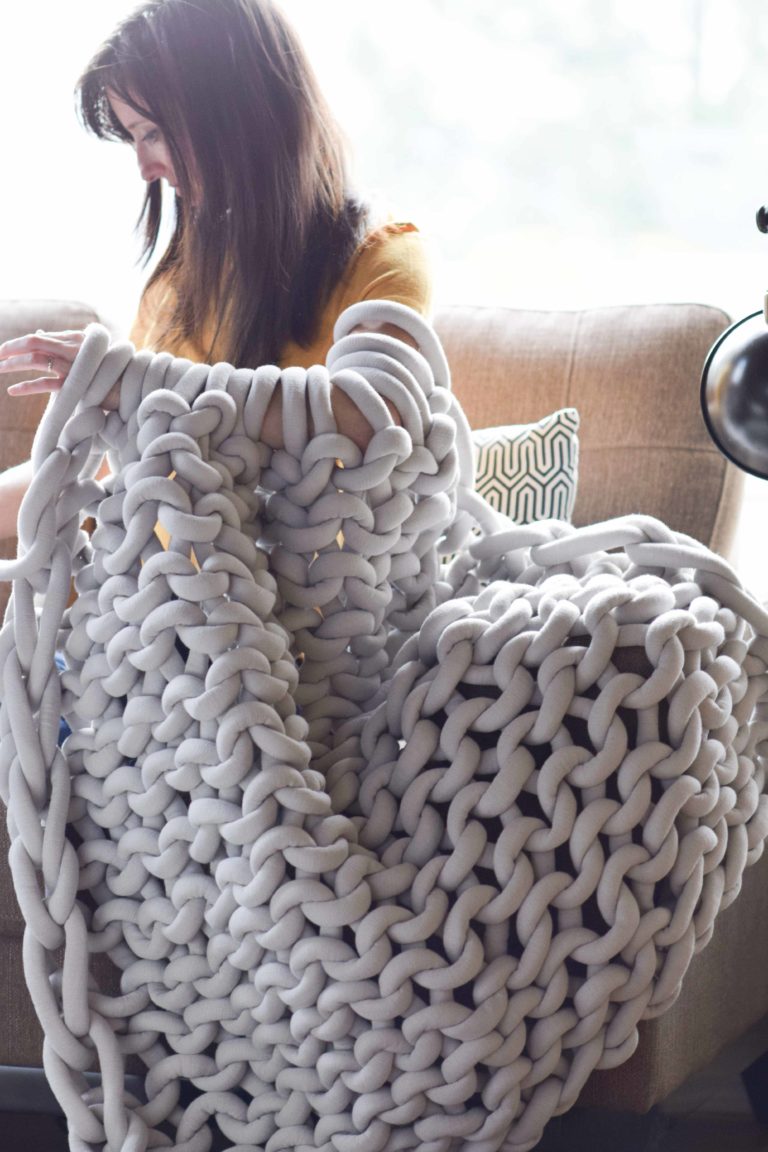 Everyone adores these larger than life blankets – but did you know that it's really easy to make your own? You don't even need knitting needles or any knitting experience to make one of these luscious chunky arm knit blankets. You just need some super chunky yarn and this step-by-step tutorial that shows you how to knit with your arms!
Candy Stripe Knit Sweater Pattern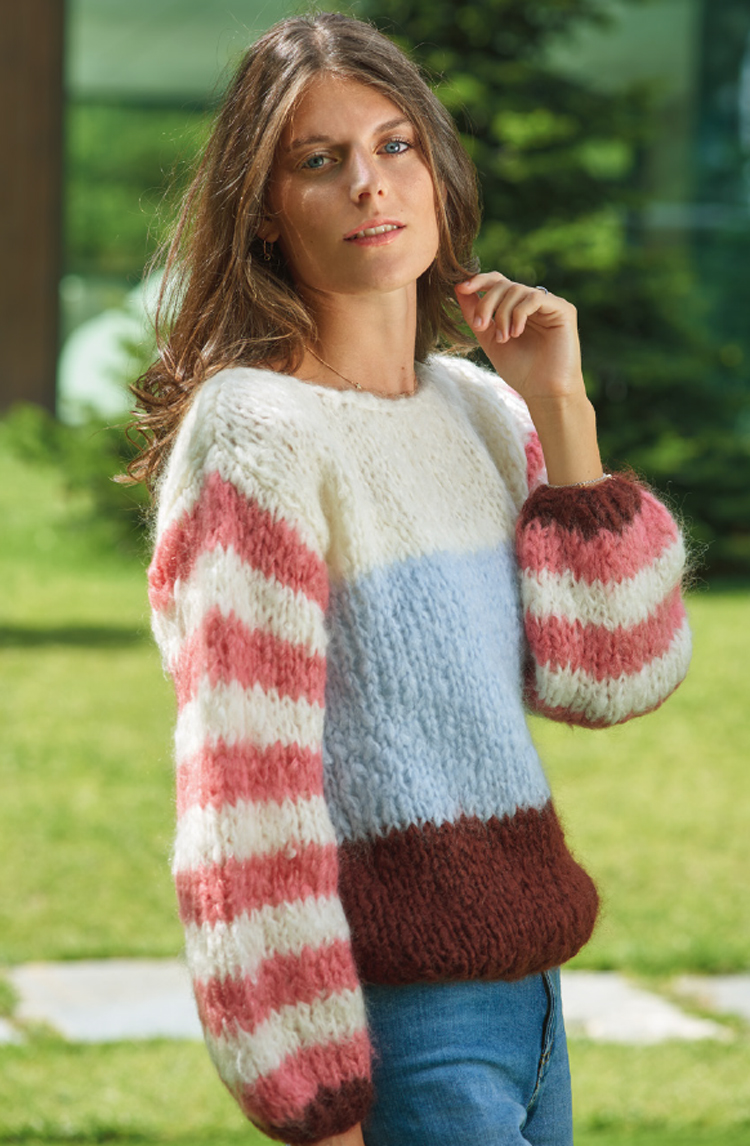 Fluffy chunky knits have been huge in the fashion world over the last couple of years. With big popularity comes big price tags, but not if you make them yourself! This oversized bulky knit pattern is the best place to start if you want to make your very own, very fashionable and very cosy sweater. A great starting project for beginner sweater knitters.
Chunky Crochet Slippers Pattern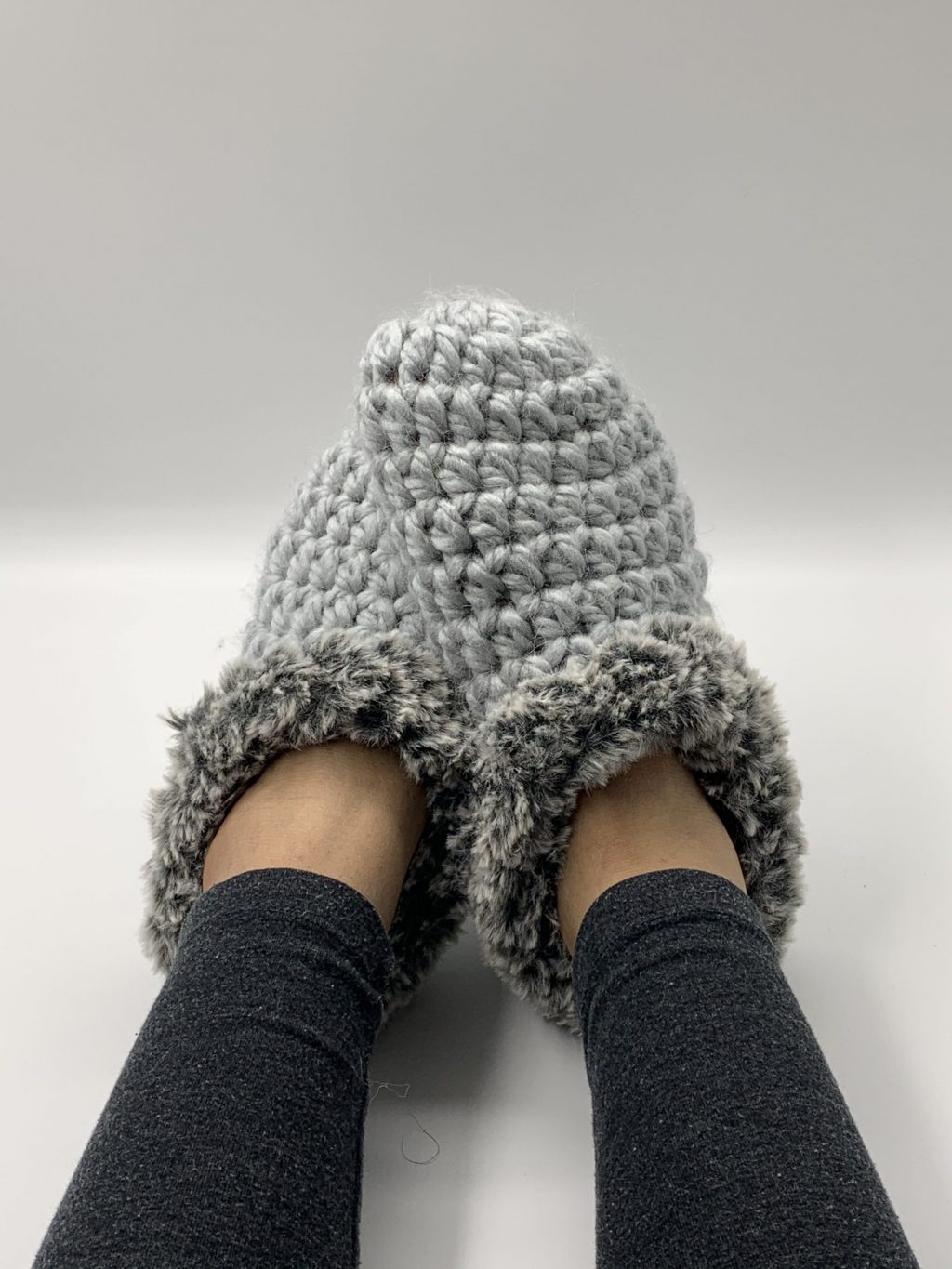 Nothing beats a pair of crochet slippers like Nana used to make. They are much easier to make than it looks, there's a detailed tutorial for you to knit along with. These will knit up in no time!
Bulky Knit Hats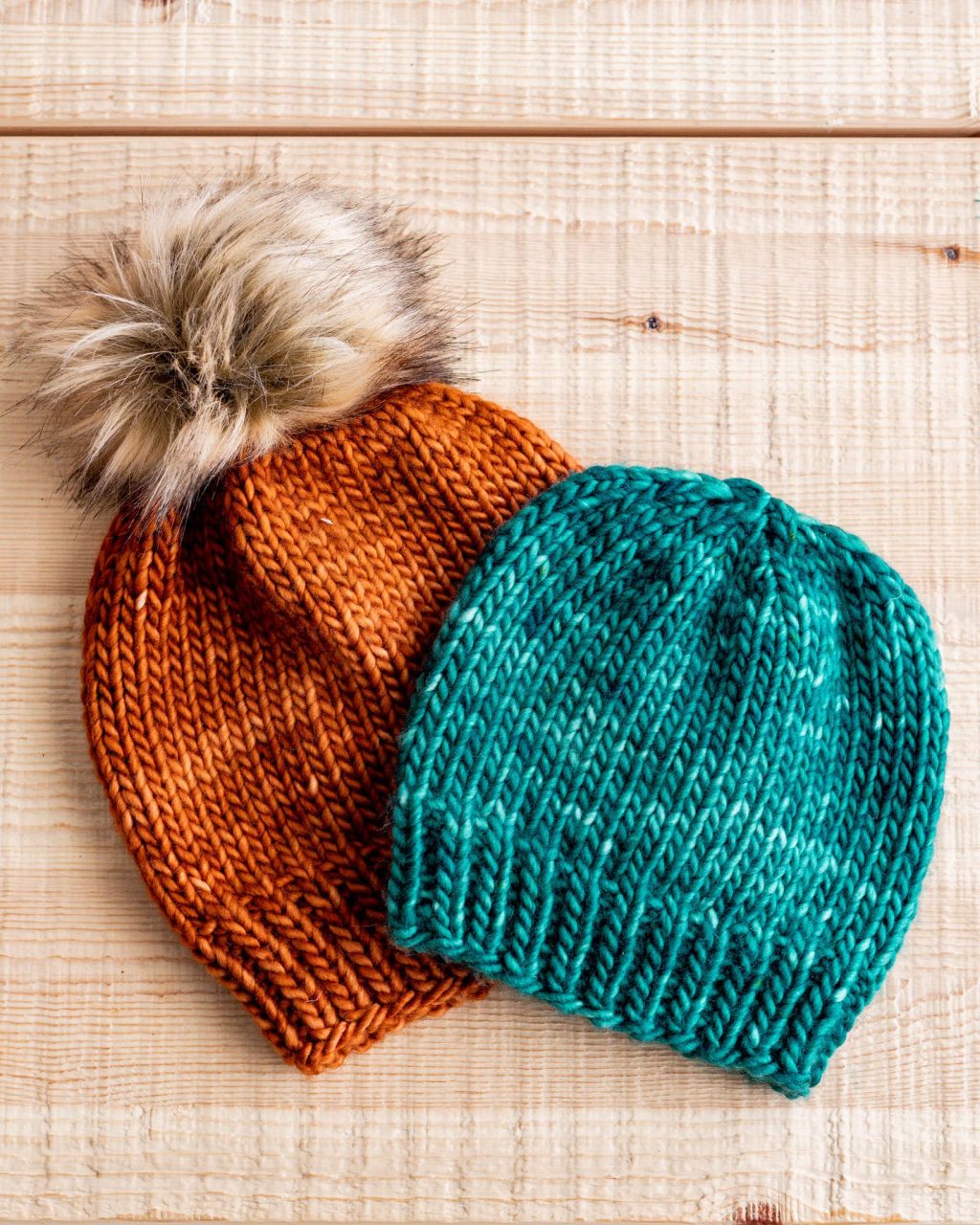 You just can't beat a classic knit hat. Using super bulky weight yarn, these basic but beautiful hats can be knit in just one evening, making them the ultimate last minute gift idea to warm the heads and hearts of family and friends. There's something really satisfying about knitting hats, and we know you'll be obsessed with this project – one is never enough.
Big Comfy Ribbed Cardigan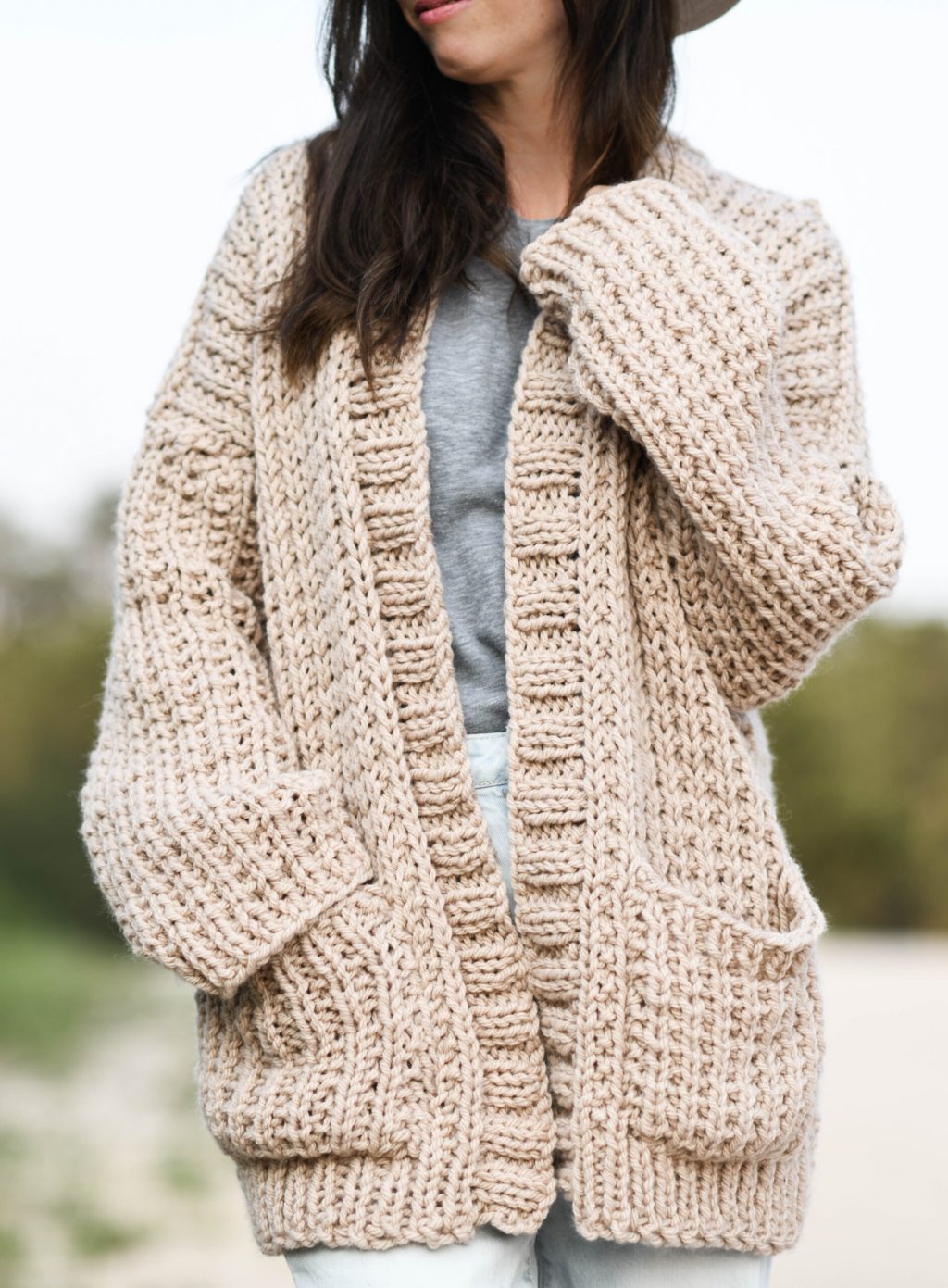 With texture galore, this big comfy ribbed cardigan is the perfect campfire companion. This design looks complicated, but it's actually really simple and quick to make with the broken rib pattern being a two-row repeat. The pattern is easy to follow and has plenty of notes, making this another excellent project for confident beginners.
Gourdgeous Knit Pumpkin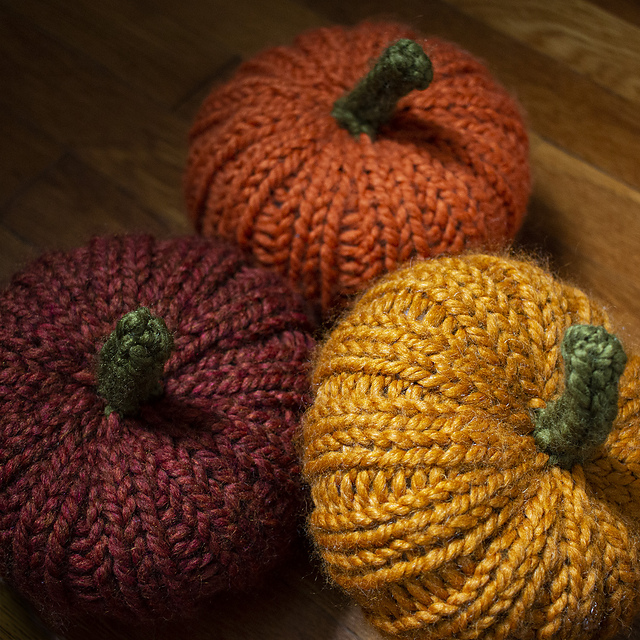 These sweet knit pumpkins really are 'gourd-geous' (hehe). We love that these can be used all autumn long. They'd even go great as a table centre-piece at Thanksgiving when the pumpkin pie is served up. They may look like a challenge to make, but the tutorial has loads of step-by-step pictures so you can knit along with it.
Christmas Stocking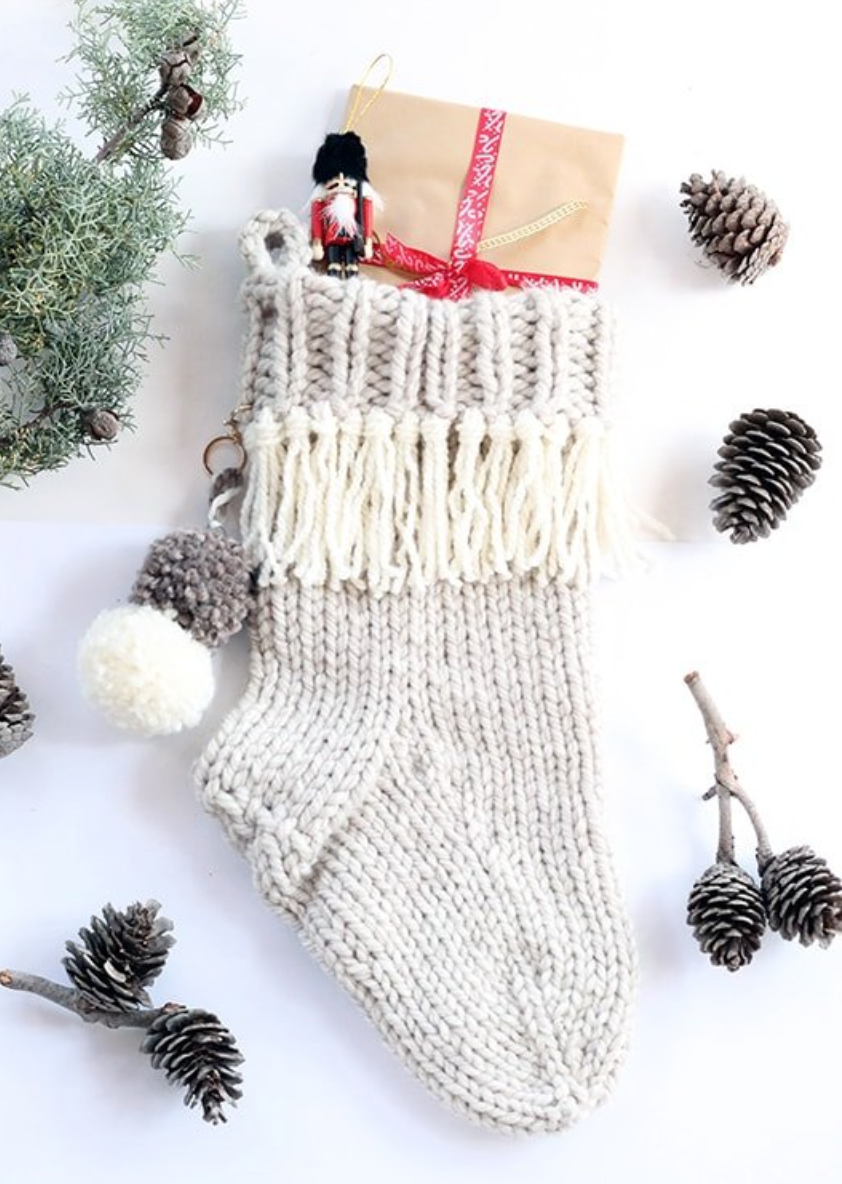 With Christmas on its way, we're on the hunt for super-fast, super-easy knits to fill our homes with seasonal cheer. This Christmas stocking is both cute and practical, making it the ideal decoration to adorn your mantle and fill up with presents. The best thing about this project is that you'll be able to re-use this stocking year after year!
Bobble Sheep Pillow
It's only natural that knitters love sheep, right? They do provide us with all the soft, luscious and squishable wool that we love so much. So of course we squee'd with joy when we saw this cute sheep pillow. The bobble stitch adds an undeniably sheep-like wooly texture, and it's always fun trying out a new stitch (if you're yet to give this bobble stitch a whirl).
Sweater Wreath
An excellent use for any leftover chunky yarn, this seasonal wreath reminds us of cable knit sweaters. Add a cosy touch to your winter decor instantly with this chunky knit sweater-inspired wreath. It's knit flat and then joined around a styrofoam circle, or you could stuff it with polyfil.
Christmas Tree Skirt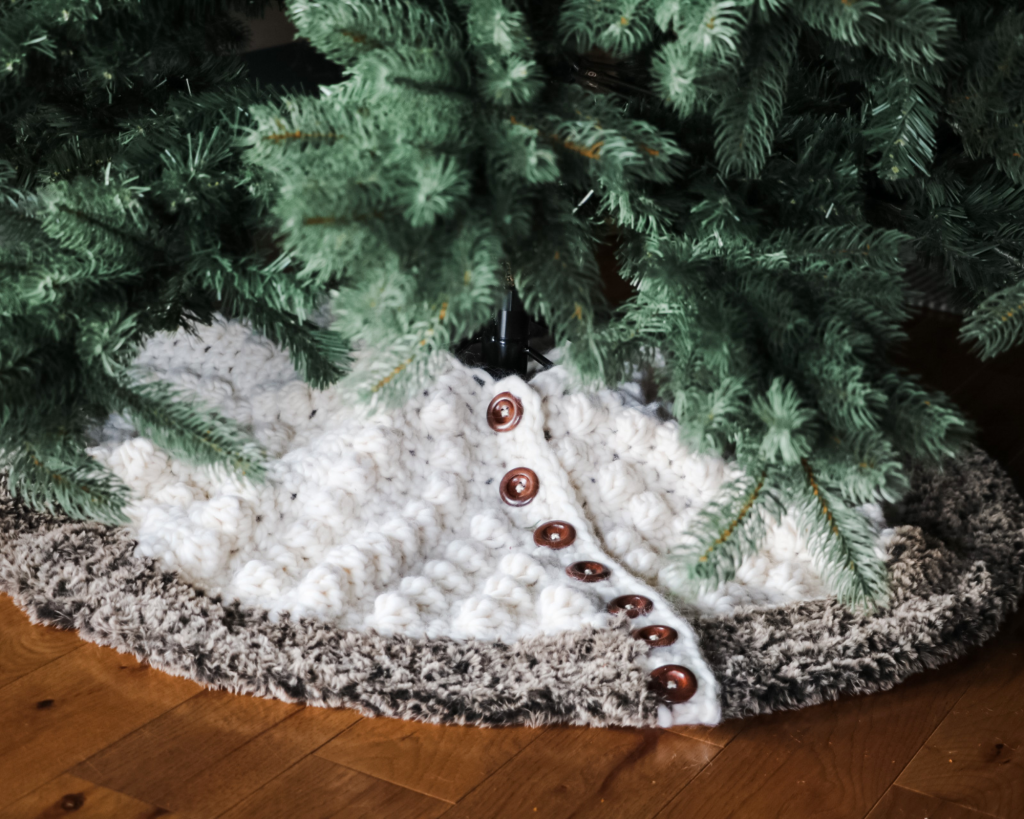 This cozy tree skirt is put together using jumbo yarn and giant crochet hooks for a quick and stunning project that will be loved each Christmas, time and time again. The buttons add a cheery and cordial vibe that will make your tree look fabulous from top to bottom. How sweet would this look with gift-wrapped presents all around?
Scarf with Pockets
This Arbor scarf is the oversized chunky scarf of our dreams – it even has pockets! This comfy and cozy accessory isn't just a statement piece, it's practical too. Big enough to wrap around your face and neck, you can also keep your hands warm in the pockets. You could probably store your next knitting project in them too.
Roll Neck Sweater
This roll neck sweater by Wool and the Gang has been knit in their Crazy Sexy Wool using 12mm and 15mm needles, making it a sweater you can actually knit before winter ends. We guarantee you'll be living in this, it's perfect for settling in front of the fire with a good book and a big cup of pumpkin spice. Stay toasty, friends.
Close to Me Cowl
This snuggly and soft cowl is exactly what you need to keep warm on those really chilly days. It is perfect for covering your cheeks and ears when the icy wind picks up. With stunning texture and a simple two-row repeat pattern, this is another one of those projects you could complete in one evening.
Seed Stitch Mitts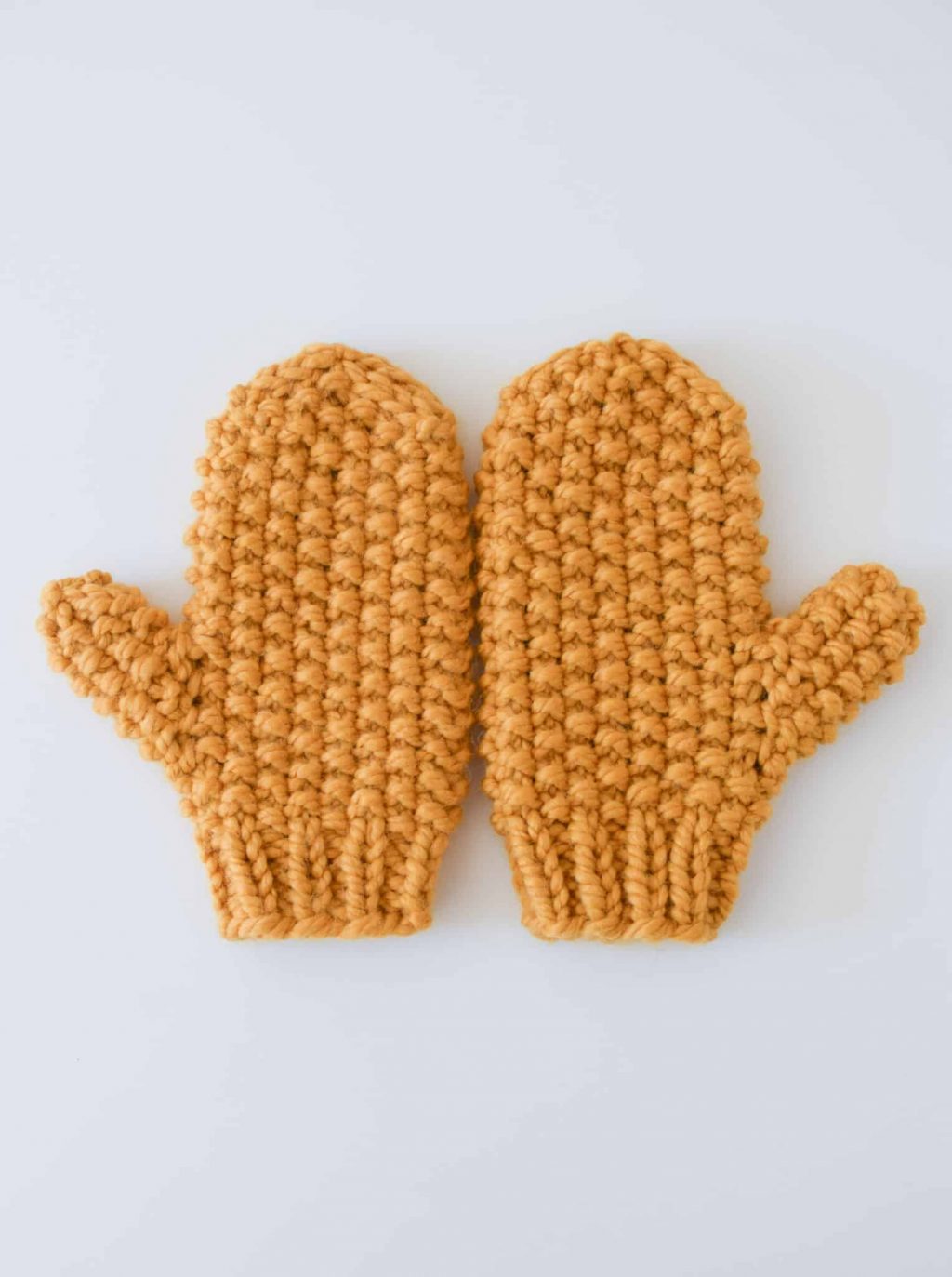 Mittens are a good place to start if you're looking to up your knitting skills real quick, especially for those who feel intimidated by increasing and decreasing. The super chunky yarn will ensure these knit up quick, and you'll pick up some great new skills in the process. If you are already in the know when it comes to M1L and M1R, then what are you waiting for? Get to it, these mitts are sweet as sugar and super warm too!
Chunky Knit Crochet Ornament
Tis the season for crafting all sorts of creative ornaments for your tree! This crocheted ornament is super easy to make and brings a ton of warmth and coziness to any tree. Plus, it's obviously shatter and baby-proof!
Chunky Knit Basket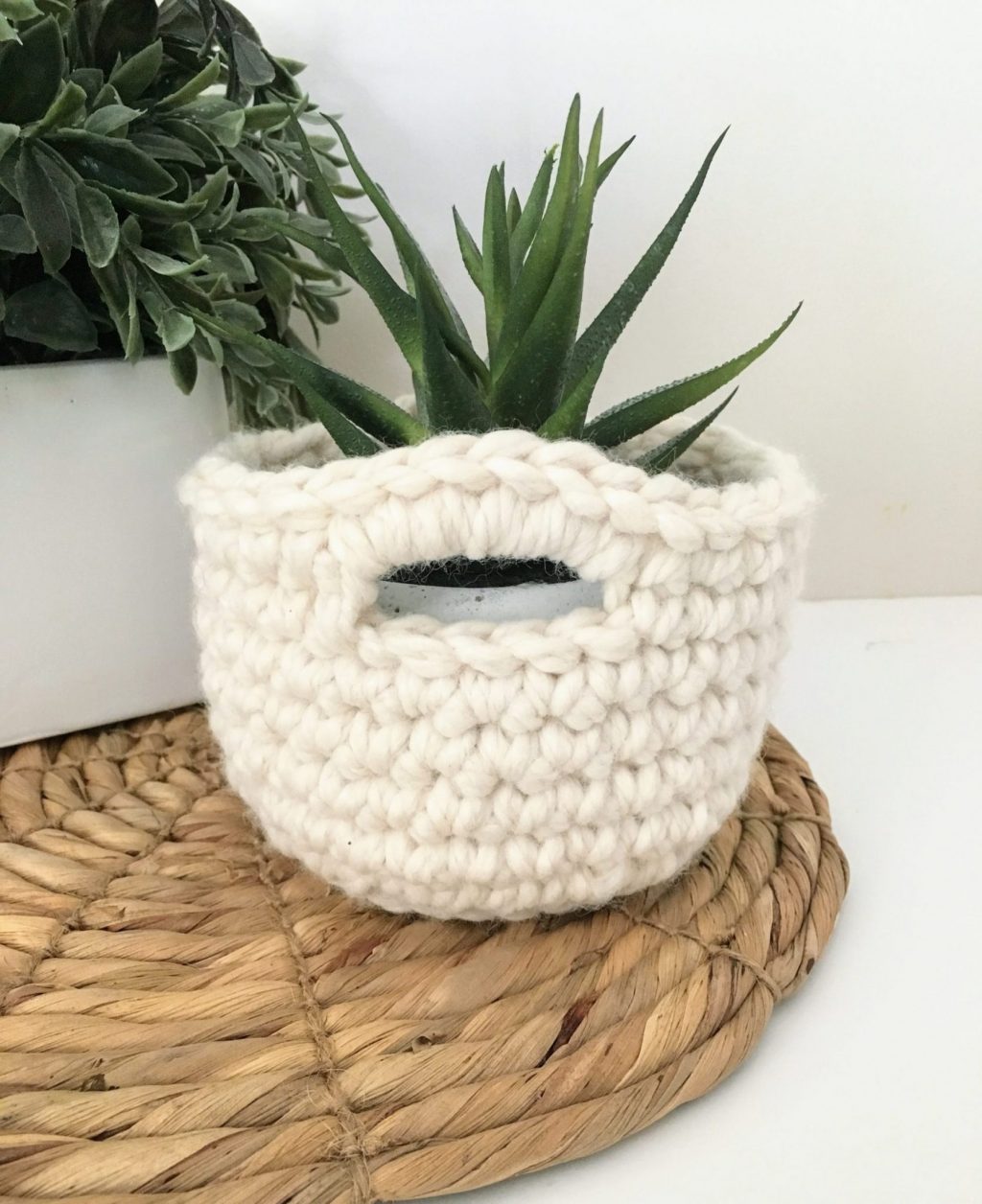 Here's an easy way to add some warmth and texture into your home decor. This tutorial by Stitchberry shows you how to crochet this darling little basket for your plants or knickknacks, or for gifting around the holidays.
Crochet Pillow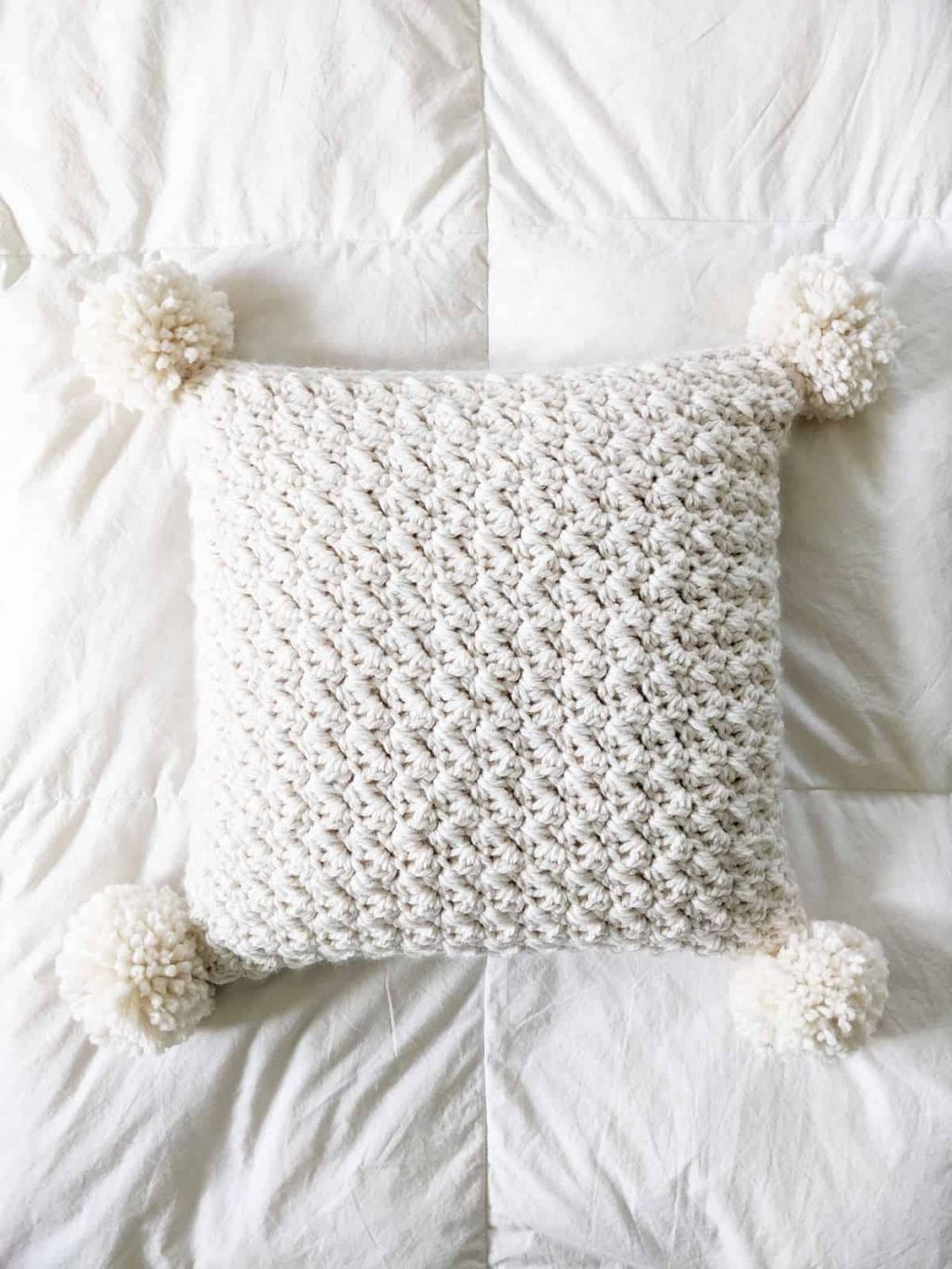 Equally suited in a cottage-core or boho themed room, this adorable crochet pillow is easy to whip up and features fluffy pom poms on each corner. Keep it for your own living space, or make it for someone you love.
PIN THIS: