The time for cozy fall suppers and dinner parties is almost here. Light some candles and plan a menu full of comfort foods, and then take your set-up to the next level with these 15 gorgeous fall floral arrangements and centrepieces.
Colour Wrapped Wheat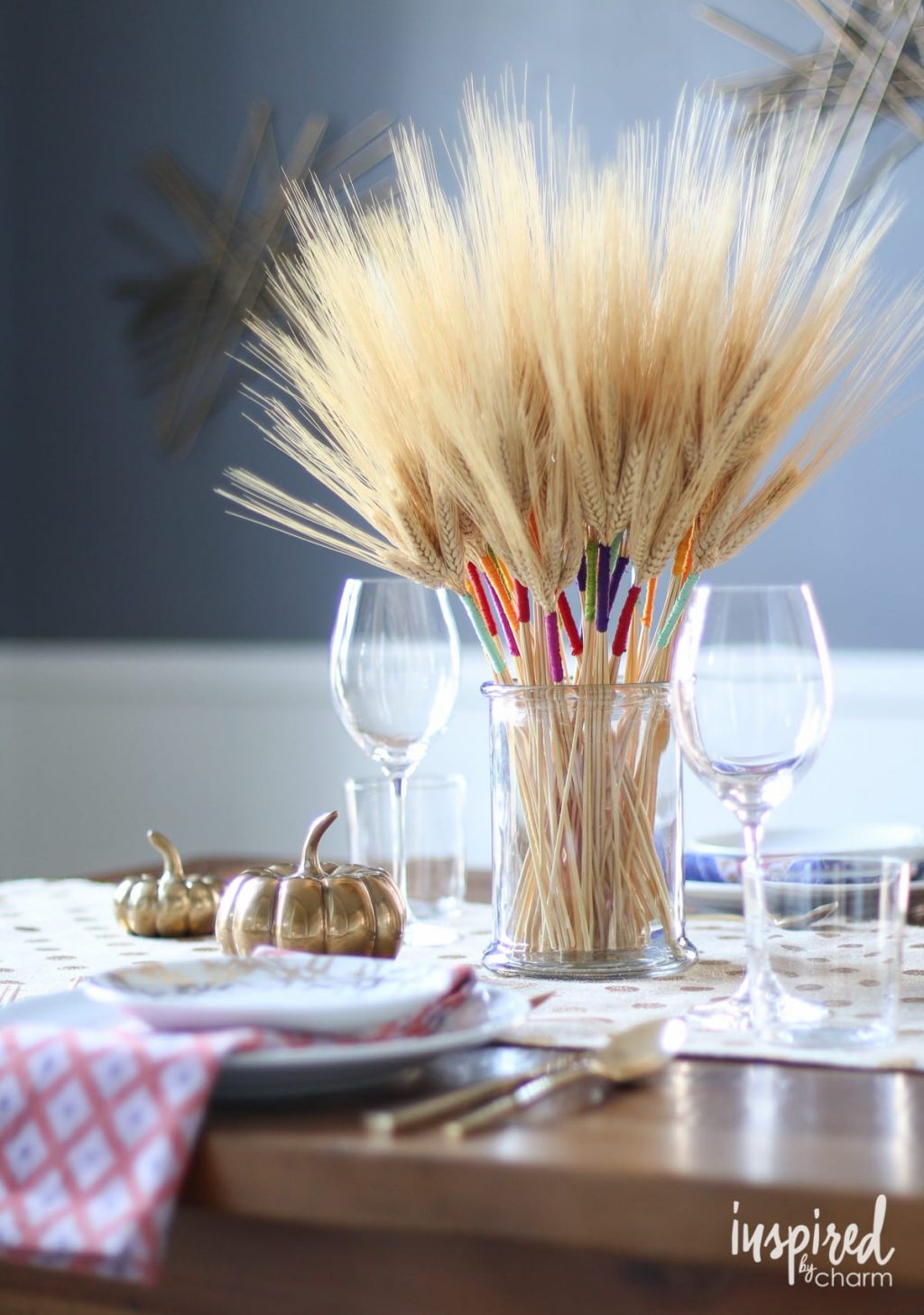 Celebrate the harvest with a very simple DIY centrepiece idea that puts a fun twist on your usual wheat arrangement. Choose whichever colours you like and don't be afraid to go bold.
White Pumpkin Vase
How much cuter could it get for fall? Incorporate a white pumpkin, a wood slice and plenty of fall-toned florals to create this iconic autumnal centrepiece. The DIY uses a faux plastic pumpkin, which means you can store it and reuse it for years to come.
Succulent Pumpkin Centrepiece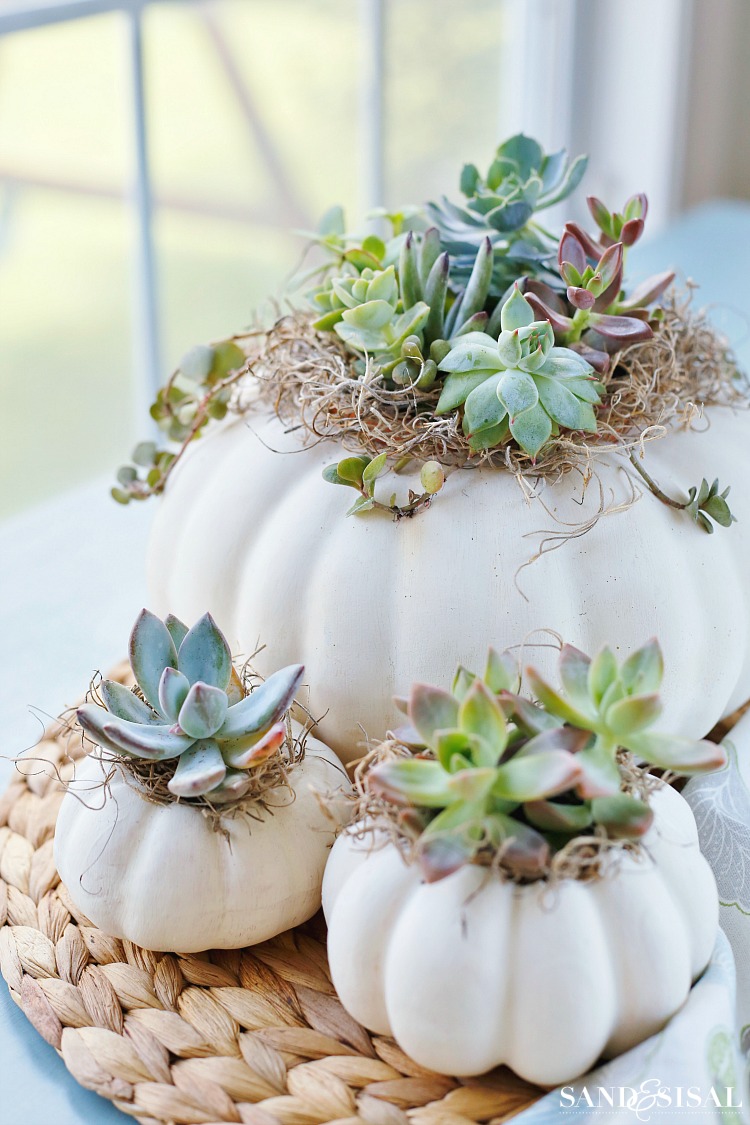 This inventive centrepiece is similar to the last in that it uses a white plastic pumpkin to start; but rather than fall florals, the centrepiece is stuffed with gorgeous succulents and placed on a woven mat.
Farmhouse Fall Floral Arrangement
Want something a little simpler to arrange but that still makes a big impact? Go with an orange and green hued bouquet, placed in a metal vase. This bouquet gives us plenty of fall-on-the-farm vibes.
Harvest Floral Centrepiece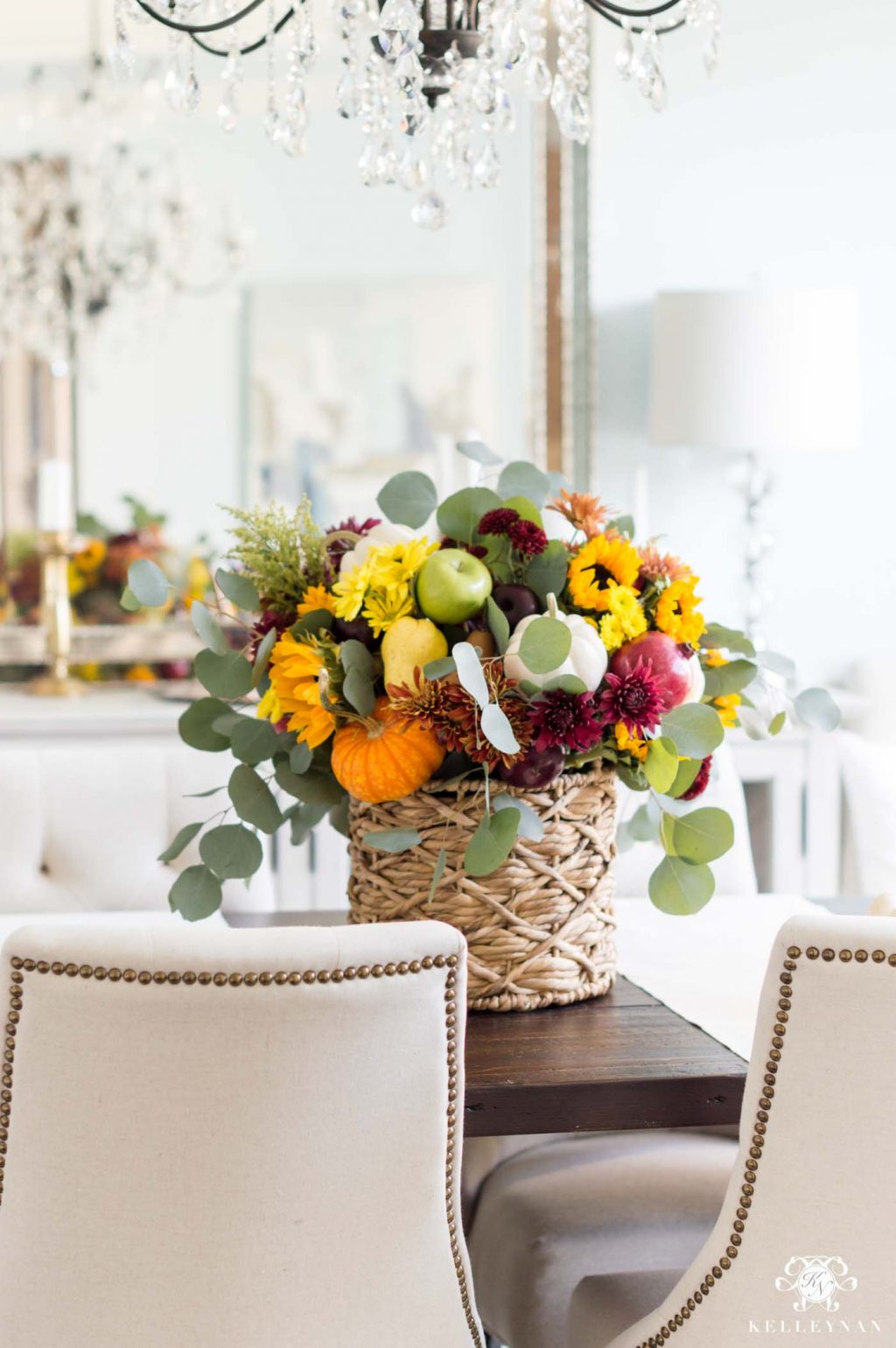 This full arrangement is the perfect embodiment of the harvest season, incorporating pumpkins, apples, pomegranates and more. If you'd like something that lasts a bit longer, try finding some fake fruit at your local dollar store instead of using fresh produce.
Nature Inspired Centrepiece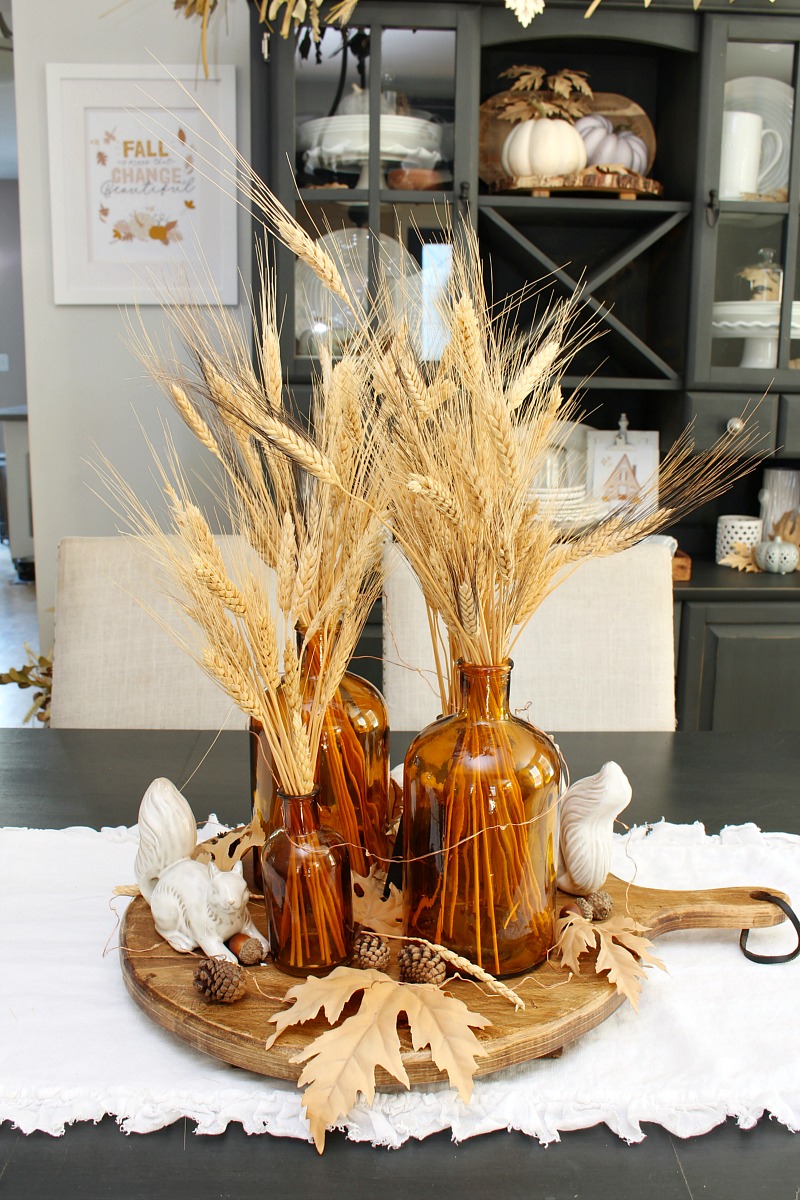 Wheat is a popular choice for fall centrepieces and we can certainly see why. The texture goes amazing with these amber-hued bottles and vases. Place on a wooden cheese board and add some pinecone and leaf accents to finish off the look – ceramic squirrels optional!
Multicolour Pumpkin Centrepiece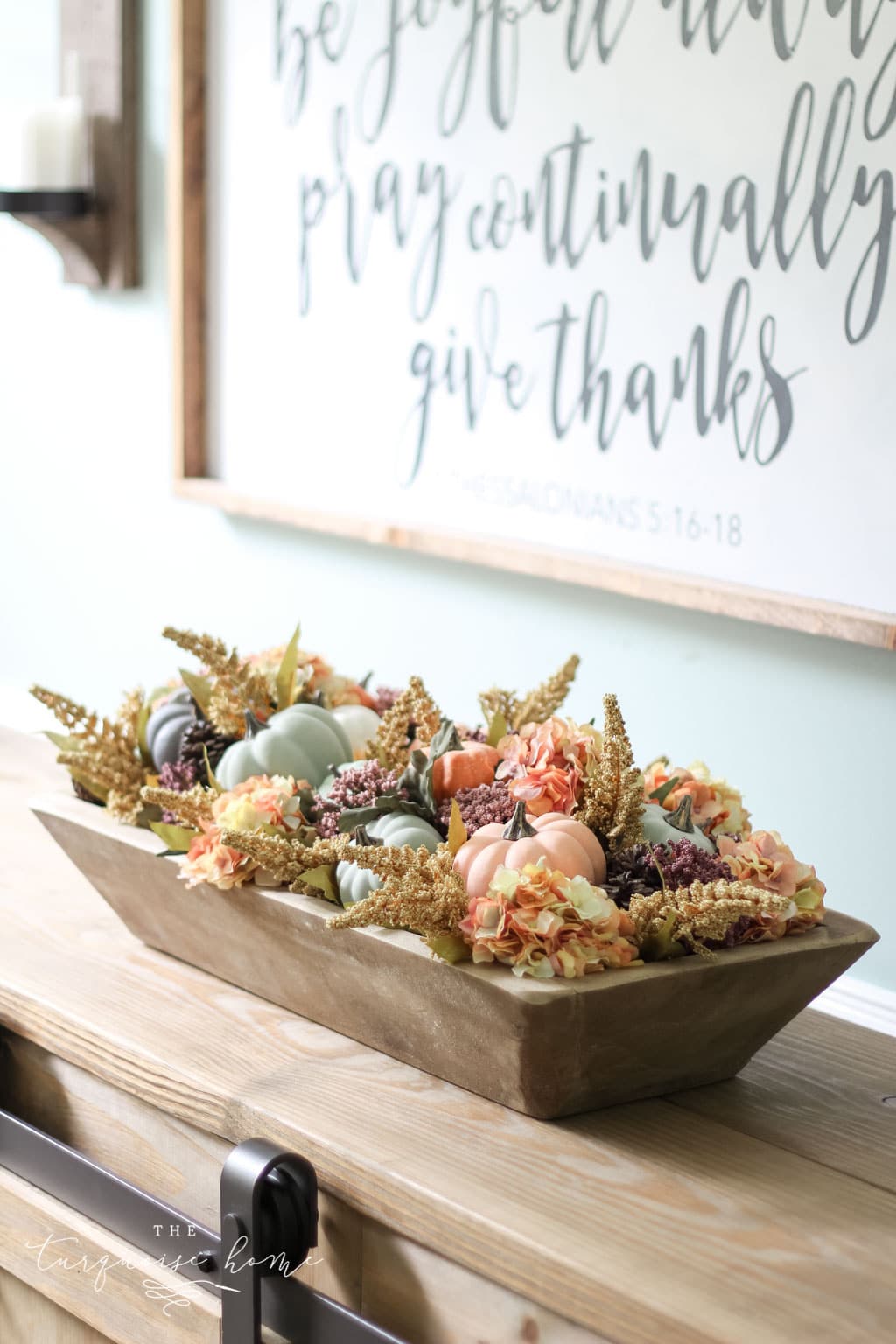 If your dinner table is a bit longer, here's a great option to fill up more space with your centrepiece. The tutorial uses multi-coloured pumpkins (in subdued tones) and dried florals to create a beautiful statement piece for any table.
Blue and Orange Fall Floral Arrangement
Combining blue and orange is a great way to incorporate the fall season into your feminine or light-toned home. The floral arrangement itself is a beautiful combination of white, orange and green hues while the added small pumpkins on the base of the arrangement really sends home the fall theme.
Pumpkin Tea Light Centrepiece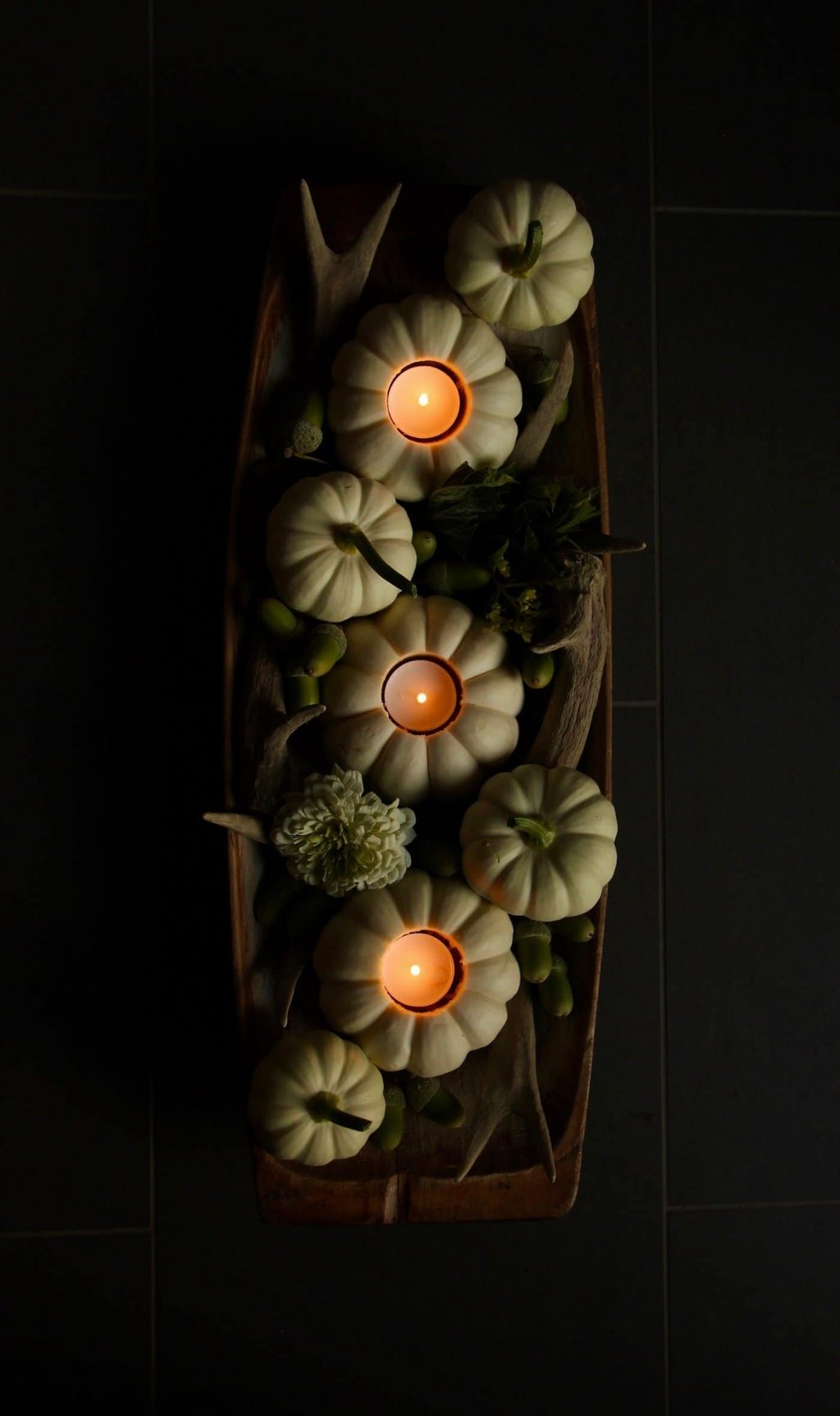 Chilly autumn evenings call for warm, ambient lighting – and this centrepiece has achieved just that! The easy to follow DIY calls for real pumpkins but you can use fake ones too if you prefer to reuse it. We also love the use of antlers in the final product!
Easy Apple and Eucalyptus Fall Centrepiece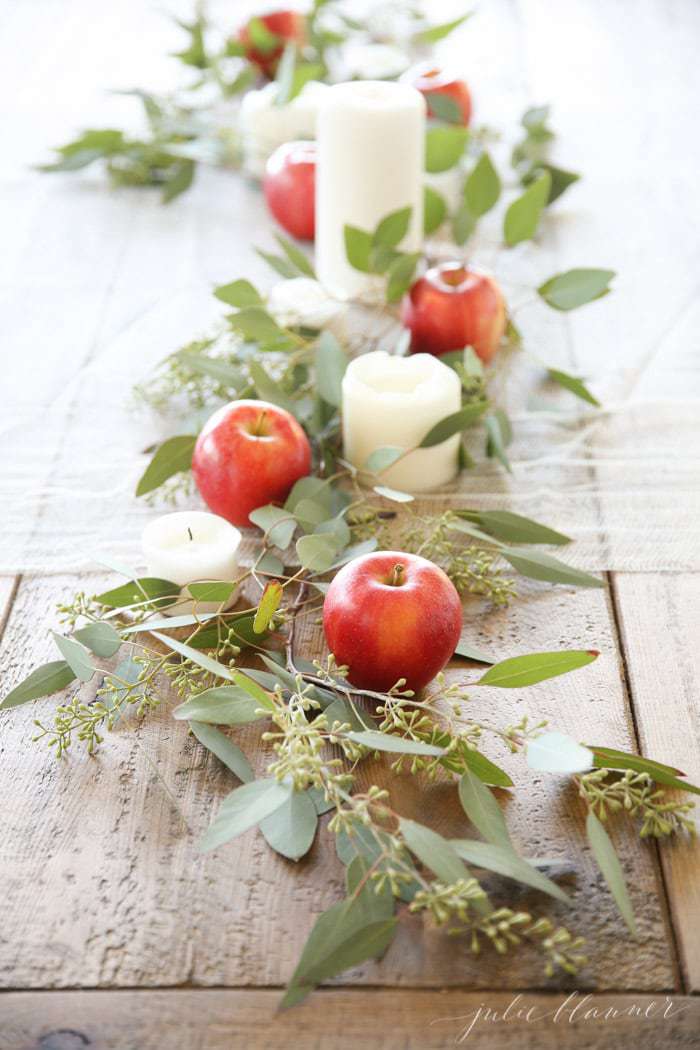 Keep things simple for your fall dinner party with this easy centrepiece spread that uses apples, pillar candles and seeded eucalyptus. Not only is it quick to put together, it will also free up space on the table for more dishware.
Wheat Wreath Centrepiece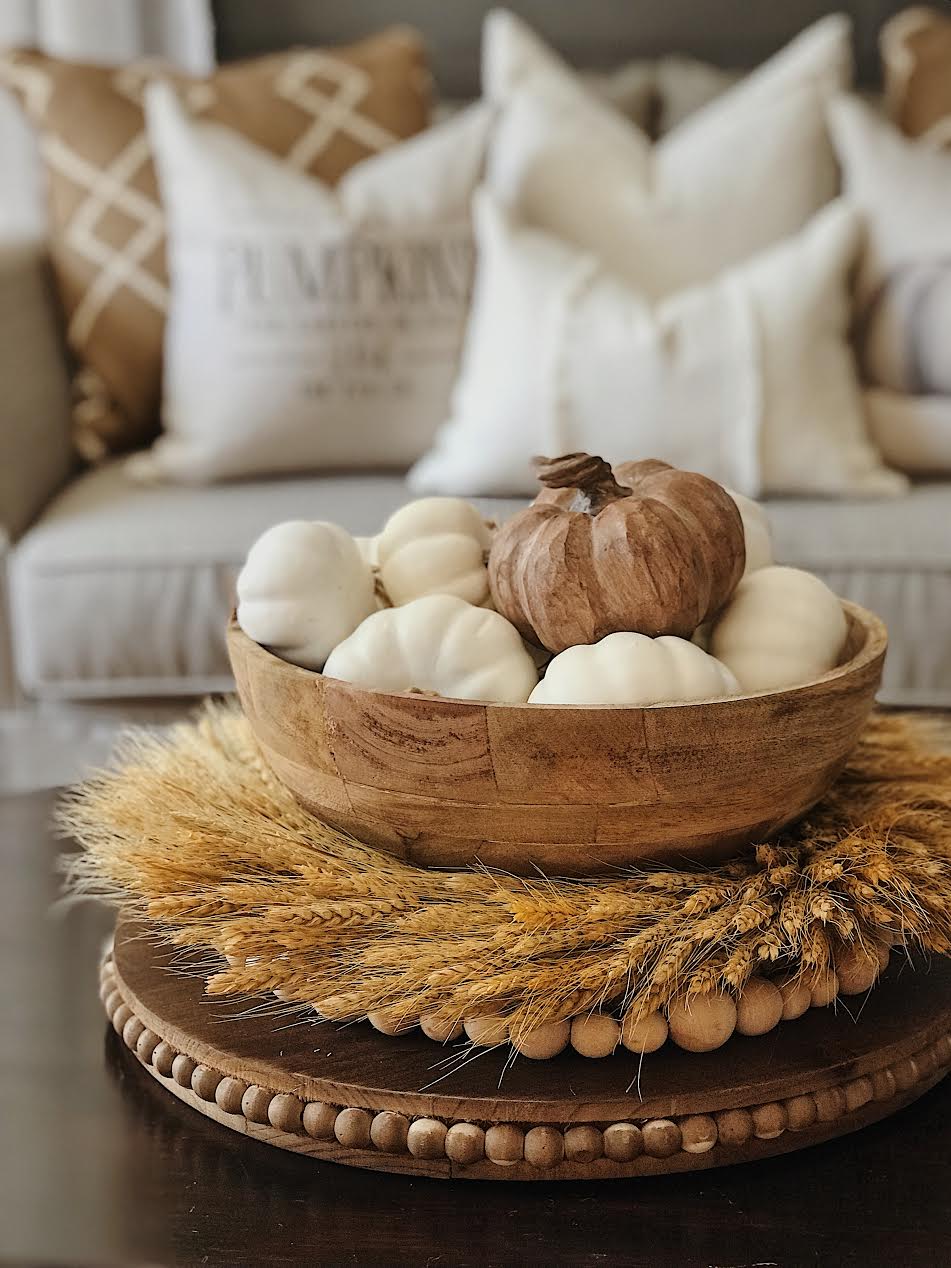 This beautiful and neutral arrangement will be easy to incorporate into your home's decor. Follow along with the step-by-step tutorial which involves layering of the different textures to create an intricate centrepiece.
Simple Colourful Fall Flowers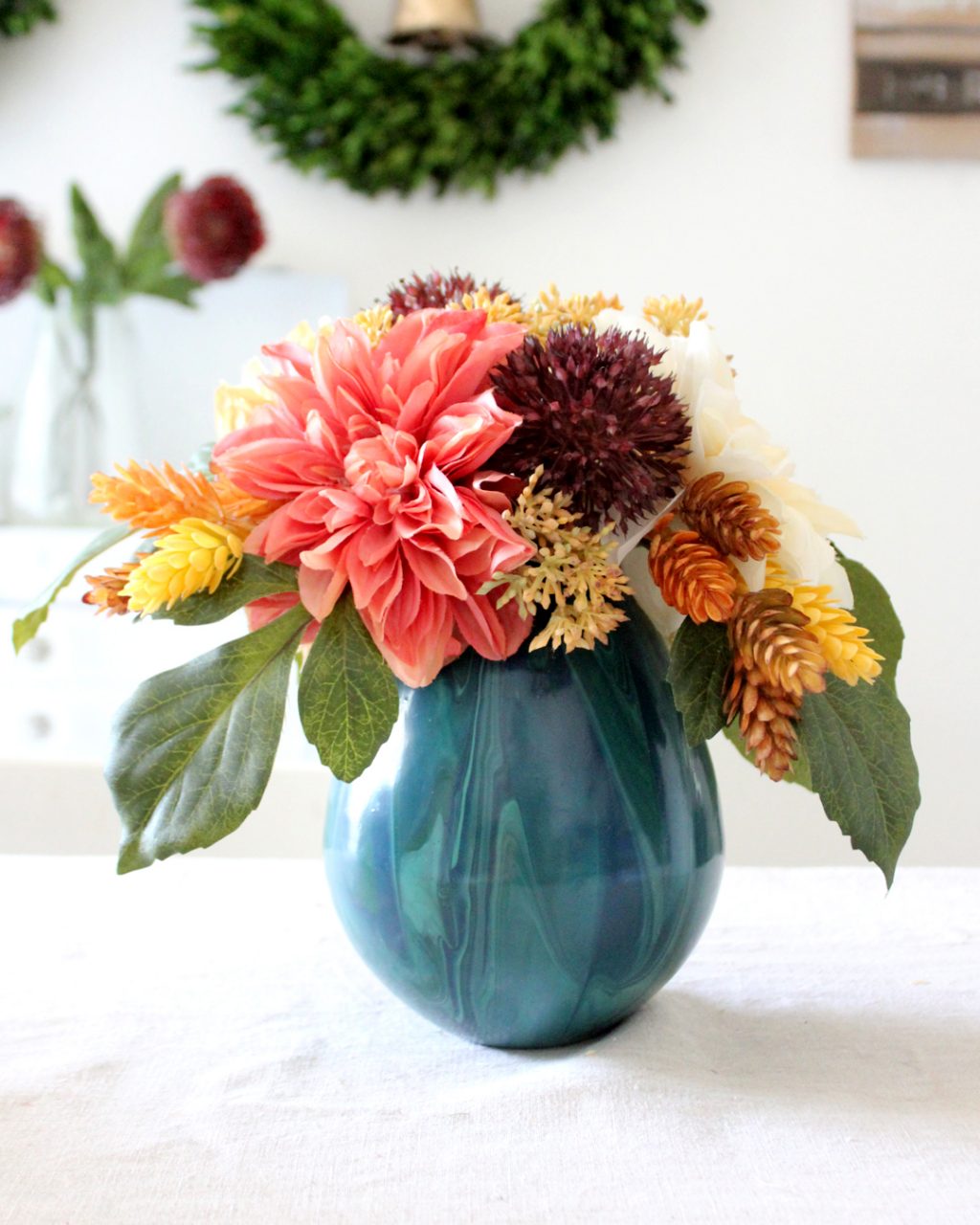 Yes, you can incorporate your favourite bright colours from spring and summer right through into fall. This bright and cheery arrangement uses plenty of yellow, orange and even pink hues for a cohesive look.
PIN THIS: