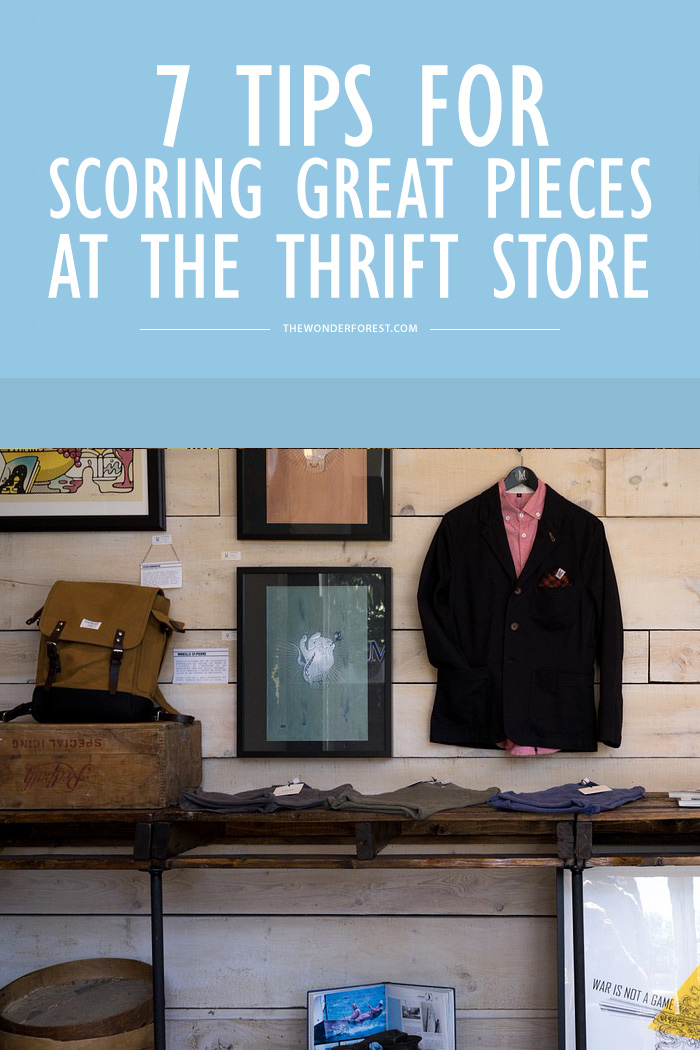 Thrifting, like anything else, takes practice to become good at. I've been an avid thrifter for seven years now, and purchase 95% of my wardrobe from thrift stores. Over the years I've found a Dior scarf, Dooney and Bourke purses, a DVF '70s wrap dress, and Salvatore Ferragamo heels. What's the secret to finding great pieces, designer or not, at the thrift store? Here's my top seven tips I've learned over the years for how to score an amazing piece!
Go Often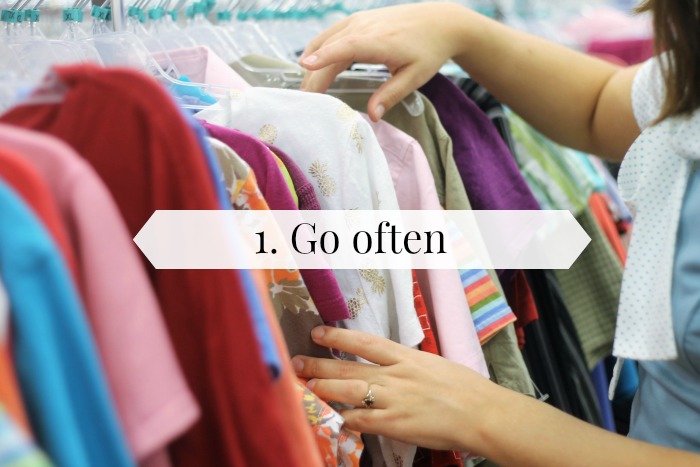 Thrift stores update their stock every day, so there's always new treasures to be found. I usually go thrifting 1-2 times a week, even if it's just a quick browse. Not every visit has to be an hour long adventure. Sometimes the perfect little handbag is sitting right in the window, or there's a dress you've been looking forever for on the mannequin. Going thrifting often also establishes a friendly and familiar relationship with the workers. If they know and recognize you, they're more likely to go out of their way to tell you about great pieces and deals. 
Have a Goal in Mind
Make sure every visit, you have a goal in mind. Are you looking for jeans to DIY? How about wanting to find a great new dress for an interview coming up? Even having a very specific item in your mind, like an off the shoulder black top, is important. When you set out with a plan, you're more likely to be focused and not get side tracked. Thrift stores can be really stressful because there's SO much stuff. Where do you start? Once you have a running list in your mind of things you want to find, it makes the task less daunting and puts you on your A game. 
Know Your Thrift Store's Deals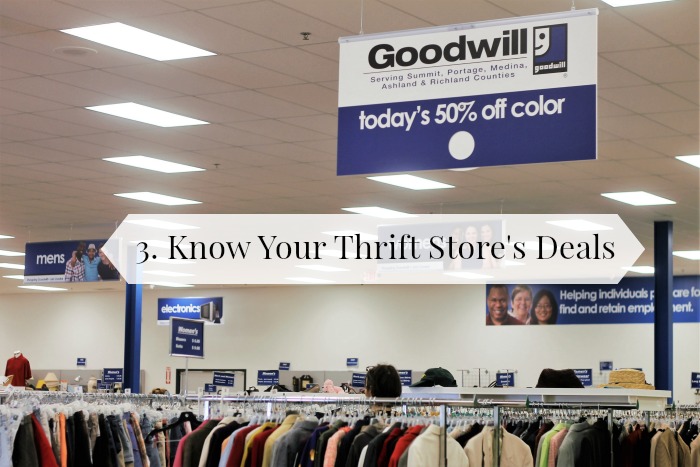 Every thrift store, no matter local or chain, has deals for their customers. It's important to know for two reasons: 1) you can save money 2) you know when the best stock will be put out. There's no point in going to the thrift store the day after 50% off sale at VOA because the place will be absolutely ransacked. But if you DO know when 50% off day is…you can go when they're putting out all the stock for the next day. Here are the best thrift deals at stores I go to: 
VOA
• 50% off every last Tuesday of the month
Goodwill
• Signing up for a Goodwill card will save you money. It's free! Every dollar you spend gains you a point. When you reach 100 points you receive a 35% off coupon. Members also get special mail coupons and double point days. 
• Check the colours of your tags to see the colour discount deals the have 
• Every time you donate items you receive a 20% off coupon to use next time
• Students receive 10% off with your ID!
Village Discount
• Monday: $0.75 off select colour tag
• Tuesday: $0.50 off select colour tag
• Sunday: $1.00 off select colour tag + 20% student discount
Visit Sections You Normally Wouldn't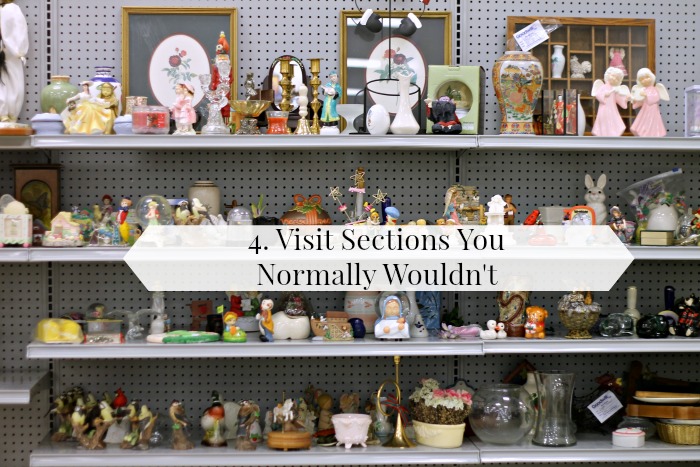 People misplace things in some weird areas. A lot of the best items I've found have been hidden away or tucked between other items not in my size. Every section of the thrift store is fair game! Kid's clothes can sometimes fit better than women's. There's great silk nightgowns in the lingerie section you can wear to rock the slip dress trend this season. Although you might not be pregnant, sometimes straight sized clothes get misplaced in the maternity section. You just never know, so why not try?
Try on Sizes That Aren't What You Wear 
Thrift store clothes have been pre-loved, which means they've also been pre-washed and pre-worn in. Just because a dress isn't normally the size you wear, doesn't mean that some shrinking or stretching may have occurred so that it fits you. Women's clothing sizing is also incredibly inconsistent. In the US there is no standard sizing regulations, so every brand has different measurements for what a small, medium or large may be. Perhaps you're an 8 in American Eagle's Jeans but a 12 in Madewell's. It's important to pick things up at the thrift store because you like them: not because they are your size. Sizes can be deceiving.   
Come Prepared
I have a little kit you could say for when I go thrifting. Thrift stores sometimes aren't the cleanliest or most convenient place to go shopping, so it's important to come prepared. Things I bring with me in my purse:
• Clothing pin: a shirt may have some gapping or a skirt may need to be pulled in a bit – have pins to do a mock fix that will help you decide whether to purchase or not.
• Hair tie: there's nothing worse than getting your hair all tangled up in complicated clothes. Tie it up!
• Hand sanitizer: well…duh!
• Pair of socks: just in case you're trying on shoes or need to take yours off to try on clothes.
• White bra: to try on sheer items with.
When in Doubt, Buy It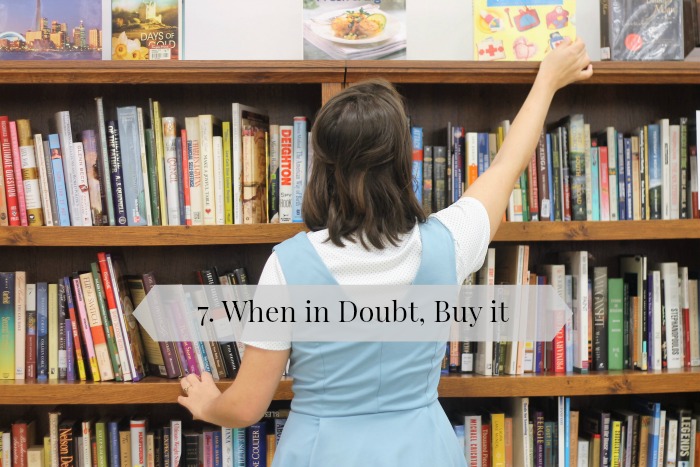 The shopping rule "wait until the next day to see if you're still thinking about the item and then go back and buy it" does not apply to thrifting. I cannot tell you how many ghosts of my thrifting past haunt me because I was indecisive whether to purchase, and then I let the gem go. Items at thrift stores will most likely be gone or lost somewhere in the mix next time you go. Grab it while you can because there's usually never a second chance. The dread/anticipation to see if your item is still there isn't worth it either. Just buy it and save yourself the hassle for later. If it turns out to be a mistake, re-donate, give to a friend, or DIY it to turn the item into something you do love. 
Last Updated on