Spooky season is almost upon us and now is a great time to start planning this season's Halloween decor and gifts.
Apart from the traditional trick-or-treating for candies and sweets, not many people think to give other things away. This is especially true for older kids and adults.
A great way to feel like a little kid again is to create gift baskets known as Spooky Baskets that are filled with various Halloween themed gifts like treats, movies, home goods, and of course candy! Of course, these spooky baskets are great for current kids as well!
Need some inspiration for spooky baskets? Here are 15 spooky basket Ideas that will do the trick!
Canvas Spooky Bag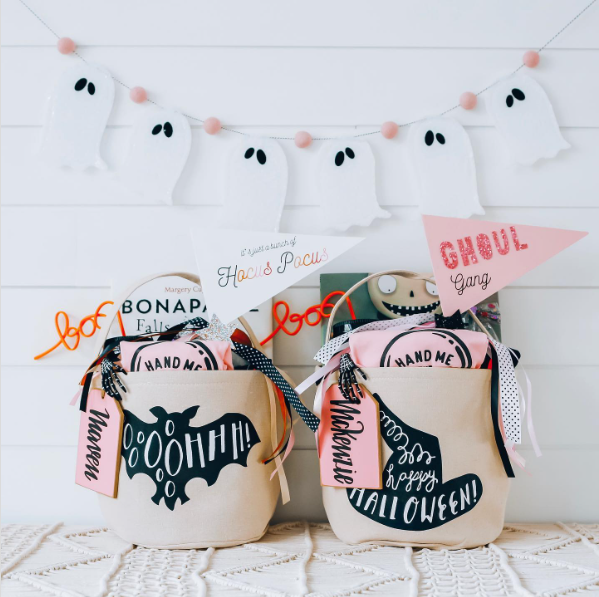 A cute spin to a traditional basket is using Halloween theme canvas bags to fill with goodies! You can always buy these bags pre-made or you're a crafty type, you can customize your own! The canvas bags can be reused on Halloween night as your kid's trick-or-treat bag, too.
Neighbourly Boo Spooky Basket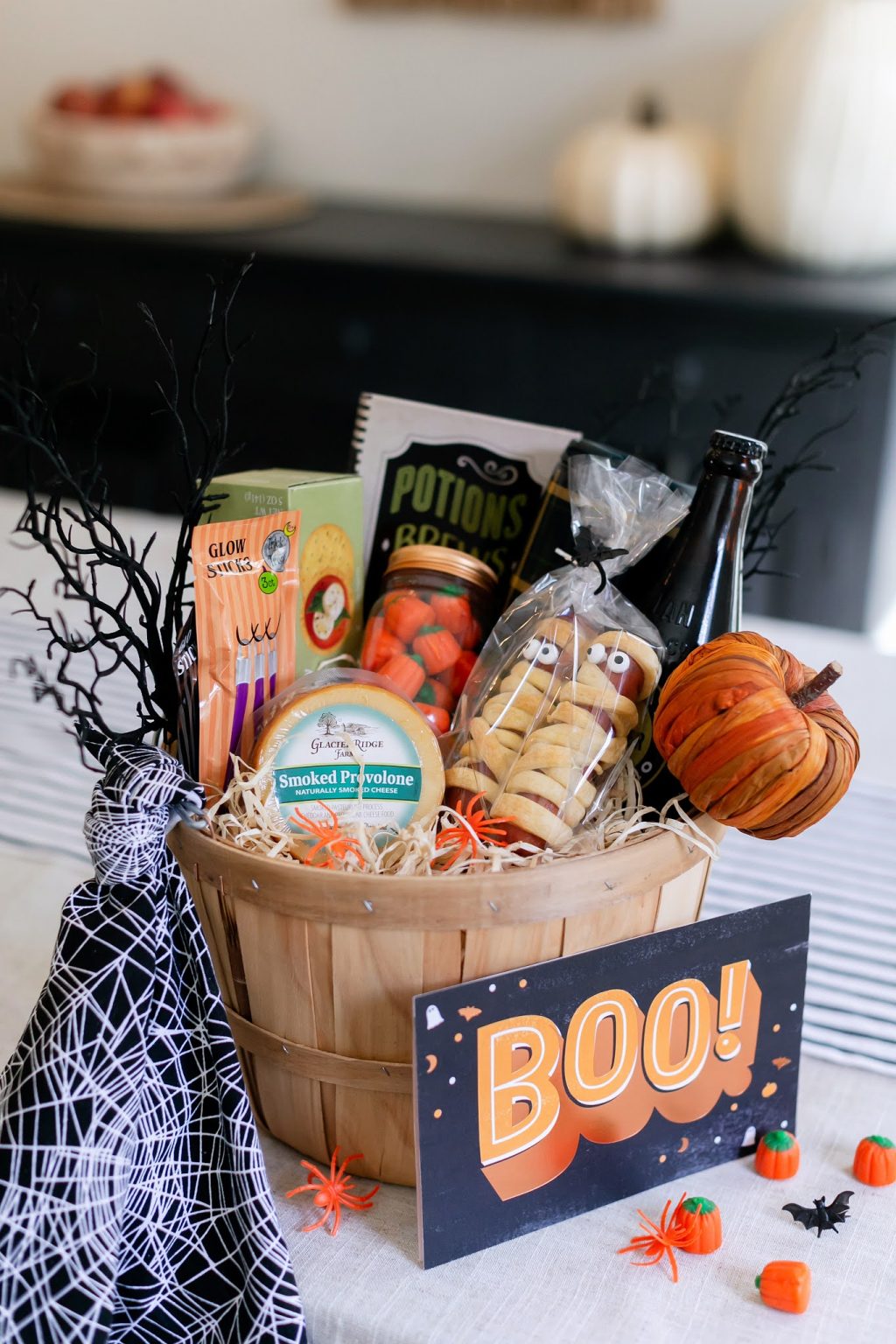 Halloween doesn't need to have sweet treats. This "boo basket" is made to connect with your neighbours and encourage some fun. Who could resist savoury treats like cheese and crackers?
You've Been Booed Basket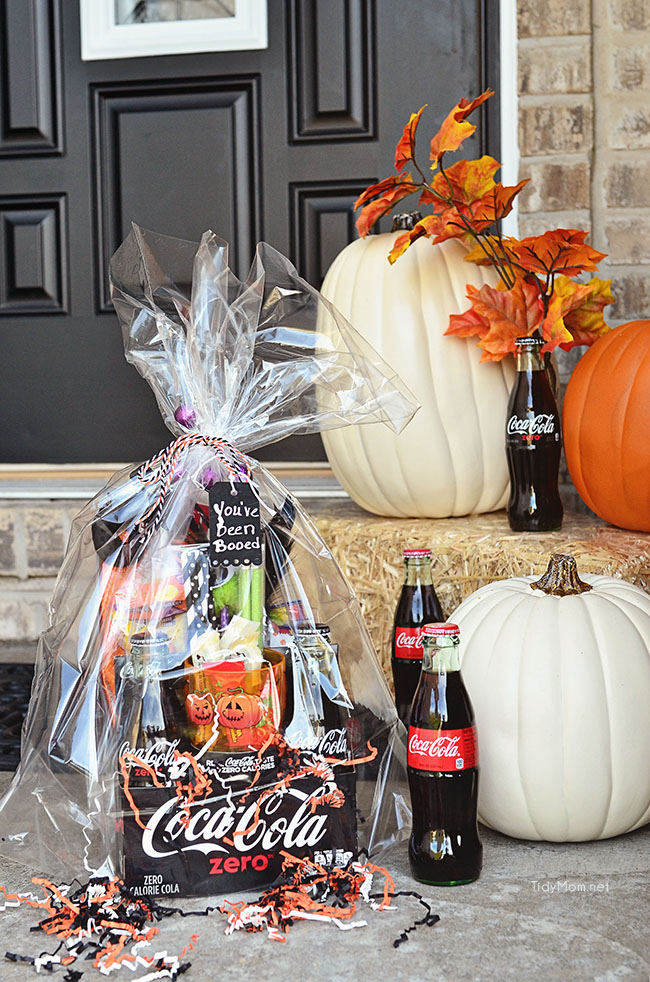 Surprise your friends or neighbours with a pack of a bottled beverage with Halloween themed goodies like colourful straws and cups with this type of spooky basket! This basket idea also comes with a free printable which can be shared with all your friends!
Pink Spooky Basket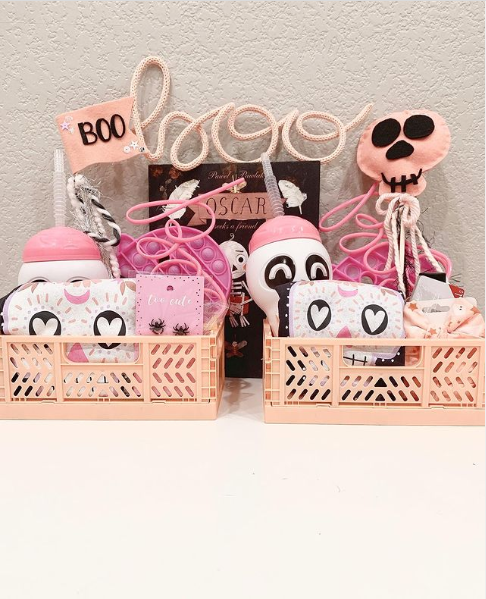 Spooky baskets don't have to be scary. Check out these cute pink skeleton themed spooky baskets filled with matching items!
Cozy Spooky Basket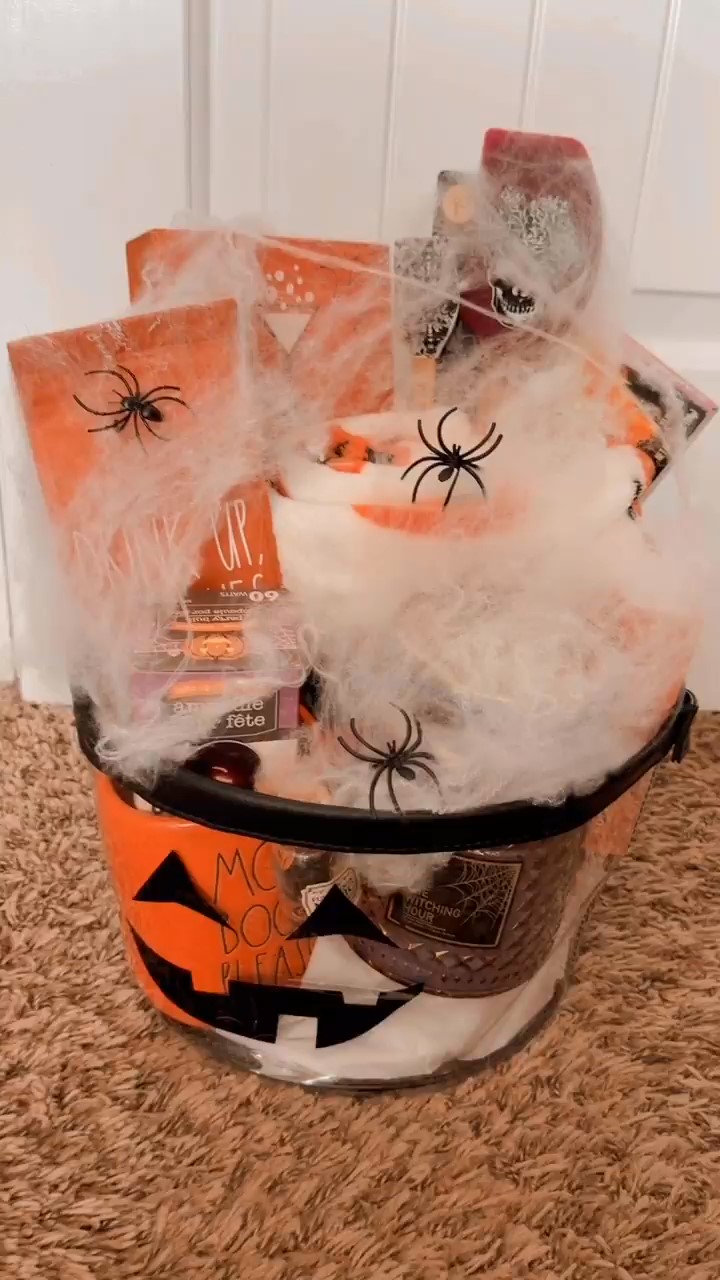 Know someone who needs time to relax? This Instagram reel shows you how to create a spooky basket with cute Halloween themed cozy items like a blanket, mug, and scented candle! This basket is perfect for a cozy day at home!
Fun Boo Basket Idea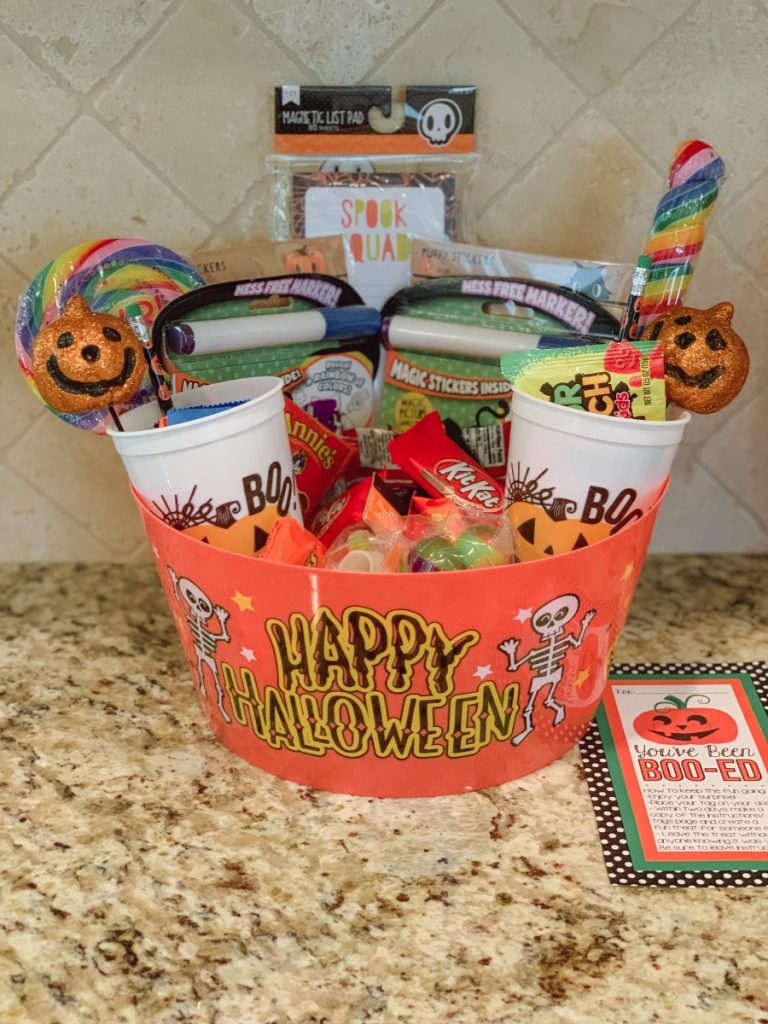 If you want to make your spooky basket have a simple family friendly halloween vibe, check out this basket filled with candy and Halloween themed toys!
Family Spooky Basket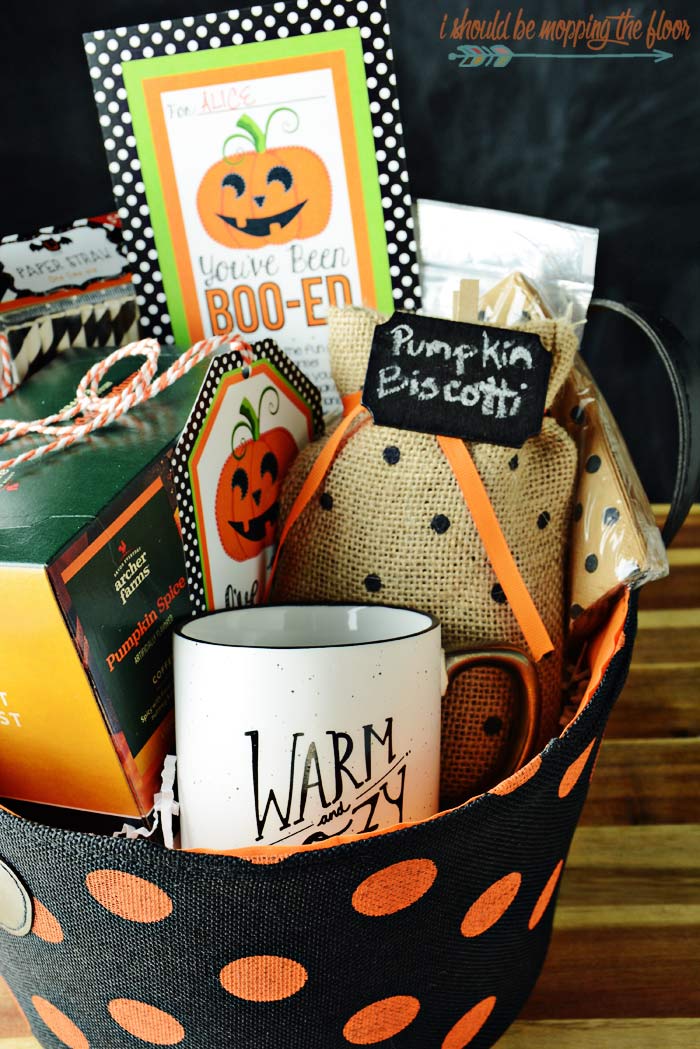 For close friends or family, fill a spooky basket with some of their favourite things! This basket is filled with coffee items and treats that pair nicely.
DIY Light Up Boo Basket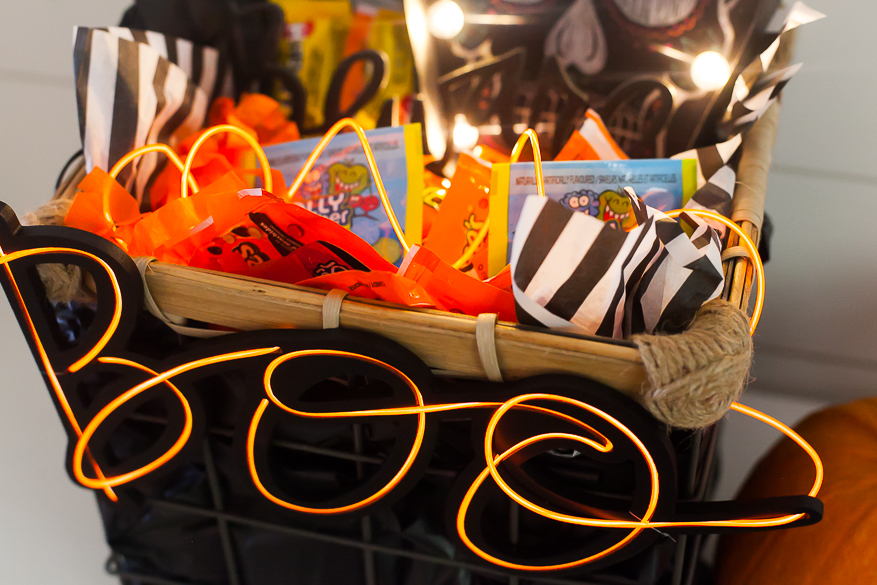 If you are looking to take your spooky basket to the next level, check out this spooky basket with a DIY battery powered light up sign!
Spooky Spider Basket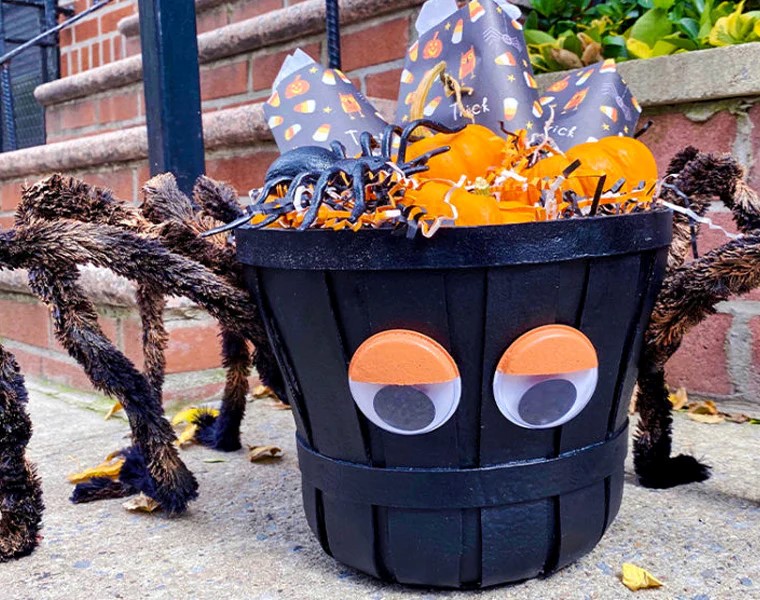 A fun twist on a Halloween basket is to make a basket that looks like a spooky spider! Learn how to make this eight legged friend with this tutorial!
Baby Boo Basket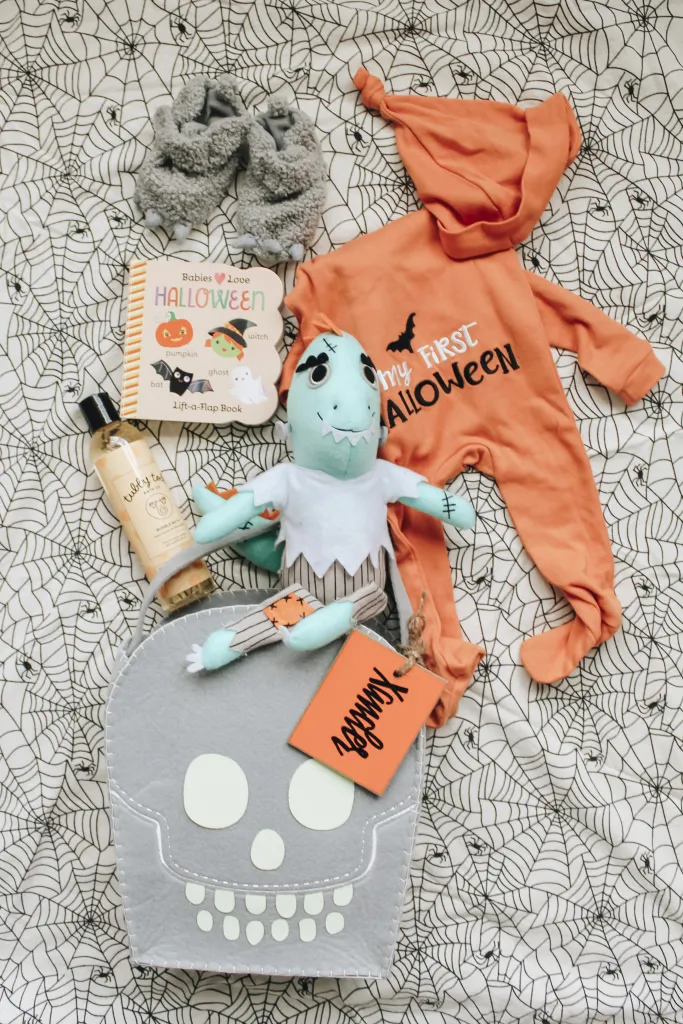 Just had a baby or know someone who does? These spooky baskets filled with baby clothes and stuffed animals are perfect for a baby's first Halloween!
Dog Spooky Basket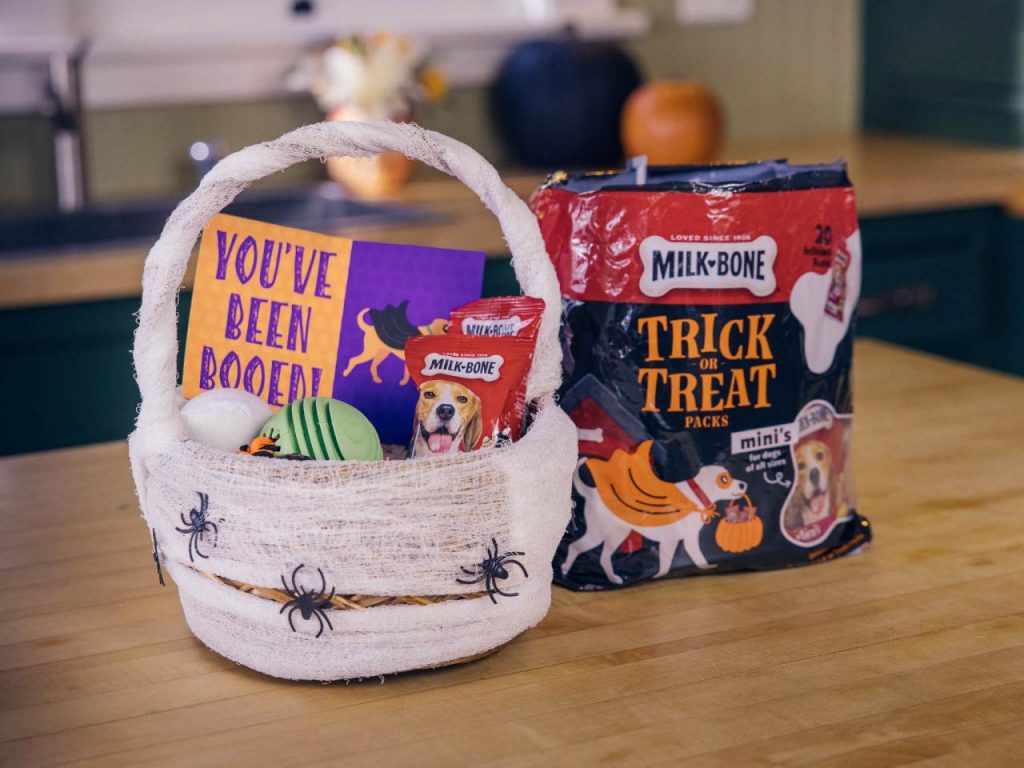 Spooky baskets don't need to be reserved for humans. They can be for your furry friends too! Over at HGTV, they DIY a Halloween Boo basket for dogs and fill it with pup-friendly treats and toys!
Magic Broom Activity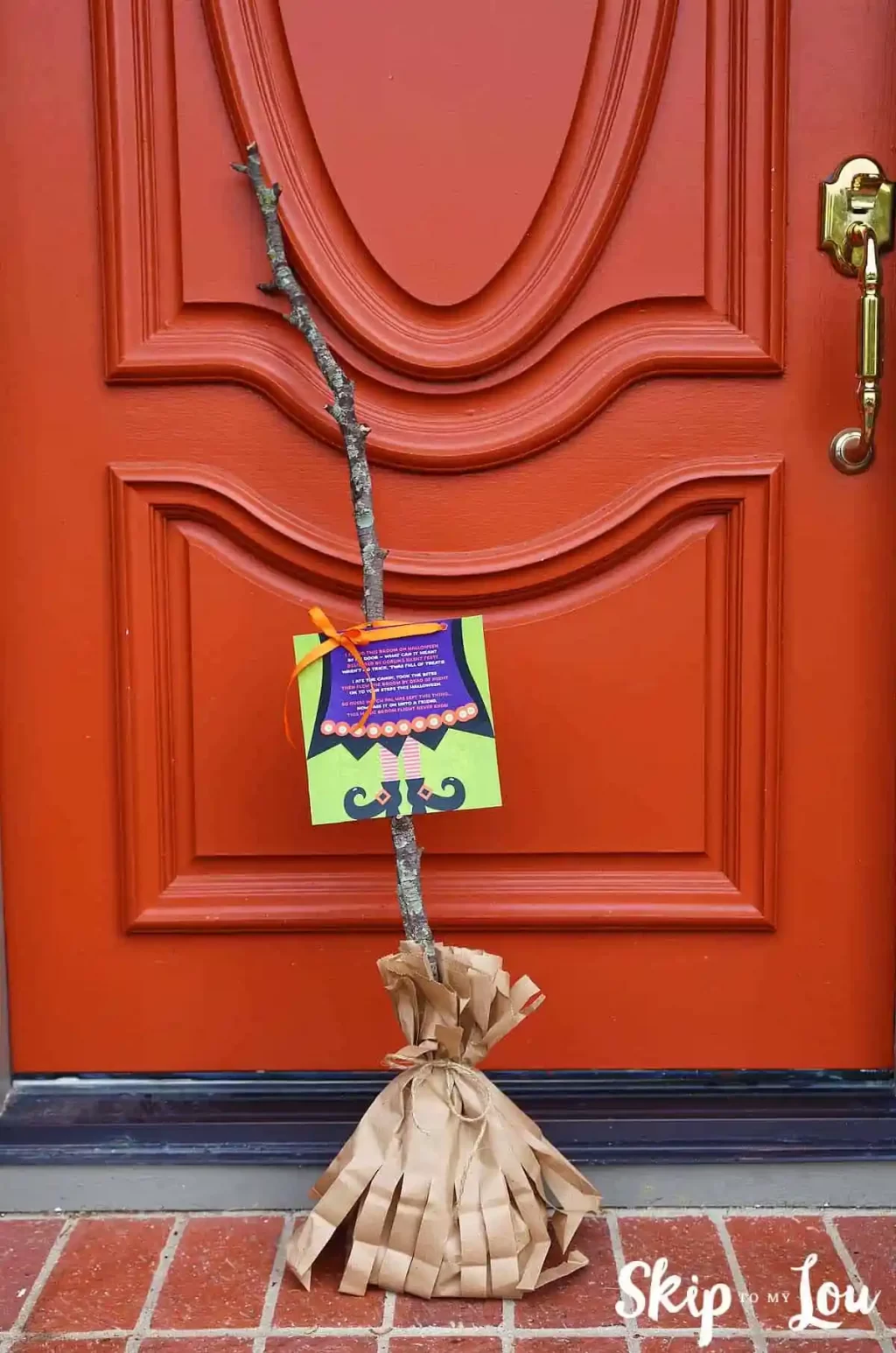 Here's a very creative spooky basket that would be great for kids. At first glance, it looks like a witch's broom, but it's a bag filled with goodies and candy! Check out how to make this magic broom here!
Friendly Ghost Boo Basket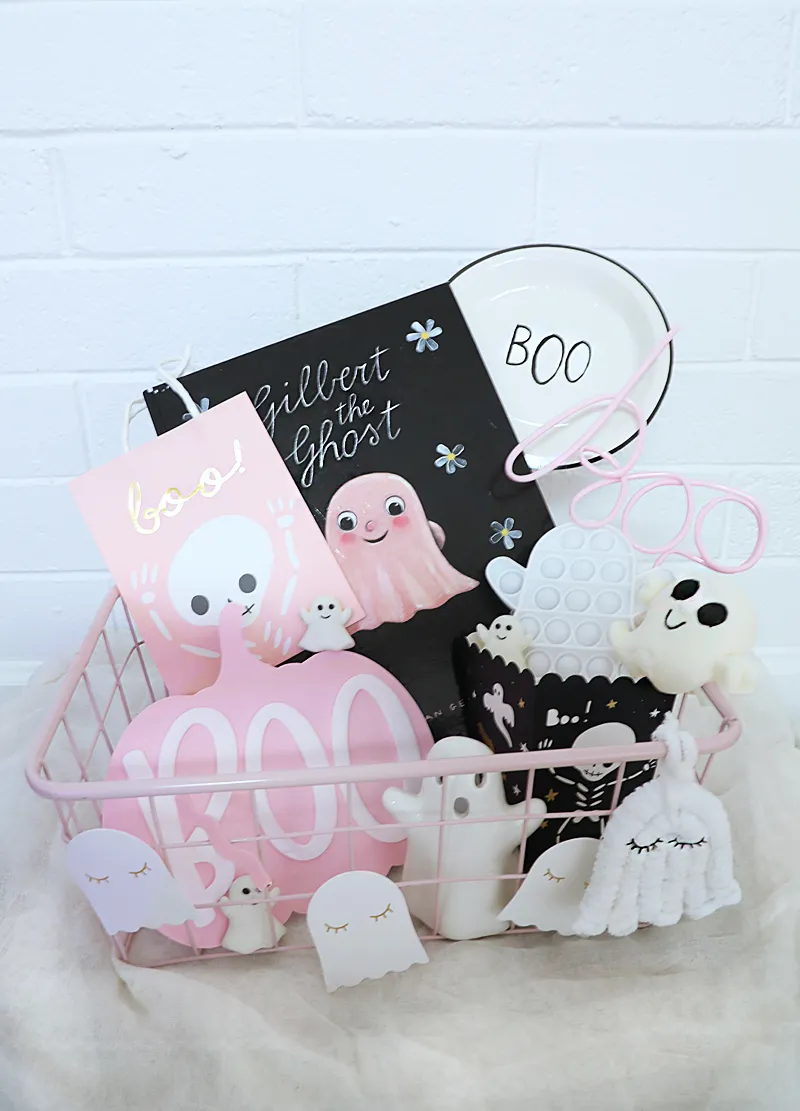 This adorable "boo basket" is filled with ghost themed toys and books with a soft pink theme! The ghost book is a great addition that your kiddo will love reading before bed all October long.
Classic Spooky Basket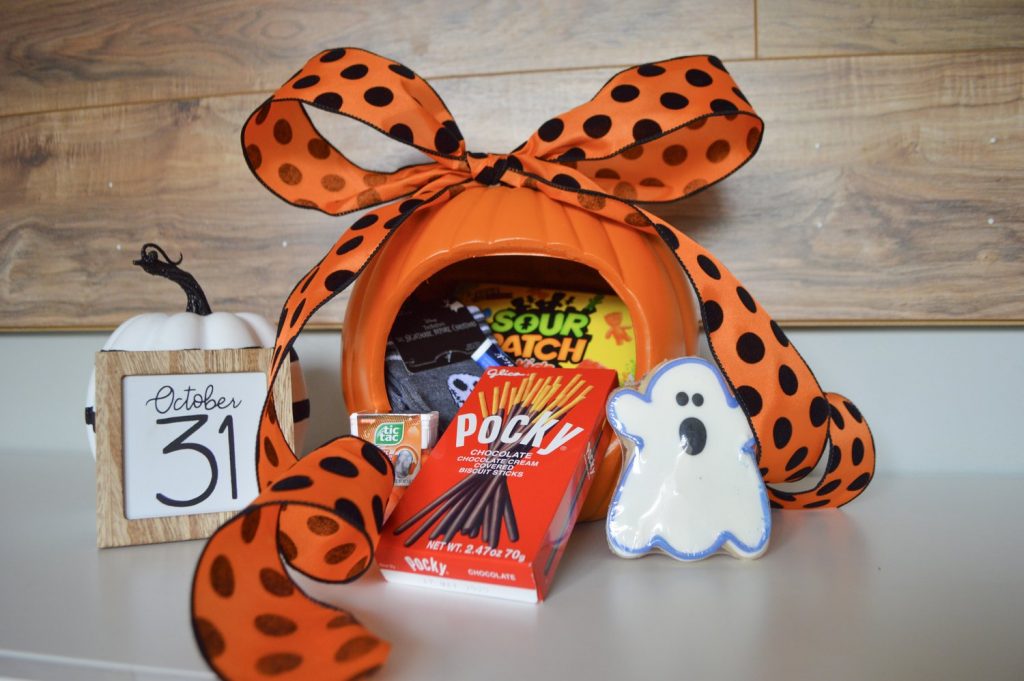 Who says a spooky basket needs to be in an actual basket? This spooky "basket" is filled with Halloween treats and socks and can double as a candy jar to go with Halloween decor!
Activity Spooky Basket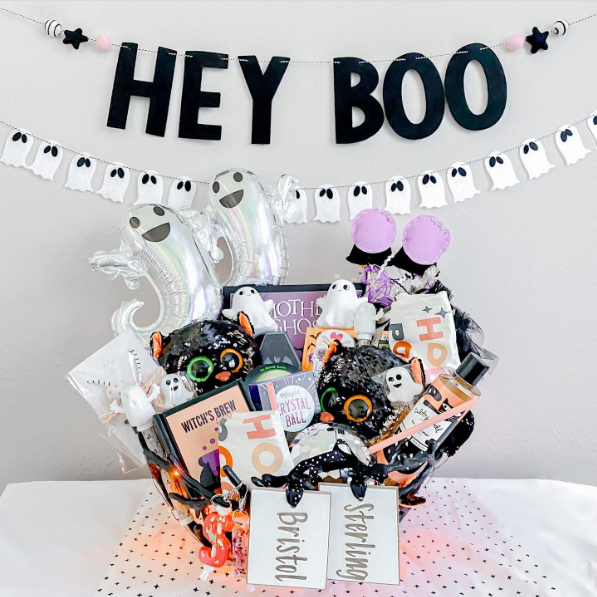 Get your kids excited for Halloween throughout the month of October with this spooky basket filled with fun activities, festive outfits and so much more.
No matter the age, the perfect spooky basket is a great treat to give this spooky season! Which one of these baskets was your favourite?
PIN THIS: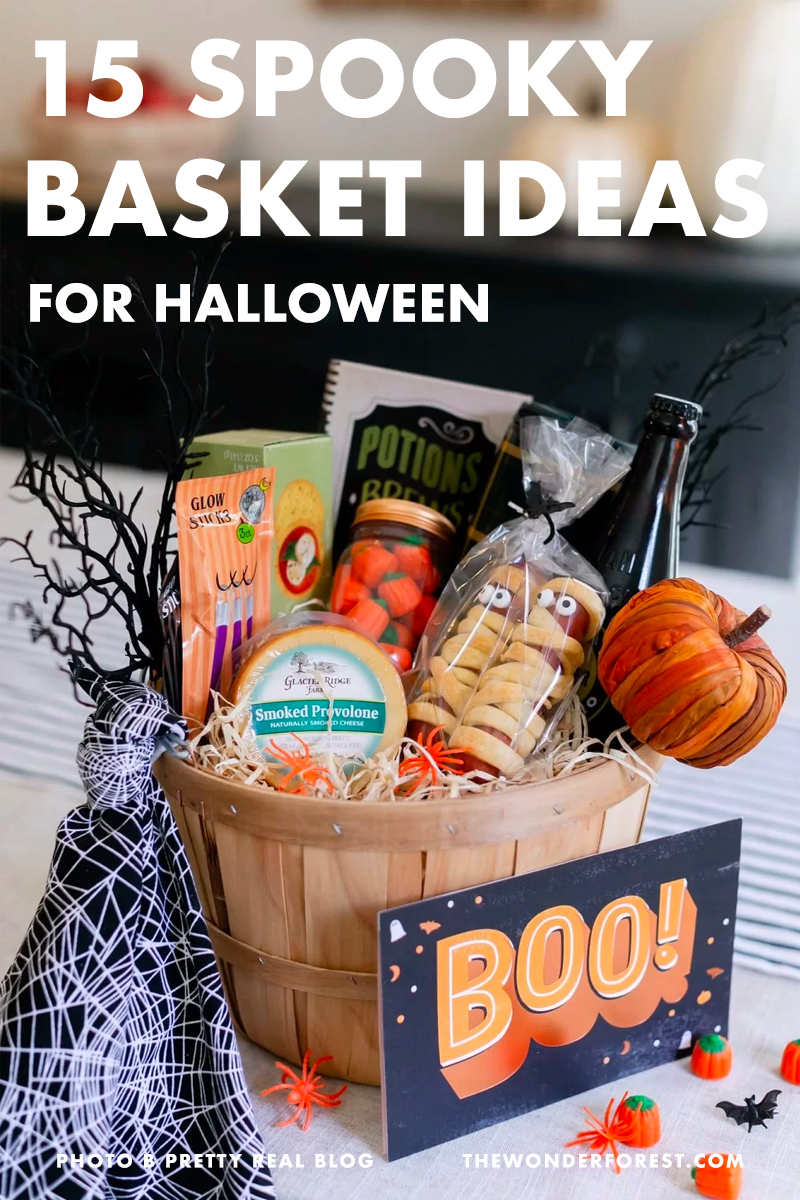 Last Updated on