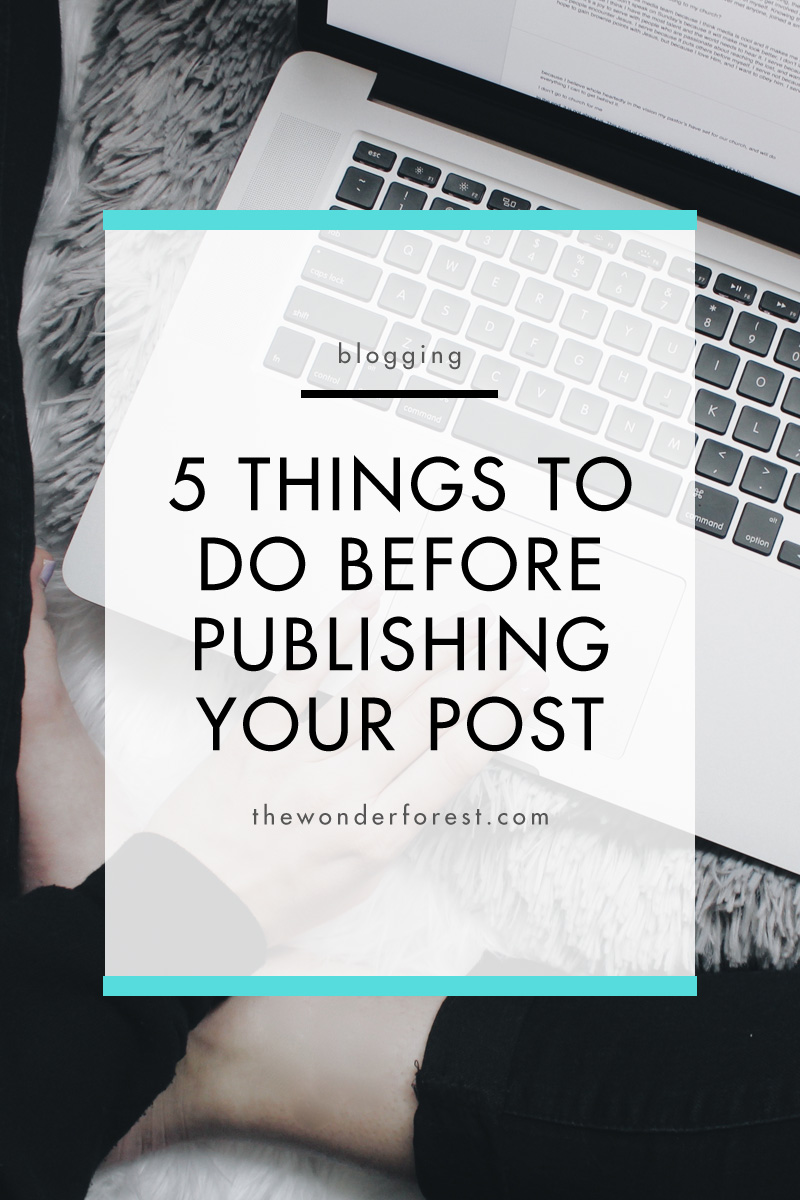 While blogging can be a ton of work, it's also a great way to bring in additional traffic to your website. When you are blogging, it's super important to do a few quick things before you hit publish so that you can ensure you are putting out a blog post that is going to succeed and bring you in quality traffic.
Here are five things that you should be doing before hitting publish on your blog posts!
Evaluate The Readability
It's important to make sure your blog posts are easy to read. Making a few small tweaks can ensure that your reader is spending more time on your blog and is actually absorbing your content. The average person only spends 15 seconds on your website so it's really important to try and get them to stay for much longer than that!
If you improve the readability of your blog posts, you are increasing the likelihood that your reader will stick around a bit longer, and read more of your content!
There are a few key things that contribute to good readability:
Adding headers

Bolding or italicizing key phrases so they stand out

Using bulleted lists

Having shorter paragraphs (that are 2-3 sentences long)
Add Media
Visuals are processed 60,000 times faster than text so don't forget to add media in your blog posts that will help your reader's understand your content.
Infographics, charts, graphs or even audio and videos can be an excellent way to add supplementary material into your blog posts that will help your readers.
You don't need any fancy design software in order to create professional looking graphics either. Canva is a popular tool amongst bloggers and small business owners who need to create graphics for their content. You can also find free images for commercial use on websites like Unsplash.
Add Links To Past Blog Posts
If you want to decrease your bounce rate and keep your reader on your website for longer, interlink your blog posts by linking to relevant blog posts within your current article.
If you aren't sure what a bounce rate is, let me quickly explain. A bounce rate is determined by someone who visits your website, and doesn't click through to any other pages. In other words, they only visited the one page and then clicked away.
Having links to other pages within your posts not only helps your reader stick on your website for longer, it also helps your SEO as Google and other search engines are able to understand how all your content links together.
Include a CTA
Within each blog post should be a call-to-action or a CTA. A call-to-action is when you have asked your reader to do something. This can be anything from asking them to leave a comment, share the post on social media, or sign up for your email list.
Your CTA can be located anywhere within your blog post, but a popular place to stick the CTA is at the end of the blog post in the form of a question. Asking a question to your readers and telling them to put their answers in the comments below is a good way to get more interaction on each post!
Edit Your Meta Data
The meta data is displayed in search engines when someone searching for something. It's a good idea to edit your meta data so you are in control of what is shown within the search results. If you do not set your meta data, Google will decide what to display, and sometimes, the snippet that Google chooses doesn't make the most sense.
Editing your meta data can be easily done through the Yoast plugin if you blog through WordPress. If you blog through another platform, you can usually find instructions on how to edit the meta data by Googling "YOUR CONTENT MANAGEMENT PLATFORM + edit meta data".
Ensuring that your posts have good readability, media, links to other blog posts, a CTA and compelling meta data will help you grow your blog and bring in traffic to your website!
What other things do you do before you hit publish on your blog posts? Let me know in the comments below!
Last Updated on